This Lemon Ginger Bundt Cake is seriously divine, with a moist and flavorful crumb that's perfectly balanced with the bright, zesty taste of lemon and the warm, spicy notes of ginger. Plus, the bundt shape makes for a stunning presentation that's sure to impress even the pickiest eaters! Whether you're looking for a sweet treat to bring to a potluck or a special dessert to serve at your next dinner party, this cake has got you covered. And the best part? It's super simple to make, so even newbie bakers can give it a try. It's a flavor combo that'll have your taste buds dancing with joy! Gluten-free + Dairy-free + Vegan option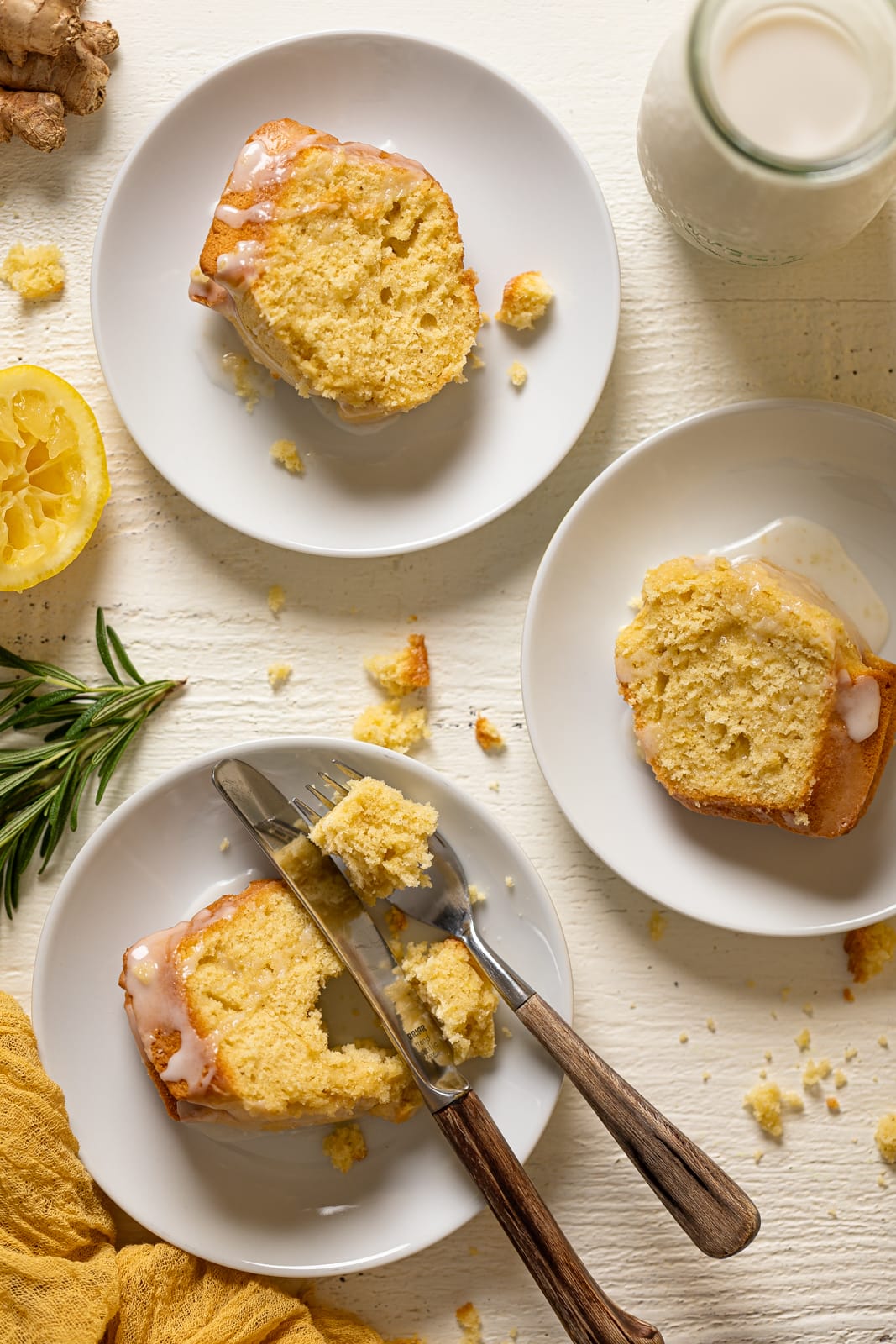 Lemon and ginger go together like two peas in a pod. Where lemon is bright and refreshing, ginger is warming, grounding and spicy. Honestly, I always get excited whenever I have a recipe based on ginger because it's often inspired by my Jamaican roots, which offers a lot of desserts that are ginger-based. If you're into ginger flavors, then I recommend trying some of my other favorite sweet treats.
Gingery Goodness
Vegan Chai Ginger Bread - This warming and moist chai gingerbread loaf is a little bite of Jamaican culture to share for breakfast, brunch or any time. Dairy-free & Egg-free
Vegan Chai Latte Cinnamon Rolls -  They are absolutely fluffy, soft, thick, perfectly sweet, and surely does just melt in your mouth with every bite. Not being your typical Cinnamon Roll, this recipe is infused and topped with a mouth-watering chai latte glaze that will leave you 'Cinnamon Roll obsessed'. Definitely not your average vegan sweet treat, but 100% homemade and filled with pure goodness! Overnight + Gluten-Free options.
Dairy-Free Carrot Cake with Chai Buttercream - This is the best + perfect rendition of traditional carrot cake with a dairy-free twist! Not only is it completely soft + fluffy, but it's utterly delicious! Loaded with carrots and nutty pecan goodness making it rich and dense in flavor + layers of velvety gingery chai-infused buttercream, a magical combo! Absolutely irresistible and family-friendly, everyone will be fighting over the last slice! Vegan + Nut-Free options.
Back to this cake! Together, in this cake, they make a surprisingly flavorful treat that's great for breakfast or dessert. So find your favorite bundt cake and make this treat for your next party!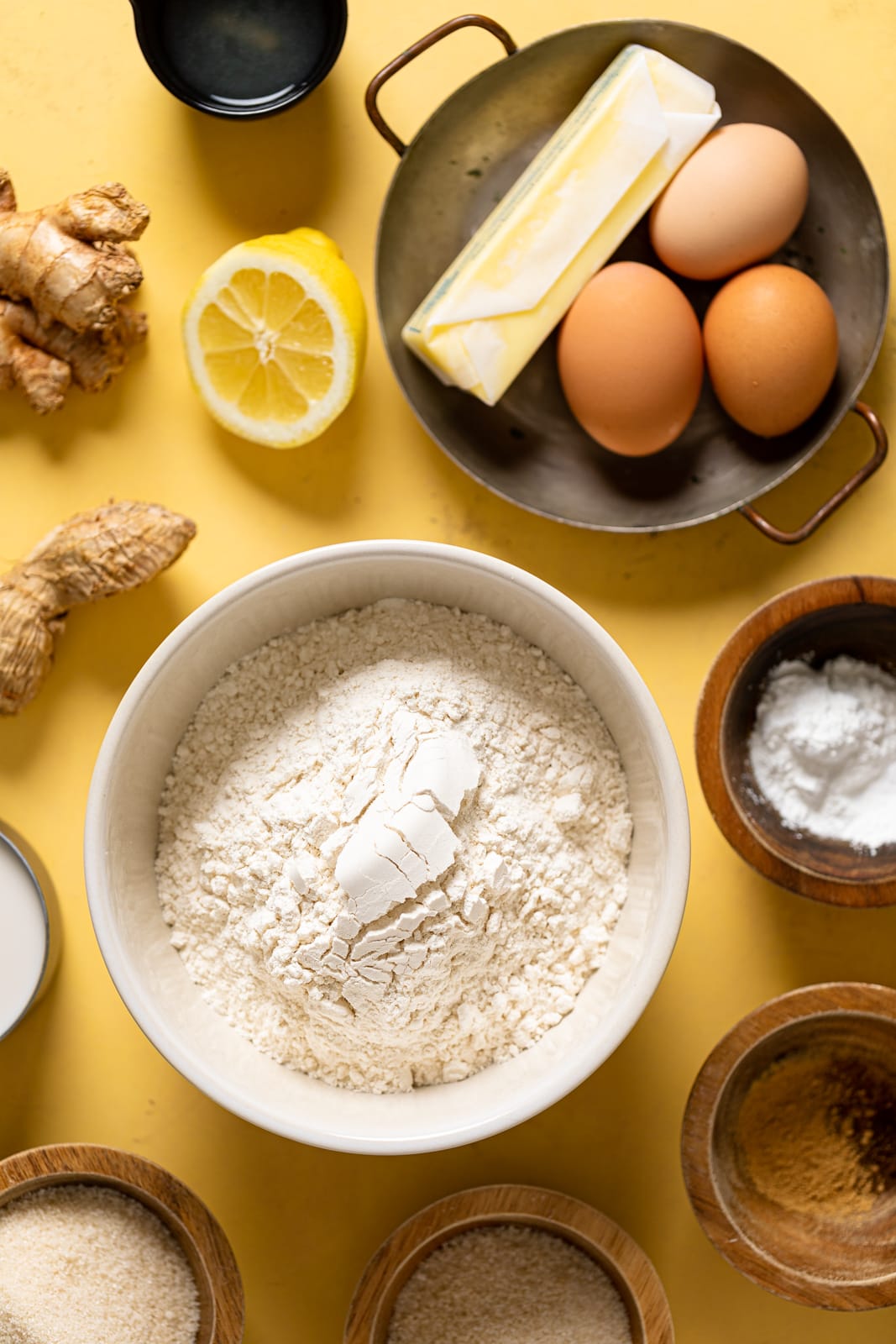 Ingredients for Lemon Ginger Bundt Cake
Here's what you need for this spiced bundt cake recipe:
Flour. I use organic flour from Bob's Red Mill. (Sub-out for Bob's Red Mill GF flour for Gluten-free version)
Cane sugar. You could also use coconut sugar if you prefer.
Butter. Use unsalted butter softened to room temperature. (Or use dairy-free if you prefer)
Lemon zest and juice. For a hint of brightness.
Dried spices. This cake gets its warm flavor from ginger, nutmeg, and allspice.
Eggs. These are best used at room temperature so they blend into the batter smoothly. (Vegan options below)
Vegetable oil. You can also use coconut oil.
Almond milk. Make your own using my no-soak method! Or use any milk you like, with or without dairy.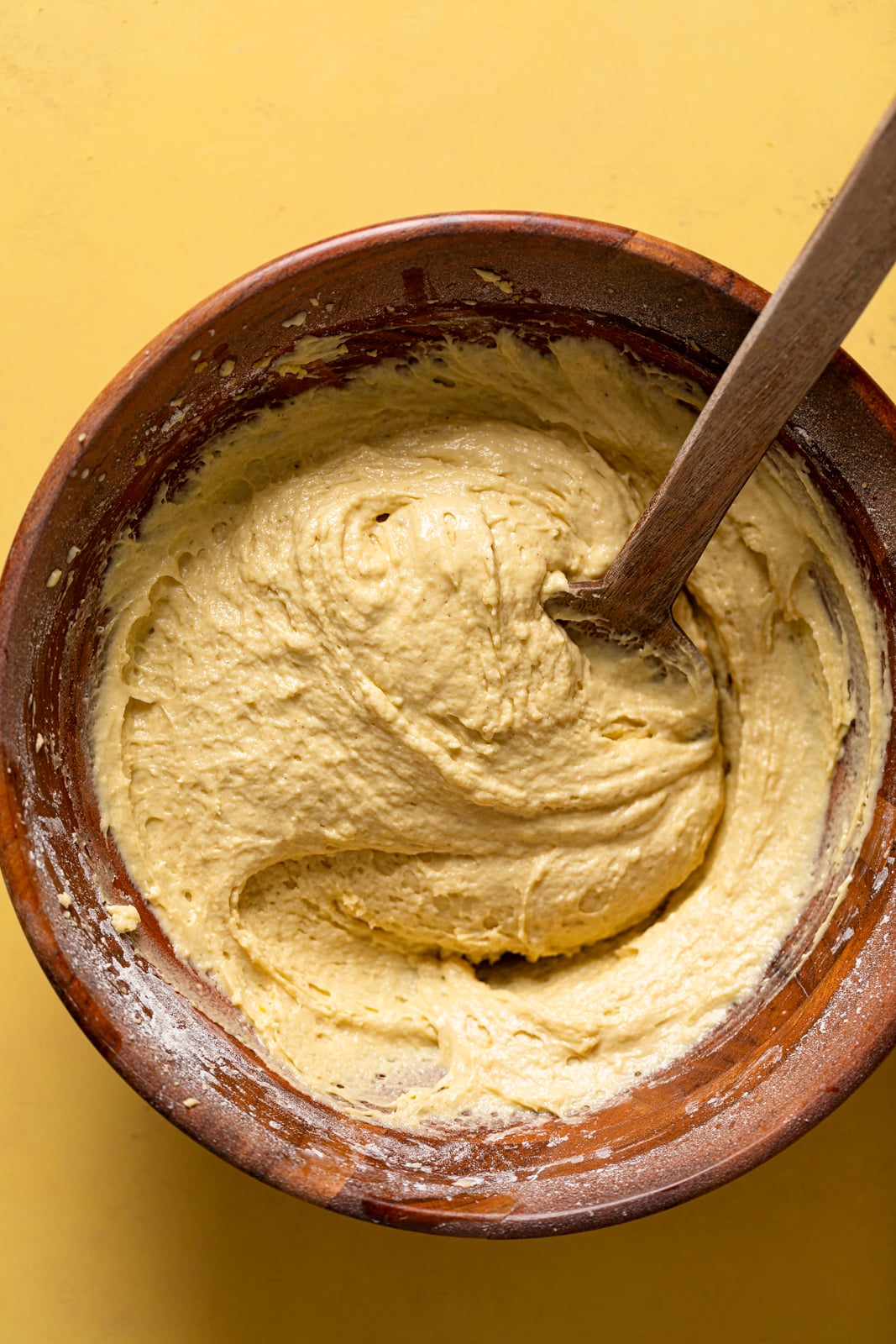 What Exactly Is a Bundt Cake?
A bundt cake is a special kind of cake that's baked in a round pan with a fancy fluted design. The pan's shape gives the cake a really cool and unique appearance, making it a great dessert for special occasions or when you want to impress your guests. Plus, bundt cakes are usually a bit denser and moister than regular cakes, so they're super satisfying and yummy. If you've never tried making a bundt cake before, I highly recommend giving it a go with this recipe or one of my other favorites is this Sweet Potato Bundt Cake with Maple Glaze - it's a fun way to elevate your baking game!
Lemon Glaze for Bundt Cake
To tie your pretty cake together, make a simple lemon glaze. All you need it:
Powdered sugar. This ensures that your glaze is smooth and shiny, not gritty.
Lemon juice. For extra citrus flavor.
Almond milk. Or any non-dairy milk you like.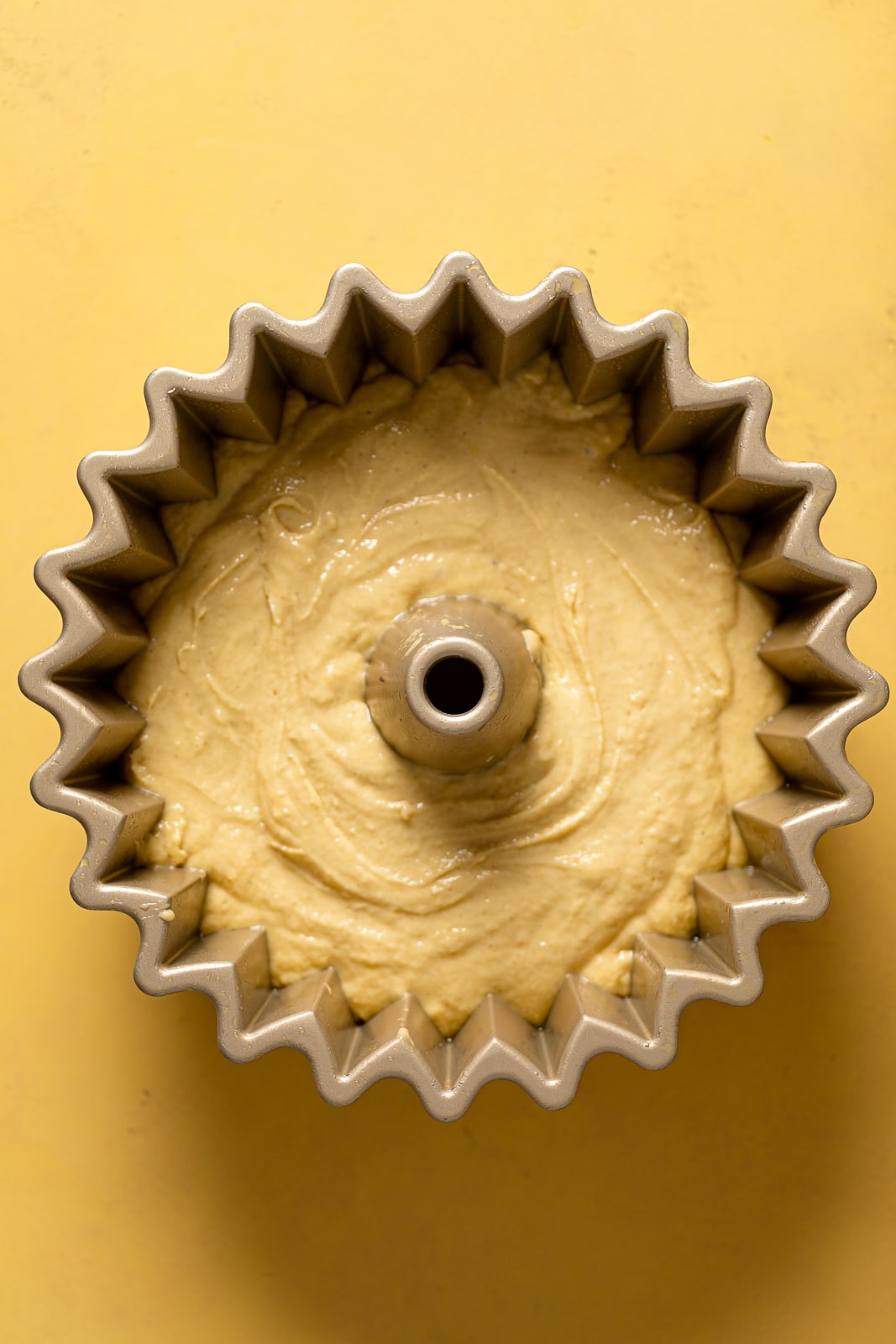 Tips for the Best Lemon Ginger Bundt Cake
Here are a few tips to make sure your cake comes out perfectly the first time:
Make sure you thoroughly grease the bundt pan. I also recommend adding a light coating of flour to make sure your cake slides easily out of the pan, however, when not using flour----just ensure that you butter the pan generously.
Use room-temperature butter so it whips up light and fluffy with the sugars. Otherwise, you may get lumps of butter in the cake batter.
Once you combine the dry and wet ingredients, avoid over-mixing the cake batter. Just mix until the batter comes together smoothly. It will be thick and rich.
Let the cake cool completely: After you've baked the cake, let it cool completely in the pan before you try to remove it. This will help it keep its shape and prevent it from falling apart.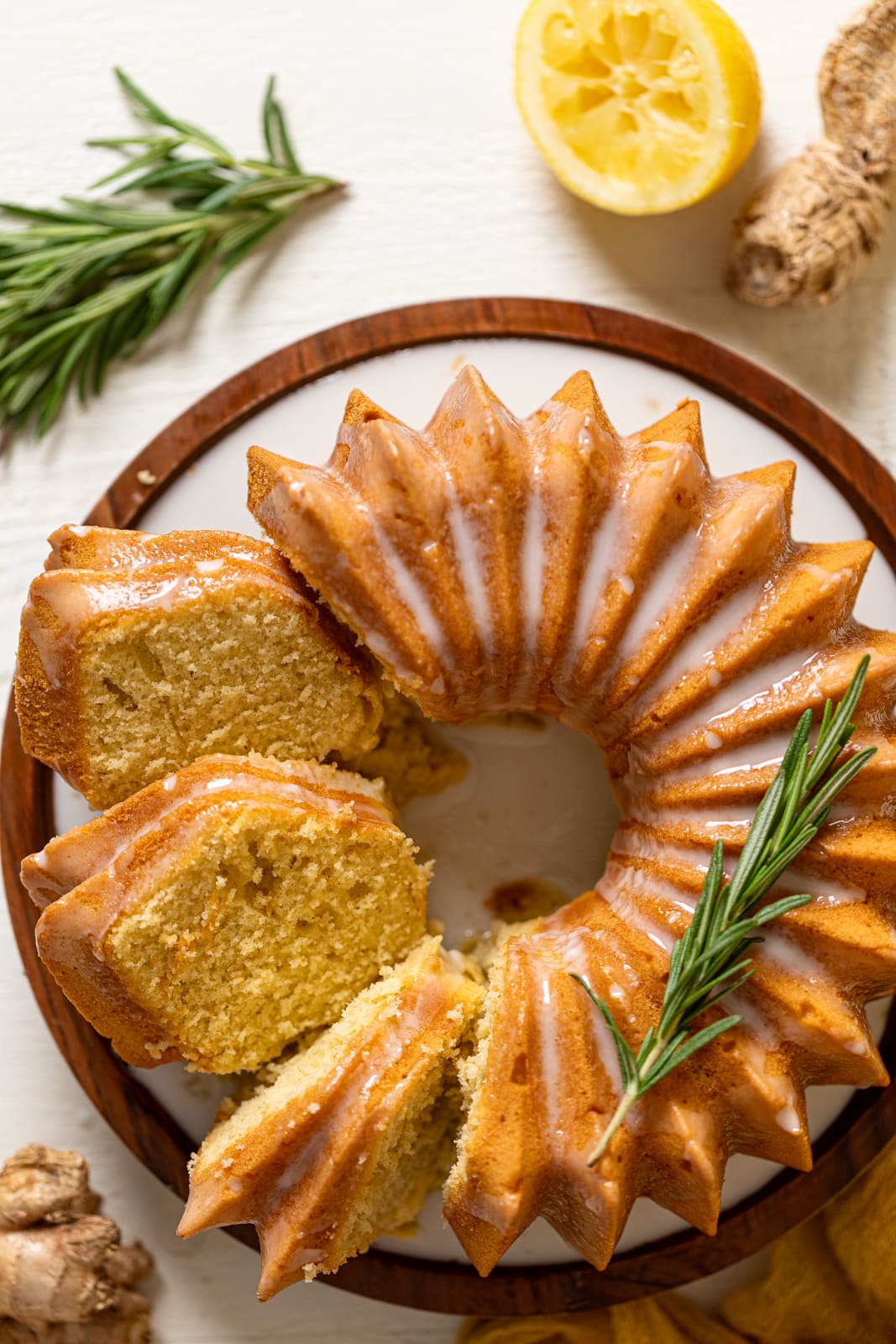 Lemon Ginger Bundt Cake Q+A's

Can I Use Fresh Ginger?
Yes! If you'd like to use fresh ginger in this bundt cake recipe, go for it. Simply substitute the ground ginger with a tablespoon of minced or grated fresh ginger.
How do I know when a bundt cake is done baking?
The baking time for a bundt cake can vary depending on the recipe and the size of your pan, but a good rule of thumb is to check the cake with a toothpick or cake tester. Insert it into the center of the cake - if it comes out clean, the cake is done baking! You can also look for the edges of the cake to pull away from the sides of the pan, or for the cake to have a golden brown color
How to Store Lemon Ginger Bundt Cake
Store leftover bundt cake tightly wrapped or in an airtight container in the fridge for up to four days. Or for longer storage, freeze for up to six months. Then simply defrost the cake on the counter for a few hours before serving.
How to Serve a Lemon Ginger Bundt Cake
You can serve this stunning lemon ginger cake for a decadent breakfast or brunch. I love it for the Spring season and especially for special holidays like Easter, Mother's Day, or any celebration. Of course, this is a sweet cake, so if you're looking for a great holiday dessert with seasonal flavor, it works there too--just add a nice topping like seasonal fruits, I love to add strawberries!
Can I make this egg-free?
If you're looking to replace regular eggs with a vegan option in your bundt cake recipe, there are a few options to consider. Here are some common egg substitutes that work well in baking:
Flax eggs: Mix 1 tablespoon of ground flaxseed with 3 tablespoons of water and let it sit for a few minutes until it forms a gel. This can be used to replace 1 egg in your recipe.
Applesauce: Use ¼ cup of unsweetened applesauce to replace 1 egg. This works especially well in recipes that call for only 1 or 2 eggs.
Mashed banana: Use ¼ cup of mashed ripe banana to replace 1 egg. This works well in recipes that have a mild flavor, as the banana can add a subtle sweetness.
There are several brands of vegan egg substitutes available in supermarkets, such as Just Egg, Bob's Red Mill Egg Replacer, and Ener-G Egg Replacer. These products are designed to mimic the texture and function of eggs in baking recipes and great if you want to go egg-free!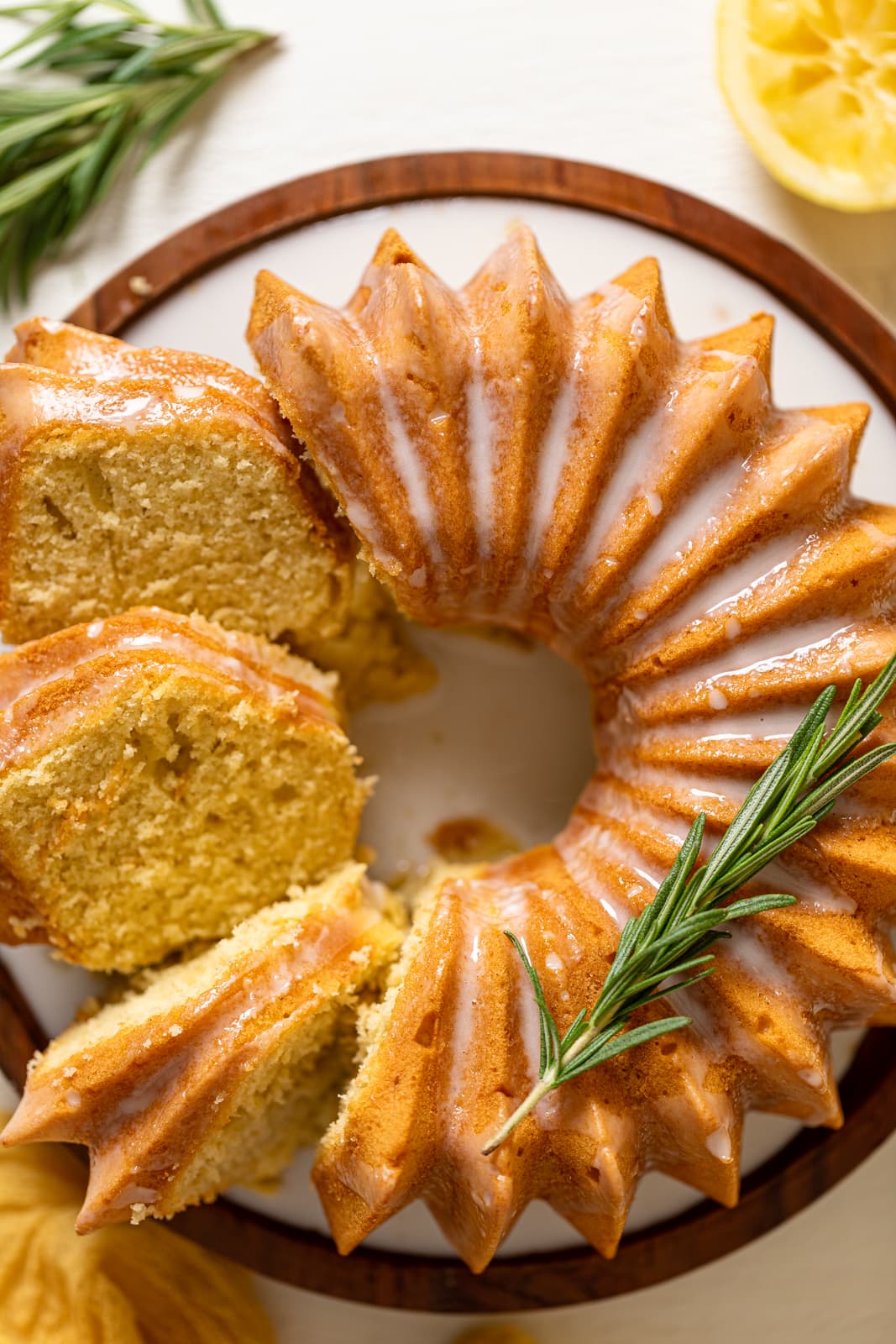 Why you will LOVE this Lemon Ginger Bundt Cake?
Bold zesty flavor
Moist + Tender
Mouthwatering
Vegan + plant-based options
Luscious and OH SO flavorful
It's the PERFECT tasty dessert!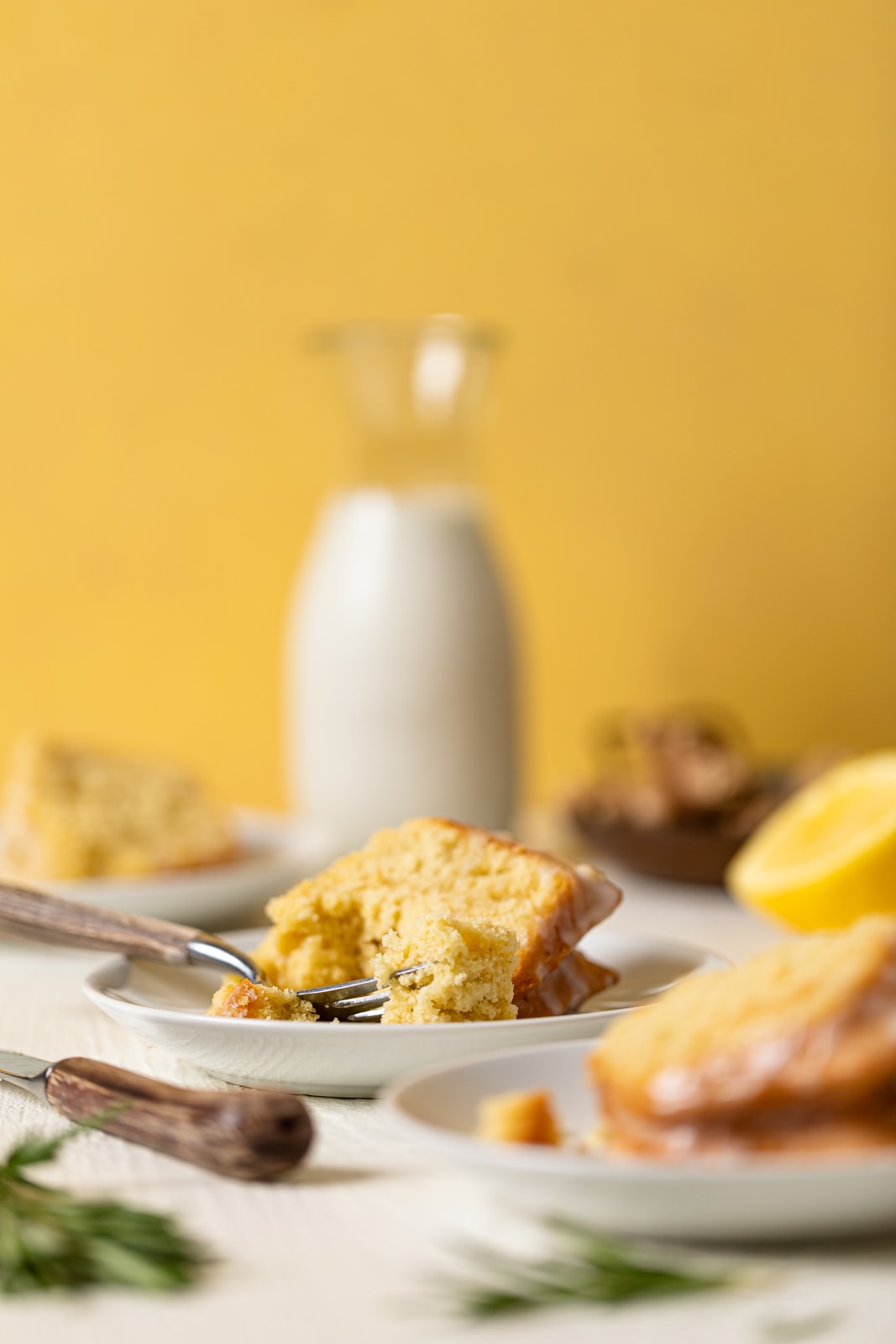 Everything You Need To Know About Flour
CAKE FLOUR VS. ALL-PURPOSE FLOUR.
When it comes to the main ingredient of this entire recipe—-the flour, I enjoy using Bob's Red Mill Unbleached White All-Purpose Flour, which is ideal for all kinds of baking, including this one.
However, I do occasionally use Super-Fine Cake Flour which adds a nice airiness and fluffiness to your cakes as well.
CAN I MAKE THIS BUNDT CAKE GLUTEN-FREE?
If you would love to make this cake gluten-free, then substituting all-purpose flour with Bob's Red Mill 1-to-1 Baking Flour is the easiest option. It's a special blend of gluten-free flours, starches, and xanthan gum, which makes this cake just as soft, fluffy, and airy as the original! They also have a great All-purpose GF flour that works great as well.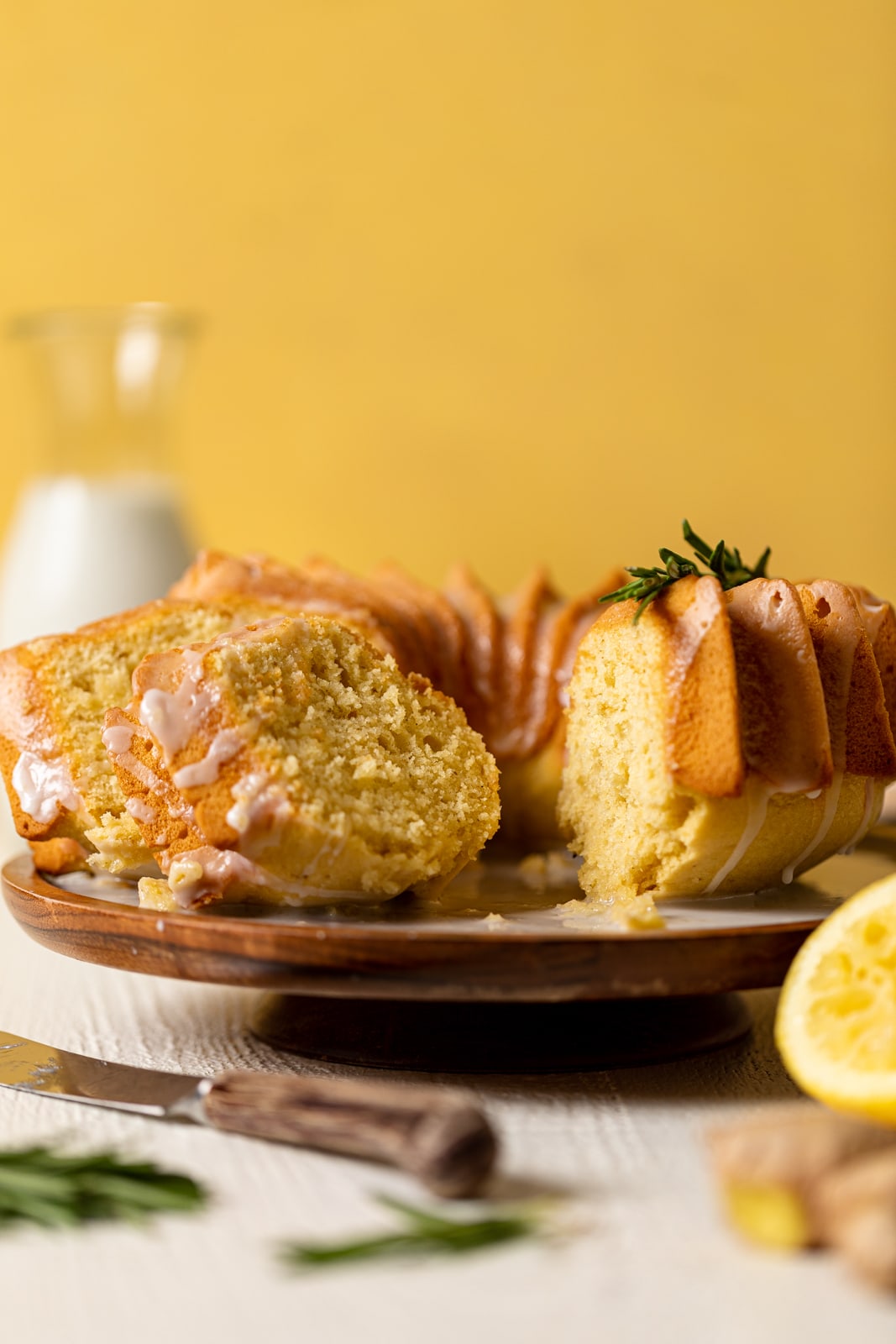 My Fave Cake Recipes
MADE OUR RECIPE(S)?
If you make this Lemon Ginger Bundt Cake, be sure to tag me on Instagram @orchidsandsweettea!
Total Time:
1

hour
15

minutes
BUNDT CAKE:
2 ½

cups

organic all-purpose flour

1

cup

organic cane sugar

½

cup

unsalted butter, softened at room temp.

1 ½

tsps

baking powder

½

teaspoon

baking soda

1

teaspoon

lemon zest

1 ½

tsps

ground ginger

½

teaspoon

ground nutmeg

¼

teaspoon

ground allspice

3

large

organic eggs, room temp.

2

tsps

freshly-squeezed lemon juice

¼

cup

vegetable oil

1

cup

Almond milk

(You can also use dairy milk, if preferred!)
LEMON GLAZE:
2

cups

organic powdered sugar, sifted

1

teaspoon

freshly-squeezed lemon juice

1-2

Tbsps

Almond milk

(You can also use dairy milk, if preferred!)
TO MAKE BUNDT CAKE:
Begin by preheating the oven to 375 degrees Fahrenheit. Generously grease (with butter) a standard Bundt cake pan.

In a large bowl, whisk together the flour, baking powder, baking soda, ginger, nutmeg, allspice, lemon zest, and salt until combined. Set aside.

In a bowl, add the butter and sugar, beating them together using a hand-mixer (on high-speed), until pale and fluffy, about 2-3minutes.

Add the eggs (one at a time) followed by the lemon juice and oil, mixing until combined. On low-speed, add in the dry ingredients followed by the milk and continue to mix until combined and the batter is smooth, about 3-4 minutes. NOTE: The batter should be thick, yet easy to stir.

Scoop the batter evenly into the Bundt cake pan and bake for 45 minutes to 1 hour, or until a toothpick or butter knife comes out clean when tested all around the cake.

Remove cake from the oven and let it cool completely in the pan before removing the cake and placing it onto a cake stand or dish. NOTE: Let it cool for at least 1-2 hours in a cool place.
TO MAKE THE GLAZE:
In a bowl, add the powdered sugar, lemon juice, and milk, whisking everything together until the glaze is smooth and thick. NOTE: Glaze should be thick, but able to slowly run off whisk. If too thick, add additional milk (1 tablespoon at a time); if too thin, add additional powdered sugar (1 tablespoon a time).

Once the cake has cooled completely and is on the cake stand or dish of your choice, generously drizzle lemon glaze atop.

Slice and enjoy with your favorite scoop of ice cream or whipped cream.

Bon Appetit!
STORAGE: Keep cake leftovers stored for up to 4 days in the fridge. Keep it in an airtight container to keep the cake from drying out. You can also freeze the cake tightly wrapped in plastic wrap for up to 3 months. Before serving, defrost the cake on the counter.
DAIRY BUTTERMILK: You can substitute the dairy-free milk with dairy buttermilk. Just omit the 2 tsps of lemon juice. Add 1 cup of organic heavy cream + 1 tablespoon lemon juice and let sit for 10 minutes, until it thickens.
Calories:
250
kcal
|
Carbohydrates:
58
g
|
Protein:
6
g
|
Fat:
10
g
|
Saturated Fat:
5
g
|
Polyunsaturated Fat:
1
g
|
Monounsaturated Fat:
3
g
|
Trans Fat:
0.3
g
|
Cholesterol:
68
mg
|
Sodium:
166
mg
|
Potassium:
75
mg
|
Fiber:
1
g
|
Sugar:
17
g
|
Vitamin A:
306
IU
|
Vitamin C:
1
mg
|
Calcium:
70
mg
|
Iron:
2
mg