Make a delicious homemade Toasted Coconut Honey Latte with a twist on coconut milk, raw honey, vanilla, and cold brew coffee for a velvety, satisfying, and warming morning drink. Feel free to top things off with an easy foam milk (or coconut whipped cream) for an extra treat! Vegan option.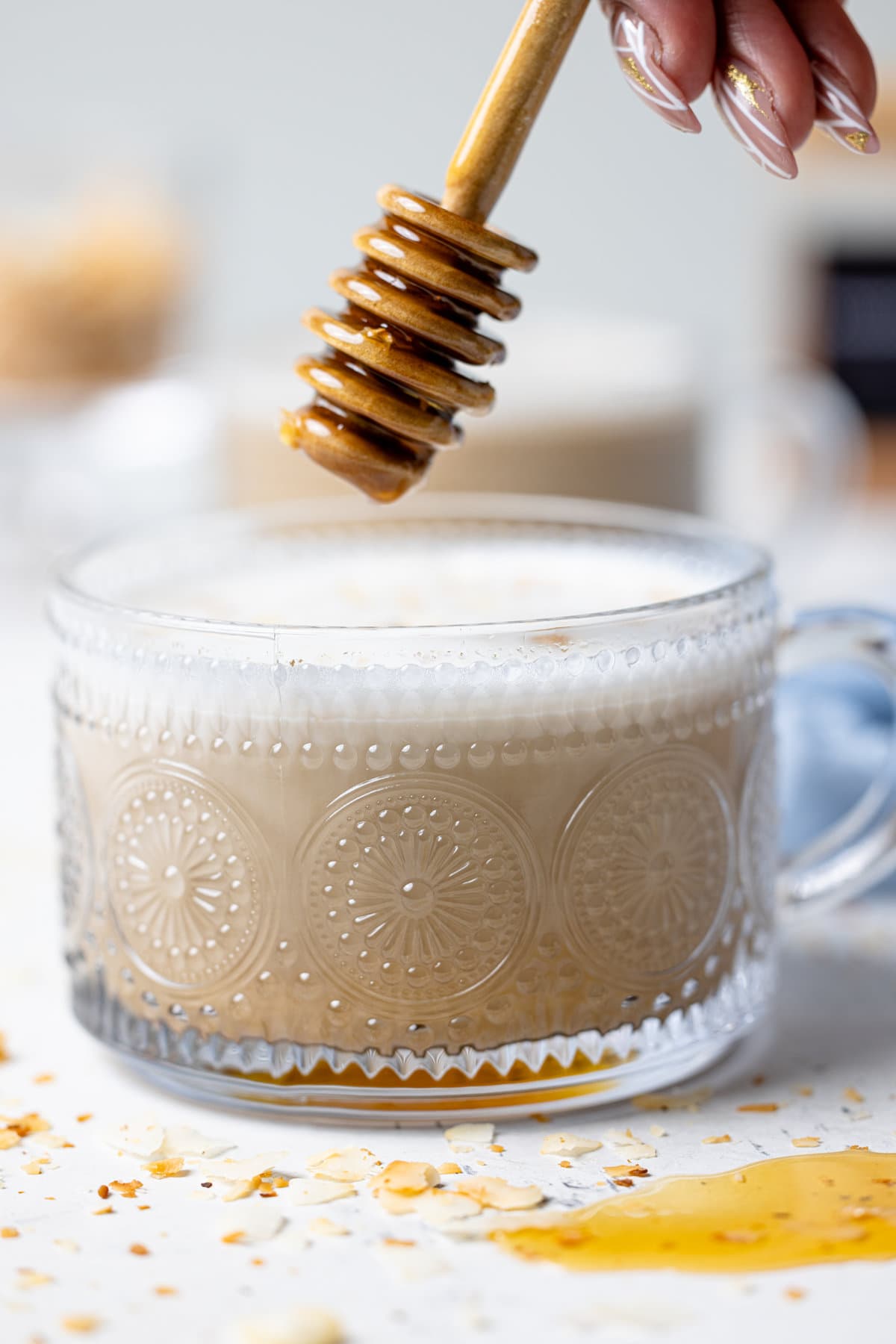 Disclaimer: This post contains affiliate links via Amazon for products that I wholeheartedly love.
Lattes for me have been my newest way to start my mornings. While I enjoy a good glass of iced coffee, there's something about a warm, comforting cup of this Toasted Coconut Honey Latte that gets me excited every time.
Now that we're heading straight into the Fall season, I couldn't be more excited to share this easy recipe with you and I promise----once you try toasted coconut milk, you'll be hooked!
Of course, if you don't have time to toast your coconut flakes, simply make my homemade coconut milk for a quick whip together! Either way----this latte is great!
For the past few years, I've enjoyed making my own lattes at home and while I do enjoy an occasional store-bought latte, homemade ones are by far the best for two reasons: you save more money and you have better control over the ingredients in what your coffee.
Toasted Coconut Honey Latte Ingredients
The two components in this simple homemade latte are the homemade toasted coconut milk and the actual coffee. Here's what you need to make the milk:
Coconut flakes. I use an organic version that's unsweetened.
Water.
Vanilla. Creates a nice addition of flavor.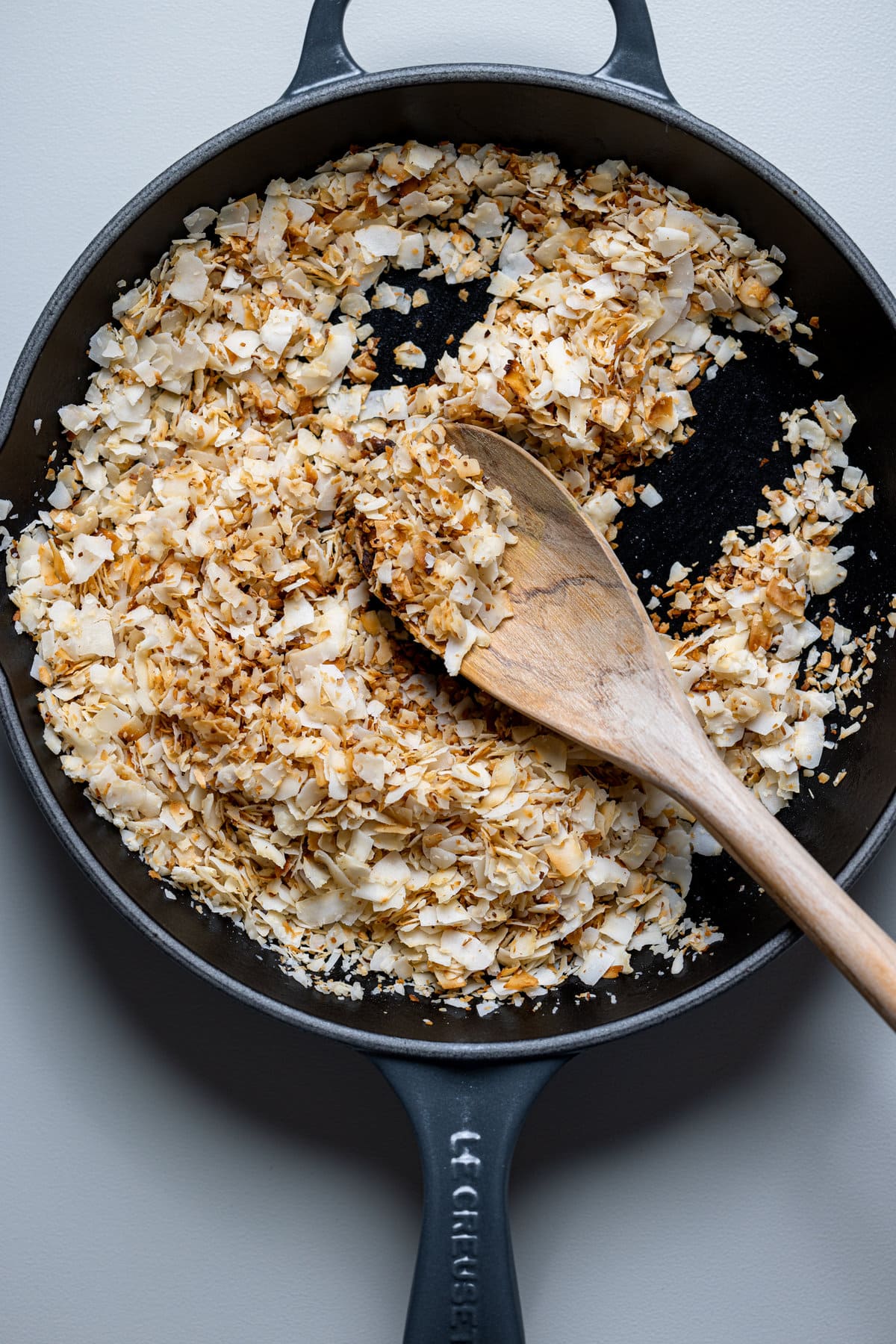 To make your lattes, you'll use:
Cold brew. You can also use espresso or chilled brewed coffee.
Toasted coconut milk. Make your own! Or use store-bought coconut milk.
Coconut whipped cream. For a nice smoothness after every sip, I like to top with coconut whipped cream. Make your own or use a store-bought version like So Delicious Dairy-Free.
Raw honey. This is the highlight of the entire drink and also acts as a great sweetener and is rich in antioxidants.
Cinnamon. This spice helps to add extra flavor and amplifies everything else.
Why Toast Your Coconut Flakes?
While you can always use regular coconut milk, I can guarantee that toasting your coconut creates a sweeter and nuttier taste to this latte. It's definitely something that you shouldn't pass up! Plus, you can use any leftover toasted coconut on the following:
Ice cream
Dessert (cake, cupcakes, etc.)
Oatmeal or overnight oats
Other lattes
No-bake Energy bites
Cookies, etc.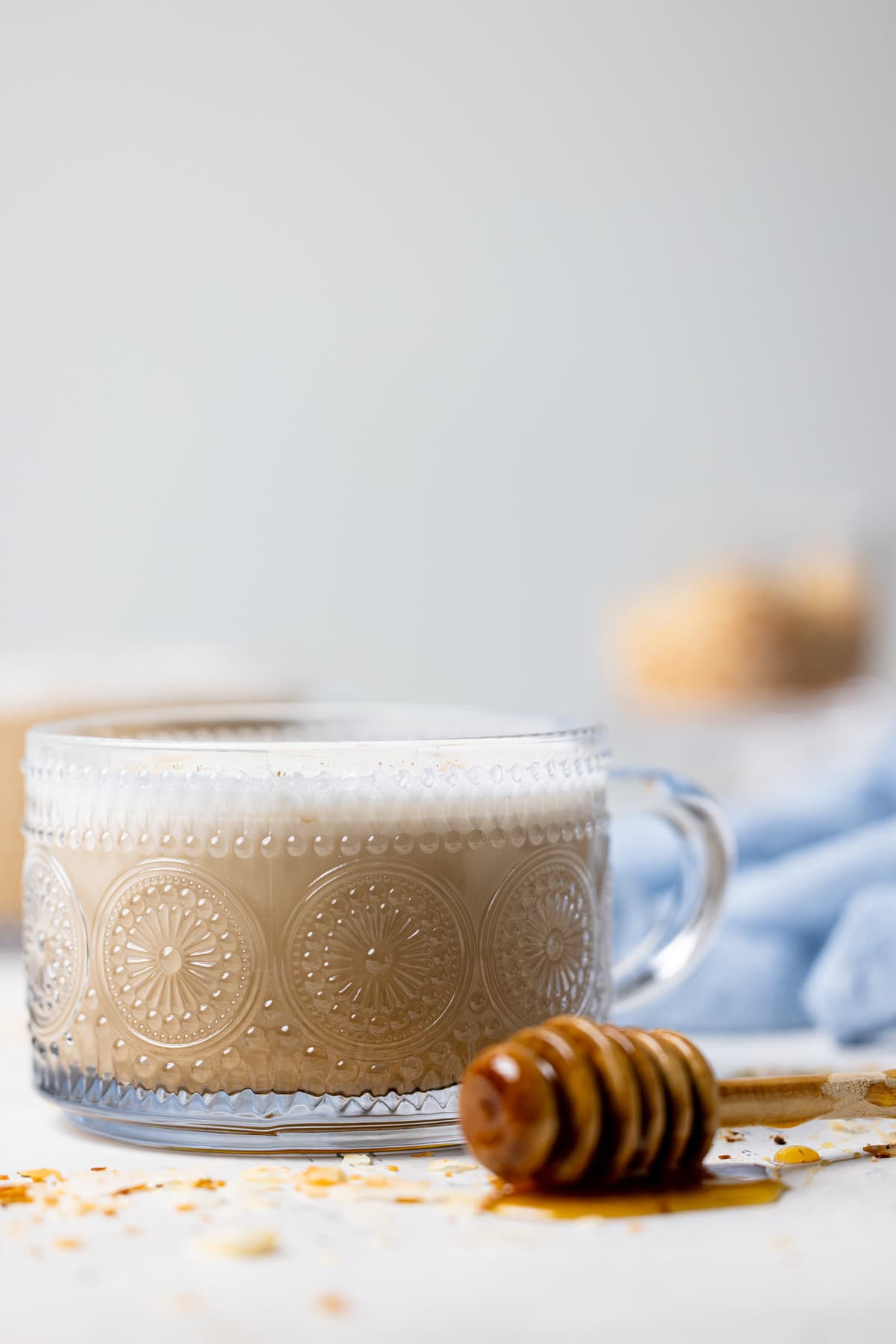 Why You'll Love This Toasted Coconut Honey Latte
First and foremost, the flavors in this simple and easy drink is enough to convince anyone, however, here are a few more reasons why you'll love this recipe:
It's a nice twist to your everyday latte. I tried to make this Toasted Coconut Honey Latte as easy, but unique as I could. Although there aren't any special ingredients used, the combination of an array of toasted coconut and the honey flavors definitely adds a nice touch!
It's super easy to make! I literally love the fact that it's easy to make and only requires that you warm your ingredients together and wallah!
You save money! This by far is one of my biggest reasons for making my own coffee at home (minus the last point to come). You definitely save more money purchasing the ingredients and making your own servings at home.
It's healthier. Most of all, this is my biggest plus! I love when I am able to know what ingredients I use whenever making drinks, cooking, or baking. Making my own lattes and coffee at home has definitely allowed me to switch to healthier, organic ingredients which is a win, win!
Can I Use Other Types of Milk?
Absolutely! If you'd like to switch things up with the type of plant-based milk that you use—–that's totally fine! The world of plant-based milk is constantly expanding. From the classics like coconut milk, cashew milk, soy milk and almond milk, we now have delicious options like oat milk, and even potato and quinoa milk.
SHOP MY FAVORITE DRINKWARE ITEMS AND ACCESSORIES!
Here, I've curated a list of drinkware and mocktail essentials that I use to achieve my favorite drinking experiences, especially with this Toasted Coconut Honey Latte. Everything from my fave glassware, coffee stirrers, ice cube trays, and more. SEE THEM HERE!
Can I Serve this Latte Hot or Cold?
Yes! You can definitely switch things up by serving this Toasted Coconut Honey Latte hot or cold whenever you chose to. To serve cold, simply make the toasted coconut milk first.
Then add crushed ice in a glass followed by the toasted coconut milk, coffee, honey, vanilla, and cinnamon, stirring it all together until combined. Top with coconut whipped cream or frothed milk and a sprinkle of coconut flakes and that's it!
Homemade Coconut Whipped Cream
Making your own homemade coconut whipped cream is so easy! You'll need 1 cup of chilled full-fat coconut cream/milk and 1 teaspoon vanilla extract. On high-speed, whip everything using a whisk attached to an electric stand-mixer or hand-mixer until fluffy and stiff peaks are present. NOTE: Ensuring that your bowl is chilled definitely helps things to whip faster.
How to Best Froth Milk
Frothing milk as a topping is super easy! For this recipe, I used ½ cup chilled full-fat coconut cream/milk for the best results. Simply get your best milk frother and add the milk to it and turn it on. The trick is to rotate it in a circular motion as it "mixes" until it begins to thicken and become foamy and smooth.
Of course, if you're not restricted to just dairy-free milk, then the other types of milk that can be best frothed are: whole milk, 2% milk, skim milk, oat milk, and Almond milk. Their ability has a lot more to do with protein and fat content.
Common FAQs for this Toasted Coconut Honey Latte
WHAT KIND OF COFFEE CAN I USE?
It's absolutely up to you! You can use chilled cold brew or espresso coffee or actual freshly brewed coffee.
WHAT IS THE CONSISTENCY OF THIS LATTE?
As mentioned before, this latte is so light, creamy and velvety. To create even more creaminess, you can always use a dairy-free coffee creamer (coconut flavored if preferred) instead of a plant-based milk. Also, you can stir in your whipped cream topping into the latte for a bit more smoothness. Either way, this latte is SO Delish!
CAN I SUBSTITUTE THE COCONUT WHIPPED CREAM?
Definitely. For added pizzazz, feel free to add frothed milk to the top of your latte instead of CocoWhip or you can drink it without a topping. The possibilities are endless.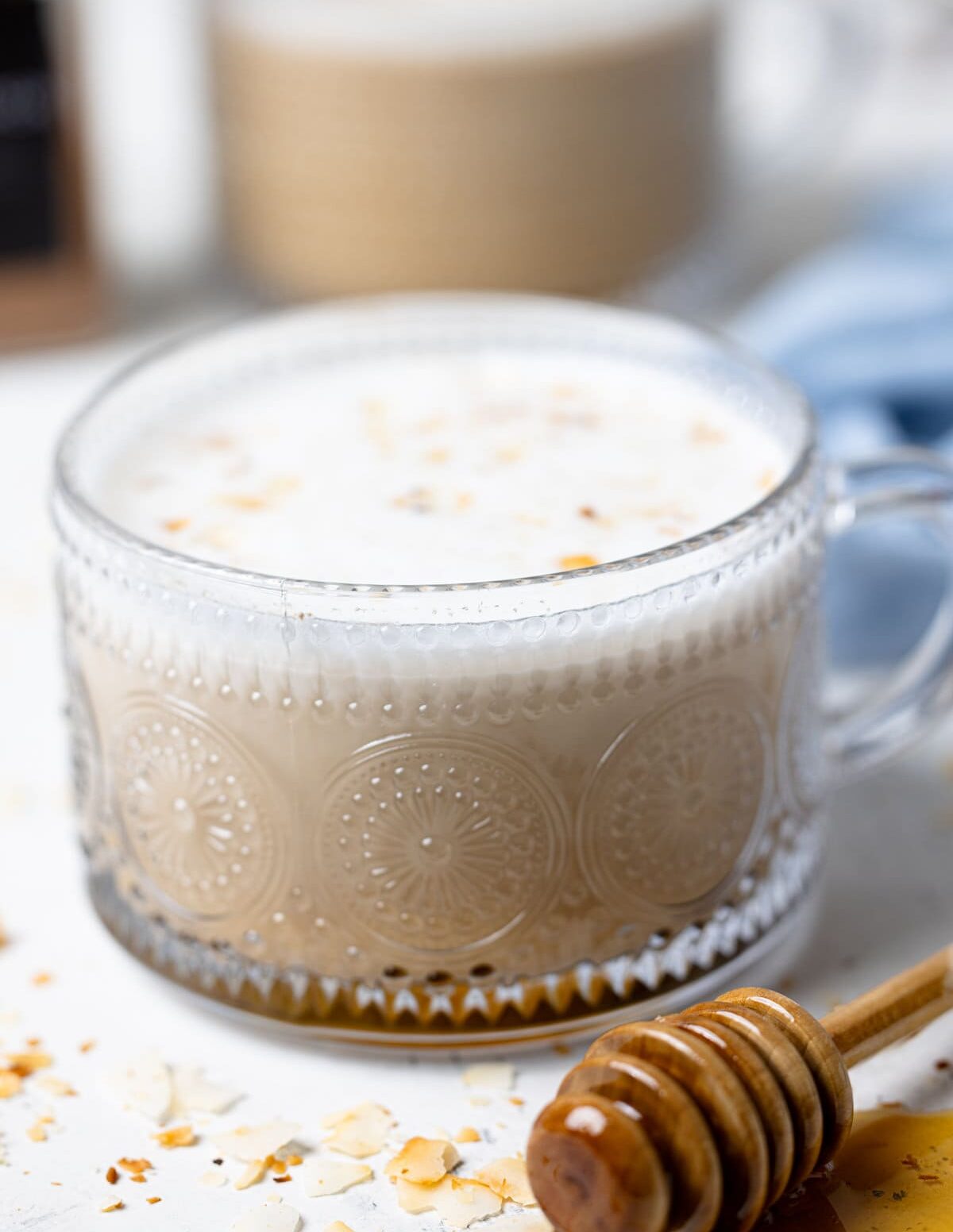 More Honey-infused Recipes to Try
MADE OUR RECIPE(S)?
If you make this Toasted Coconut Honey Latte, tag @orchidsnsweettea_ on Instagram and hashtag it #orchidsandsweettea!
LATTE:
1 ½

cups

toasted coconut milk

½

cup

cold brew or espresso

2-3

Tbsps

raw honey

1

teaspoon

vanilla extract

Pinch of

ground cinnamon
OPTIONAL TOPPINGS:
Frothed milk

Coconut flakes

Raw honey, for drizzle

Coconut whipped cream
TO TOAST THE COCONUT FLAKES:
In a medium non-stick (10-inch) skillet over medium-high heat, add the coconut flakes and stir until golden and toasted, about 3-4 minutes or so. Remove from heat. Let cool.
TO MAKE THE TOASTED COCONUT MILK:
Add the cooled toasted coconut, water, and vanilla to a high-powered blender and blend on medium-high speed for about 30-45 SECONDS. **NOTE: Do not over-blend.

Once done, slowly strain (using a cheesecloth or nut bag) milk into a measuring cup or pitcher, squeezing the coconut 'pulp' to ensure that all milk is extracted.
TO MAKE THE LATTE:
In a medium saucepan over medium-high heat, add the milk and bring to a boil for 1-2 minutes. Whisk in the coffee or espresso and reduce the heat to simmer before adding in the cinnamon, honey, and vanilla whisking everything together until combined.
ASSEMBLY:
To serve, pour latte mixture in prepared mug(s) and top with frothed milk or Coconut whipped cream and sprinkle with coconut flakes and a drizzle of honey.

Sip and enjoy!
STORAGE (MILK): When properly stored in the refrigerator, coconut milk lasts for up to 1 week, at best. Usually, I like to consume my batch within the first 2-3 days.
SERVING: To make more, simply double or triple the measurement of ingredients, depending on your desired amount. 
SWEETENER: Instead of honey, you can use substitute with sweeteners like maple syrup, Agave, dates, or date syrup, if preferred.
Toasted Coconut Honey Latte.