Homemade Oatmeal Honey Bread is one of my newest favorite breads to make! It is perfectly savory with a hint of sweetness, balanced between tender and crunchy, and 100% delicious! Simply make the dough, let it rise to perfection, bake it until golden brown, and wallah. Complete bread magic! Vegan + Gluten-free options available.
I've been having fun testing out easier breads to make like this oatmeal honey bread, although I do plan to try my hand at full on bread making in the coming months, especially as practice for the holiday season ahead. But if you've seen my original Easy Fluffy Vegan Brioche Bread recipe, then you're aware of just how easy this recipe is to follow, except that this one has much more flavor.
Regardless of whether you're an experienced baker or not—-this homemade bread is one to try and is super easy to achieve!
As you can see, I chose to make this bread in a round baking pan as opposed to the normal loaf pan just as a way to switch things up a bit. However, you can always keep things pretty traditional with a loaf pan if you'd prefer that.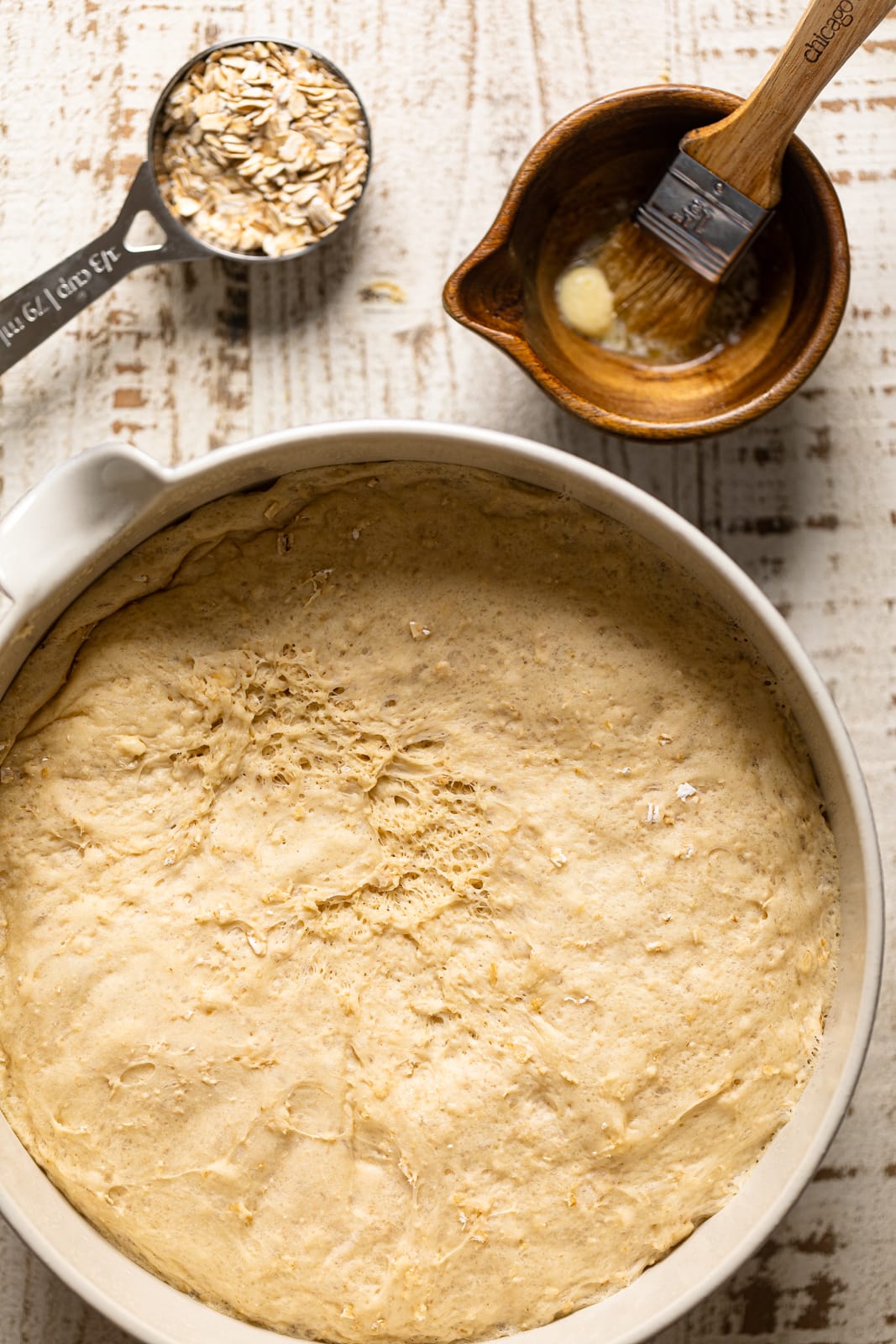 How to Make Homemade Oatmeal Honey Bread
Here's the first thing that you need to do----assemble your ingredients!
INGREDIENTS
Here's what you need to make dairy-free brioche today:
Organic artisan bread flour. Bread flour has a higher protein (gluten) content than regular flour. This helps to give your brioche more of a structure and chewy, but soft texture. If you don't have bread flour, however, you can still make the recipe with regular all-purpose flour. Either way, I recommend using Bob's Red Mill or King Arthur organic flour.
Instant yeast. You'll need just one packet of yeast for this recipe. If you have a larger bag of instant yeast, measure out 2 ¼ teaspoons. Make sure you're not using active dry yeast, though, which requires activation before you can start using it.
Brown sugar. This feeds the yeast so they activate and produce the gasses that will help your brioche rise. It also adds just a *hint* of sweetness to the bread. Use organic sugar if possible.
Sea salt. It's important to add salt both for flavor and texture. Salt helps tenderize the gluten strands in your bread for a softer, chewier texture.
Rolled oats. This is by far the star of this recipe. I love using thick-cut rolled oats, however, old fashioned or regular rolled oats do just fine.
Butter. You can also use an equal amount of vegan butter if you prefer to make your bread dairy-free.
Honey. This is the must-have ingredient to tie everything together and create a nice subtle sweetness. Of course, you can always use Agave syrup or maple as a vegan alternative. However, the honey flavor adds a nice touch.
Oat milk. Feel free to use different plant-based milk if you prefer. I recommend using unflavored, unsweetened milk.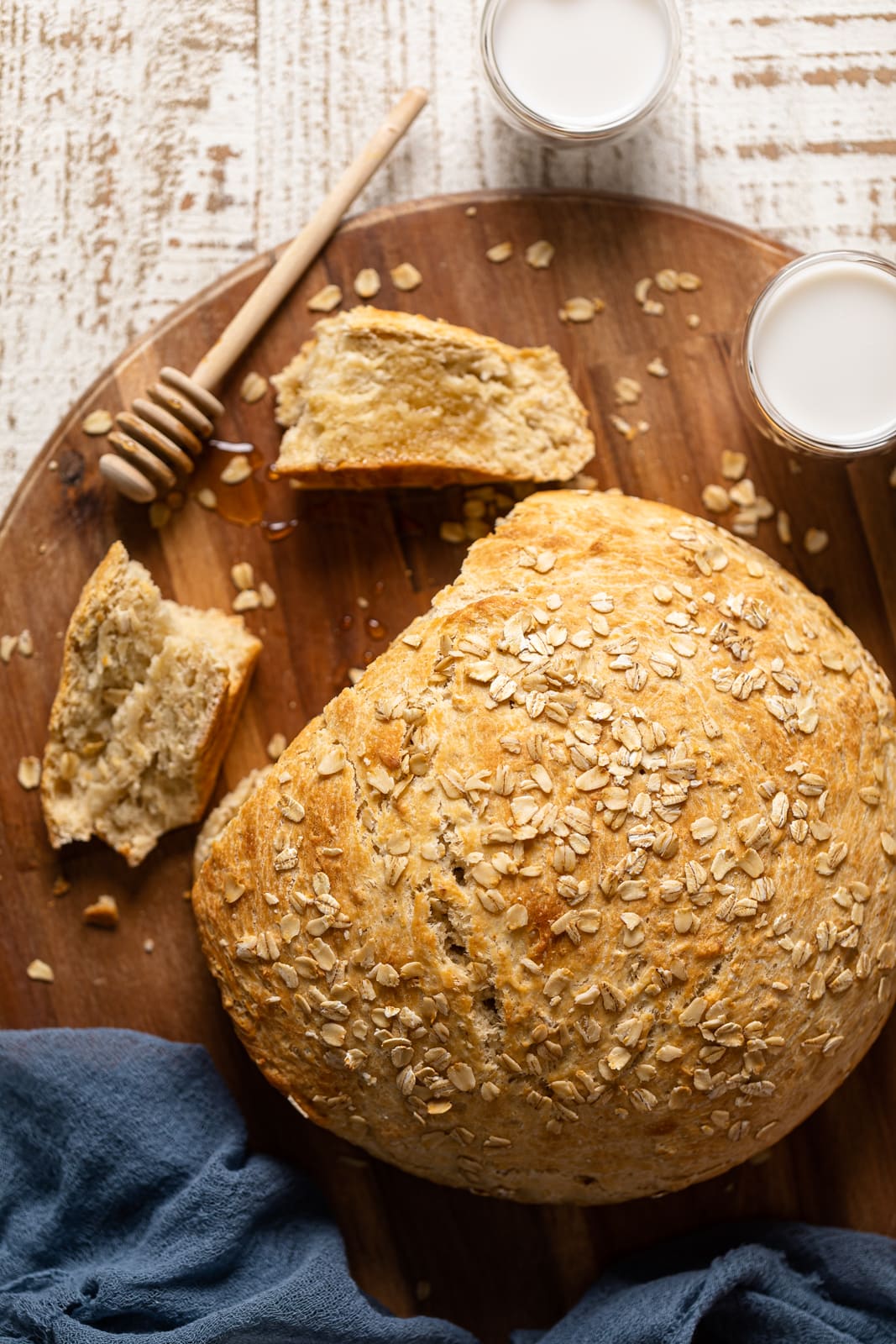 Health Benefits of Oats
Oats are another superfood that's great to start your day with. Rolled oats like the ones used in this recipe, are a healthy source of complex carbs, fiber (the soluble kind!), protein, and fat. In addition, they are loaded with important vitamins, minerals, and antioxidants.
Other great benefits of oats, according to studies:
They can help lower cholesterol.
Helps regulate blood sugar levels to avoid crashes and spikes
May help with losing weight.
Helps to relieve constipation.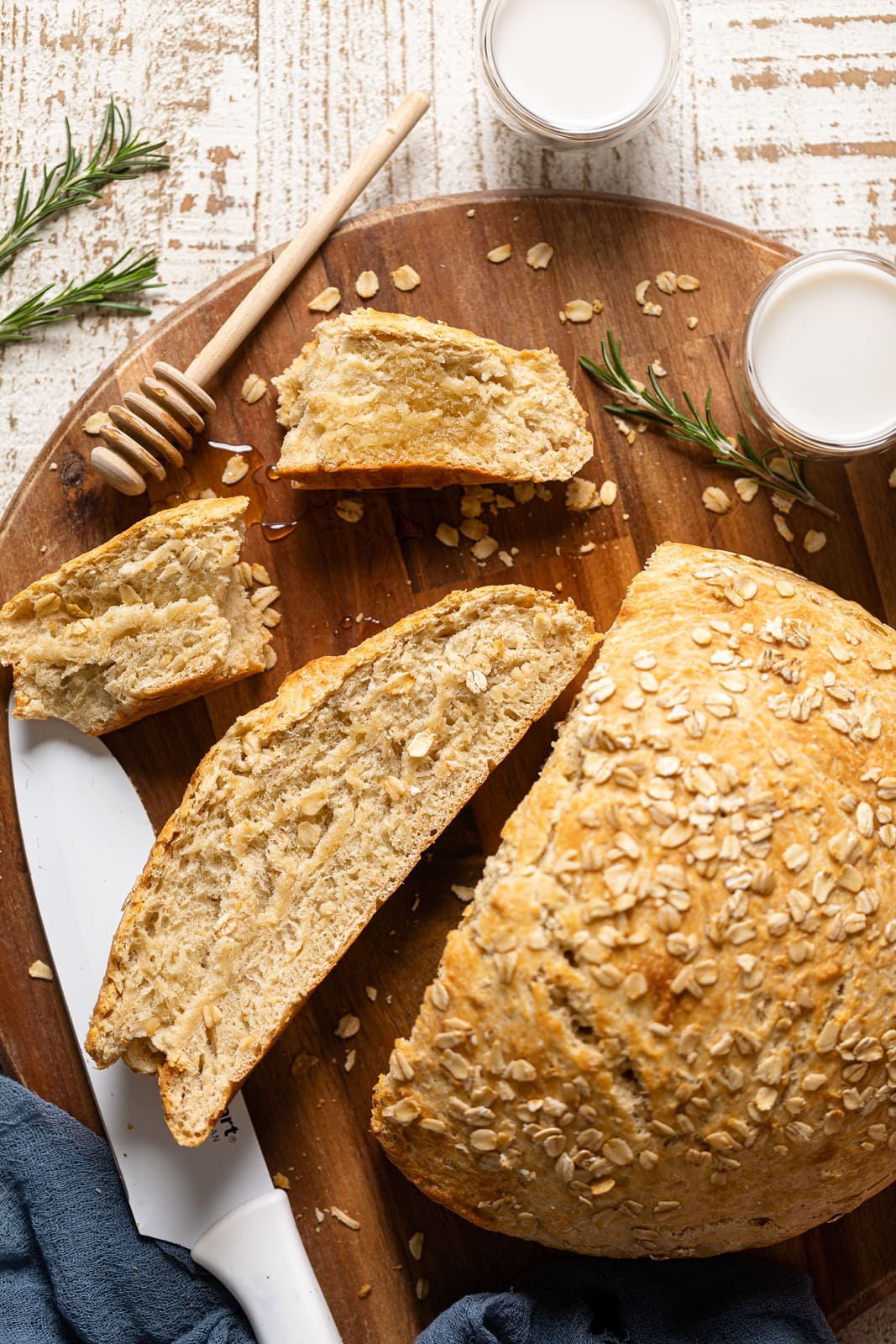 Storage Suggestions
If you somehow resist devouring this homemade oatmeal honey bread hot out of the oven, you can store fully cooled leftovers in a cake stand or tightly wrapped in foil paper or bread bag on the counter for 3-5 days.
For longer storage, wrap the bread tightly in plastic wrap (separately) and store in the freezer for up to 2 months. Let the bread thaw at room temperature before slicing and serving. You can also gently reheat it in the oven wrapped in aluminum foil for a softer, warmer option.
Do I Need a Stand Mixer to Make Bread Dough?
While you don't absolutely need a stand mixer to make this bread dough, it certainly comes in handy. If you don't have one, simply mix the ingredients together in a mixing bowl with a wooden spoon. then transfer the dough to a lightly floured work surface and knead the dough by hand until it's smooth and shiny.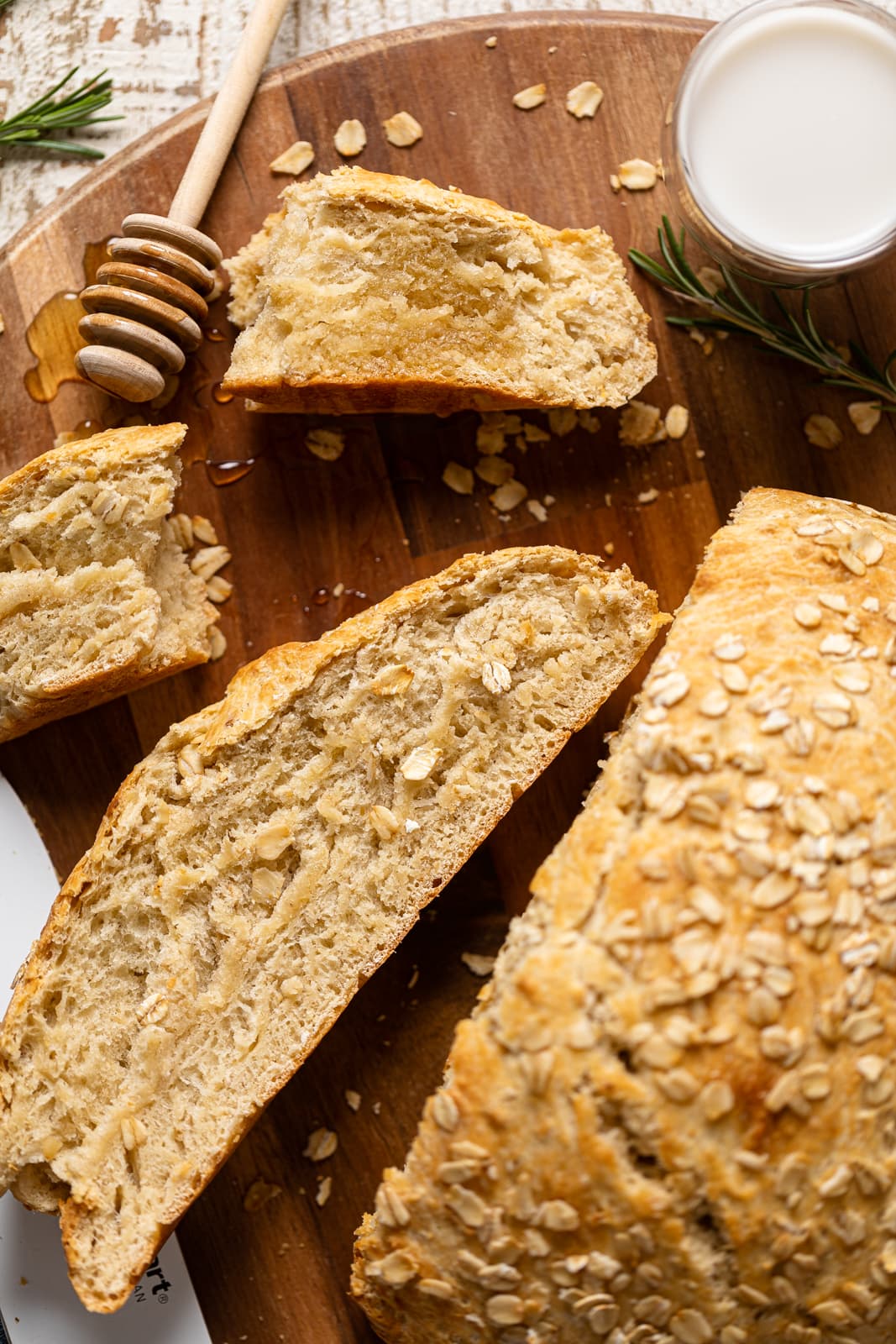 MORE HEALTHY OATMEAL RECIPES
A sheet cake is perfect for any celebration, and sometimes you need a vegan version. My Vegan Banana Oatmeal Sheet Cake is light, tender, and tastes like fresh bananas! In addition to cake flour, I use rolled oats, warming spices, and vanilla for the perfect flavor.
This Apple Cinnamon Oatmeal Porridge is the ultimate healthy + hearty breakfast recipe. Each bowl is topped with warm caramelized apples and takes less than 15 minutes to make.
Flourless Vegan Banana Oats Waffles are made right in a blender. These Gluten-Free waffles are naturally sweetened, fluffy, thick, airy, and full of flavor. The perfect breakfast or brunch dish with the perfect taste for your mornings!
This Banana Peanut Butter Overnight Oats recipe is a healthy way to kick start your day and is beautifully textured. These oats are super creamy and nutty, plus totally vegan and gluten-free. Made with flax, cinnamon, rolled oats and warming spices.
MADE OUR RECIPE(S)?
If you make this Homemade Oatmeal Honey Bread, tag @orchidsnsweettea_ on Instagram and hashtag it #orchidsandsweettea!
BREAD:
3 ½

cups

Artisan bread flour, organic

(See Notes!)

1

cup

organic rolled oats

1

packet

Instant rise yeast

(That's 2 ¼ tsps!)

1

tablespoon

organic brown sugar

1 ½

tsps

sea salt

Pinch of

ground cinnamon

1 ½

cups

oat milk, room temp.

(You can use store-bought or homemade!)

¼

cup

WARM water

2

Tbsps

unsalted butter, melted

¼

cup

Raw honey
TOPPING:
Organic rolled oats

Raw honey, for drizzle
TO MAKE THE DOUGH:
Combine yeast and 1 tablespoon brown sugar in the bowl of an electric mixer and slowly pour in warm water while stirring frequently. Allow 10 minutes for the mixture to sit and for the yeast to activate.

Add in the room temperature milk, honey, and warm butter to the yeast mixture and whisk until well combined.

In a large bowl, whisk together the flour, rolled oats, cinnamon, and sea salt and add them to the wet ingredients and mix on low-speed until well combined and everything begins to form into a dough-like consistency, about 2-3 minutes.

Change "Mixer head" to kneading accessory and knead dough for 5-10 minutes on high speed until dough ball becomes smooth and elastic and dough springs back when lightly pressed together with 2 fingers. NOTE: If dough is still too sticky, add 1 tablespoon of flour at a time until texture is achieved!

Lightly grease a large bowl with a small amount of olive oil and place the dough ball in the bowl, tossing it around until coated. Cover with plastic wrap (or a towel) and let sit for 1 hour, allowing the dough to rise and double in size. 

Once the dough has risen fully, preheat the oven to 350 degrees Fahrenheit and grease a standard 9-inch round cake pan with oil or butter and line the bottom with parchment paper.

Add a bit of flour to a surface and place the dough onto it, stretching it slightly and tucking the dough into a round like shape to ensure that it fits the pan perfectly.

Then, generously brush melted butter (leaving aside 1 Tbsp) atop dough, ensuring that the top is coated evenly and sprinkle a bit of oats atop. Place a piece of plastic wrap (or towel) over the cake pan with bread dough and let sit for another 20 minutes to rise again.

Once the dough has doubled in size (again) or have gotten significantly larger, bake it for approximately 40-45 minutes or until the edges are brown and the center is fully baked through and come out clean when tested with a toothpick or knife.

Remove the bread from oven and let it cool for 5-10 minutes, lift from pan, slice, and enjoy.

Bon Appetit!
STORAGE: Once baked and fully cooled, leftover bread can be stored in an air-tight container, bread bag, foil, or plastic wrap for 3-5 days. To freeze, store leftovers wrapped in foil paper and then added in a freezer-friendly ziplock bag for up to 2 months.
GLUTEN-FREE VERSION: To make this bread GF, I recommend using a GF Flour Blend (Bob's Red Mills has a great version!). **NOTE: If the bread mixture is too 'thin + runny', simply add additional GF flour, ¼ cup at a time.**
WHAT PLANT-BASED MILKS ARE GOOD FOR THIS RECIPE? My go-to plant-based brand for oat milk when using store-bought is the Forager Project. However, you can always use your fave or one of the following: Almond, coconut milk, homemade oat milk (froths/foams VERY WELL), homemade cashew milk, flax milk, potato milk, etc.
FLOUR: If you don't have Artisan bread flour, feel free to use All-purpose flour as a substitute.
VEGAN OPTION: To make this bread vegan, simply substitute butter with vegan butter and use Agave syrup or pure maple syrup instead of honey.
Calories:
217
kcal
|
Carbohydrates:
41
g
|
Protein:
6
g
|
Fat:
3
g
|
Saturated Fat:
1
g
|
Polyunsaturated Fat:
0.5
g
|
Monounsaturated Fat:
1
g
|
Trans Fat:
0.1
g
|
Cholesterol:
5
mg
|
Sodium:
307
mg
|
Potassium:
87
mg
|
Fiber:
2
g
|
Sugar:
9
g
|
Vitamin A:
121
IU
|
Vitamin C:
0.04
mg
|
Calcium:
54
mg
|
Iron:
1
mg
Homemade Oatmeal Honey Bread.