Craving a warm and comforting loaf of homemade bread? Look no further than this irresistible Homemade Honey Oat Bread recipe! This bread is the perfect combination of savory and sweet, with just a hint of honey and a delicious oat crunch. And the best part? It's easy to make! Simply make the dough, let it rise to perfection, bake it until golden brown, and wallah. Complete bread magic! Your house will smell like a bakery in no time! Perfect for a lazy weekend morning or a summer picnic! This homemade bread is sure to be a hit. Vegan Option.
Why Homemade Honey Oat Bread?
I've been having fun testing out easy bread recipes to make, like this Homemade Honey Oat Bread, although I do plan to try my hand at full-on bread-making in the coming months...Keep a close eye on Orchids + Sweet Tea for new recipes! But if you've seen my Vegan Apple Cinnamon Pull-Apart Bread recipe, then you're aware of just how easy this recipe is to follow, except that this one has much more flavor.
Regardless of whether you're an experienced baker or not—-this homemade bread recipe is one to try and is super easy to achieve! Lover of making your own soft, fluffy bread? If so, you'll surely love this Soft Buttery Vegan Brioche Bread, Healthy Banana Bread, Vegan Garlic Naan Bread, and Vegan Chia Seed Maple Banana Bread.
As you can see, I chose to make this bread in a round baking pan as opposed to the normal loaf pan just as a way to switch things up a bit. However, you can always keep things pretty traditional with a loaf pan if you'd prefer that.
Is Honey Oat a Healthy Bread?
Overall, honey oat bread is a great source of protein and high in fiber from the oats. In addition, the combination of honey and oats can help to reduce your cholesterol which is always awesome.
Jump to: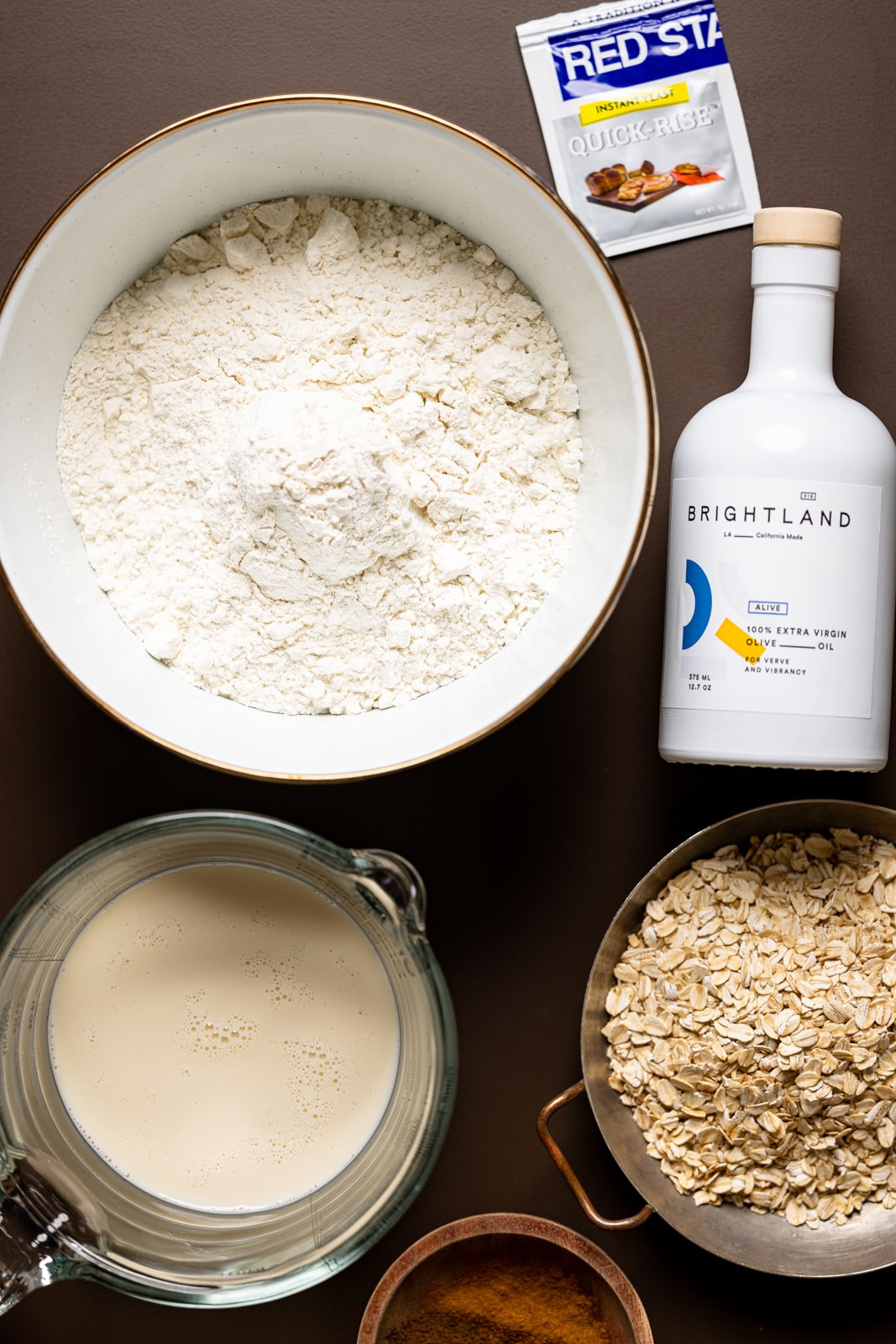 How to Make Homemade Oatmeal Honey Bread
Here's the first thing that you need to do----assemble your ingredients!
INGREDIENTS
Here's what you need to make dairy-free brioche today:
Organic artisan bread flour. Bread flour has a higher protein (gluten) content than regular flour. This helps to give your brioche more of a structure and chewy, but soft texture. If you don't have bread flour, however, you can still make the recipe with regular all-purpose flour. Either way, I recommend using Bob's Red Mill or  King Arthur organic flour.
Instant yeast. You'll need just one packet of yeast for this recipe. If you have a larger bag of instant yeast, measure out 2 ¼ teaspoons. Make sure you're not using active dry yeast, though, which requires activation before you can start using it.
Brown sugar. This feeds the yeast so they activate and produce the gasses that will help your brioche rise. It also adds just a *hint* of sweetness to the bread. Use organic sugar if possible.
Sea salt. It's important to add salt both for flavor and texture. Salt helps tenderize the gluten strands in your bread for a softer, chewier texture.
Rolled oats. This is by far the star of this recipe. I love using thick-cut rolled oats, however, old fashioned or regular rolled oats do just fine.
Butter. You can also use an equal amount of vegan butter if you prefer to make your bread dairy-free.
Honey. This is the must-have ingredient to tie everything together and create a nice subtle sweetness. Of course, you can always use Agave syrup or maple as a vegan alternative. However, the honey flavor adds a nice touch.
Oat milk. Feel free to use different plant-based milk if you prefer. I recommend using unflavored, unsweetened milk.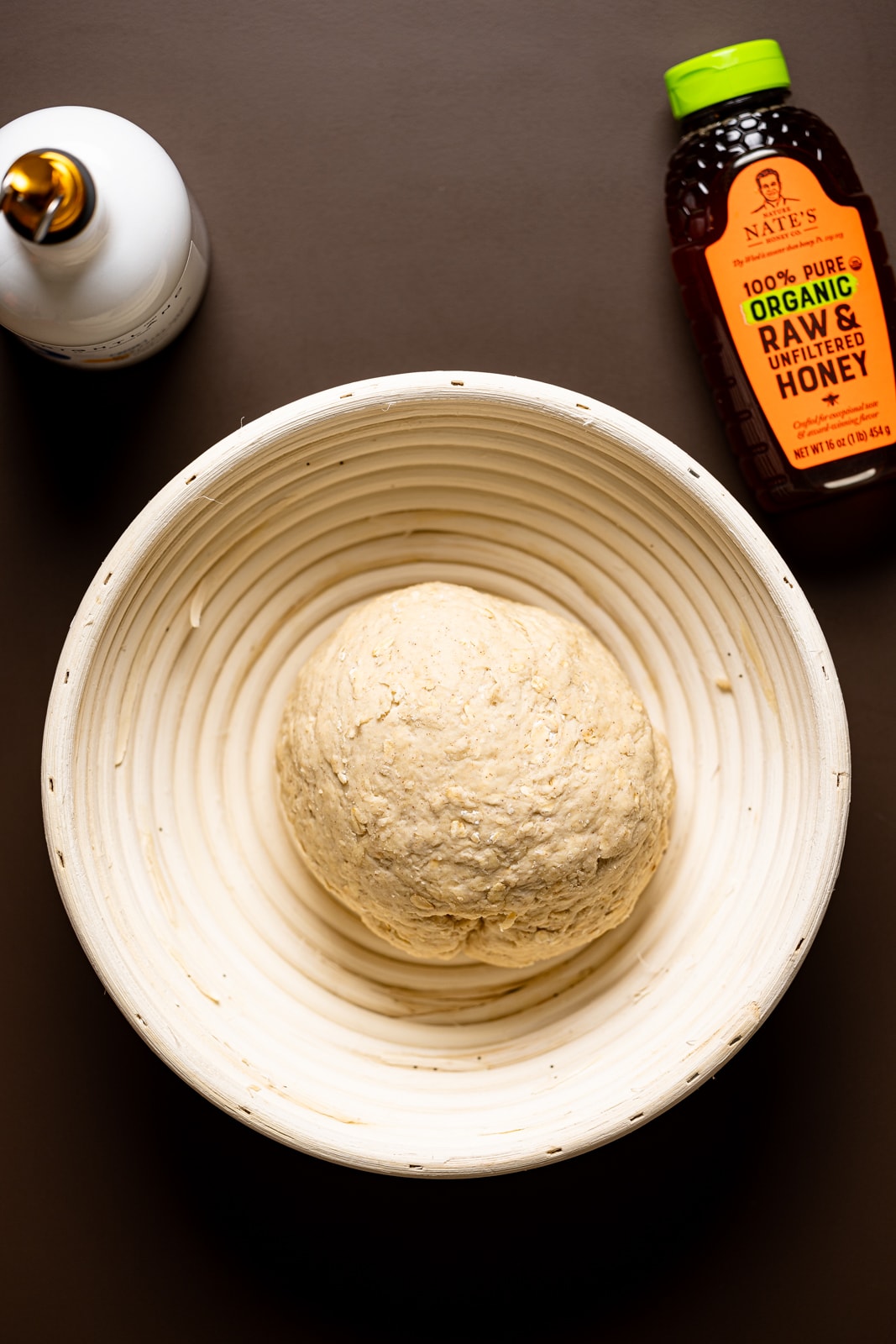 Why You'll LOVE This Homemade Bread Recipe
So simple & easy, even for beginner bakers!
Tender & SO Fluffy
Crusty on the outside
Soft + Flavorful
So Versatile!
Oh, and did I mention totally dreamy and delicious?
What To Serve Honey Oat Bread With?
The possibilities are endless! Here are some delicious ideas:
GRILLED CHEESE - Use it for a classic grilled cheese sandwich. My favorites are the Everything Chicken Tomato Grilled Cheese, or a great plant-based option is my Vegan 'Tuna' Melt Sandwich
A CLASSIC PB&J - If you want a kid-friendly option, you could go for a traditional and much-loved PB&J.
CHARCUTERIE BOARD - Serve with your favorite meats, cheeses, and fruits.
FRENCH TOAST - Try this amazing Pumpkin French Toast.
CROUTONS - If you find you have too much bread to use before it goes stale, try making Homemade Croutons! A great addition to salads and soups.
DIP IT! - Dip it into all your favorite soups and stews! Like this Creamy Lemon Broccoli Tortellini Soup
TOAST - The obvious answer...Whatever your favorite toppings are, you could keep it simple with some butter and honey, nut butter, or get fancy with this Mind-blowing Avocado Toast
SIMPLIFY IT - Don't forget to slather on some butter and enjoy it on its own - the flavor and texture of this bread speak for itself!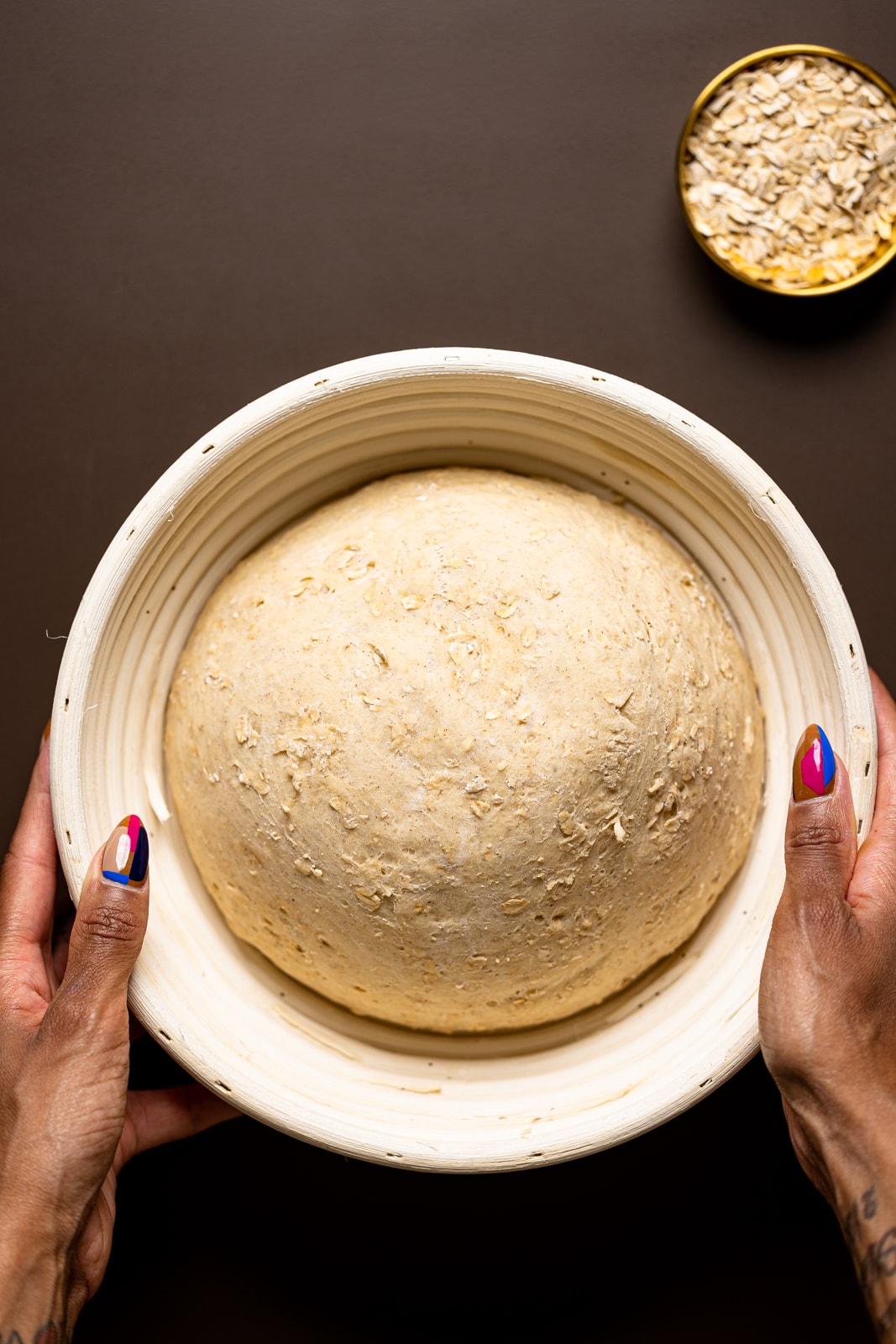 Health Benefits of Oats
Oats are another superfood that's great to start your day with. Rolled oats, like the ones used in this recipe, are a healthy source of complex carbs, fiber (the soluble kind!), protein, and fat. In addition, they are loaded with important vitamins, minerals, and antioxidants.
Other great benefits of oats, according to studies:
They can help lower cholesterol.
Helps regulate blood sugar levels to avoid crashes and spikes
May help with losing weight.
Helps to relieve constipation.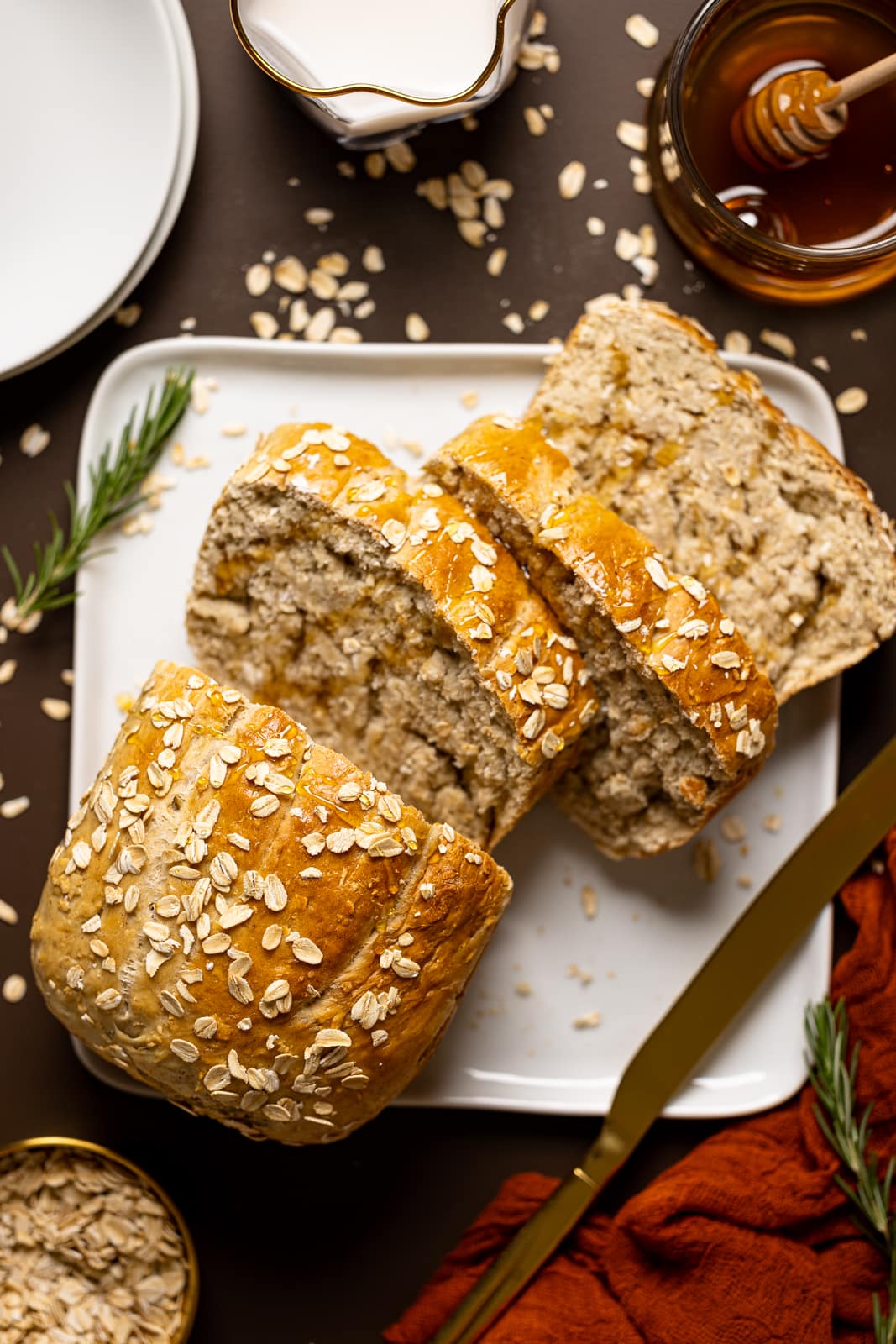 Can I Use Another Plant-Based Milk for Homemade Honey Oat Bread?
Yes, you can use any dairy-free milk you like to make this homemade bread. Here are some easy recipes to make your own milk that's cheaper and so easy!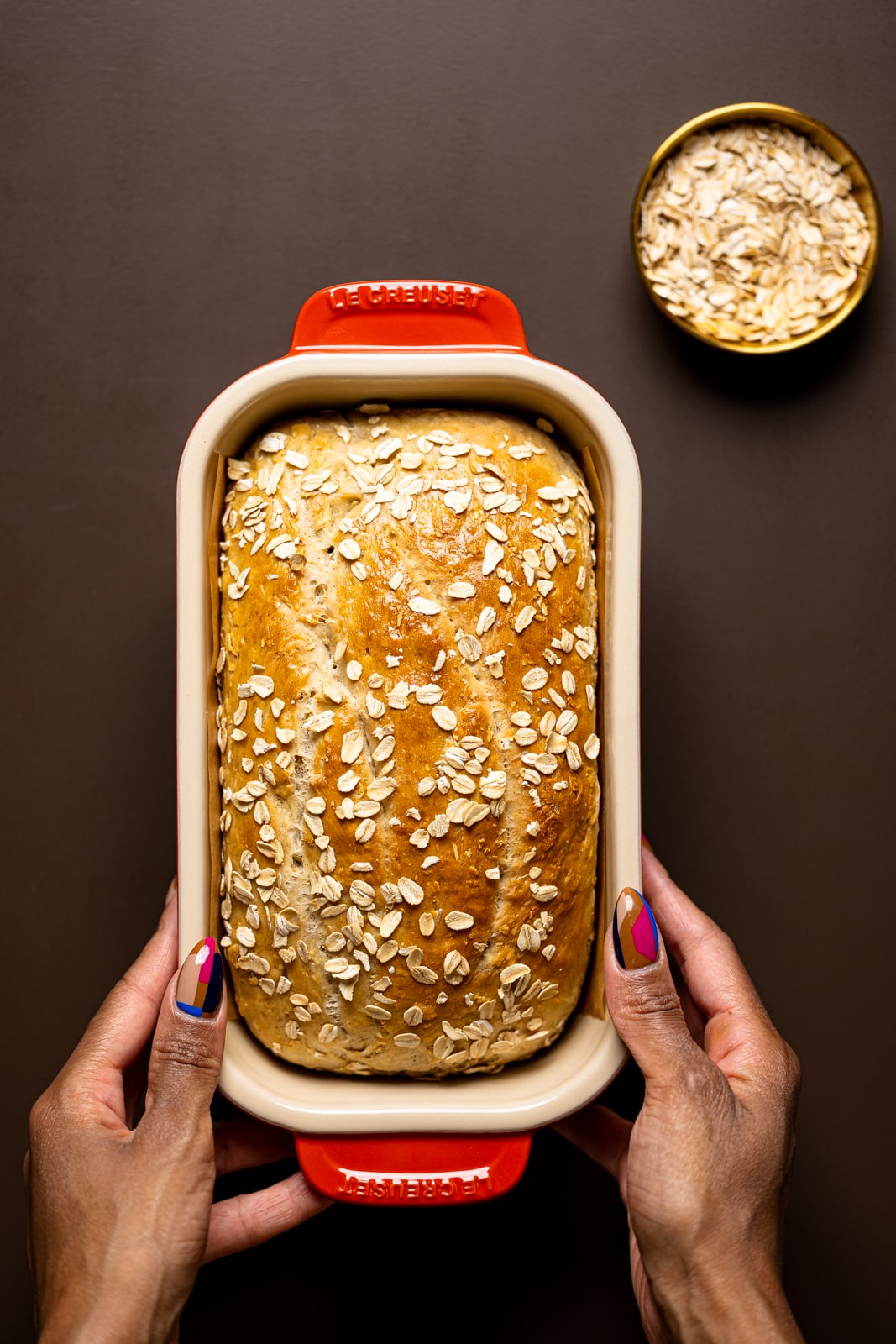 Homemade Honey Oat Bread Q + A's
How Do I Store This Honey Oat Bread?
If you somehow resist devouring this homemade oatmeal honey bread hot out of the oven, you can store fully cooled leftovers in a cake stand or tightly wrapped in foil paper or bread bag on the counter for 3-5 days.
Can I Freeze This Homemade Bread?
For longer storage, wrap the bread tightly in plastic wrap (separately) and store in the freezer for up to 2 months. Let the bread thaw at room temperature before slicing and serving. You can also gently reheat it in the oven wrapped in aluminum foil for a softer, warmer option.
Do I Need a Stand Mixer to Make Bread Dough?
While you don't absolutely need a stand mixer to make this bread dough, it certainly comes in handy. If you don't have one, simply mix the ingredients together in a mixing bowl with a wooden spoon. then transfer the dough to a lightly floured work surface and knead the dough by hand until it's smooth and shiny.
Can I Make This Dough Ahead Of Time?
Good news for busy bakers! You can make the dough for this Homemade Honey Oat Bread recipe ahead of time and keep it covered in the refrigerator for up to 48 hours. So go ahead and make the dough ahead of time, and enjoy fresh-baked bread whenever you want!
Can I Make This Bread Recipe Vegan?
Of course, to make this bread vegan, simply substitute butter with vegan butter and use organic cane sugar, agave, coconut sugar, or pure maple syrup instead of honey to still achieve that balance of sweetness.
Can Diabetics eat Oat Bread?
Based on research, the low glycemic index of oats balances the high blood glucose level pretty well. Therefore, oat-made bread is the best bread for diabetics to eat because it is temporarily effective against insulin sensitivity.
Which is the Best Flour for Bread?
Both bread or all-purpose flour is best for baking normal bread, while self-raising flour is better for 'quick breads'. For this bread recipe, I love mixing both flours together for the best texture and softness.
More Homemade Delicious Recipes to Try!
Take your taste buds on a journey with these sweet homemade recipes!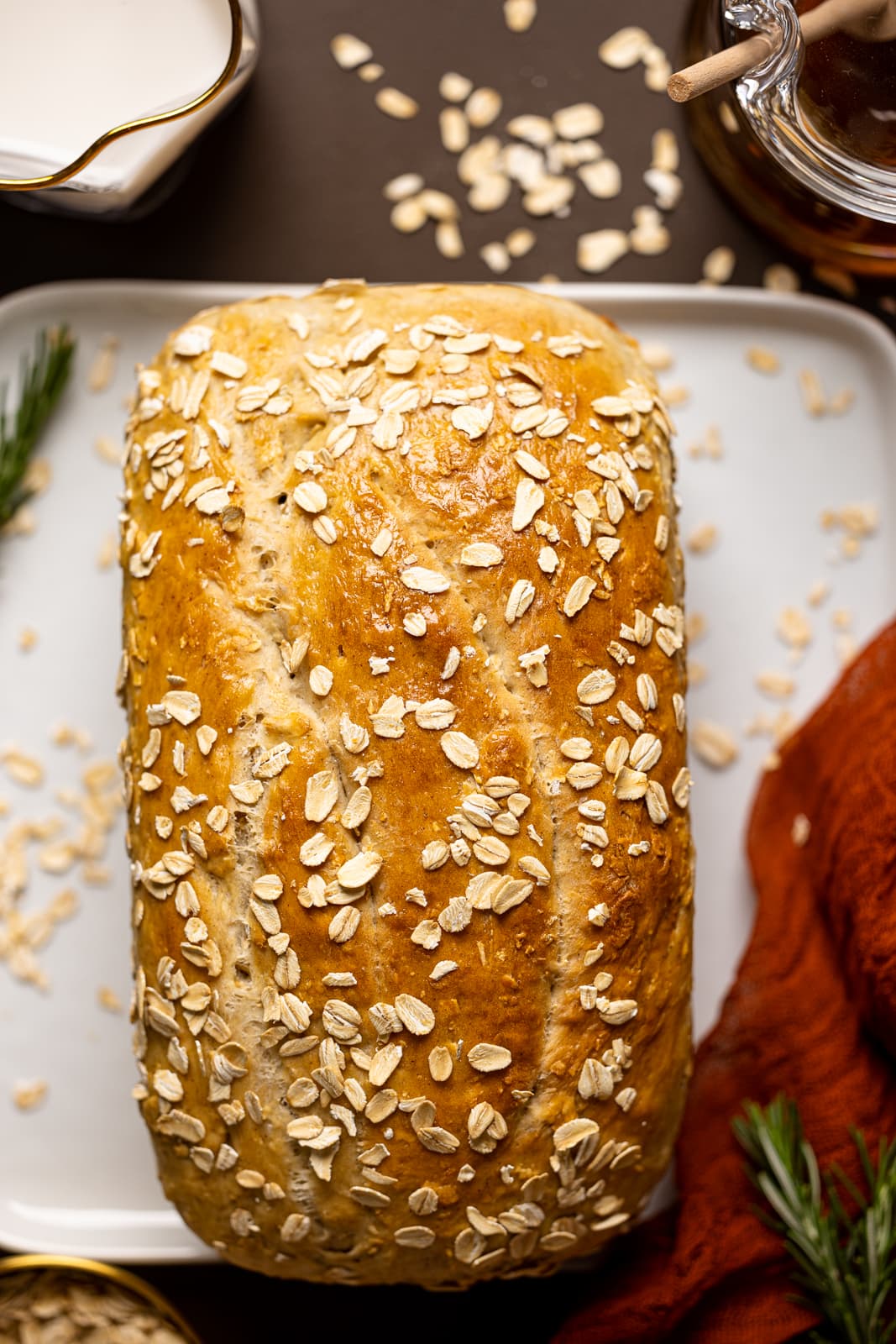 MADE OUR RECIPE(S)?
If you tried this Homemade Honey Oat Bread or any other recipe on my website, please please leave a 🌟 star rating and let me know how you go in the 📝 comments below. I love hearing from you.
BREAD:
3 ½

cups

Artisan bread flour, organic

(I like to mix this with all-purpose flour for the best texture; See Notes!)

1

cup

organic rolled oats

1

packet

Instant rise yeast

(That's 2 ¼ tsps!)

1

tablespoon

organic brown sugar

(You can also use organic cane sugar)

1

teaspoon

sea salt

½

teaspoon

ground cinnamon

⅛

teaspoon

ground allspice

1 ½

cups

Plant-based milk or water, at room temp.

¼

cup

WARM water

2

Tbsps

Extra virgin olive oil

(You can also use melted butter; Just ensure that butter is warm)

6

Tbsps

Raw honey
TOPPING:
Rolled oats, organic

Raw honey, for drizzle
TO MAKE THE DOUGH:
Combine yeast and 1 tablespoon brown sugar in the bowl of an electric mixer and slowly pour in the ¼ cup of warm water while stirring frequently. Allow 10 minutes for the mixture to sit and for the yeast to activate.

Add in the room temperature milk, honey, and olive oil to the yeast mixture and whisk until well combined.

In a large bowl, whisk together the flour, rolled oats, cinnamon, allspice, and sea salt and add them to the wet ingredients and mix on low-speed until well combined and everything begins to form into a dough-like consistency, about 2-3 minutes.

Change "Mixer head" to kneading accessory and knead dough for 5-10 minutes on high speed until dough ball becomes smooth and elastic and dough springs back when lightly pressed together with 2 fingers. NOTE: If dough is still too sticky, add 1 tablespoon of flour at a time until texture is achieved!
LET THE DOUGH RISE:
Lightly grease a large bowl with a small amount of olive oil and place the dough ball in the bowl, tossing it around until coated. Cover with plastic wrap (or a towel) and let sit for 1 hour, allowing the dough to rise and double in size. 
BAKE THE BREAD:
Once the dough has risen fully, preheat the oven to 375 degrees Fahrenheit and grease a standard 9-inch round cake pan with oil or butter and line the bottom with parchment paper.

Add a bit of flour to a surface and place the dough onto it, stretching it slightly and tucking the dough into a round like shape to ensure that it fits the pan perfectly.

Then, lightly brush melted butter on the tops of bread, ensuring that the top is coated evenly and sprinkle a bit of oats on top. Place plastic wrap (or a towel) over the dough and let it sit for another 20 minutes to rise again for a second time.

Once the dough has doubled in size (again) or have gotten significantly larger, bake it for approximately 35-40 minutes or until the edges are brown and the center is fully baked through and come out clean when tested with a toothpick or knife.

Remove the bread from oven and let it cool for 5-10 minutes, lift from pan, slice it warm or once it's fully cooled, and enjoy.

Bon Appetit!
STORAGE: Once baked and fully cooled, leftover bread can be stored in an air-tight container, bread bag, foil, or plastic wrap for 3-5 days. To freeze, store leftovers wrapped in foil paper and then added in a freezer-friendly ziplock bag for up to 2 months.
FLOUR: If you don't have Artisan bread flour, feel free to use All-purpose flour as a substitute. Personally, I like to mix both flours for this bread---half + half in measurement.
VEGAN OPTION: To make this bread vegan, simply substitute butter with vegan butter and use organic cane sugar, coconut sugar, or pure maple syrup instead of honey.
Calories:
216
kcal
|
Carbohydrates:
41
g
|
Protein:
6
g
|
Fat:
3
g
|
Saturated Fat:
0.5
g
|
Polyunsaturated Fat:
1
g
|
Monounsaturated Fat:
2
g
|
Sodium:
196
mg
|
Potassium:
74
mg
|
Fiber:
2
g
|
Sugar:
10
g
|
Vitamin A:
1
IU
|
Vitamin C:
0.1
mg
|
Calcium:
12
mg
|
Iron:
1
mg