You're in for a breakfast or brunch treat like no other with this Vegan Apple Cinnamon Pull-Apart Bread. Every bite is completely soft + pillowy and generously filled with the comforting warmth of cooked apple goodness-- Covered with a delectable vanilla glaze. Get ready to savor the sweet and spiced flavors of this apple bread recipe that'll make your morning absolutely unforgettable! Gluten-free option.
Why Apple Cinnamon Pull-Apart Bread?
I'm absolutely thrilled to introduce you to this delightful vegan pull-apart bread recipe. With the arrival of fall and the apple season in full swing, this creation is simply perfect! This recipe for pull-apart bread with an apple filling and frosting is inspired by these Cinnamon Rolls. If you are a fellow apple lover be sure to check out this Apple Cinnamon Olive Oil Cake and these drool-worthy Baked Vegan Apple Cider Donuts next!
Imagine a creation that combines the best of bread, cinnamon rolls, and cake, all rolled into one delightful treat. This pull-apart bread is the epitome of softness, simplicity, and sheer deliciousness. It's a breeze to make, making it perfect for the whole family, especially the little ones. And let's not forget, it's a guaranteed crowd-pleaser, brimming with the delightful flavors of fall – juicy apples and those cozy autumn spices that we all adore!

Jump to: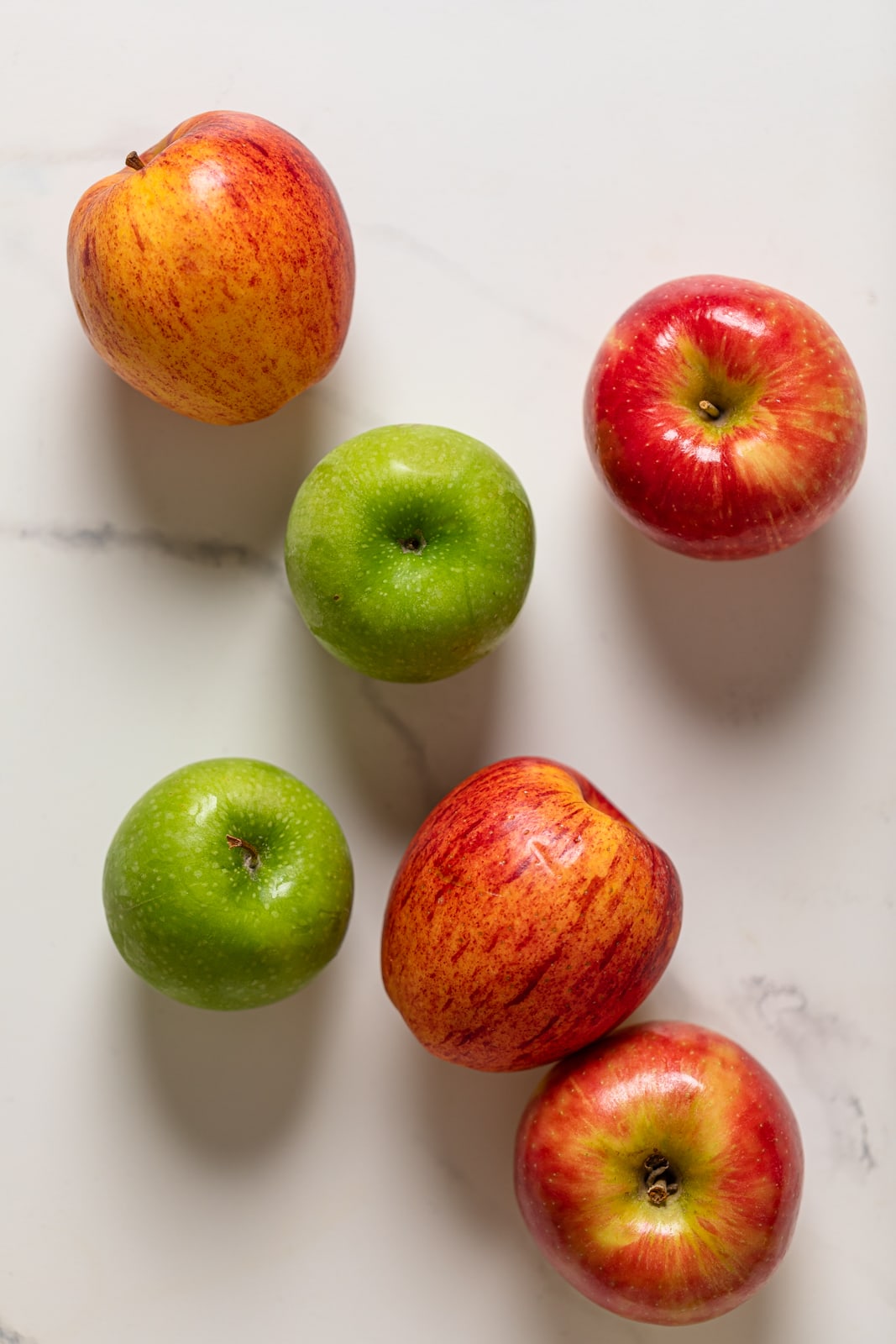 How to Make Vegan Apple Cinnamon Pull-Apart Bread
The components of this plant-based breakfast recipe are the bread dough, the apple filling, and the vanilla glaze. The dough will need to rise, as it's made with yeast, so I recommend making the dough first. Then you can make the apple filling. And while the pull-apart bread bakes, make the smooth vanilla glaze!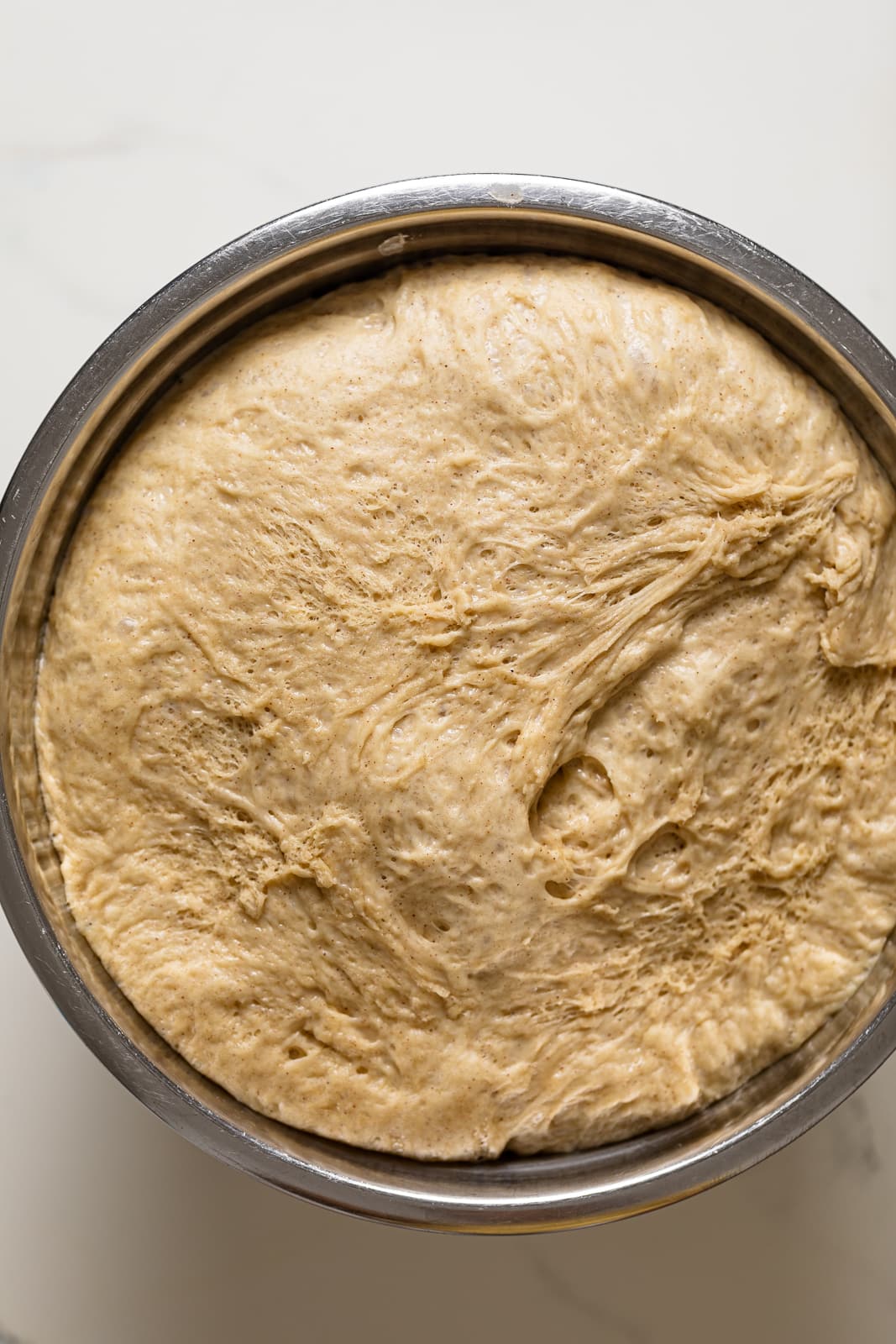 Ingredients for Pull-Apart Bread Dough
To make the fluffy yeasted dough for vegan apple-cinnamon pull-apart bread, you'll need:
Flour. Use organic all-purpose flour to ensure it's vegan.
Instant yeast. This is also labeled Rapid Rise Yeast.
Brown sugar. Again, using organic sugar ensures it's vegan.
Cinnamon and allspice for that classic apple-cinnamon flavor pairing.
Almond milk. This should be at room temperature before you start baking. You can easily make your own almond milk using my quick no-soak method. Or use any vegan milk that you like.
Vegan butter. I like Earth Balance buttery sticks for baking.
Vanilla. Use pure vanilla, not imitation, for the best flavor.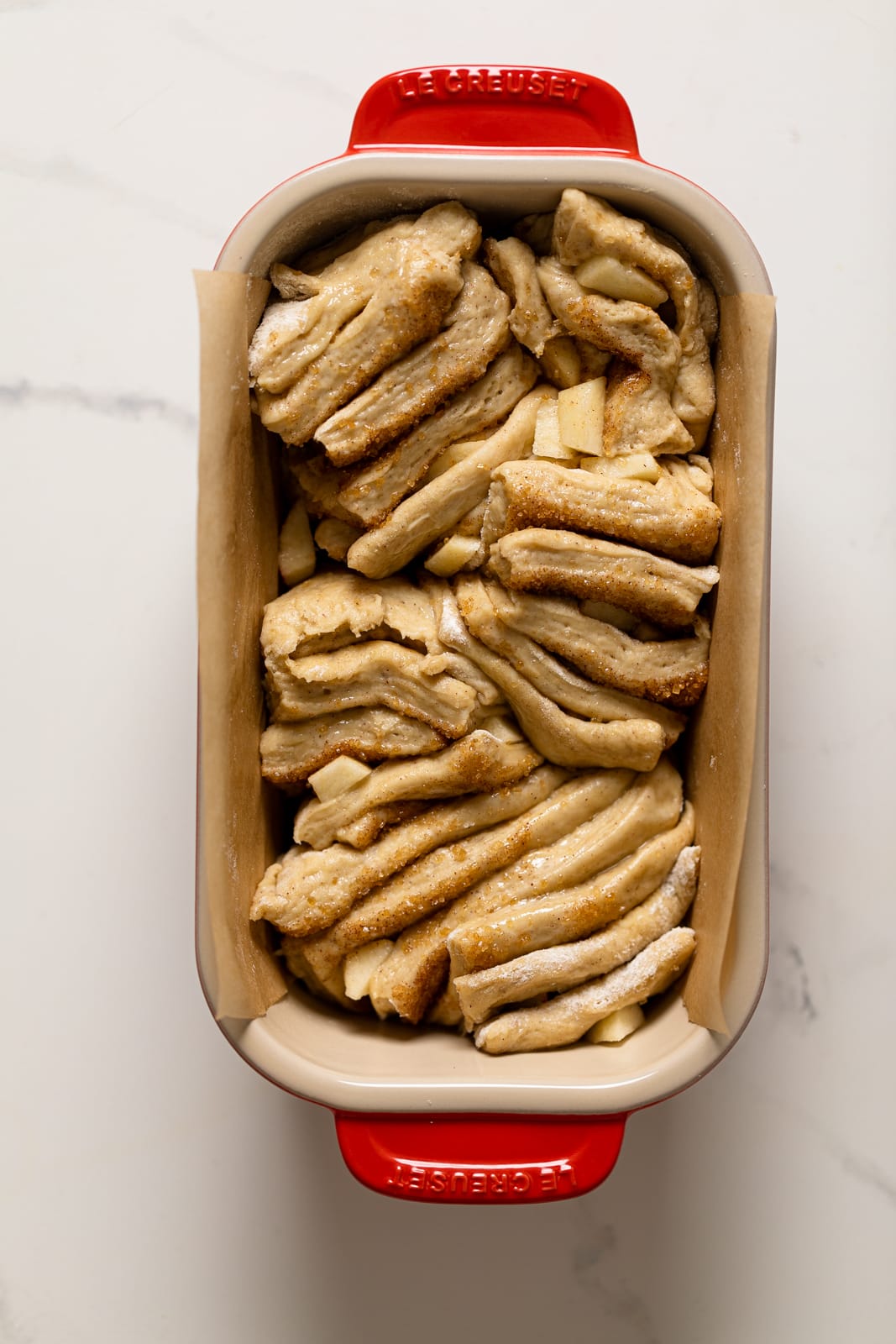 Apple Cinnamon Filling
Next, prepare the apple cinnamon filling for your vegan bread. You'll need:
Vegan butter. I love using Earth Balance
Apple. I use a firm Gala apple or tart Granny Smith for baking.
Brown sugar. You could also use coconut sugar if you prefer.
Cinnamon. The coziest spice for all the fall feels.
Vanilla Glaze
Once your pull-apart bread is out of the oven and cooled, you can drizzle on the vanilla glaze. You'll need:
Powdered sugar. Using granulated sugar will give your glaze a gritty texture.
Almond milk. Again, any plant-based milk you like will work.
Vanilla extract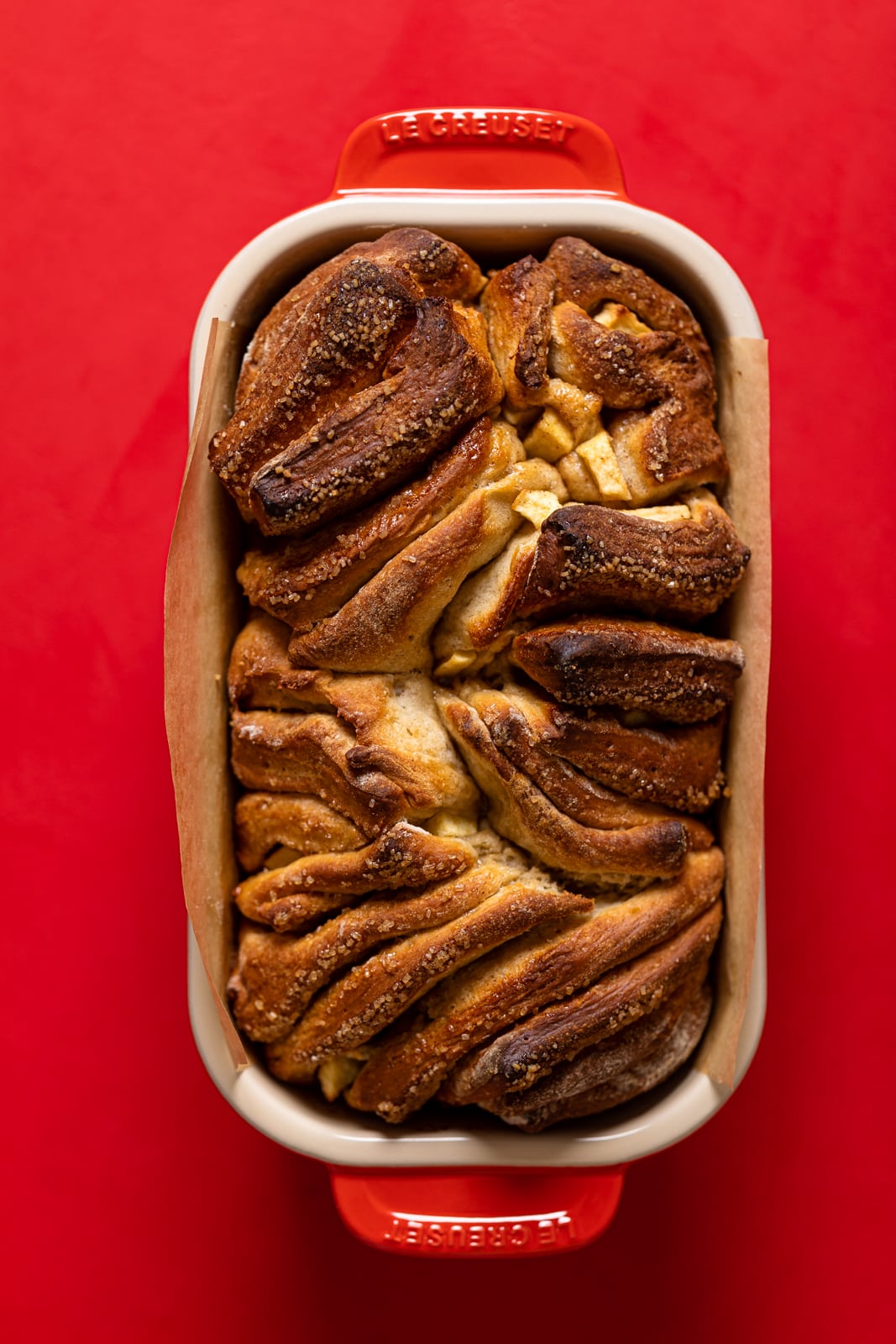 Tips for Making The Best Vegan Apple Cinnamon Pull-Apart Bread
I've made plenty of cinnamon roll recipes before, so since this pull-apart bread mimics the same concept, here are my top tips to make sure your rolls (and this bread) comes out perfectly every time:
DON'T OVERHEAT THE MILK
This one is imperative. Make sure your milk is warm to the touch, but not hot. If you heat it a bit too much, let the milk cool until it feels warm. This ensures that you don't kill the yeast and your dough rises well.
USE ROOM TEMPERATURE BUTTER
This is the ultimate secret to tender pull-apart bread. Much like with other cakes and doughs as well as cinnamon rolls, room temperature butter creates a supple, soft and smooth texture.
MIX THE DOUGH WELL
Unlike some baking recipes like muffins and cakes, you actually want to mix (or knead) your bread dough well. This activates the gluten so the dough becomes extremely elastic. The gluten then creates structure in your dough so it holds its fluffy shape well after rising.
USE BREAD FLOUR
One of my latest discoveries was the use of bread flour in my cinnamon rolls and this bread. While you can use only all-purpose flour----I've learned that bread flour creates a beautiful texture—tender, thick, and even more fluffy, almost 'brioche' like. Bread flour has a higher gluten, or protein, content.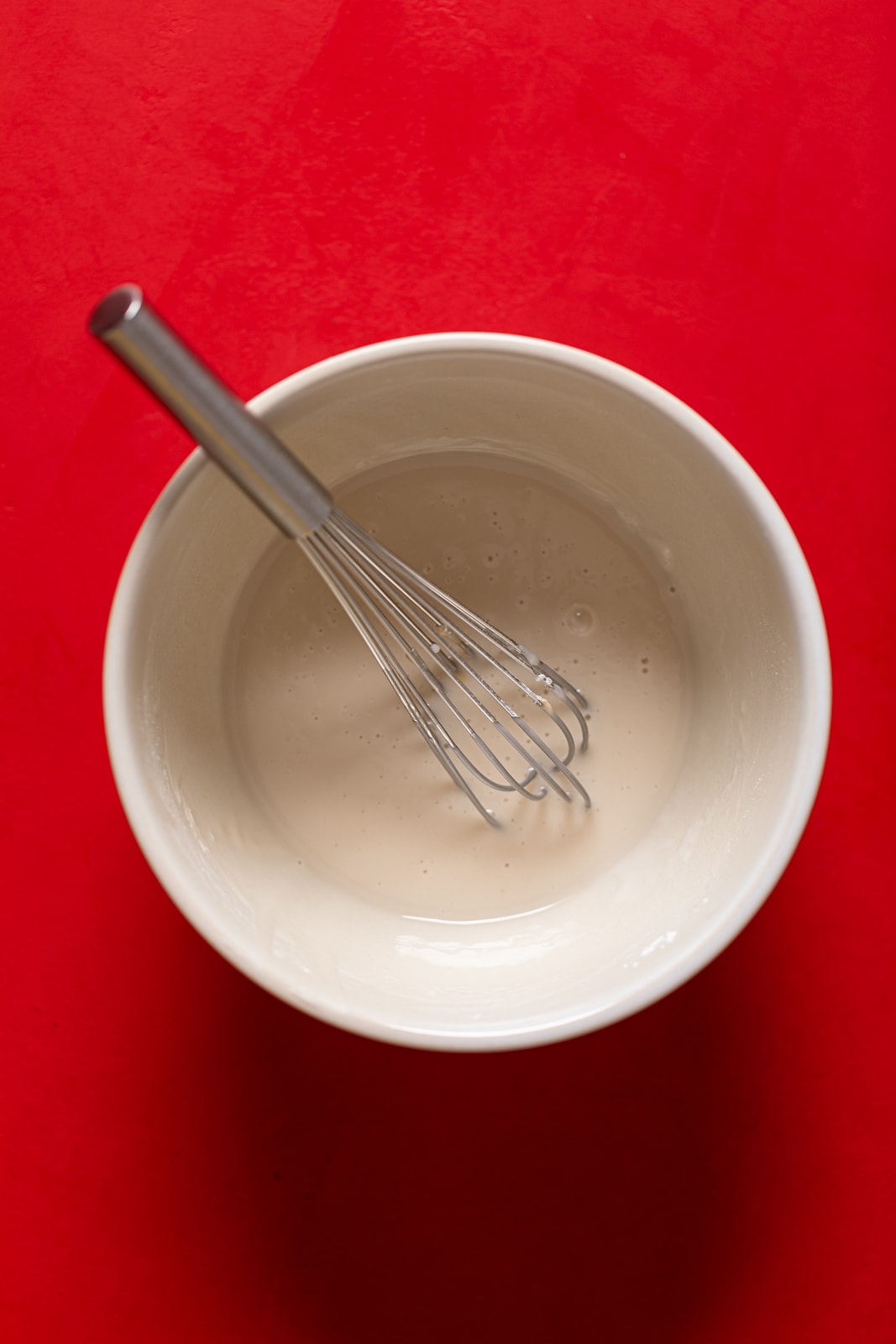 Why You Will LOVE This Vegan Apple Pull-Apart Bread?
Easy-to-make + simple ingredients.
Moist, tender, and filled with apple + cinnamon goodness.
Perfect snack, dessert, or breakfast treat.
Aromatherapy-- Get ready for this to fill your home with the sweet aromas.
Fun baking activity for the entire family.
Entirely dairy-free + vegan & has a gluten-free option.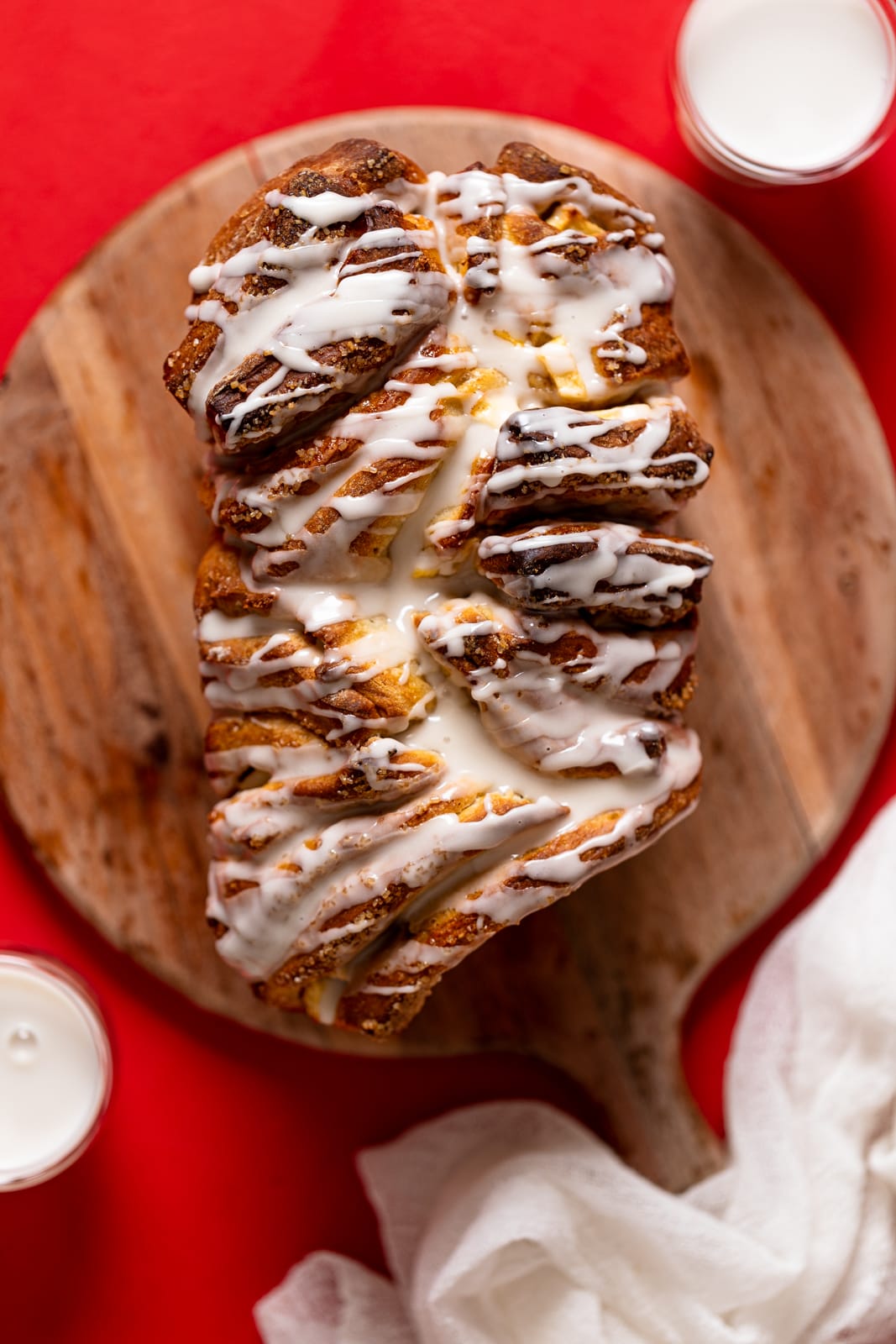 Can I Make Gluten-Free Vegan Apple Cinnamon Pull-Apart Bread?
Usually, when turning my breads into gluten-free bread, I simply swap regular all-purpose flour for the gluten-free all-purpose flour or 1-to-1 baking flour from Bob's Red Mill. I recommend using a GF Flour Blend (Bob's Red Mills has a great version!) for greater ease. However, if using only GF All-purpose flour, be sure to add Xanthan Gum so that it acts as regular flour would.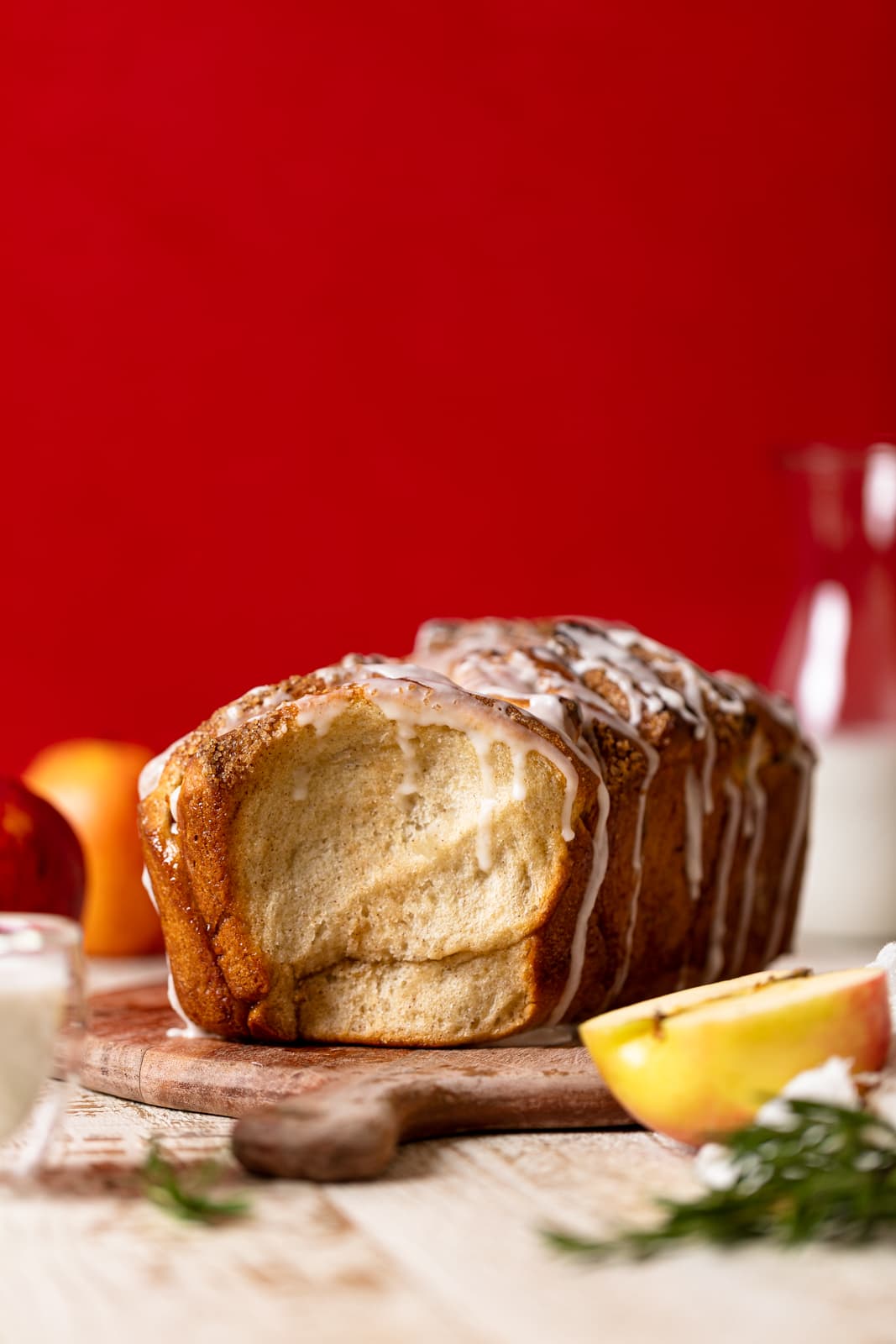 Can I Use Another Plant-Based Milk for Vegan Apple Bread?
Yes, you can use any dairy-free milk you like to make this Vegan Apple Cinnamon Pull-Apart Bread. Here are some easy recipes to make your own milk that is cheaper and so easy to whip up!
Tips For THE BEST Vegan Apple Cinnamon Pull-Apart Bread
After a bit of trial and error with many types of breads, I've found that the following tricks have been full-proof in baking my banana breads perfectly:
ENSURE THAT YOUR BATTER IS THE "RIGHT" CONSISTENCY.
You want the batter to be "scoopable" which means that it's thick but also easily stirred versus really "liquidy" or super thick where it's hard to manage.
POKE HOLES!
Midway through the baking time, poke small holes (using a toothpick or cake tester) around the tops of the bread to allow for the heat to penetrate through more easily and cook everything evenly. NOTE: I do this twice. Once halfway through the baking time and the second time in the last 10-15 minutes.
PUT IT IN THE MIDDLE.
Place your bread in the middle rack so that it browns but doesn't burn since it's in the oven for at least 1 hour.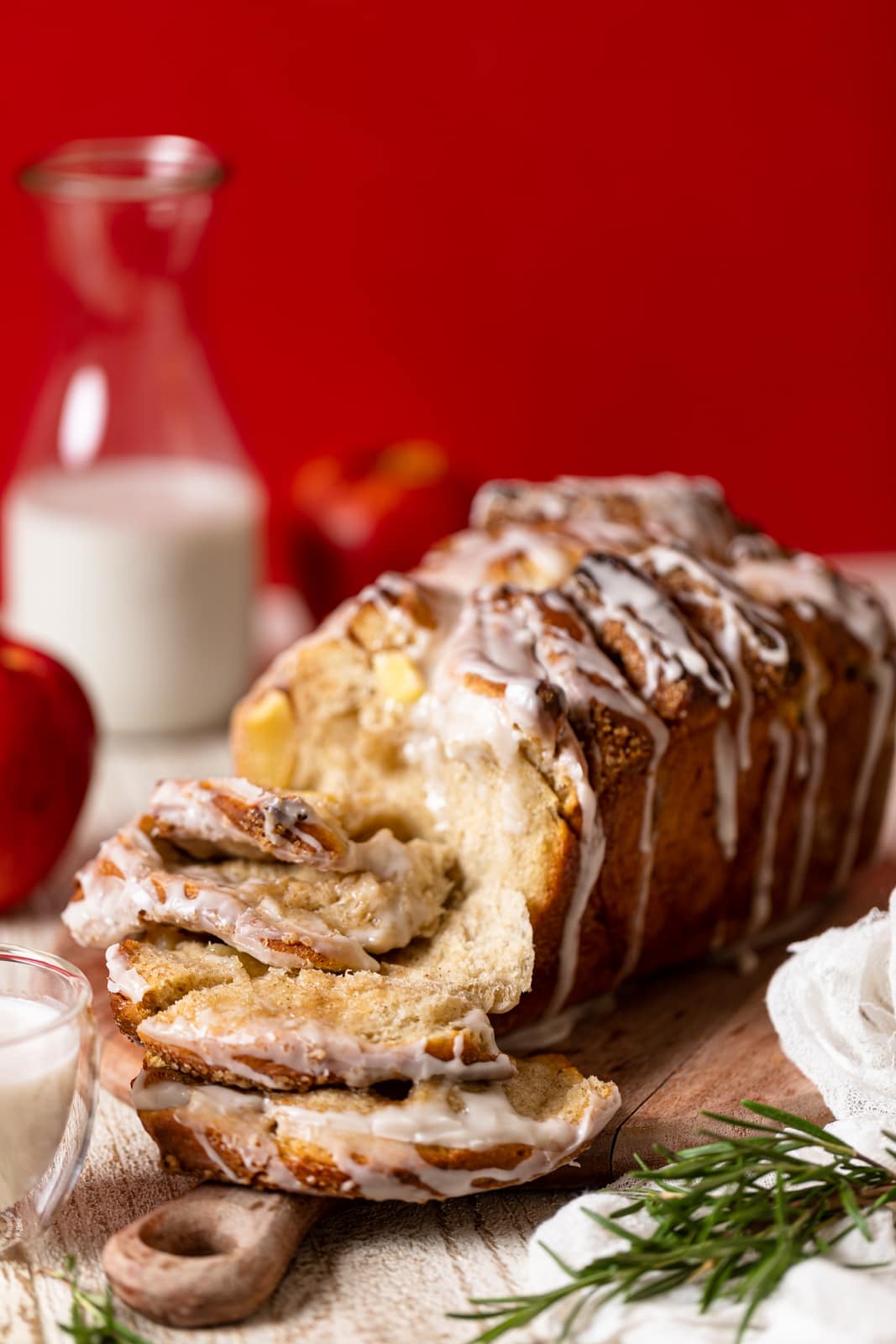 How to Serve Vegan Pull-Apart Bread
This sweet treat has a place at breakfast, brunch, or tea time. But it doesn't stop there.
Here are a few more creative ideas on how to enjoy this Vegan Apple Cinnamon Pull-Apart Bread -
Warm and Fresh: Enjoy a slice while it's still warm from the oven. The crisp top and soft, moist interior make for a heavenly combination. You can savor it as is or add a pat of vegan butter or a drizzle of maple syrup for extra indulgence.

Toasted and Topped: Toast a slice of apple bread to add a delightful crunch. Once toasted, you can spread a layer of your favorite vegan cream cheese, nut butter, or even homemade fruit compote on top for a decadent twist.

Pair with a Beverage: Apple cinnamon bread pairs beautifully with a hot or iced coffee like this Iced Caramel Latte, or for my apple lovers, double the apple fun with this Dairy-Free Caramel Apple Cider or an Easy Warm Apple Chai Latte

Ice Cream Sandwich: Get creative and turn your vegan apple bread into a delightful ice cream sandwich. Slice the bread + scoop your favorite vegan ice cream like this Caramel Ice Cream or Butter Pecan Ice Cream in the middle, and enjoy a warm + cold creamy treat.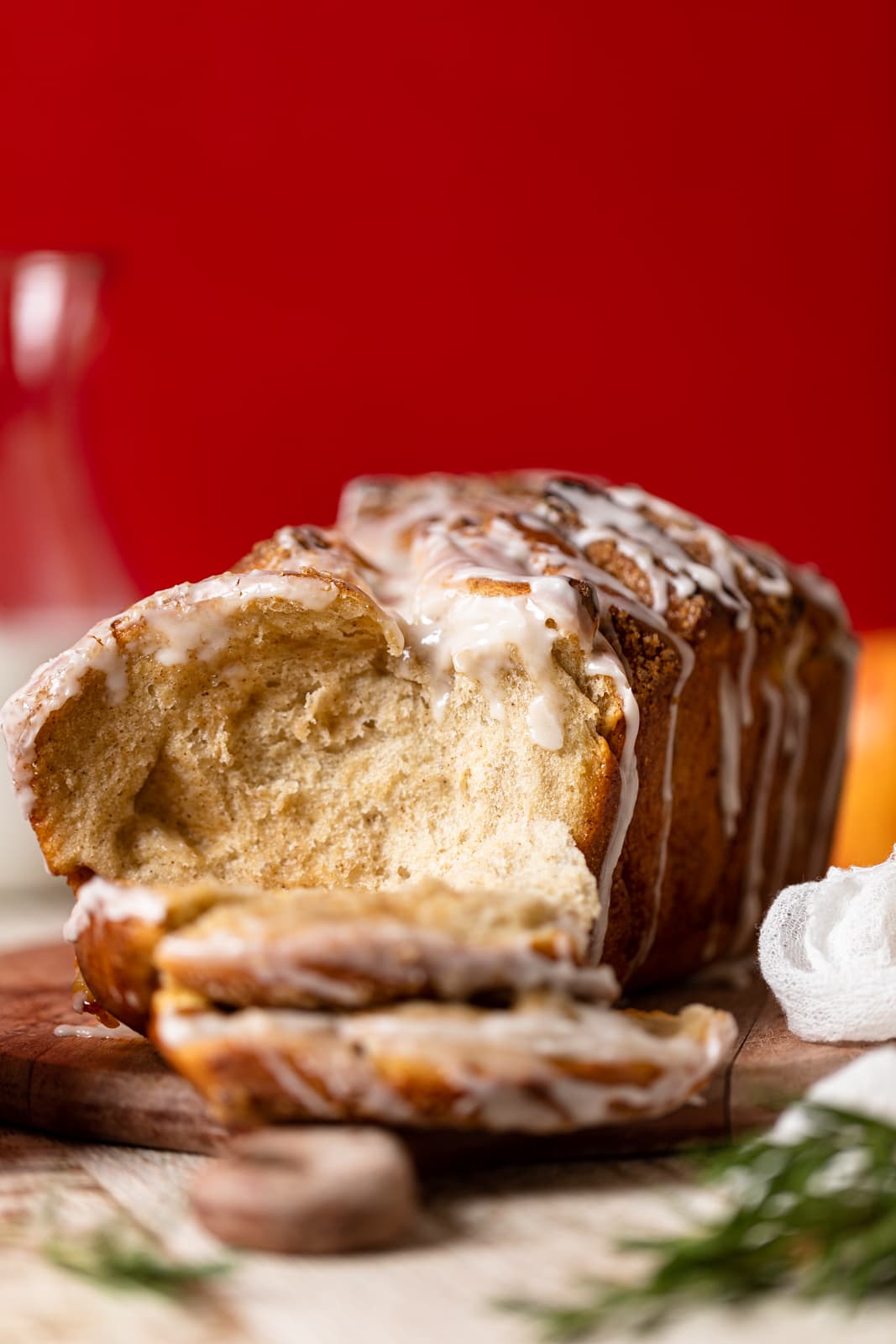 Vegan Apple Cinnamon Pull-Apart Bread Q + A's
How To Store?
You can store leftover bread in an airtight container, bag, or tightly wrapped in plastic wrap, on the counter for two days. In the fridge, it will last up to a week. Or, for longer storage, wrap and freeze the bread for up to six months. When you want to serve, just let the bread come to room temperature for a few hours on the counter.
Why is my vegan bread dry?
The ratio of dry ingredients to wet ingredients in this apple bread recipe matters. This is why it's super important to add a high-quality neutral oil (or butter) to your bread for the perfect moistness. Just remember that too much milk and not enough flour creates the opposite problem----meaning that your cake will become too wet and may not bake through best or take much longer.
Can I freeze this bread?
Yes! You can freeze this apple bread recipe for up to three months. To serve, defrost on the counter, then slice and serve at room temperature or heat in the microwave for 10 seconds. 
More Vegan Breakfast Recipes
MADE OUR RECIPE(S)?
If you make this Vegan Apple Cinnamon Pull-Apart Bread, be sure to let me know what you think and tag me on Instagram @orchidsandsweettea!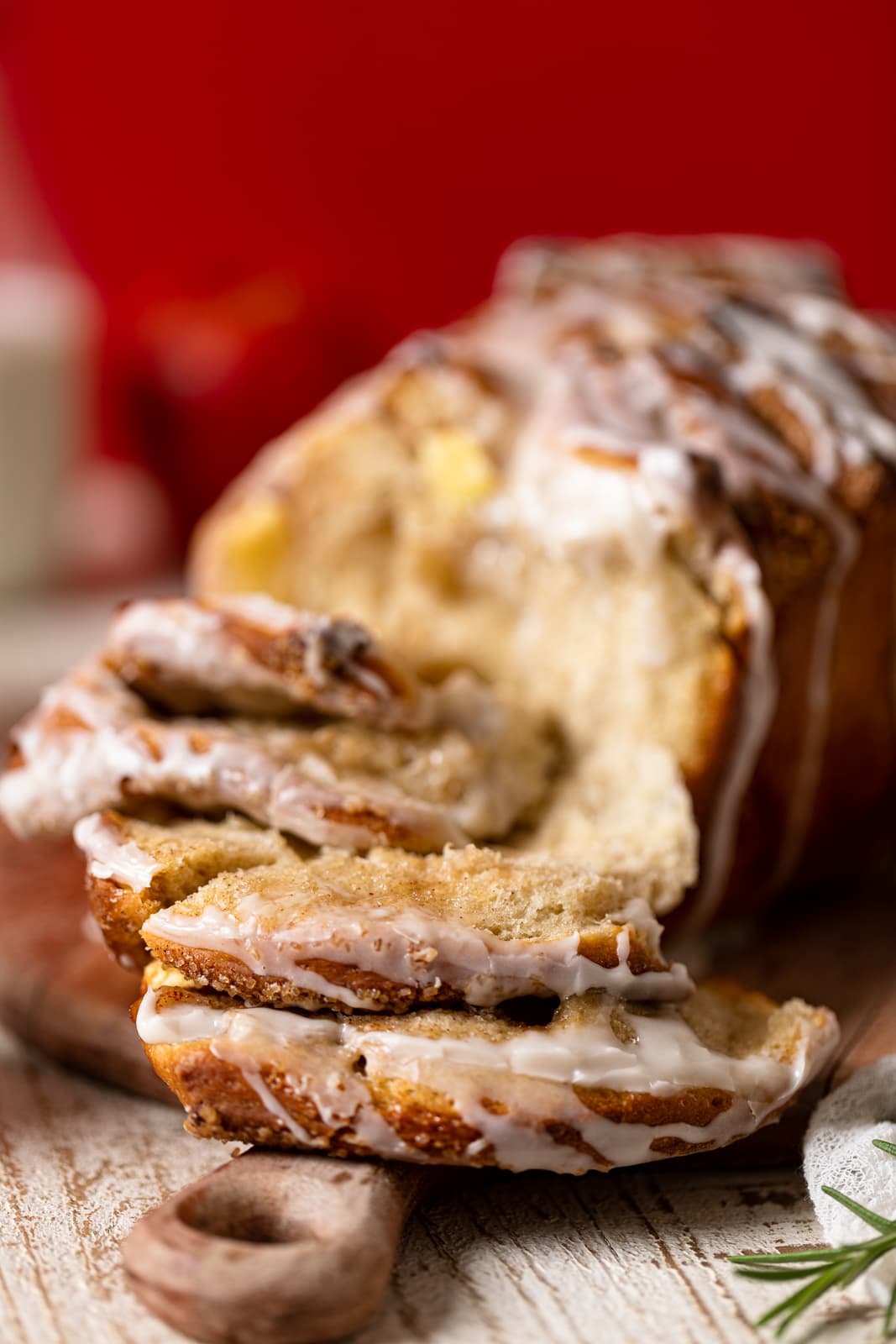 Total Time:
1

hour
20

minutes
DOUGH:
5

cups

organic all-purpose flour

(You can also use ½ Bread flour + ½ all-purpose flour for a more "brioche-like" texture!)

1

packet

Rapid Rise Yeast

(That's 2 ¼ tsps!)

½

cup

organic brown sugar + 1 Tbsp

1

teaspoon

sea salt

1

teaspoon

ground cinnamon

¼

teaspoon

ground allspice

1 ¼

cups

Almond milk, at room temp.

¼

cup

WARM water

6

Tbsps

vegan butter, melted + cooled

1

teaspoon

vanilla extract
TO MAKE THE DOUGH:
Combine the yeast and 1 tablespoon brown sugar in the bowl of an electric mixer and slowly pour in warm water while stirring frequently. Allow 10 minutes for the mixture to sit and for the yeast to activate.

Add in the room temperature milk and warm butter to the yeast mixture and whisk until well combined. Add in the vanilla and whisk to incorporate.

In a large bowl, whisk together the all-purpose flour, brown sugar, cinnamon, allspice, and sea salt and add them to the wet ingredients and mix on low-speed until well combined and everything begins to form into a dough-like consistency, about 2-3 minutes.

Change "Mixer head" to kneading accessory and knead dough for 5-10 minutes on high speed until dough ball becomes smooth and elastic and dough springs back when lightly pressed together with 2 fingers. NOTE: If dough is still too sticky, add 1 tablespoon of flour at a time until texture is achieved!

Lightly grease a large bowl with a small amount of olive oil and place the dough ball in the bowl, tossing it around until coated. Cover with plastic wrap (or a towel) and let sit for 1 hour, allowing the dough to rise and double in size. 

In the meantime, you can work on the filling!
TO MAKE THE APPLE FILLING:
Melt the softened (NOT melted) butter in a small bowl and set aside. In a separate bowl, combine the cinnamon and brown sugar, mixing them together. In a separate bowl, add the diced apples. Set aside.
ASSEMBLY:
Once the dough has risen fully, preheat the oven to 375 degrees Fahrenheit and line a large 9x13 baking dish with parchment paper, allowing excess to hang from the sides.

Add a bit of flour to a surface and place the dough onto it, lightly adding a bit of flour to the top. Using a rolling-pin, roll out the dough into a rectangular shape (approximately 9″x14 and ½-inch thick), trimming the edges if needed.

Then, generously spread the softened butter (using a spatula) atop dough, followed by the brown sugar-cinnamon mixture, ensuring that the top is coated evenly. Add the diced apples atop the dough evenly.

Now, using a pizza cutter (this is easier), cut about 5-6 cuts vertically and horizontally until you've made about 15-20 small rectangular pieces.

Carefully, stack each rectangular piece atop each other in groups (about 6-7 at a time) and place them in the prepared loaf pan standing upward and placing each group one behind the other tightly to form a "loaf-like" shape.

Bake the bread in the oven for approximately 45 minutes to an hour or until the center comes out "clean" when tested with a knife or cake tester.

Remove from the oven and let it cool completely.
TO MAKE THE GLAZE:
In a bowl, whisk together the powdered sugar, vanilla, and milk until smooth and the glaze is thick enough, but slowly slides off whisk when lifted. NOTE: If too thick, add 1 tablespoon of milk; if too thin, add 1-2 Tbsps more of the powdered sugar.

Once bread has cooled, drizzle the glaze atop bread, slice and enjoy!

Bon Appetit!
STORAGE: Refrigerate leftover bread by tightly wrapping it in foil paper or keeping it fully covered in a cake stand—lasts up to a week. Can also be stored at room temperature for up to 2 days.
FREEZE: You can freeze the bread for up to three months. To serve, defrost on the counter, then slice and serve at room temperature or heat in the microwave for 10 seconds. 
RAPID (INSTANT) RISE YEAST VS. ACTIVE DRY YEAST: If you're not using the Rapid Rise Yeast for this recipe, please know that the rise time will be twice as long (about 3 hours) since regular Active Yeast doesn't work as quickly.
FLOUR: If you'd like, you can always use bread flour, for a thicker, bread-like texture as well.
FOR CINNAMON ROLLS: You can make the cinnamon rolls recipe that inspired this bread by checking out my Overnight Vegan Apple Maple Cinnamon Rolls.
Calories:
433
kcal
|
Carbohydrates:
98
g
|
Protein:
7
g
|
Fat:
12
g
|
Saturated Fat:
2
g
|
Polyunsaturated Fat:
4
g
|
Monounsaturated Fat:
6
g
|
Trans Fat:
2
g
|
Sodium:
381
mg
|
Potassium:
131
mg
|
Fiber:
3
g
|
Sugar:
24
g
|
Vitamin A:
14
IU
|
Vitamin C:
1
mg
|
Calcium:
85
mg
|
Iron:
3
mg