Vegan Cinnamon Crunch Banana Bread takes less than 10 minutes to whip together and makes a healthy, but sweet, breakfast or dessert. Gluten-free and oil-free options!
In my book, homemade breakfast breads are a total winner. They're SUPER easy to whip together. This one takes just ONE BOWL! And easy-to-find plant-based ingredients.
Did you know that banana bread is a staple in my Jamaican culture?
Although the Jamaican version is slightly different and much more traditional, I wanted to add a great modern twist to it of course, while still keeping things healthy.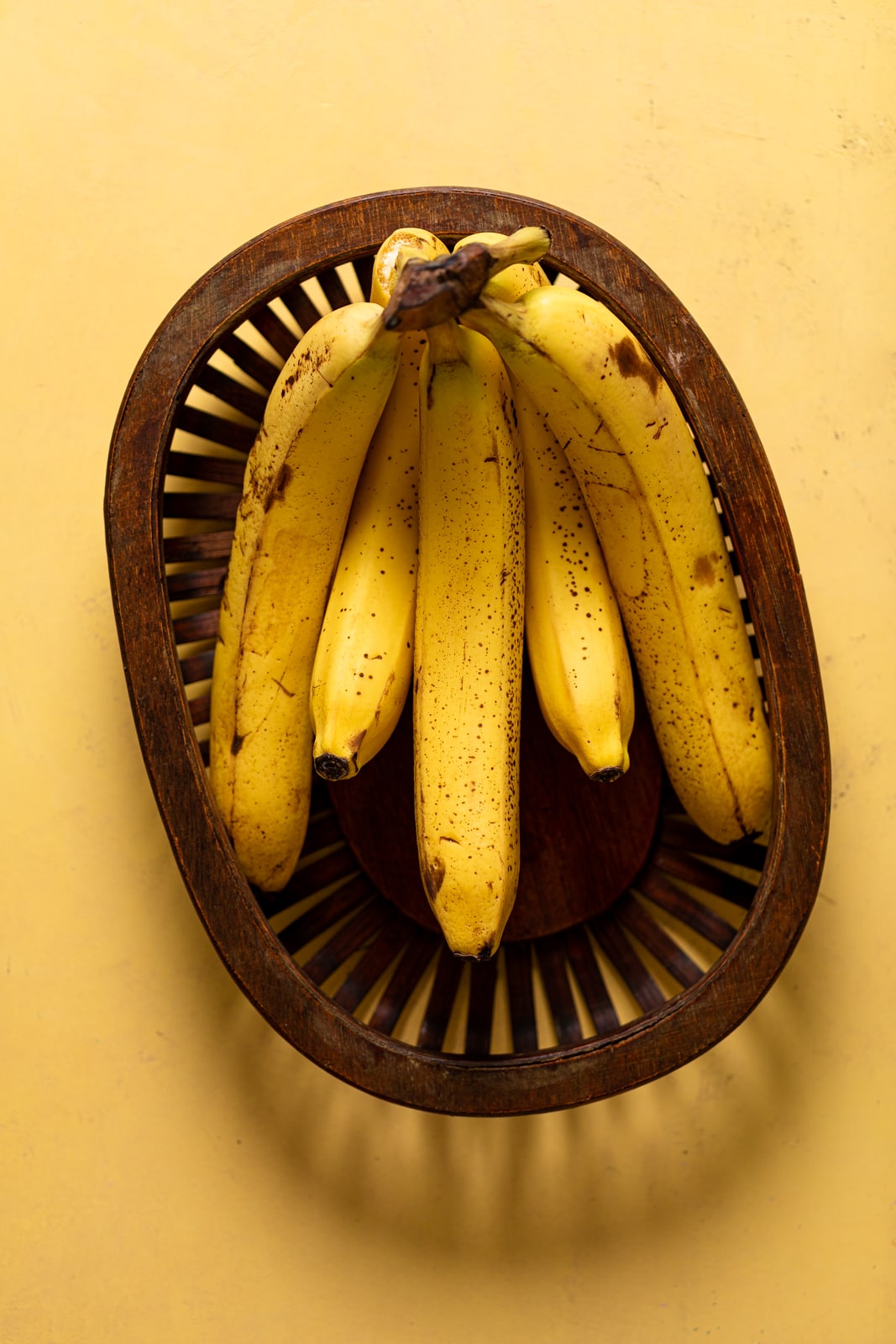 Ingredients for Crunchy Banana Bread
Here's what you need for this crumble-topped banana bread:
Bananas. Use sweet, soft, and brown bananas for the best flavor.
All-Purpose Flour. I use organic flour from Bob's Red Mill.
Spices. This banana crunch bread gets its warming flavor from cinnamon and nutmeg.
Vanilla. Use pure vanilla extract if you can.
Almond milk. Make your own almond milk using my no-soak method.
Apple cider vinegar. This is the key to making dairy-free buttermilk for a bit of tang.
Oil. You can use canola, avocado, or melted coconut oil.
Maple syrup. Use the pure stuff for the best flavor. otherwise, agave or honey (if you're not vegan) will work.
Brown sugar. You can also use coconut sugar if you prefer.
Pecans and walnuts. These add a nice buttery crunch to the bread. If you prefer one nut over the other, feel free to use all pecans or walnuts.
Vegan butter. I like Earth Balance buttery sticks for baking.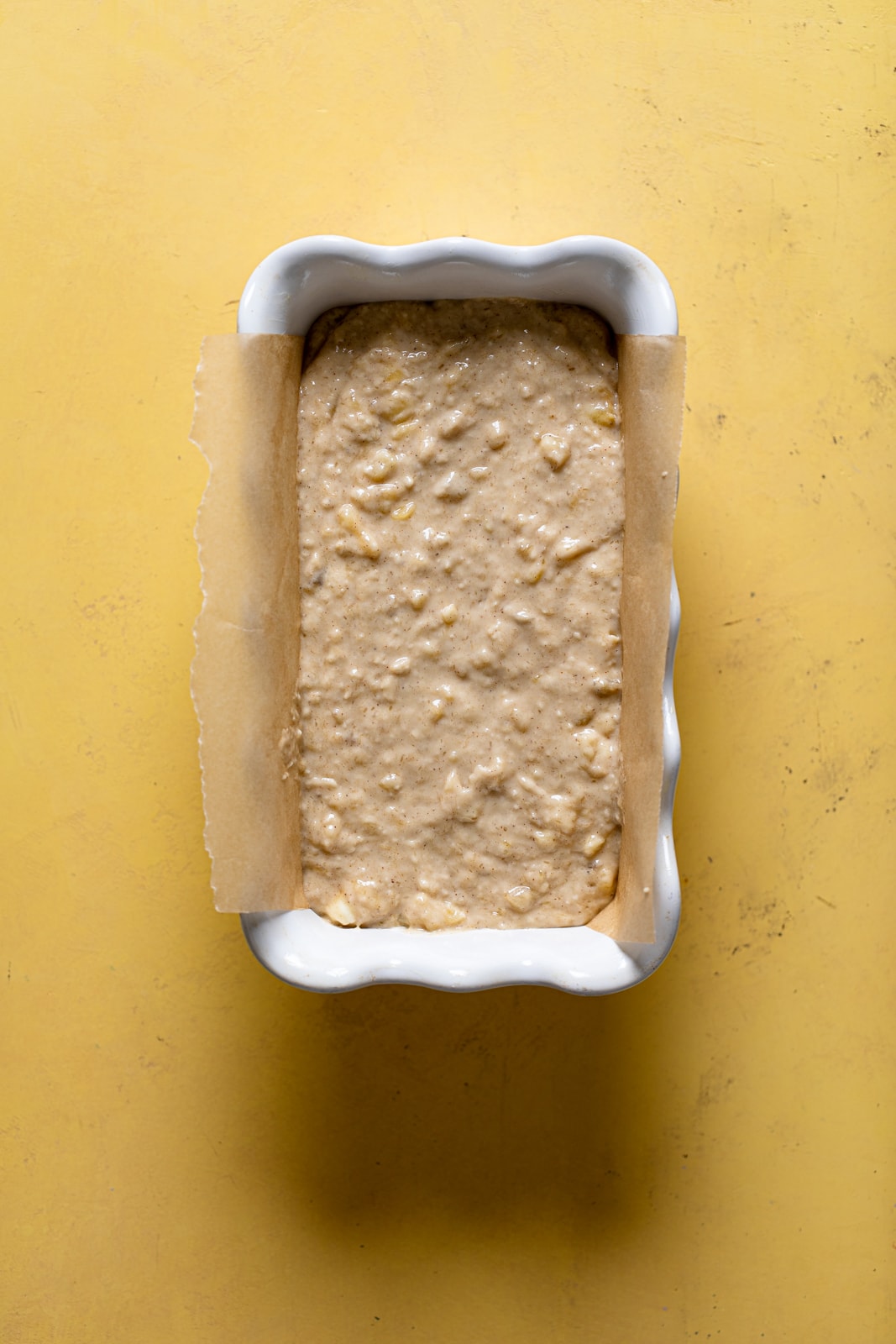 Can I Use Another Plant-Based Milk?
Yes, you can use any dairy-free milk you like to make this vegan banana bread. Here are some easy recipes to make your own milk that's cheaper and so easy!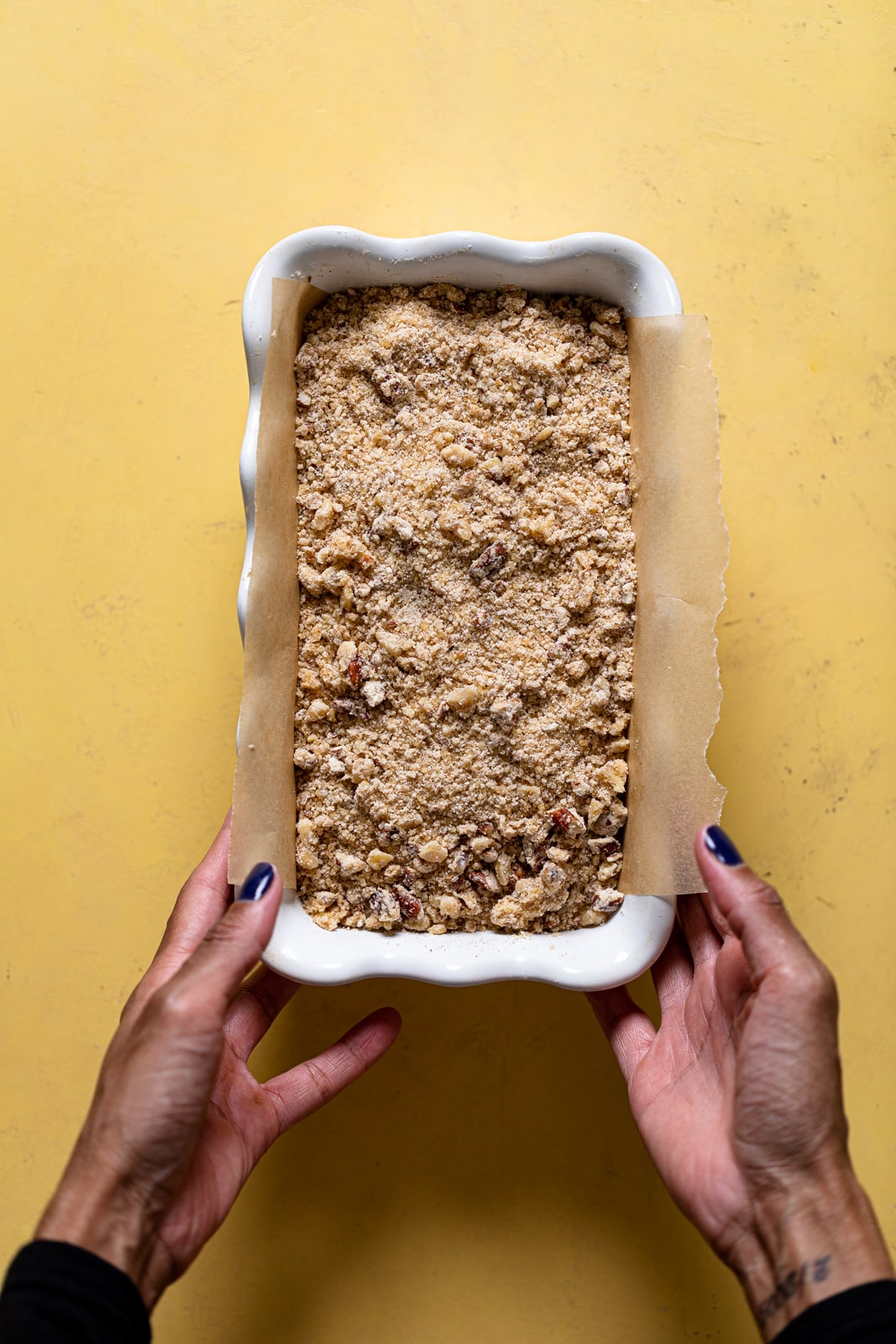 How to Serve Cinnamon Crunch Banana Bread
This sweet treat has a place at breakfast, brunch, or tea time. It's a perfect afternoon pick-me-up that's sweet but not overwhelmingly sweet.
To complete the dish, serve a thick slice of cinnamon crunch banana bread with a vegan Iced Vanilla Latte.
Sweet Crumble Topping
The crumble part of this bread comes from the sweet and nutty streusel topping. Don't leave it out! It adds incredible flavor and nutty flavor to every bite.
Here's what you need to make the crumble topping for your sweet potato bread:
Flour. This helps hold everything together.
Brown sugar. For a caramelized flavor.
Cinnamon
Butter. I use Earth Balance vegan butter.
Pecans + Walnuts. You could also use hazelnuts.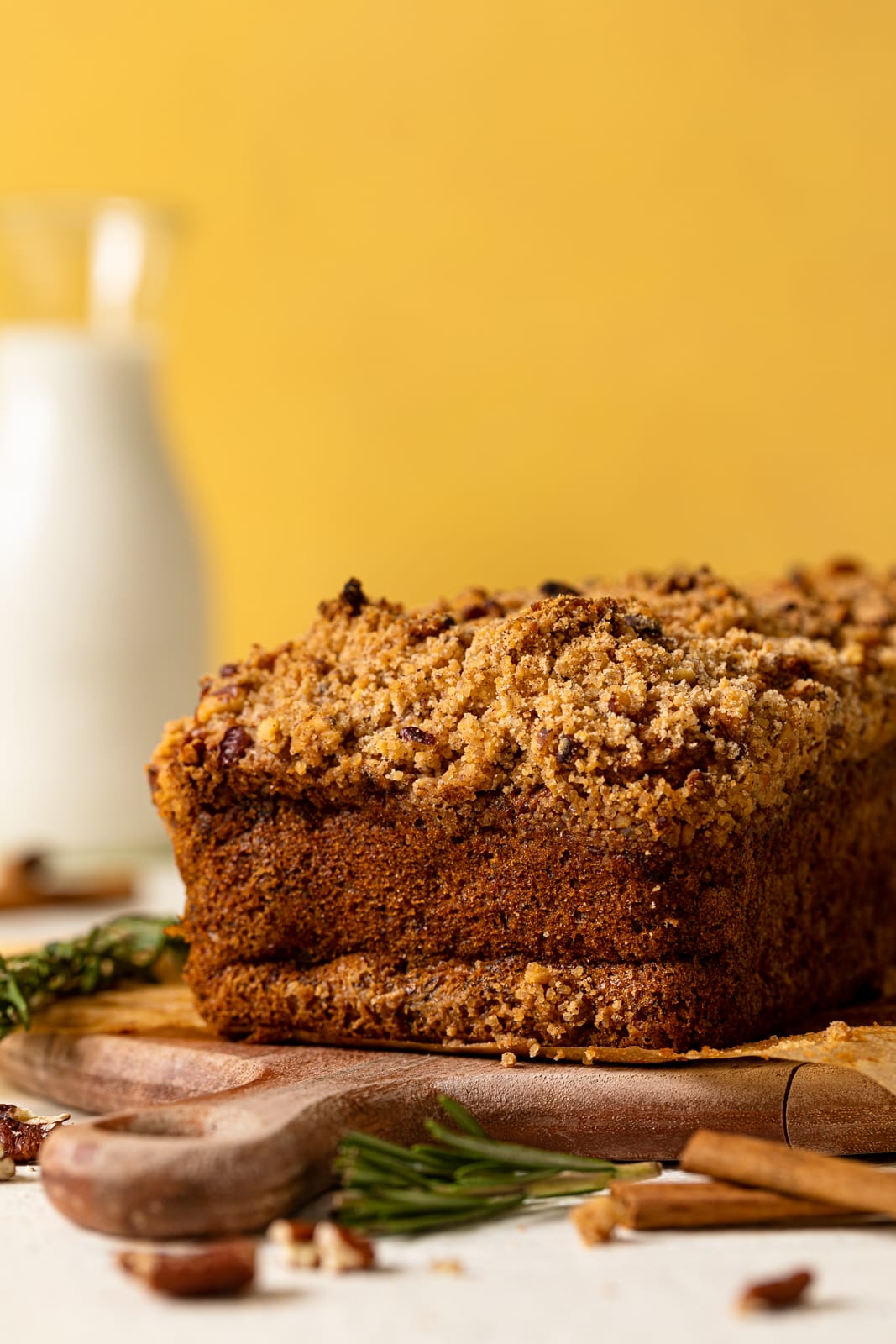 LOOKING FOR A HEALTHIER SWEETENER OPTION?
The Best Healthy Sugar Alternatives + Substitutes list is all about finding better ways to enjoy your favorite sweets without compromising your healthy lifestyle. For those who follow a vegetarian and/or vegan lifestyle, this lists offers a few great ideas to incorporate healthy sweeteners into your diet.
HEALTH BENEFITS OF BANANAS
Believe it or not, Bananas not only taste great but they provide essential nutrients in our daily diet.
In addition, Bananas hold a fair amount of fiber, several antioxidants, while just ONE banana contains about 105 calories, and contains mostly water and carbs.
Other Benefits:
Potassium
Vitamin B6
Vitamin C
Magnesium
Copper
Manganese
Protein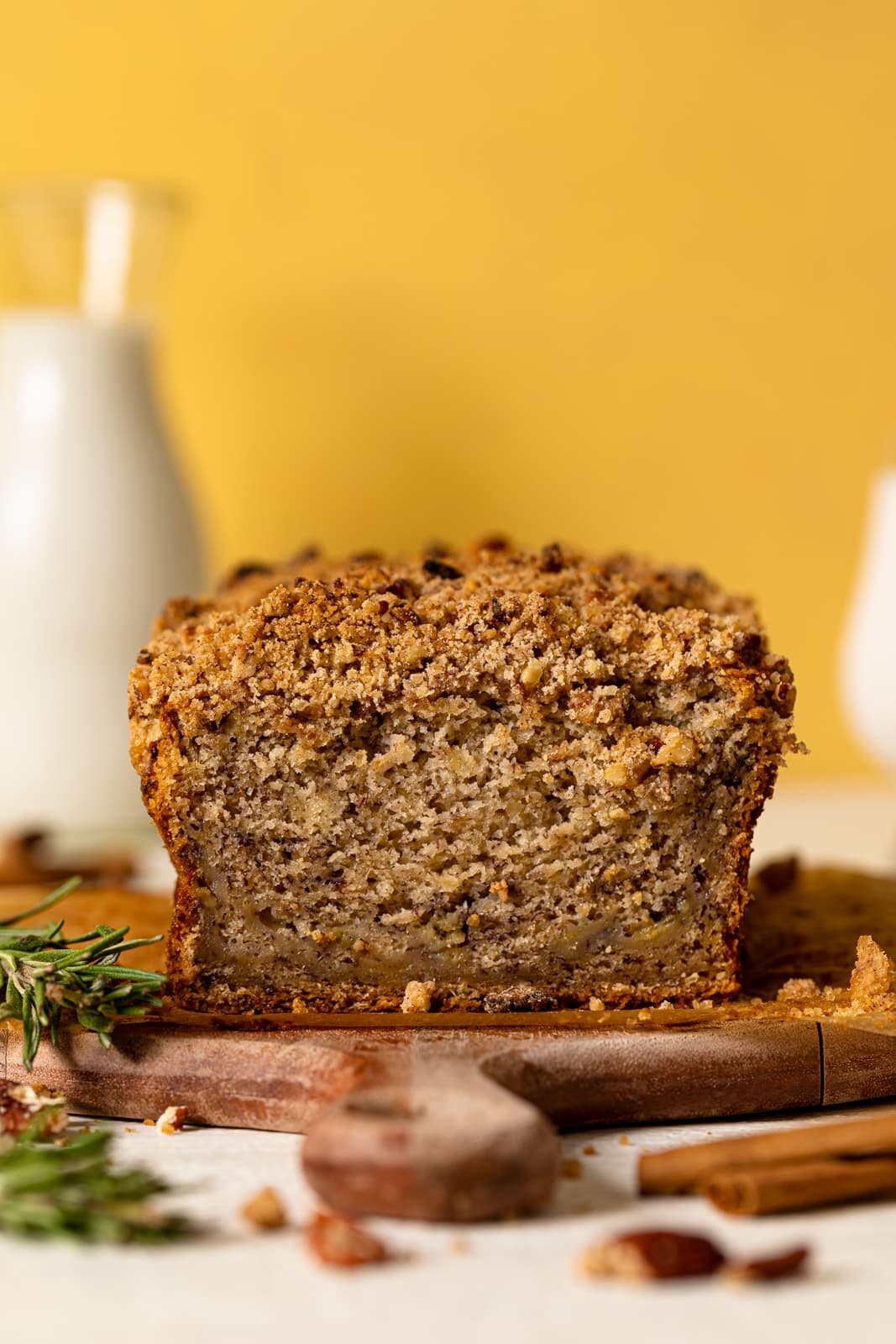 More Must-Try Bread Recipes
This Vegan Chia Seed Maple Banana Bread is packed with healthy nutrients from superfoods like chia seeds. All ingredients are vegan, kid-friendly, and there's a gluten-free option.
This Healthy Blueberry Oatmeal Breakfast Bread is the best 1-bowl breakfast bread. Made with hearty oats, bursts of blueberries, and warm cinnamon notes! It so easy to make for breakfast or as a healthy snack.
This Almond-Cinnamon Crunch Blueberry Banana Bread is a fun balance between crunch and fluffiness. This banana bread uses healthier ingredients which include a blend of whole wheat + all-purpose flour, toasted almond nuts, organic blueberries, coconut oil, and plant-based milk.
Vegan Sweet Potato Crumble Bread is the perfect recipe for fall baking! Full of warming spices, a dense and moist texture with a nutty and sweet crunchy topping.
How to Store Leftover Banana Bread
Store leftover Vegan Cinnamon Crunch Banana Bread in an airtight container or tightly wrapped in plastic wrap in the fridge for up to three days. You can free the bread for up to three months. To serve, defrost on the counter, then slice and serve at room temperature or heat in the microwave for 10 seconds.
Can I Make this Banana Bread Gluten-Free?
Absolutely! To make this bread GF, I recommend using a GF Flour Blend (Bob's Red Mills has a great version!). **NOTE: If the bread mixture is too 'thin + runny', simply add additional GF flour, ¼ cup at a time.**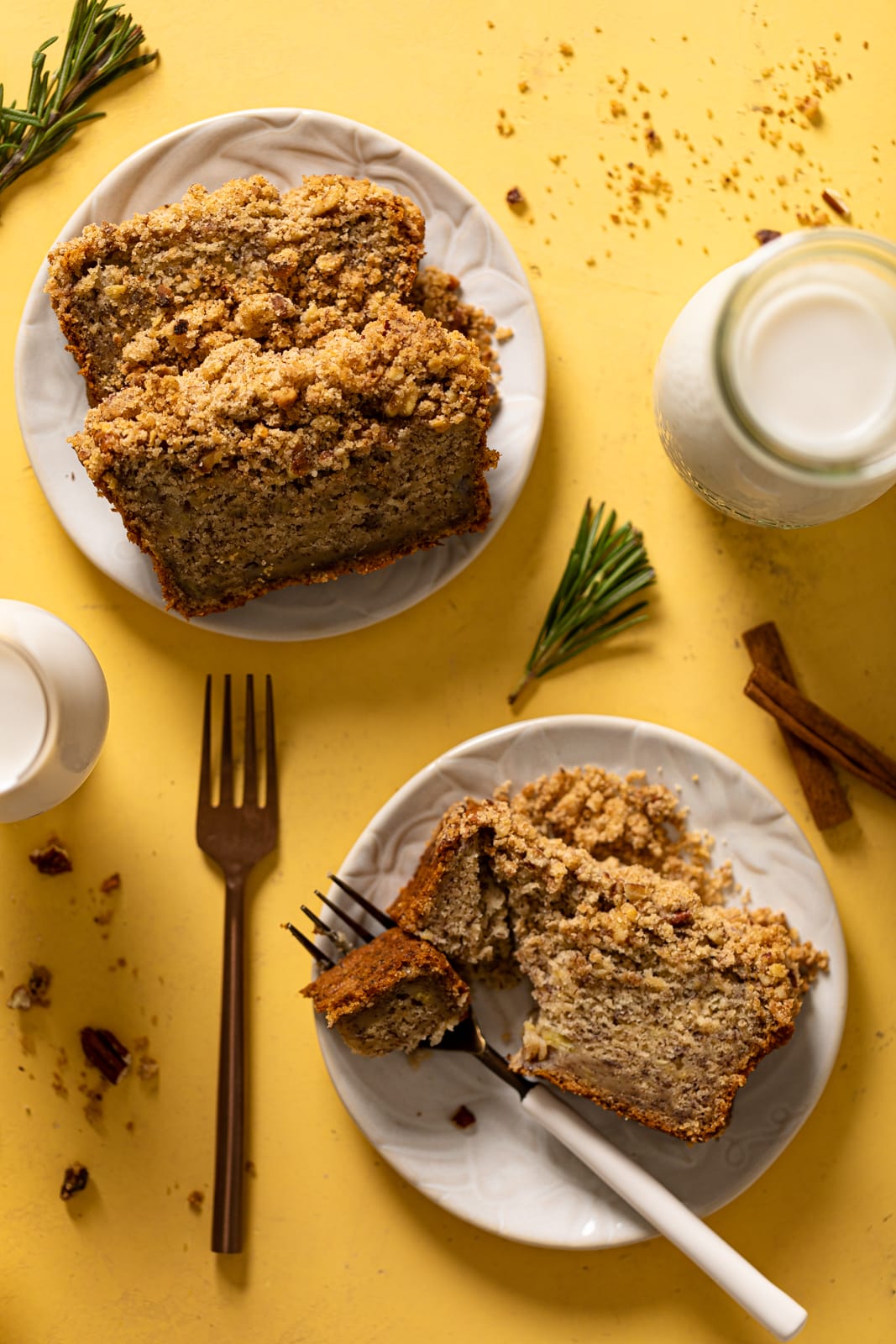 BREAD:
4

very ripe

Bananas, mashed

2

cups

organic all-Purpose Flour

(See Notes!)

½

cup

organic brown sugar, lightly packed

2

tsps

baking powder

½

teaspoon

baking soda

1

tablespoon

ground cinnamon

1

teaspoon

ground nutmeg

pinch of

sea salt

½

cup

Almond milk, unsweetened

(You can use your fave plant-based milk!)

1

teaspoon

apple cider vinegar

1

teaspoon

vanilla extract

¼

cup

vegan butter, melted

(See Notes!)

¼

cup

pure maple syrup

(See Notes!)
CRUNCH TOPPING:
½

cup

organic all-Purpose Flour

½

cup

organic brown sugar, lightly packed

½

cup

chopped pecans

½

cup

chopped walnuts

¼

cup

vegan butter, partially melted

1

teaspoon

ground cinnamon
TO MAKE THE BREAD:
Preheat your oven to 375 degrees Fahrenheit and lightly grease it using vegan butter or coconut oil and line with parchment paper, leaving a hanging over on the sides for an easy "pull-out".

In a bowl or measuring cup, add the milk and apple cider vinegar together, whisking until combined. Let it sit for 5-10 minutes until the mixture slightly thickens.

In a large bowl, combine the mashed bananas, melted butter, maple syrup, vanilla, and Almond milk-AVC mixture, whisking them together until well combined.

Next, add in the flour, baking powder, baking soda, brown sugar, cinnamon, nutmeg, and sea salt into the wet ingredients, stirring until just combined. NOTE: DO NOT OVER-MIX!

Pour batter in the prepared loaf pan and evenly spread it out.
TO MAKE THE CRUNCH TOPPING:
In a bowl, add the flour, organic brown sugar, pecans, walnuts, and cinnamon, stirring them together until combined. Using a pastry blender, blend everything together until ingredients are broken down into smaller pieces. Add the partially melted vegan butter and using a spatula, mix until combined and mixture looks "crumbly-like' and can be easily pressed together with your fingers.

Now, evenly sprinkle the crunch topping atop your batter until fully covered and Bake for 55-60 minutes, or until a toothpick or knife that is inserted in the middle comes out clean. NOTE: Midway, I like to poke VERY SMALL holes all over the bread to allow heat to penetrate through and to ensure it cooks through so that the centers aren't uncooked.

Once done, remove bread from oven and let it cool for 25-30 minutes before gently removing it from loaf pan to cool completely.

Once cooled, slice and enjoy!

Bon Appetit!
STORAGE: Refrigerate leftover bread by tightly wrapping it in foil paper or keeping it fully covered in a cake stand—lasts up to a week. Can also be stored at room temperature for up to 2 days.
SWEETENER: If you choose to opt out of maple syrup, you can always substitute with Agave syrup or Date syrup as well.
GLUTEN-FREE VERSION: To make this bread GF, I recommend using a GF Flour Blend (Bob's Red Mills has a great version!). **NOTE: If the bread mixture is too 'thin + runny', simply add additional GF flour, ¼ cup at a time.**
OIL: Instead of vegan butter, you can also use vegetable oil coconut oil, if preferred.
OIL-FREE: Instead of using oil, you can substitute with apple sauce.
WHAT PLANT-BASED MILKS ARE GOOD FOR THIS RECIPE? You can always use your fave plant-based store-bought milk or one of the following: Almond, coconut milk, homemade oat milk, homemade cashew milk, flax milk, potato milk, quinoa milk, etc.
Calories:
473
kcal
|
Carbohydrates:
67
g
|
Protein:
6
g
|
Fat:
21
g
|
Saturated Fat:
3
g
|
Polyunsaturated Fat:
8
g
|
Monounsaturated Fat:
9
g
|
Trans Fat:
2
g
|
Sodium:
291
mg
|
Potassium:
173
mg
|
Fiber:
3
g
|
Sugar:
34
g
|
Vitamin A:
10
IU
|
Vitamin C:
0.3
mg
|
Calcium:
143
mg
|
Iron:
3
mg
Vegan Cinnamon Crunch Banana Bread.