These Banana Bread Cinnamon Rolls have a fluffy, moist texture and a swirl of maple cream cheese frosting for a decadent family-friendly breakfast!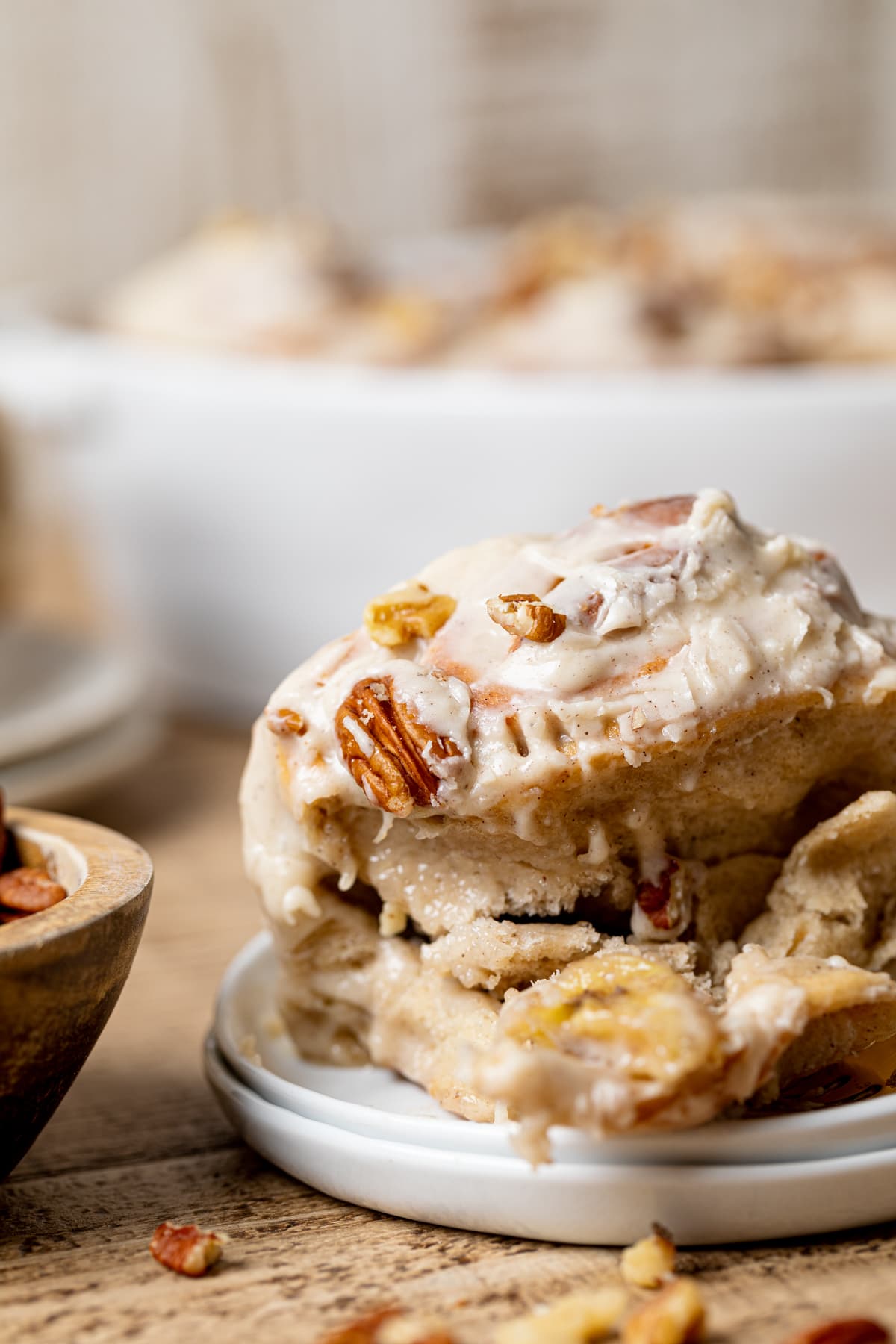 There's nothing like an over-the-top homemade breakfast during the holiday season. Whether your family loves waking up to a tall stack of Warm Vegan Apple Cinnamon Pancakes or a cozy bowl of Sweet Potato Pie Overnight Oats, I love a sweet and decadent breakfast this time of year. And these banana bread cinnamon rolls are on a whole new level of comforting, delicious and perfectly sweet.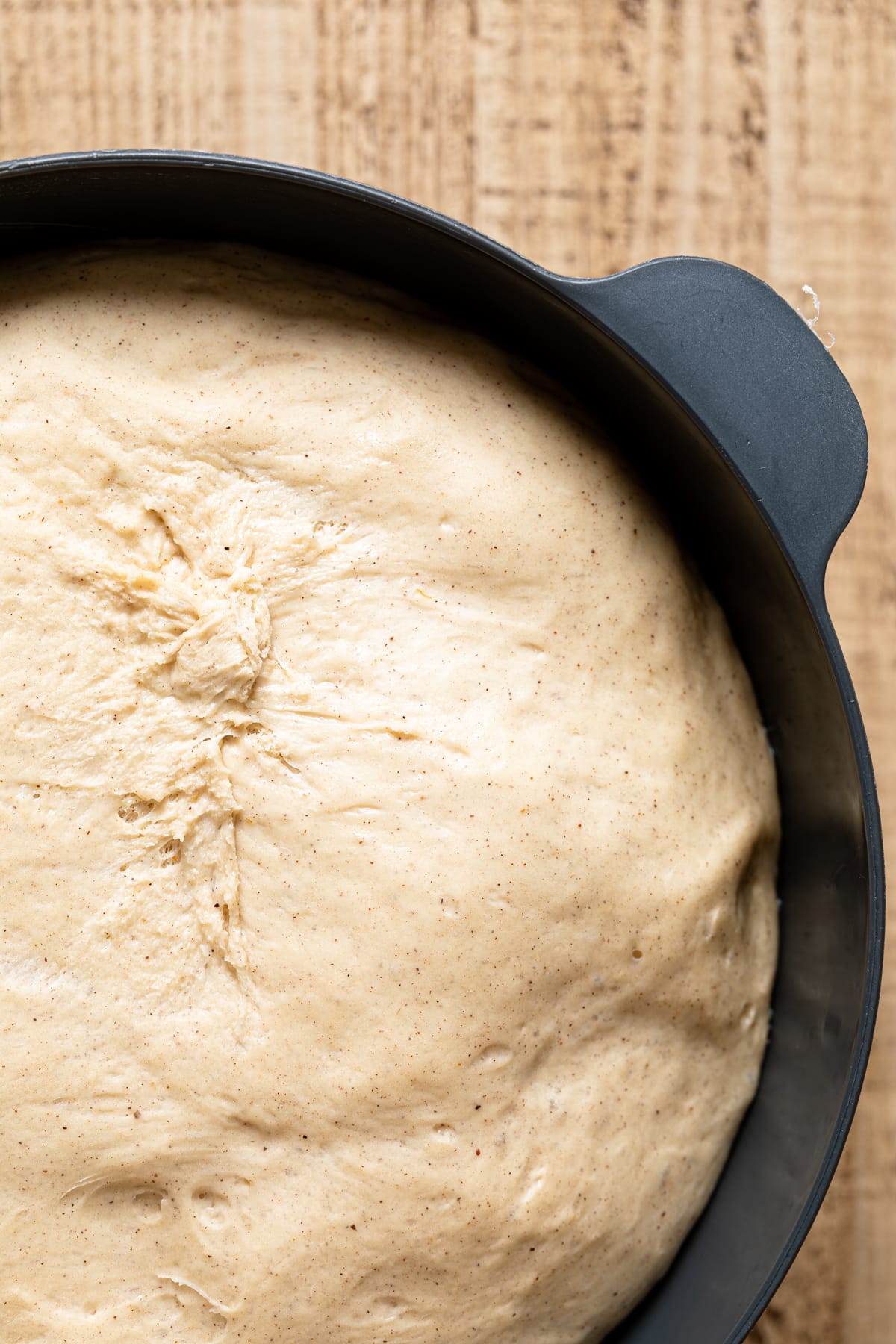 Ingredients for Banana Bread Cinnamon Rolls
Here's what you need to make the dough for these fluffy banana cinnamon rolls:
All-purpose flour. I like Bob's Red Mill brand
Bread flour. This adds structure to the cinnamon rolls. If you don't have bread flour, you can use 100% all-purpose for this recipe.
Instant yeast. Also sometimes labeled rapid rise yeast.
Brown sugar. I like organic sugar.
Warming spices. These rolls are flavored with cinnamon, nutmeg, and allspice.
Banana. Choose a nice soft ripe one for the best flavor and texture.
Almond milk. Feel free to use any kind of milk you like, including dairy milk.
Butter. The butter should be melted, but not piping hot when you add it to the mix.
Vanilla. For a hint of extra cozy flavor.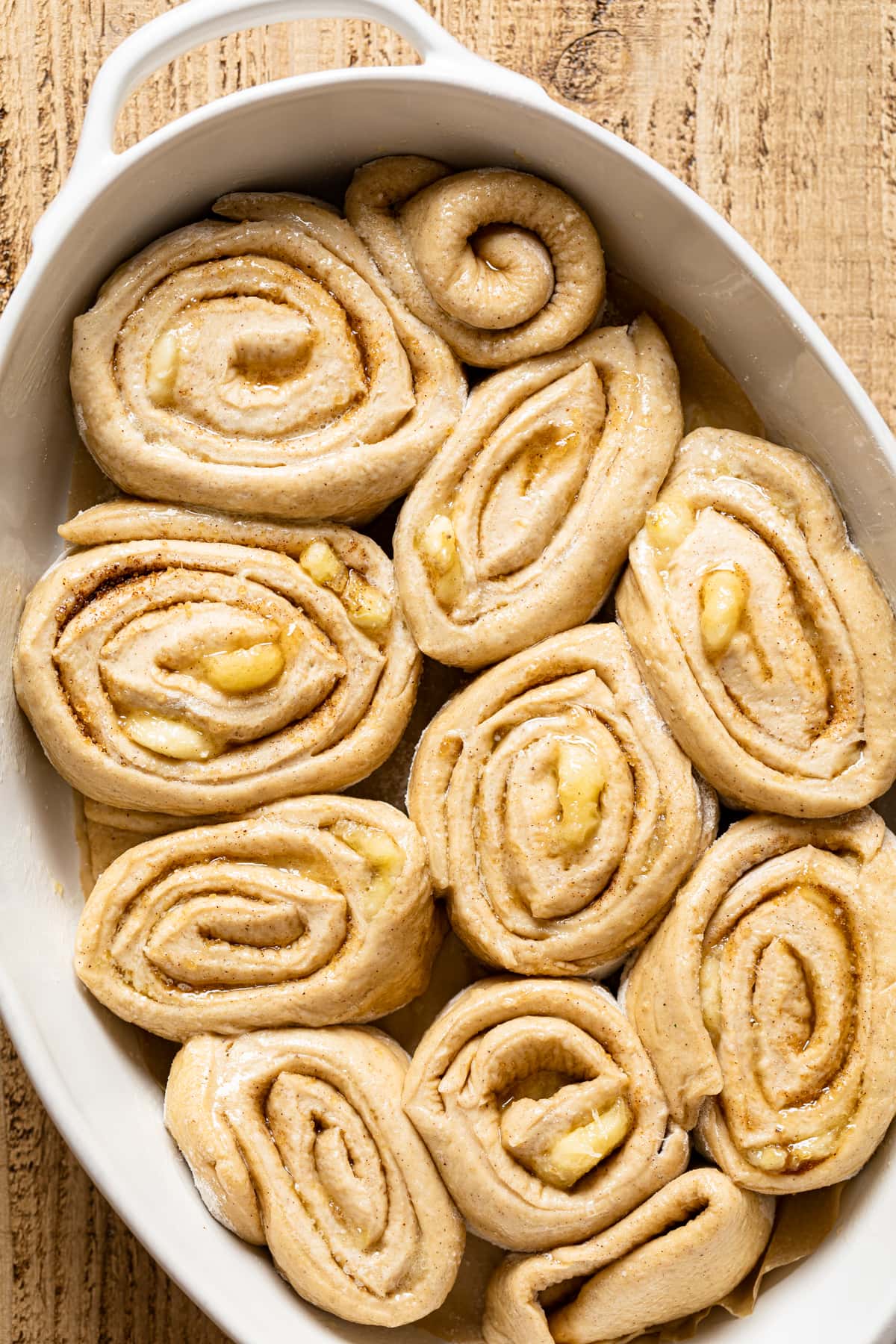 Banana Filling for Cinnamon Rolls
After making the dough, make the sweet and spiced banana filling with:
Bananas. These should be soft, ripe and sweet!
Brown sugar
Butter. Use unsalted to control the flavor of your rolls.
Cinnamon and nutmeg. Because there's never too much!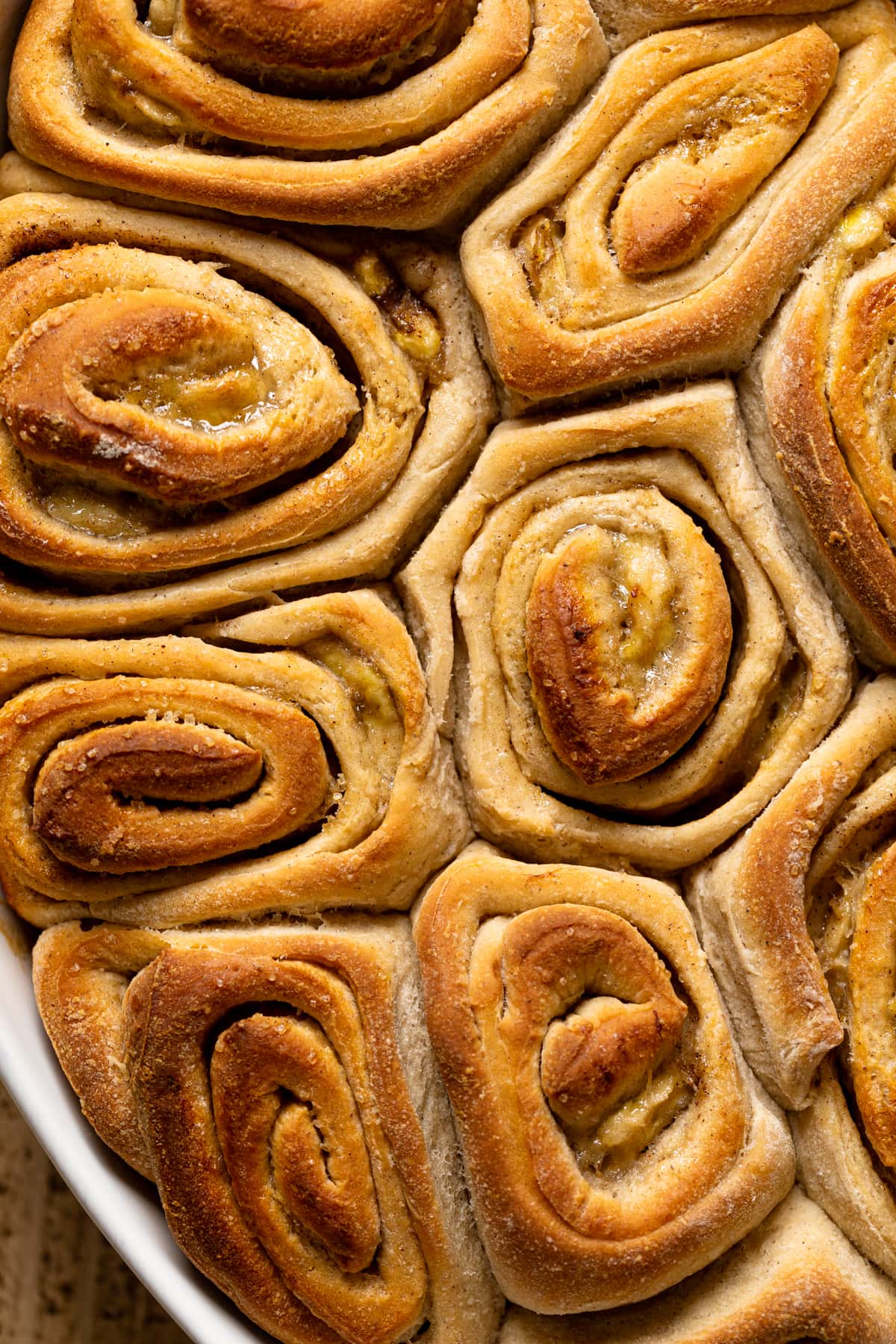 Maple Cream Cheese Frosting
To top your fluffy homemade cinnamon rolls with banana filling, make a simple and sweet maple cream cheese frosting. You'll need:
Cream cheese. Make sure it's softened to room temperature so your frosting is light and fluffy.
Powdered sugar. Granulated white sugar will give your frosting a grainy texture, so opt for powdered.
Maple syrup. Make sure you're using the real stuff, not imitation!
Vanilla. For added flavor.
Cinnamon
Heavy cream. You could also use plant-based milk, such as coconut or almond, if you're limiting dairy.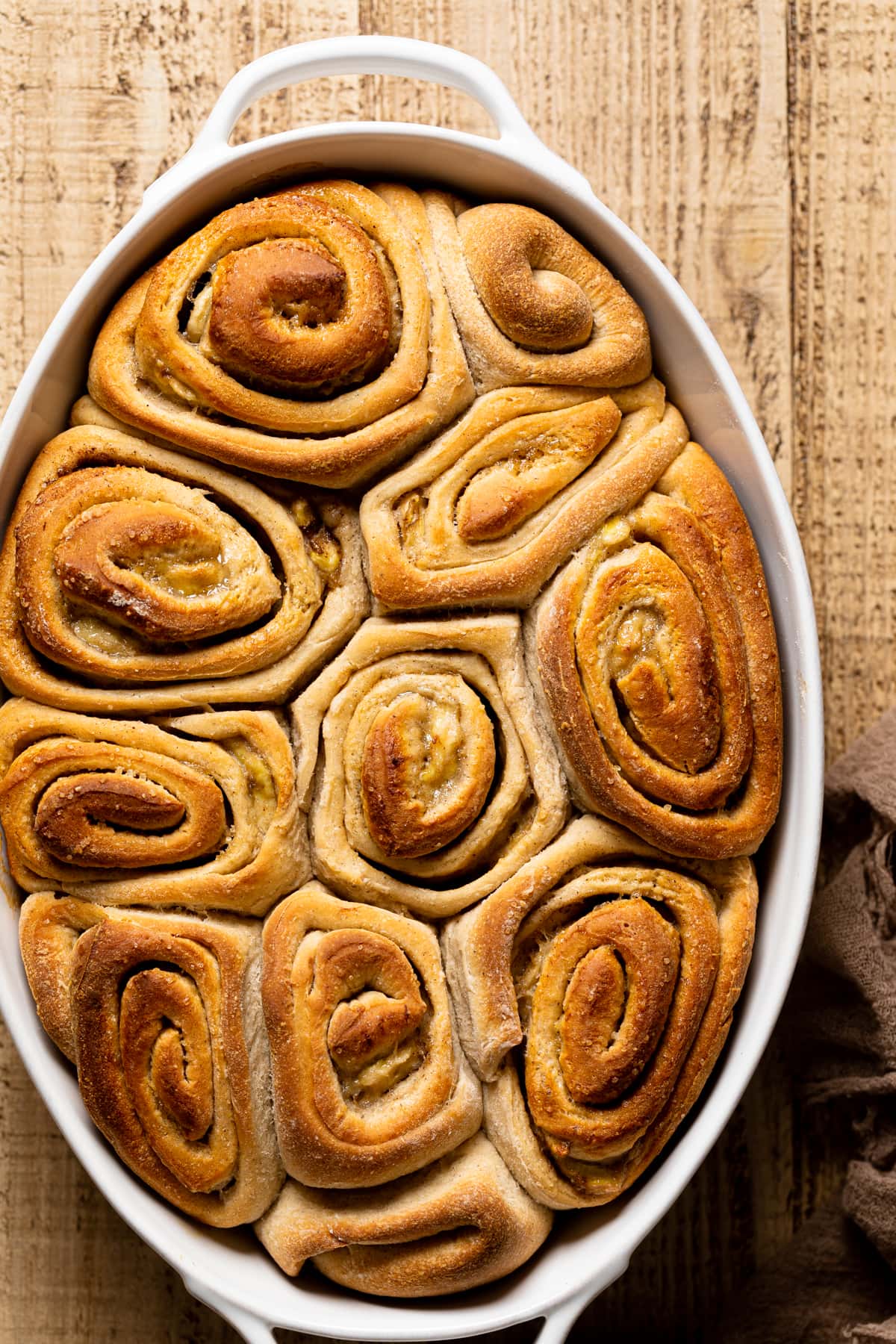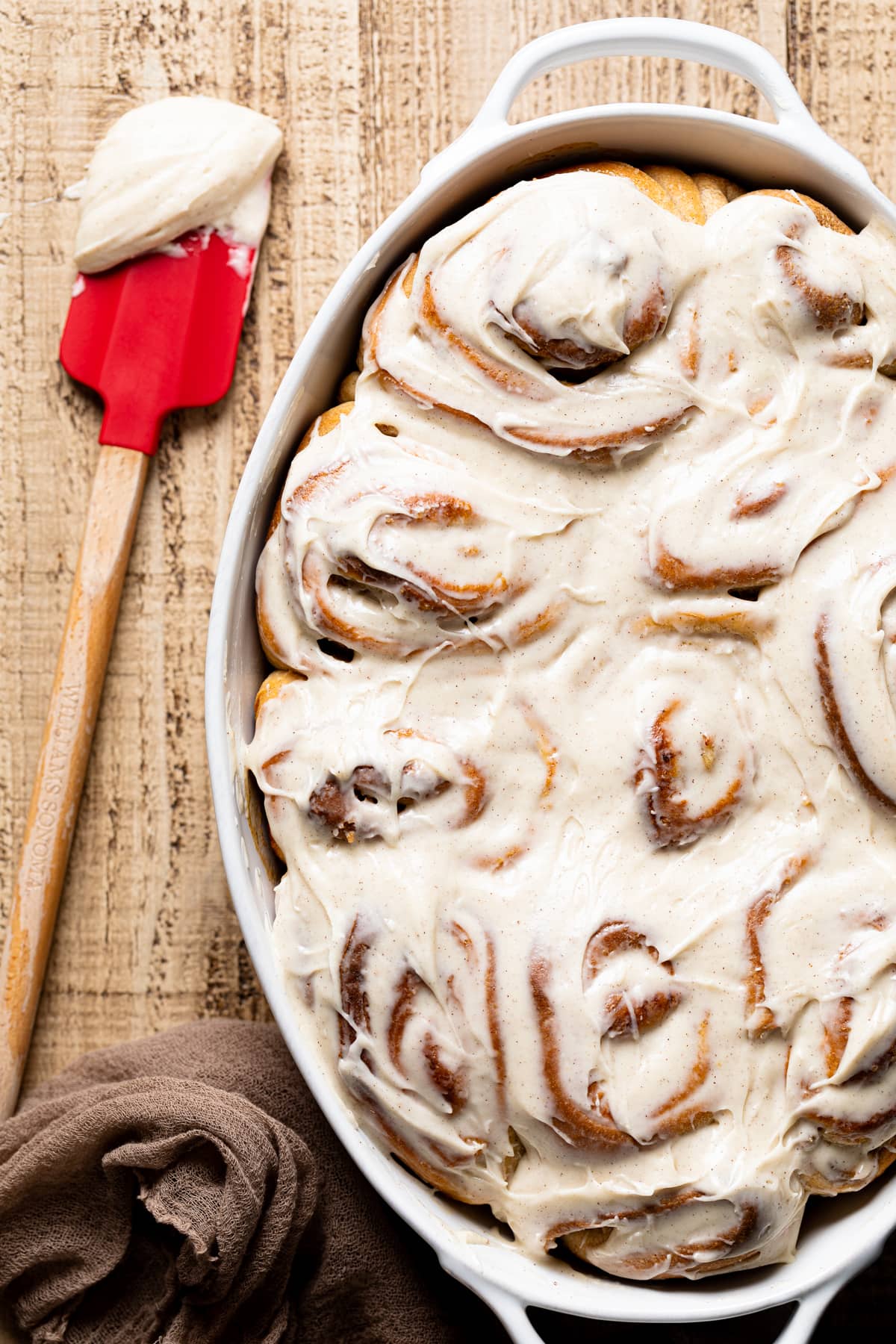 Storing Cinnamon Rolls
You can serve these rolls as soon as they're frosted, right out of the baking dish. For longer storage, wrap them tightly in plastic wrap or place in an airtight container for up to three days. In the fridge, they'll stay fresh for up to a week. Or freeze the cinnamon rolls for up to two months. Defrost them overnight in the fridge and serve at room temperature.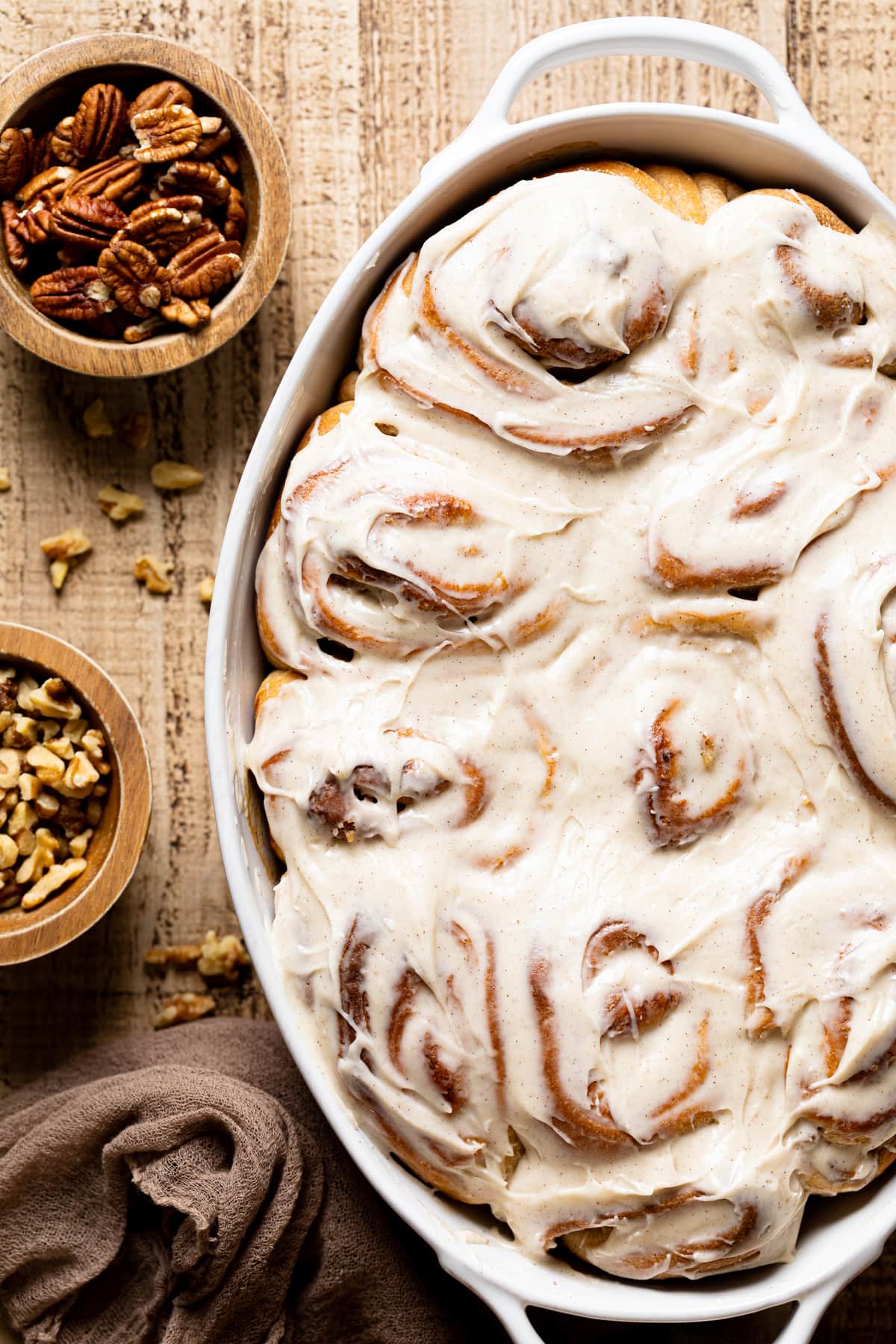 What to Serve with Cinnamon Rolls
If you're planning a holiday breakfast or a celebration for another occasion, these banana cinnamon rolls make the perfect centerpiece. Serve them alongside other tasty breakfast treats like: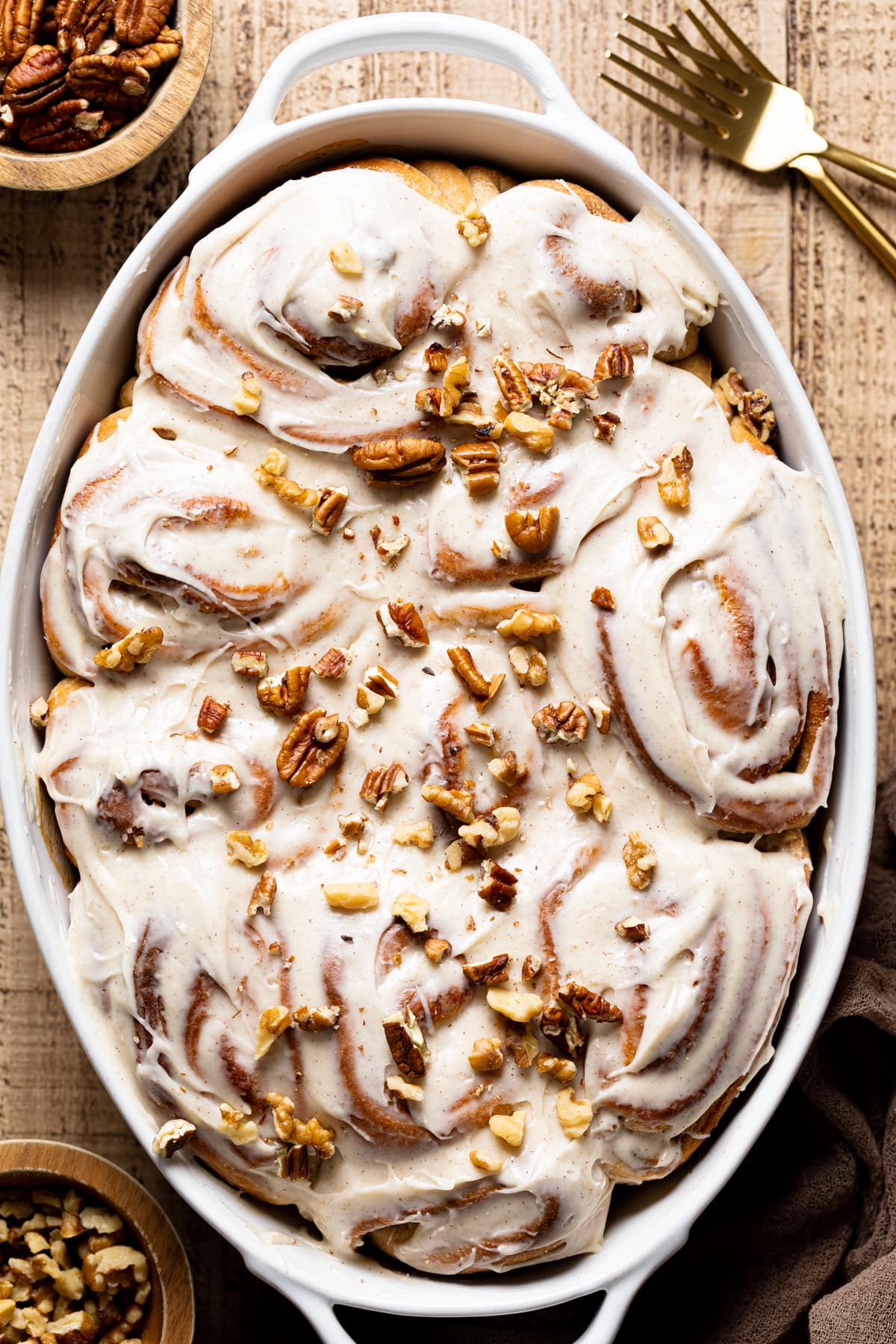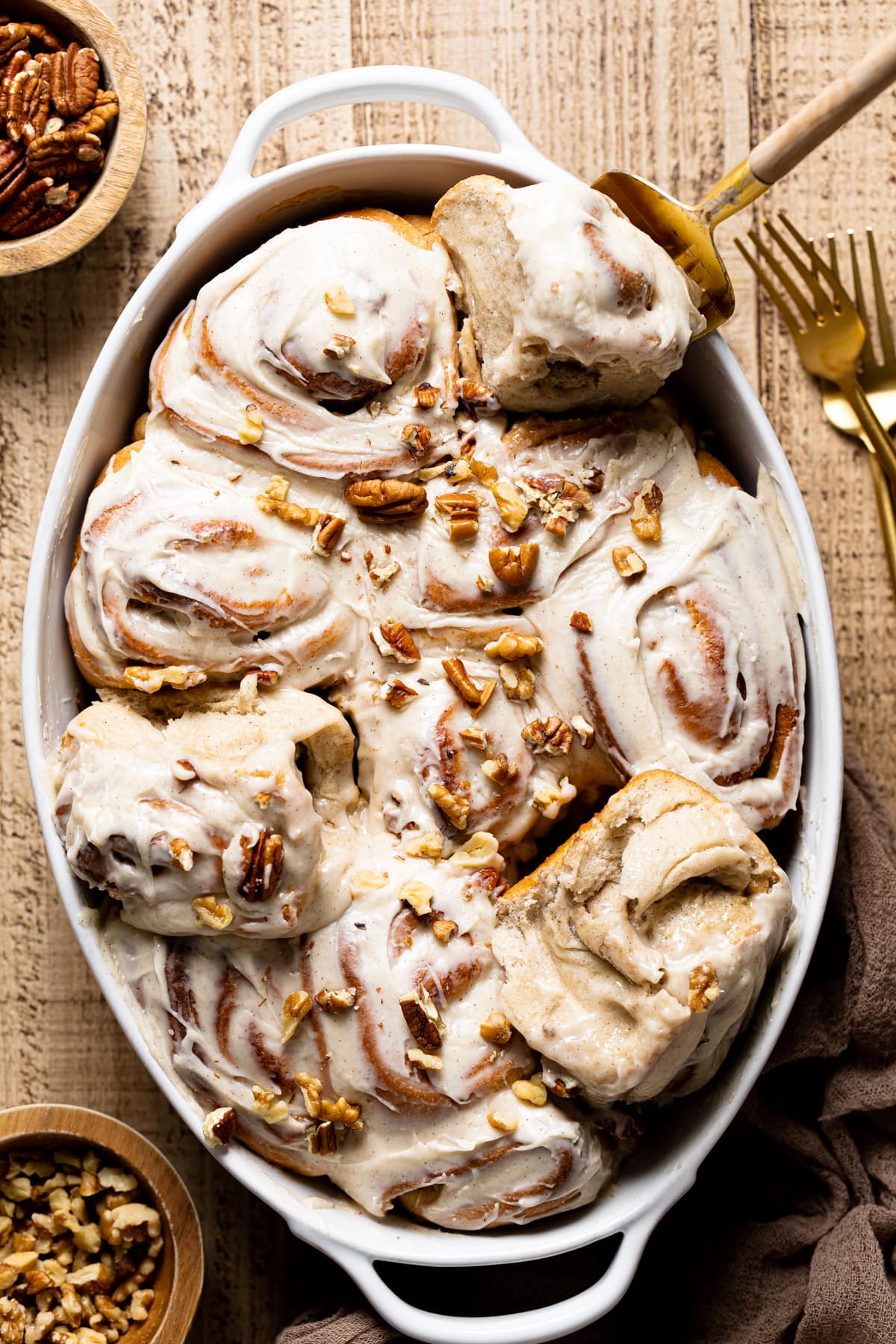 Topping Ideas
If you'd like to add extra crunch to these cinnamon rolls, feel free to add a sprinkle of chopped nuts. I like a mixture of pecans and walnuts, but hazelnuts or almonds are also delish!
You can also add a sprinkle of extra cinnamon on top of your frosting.
And if you want to take things really over the top, try a drizzle of caramel sauce!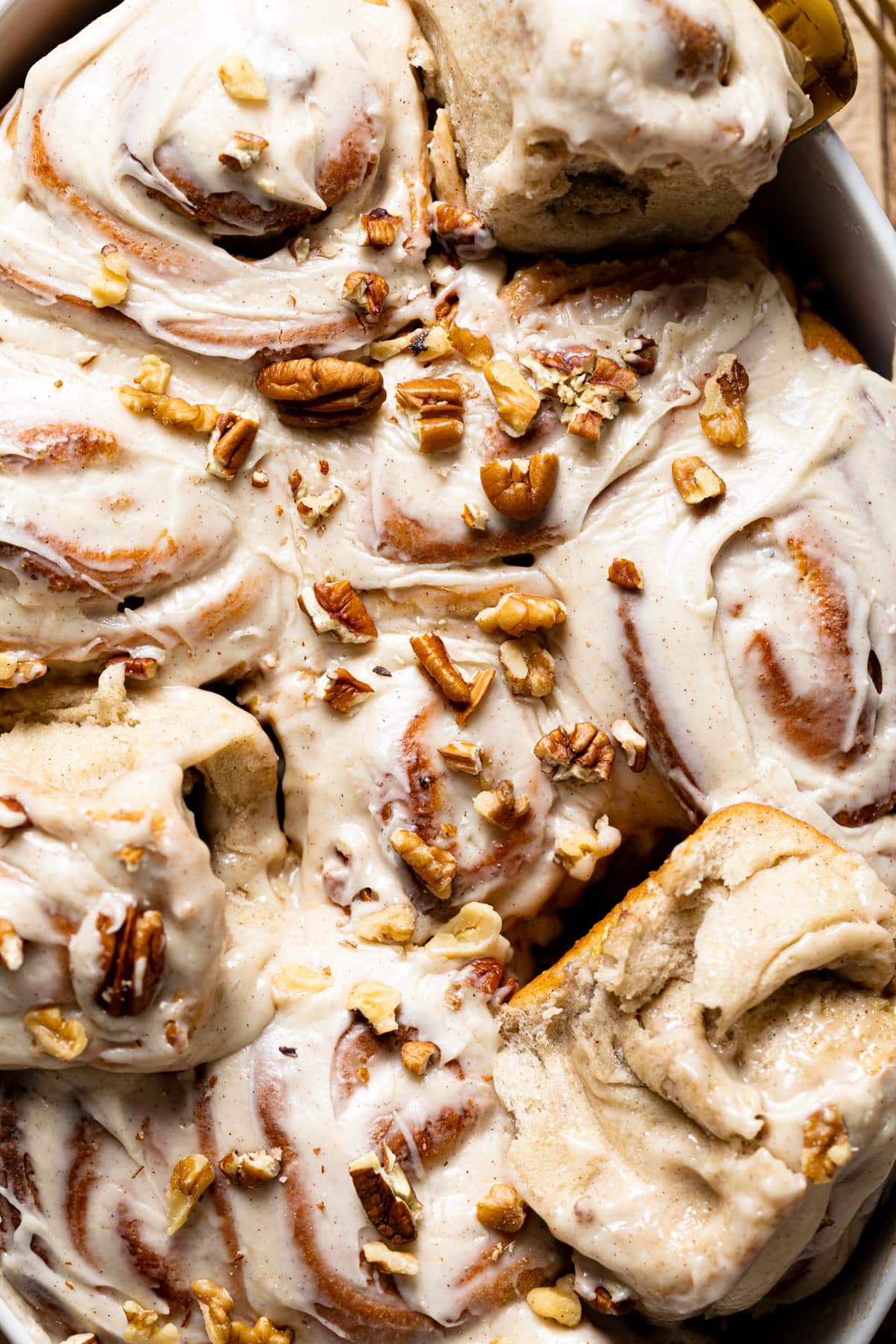 Gluten-Free Cinnamon Rolls
You can easily make these banana cinnamon rolls gluten-free! Simply replace both the all-purpose and bread flours with Bob's Red Mill 1:1 Gluten-Free Baking Flour. Reduce the total flour amount by 1 cup. If necessary, add more flour if your dough is too sticky.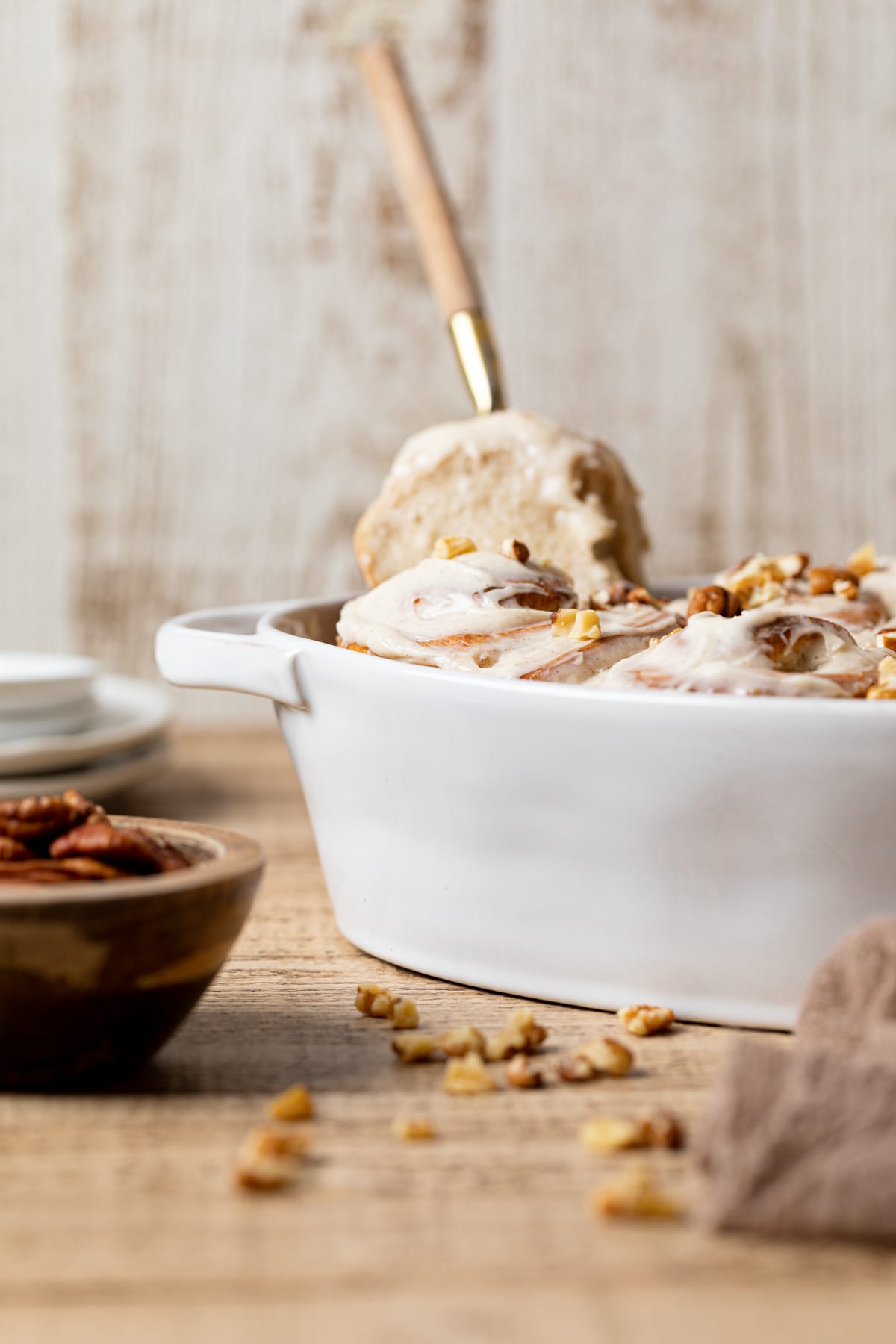 More Must-Try Cinnamon Roll Recipes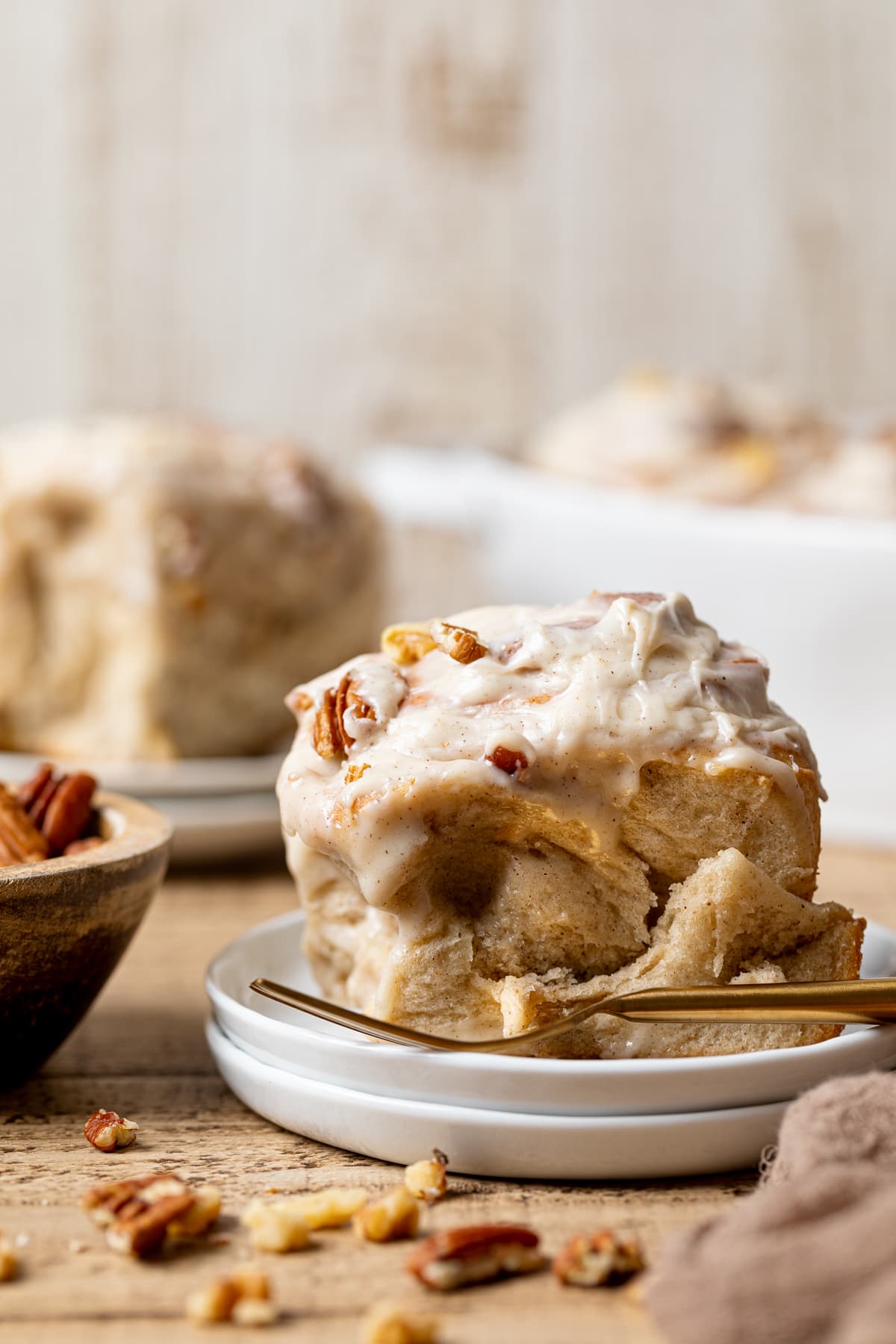 MADE OUR RECIPE?
If you make these Banana Bread Cinnamon Rolls with Maple Cream Cheese Frosting, be sure to Tag @orchidsnsweettea_ on Instagram and hashtag it #orchidsandsweettea!
DOUGH:
3

cups

organic All-purpose flour 

(See Notes!)

2

cups

Artisan Bread flour

1

packet

Rapid Rise Yeast

(That's 2 ¼ tsps!)

2

large

eggs, room temp.

½

cup

organic brown sugar + 1 Tbsp

1

teaspoon

sea salt

1

teaspoon

ground cinnamon

½

teaspoon

ground nutmeg

¼

teaspoon

ground allspice

1

banana, mashed

1 ¼

cup

Almond milk, room temp. 

(You can also use regular milk if preferred!)

¼

cup

WARM water

(See Notes!)

6

Tbsps

unsalted butter, melted

(Make sure that it's WARM, not hot!)

1

teaspoon

vanilla extract
MAPLE CREAM CHEESE GLAZE:
4

oz.

organic cream cheese, at room temp.

(That's ½ a pack!)

4-5

cups

organic powdered sugar, sifted

¼

cup

pure maple syrup

½

teaspoon

vanilla extract

Pinch of

ground cinnamon

1-2

Tbsps

organic heavy cream or plant-based milk
FOR THE DOUGH:
Combine yeast and 1 tablespoon brown sugar in the bowl of an electric mixer and slowly pour in warm water while stirring frequently. Allow 10 minutes for the mixture to sit and for the yeast to activate.

Add in the room temperature milk and warm butter to the yeast mixture followed by the mashed banana and whisk until well combined. Add in the eggs (one at a time) and vanilla, whisking to incorporate.

In a large bowl, whisk together the all-purpose flour, bread flour, brown sugar, cinnamon, nutmeg, allspice, and sea salt and add them to the wet ingredients and mix on low-speed until well combined and everything begins to form into a dough-like consistency, about 2-3 minutes.

Change "Mixer head" to kneading accessory and knead dough for 5-10 minutes on high speed until dough ball becomes smooth and elastic and dough springs back when lightly pressed together with 2 fingers. NOTE: If dough is still too sticky, add 1 tablespoon of flour at a time until texture is achieved!

Lightly grease a large bowl with a small amount of olive oil and place the dough ball in the bowl, tossing it around until coated. Cover with plastic wrap (or a towel) and let sit for 1 hour, allowing the dough to rise and double in size. 

In the meantime, you can work on the filling!
FOR THE BANANA FILLING:
Melt the butter in a small bowl and set aside. In a separate bowl, combine the cinnamon, nutmeg, and brown sugar, mixing them together. Set aside.

Once the dough has risen fully, preheat the oven to 375 degrees Fahrenheit and line a large 9x13 baking dish with parchment paper, allowing excess to hang from the sides.

Add a bit of flour to a surface and place the dough onto it, lightly adding a bit of flour to the top. Using a rolling-pin, roll out the dough into a rectangular shape (approximately 9″x14 and ½-inch thick), trimming the edges if needed. NOTE: Try not to make the dough too thin or else rolling it up will be hard to do!

Then, generously brush melted butter (leaving aside 1 Tbsp) atop dough, followed by the brown sugar-spice mixture, ensuring that the top is coated evenly. NOTE: I also use a 'pastry brush' to sweep sugar mixture evenly across the dough to ensure that every bite is sweet!

Add the sliced bananas atop the dough evenly.

Tightly roll dough (long-ways) and using a pastry cutter, cut dough into 1.5" rolls, placing each roll (cut side down) into a large baking dish (lined with parchment paper!).

Then place plastic wrap over the baking dish with rolls and let them rise again (for another 20 minutes).

Once the rolls have doubled in size (once again!) or have gotten significantly larger, brush the tops of the rolls with a little more melted butter and then bake them for approximately 35-40 minutes in the preheated oven.

While all the baking magic is happening, make the Maple Cream Cheese Glaze.
FOR THE MAPLE CREAM CHEESE GLAZE:
In a large bowl, beat (using a hand-mixer) the softened cream cheese until creamy and smooth. Add the powdered sugar, maple syrup, vanilla, cinnamon, and heavy cream/milk, beating everything together until the glaze becomes smooth and velvety. NOTE: Add additional heavy cream (1 tablespoon at a time) if the glaze is too thick or powdered sugar (1 tablespoon at a time) if too thin.

Remove the rolls from oven and wait 25-30 minutes or until it completely cools, before spreading the frosting/glaze atop the rolls using a rubber spatula evenly until fully covered.

To serve, cut out each roll desired and enjoy.

Bon Appetit!
TO STORE: Cinnamon Rolls can be kept fresh at room temperature when tightly wrapped or sealed for up to 3 days. Fresh for up to 1 week in the Refrigerator. Baked rolls can be frozen up to 2 months.
RAPID (INSTANT) RISE YEAST VS. ACTIVE DRY YEAST: If you're not using the Rapid Rise Yeast for this recipe, please know that the rise time will be twice as long (about 3 hours) since regular Active Yeast doesn't work as quickly.
FLOUR: If you don't have bread flour, you can always just use all-purpose flour entirely instead. 
GLUTEN-FREE OPTION: If you're looking to make these GF, I recommend substituting both flours with Bob's 1:1 Baking flour and slightly reducing the amount by 1 cup, slowing adding more if the dough is too sticky. 
OVERNIGHT OPTION: If you don't want to make your Cinnamon Rolls on the same day, you can simply follow all steps (including the initial 1+ hour rise) and after cutting rolls and placing them into your baking pan, just cover them tightly (using foil paper of plastic wrap) and refrigerate them overnight or for 8-12 hours instead. The following day, remove from refrigerator and keeping them covered, let cinnamon rolls rise at room temp 1 to 1 ½ hours.
Calories:
438
kcal
|
Carbohydrates:
112
g
|
Protein:
8
g
|
Fat:
14
g
|
Saturated Fat:
8
g
|
Polyunsaturated Fat:
1
g
|
Monounsaturated Fat:
4
g
|
Trans Fat:
0.3
g
|
Cholesterol:
65
mg
|
Sodium:
278
mg
|
Potassium:
238
mg
|
Fiber:
3
g
|
Sugar:
26
g
|
Vitamin A:
476
IU
|
Vitamin C:
3
mg
|
Calcium:
90
mg
|
Iron:
2
mg
Banana Bread Cinnamon Rolls