These Homemade Banana Bread Cinnamon Rolls with maple cream cheese frosting have a fluffy, moist texture and make for a decadent family-friendly breakfast! These big, fluffy rolls are made with an airy homemade banana flavored dough stuffed with gooey-sweet cinnamon filling and topped with a light, yet creamy homemade maple cream cheese frosting. These rolls freeze beautifully, so this is a great make-ahead dish. Overnight, Air Fryer, Gluten-Free + Vegan options are available for all our plant-based and gluten-sensitive friends.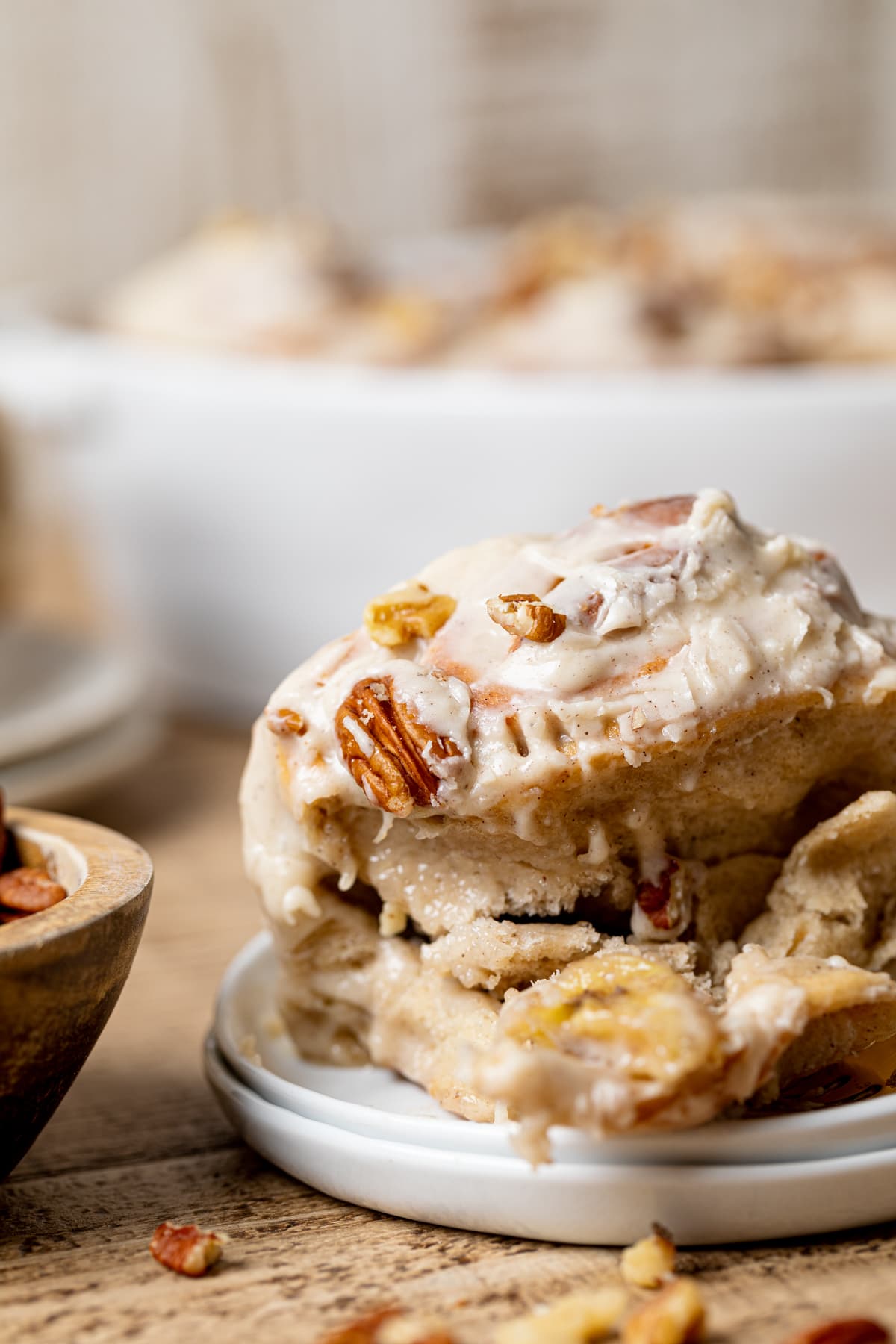 There's nothing like an over-the-top homemade breakfast or brunch during the holiday season or ANY season really. Whether your family loves waking up to a tall stack of Warm Vegan Apple Cinnamon Pancakes or a cozy bowl of Maple Blueberry Oatmeal Porridge, I love a sweet and decadent breakfast this time of year, especially when it comes to these Banana Bread Cinnamon Rolls. And these rolls are on a whole new level of comforting, delicious and perfectly sweet flavor.
If you're a banana lover, then these rolls truly the perfect rendition of banana filled flavor. Of course, whipping together this Healthy Banana Bread is a must---but this Classic Southern Banana Pudding, Vegan Banana Cake with Maple Buttercream, and Protein Peanut Butter Banana Chia Oatmeal is sure to be a crowd-pleaser when it comes to deliciousness.
While these banana cinnamon rolls do take a little time to perfect (especially the rising phase), I just love the finishing of these thick, tender rolls! Oh and I do have a secret ingredient to mine------bread flour! Yup. I love the brioche-like, fluffiness of using bread flour, so it's become my new cinnamon roll ingredient staple.
Why You'll Love these Banana Bread Cinnamon Rolls
OK, so if you're still not entirely sold on these banana bread cinnamon rolls, then let me tell you what's so great about them. They are SOFT, FLUFFY, + BRIOCHE-LIKE in texture. Yup. I love making my cinnamon rolls more brioche-like. Who doesn't love the extra 'pillowy-ness' of it all?
Plus, these banana cinnamon rolls are:
Super easy to make-----I have Tips below to ensure that they're perfect.
Bold seasonal flavors + spices----All about that Banana + warm spices!
Only requires ONE baking dish.
Can be MADE AHEAD! (See Notes!)
The epitome of COMFORT SWEETS that can be enjoyed for breakfast, brunch or dessert!
Super thick and fluffy and brioche-like.
Super flavorful and feels like you're eating a slice of banana bread.
Did I mention that it's just TOO GOOD TO PASS UP!?
Jump to: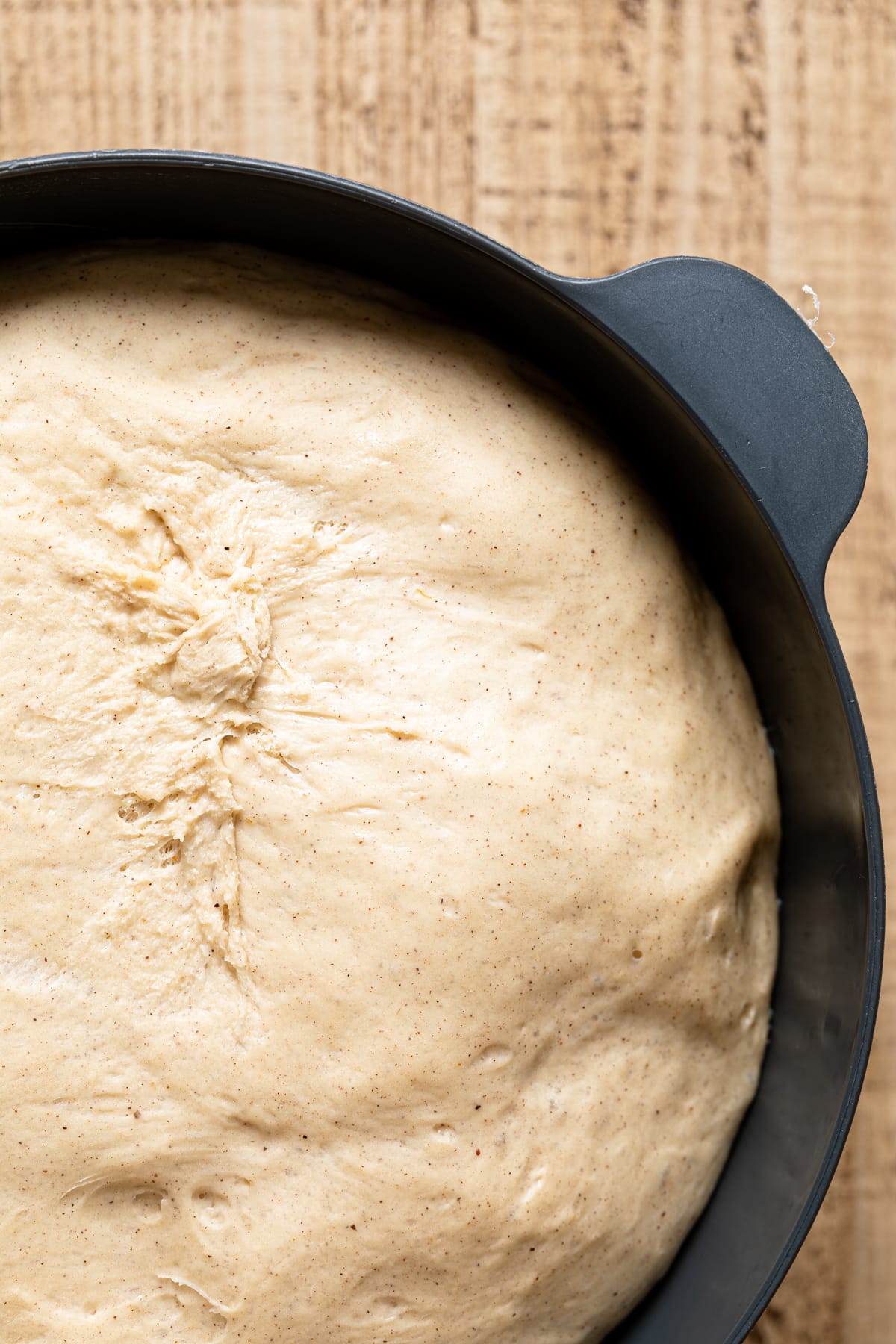 How to Make Banana Cinnamon Rolls
The first thing to do is assemble your ingredients! Like many rising dough recipes, you always start with adding your ingredients together in a stand mixer (or bowl if kneading by hand) and mixing until combined. Then you knead the dough vigorously for about 15-20 minutes to ensure that it becomes elastic-like in texture with a shine.
Then you add the dough to a greased bowl, cover and let it rise for the first hour. Once risen, remove it unto a lightly floured surface, roll it out to an inch thickness, spread on the filling, and then roll them up tightly before cutting them into rounds. Assemble dough pieces in prepped baking dish, cover and let it rise for a second time. Once risen again, brush the tops with softened butter, bake, glaze, slice, and serve!
Ingredients for Banana Bread Cinnamon Rolls
Here's what you need to make the dough for these fluffy, comforting banana cinnamon rolls:
All-purpose flour. I use organic flour from Bob's Red Mill.
Bread flour. You can find this from King Author or Bob's Red Mill. Adding in bread flour adds a nice thickness and helps to create a more "brioche-like" texture.
Milk. You can totally use regular milk or plant-based milk. Choose unsweetened. Feel free to use a different plant-based milk if you like. I recommend making easy homemade almond milk (my recipe doesn't require soaking!)
Bananas. You'll want to use really ripe bananas for the densest, sweetest flavor. I talk more about aiding in the ripping process further below in the post.
Brown sugar. I like to use organic to ensure that it's vegan-friendly. This adds nice color and caramelization to the flavor of the rolls. You could also use cane sugar or coconut sugar.
Eggs. You'll need them to be at room temp.
Ground spices. In this recipe, I use cinnamon, nutmeg, and allspice. This amplifies the banana flavors in these rolls.
Instant yeast. Also called Rapid Rise Yeast.
Butter. Use warm, melted unsalted butter. Make sure that it's NOT hot.
WARM water. This is important to help activate the yeast at the beginning.
Vanilla extract. The pure vanilla is the best flavor.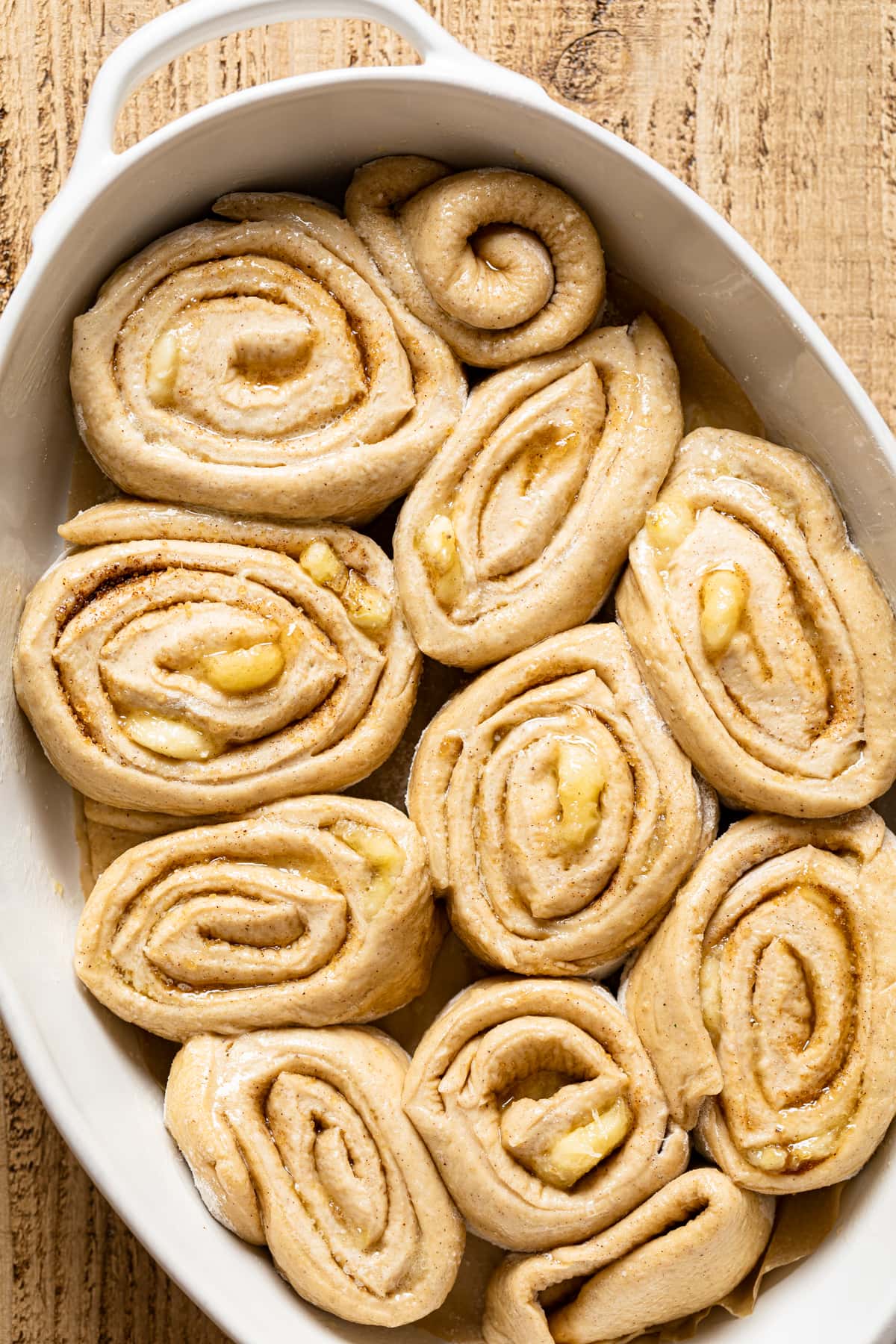 Banana Filling for Cinnamon Rolls
After making the dough, make the sweet and spiced banana filling with:
Bananas. These should be soft, ripe and sweet!
Brown sugar. Ensure that it's organic so that it's vegan-friendly.
Butter. Again, unsalted butter. Soften the butter to room temperature for an easy spread.
Cinnamon + nutmeg. Adds additional warm flavor to rolls.
Maple Cream Cheese Frosting
To top your fluffy homemade cinnamon rolls with banana filling, make a simple and sweet maple cream cheese frosting. You'll need:
Powdered sugar. If you use granulated sugar, your frosting will have a gritty texture, so I highly recommend organic powdered sugar.
Cream cheese. Soften the butter to room temperature for an easy whip together for the glaze.
Vanilla extract. The pure vanilla is the best flavor.
Pinch of cinnamon.
Milk. You can use heavy cream, regular, or plant-based milk to add a bit of moisture to create a velvety glaze.
Maple syrup. The best sweetener that I enjoy using. I like to use pure maple syrup that's premium and organic and it works perfectly with cream cheese.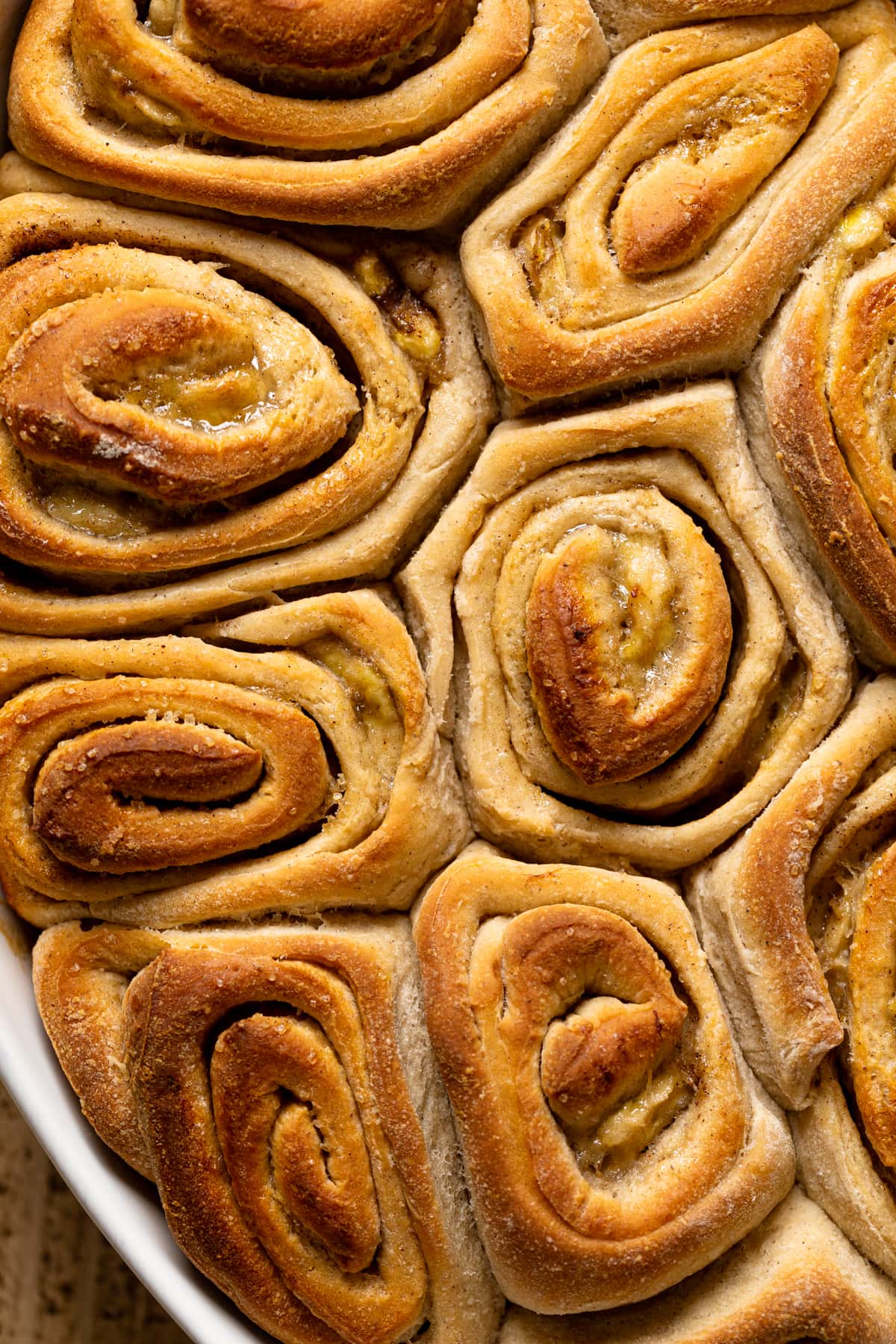 How Ripe Should Bananas be for these Cinnamon Rolls?
When it comes to making banana bread flavored cinnamon rolls, the level of ripeness of your bananas matter. I've made my banana bread with both types of bananas and to be honest, the VERY ripe bananas have made the BEST banana breads + flavor. 
Very ripe bananas make for a sweeter and more moist bread and the mashing is also a lot easier.
How to Ripen Bananas for these Rolls
Have you ever had bananas that weren't fully ripe, but you were dying to make a banana bread cinnamon rolls? Well, I totally understand. I've definitely been there. Luckily, I've come across a few hacks to help you ripen your bananas if you're in a pinch and here's what you can do:
Keep the banana bunches together to avoid the ripening process from stalling.
Store your bananas in a warm place like near a heater or atop your refrigerator. This helps them to ripen faster.
Using a paper bag, add your bananas inside and fold it over to close it. The gases from inside the bag once shut tight will ripen the bananas within 24-36 hours.
If you're looking to ripe your bananas more quickly for baking purposes then you can do one of the following:
Oven Method: Preheat the oven at 300 degrees Fahrenheit and place bananas (with peels on) unto a baking sheet and let them bake for 15-20 minutes or until skins are black. The bananas at this point should be soft and sweet.
Microwave Method: Poke holes into the peel bananas (all around) and microwave for 30 seconds at a time until the bananas are soft enough.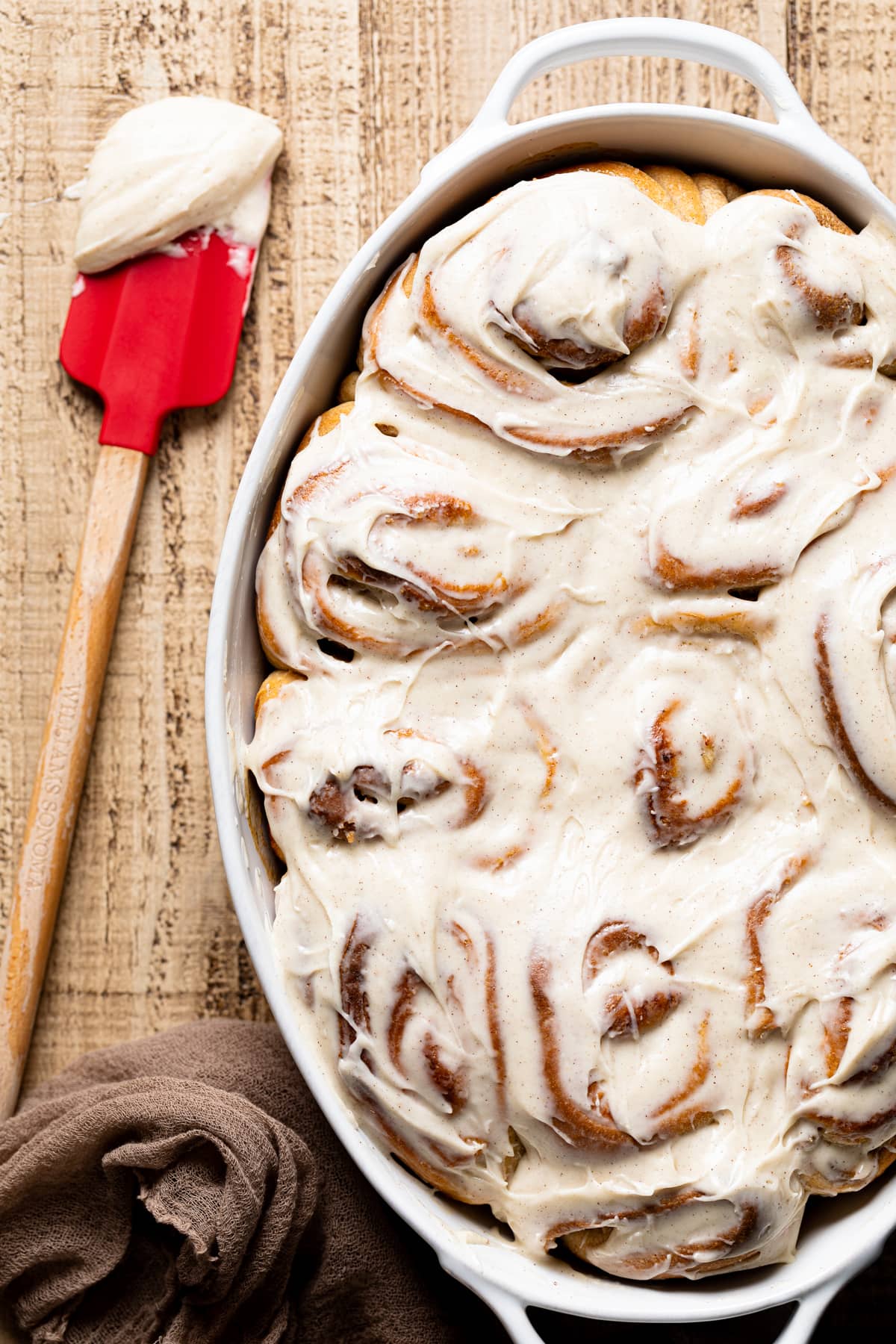 The SECRET to My Fluffy Banana Bread Cinnamon Rolls!
As I've mentioned many times before, I love adding Bob's Red Mill Organic Bread Flour to my banana bread cinnamon rolls as a secret ingredient because it creates such fluffy rolls.
This bread flour is made with premium high-protein flour milled from America's highest quality wheat. While using all-purpose flour can achieve soft cinnamon rolls, there's just something special about the rolls when this type of flour mixes in. I don't know how to explain it, but mixing in this bread type allows for the rolls to be thicker, airy, fluffy, soft, and just GOOD!
Can I Knead By Hand Instead of Using a Mixer?
Absolutely! Usually, I make my cinnamon roll dough via my electric stand-mixer which has the appropriate attachments for the kneading process, however, with these cinnamon rolls, I have had the pleasure of doing this all by hand and it wasn't difficult.
It just requires a bit more arm work, that's all! Plus, there's nothing that a light drizzle of flour can't help, right?! You'll basically follow all steps for making the dough in a large bowl and once it begins to come together and can form a ball, then you'll begin working the dough in a front-to-back and folding motion a few times until you begin to feel the dough "soften" and become elastic-like. It took me about 5-6 minutes or so total. Not bad!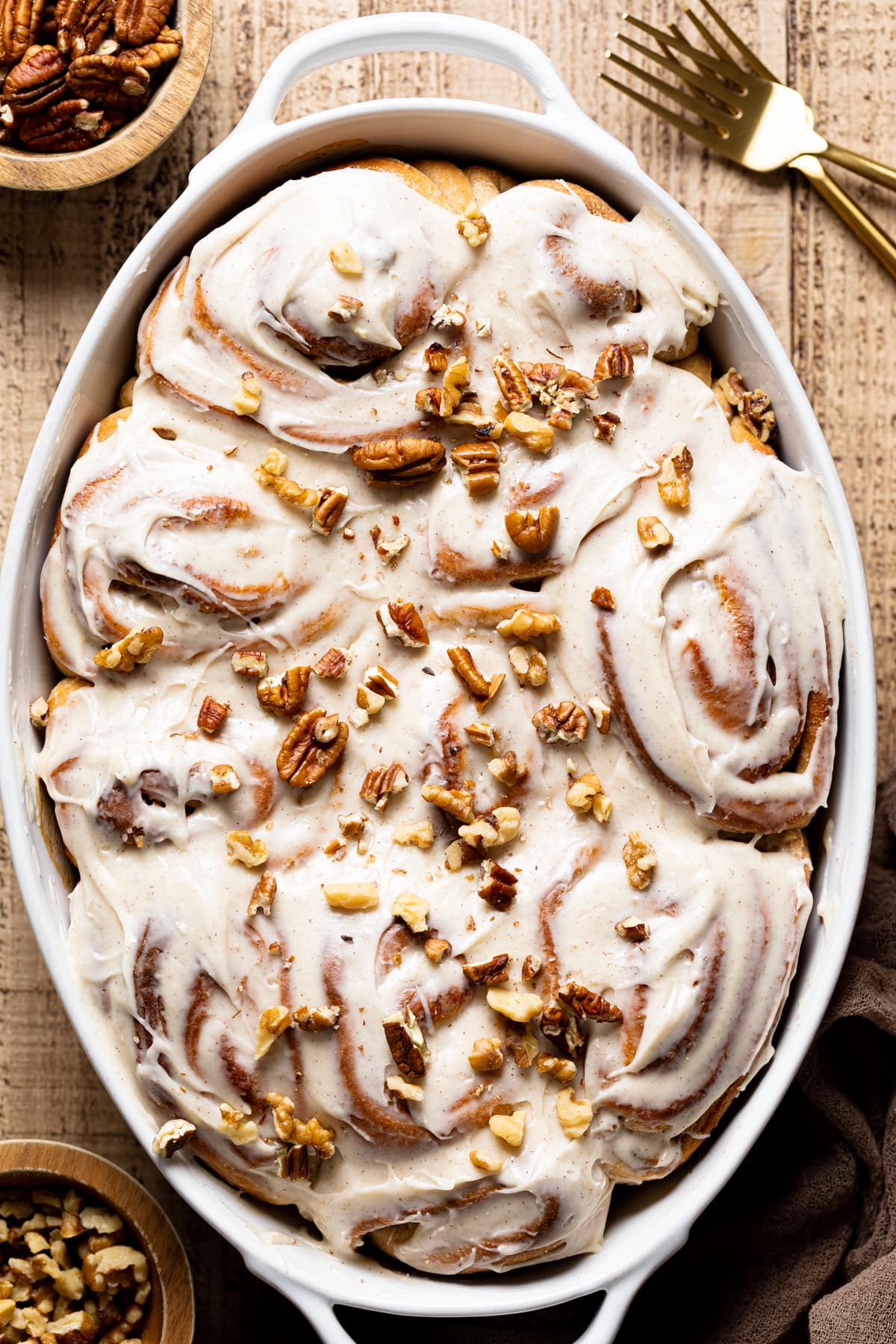 RAPID (INSTANT) RISE YEAST VS. ACTIVE DRY YEAST
If you're not using the Rapid Rise Yeast for this recipe, please know that the rise time will be twice as long (about 3 hours) since regular Active Yeast doesn't work as quickly.
What to Serve with these Cinnamon Rolls
If you're planning a holiday breakfast or a celebration for another occasion, these banana bread cinnamon rolls make the perfect centerpiece. Serve them alongside other tasty breakfast or brunch treats like:
Common Q + A's for these Homemade Banana Cinnamon Rolls
Can I make these cinnamon rolls gluten-free?
Absolutely! You can easily make these banana cinnamon rolls gluten-free! Simply replace both the all-purpose and bread flours with Bob's Red Mill 1:1 Gluten-Free Baking Flour. Also, be sure to reduce the number of bananas used in the filling by 1 to avoid too much moisture remaining in the middle of the rolls. If necessary, add more flour if your dough is too sticky.
Can I make these cinnamon rolls overnight?
Yes! If you don't want to make your Cinnamon Rolls on the same day, you can simply follow all steps (including the initial 1+ hour rise) and after cutting rolls and placing them into your baking pan, just cover them tightly (using foil paper of plastic wrap) and refrigerate them overnight or for 8-12 hours instead. The following day, remove from refrigerator and keeping them covered, let cinnamon rolls rise at room temp 1 to 1 ½ hours.
Can I make vegan banana bread cinnamon rolls?
Of course! To make these banana bread cinnamon rolls vegan-friendly, simply substitute the butter with vegan butter, ensure that your brown sugar is organic, omit the eggs, and substitute the cream cheese with softened vegan butter.
How long to cook cinnamon rolls?
Generally, cinnamon rolls take about 35-40 minutes to bake. However, once you hit the 30 minute mark, you should be checking on them to ensure that the centers are baking through nicely without it getting too golden brown on the tops.
How to make canned cinnamon rolls better?
I actually made a Reel video on this to help you create the most delicious experience with store-bought can cinnamon rolls. While I did it for my Gingerbread cinnamon rolls, the same concept applies to these banana bread rolls:

1. Use a high-quality organic store bought version of cinnamon rolls to start!
2. Add about 1 cup of milk + mashed banana + spices (whisked together) and pour them over rolls once in baking dish. This helps to make them "banana flavored" + gives them a nice soft, fluffy texture while baking.
3. Never use the icing! Once baked, top your cinnamon rolls with homemade icing like my maple cream cheese frosting.
4. Always add frosting to WARM rolls so that it semi-melts and adds further moisture to baked rolls and becomes perfectly "whipped".
How to make cinnamon rolls in an airfryer?
Basically, you would preheat your air fryer as you would your oven---somewhere around 360 degrees or so. Prepare your air fryer basket with non-stick oil spray and then doing all of the steps in making the cinnamon rolls. Once rolls are created, you'll add each roll to the prepared basket, leaving a bit of space in between and cook them in the air fryer for 8 minutes to start. They should be full cooked through, but you can add additional minutes for an outside crisp of the rolls. Remove them and then frost them warm! Enjoy!
Why are my homemade cinnamon rolls hard?
Unfortunately, when cinnamon rolls come out too hard and/or dense, it means that the yeast wasn't activated properly and the dough didn't rise like it should have. If the dough doesn't double in size before being rolled out, then this is an indication that the dough didn't rise adequately.
Why pour milk over cinnamon rolls?
While I don't personally pour milk over all of my cinnamon rolls, especially these banana rolls, however, if you're wondering why this is done it's because: as the rolls bake, the cream or milk in the bottom of the pan heats up and Its liquid migrates up into the rolls, making them moister. Another great hack for moist cinnamon rolls: Adding half of your glaze/frosting to the tops of warm cinnamon rolls which migrates to the inner layers of rolls and makes them moist. Then add remaining glaze/frosting once cooled a bit more.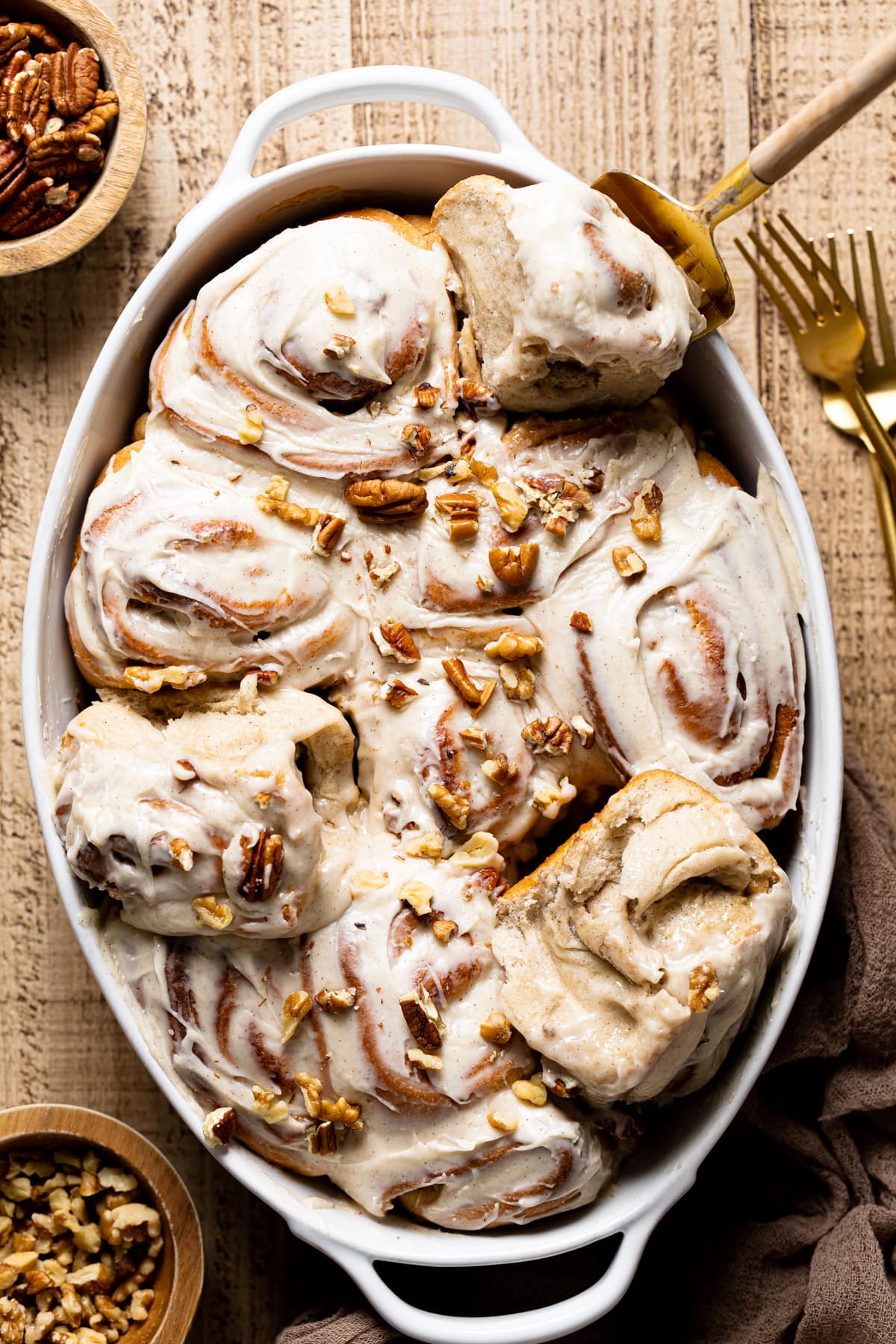 How To Make Homemade Cinnamon Rolls without Yeast
OK, so you might think it's possible, but you can totally make cinnamon rolls, including these Banana Bread Cinnamon Rolls without yeast, if you ever needed to! Just know that the texture wouldn't be as brioche-like or fluffy, and they'll be more dense, but still good.
Instead of yeast, you'll just need to substitute with 2 ¼ teaspoons baking powder to allow some level of rise to occur.
Topping + Flavor Ideas
If you'd like to add extra crunch to these banana bread cinnamon rolls, feel free to add a sprinkle of chopped nuts. I like a mixture of pecans and walnuts, but hazelnuts or almonds are also delish!
You can also add the following toppings + flavors to these banana bread cinnamon rolls:
Sprinkles of spices like cinnamon, nutmeg, allspice, etc.
Caramel sauce
Chocolate (added to glaze instead of maple syrup or chopped on top)
Marshmallows
Honey
Bourbon
Rum
Vanilla
Peanut butter or Almond butter
Chia seeds
Coconut
Citrus (a zest of orange or juice in the dough)
Pineapple (adding a bit of juice in the dough works wonders)
How to Toast the Chopped Pecans + Walnuts
To toast pecans + walnuts is super easy and it works for any type of nuts! Preheat the oven to 400 degrees Fahrenheit and line a baking sheet with parchment paper. Place the chopped nuts unto the baking sheet, ensuring that they are evenly spread out and toast them for 10 minutes, tossing them halfway to prevent browning on just one side.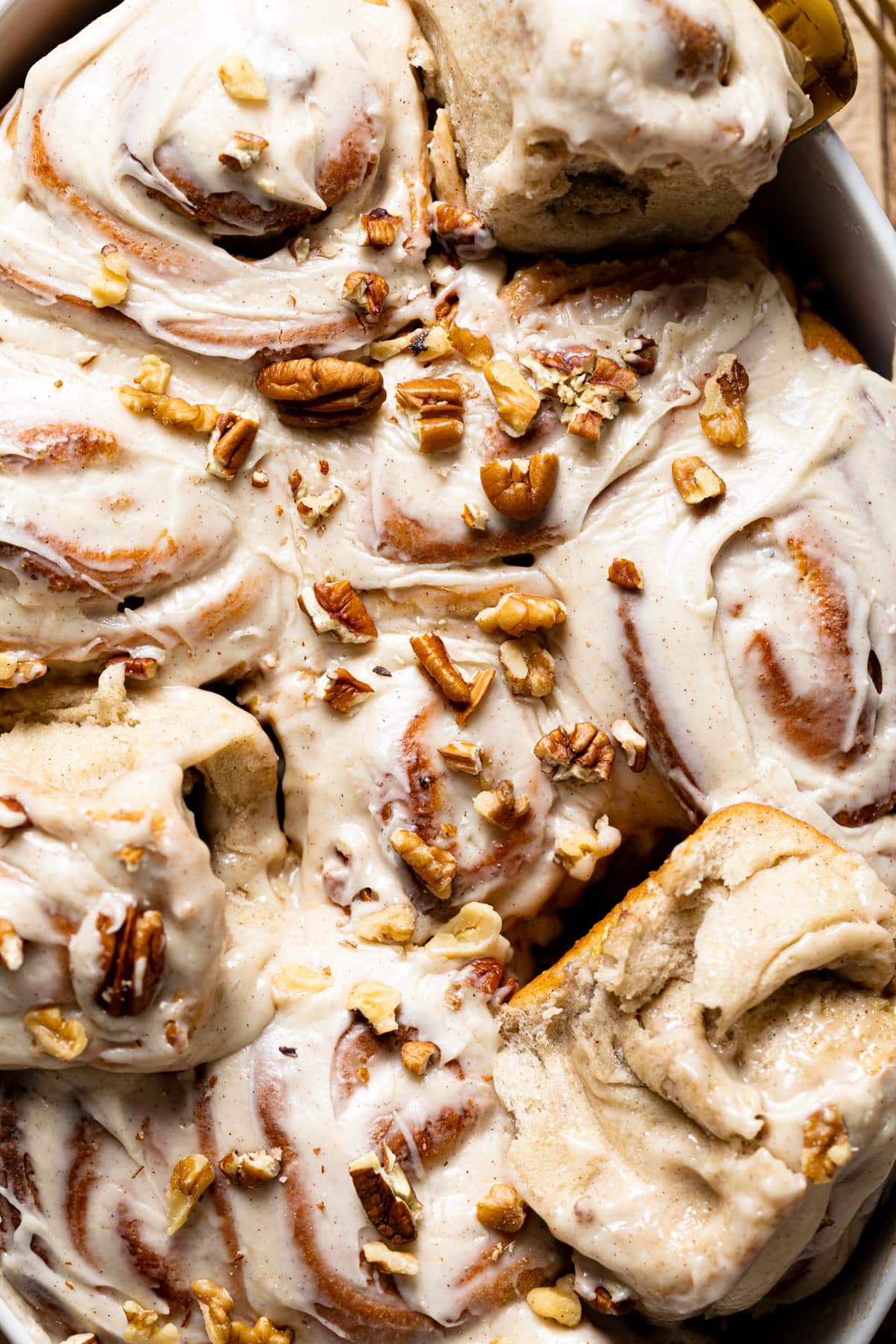 Tips for Making the Most Perfect Cinnamon Rolls from Scratch
Due to many delicious attempts at perfecting this recipe, I have come across some very helpful, tried + true tips that will ensure a perfectly baked cinnamon roll with the most amazing texture and flavor. Here are the tricks that get the job done:
NEVER OVERHEAT THE MILK OR BUTTER!
It is so important that your milk and butter are WARM, but NOT hot! It should be warm to the touch. If you find that your milk has overheated, allow it to cool before adding the yeast. The same is for the melted butter.
Be sure to let it cool to a warm temperature before adding it in. Milk and butter that are too hot will kill the yeast and you won't get the big, fluffy rise in the dough, which affects the texture once baked. We want these rolls super fluffy, and that's only possible when the yeast is bloomed properly, not dense rolls.
USE VERY SOFT BUTTER AT ROOM TEMPERATURE
Like in most baking, room temperature ingredients mix better than cold ingredients. You'll need your butter to be super soft so that you can easily spread it generously across the dough for the filling.
DO NOT WORRY ABOUT OVER-MIXING
I know it sounds weird, but hear me out. With cakes and cookies, you never want to overwork a dough because working develops the gluten in the flour. Gluten development leads to a chewy, unpleasant texture in cakes and cookies, making them dense and heavy.
Because cinnamon rolls use a yeast dough, it is required to develop the gluten in the dough. The yeast brings elasticity that lightens and fluffs the dough, much like bread dough. When making these rolls, keep on mixing even after you think you've mixed enough! The kneading process is super important for the perfection of these rolls!
RISE THE DOUGH OVERNIGHT IF POSSIBLE
While I developed this recipe as a quick-bake cinnamon roll after two proofing sessions, more flavor develops in the dough if you allow it to rise overnight. The dough has more time to rise, leading to a more developed, yeast-bread flavor. This yeast flavor is a perfect pairing with the sweet filling and frosting--trust me!
USE A BREAD FLOUR MIX (MY SECRET)
After much trial and error, I have found that a mix of bread flour and all-purpose flour makes the perfect combination for cinnamon rolls. The bread flour gives a thicker, dense feel while the all-purpose flour creates a tender, soft feel which ultimately results in a brioche-like texture that I think is perfect for these rolls.
ROLL THEM UP TIGHT!
A loose roll will fall apart upon slicing and bake unevenly. Instead, begin with a very tight roll and keep that momentum throughout the roll. The dough is sturdy and can handle being rolled tightly due to its elasticity.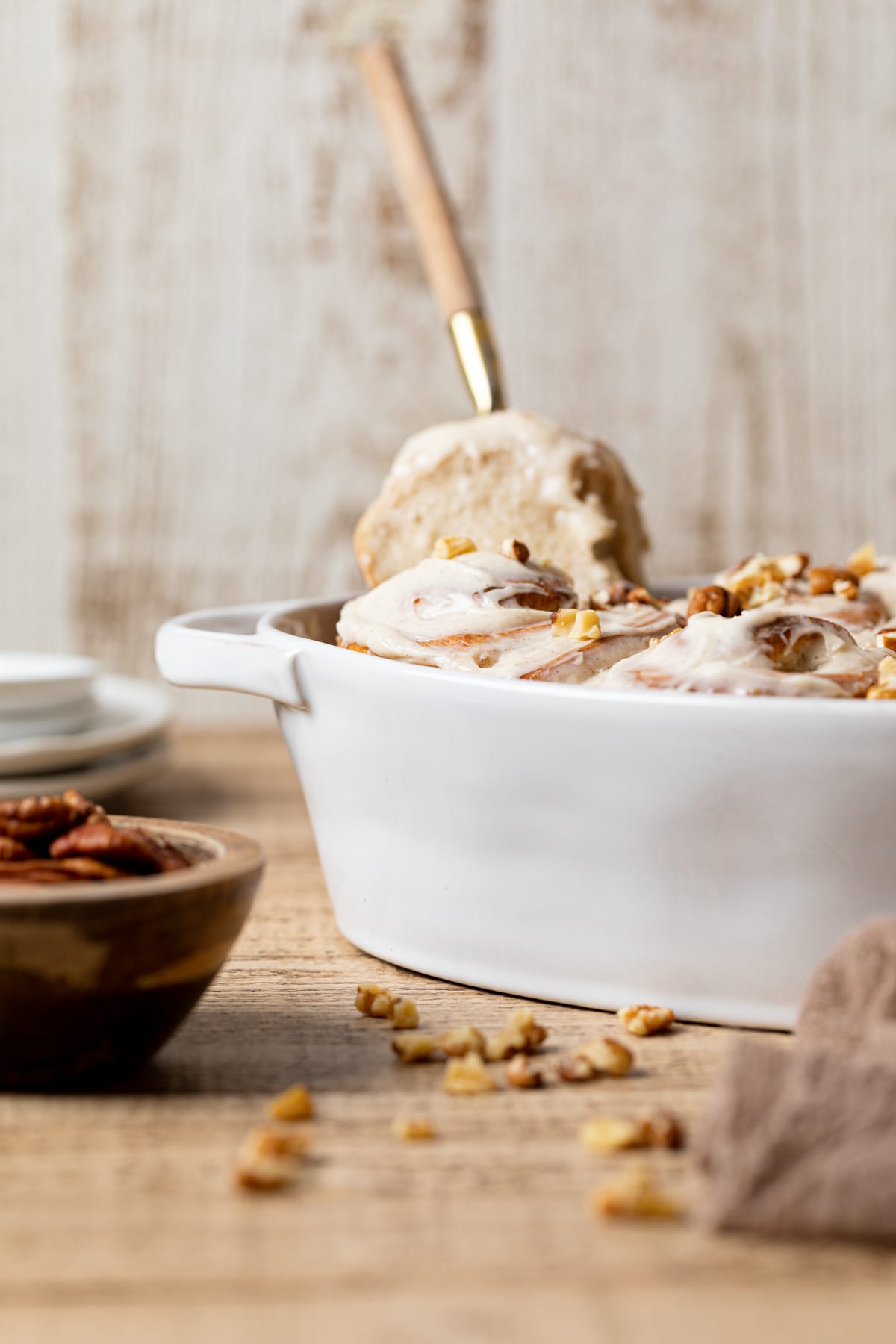 How To Store + Reheat Banana Bread Cinnamon Rolls
Leftovers can be kept fresh at room temperature when tightly wrapped or sealed for up to 3 days. Fresh for up to 1 week in the Refrigerator. Baked rolls can be frozen up to 2 months.
To reheat, I recommend adding them an oven at 350 degrees Fahrenheit for 5-10 minutes or until just about warmed through, but the glaze hasn't melted. For a quicker warm, you can add it to a microwave for a few seconds. You can also let it sit at room temperature until warm enough to eat.
More Must-Try Cinnamon Roll Recipes!
MADE OUR RECIPE?
If you tried this Homemade Banana Bread Cinnamon Rolls recipe or any other recipe on my website, please please leave a 🌟 star rating and let me know how you go in the 📝 comments below. I love hearing from you.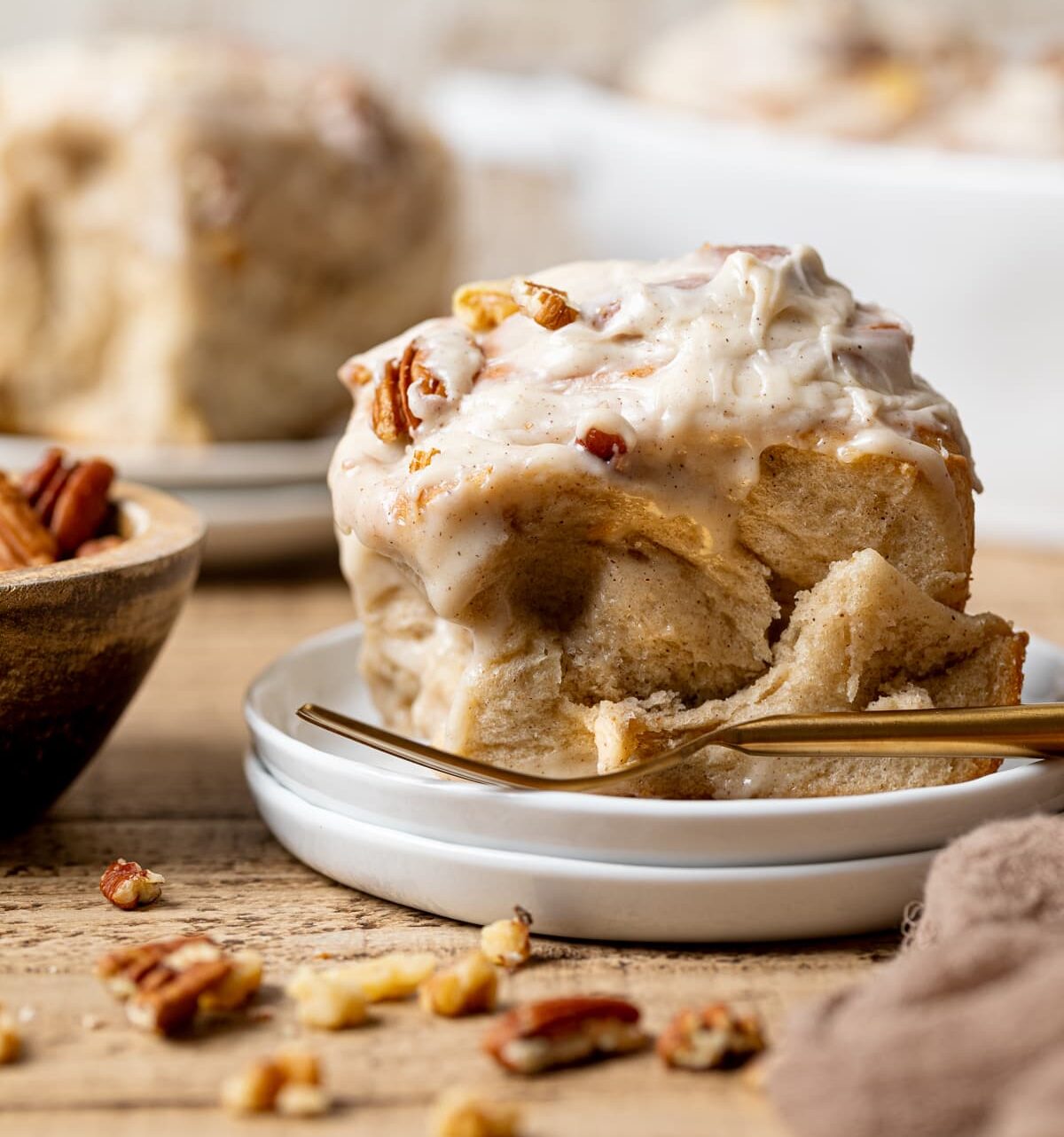 DOUGH:
3

cups

organic All-purpose flour 

(See Notes!)

2

cups

Artisan Bread flour

1

packet

Rapid Rise Yeast

(That's 2 ¼ tsps!)

1

very ripe

banana, mashed

¼

cup

WARM water

(See Notes!)

½

cup

organic brown sugar + 1 Tbsp

1

teaspoon

ground cinnamon

½

teaspoon

ground nutmeg

¼

teaspoon

ground allspice

¼

teaspoon

sea salt

2

large

eggs, room temp.

1 ¼

cup

Almond milk, room temp. 

(You can also use regular dairy milk or your fave plant-based milk, if preferred!)

6

Tbsps

unsalted butter, melted + cooled until warm 

(Make sure that it's WARM, not hot!)

2

tsps

vanilla extract
BANANA FILLING:
2

very ripe

bananas, sliced medium-thin

½

cup

organic brown sugar

½

cup

unsalted butter, softened at room temp.

2

tsps

ground cinnamon

1

teaspoon

ground nutmeg
MAPLE CREAM CHEESE GLAZE/FROSTING:
4

oz.

organic cream cheese, softened at room temp.

(That's ½ a pack!)

4-5

cups

organic powdered sugar, sifted

¼

cup

pure maple syrup

1

teaspoon

vanilla extract

1-2

Tbsps

organic heavy cream or milk 

(You can also use regular dairy milk or your fave plant-based milk, if preferred!)
TO MAKE THE DOUGH:
Combine yeast and 1 tablespoon brown sugar in the bowl of an electric mixer and slowly pour in warm water while stirring frequently. Allow 5-10 minutes for the mixture to sit and for the yeast to activate and become "foamy".

Add in the room temperature milk and warm melted butter to the yeast mixture and whisk until well combined. Add in the eggs (one at a time), mashed banana, and vanilla, whisking to incorporate.

In a large bowl, whisk together the all-purpose flour, bread flour, brown sugar, cinnamon, nutmeg, allspice, and sea salt and add them to the wet ingredients and mix on low-speed until well combined and everything begins to form into a dough-like consistency, about 2-3 minutes.

Change "Mixer head" to kneading accessory and knead dough for 5-10 minutes on high speed until dough ball becomes smooth and elastic and dough springs back when lightly pressed together with 2 fingers. NOTE: If dough is still too sticky, add 1 tablespoon of flour at a time until texture is achieved!

Lightly grease a large bowl with a small amount of olive oil and place the dough ball in the bowl, tossing it around until coated. Cover with plastic wrap (or a towel) and let sit for 1 hour, allowing the dough to rise and double in size. 

In the meantime, you can work on the filling!
FOR THE BANANA FILLING:
Add the softened the butter (best if done at room temp. so that it's more "paste-like" in texture once smeared) in a bowl and set aside. In a separate bowl, combine the cinnamon, nutmeg, and brown sugar, mixing them together. Set aside everything including your sliced bananas.
ASSEMBLY + BAKE:
Once the dough has risen fully, preheat the oven to 375 degrees Fahrenheit and line a large 9x13 baking dish with parchment paper, allowing excess to hang from the sides.

Add a bit of flour to a surface and place the dough onto it, lightly adding a bit of flour to the top. Using a rolling-pin, roll out the dough into a rectangular shape (approximately 9″x14 and ½-inch thick), trimming the edges if needed. NOTE: Try not to make the dough too thin or else rolling it up will be hard to do!

Then, generously add ¾ of the softened butter atop dough (spreading it out evenly with a spoon or knife), followed by the brown sugar-spice mixture and banana slices, ensuring that the top is coated evenly. NOTE: I also use a 'pastry brush' to sweep sugar mixture evenly across the dough to ensure that every bite is sweet before adding on the bananas!

Tightly roll dough (long-ways) and using a pastry cutter, cut dough into 1.5" rolls, placing each roll (cut side down) into a large baking dish (lined with parchment paper!). NOTE: The bananas might slip out a bit, but generously tuck them in as you roll.

Then place plastic wrap over the baking dish with rolls, smear the tops with remaining softened butter and let them rise again (for another 20 minutes).

Once the rolls have doubled in size (once again!) or have gotten significantly larger, bake them for approximately 35-40 minutes in the preheated oven.

While all the baking magic is happening, make the Maple Cream Cheese Glaze.
TO MAKE THE MAPLE CREAM CHEESE GLAZE:
In a large bowl, beat (using a hand-mixer) the softened cream cheese until creamy and smooth. Add the powdered sugar, vanilla, maple syrup, and heavy cream/milk, beating everything together until the glaze becomes smooth and velvety. NOTE: Add additional heavy cream (1 tablespoon at a time) if the glaze is too thick or powdered sugar (1 tablespoon at a time) if too thin.

Remove the rolls from oven and wait 10 minutes before spreading HALF of the glaze atop the rolls using a rubber spatula. This adds moisture to your rolls. Then after another 5 minutes, add the REMAINING glaze atop the rolls as a "final layer", evenly spreading it until fully covered. Top with toasted pecans, coconut flakes, etc. if desired.

To serve, cut out each roll desired and enjoy.

Bon Appetit!
TO STORE: Cinnamon Rolls can be kept fresh at room temperature when tightly wrapped or sealed for up to 3 days. Fresh for up to 1 week in the Refrigerator. Baked rolls can be frozen up to 2 months.
RAPID (INSTANT) RISE YEAST VS. ACTIVE DRY YEAST: If you're not using the Rapid Rise Yeast for this recipe, please know that the rise time will be twice as long (about 3 hours) since regular Active Yeast doesn't work as quickly.
FLOUR: If you don't have bread flour, you can always just use all-purpose flour entirely instead. 
GLUTEN-FREE, VEGAN, OVERNIGHT, + AIR FRYER OPTIONS: See FAQ/Q+A section for details!
Calories:
428
kcal
|
Carbohydrates:
105
g
|
Protein:
9
g
|
Fat:
15
g
|
Saturated Fat:
9
g
|
Polyunsaturated Fat:
1
g
|
Monounsaturated Fat:
4
g
|
Trans Fat:
1
g
|
Cholesterol:
68
mg
|
Sodium:
170
mg
|
Potassium:
146
mg
|
Fiber:
2
g
|
Sugar:
23
g
|
Vitamin A:
464
IU
|
Vitamin C:
0.1
mg
|
Calcium:
110
mg
|
Iron:
2
mg