Here is everything you need to know on How to Make Almond Milk without Soaking, resulting in a smooth and creamy texture that's perfect as any milk substitute. This recipe is easy, gluten-free and vegan.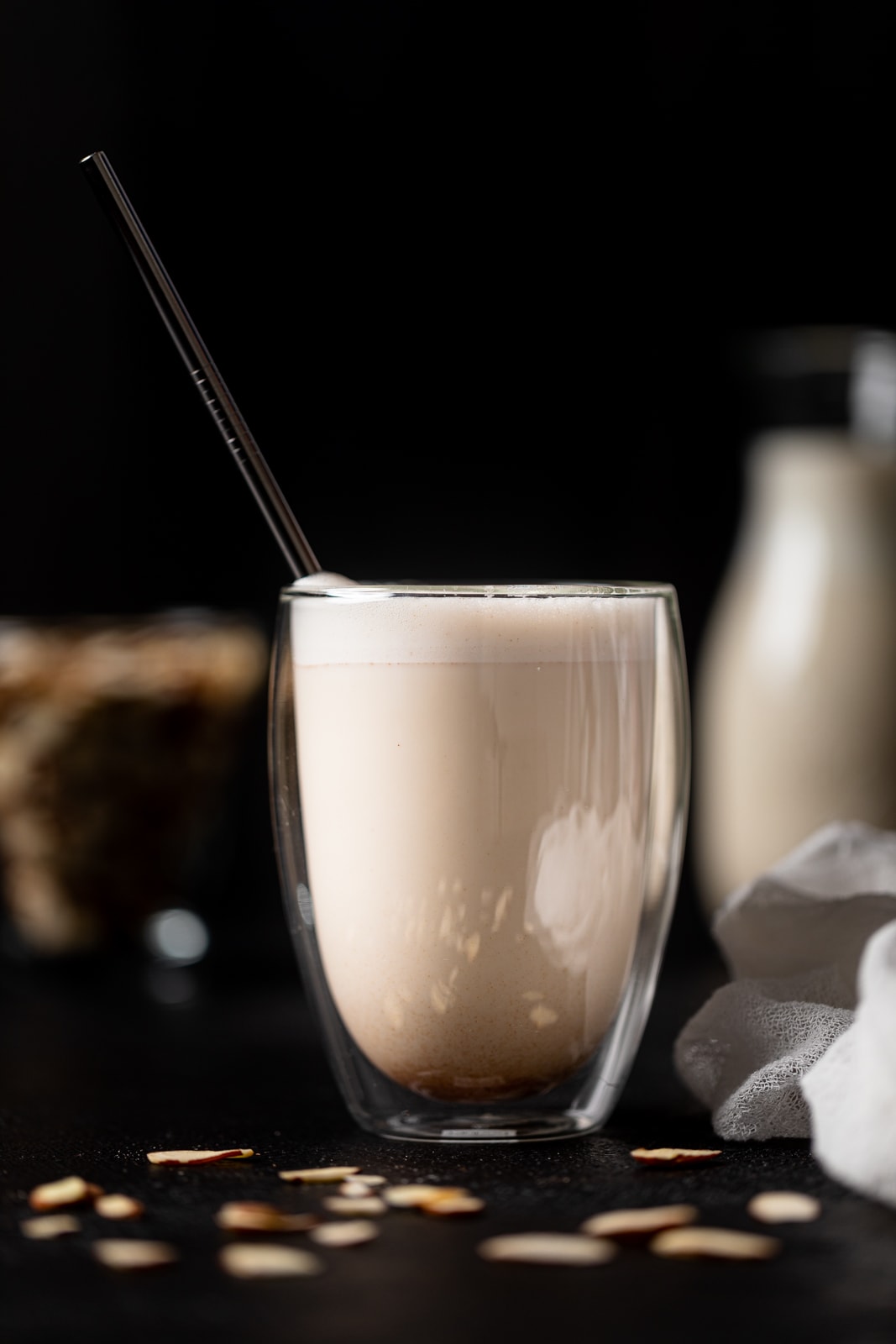 If you're into dairy-free milk at all, then this Almond milk recipe is one to try! While this particular recipe is a no soak required version, I of course give the option further down for those who might want to make it entirely from scratch with the soaking process included.
Much like my Ultra Creamy Homemade Oat Milk and Easy Homemade Creamy Cashew Milk recipes, this Almond milk is silky, smooth, and tastes better than any store-bought version.
I love to add nut milk to anything, especially when it is a homemade variety! It's the perfect excuse to snack on healthy cereal, make oatmeal, or make something comforting like homemade vegan mac and cheese!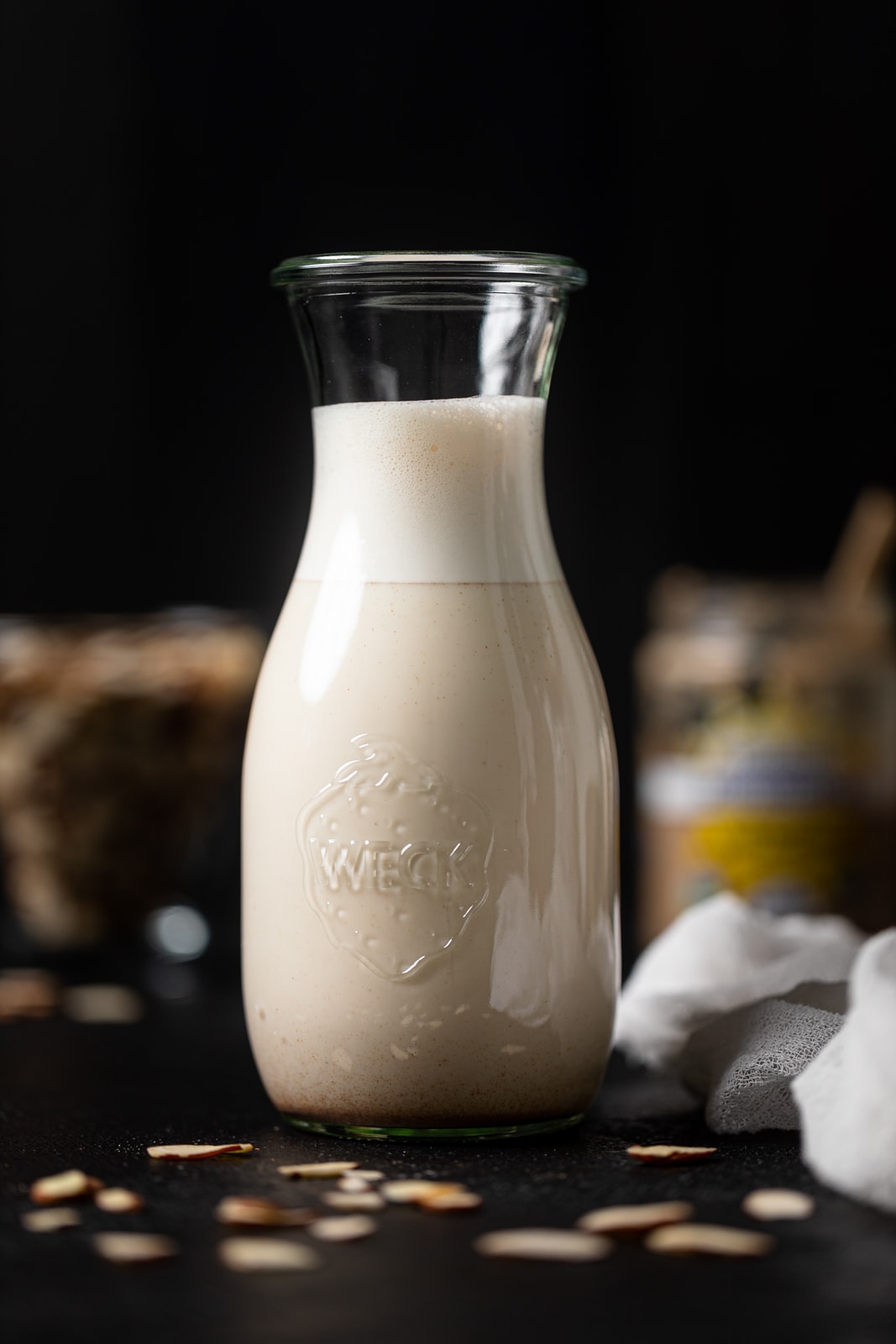 How to Make Almond Milk without Soaking
This non-soaking option is such a quick way (literally 2 minutes) to make a batch of Almond milk in a hurry or just with greater ease. In this recipe, I ensure that I use "Raw" Almond Butter which is different from regular Almond Butter because it comes completely untoasted and unsalted, which are important factors for the creaminess.
In terms of the equipment, you'll literally only need a high-powered blender, a pitcher (or mason jars w/ a lid), and a cheesecloth for a little straining. It's 1, 2, 3!
What You'll Need For This Almond Milk
Raw Almond Butter (This needs to be not toasted + unsalted)
Filtered water
Vanilla extract
Agave or maple syrup (optional)
Sea salt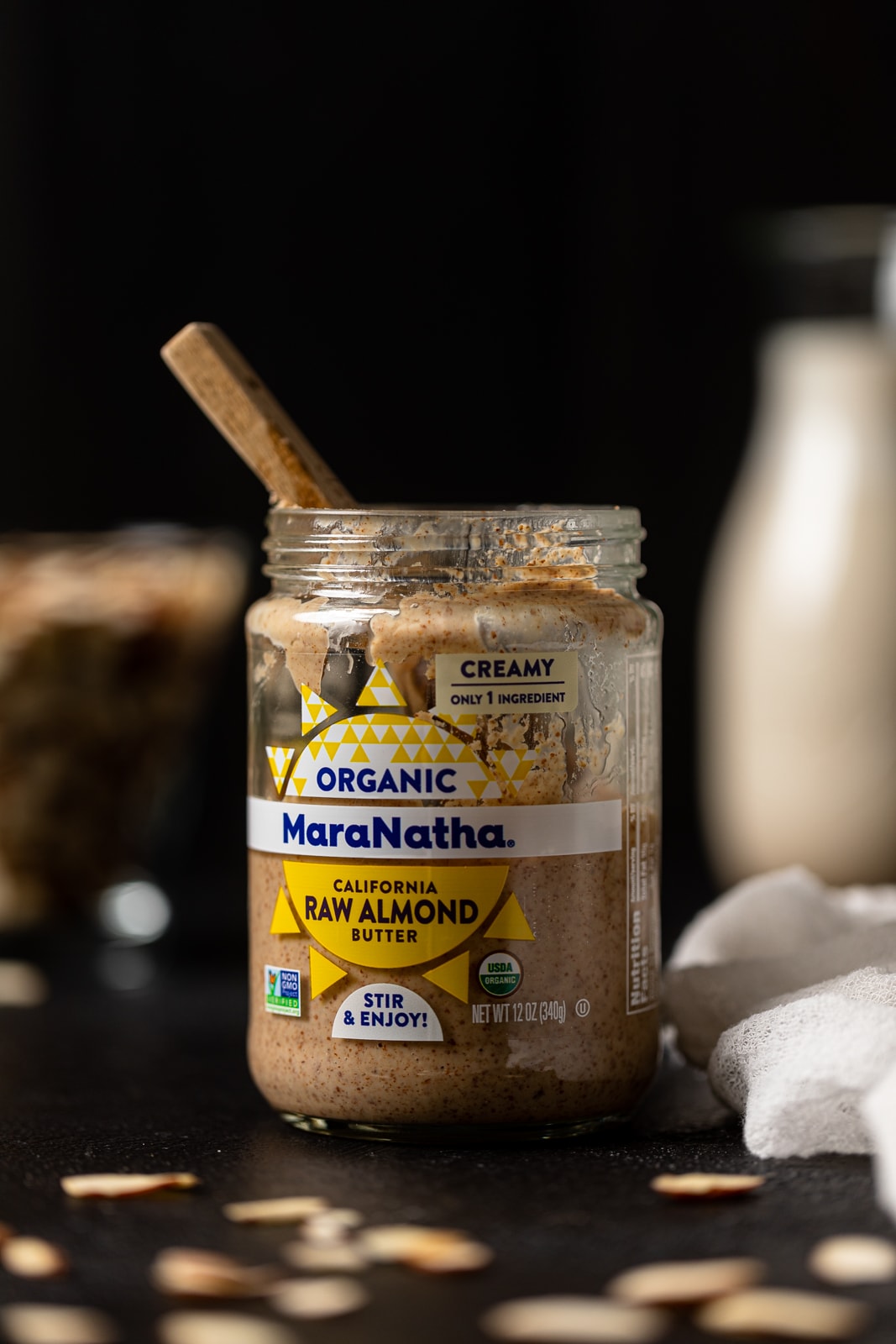 How To Make Almond Milk Traditionally (with Soaking Time)
If you're thinking about making your Almond milk in the traditional way, then just know that you would need to start by soaking raw almonds for at minimum 8 hours (or overnight). Just like with cashews, soaking those almonds makes them easier to blend for the best extracted flavor.
Once fully soaked, the almond should be nice and plump (slightly swollen in size) and you'll just need to drain them completely. Once you complete this initial step, you would simply follow the remaining steps of this recipe since they do mirror a bit.
How to Use Almond Milk
There are a few options that include Almond milk being used to it's fullest potential. You can definitely fun experimenting on these options and of course, switching things slightly by adding new flavors to your homemade Almond milk. Here are a few of my favorite ways to use it: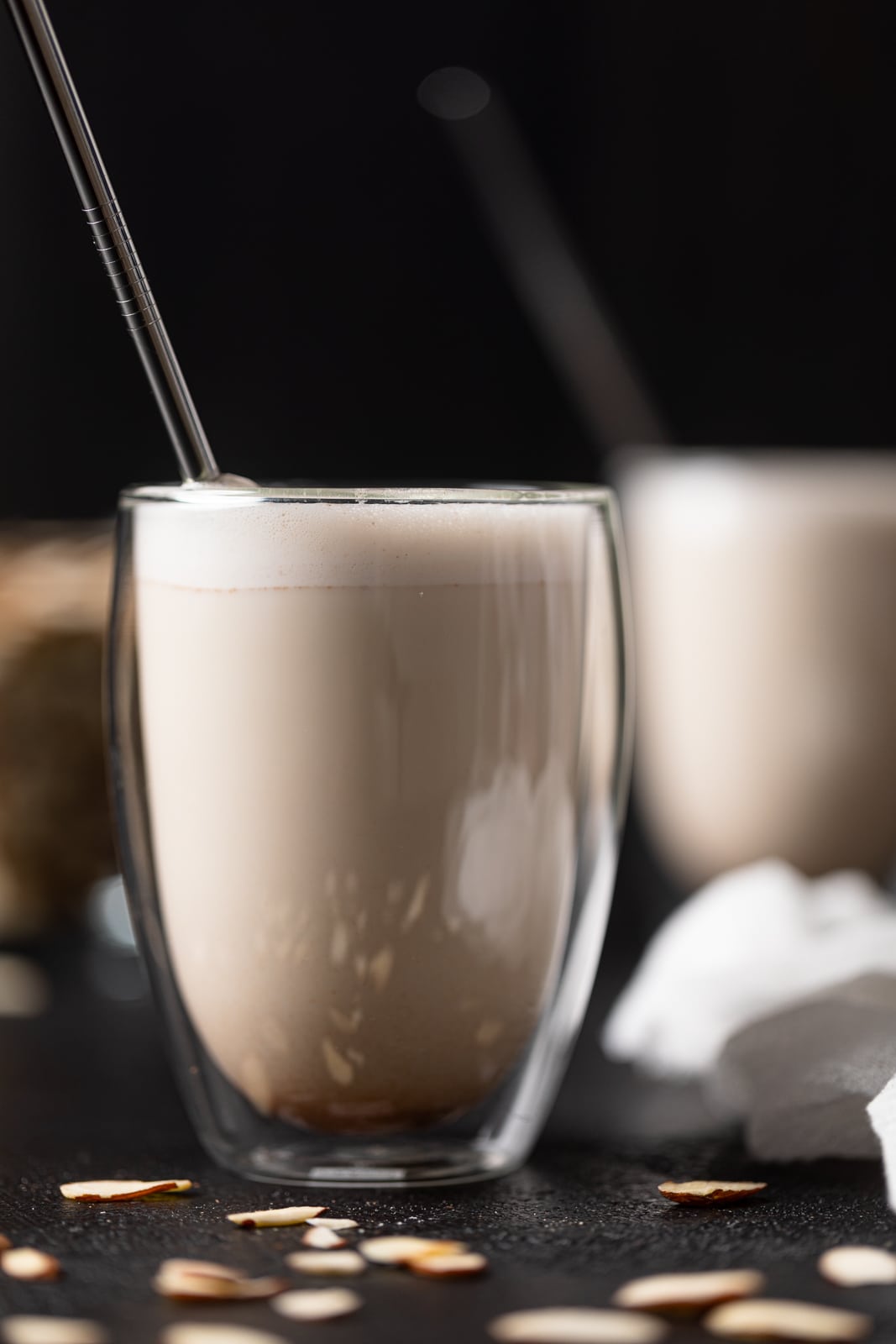 The Best Milk Alternatives for Your Entire Household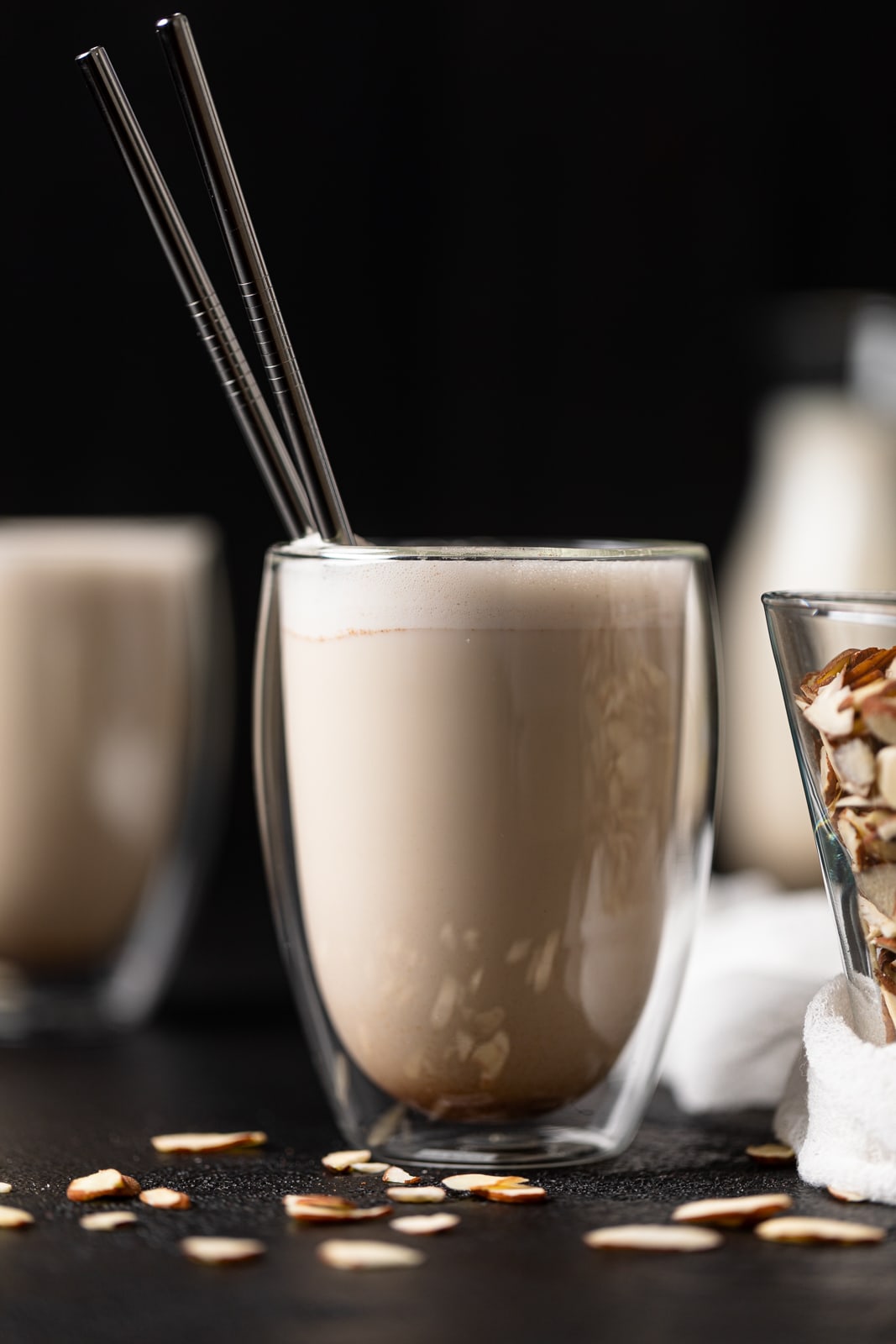 More Vegan Drink Recipes
If you make this Almond Milk without Soaking recipe, tag @orchidsnsweettea_ on Instagram and hashtag it #orchidsandsweettea
Add the water, almond butter, vanilla, Agave, and salt to a high-powered blender and blend on low-speed, increasing slowly to medium-high speed for about 2 minutes.

Once done, slowly strain (using a cheesecloth) milk into a pitcher, squeezing the little almond pulp to ensure that all milk is extracted.

Refrigerate milk (best if tightly sealed/covered) for up to 1 week. Stir before serving, if needed.

Sip and Enjoy!
STORAGE: When properly stored in the refrigerator, oat milk lasts for up to 1 week, at best. Usually, I like to consume my batch within the first 2-3 days.
SERVING SIZE: To make more, simply double or triple the measurement of ingredients, depending on your desired amount. 
SWEETENER: If Agave isn't desired, you can use dates, pure maple syrup, or date syrup, instead as a sweetener.
RAW ALMOND BUTTER: As shown in the pictures, you'll get the best results with completely raw almond butter which comes untoasted and unsalted. I purchased mine from Amazon or at my local Whole Foods. 
Calories:
126
kcal
|
Carbohydrates:
9
g
|
Protein:
3
g
|
Fat:
9
g
|
Saturated Fat:
1
g
|
Polyunsaturated Fat:
2
g
|
Monounsaturated Fat:
5
g
|
Sodium:
207
mg
|
Potassium:
123
mg
|
Fiber:
2
g
|
Sugar:
6
g
|
Vitamin A:
0.2
IU
|
Vitamin C:
1
mg
|
Calcium:
63
mg
|
Iron:
1
mg
How To Make Almond Milk Without Soaking.