Have you ever wanted to eat a sugar cookie and have a sip of coffee at the exact same time? Well, this indulgent Starbucks Copycat Iced Sugar Cookie Latte is the answer! We are talking creamy plant-based oat milk with cold brew coffee mixed with flavorsome extracts that create the sugar cookie taste we all know and love. For a little extra touch (and crunch) you can even add sprinkles and crushed sugar cookies on top!! Dairy-free option. Serve hot or cold.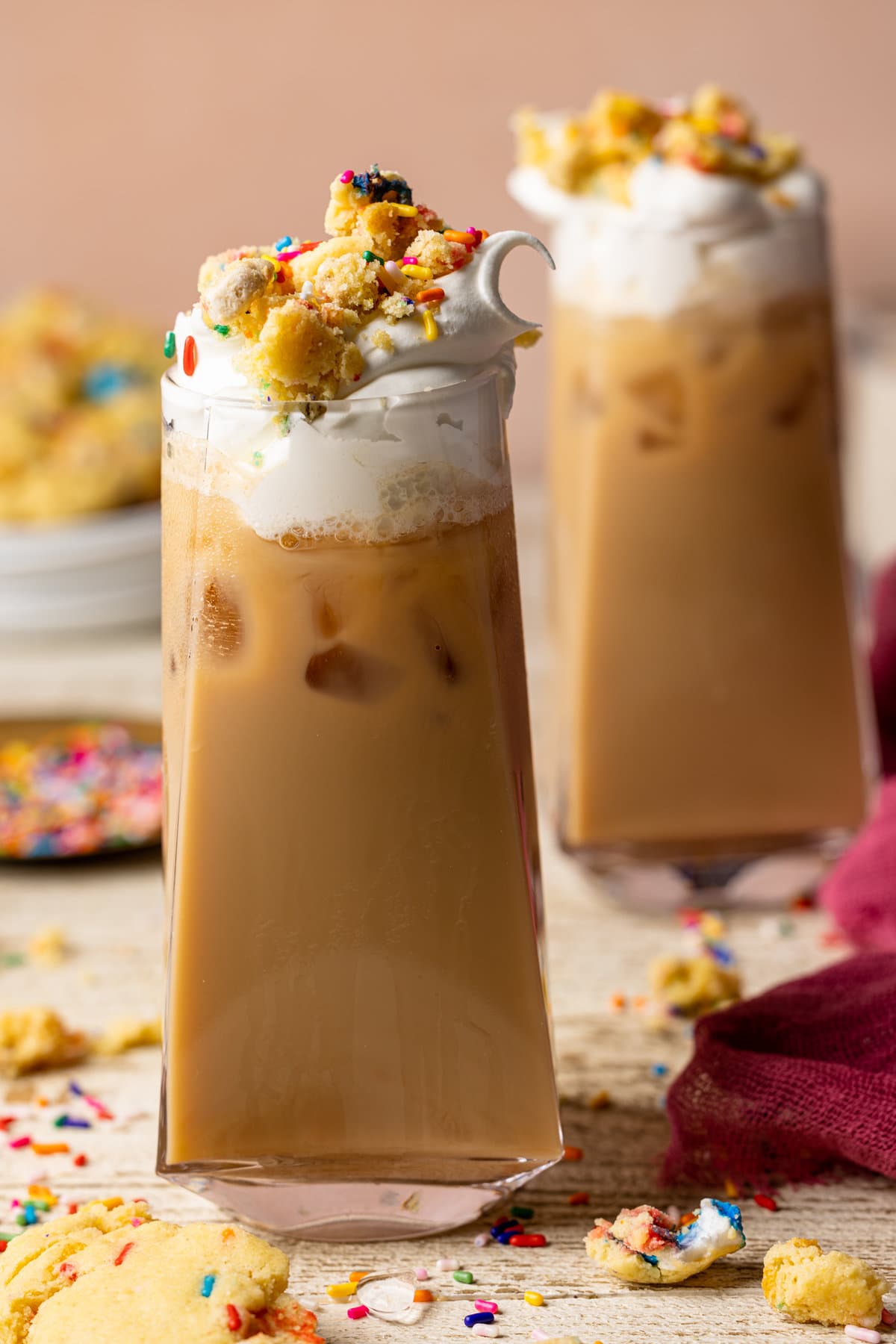 So I am a little obsessed with homemade lattes these days, and by 'a little', I mean ALOT. Seriously. I literally make lattes on a daily basis with all my favorite creamy plant-based milks. But this Starbucks Copycat Iced Sugar Cookie Latte has to be one of my ultimate faves and I enjoy it regardless of the season!
This Salted Caramel Cashew Latte or a Brown Butter Maple Cookie Latte are some of my personal favorites, and this Sugar Cookie Latte is definitely a great sweet dessert-like sip to spruce (and sweeten) things up.
It is so much fun to get creative at home with drinks to suit your personal flavor preferences, and the best part is you can bundle up and get cozy (or sit in front of the AC, depending on the season..) and not have to make a trip to Starbucks!
Be sure to watch all recipes come to life via IG Reels for a nice visual.
However, if you're cutting out coffee or want a lower-caffeine drink to sip in the morning, you'll want to try my Iced Chai Tea Latte recipe ASAP. And while you're at it, make a big batch and keep it in the fridge to pour over ice all week long.
Jump to:
So What Is A Sugar Cookie Latte?
So if you are sitting there thinking this drink sounds delicious, but what is it? Let me break it down. The sugar cookie latte is a Starbucks seasonal drink they made back in 2021. And look -we know some festive drinks can be hit or miss, but I'm telling you this one is a HIT, and I am here for it.
This recipe is a Starbucks Copycat Iced Sugar Cookie Latte with our own spin on it. It tastes like a fresh batch of buttery sugar cookies out of the oven mixed with a fresh pot of coffee. Um... Yes, I'm drooling.
Why You'll Love This Starbucks Copycat Iced Sugar Cookie Latte
First and foremost, the flavors in this simple and easy drink is enough to convince anyone, however, here are a few more reasons why you'll love this recipe:
It's Very Similar to Starbucks. I tried to make this Iced Sugar Cookie Latte as close to Starbuck's version as I could with the exception of adding personal preferences that you might have! i.e. cold espresso (pre-made) or actual espresso/coffee shots, rainbow sprinkles for a bit more of a festive feel, etc.
It's super fun to make! I literally love the simple steps in this drink and of course the crumbling of the sugar cookie for a nice twist!
You save money! This by far is one of my biggest reasons for making my own coffee at home (minus the last point to come). You definitely save more money purchasing the ingredients and making your own servings at home.
It's healthier. Most of all, this is my biggest plus! I love when I am able to know what ingredients I use whenever making drinks, cooking, or baking. Making my own lattes and coffee at home has definitely allowed me to switch to healthier, organic ingredients which is a win, win!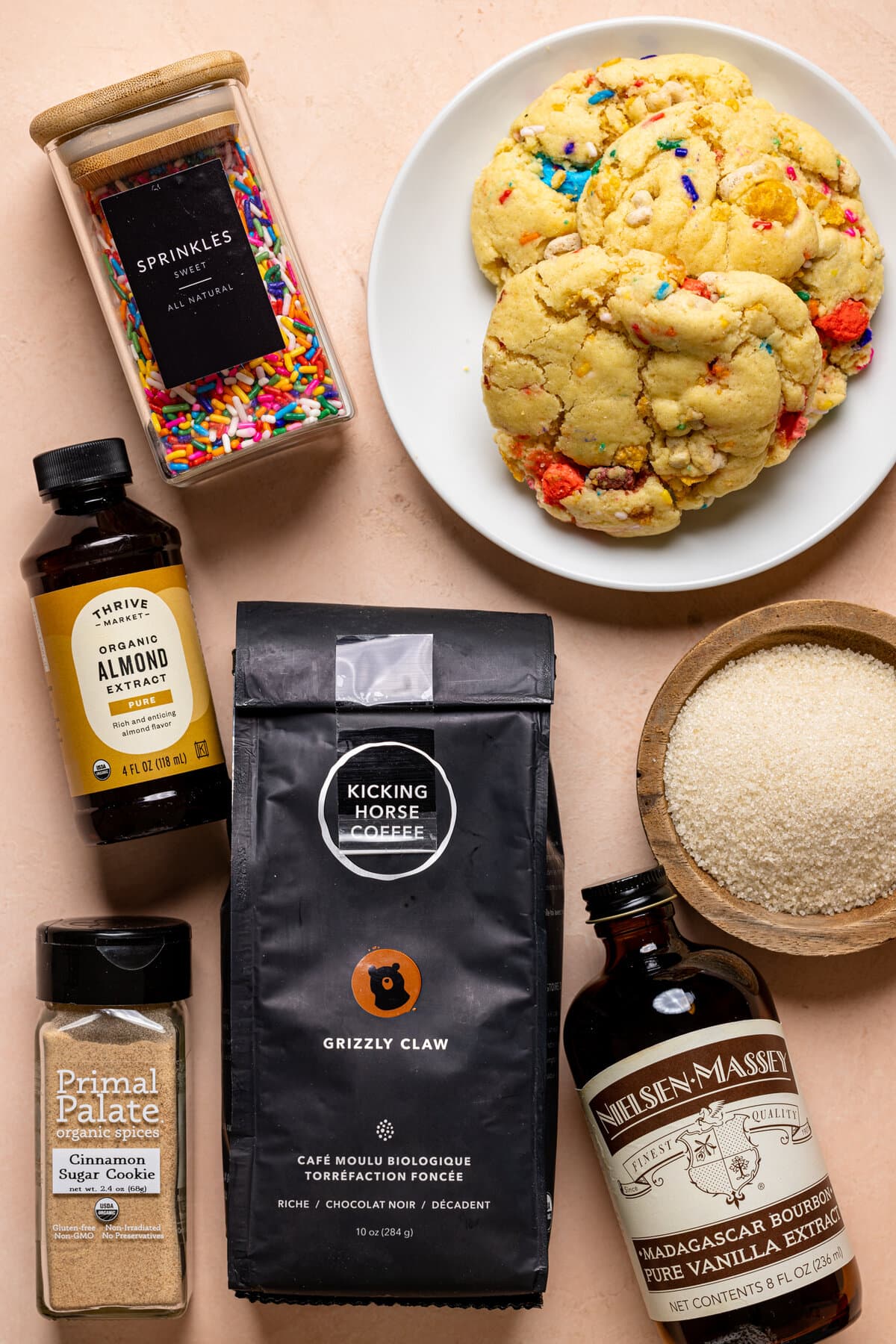 Cinnamon Sugar Cookie Spice Blend
Cinnamon sugar cookie spice blend is easy to find in most stores but also easy to make, and you probably already have the ingredients in your pantry. Shop brought or homemade, your Sugar Cookie Latte will taste amazing either way! And you won't believe it's plant-based and dairy-free!
If you do plan on making your own spice blend, you will need just two base ingredients:
If you have any other flavors that you like to add to your cookies, feel free to throw them in! For example, if you have a large jar of vanilla sugar, be sure to use that (Yummy vanilla goodness is always a win). If you like cloves or allspice in your cookies, add a bit of that too!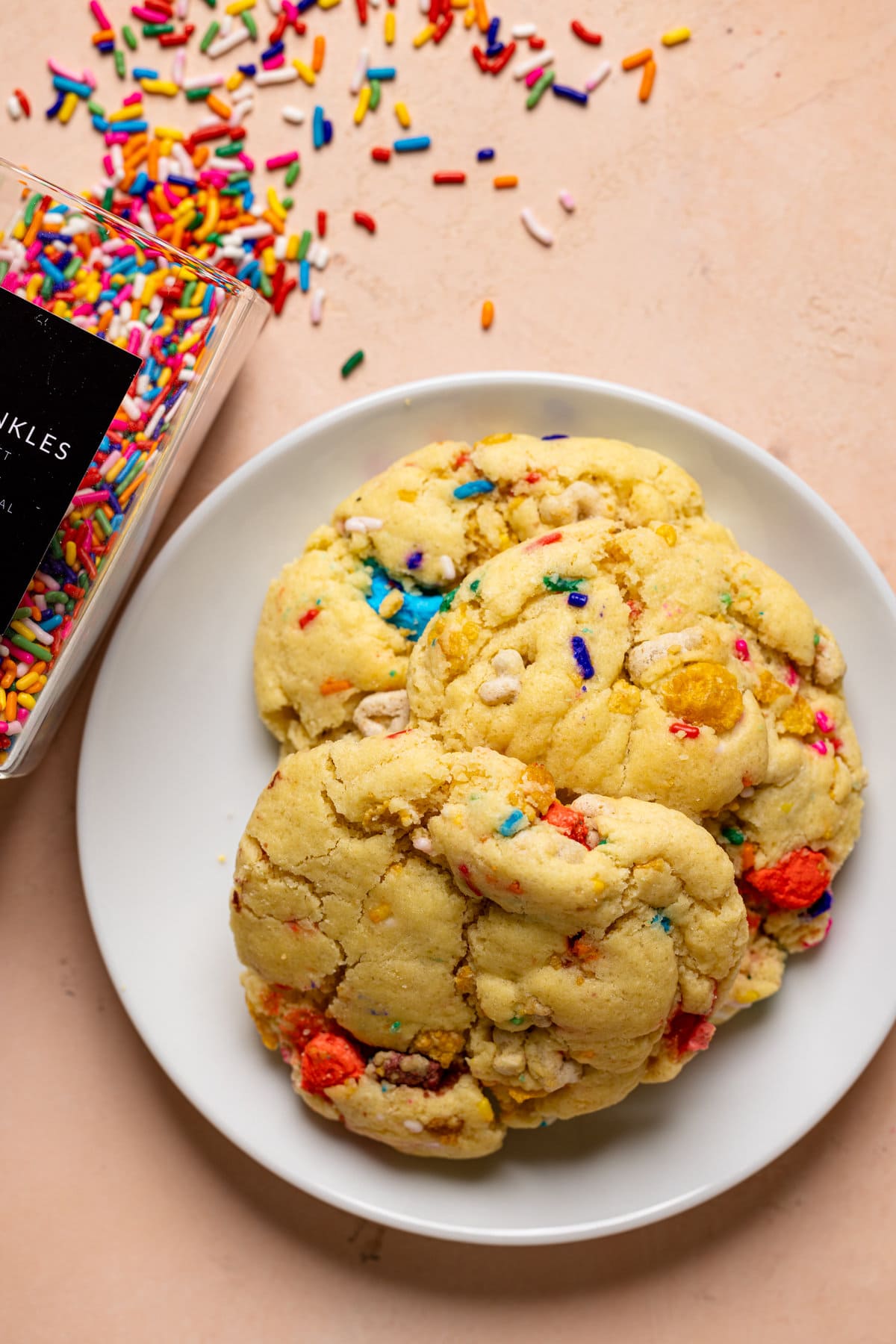 Sugar Cookie Iced Latte Ingredients
The main component in this simple homemade sugar cookie recipe is the 'cookie flavor' and the coffee. To make your latte, you'll use:
Coffee. You can also use chilled espresso coffee or actual freshly brewed shots. You can also use cold brew if desired.
Plant-based milk. Make your own plant-based milk like oat milk, almond milk, quinoa milk, sesame milk, coconut milk, etc.! Or use store-bought plant-based milk.
Extracts. I use a combination of vanilla and almond extracts to achieve a nice sugar cookie feel. However, you can add a bit of butter extract to the mix for a bolder flavor.
Cane sugar. I use organic to make sure it's vegan.
Water. For boiling and creating of the syrup.
Sugar cookie spice blend. This is the highlight of the entire drink and can be store-bought or homemade. If you can't find this blend, simply mix together maple sugar and cinnamon.
Crushed ice. The best highlight of this drink to keep things cold. Crush your ice or use a nice ice cub tray. I also talk about using my caramel coffee ice cubes!
Crushed Sugar Cookies. The best highlight of this drink but it is optional. Instead, you can festive sprinkles for a simpler feel. You can use either my Soft Oversized Crinkled Sprinkle Sugar Cookies or Loaded Lucky Charms Cornflakes Sugar Cookies recipes.
Whipped cream. You can use regular dairy whipped cream or coconut whipped cream if you're looking for a dairy-free.
Rainbow sprinkles. I like to add a festive feel to this drink. For a DF option, ensure that sprinkles are vegan-friendly.
Sugar Cookie Latte Starbucks Version
When it comes to the original recipe from Starbucks for this iced sugar cookie latte, the ingredients are simple:
Sweet sugar cookie-flavored syrup
Blonde espresso (I love using cold brew for less caffeine, but you can use espresso!)
Almond milk (I interchangeably use different plant-based dairy-free kinds of milk!)
Festive sprinkles (because why not?)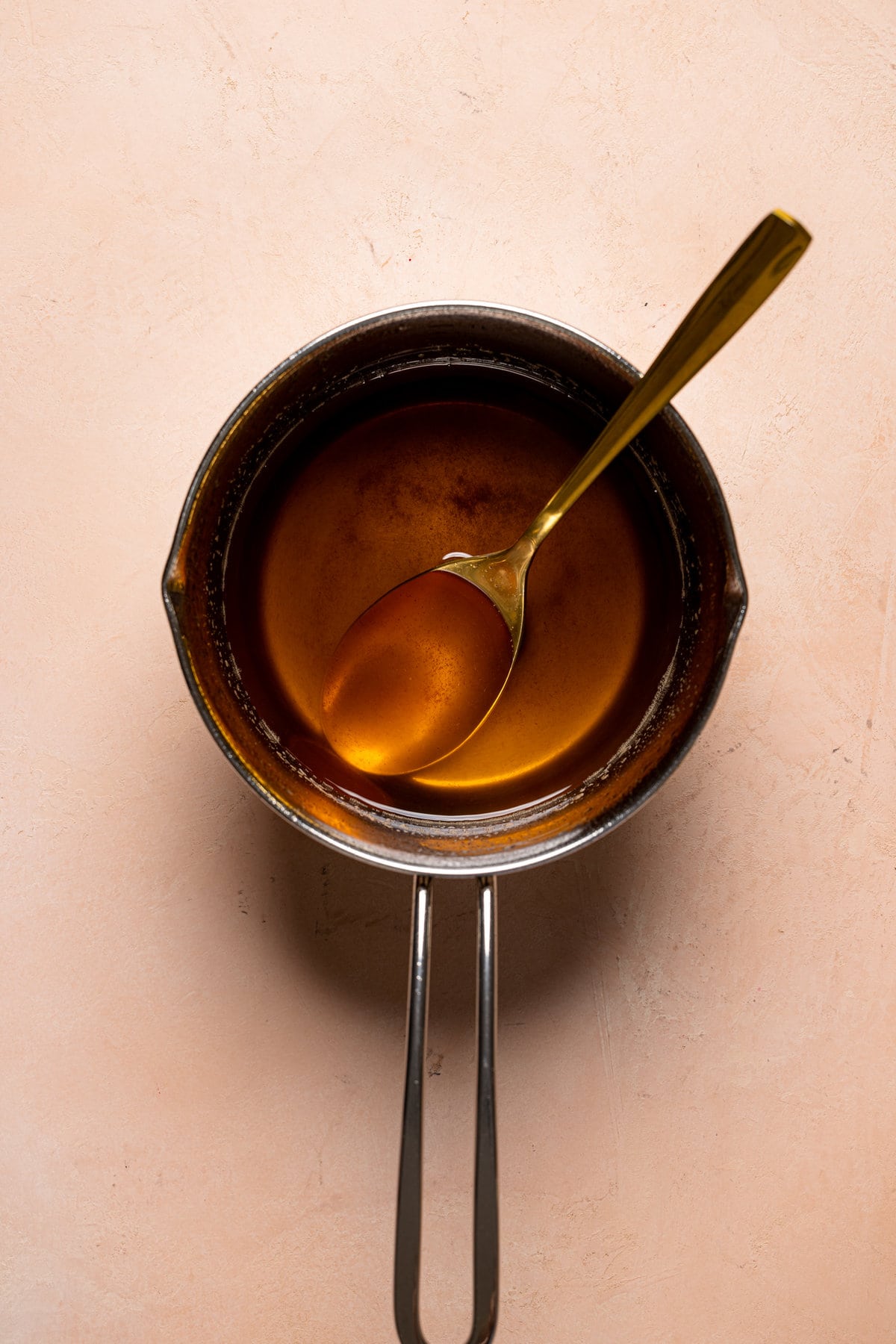 Make Homemade Sugar Cookies for Topping
Chewy, sweet, and indulgent, these Soft Oversized Crinkled Sprinkle Sugar Cookies and Loaded Lucky Charms Cornflakes Sugar Cookies are oh so good if I don't say so myself.. they'll leave you indulging in two or three before you even realize it (speaking from experience here..Ooops).
Super soft and tender with a slightly crispy edge, these sweet sugar cookies are nothing like the traditional cookie, yet are so easy to whip together. You'll fall in love with these melt-in-your-mouth colorful cookies, which are perfect and fun for any season!
How to Make The Starbucks Sugar Cookie Simple Syrup
Like many other simple syrups, this version is super easy to make. Just see the recipe card for full instructions.
What you'll need:
Organic cane sugar. I like to substitute this healthier option for granulate sugar. You can also use organic brown sugar.
Vanilla extract. Make sure you're using the real stuff, not imitation!
Almond extract. Likewise, with the vanilla, I like using organic almond extract.
Butter extract. This is optional. You can add it for extra flavor.
Sugar cookie spice blend. This is the highlight of the entire drink and can be store-bought or homemade. If you can't find this blend, simply mix together maple sugar and cinnamon.
Can I Make This Sugar Cookie Latte Dairy-Free?
Absolutely! Everything in this Starbucks Copycat Iced Sugar Cookie Latte can be completely dairy-free by substituting the whipped cream with coconut whipped cream and ensuring that the sugar cookie crumbles are vegan, and if you'd like to switch things up with the type of plant-based milk that you use-----that's totally fine!
The world of plant-based milk is constantly expanding, it's hard to keep up! From the classics like cashew milk, sesame milk, soy milk, and almond milk, we now have delicious options like oat milk and even potato and quinoa milk!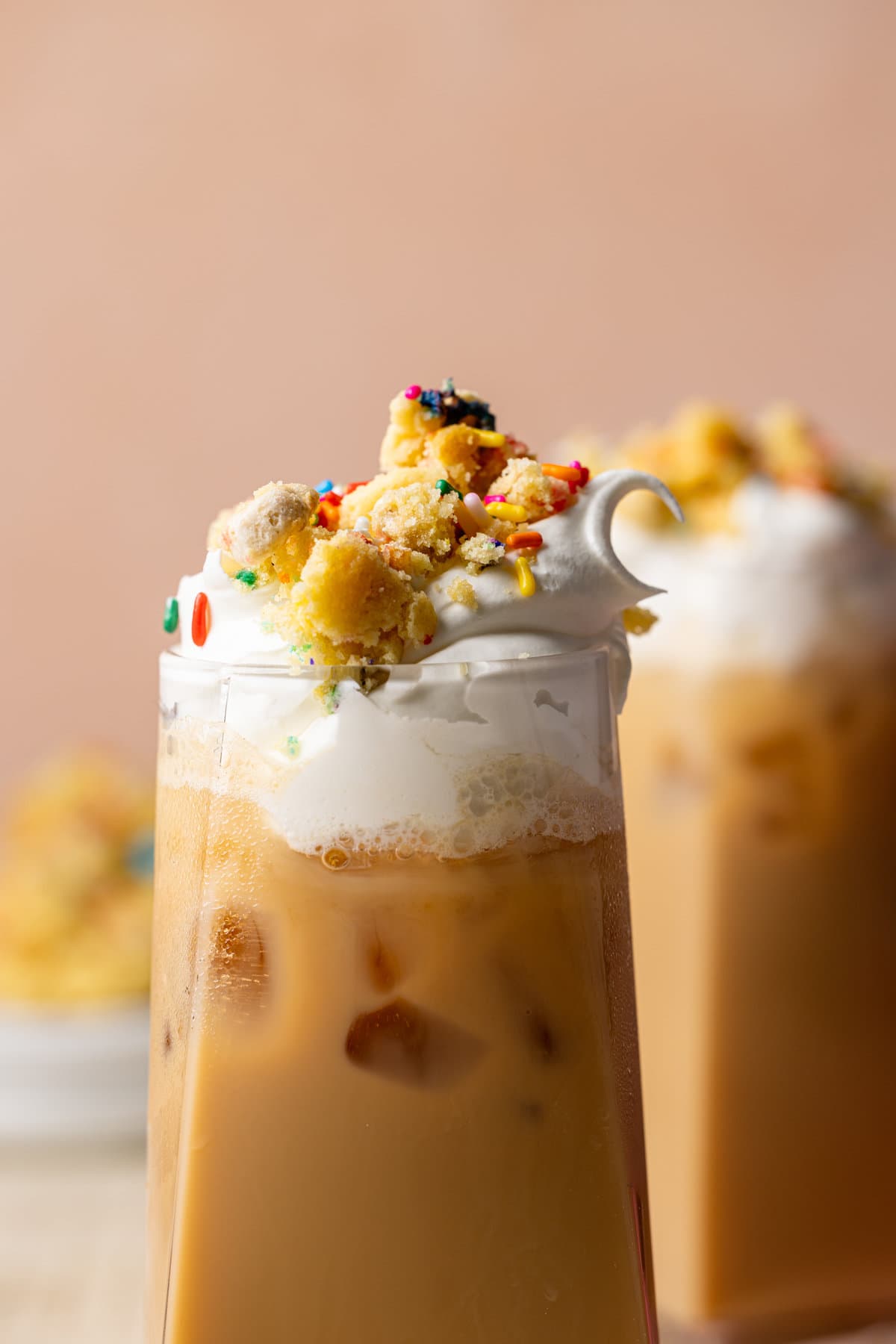 SHOP MY FAVORITE DRINKWARE ITEMS AND ACCESSORIES!
Here, I've curated a list of drinkware and mocktail essentials that I use to achieve my favorite drinking experiences, especially with this Starbucks Copycat Iced Sugar Cookie Latte. Everything from my fave glassware, cocktail shakers, ice cube trays, and more. SEE THEM HERE!
Best Tips for Making the Perfect Iced Sugar Cookie Latte
Making this Iced Sugar Cookie Latte right is super easy to achieve, especially when you follow these tips that I can guarantee will help you get it right:
Cool your coffee completely so that you can have a chill drink.
Be sure to shake or stir the ingredients together very well to ensure that everything is smooth you can have a nice sip throughout.
If you'd like a foam on top, be sure to follow my shaken espresso latte recipe with your cooled coffee + sugar cookie syrup and then pour the shaken espresso mixture into your glass swiftly.
Making your own simple sugar cookie syrup changes the game!
Common Q + A's for this Starbucks Copycat Iced Sugar Cookie Latte.
Can I Serve this Sugar Cookie Latte Hot & Cold?
Yes! This yummy sweet, dairy-free sugar cookie latte is just as tasty hot or ice cold! You can definitely switch things up by serving this latte hot or cold whenever you choose to.

To serve hot, simply warm your plant-based milk with all the latte ingredients together in a small saucepan until heated through. If you have a milk frother, all the better, but it's not totally necessary! Pour in a mug and top with festive sprinkles, coconut whipped cream, or both because why not?
What DIY spice blend can I use for this latte?
If you don't have the Primal Palate spice blend on hand, simply substitute with a mix of maple sugar, ground cinnamon and a pinch of nutmeg.
How many servings does this latte recipe make?
This sugar cookie latte recipe makes 1 serving. To make additional lattes, simply double or triple ingredients, depending on need.
Can I make this latte caffeine-free?
Yes! Yes of course. You can always use decaf coffee instead, you will still get the same amazing flavor without the buzz of sometimes unwanted energy!
Can I make this latte ahead of time?
Absolutely! You can always make the sugar cookie syrup, let it cool, and store in a tightly sealed jar i the refrigerator up to 2-3 days before. When ready to serve, brew your coffee and assemble!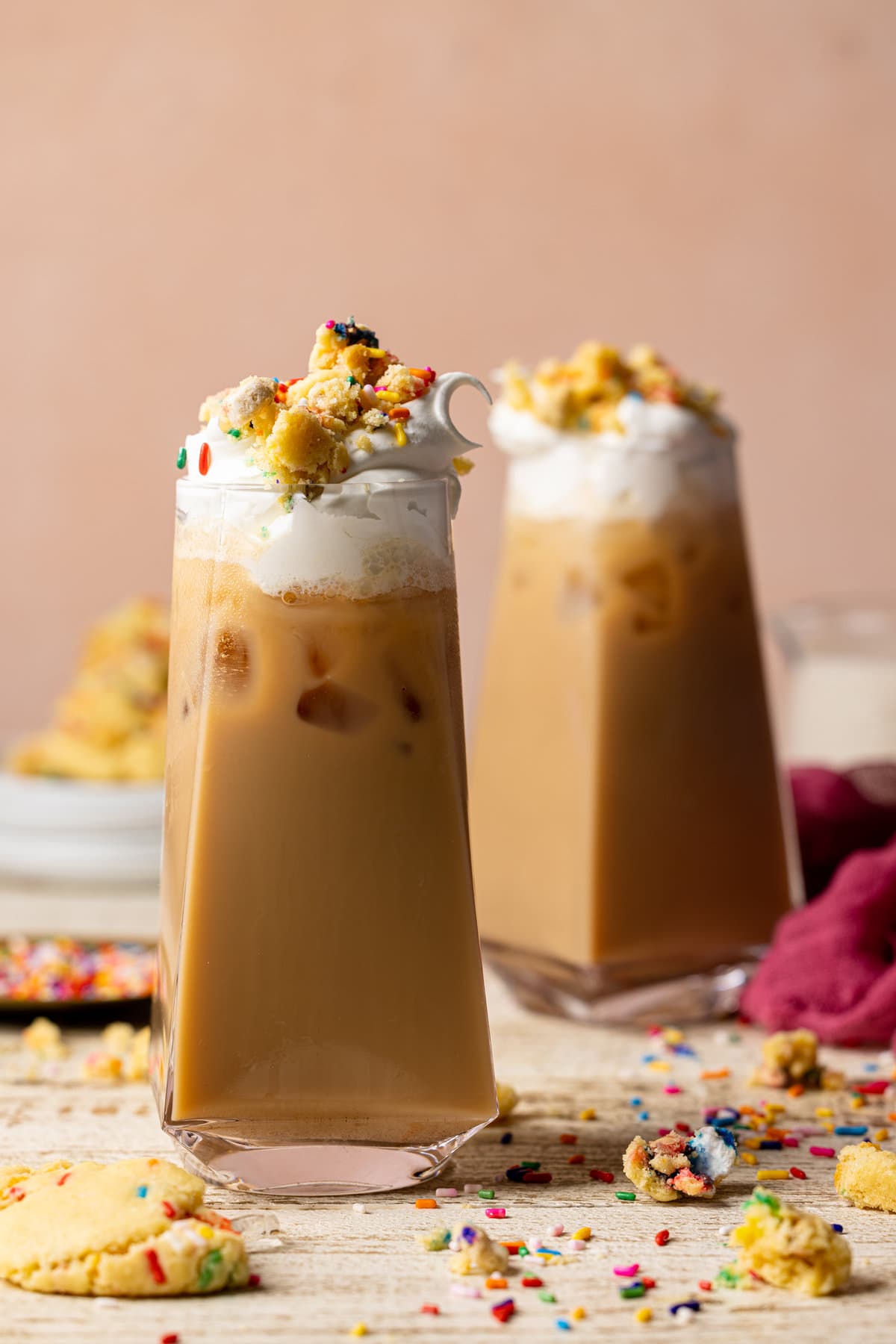 Caramel Coffee Ice Cubes: The Perfect Way to Avoid Waste
Making coffee throughout the week can sometimes mean that you won't always use up your coffee, especially when making coffee from ground coffee beans. Yes---you can add leftover coffee in other ways (i.e. baking, making a mocktail, etc.), why not just freeze them and re-create a new latte each day? Haha.
Plus, it's really simple to make, so there's that.
Making Your Latte Runs Simple and Fast
As I've mentioned, making these coffee ice cubes are for sure the easiest and fastest way to keep your latte/coffee runs smooth during the week. Simply make a large batch of these, add them to a glass in the mornings, pour your milk, and add an additional sweetener (if you please), and wallah. DONE!
How to Make Caramel Coffee Ice Cubes Latte (Minus the Caramel)
The coffee ice cubes are super easy to make and only require a handful of ingredients. Here's what you need to make them:
Freshly brewed coffee. You can also use chilled brewed coffee or espresso.
Water. Filtered of course!
Vanilla. Adds nice additional flavor.
Maple syrup. A great natural sweetener. Feel free to use honey or totally omit, if preferred.
More Homemade Latte Recipes to Try!
MADE OUR RECIPE(S)?
If you tried this Starbucks Copycat Iced Sugar Cookie Latte recipe or any other recipe on my website, please please leave a 🌟 star rating and let me know how you go in the 📝 comments below. I love hearing from you.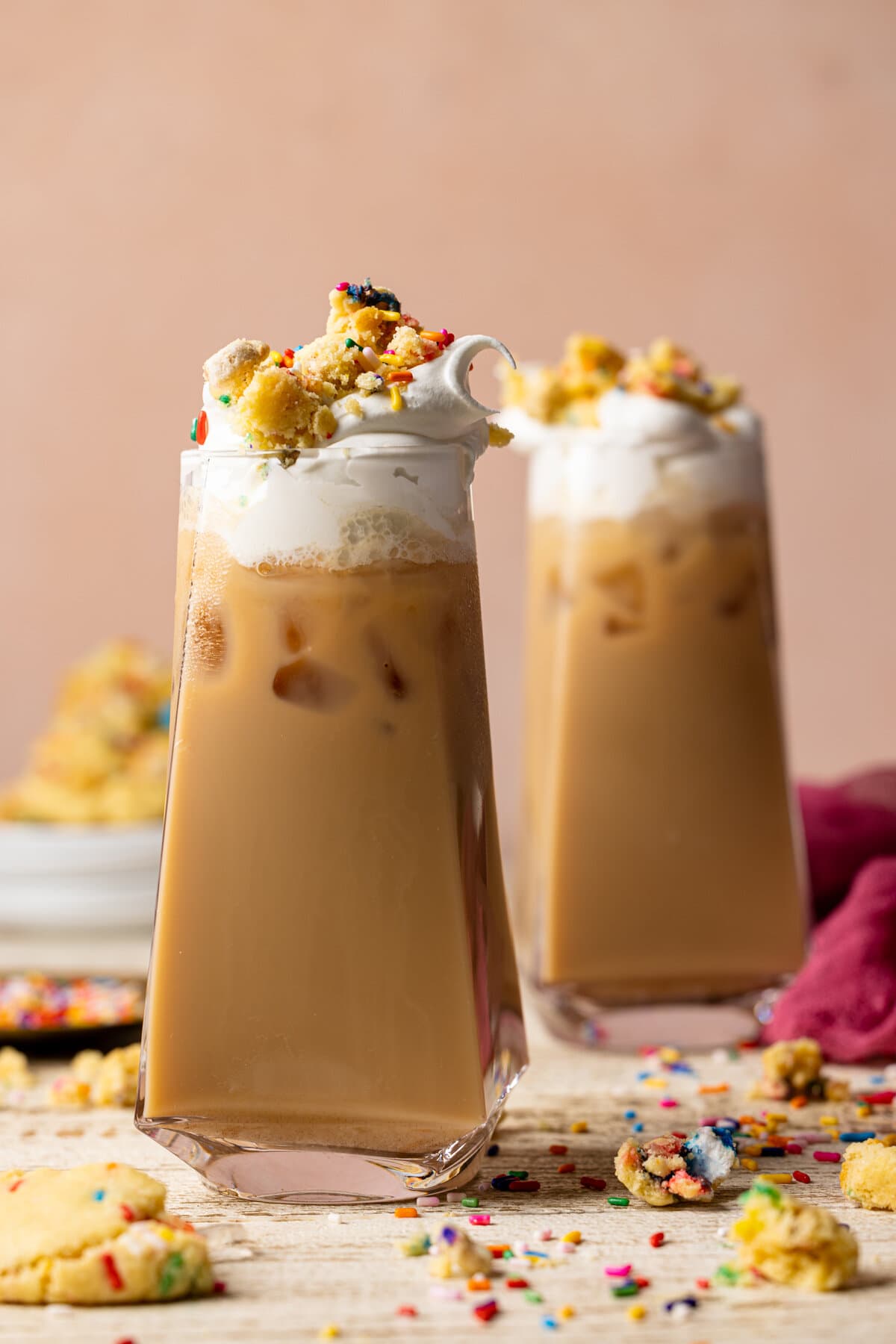 LATTE:
2

ounces

freshly-brewed coffee or espresso, cooled

1

cup

oat milk, homemade or store-bought

(You can use your fave plant-based milk)

½

cup

Sugar cookie syrup

Crushed ice

(You can also use coffee ice cubes; See Post for Details)
SUGAR COOKIE SYRUP:
½

cup

filtered water

4

Tbsps

organic cane sugar

1

teaspoon

vanilla extract

½

teaspoon

almond extract

2

drops

butter extract, optional

2

tsps

cinnamon sugar cookie blend

(I love using Primal Palate's blend)
OPTIONAL TOPPINGS:
Whipped cream, homemade or store-bought

(You can sub with coconut whipped cream for Dairy-free option)

Sugar cookies, crumbled

Rainbow sprinkles
TO MAKE THE SUGAR COOKIE SYRUP:
In a saucepan over medium-high heat, add together all ingredients (whisking them to combine) and bring to a boil, about 1-2 minutes.

Reduce the heat to low and simmer for another 2-3 minutes. Remove from heat and let cool completely.
ASSEMBLY:
To serve, pour the cooled sugar cookie syrup into a glass followed by your fave plant-based milk and freshly-brewed coffee or espresso. Stir and top with whipped cream, sugar cookie crumbles, and rainbow sprinkles, if desired.

Sip and enjoy!
SUGAR COOKIE: If you'd like to top your latte with a sugar cookie, be sure to check out my recipe for these Loaded Lucky Charms Cornflakes Sugar Cookies or  Soft Oversized Crinkled Sugar Cookies. Just reduce size of cookies to fit glasses or crumble them on top.
SWEETENER: You can adjust the amount of sweetener depending on how sweet or unsweet you'd like for your latte to be.
FAQ: See common Q + A section for all questions/answers for this latte!
Calories:
343
kcal
|
Carbohydrates:
82
g
|
Protein:
4
g
|
Fat:
2
g
|
Sodium:
120
mg
|
Potassium:
144
mg
|
Fiber:
2
g
|
Sugar:
77
g
|
Vitamin A:
492
IU
|
Calcium:
349
mg
|
Iron:
2
mg