This Vegan Pumpkin Chai Latte is made with only a handful of ingredients and is the perfect warmth + coziness to any day. Literally whipped together in a few short minutes, this homemade latte comes fully dairy-free, vegan, + gluten-free. Enjoy this coffee-free cup of goodness every morning.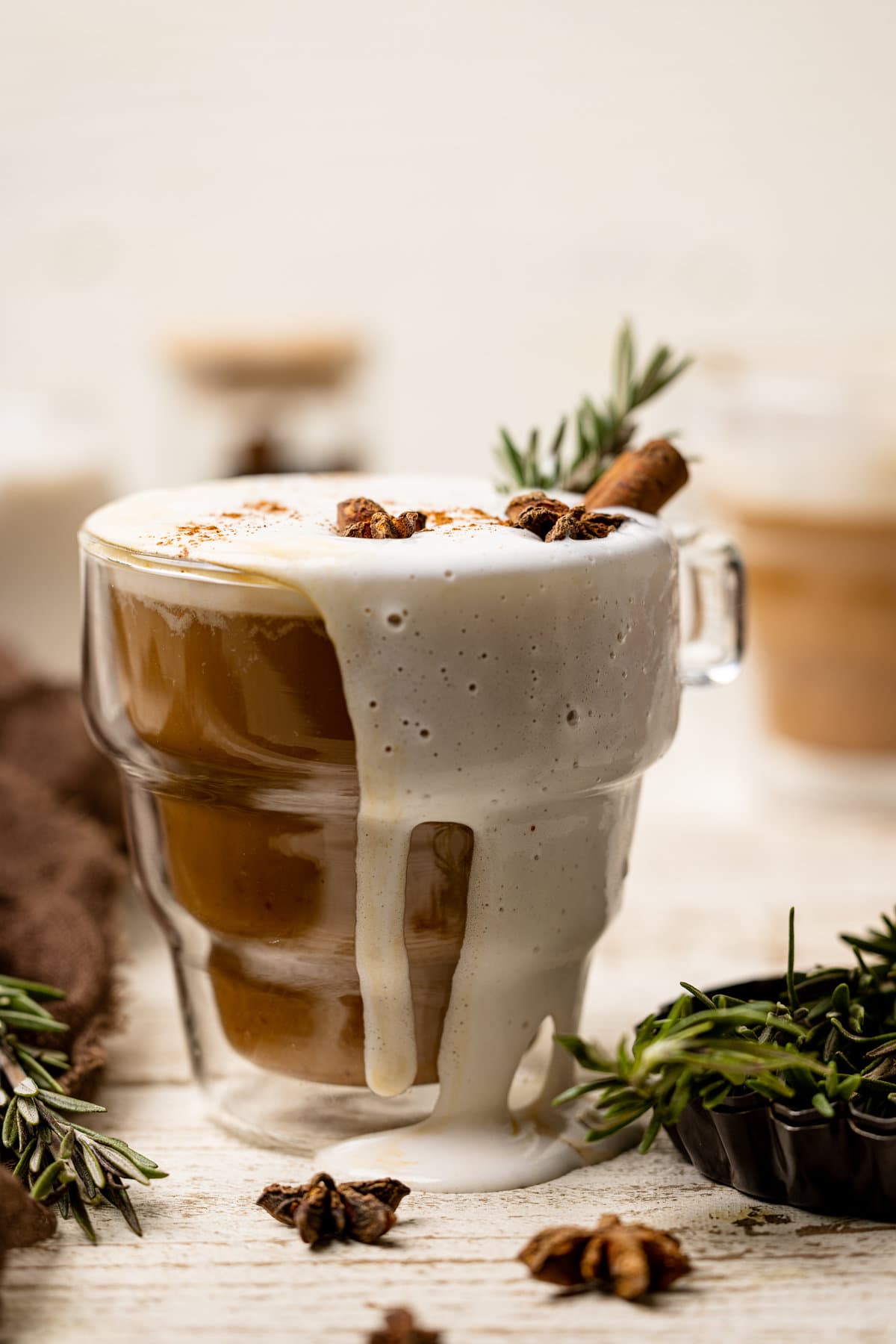 Vegan Pumpkin Chai Latte. These are the four words that I love seeing every Fall season.
To be honest, I'm not a HUGE pumpkin fan. I'm more of a sweet potato kind of girl, however, there are a handful of pumpkin recipes that are my absolute fave and this is one of them. Of course, I have this Dairy-Free Pumpkin Spice Latte which is a classic drink that you can also indulge in!
It's September and Fall is coming soon.
I know that that Fall isn't officially here yet, but I wanted this week to be #PumpkinWeek on Orchids + Sweet Tea because, why not?
To kick things off, I wanted to share this latte with you which makes for a great coffee alternative because I chose to use Chai Tea instead.
If I'm honest, I know that there is a Pumpkin Spice Latte craze at Starbucks around this time BUT I'm truly obsessed with their Chai Tea Latte. OMG. I literally get this drink in the venti size on a DAILY basis. Haha.
What You'll Love Most About This Homemade Latte.
Very easy to whip together and uses minimal main ingredients.
Ready in less than 30 minutes TOTAL----including prep.
Warm and comforting with every sip.
Loaded with delicious Fall/Winter spices.
A great coffee alternative!
All dairy-free, vegan, + GF.
Makes for the perfect sweet treat for the entire family.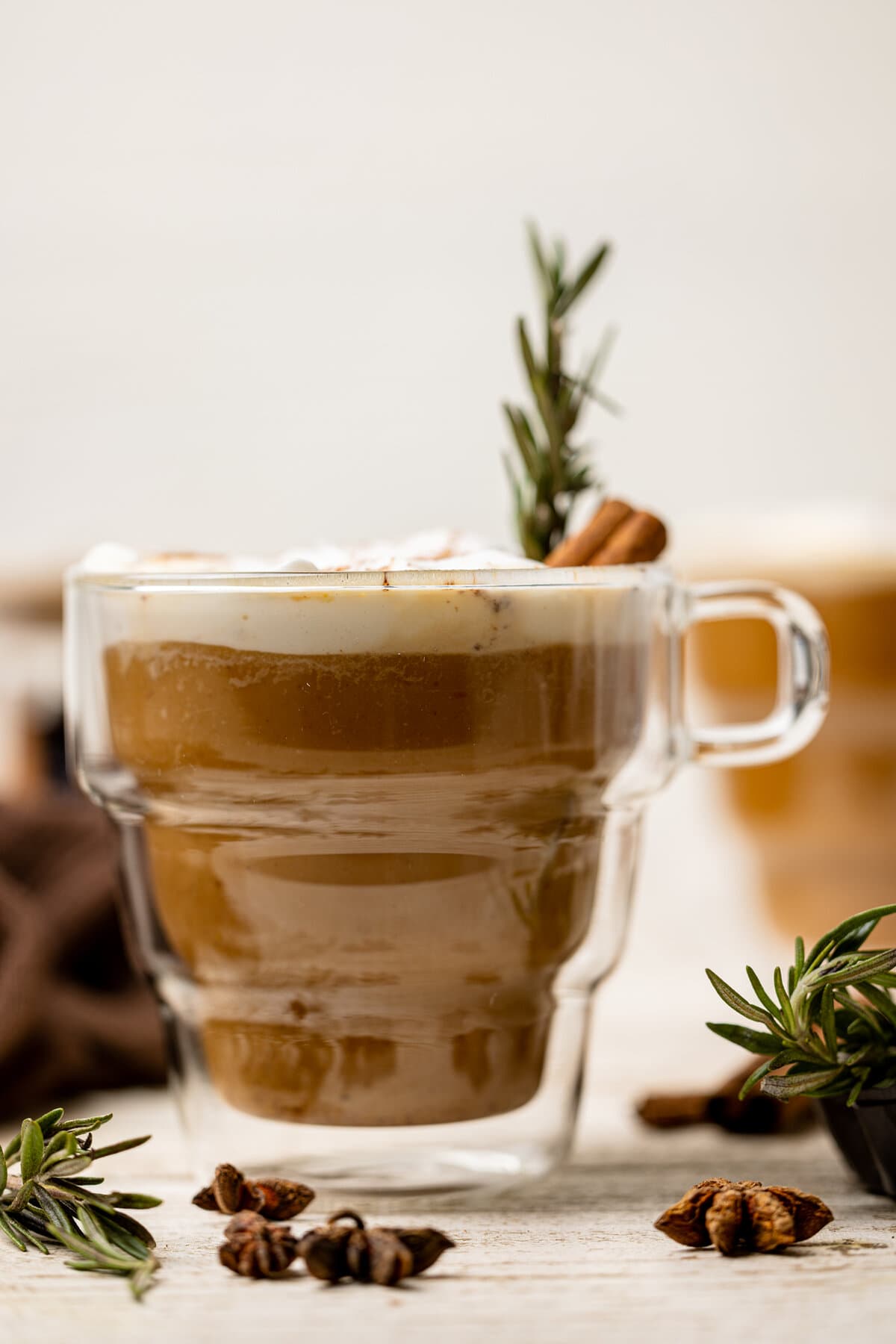 How to Make Your Own Pumpkin Puree
If you're thinking about making your own pumpkin puree instead of using a store-bought canned version, then you'll be happy to know that it is rather simple:
Step 1: Cut your pumpkins in half and scoop out the seeds. Be sure to save the seeds for another time because you can definitely use those!
Step 2: Feel free to cube the pumpkins into medium-large chunks and then place them unto a baking sheet lined with parchment paper. NOTE: ensure that the skin of pumpkin are peeled off at this point.
Step 3: Always season your pumpkin pieces (salt, black pepper, + smoked paprika) and lightly grease with olive oil until coated.
Step 4: Roast in the oven at 375 degrees Fahrenheit for about 40-45 minutes or until the edges are golden and they become super tender once tested with a fork or knife.
Step 5: Using a food processor or blender, puree your pumpkin along with water or veggie stock, until smooth. You can either use this immediately in whatever pumpkin recipe you'd like, store it in the freezer for later use.
Can I Serve this Hot or Cold?
Yes! You can definitely switch things up by serving this Vegan Pumpkin Chai Latte hot or cold whenever you chose to. To serve cold, simply allow the chai tea to cool and add everything to glass over ice, stir, and enjoy! Add dollops of coconut whipped cream, if desired.
How to Make Pumpkin Spice Blend
One of the essential elements of this Vegan Pumpkin Chai Latte is the actual pumpkin spice blend. It is very simple to make, plus, you can make a larger batch and save some for baking!
To make homemade Pumpkin Spice, combine these spices:
1 tablespoon cinnamon
a teaspoon nutmeg
1 teaspoon ground ginger
¼ teaspoon ground cloves
That's it! This delicious blend is perfect for lattes, cookies, cakes, pies, pudding, or all things pumpkin.
HOMEMADE CHAI TEA BLEND
While you can purchase chai tea mixes in stores, it's definitely a blend that is easy to find, but also easy to make. Your Vegan Pumpkin Chai Latte will taste amazing, whichever you use.
If you do plan on making your own spice blend, you will need:
Cinnamon
Nutmeg
Ground ginger
Allspice
Ground cardamom
Ground cloves
Black pepper
Obsessed with Chai? These Recipes are Amazing!
These Vegan Chai Tea Latte Cinnamon Rolls are something right on point for the Fall/Winter season. They are fluffy, soft, thick, sweet, and surely does just melt in your mouth with every bite. Not being your typical Cinnamon Roll, this recipe is topped with a mouth-watering Black Tea-infused Chai Tea glaze that will leave you 'Cinnamon Roll obsessed'.
This is a delicious and easy recipe for an Iced Chai Tea Latte with brewed black tea, warming chai spices, and plant-based milk for a healthy vegan spin.
This Dairy-Free Carrot Cake with Chai Buttercream is the best + perfect rendition of traditional carrot cake with a dairy-free twist! Not only is it completely soft + fluffy, but it's utterly delicious!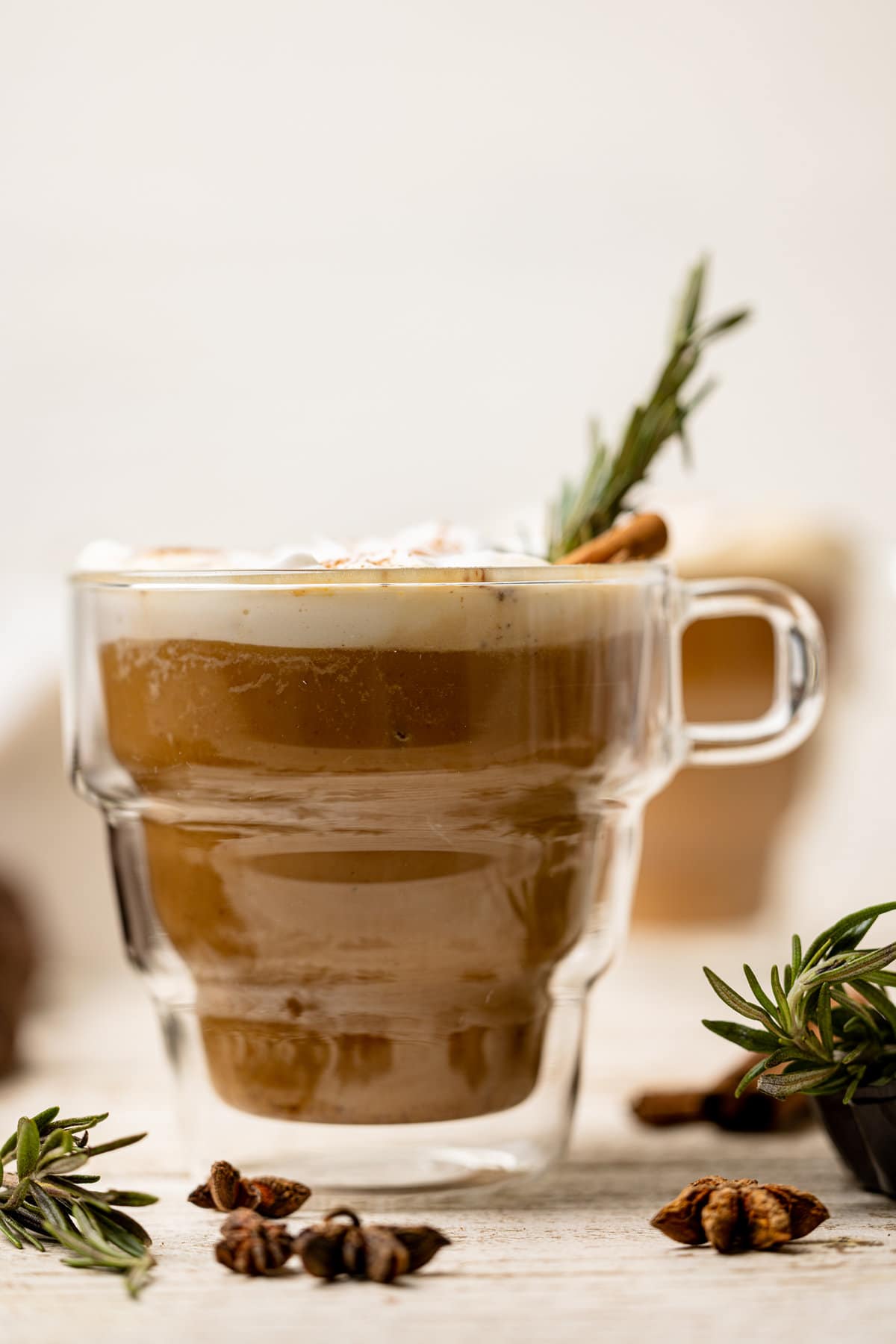 Common FAQs for this Pumpkin Chai Latte.
Can you add coffee to this if desired?
Absolutely! Feel free to add 2 shots of espresso or a ½ cup of strongly brewed coffee if you'd like.
What is the consistency of this latte?
Due to the pumpkin puree, this latte comes a bit thicker and creamier than other lattes. However, you can always reduce the amount of pumpkin for less thickness. Either way, this latte is SO Delish!
Can I substitute the CocoWhip?
Definitely! For added pizzazz, feel free to added frothed milk to the top of your latte instead of CocoWhip or you can drink it without a topping. The possibilities are endless.
Is there other methods to making this?
Yup. While I enjoy the slow and true cooking method of using my stovetop, you can make this latte within your blender. Some high-tech blenders like the Vitamix has a heating mode which allows you to blend and warm at the same time, which is one way to do it. Of course, if you're like me, then using your stovetop is just as easy.
What plant-based milks are good for this recipe?
If you'd like to switch things up with the type of plant-based milk that you use—–that's totally fine! The world of plant-based milk is constantly expanding. From the classics like coconut milk, cashew milk, soy milk and almond milk, we now have delicious options like oat milk, and even potato and quinoa milk.
LOOKING FOR A HEALTHIER SWEETENER OPTION?
The Best Healthy Sugar Alternatives + Substitutes list is all about finding better ways to enjoy your favorite sweets without compromising your healthy lifestyle. For those who follow a vegetarian and/or vegan lifestyle, this lists offers a few great ideas to incorporate healthy sweeteners into your diet.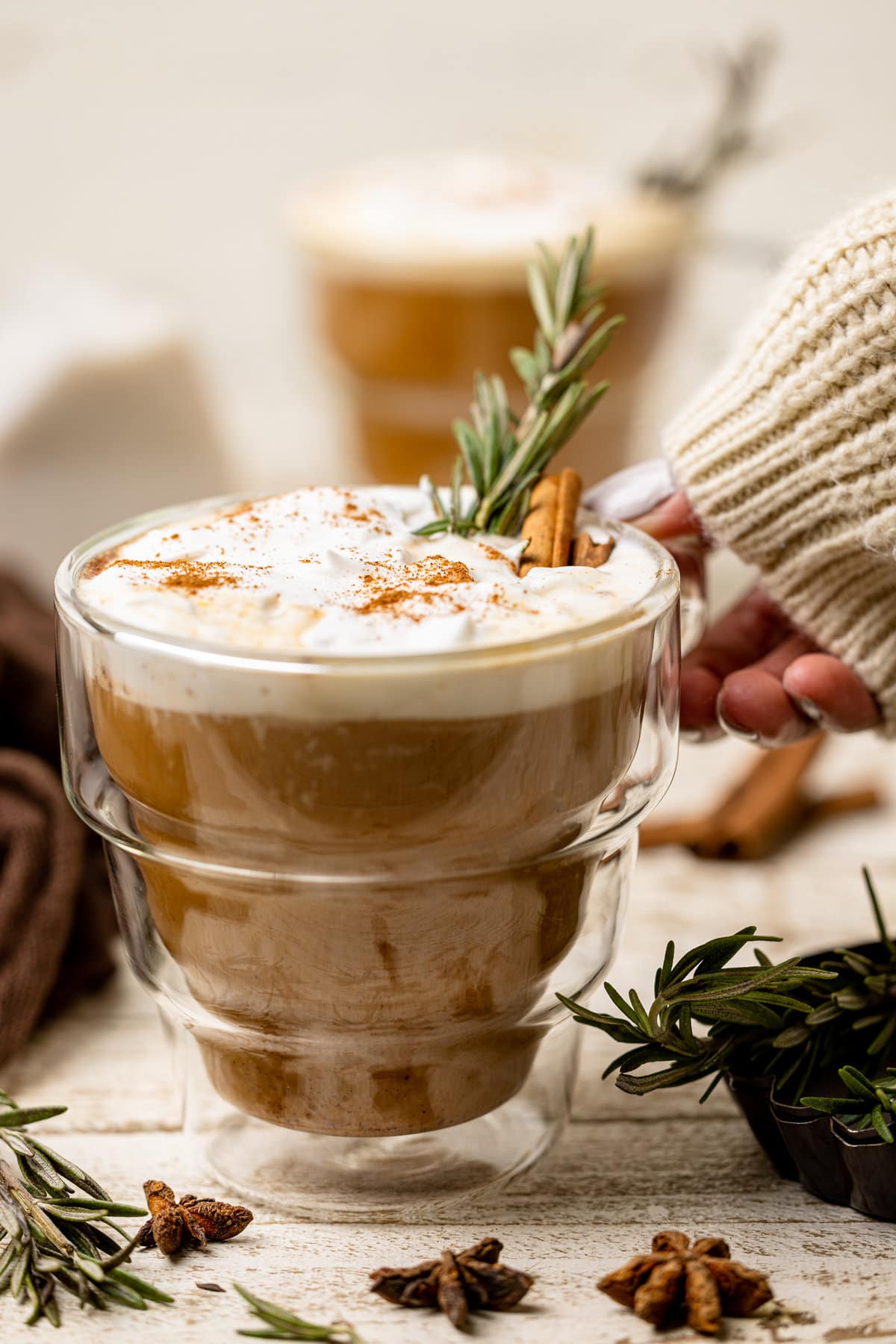 Need More Pumpkin in Your Life? Try These Recipes!
MADE OUR RECIPE?
If you make this Vegan Pumpkin Chai Latte, be sure to Tag @orchidsnsweettea_ on Instagram and hashtag it #orchidsandsweettea!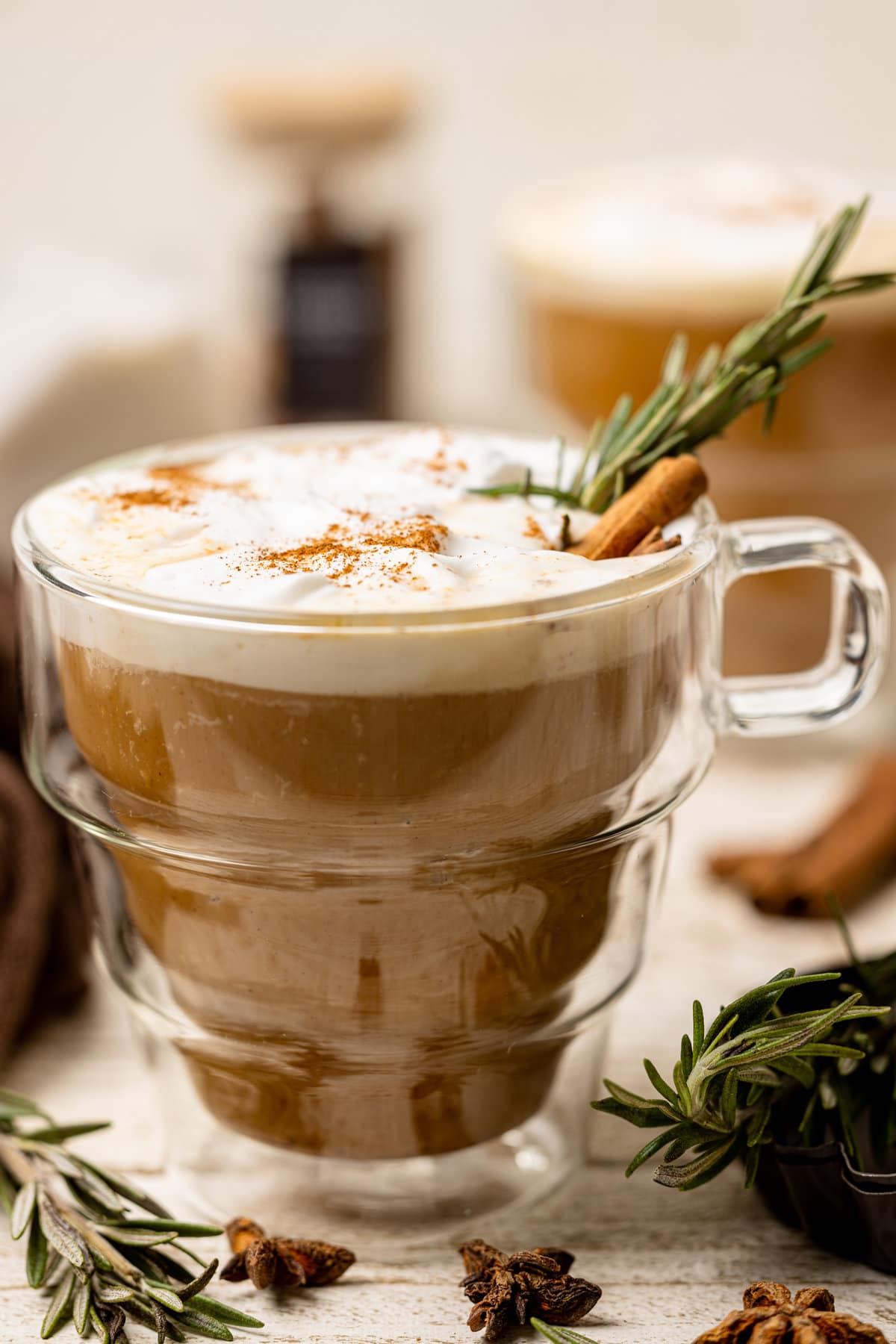 CHAI TEA:
1

cup

water

3

black tea bags, premium

¼

cup

pure maple syrup

1-2

Tbsps

chai spice blend
CHAI SPICE BLEND:
1

tablespoon

ground cinnamon

1

teaspoon

ground nutmeg

½

teaspoon

ground ginger

½

teaspoon

allspice

½

teaspoon

cardamom

¼

teaspoon

ground cloves

⅛

teaspoon

black pepper
LATTE:
1

cup

Oat milk, homemade or store-bought

(You can use your fave plant-based milk!)

3-4

Tbsps

organic 100% pumpkin puree  

(NOT pie filling!)

½

cup

chai tea

1

teaspoon

vanilla extract

½

teaspoon

pumpkin spice blend, optional
TO MAKE THE CHAI TEA:
In a medium saucepan on medium-high heat, add the water and bring to a boil for 1-2 minutes. Add the tea bags and let it boil for another 1-2 minutes. Remove from heat and let everything steep for 5-6 minutes.

Once fully steeped, remove tea bags and whisk in cinnamon, nutmeg, ground ginger, allspice, cardamom, ground cloves, and black pepper until dissolved and combined.
TO MAKE THE LATTE:
In saucepan over medium-high heat, add together the oat milk, vanilla, chai tea, pumpkin puree, and pumpkin spice, mixing until combined. Let it come to a boil and remove from heat.

To serve, pour latte mixture into prepared mug(s) and top with CocoWhip, if desired.

Sip and enjoy!
WHAT PLANT-BASED MILKS ARE GOOD FOR THIS RECIPE? My go-to plant-based brand for Oat milk when using store-bought is Ripple. However, you can always use your fave or one of the following: Almond, coconut milk, homemade oat milk (froths/foams VERY WELL), homemade cashew milk, flax milk, potato milk, quinoa milk, etc.
SWEETENER: You can adjust the amount of sweetener depending on how sweet or unsweet you'd like for your latte to be.
TEA BAG: You can also use a chai tea bag blend instead if preferred.
Calories:
434
kcal
|
Carbohydrates:
96
g
|
Protein:
6
g
|
Fat:
4
g
|
Saturated Fat:
1
g
|
Polyunsaturated Fat:
0.2
g
|
Monounsaturated Fat:
0.2
g
|
Sodium:
142
mg
|
Potassium:
523
mg
|
Fiber:
10
g
|
Sugar:
70
g
|
Vitamin A:
7545
IU
|
Vitamin C:
4
mg
|
Calcium:
593
mg
|
Iron:
5
mg
Vegan Pumpkin Chai Latte.