This Pumpkin French Toast recipe is irresistibly good and is the perfect Fall season treat for those early mornings or that holiday get together for the entire family! Enjoy this French Toast by itself with a few toppings or with your favorite breakfast side. Super easy to make and can be whipped together in a few short minutes. Dairy-free + vegan options.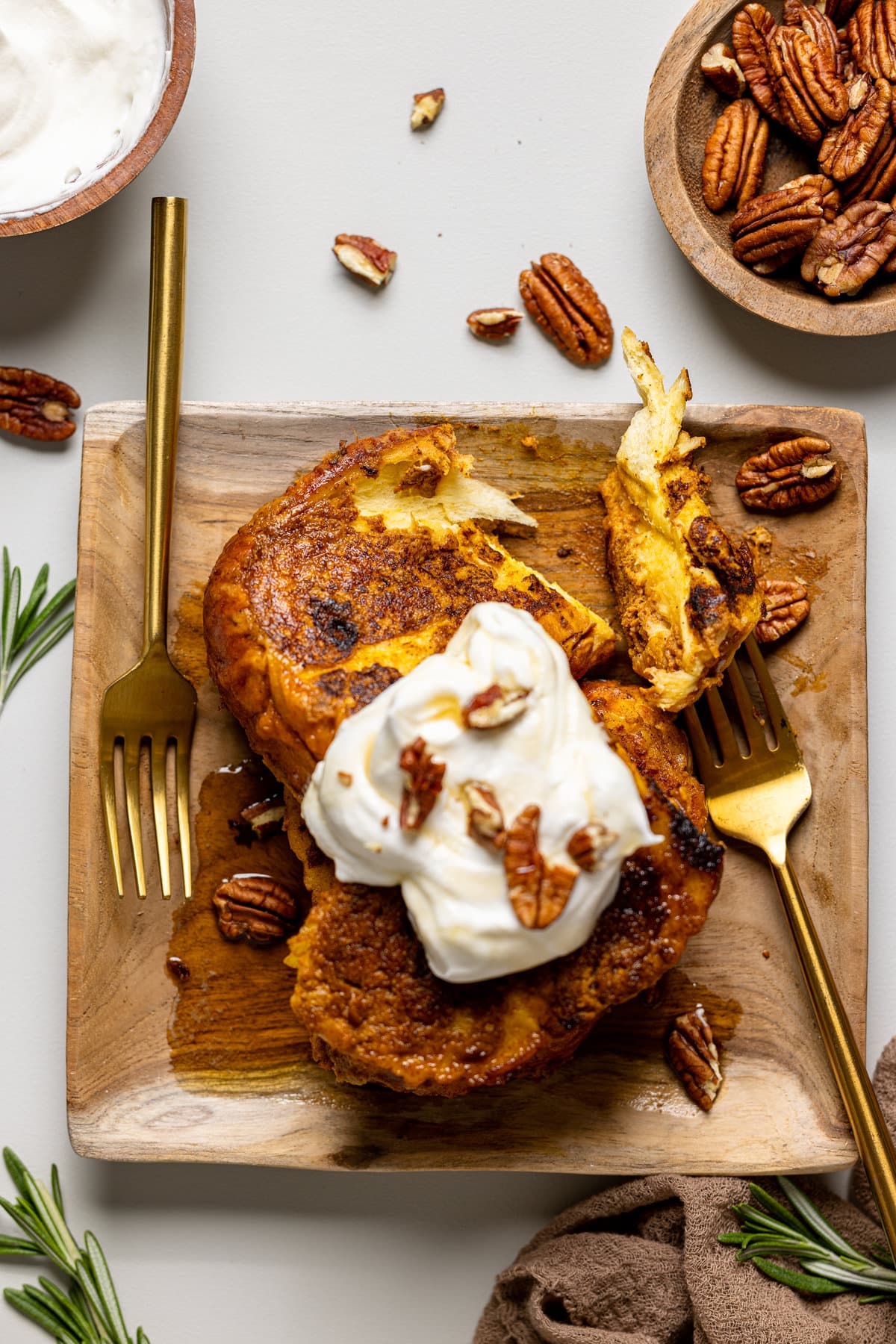 Disclaimer: This post contains affiliate links via Amazon for products that I wholeheartedly love.
French toast is definitely in my top list of favorite breakfast or brunch dishes next to pancakes and waffles, of course! With the Fall season in full effect, I couldn't resist sharing this thick + fluffy Pumpkin French Toast. It's SO good, ya'll and it's just as easy to whip together as regular french toast.
It definitely works as the perfect "pick-me-up" in the mornings or as a nice twist and switch up to regular french toast. Of course, if you're thinking of feeding a larger family or you just want something that requires a lot less work, then this Baked Pumpkin French Toast Casserole is the answer!
Either way, you're sure to enjoy french toast and those in your household will too! Plus, this Maple Pecan Sweet Potato French Toast Casserole is an indulgent breakfast + brunch delight that captures the essence of festive flavors in every bite!
Whether you use challah, whole wheat, Brioche, or gluten-free bread, this french toast will be your favorite homemade brunch to date!
What to Expect with this Pumpkin French Toast?
A nice thickness.
Velvety texture. Soft. Tender.
Not much sweetness (the pumpkin flavor does an awesome job of cutting down the sugar).
A nice crunch from the pecan-praline sauce (if using).
Amazing nutty flavor from the toasted pecans.
Warm.
Filling.
And just absolutely wholesome and perfect for the Fall weather.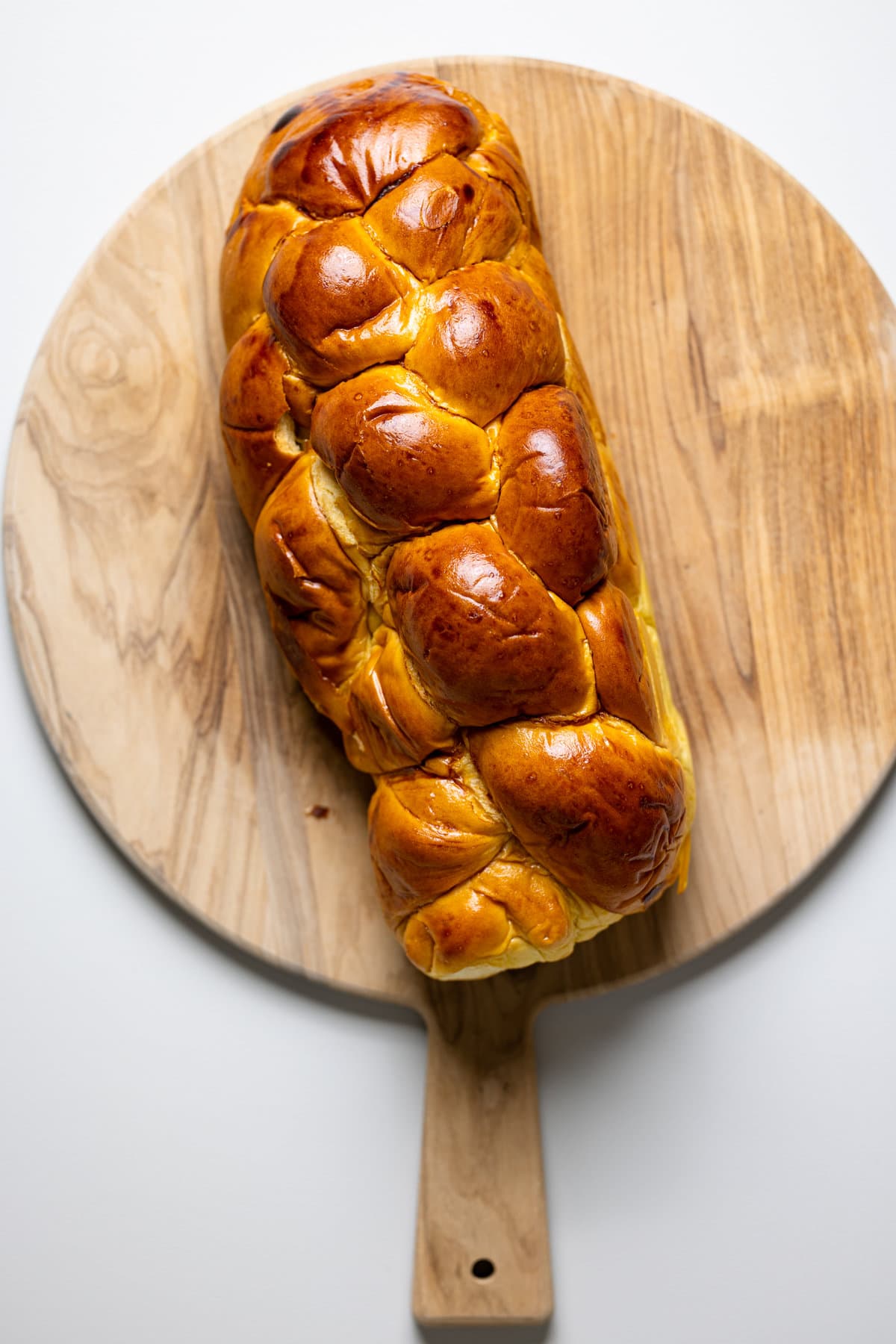 How to Make Pumpkin French Toast
The key to the best French toast is to use fluffy bread like brioche or challah, and bonus points if it's a day old and a bit stale. It soaks up the eggy custard even better this way. Now, if you know me personally, then you know that I enjoy a good breakfast if I do get around to eating it.
During the week on most days, I tend to grab something quick since I often have work. However, the weekends are my faves because I get a chance to whip together something intricate! This french toast is no different. Here's what you'll need:
Ingredients
Bread. You can use challah, brioche or sourdough. I recommend using day-old bread so it can better soak up all that eggy deliciousness.
Almond milk. You can use any plant-based, or dairy-based milk you like. Just let it come to room temperature before adding to the French toast.
Pumpkin. I use 100% organic pumpkin puree in the can, NOT pie filling. There's a difference!
Pumpkin spice blend. For a nice rich pumpkin and spice flavor. Simply mix together cinnamon, nutmeg, ginger, and ground cloves.
Eggs. Again, it's best o use room temperature eggs for easy whisking. I like to use organic.
Maple syrup. I like this natural liquid sweeter, as it's not refined and vegan friendly. However, you can replace maple with agave, coconut sugar, or honey.
Vanilla. For added warming flavor.
Whipped cream. For a nice smoothness with every bite, I like to top with whipped cream. For a vegan option, use coconut whipped cream. Make your own or use a store-bought version like So Delicious Dairy-Free.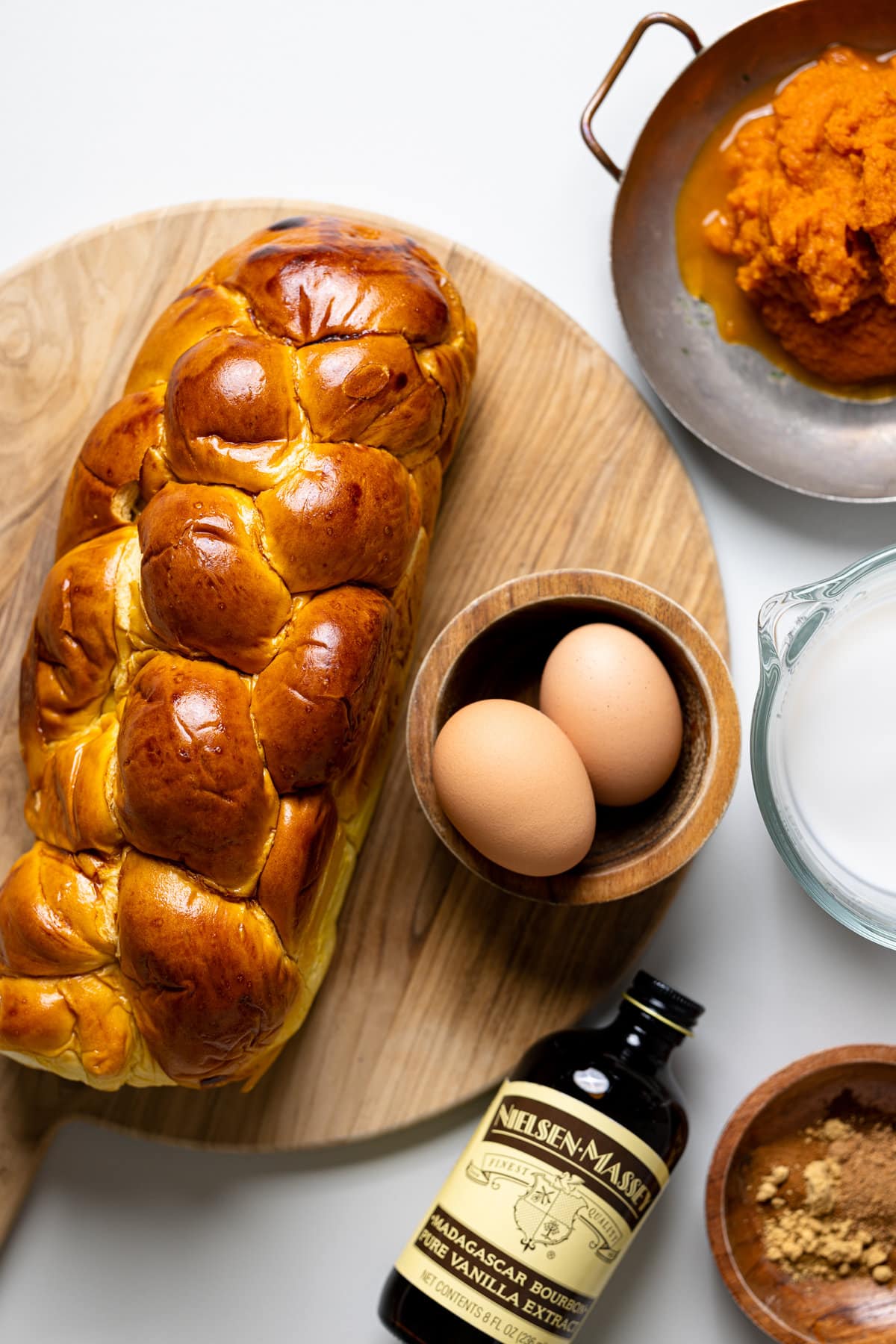 Topping French Toast
French toast in general is best served fresh off the griddle. To serve up this pumpkin french toast----stack french toast and top with whipped cream, toasted pecans, and a drizzle of maple. And if you like extra sweetness or a bit more protein, you can add a  dollop of yogurt instead. Delicious!
How to Make Pumpkin Spice Blend
One of the essential elements of this Pumpkin French Toast is the actual pumpkin spice blend. It is very simple to make, plus, you can make a larger batch and save some for baking!
To make homemade Pumpkin Spice, combine these spices:
cinnamon
nutmeg
ground ginger
ground cloves
That's it! This delicious blend is perfect for lattes, cookies, cakes, pies, pudding, or all things pumpkin.
PRALINE TOPPING (OPTIONAL):
If you'd like to top your pumpkin french toast with a beautiful caramel/praline sauce, here's what you'll need to add to a skillet over medium-high heat:
Brown sugar. I like to use organic.
Butter. If using unsalted butter, simply add ½ teaspoon sea salt. For the vegan option, use vegan butter.
Heavy cream. For the vegan option, you can use either full-fat canned coconut milk or cream.
Pecans. You'll need chopped pecans. I like to toast them from more nuttiness.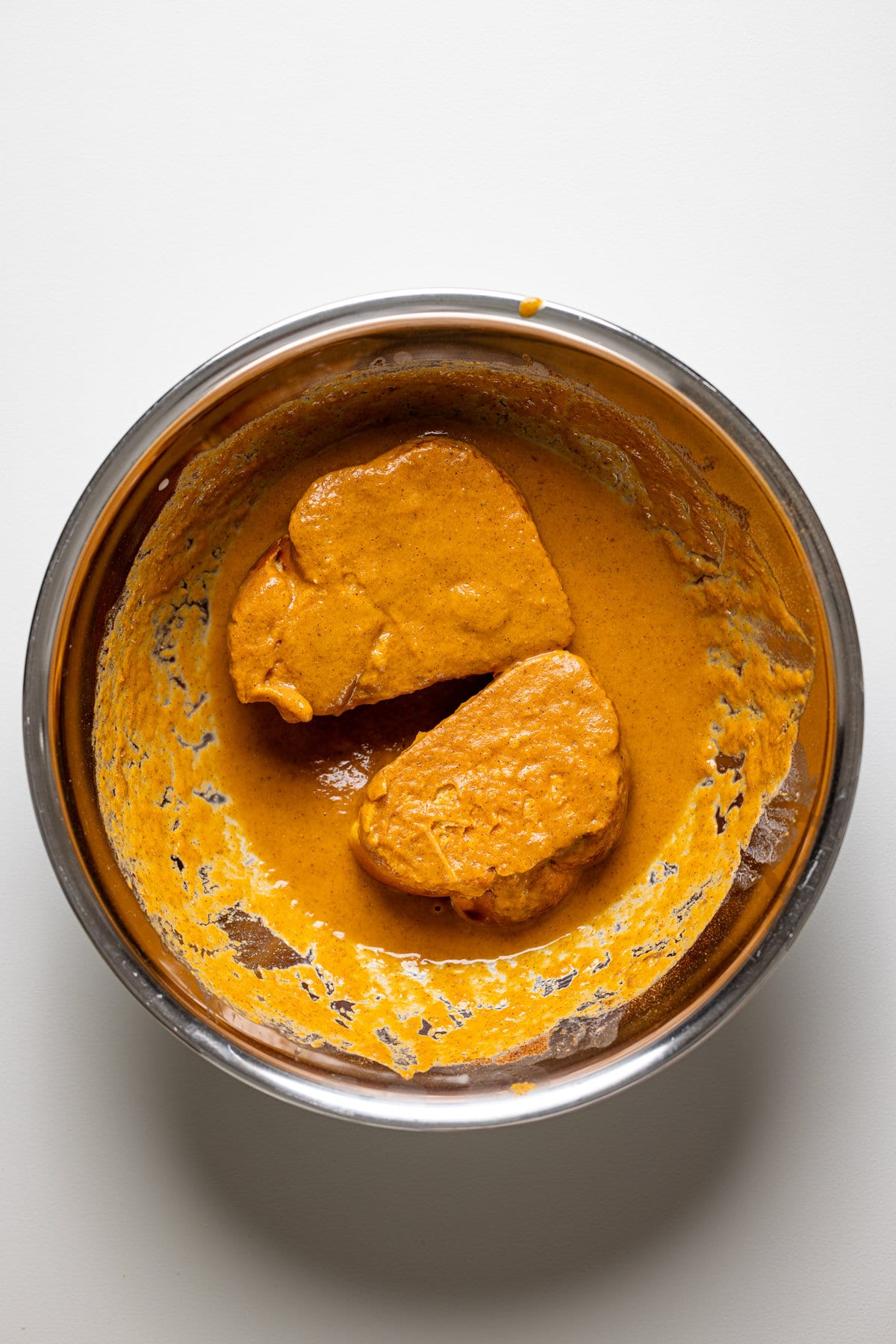 Fluffy Pumpkin French Toast
You can easily make this pumpkin french toast recipe vegan and/or gluten-free. To make gluten-free french toast, simply use your favorite gluten-free bread (remember, the fluffier, the better).
For a vegan version, follow these swaps:
Use vegan challah or ciabatta bread (regular brioche and challah loaves have eggs, butter and milk in them)
Use a vegan egg substitute, like Just Eggs or chia eggs
Cook the French toast in vegan butter
Top with coconut whipped cream instead
Health Benefits of Pumpkin
It must be noted that this recipe (and most sweet or savory pumpkin recipes) calls for 100% pumpkin puree, NOT pumpkin pie filling! Pumpkin pie filling is quite literally the sweet pumpkin custard that you find in traditional pumpkin pie. It already contains sugar, cinnamon, clove, and other ingredients that make a pie filling.
Adding pumpkin pie filling to a dish that calls for 100% pumpkin puree will add an unwelcomed sweetness, essentially ruining the dish. Even if you are unsure of what type of pumpkin a recipe is calling for, go for the 100% pumpkin puree.
SHOP MY FAVORITE TOOLS FOR COOKING, ESPECIALLY FOR THIS FRENCH TOAST!
Here, I've curated a list of cooking + baking essentials that I use to achieve my favorite baked goods or cooked meals, especially with this Pumpkin French Toast. Everything from my fave baking sheet, skillet, food processor, high-powered blender, cooking utensils, and more. SEE THEM HERE!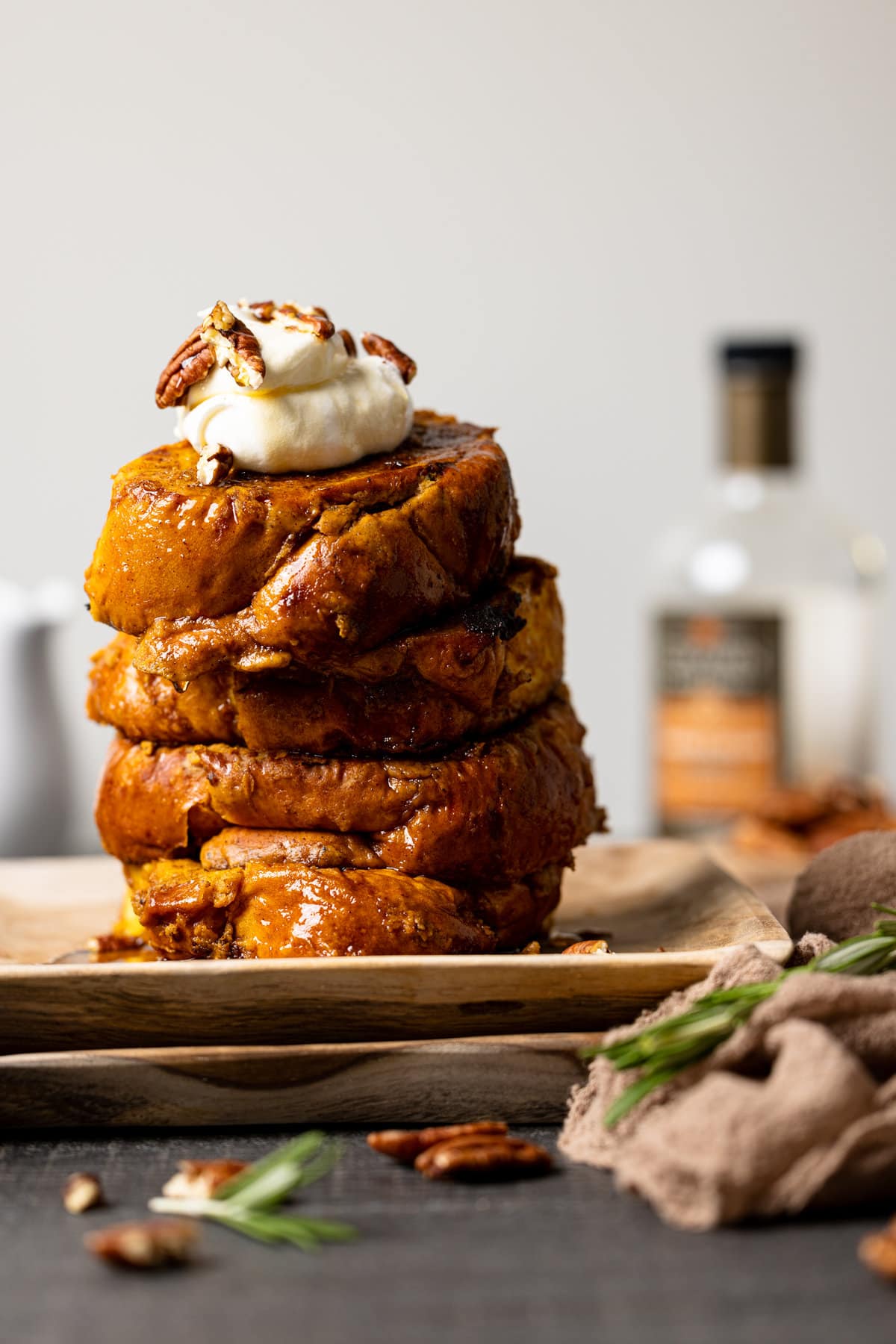 Baked vs. Pan-Fried French Toast
Both baked and pan-fried French toast recipes are delicious, however, I prefer the one that takes less active cooking time, especially on the weekends where I'm extremely laid back.
Instead of frying your French toast in butter over the stove, try a baked version. It's easier to whip together, makes less mess (yes, to tossing everything together in one dish), makes a pretty decent batch for the entire family, and is basically "set it + forget it" vibes (hello, oven).
How to Make Your Own Pumpkin Puree
If you're thinking about making your own pumpkin puree instead of using a store-bought canned version, then you'll be happy to know that it is rather simple:
Step 1: Cut your pumpkins in half and scoop out the seeds. Be sure to save the seeds for another time because you can definitely use those!
Step 2: Feel free to cube the pumpkins into medium-large chunks and then place them unto a baking sheet lined with parchment paper. NOTE: ensure that the skin of pumpkin are peeled off at this point.
Step 3: Always season your pumpkin pieces (pinch of salt and cinnamon in this case for the recipe) and lightly grease with olive oil until coated.
Step 4: Roast in the oven at 375 degrees Fahrenheit for about 40-45 minutes or until the edges are golden and they become super tender once tested with a fork or knife.
Step 5: Using a food processor or blender, puree your pumpkin along with water or veggie stock, until smooth. You can either use this immediately in whatever pumpkin recipe you'd like, store it in the freezer for later use.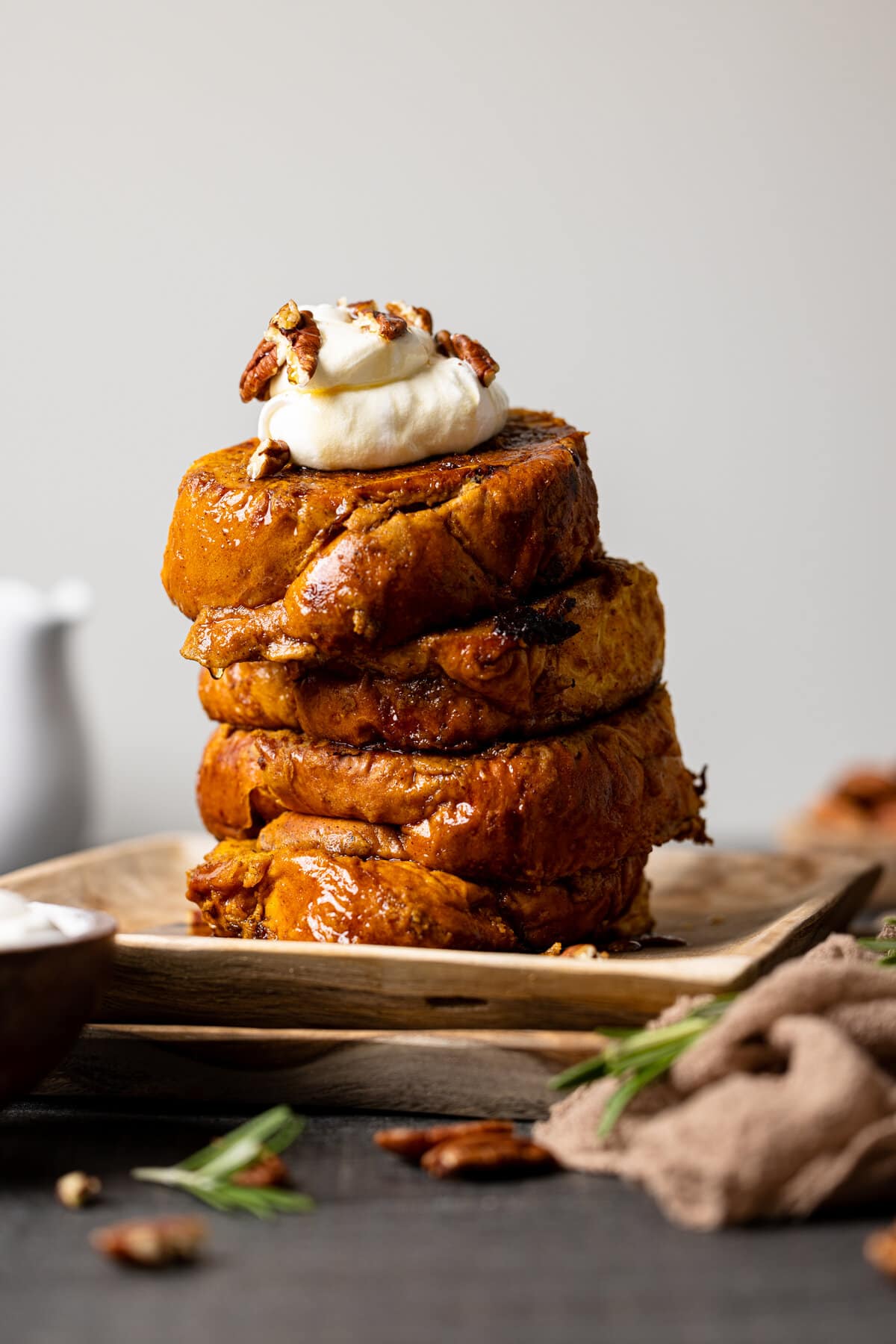 Topping Ideas for Pumpkin French Toast
You can make this dish as simple or as decadent as you like, when it comes to toppings. for a simple, crunchy garnish that's perfect with the fall pumpkin + spice flavors, I love chopped pecans.
Here are some other tasty toppings for your pumpkin french toast:
Coconut or regular whipped cream (store-bought or 

homemade

)
Drizzle of maple syrup or honey (if not vegan)
Dollop of vegan or regular yogurt
 Sprinkle of cinnamon and other warming spices
Toasted nuts (pumpkin, walnuts, etc)
Praline topping
Dusting of powdered sugar
How to Toast the Chopped Pecans
To toast pecans is super easy and it works for any type of nuts! Preheat the oven to 400 degrees Fahrenheit and line a baking sheet with parchment paper. Place the chopped pecans unto the baking sheet, ensuring that they are evenly spread out and toast them for 10 minutes, tossing them halfway to prevent browning on just one side.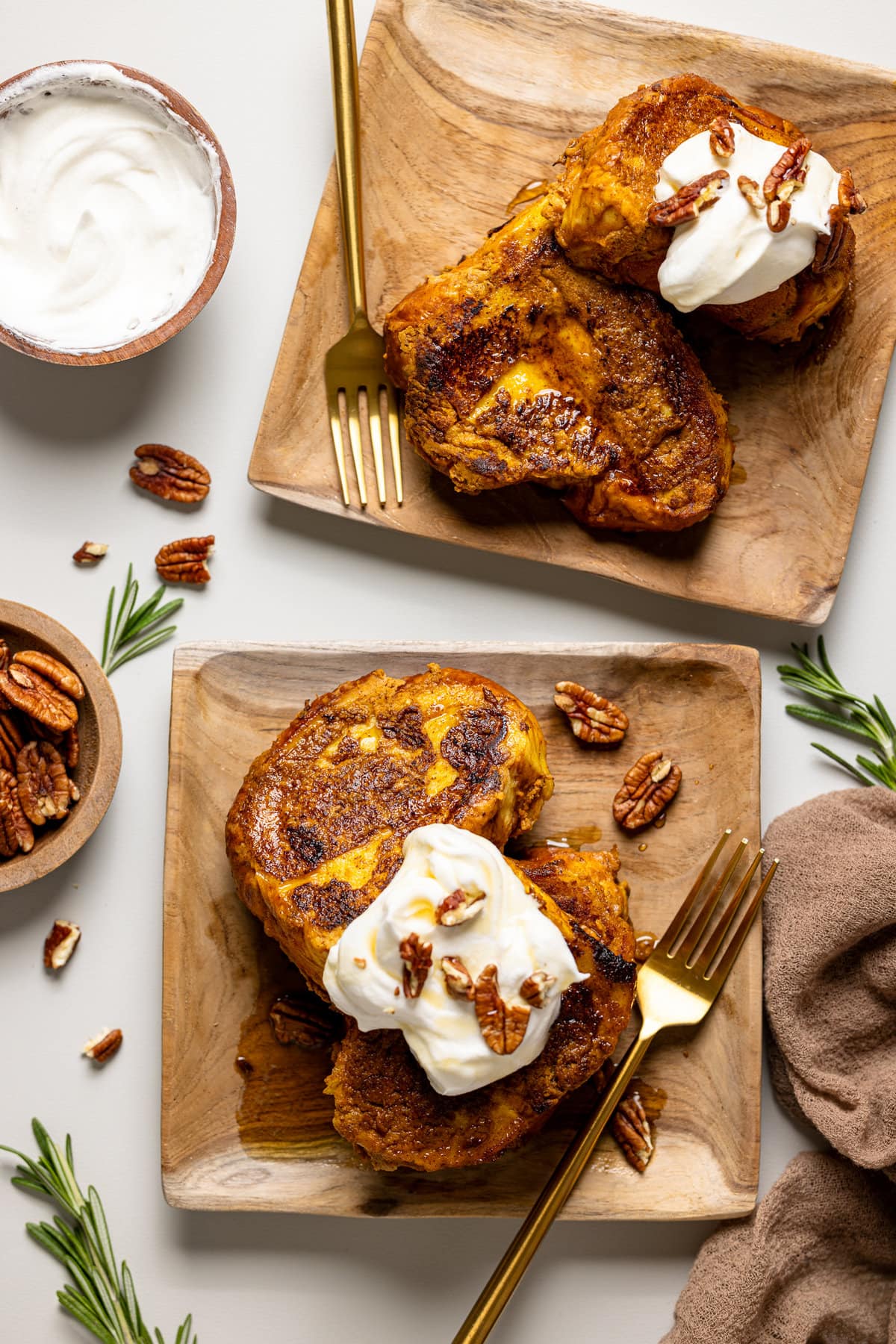 Other Brunch Recipes You'll Love
If you are in love with this Pumpkin French Toast as much as I am, check these recipes out!
MADE OUR RECIPE(S)?
If you make this Pumpkin French Toast or any other recipe from us, be sure to tag us on Instagram at #Orchidsandsweettea so that we can share the love, rate, comment below, + share!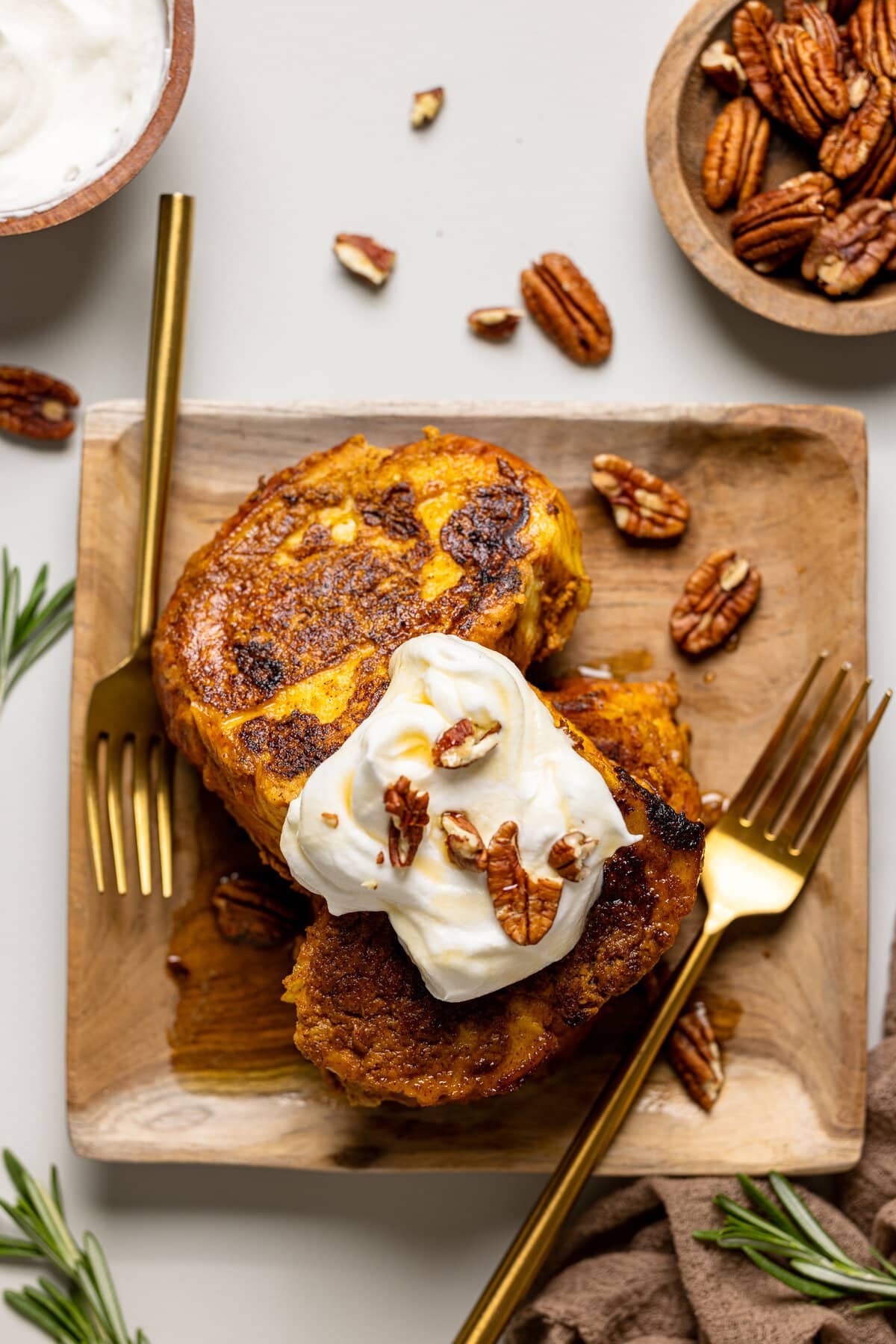 FRENCH TOAST:
1

loaf

challah, brioche, or sourdough bread; sliced

(Preferably a day old; See Notes for Vegan version)

1

cup

organic 100% pumpkin puree

1

tablespoon

pumpkin spice blend, homemade or store-bought

1

cup

Almond milk, at room temp.

(You can use your fave plant-based milk)

3

large

organic eggs, room temperature 

(For Vegan option, see Notes!)

1

teaspoon

vanilla extract

2-3

Tbsps

pure maple syrup

Unsalted butter, for cooking
OPTIONAL TOPPINGS:
Coconut whipped cream

Toasted pecans, chopped

Pure maple syrup
TO MAKE THE FRENCH TOAST:
Whisk together all the ingredients (except for the bread and butter) into a large bowl and set aside so that everything marries together and activates, about 5 minutes.

Preheat griddle or large skillet over medium-high heat and add 1 tablespoon of butter, melting it.

Dip 1 slice of bread into the batter, soaking it in for a few seconds on each side. Place slice unto the heated griddle, cooking on each side for about 3-4 minutes until golden brown. Repeat until all french toast have been made.

To serve—stack french toast atop each other, spoon a generous amount of coconut whipped cream, chopped toasted pecans, and drizzle with maple syrup, if desired.

Bon Appetit!
BREAD: Instead of brioche bread, you can also use vegan (if needed) challah or ciabatta bread or any other rustic bread. In most cases, day old bread works best!
WHAT PLANT-BASED MILKS ARE GOOD FOR THIS RECIPE? You can always use your fave or one of the following: Almond, coconut milk, homemade oat milk (froths/foams VERY WELL), homemade cashew milk, flax milk, potato milk, quinoa milk, etc.
VEGAN BRIOCHE: To make your own vegan brioche bread, see my latest recipe.
VEGAN OPTION: To make this French toast vegan, whisk together 1 tablespoon chia seeds and 3 Tbsps WARM water in a small bowl until combined and let it sit for 10 minutes until thickened completely. This makes 1 "Chia Egg". NOTE:For this recipe just use 2 "chia eggs" (that means 2 Tbsps chia seeds + 6 Tbsps WARM water).
SWEETENER: You can adjust the amount of sweetener depending on how sweet or unsweet you'd like for your french toast to be.
Calories:
1700
kcal
|
Carbohydrates:
254
g
|
Protein:
66
g
|
Fat:
45
g
|
Saturated Fat:
12
g
|
Polyunsaturated Fat:
9
g
|
Monounsaturated Fat:
18
g
|
Trans Fat:
0.1
g
|
Cholesterol:
789
mg
|
Sodium:
2275
mg
|
Potassium:
1294
mg
|
Fiber:
19
g
|
Sugar:
29
g
|
Vitamin A:
39900
IU
|
Vitamin C:
11
mg
|
Calcium:
905
mg
|
Iron:
20
mg