This recipe for Chicken and Maple Banana Waffles is a total winner for any meal. It's sweet, salty, savory, and just the right amount of heat, with plenty of crunch from buttermilk-brined fried chicken and fluffy banana waffles.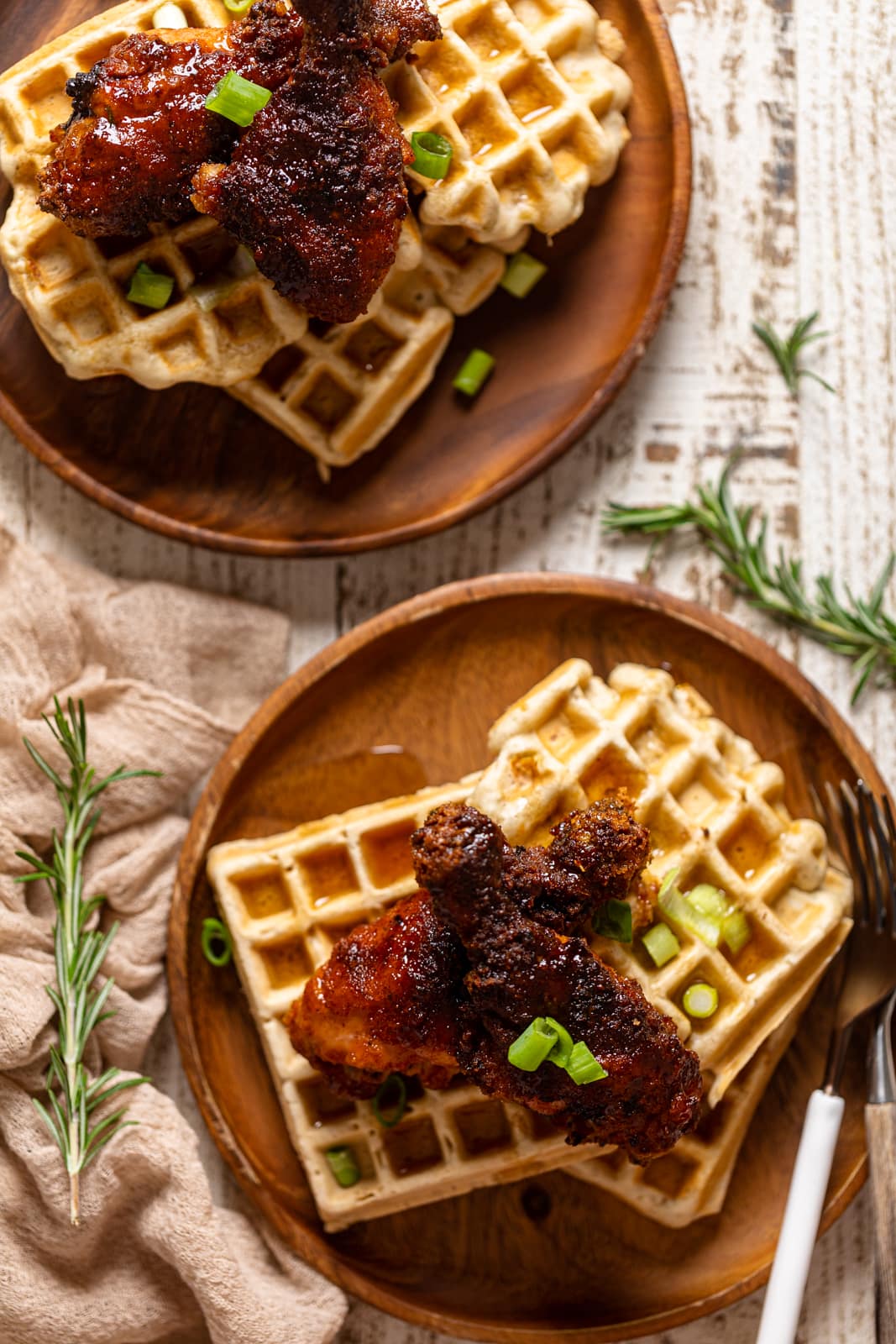 Ingredients
You'll need to prepare the crispy fried chicken first. Then the banana waffles. And finally, serve everything up with plenty of syrup on top!
Fried Chicken Brine
Here's what you need to brine the fried chicken:
Chicken. I use skin-on pieces of organic drumsticks, breasts, and wings. 
Buttermilk. You can even make your own by combining 2 cups of heavy cream with a tablespoon of lemon juice. 
Seasoning salt. I love Lawry's salt to make sure the chicken gets flavor ll the way to the bone. 
Spices. I use a combination of smoked paprika, black pepper, garlic powder, and hot sauce. 
Fried Chicken Coating
To coat the chicken after brining and before frying, you'll use:
All-purpose flour. I use Bob's Red Mill. 
Cornstarch. If you have arrowroot starch on hand, that works!
Seasonings. Add more seasoning salt, paprika, garlic powder, black pepper, Cajun seasoning, dried thyme, and cayenne.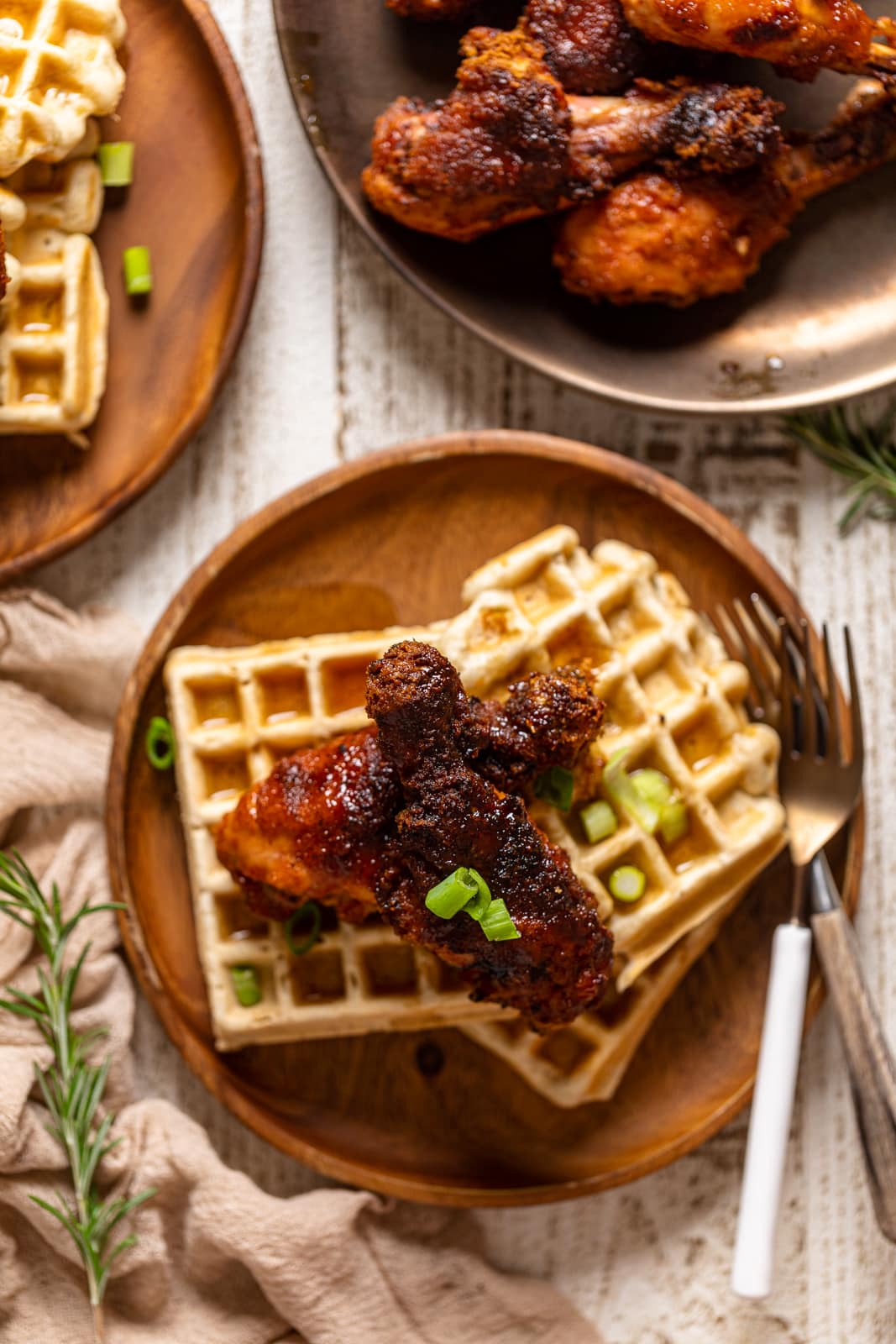 Banana Waffles For Fried Chicken
These waffles are sweetened and flavored with ripe bananas! Here's what else you need:
Dry ingredients: You'll need flour, baking powder, baking soda, and salt. 
Spices: These waffles get warm flavor from cinnamon, nutmeg, and vanilla. 
Vegan butter. If you're not dairy-free, use regular butter. 
Almond milk. Any non-dairy or dairy milk will work. You can easily make your own almond milk without soaking!
Apple cider vinegar. This acid makes dairy-free buttermilk!
Maple syrup. The pure stuff gives you the best flavor. Honey will also work.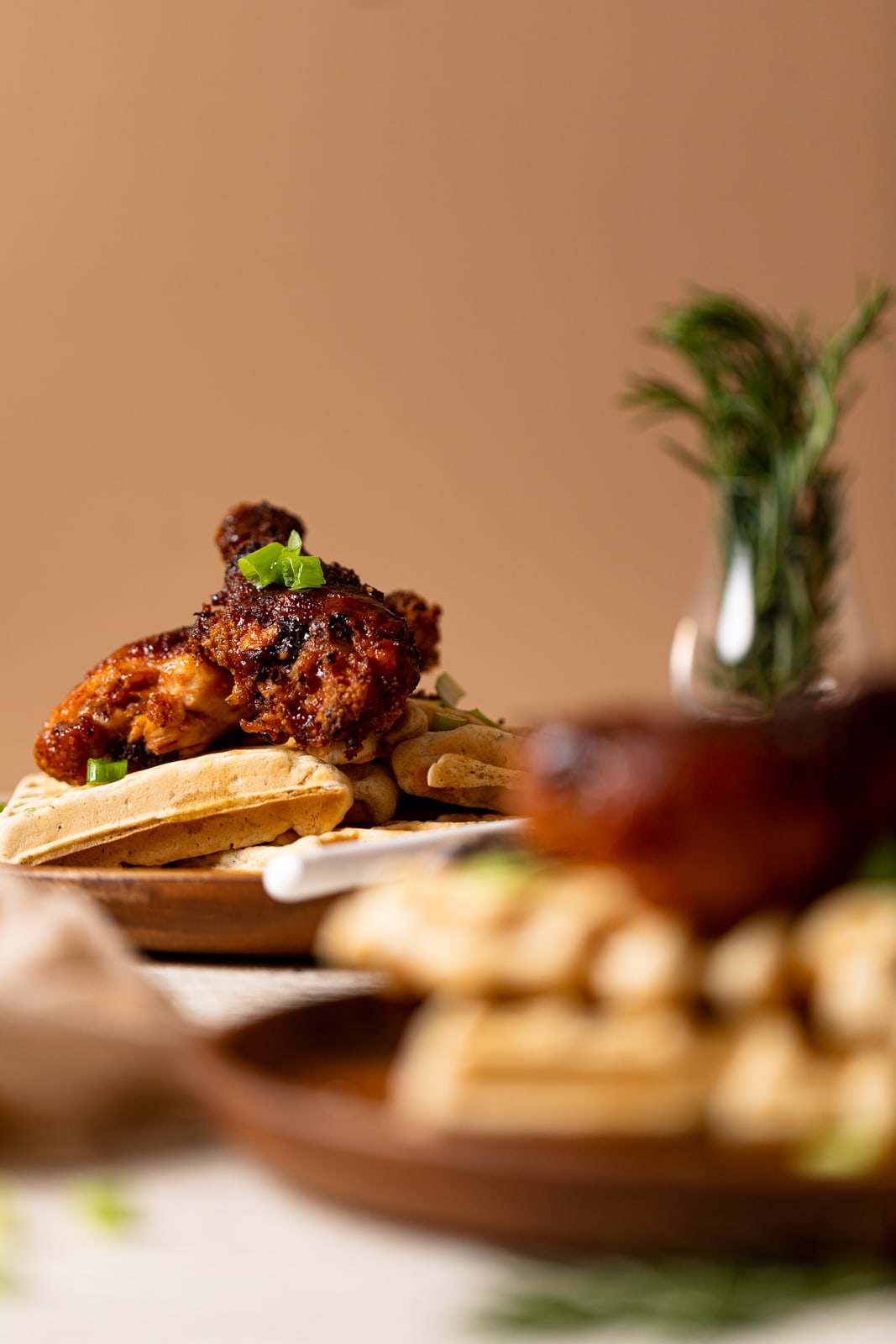 Tips for the Best Fried Chicken
These are my best tips for making classic Southern-style fried chicken:
Always brine your chicken pieces in a buttermilk mixture. For best results, leave your chicken in the buttermilk overnight. if you're short on time, even just dipping the chicken pieces in buttermilk before breading them will give you a more tender, juicy result. 
Be sure to season both the batter and the bread coating with salt, pepper, and your favorite spices. 
Use a big bowl with gloves or a ziplock bag to coat your chicken for ease and less mess.
Once coated, place the chicken on a baking sheet with a wire rack set on top. This will help remove excess moisture for maximum crispiness. 
Fry the chicken until the pieces are crisp on the outside. Then finish cooking the chicken in the oven (using a wire rack) if you don't like using a ton of oil.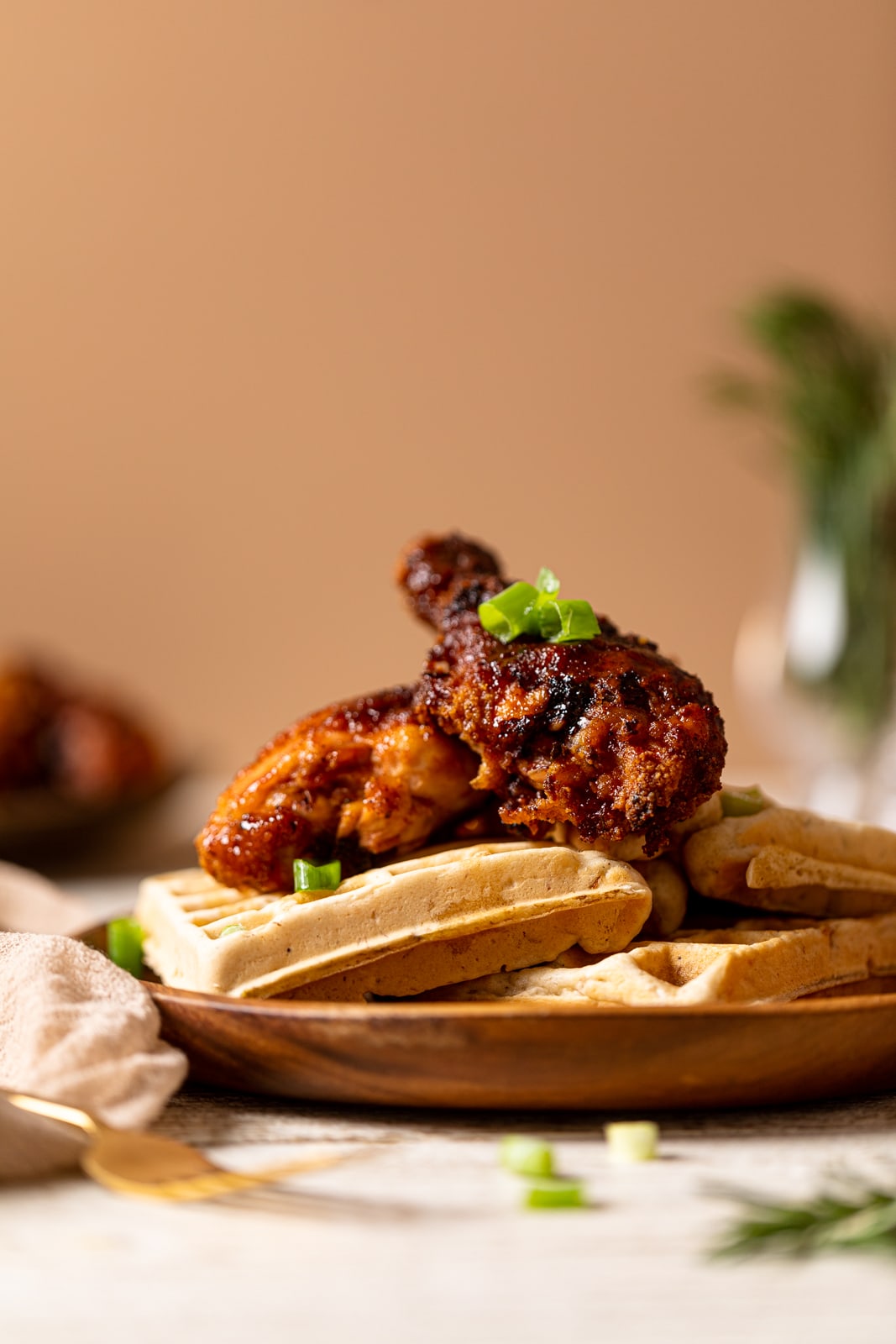 Storing Leftovers
Both waffles and fried chicken are best the day they're made. however, you can store leftover fried chicken in an airtight container in the fridge for up to three days. Re-crisp it in a hot oven to serve.
Store leftover waffles in an airtight container or zip-top bag in the fridge for up to three days. Or freeze for up to 2 months. To serve, reheat waffles in a 400°F oven for a few minutes or pop them into the toaster. 
Can I Make Gluten-Free Banana Waffles and Chicken?
Yes! simply swap out the all-purpose flour in the waffle batter and chicken with gluten-free all-purpose flour.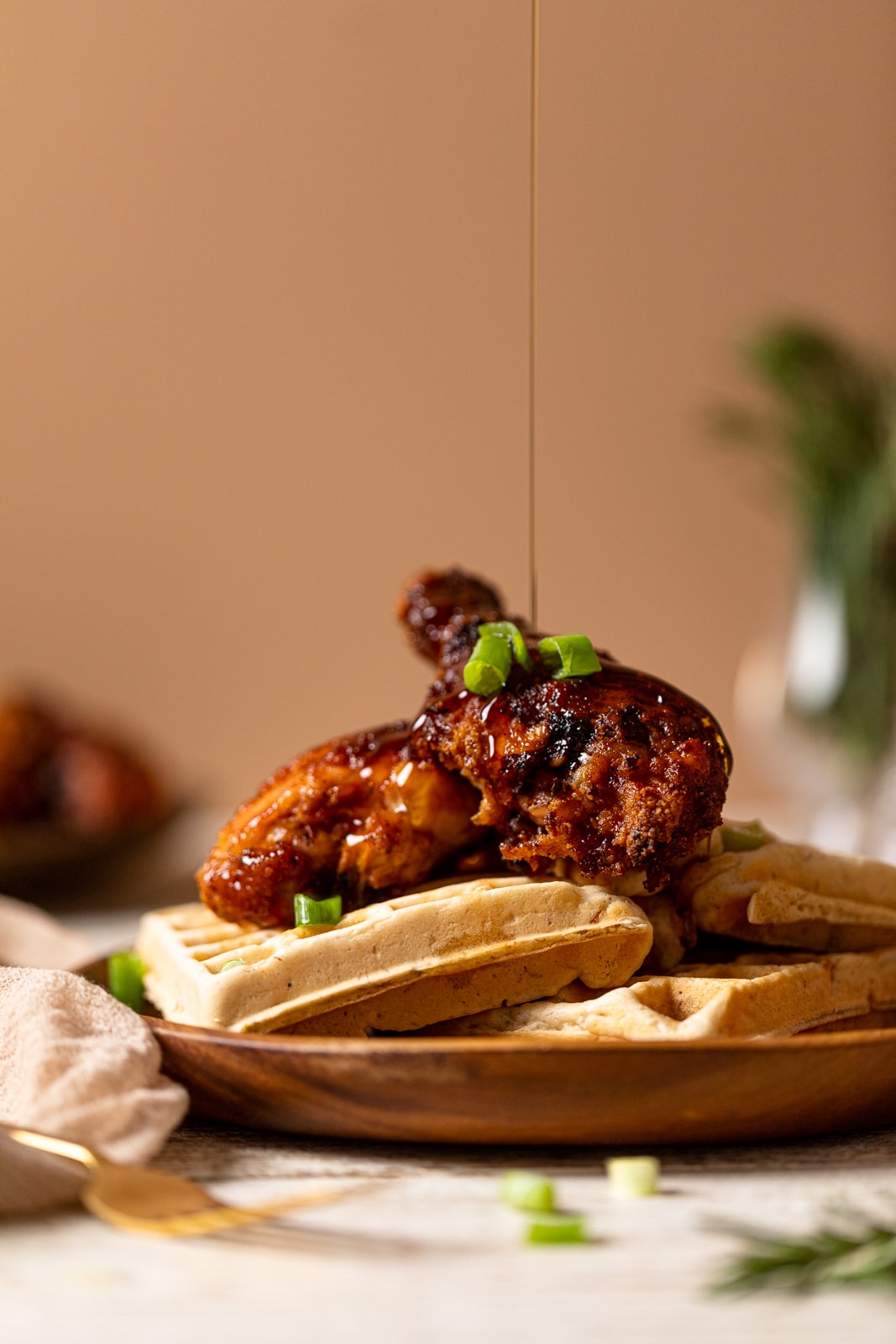 More Southern Chicken Recipes to Try
Baked Cajun Honey Dijon Chicken Tenders
MADE OUR RECIPE(S)?
If you choose to make this Chicken and Maple Banana Waffles recipe or any other recipe from us, be sure to tag us on Instagram at #Orchidsandsweettea so that we can share the love!
CHICKEN:
3-4

lbs.

organic chicken, skin on

(Drumsticks, Breasts, + Wing pieces work great!)

2

cups

buttermilk

(Heavy cream + 1 tablespoon lemon juice)

1

tablespoon

seasoning salt

(I love using Lawry's salt)

1

tablespoon

smoked paprika

1

tablespoon

black pepper

1

tablespoon

garlic powder

2

tsps

hot sauce, optional

1-2

cups

vegetable oil, for cooking

2

cups

BBQ sauce, optional (for sauce after frying)
COATING:
3

cups

organic all-purpose flour

½

cup

cornstarch

(You can use arrowroot starch as well)

1

tablespoon

seasoning salt

(I love using Lawry's salt)

1

tablespoon

smoked paprika

1

tablespoon

garlic powder

2

tsps

black pepper

1

teaspoon

cajun seasoning, optional

(See Notes!)

1

teaspoon

dried thyme

½

teaspoon

cayenne pepper
VEGAN MAPLE BANANA WAFFLES:
3

cups

organic all-purpose flour

3

very ripe bananas, mashed

2

Tbsps

baking powder

½

teaspoon

baking soda

1

tablespoon

ground cinnamon

1

teaspoon

ground nutmeg

½

teaspoon

sea salt

1

teaspoon

vanilla extract

2

Tbsps

vegan butter, melted

2 ½

cups

Almond milk

1

tablespoon

apple cider vinegar

½

cup

pure maple syrup
SEASON + MARINATE THE CHICKEN:
In a large bowl, add your freshly cleaned + rinsed chicken along with 2 cups buttermilk, seasoning salt, black pepper, smoked paprika, garlic powder, and hot sauce (if using), mixing everything together until chicken is fully coated. Add coated chicken to a securely sealed ziplock bag and place in the refrigerator for 30 minutes or so. Best if marinaded overnight. When ready to use, let chicken sit at room temperature for 15-20 minutes before cooking.

Prepare a baking sheet by lining it with parchment paper followed by a wire rack.
PREP THE COATING:
In a bowl, add together the flour, cornstrach, seasoning salt, garlic powder, smoked paprika, black pepper, cajun seasoning (if using), thyme, and cayenne pepper, mixing everything together.

Now, with each chicken piece, lift it from the batter (shaking off any excess) and then toss into coating ingredients. Then lay each chicken side by side onto the baking sheet and wire rack (about an inch apart). Repeat until all chicken has been coated. Let the chicken sit for 20-25 minutes until the coating mixture has aided in the "drying out" of chicken for better frying results.
FRY THE CHICKEN:
Prepare a large plate with paper towel. Set aside.

In a deep skillet or pot over medium-high heat, add the cooking oil (I like to use vegetable oil) until extremely hot. Once completely hot, add the each piece of chicken one by one, cooking them until the skins become golden and crisp, about 7-8 minutes each side (internally, chicken should read at about 165° using a thermometer). Drain the fried chicken unto the plate with paper towel. Repeat until all pieces of chicken are fried and drained.

NOTE: If choosing to add BBQ sauce, you would brush on BBQ sauce after chicken pieces have fried and been drained.
TO MAKE WAFFLES:
Preheat your waffle maker to desired setting–medium-high heat worked for me! 

In a measuring cup, add the milk and ACV together, stirring to combine and letting them sit for 5 minutes.

In a large bowl, whisk together the flour, baking powder, baking soda, cinnamon, nutmeg, and sea salt. Create a well in the middle.

Add the milk-ACV mixture, mashed bananas, melted butter, vanilla, and maple syrup in the well of the dry ingredients and stir together well (using a rubber spatula) until fully incorporated and batter looks smooth.

Now, let the batter sit for 2-3 minutes while it slightly thickens and rises, which means that the ingredients have activated. NOTE: the batter should be pourable but not 'runny' at all. It should slightly stick when whisk is lifted up, as a test for thickness. NOTE: DO NOT OVER-MIX!

Next, spoon batter into your waffle maker (½ cup approximately) and cook according to your waffle iron's instructions. Repeat until all waffles are made.

To serve–stack waffles (whole or cut), top with 1-2 pieces of fried chicken and drizzle with maple syrup, if desired.

Bon Appetit!
STORAGE: Any leftovers can be kept in a tightly sealed container and refrigerated for up to 3-4 days.
BBQ SAUCE: If using store-bought BBQ Sauce, I love using Stubb's Original BBQ Sauce! All Gluten-Free and no preservatives. Otherwise, you can make your own Homemade BBQ Sauce from my previous recipe----instructions in the Notes!
STORAGE (WAFFLES): Leftover waffles can be tightly sealed in a zip loc bag (once fully cooled) and either refrigerated for a few days or frozen for up to 2 months. To serve, reheat waffles in the oven on 400 degrees for a few minutes until warmed through; Leftover wings can be stored in an air-tight container and refrigerated for 3-5 days.
REGULAR WAFFLES: For standard waffles (Non-Belgian style), this recipe will make more than 6 waffles. 
GLUTEN-FREE OPTION: To ensure that this dish is completely Gluten-Free, simply substitute all-purpose flour for your favorite GF-friendly flour (i.e. GF All-purpose flour, 1-to-1 baking flour, etc.). Also, you can use arrowroot starch for a great GF-friendly option instead of regular cornstarch.
Calories:
1665
kcal
|
Carbohydrates:
223
g
|
Protein:
87
g
|
Fat:
46
g
|
Saturated Fat:
12
g
|
Polyunsaturated Fat:
11
g
|
Monounsaturated Fat:
18
g
|
Trans Fat:
1
g
|
Cholesterol:
326
mg
|
Sodium:
5349
mg
|
Potassium:
1729
mg
|
Fiber:
12
g
|
Sugar:
42
g
|
Vitamin A:
2522
IU
|
Vitamin C:
10
mg
|
Calcium:
841
mg
|
Iron:
14
mg