These Fluffy Banana Oat Pancakes [Vegan] are a healthy but sweet way to kickstart your day. They're thick, fluffy and completely vegan and egg-free. Made in just a few short steps and comes jam-packed with bold banana flavor, thickly-cut oats, natural sweeteners, and a pinch of warm spices. Gluten-free option is available.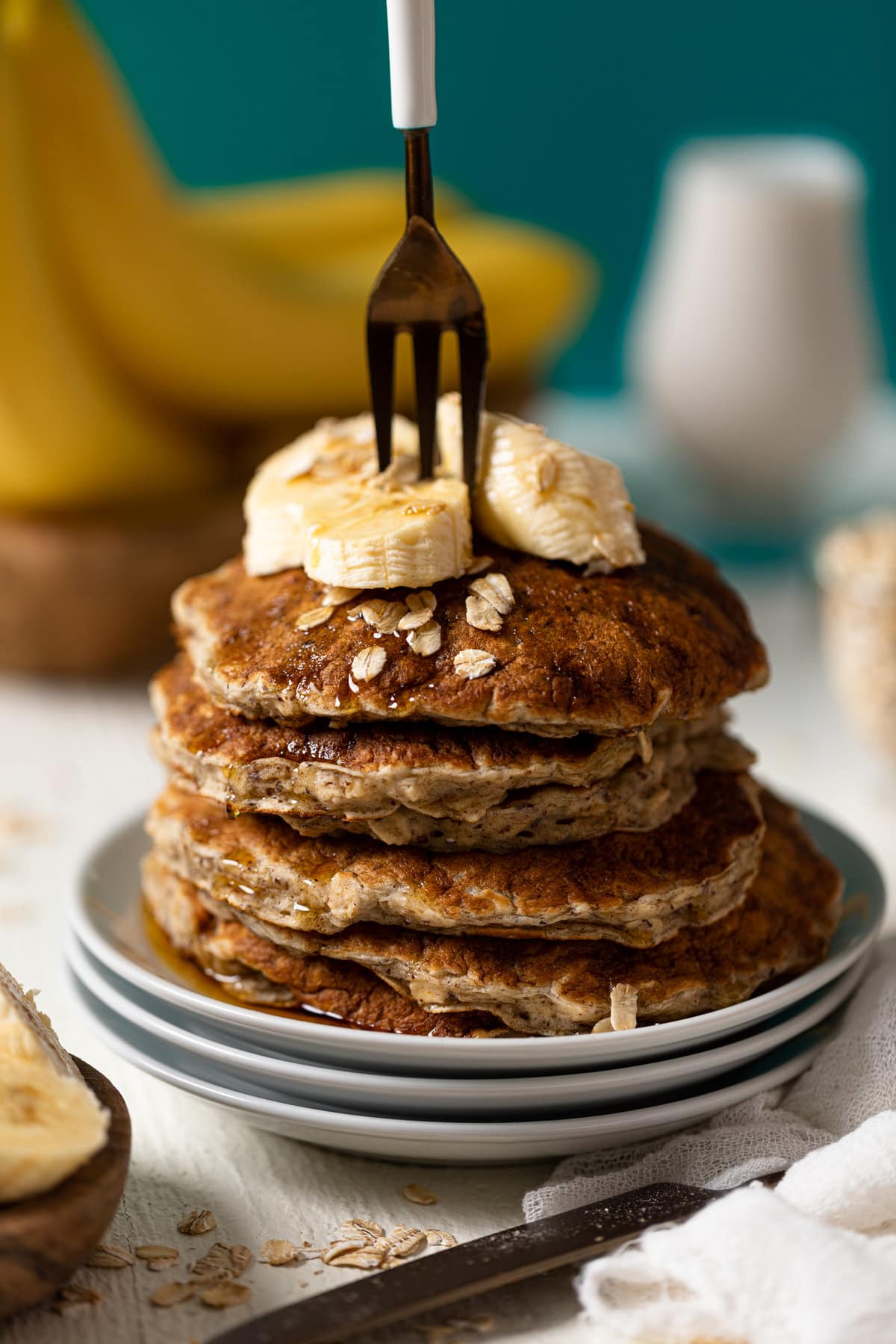 Pancakes are definitely my jam in the mornings, especially on the weekends with a full array of sides. With these Vegan Fluffy Banana Oat Pancakes, I'm by far obsessed with how delicious they are.
Now that we're heading into a new season soon (Hello, Fall!), I'm so excited to share recipes that offer complete comfort, flavor, and ease. Bananas are really one of the most versatile fruits that work so amazingly together with warm spices. I literally use any leftover bananas in breads, pancakes, waffles, cakes, cupcakes----you name it. Oh and these Gluten-Free Blueberry Chia Pancakes are the best too!
If you've been following Orchids + Sweet Tea for sometime, then you're aware of the fact that pancakes were the first thing that I learned to master in my teen years. My daily breakfast dish was truly a small stack of pancakes, eggs, + bacon. They weren't perfect pancakes, but they were thick, buttery, and fluffy!
Now, with a bit of experience, I've learned to master pancakes are so many levels and I chat a ton about the tips to making the most perfect pancakes.
How to Make Vegan Fluffy Banana Oat Pancakes
Don't be intimidated by a pancake recipe. I know that many people are afraid to experiment with pancakes because they might not be perfect. But you probably already have most, if not all, of the ingredients at home for these Vegan Banana Oat Pancakes.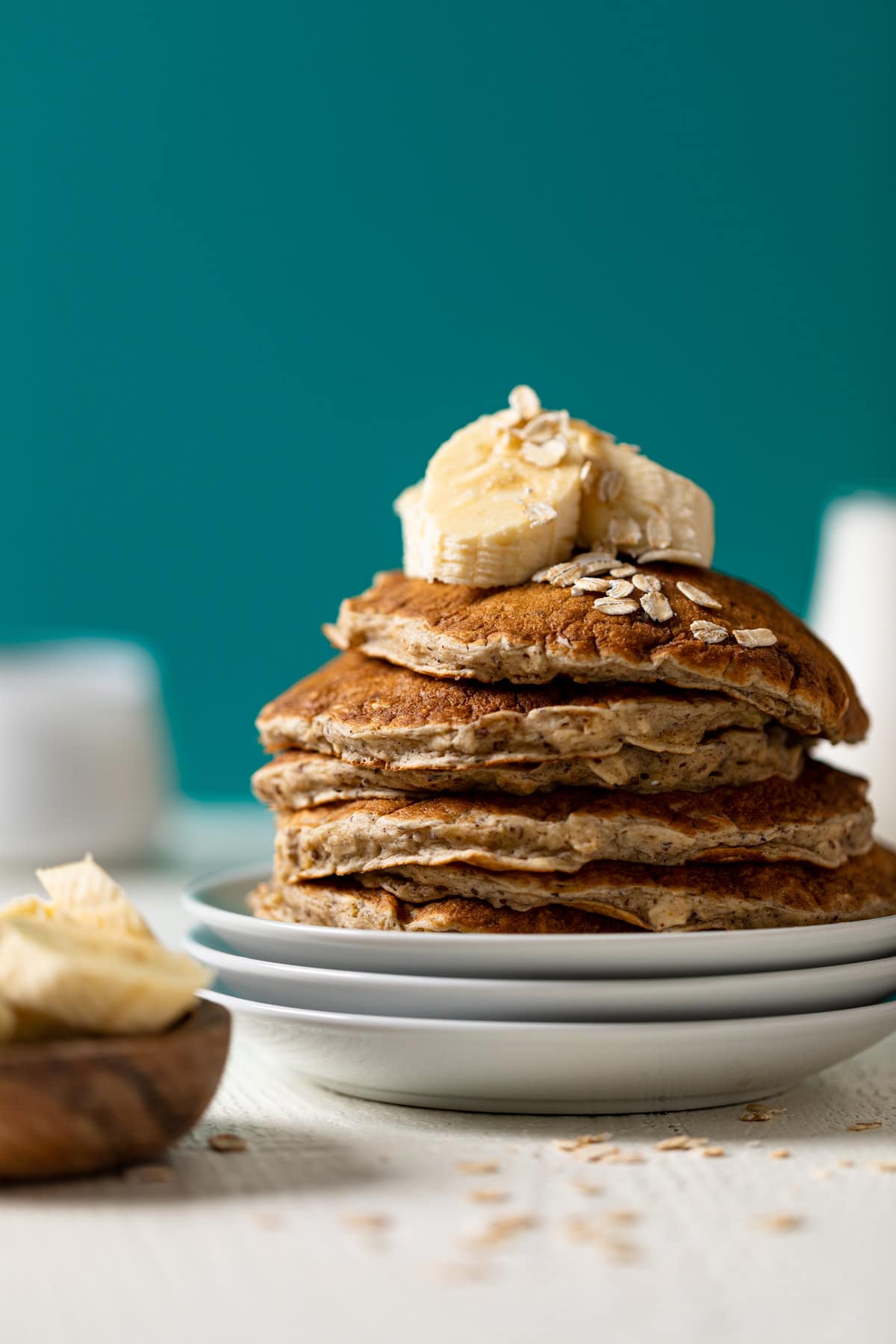 INGREDIENTS
Banana. Use very ripe bananas for the sweetest flavor.
Thick Cut Rolled Oats. Choose gluten-free if necessary.
All-purpose flour. I recommend organic flour from Bob's Red Mill.
Flax egg. One of my favorite ways to replace eggs in vegan baking recipes. Simply mix 2 tablespoons of ground flaxseed with 4 tablespoons of warm water. This makes 2 flax eggs for the pancake batter.
Maple syrup. This vegan-friendly liquid sweetener is subtly sweet and won't overpower the cinnamon and banana flavor. You can also sub maple syrup with Agave, date syrup, coconut sugar, brown sugar, or pure cane sugar. If you're not vegan, honey also works.
Apple cider vinegar. This adds tang to turn the dairy-free milk into buttermilk. It helps activate the baking powder and improve the flavor.
Baking powder. This will lighten your pancakes so they're fluffy and airy. Make sure your baking powder is fresh (not expired!) for best results.
Cinnamon, nutmeg, + allspice. These add a warm fall flavor the pancakes that compliments sweet banana nicely.
Almond milk. You can use any dairy-free milk you have on hand (try our Creamy Homemade Oat Milk or Easy Homemade Coconut Milk)
Vanilla. Another important flavor boost to these decadent banana pancakes.
Vegan butter. I like Earth Balance Vegan Buttery Sticks for the pancake batter and for cooking.
Health Benefits of Oats
Oats are another superfood that's great to start your day with. Rolled oats like the ones used in this recipe, are a healthy source of complex carbs, fiber (the soluble kind!), protein, and fat. In addition, they are loaded with important vitamins, minerals, and antioxidants.
Other great benefits of oats, according to studies:
They can help lower cholesterol.
Helps regulate blood sugar levels to avoid crashes and spikes
May help with losing weight.
Helps to relieve constipation.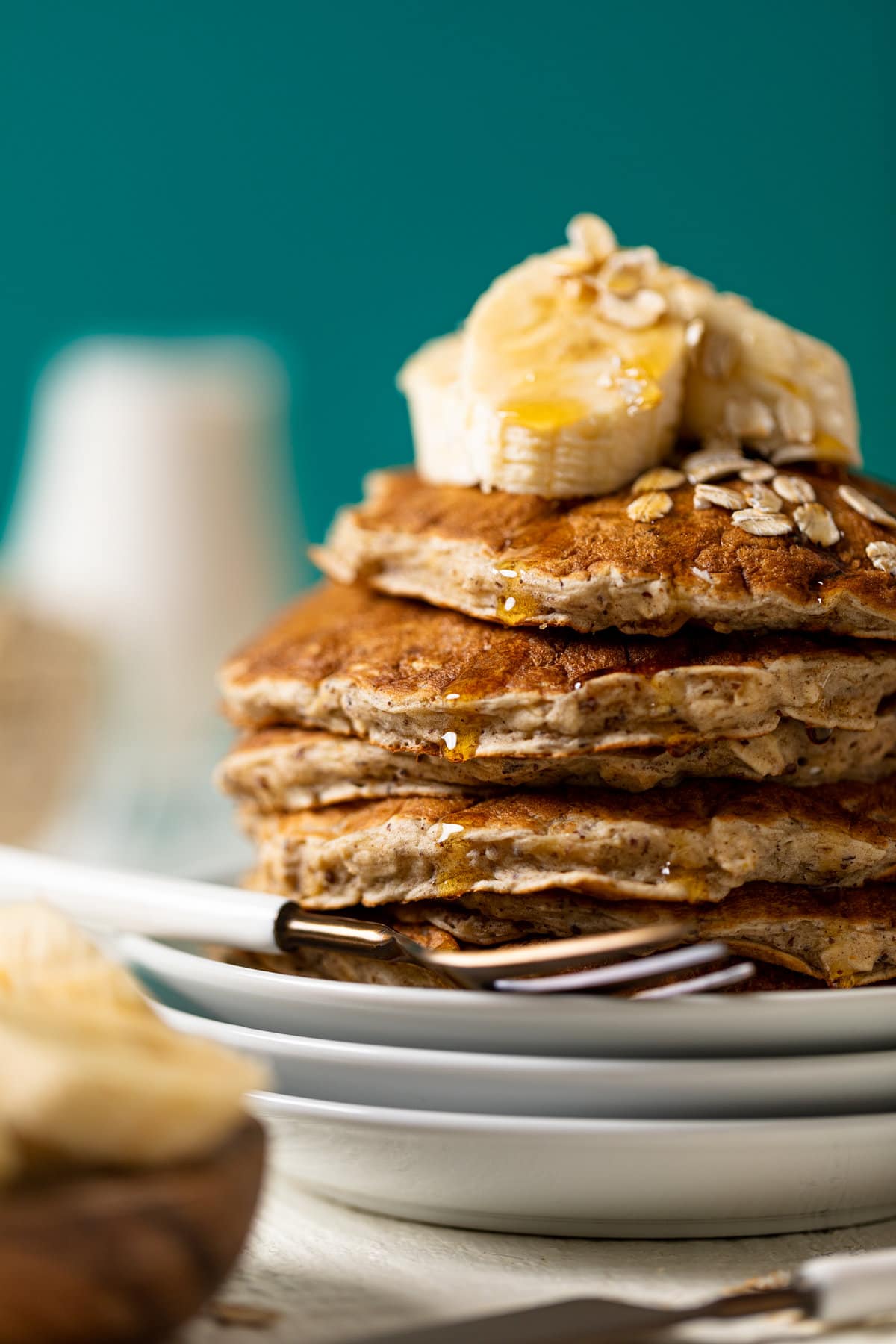 What Kind of Milk For Fluffy Banana Oat Pancakes [Vegan]
When it comes to vegan milk options, there are so many possibilities. From soy milk to nut milk to the newest trend, potato milk, you can find a delicious plant-based option you love. And what makes these milks even better? You can make them from scratch at home! All of these dairy-free milk recipes will work for this Fluffy Banana Oat Pancakes [Vegan] recipe:
If you're curious about the wide world of dairy-free milk options, start with this guide to The Best Milk Alternatives for Your Entire Household.
Health Benefits of Maple Syrup
I often use maple syrup and agave interchangeably in recipes. However, I love to use pure maple syrup as much as possible. Agave is said to have a lower glycemic index, which makes it a good option for those with diabetes. However, pure Maple syrup has tons of antioxidants because it comes directly from a plant's sap. Maple syrup is also a good source of essential nutrients, including:
Calcium
Potassium
Iron
Zinc
Manganese
All of these nutrients support a healthy skeletal and immune system!
Tip: choose darker colored Maple Syrup for even more Antioxidants.
For more info on healthy sweeteners, read my guide to The Best Healthy Sugar Alternatives + Substitutes.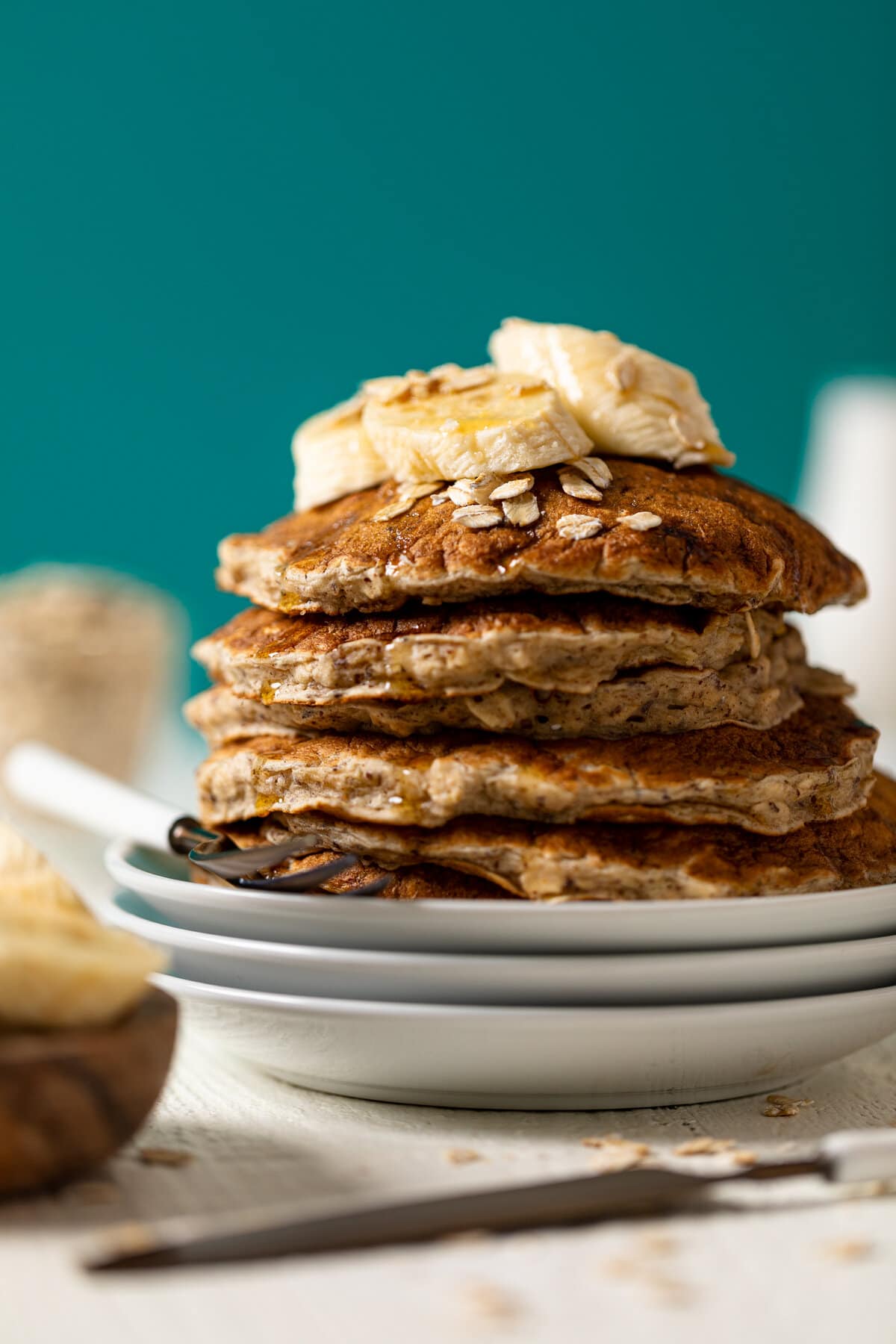 Tips + Hacks for Making the Perfect Banana Oat Pancakes Every Time
Ensuring that you make the perfect banana pancakes each time can sometimes feel like a science, but it's fairly easy with these simple tips + hacks:
TIP #1: LOW + SLOW IS BEST.
TIP #2: DOUBLE CHECK THAT LEAVENERS AREN'T EXPIRED.
TIP #3: ABSOLUTELY NO OVER-MIXING!!
TIP #4: LET THE BATTER SIT TO REST.
TIP #5: EVENNESS IS KEY.
TIP #6: YES, THE CORRECT PAN MATTERS.
TIP #7: FLIP WHEN IT'S TIME, OK?!
TIP #8: FLIP ONLY ONCE!
TIP #9: BUTTER IN BETWEEN.
Why You'll LOVE These Vegan Fluffy Banana Oat Pancakes
Flavorsome. 

The banana, oats, and warm spices in these pancakes add a subtle sweetness. A flavorful combination if you ask me. 

Easy.

 This Banana pancake recipe is simple and doesn't take much time at all, and best of all, you don't need any fancy equipment!

Perfect texture

. I don't want to toot my own horn, but these pancakes are so fluffy and moist that you'll want to whip them up every morning, not just on weekends or special occasions.

Gluten-Free Option. If you are gluten sensitive no problem. We have a gluten free version that's just as tasty and fluffy!
Can I Make Gluten-Free Banana Oat Pancakes?
Absolutely! If you'd like to make this banana oat pancakes recipe gluten-free, simply swap the flour with your favorite gluten-free all-purpose flour blend. I like Bob's Red Mill. If the batter is too runny, add more flour, ¼ cup at a time, until you have a thick and fluffy batter.
You may need to make slightly smaller pancakes so they hold their shape better.
How to Store + Freeze Leftover Pancakes
If you're thinking about storing your leftover pancakes for a longer period of time OR you'd rather meal prep them for less hassle, it's so easy to freeze them. When you freeze them, they generally last for up to 3 months when stored properly. If you
Personally, I doing method #2, however, you can always pick and choose which works best for you:
Method #1: Place your cooled pancakes in an even layer on a baking sheet lined with parchment paper and freeze for about 1 hour or so. Once solid, add them to an airtight sealed container or ziplock bags and store in the freezer.
Method #2: Once your pancakes are cooled, stack them together with parchment paper in between each pancake and place them into an airtight sealed container or ziplock and store in the freezer.
When you're ready to reheat and serve, simply do so in a microwave, toaster, oven, or over the stove top in a skillet until warmed through.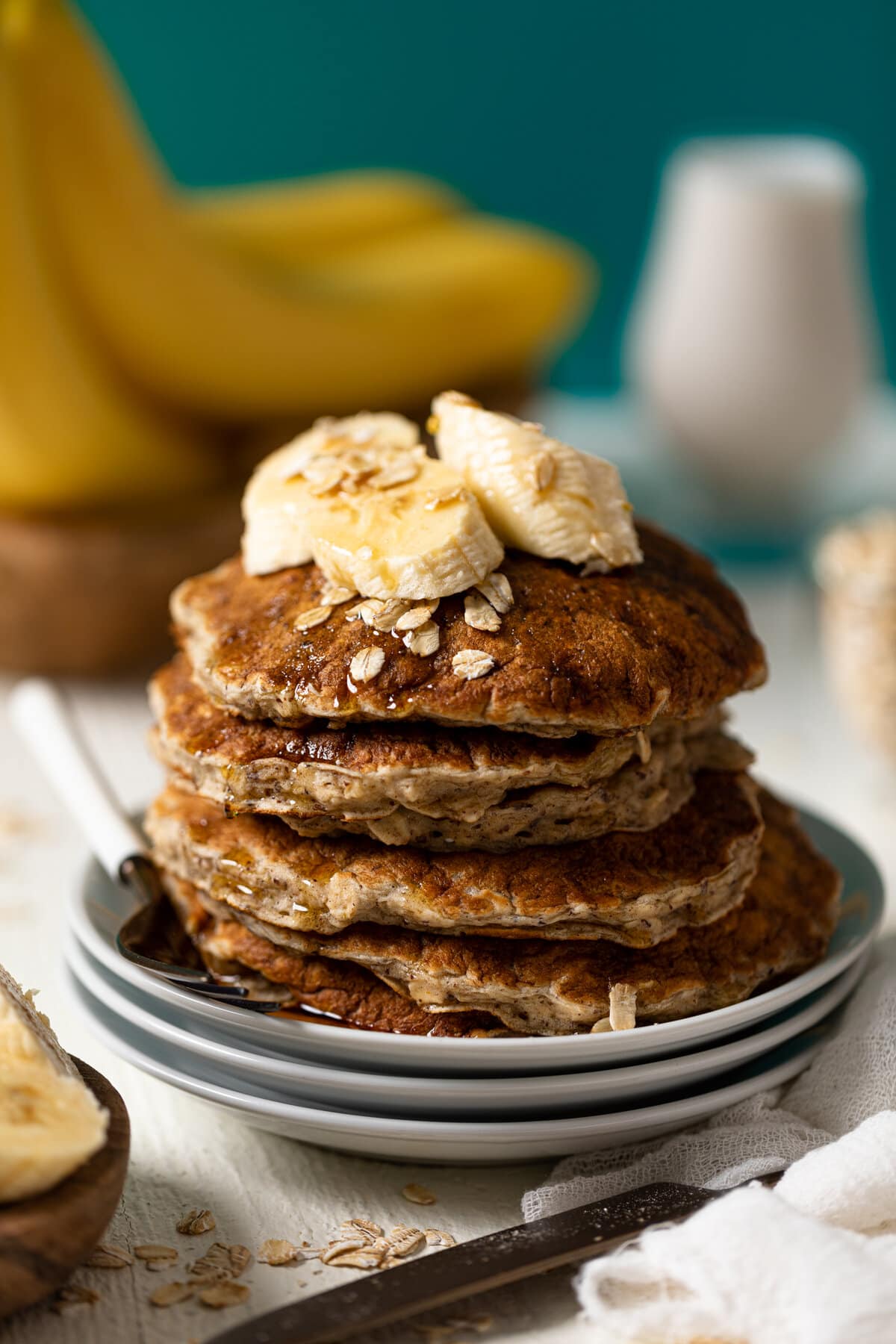 More Vegan Pancake Recipes You'll Love:
MADE OUR RECIPE(S)?
If you make Fluffy Banana Oat Pancakes [Vegan], tag @orchidsnsweettea_ on Instagram and hashtag it #orchidsandsweettea
PANCAKES:
3

VERY ripe

bananas, mashed

1

cup

organic all-purpose flour

1

cup

organic rolled oats

(You can use a GF-certified version if needed)

2

tsps

baking powder

1

teaspoon

ground cinnamon

½

teaspoon

ground nutmeg

¼

teaspoon

ground allspice

½

teaspoon

sea salt

2

flax 'eggs'

(2 Tbsps of flaxseed meal + 6 Tbsps warm water)

2

cups

Almond milk

(You can use your favorite plant-based milk)

1

tablespoon

apple cider vinegar

1

teaspoon

vanilla extract

2-3

Tbsps

pure maple syrup

2

Tbsps

vegan butter, melted
TOPPINGS:
Sliced bananas

Organic rolled oats, for garnish

Coconut whipped cream, optional

Pure maple syrup
MAKE THE FLAX 'EGGS':
Add the flaxseed meal and water together in a small bowl, stirring together until combined and letting it sit for 5 minutes until it becomes "paste-like".
TO MAKE THE BATTER:
Add the Almond milk and apple cider vinegar together in a small bowl, stirring together until combined and letting it sit for 5 minutes until it becomes "slightly thickened" and activated.

In a large bowl, add the flour, rolled oats, baking powder cinnamon, nutmeg, allspice, and salt together and whisk until combined.

Make a small well in the middle of the dry ingredients and add in the ACV-milk mixture, mashed bananas, vanilla, melted butter, and maple syrup, stirring gently (using a spatula) until just combined. DO NOT OVERMIX! NOTE: If the batter is way too thick and hard to stir, add additional milk, 1 tablespoon at a time until more smooth, yet still thick enough.
COOK THE PANCAKES:
Add 1 tablespoon of unsalted butter to a heated skillet over medium-high heat and wait until fully melted. Pour ½ cup of pancake batter unto the surface of the skillet and cook for about 1-2 minutes (until batter begins to bubble) and gently flip pancake to it's opposite side, cooking another 1-2 minutes. NOTE: Be sure to gently press down on pancake to ensure that center cooks through.

Once cooked and lightly brown on both sides, remove pancake from heat and repeat steps until all batter is used.

To serve, stack pancakes onto one another and top with sliced bananas, a few sprinkles of rolled oats and lightly drizzle with maple syrup, if desired.
FREEZE OPTION: If you'd like to make these banana oat pancakes ahead of time, you can freeze them for up to six months. Simply cool the pancakes to room temperature, then arrange them in a single layer on a baking sheet. Freeze for an hour, then place in a zip-top bag and keep in the freezer. You'll have a healthy  breakfast to grab anytime.
GLUTEN-FREE VERSION: To make these pancakes GF, I recommend using a GF Flour Blend (Bob's Red Mills has a great version!). NOTE: If the batter is too 'thin + runny', simply add additional GF flour, ¼ cup at a time.
SWEETENER: If you choose to opt out of maple syrup, you can always substitute with Agave syrup, date syrup, coconut sugar, brown sugar, or organic cane sugar.
OIL: Instead of vegan butter,  you can always use organic canola oil, coconut oil or grapeseed oil, if preferred.
Calories:
266
kcal
|
Carbohydrates:
45
g
|
Protein:
6
g
|
Fat:
8
g
|
Saturated Fat:
1
g
|
Polyunsaturated Fat:
3
g
|
Monounsaturated Fat:
3
g
|
Trans Fat:
1
g
|
Sodium:
478
mg
|
Potassium:
331
mg
|
Fiber:
5
g
|
Sugar:
12
g
|
Vitamin A:
40
IU
|
Vitamin C:
5
mg
|
Calcium:
212
mg
|
Iron:
2
mg
Fluffy Banana Oat Pancakes [Vegan].