These Tips for Making the Perfect Pancakes is the ultimate guide to mastering flapjacks, whether they are vegan or not. Just a few simple changes and tweaks will leave you enjoying a beautifully airy + fluffy pancake to kick start the morning! Plus, I include an easy recipe for Vegan pancakes that are worth trying. Gluten-free option available.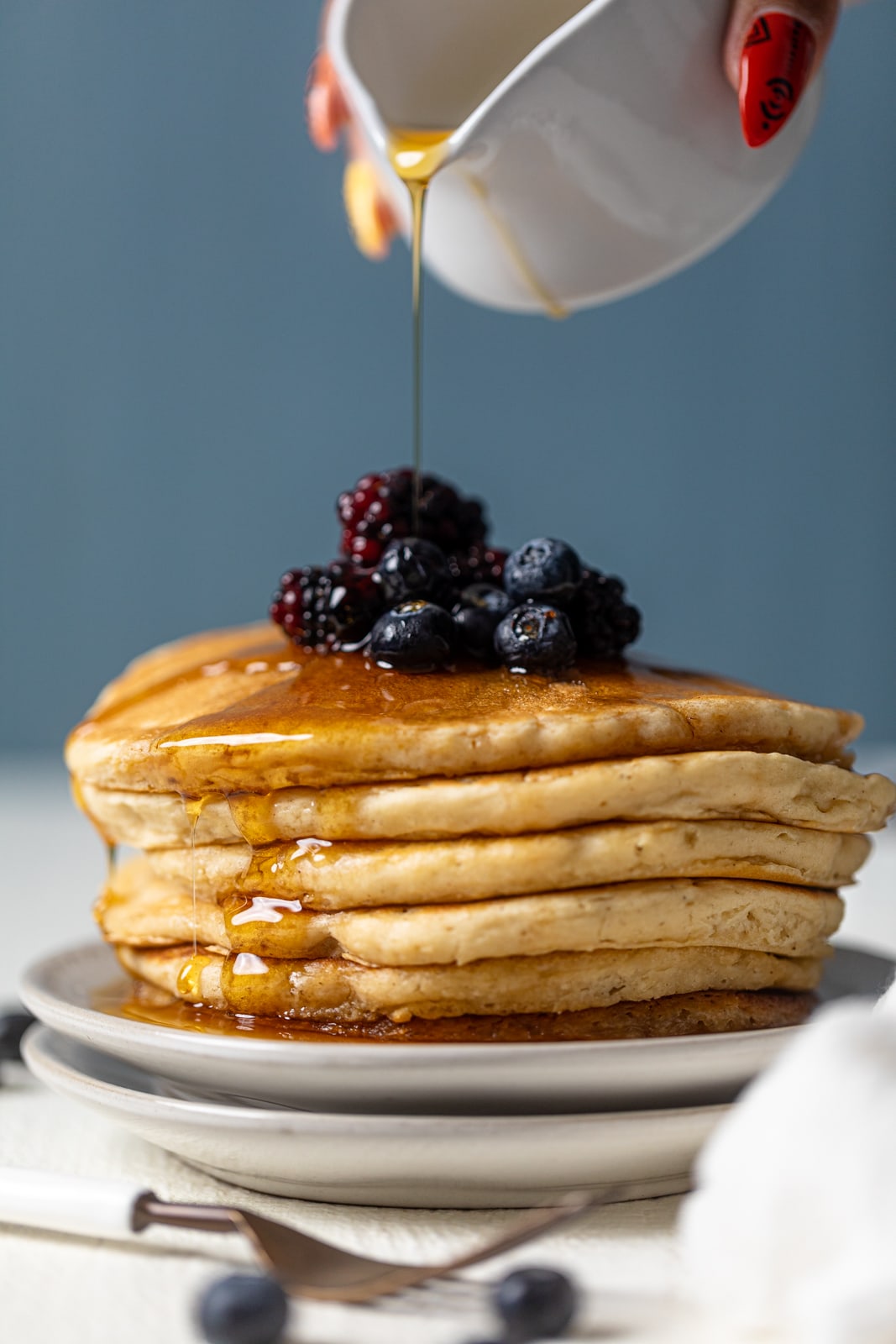 While I've made a ton of pancakes in my day, I can admit that I didn't always master them, especially in the beginning. I remember learning how to make pancakes with scrambled eggs (which became my staple for most of my adulthood) at the age of 13 and I've never looked back since. Back then, I only had the Aunt Jemima pancake mix, a bowl, and spoon, but I felt accomplished. Haha.
Fast forward to now and since becoming a mama myself---I've really learned to appreciate the power of an easy and delicious pancake. Time can sometime be of the essence and nothing comes together quicker than a pancake, especially when the whole family agrees to loving them. Definitely recommend these Gluten-Free Blueberry Chia Pancakes!
As I've mentioned, I've had my great moments at failing at making the perfect pancakes, which is why I put together this great little guide/post to help anyone else in need. These tips are tried and true and I also showcase this in my latest Reel video on Instagram, so feel free to take a look for all of my visual learners!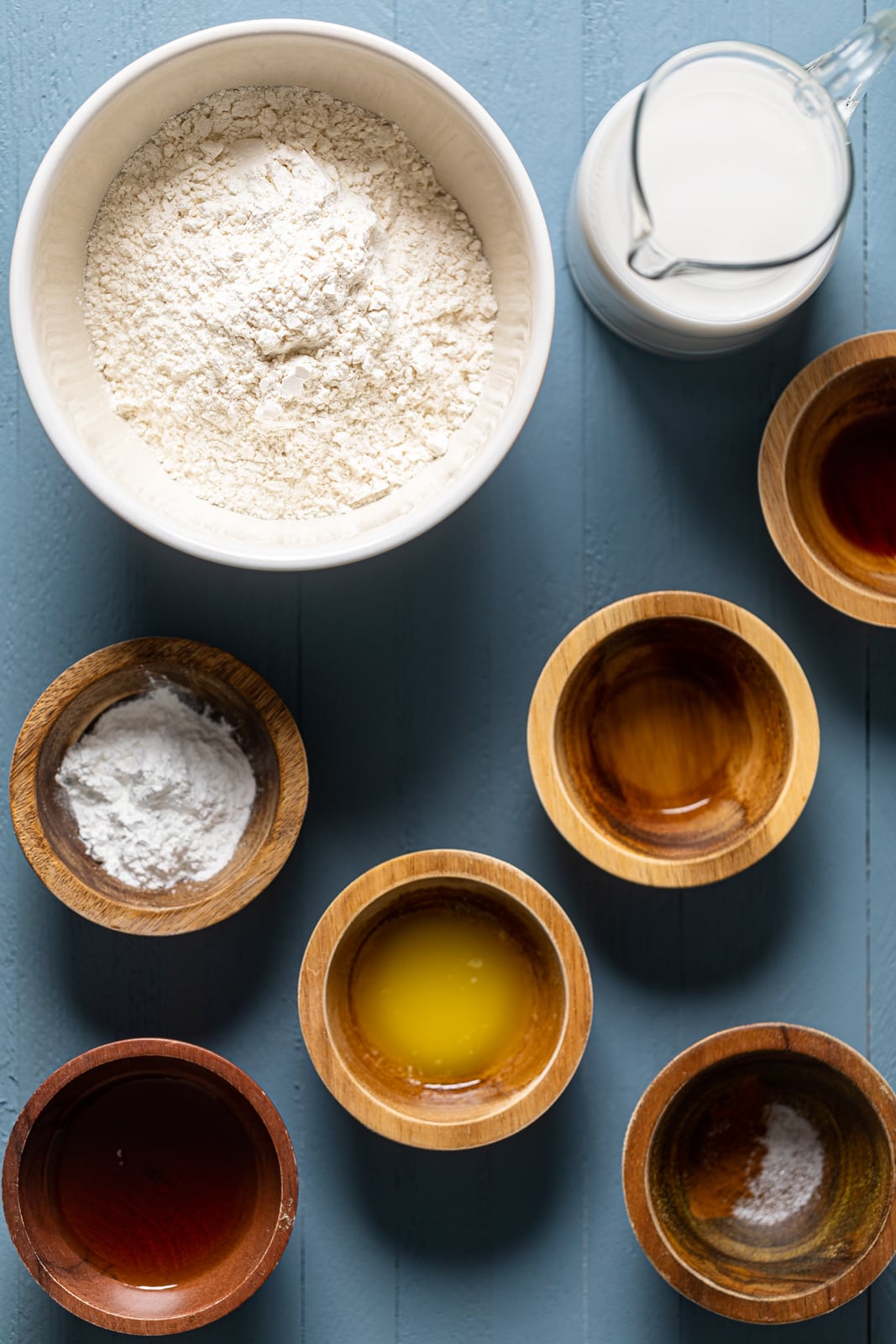 How to Make the Perfect Pancakes
The following ingredients are the bare bones of these vegan pancakes (and any other vegan ones with the exception of added ingredients for a new flavor profile) and are actually staples that you might already have:
Flour: I use organic all-purpose flour from Bob's Red Mill. It's certified vegan.
Baking Powder: This helps your pancakes become light and airy.
Vanilla extract: For the signature complex, vanilla flavor.
Maple syrup: This liquid sweetener is less refined and has a mild flavor. If you're not vegan, you can substitute with honey. Other vegan-friendly sweeter options include Agave, date syrup or coconut sugar.
Almond Milk: You can easily substitute this with soy milk, rice milk, coconut milk (my NEW Fave!), oat milk, hemp milk, or even dairy milk if you're not vegan
Vegan Butter: you can also use regular butter or coconut or avocado oil to cook the pancakes, depending on whether you need them to be vegan-friendly or not.
Apple cider vinegar: This ingredient is the acidic component which helps to activate the leaveners, etc.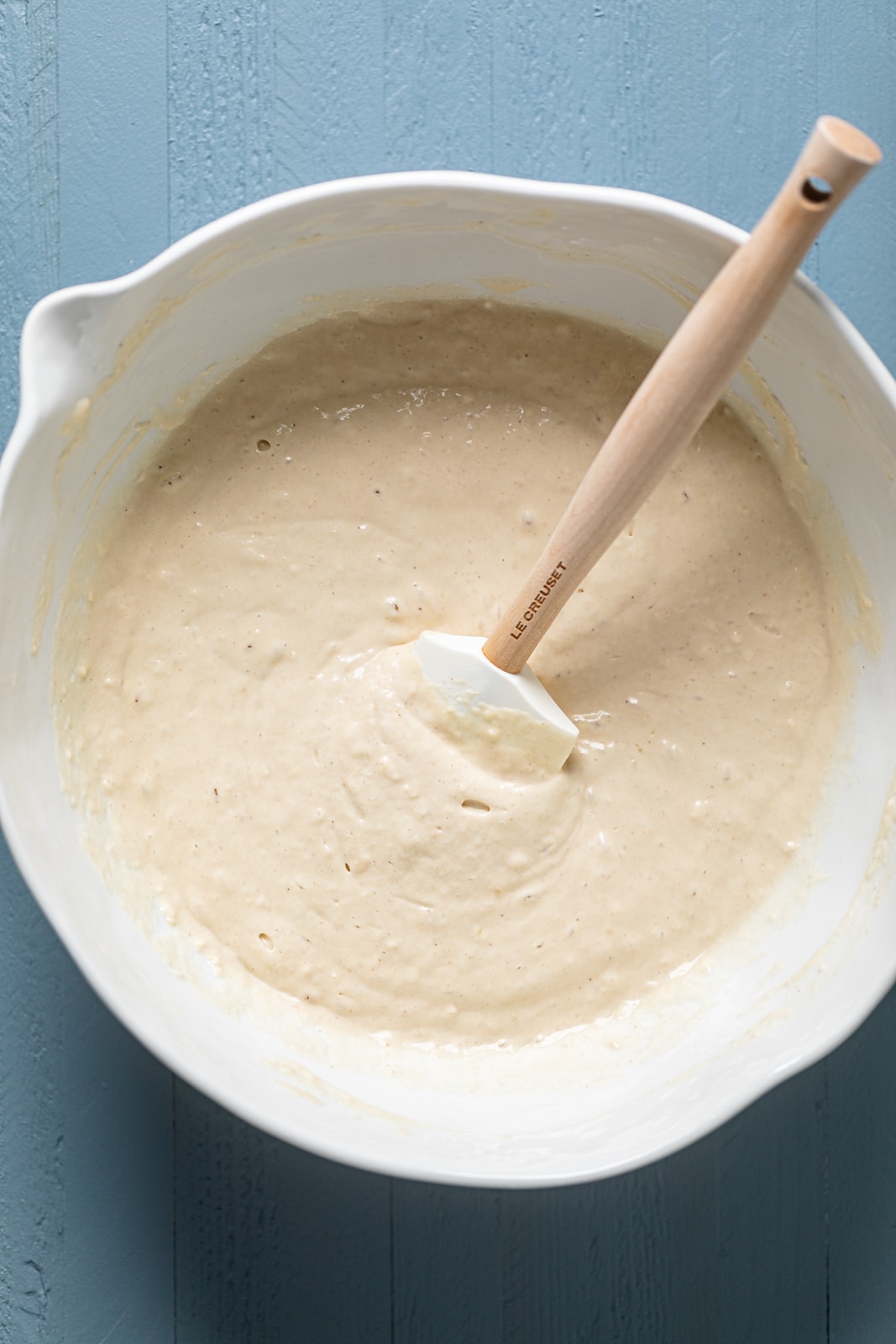 Health Benefits of Maple Syrup
I often use maple syrup and agave interchangeably in recipes. However, I love to use pure maple syrup as much as possible. Agave is said to have a lower glycemic index, which makes it a good option for those with diabetes. However, pure Maple syrup has tons of antioxidants because it comes directly from a plant's sap. Maple syrup is also a good source of essential nutrients, including:
Calcium
Potassium
Iron
Zinc
Manganese
All of these nutrients support a healthy skeletal and immune system!
Tip: choose darker colored Maple Syrup for even more Antioxidants.
For more info on healthy sweeteners, read my guide to The Best Healthy Sugar Alternatives + Substitutes.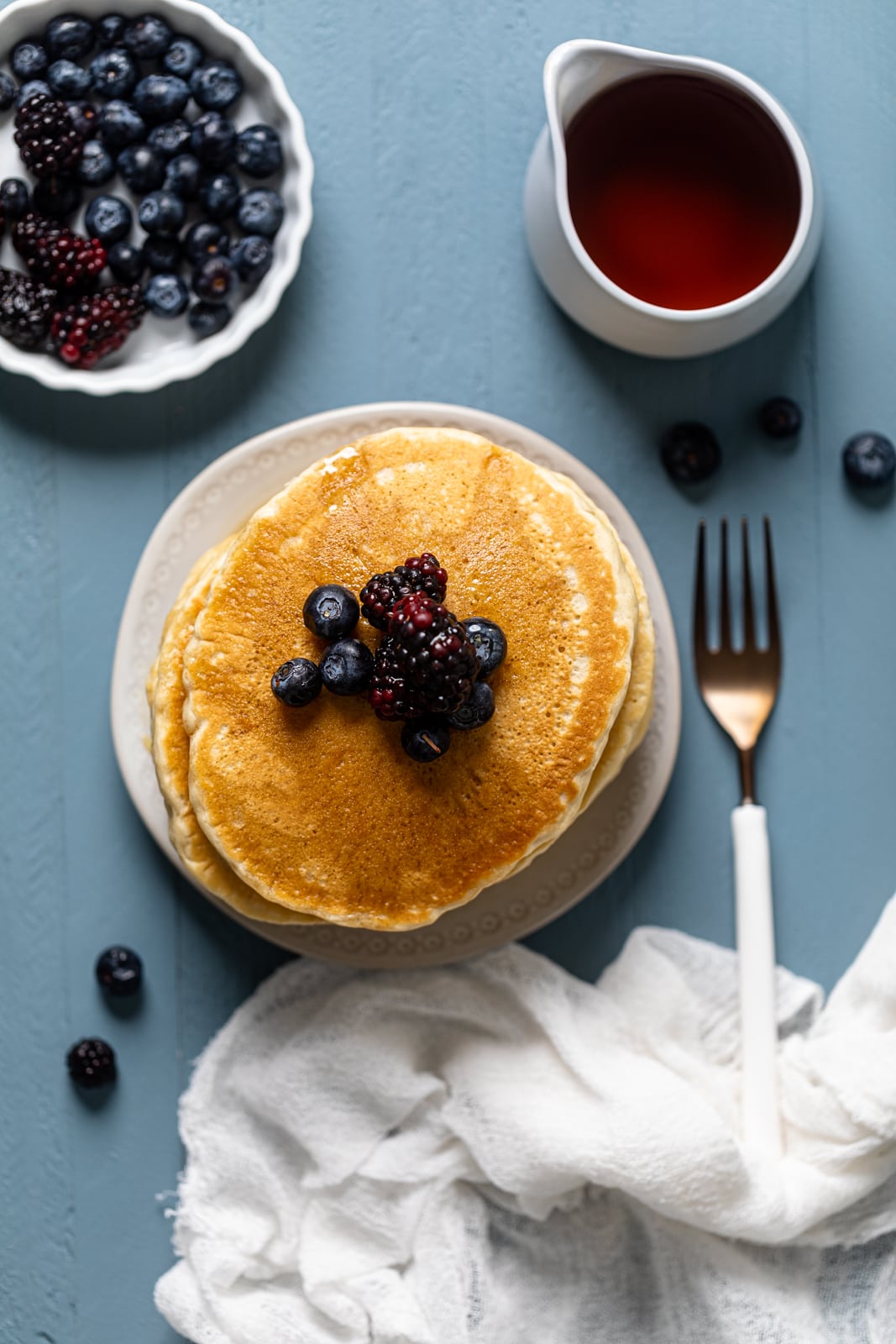 Tips + Hacks for Making the Perfect Pancakes Every Time
Ensuring that you make the perfect pancakes each time can sometimes feel like a science, but it's fairly easy with these simple tips + hacks:
Tip #1: Low + slow is best.
When it comes to cooking your pancakes, keeping the heat on low is the key. This ensures that your pancakes are fully cooked through without making the outsides dark before their time.
Tip #2: Double check that leaveners aren't expired.
Ensuring that the leaveners that are used (baking powder, baking soda, etc) aren't expired and are completely fresh. This ensures that your pancakes rise at their best and are super fluffy as intended.
Tip #3: Absolutely NO over-mixing!!
Once all ingredients are combined after stirring with a spatula (or whisk), stop mixing. Remember, you want airy, fluffy pancakes—not chewy pancakes due to the gluten formulating from over-mixing.
Tip #4: Let the batter sit to rest.
Yes, this is an important step also. I suggest letting the batter sit for 10 minutes or so to allow the ingredients to "activate" which helps to create a fluffy pancake in the end!
Tip #5: Evenness is key.
While we often try to measure with our eye for the most even pancakes, sometimes we can just miss the mark. That's why I love using a measuring cup (about ½ cup) to measure out the batter evenly and create a nice sequence for my stack.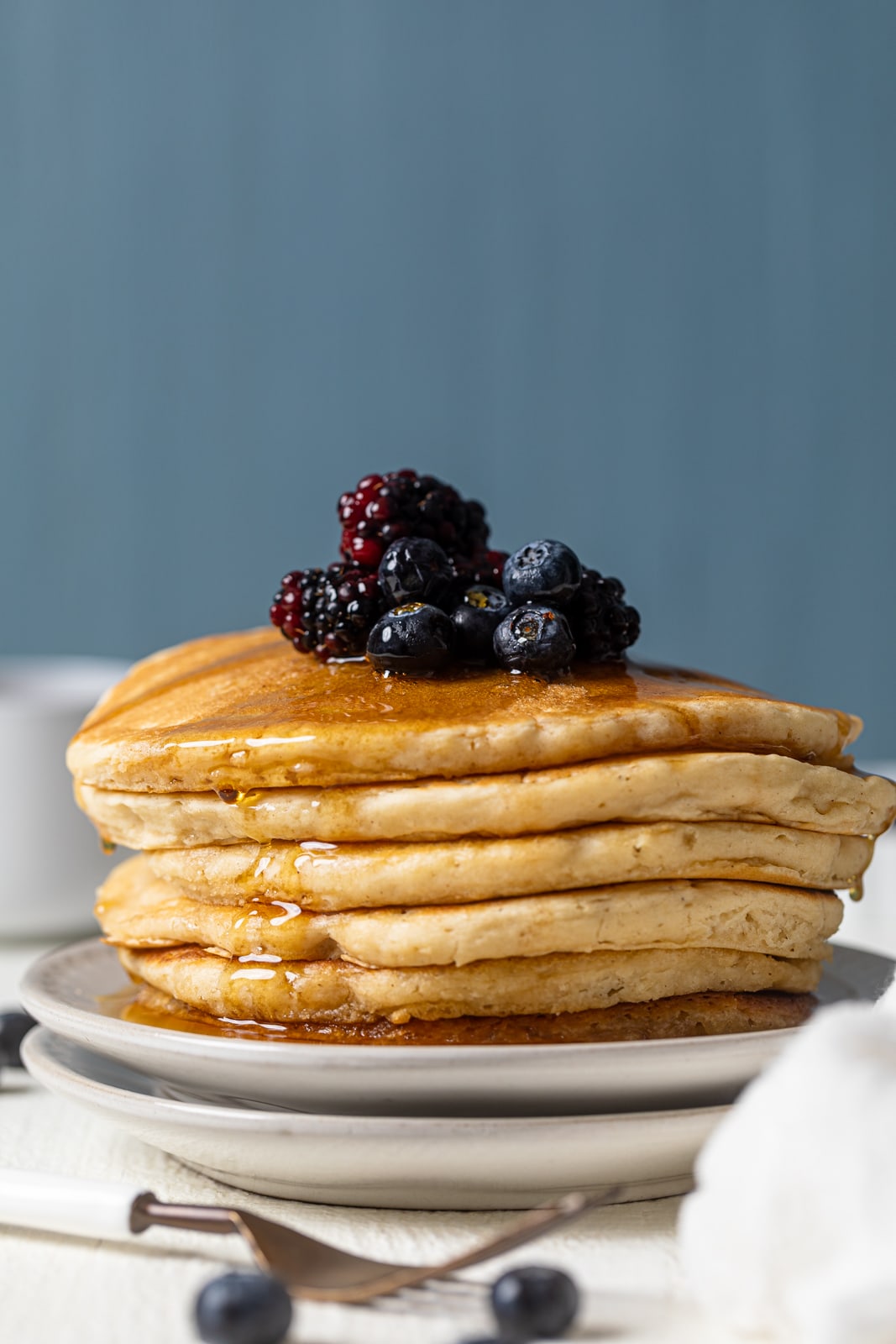 Tip #6: Yes, The correct pan matters.
I find that using a flat cast-iron griddle works the best when making pancakes. However, I've also found great results with larger cast-iron skillets (10-12 inches), which give more room for the flipping despite their slopped sides.
Tip #7: Flip when it's time, OK?!
Yes, you read that right. We can sometimes flip beforehand which creates that mess and ruined flip that we desperately try to avoid once mid air. That's why you should wait until the edges are formed AND bubbles have formed and begin "popping" + opening up into holes, which means you're in the safe zone.
Tip #8: Flip only once!
I've definitely been tempted to flip and then flip again, but once is best. This ensures that you don't ruin the edges or the entire pancake on your final flip. Besides, cooking them low + slow ensures that the centers are well done.
Tip #9: Butter in between.
I use to only butter the pan during the initial first pancake, however, I've learned that lightly greasing or buttering in between every pancake helps to keep them consistently golden and perfectly done.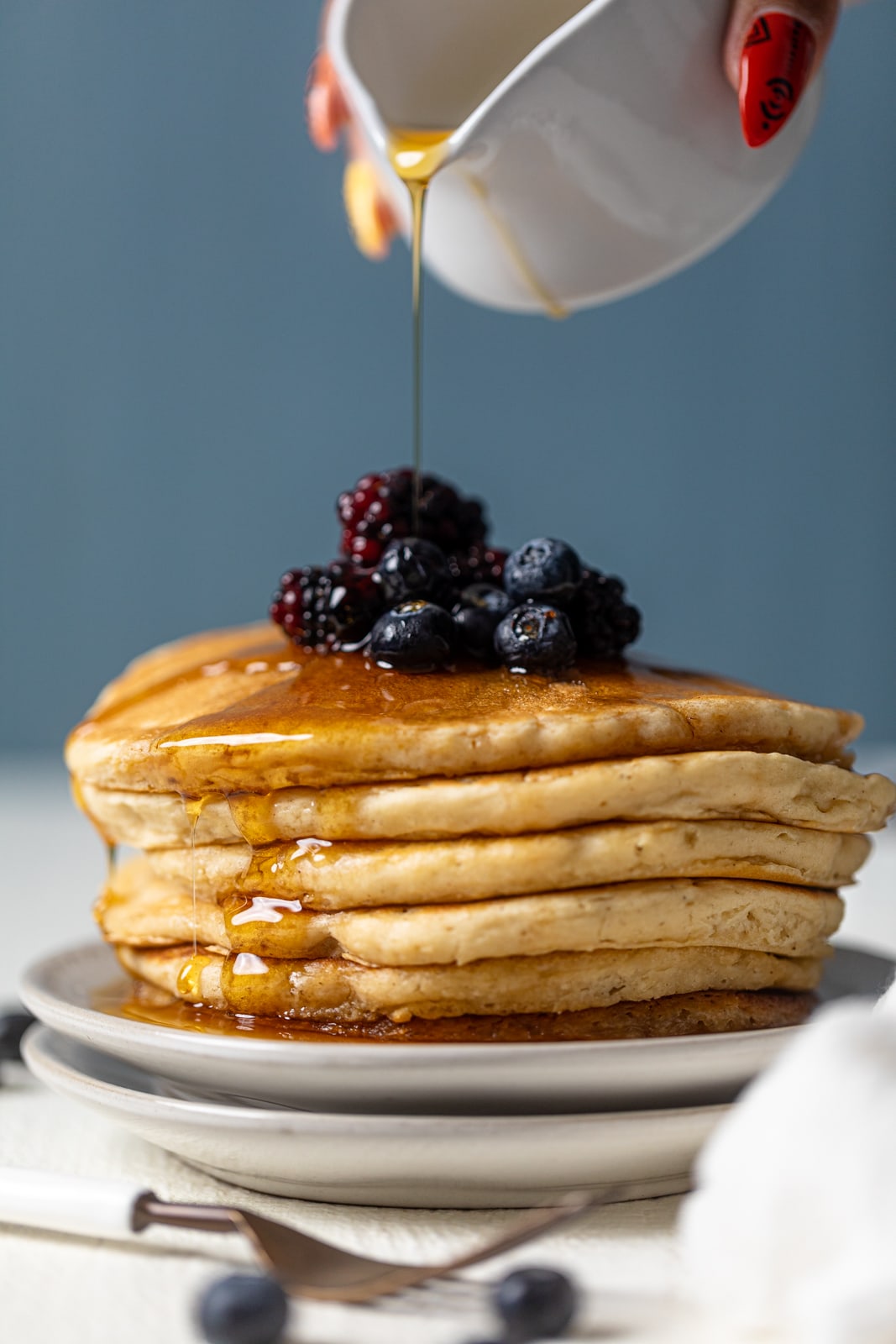 Can I Make the Perfect Gluten-Free Pancakes?
Yes! You can make this recipe gluten-free with a simple swap and by following the same tips + hacks. Simply replace the flour with a gluten-free flour blend (I recommend Bob's Red Mill brand). If the batter is thinner than you'd like, add more flour, ¼ cup at a time until it is thick but pourable.
How to Make Pancakes without Baking Powder
OK, so in case you weren't aware, baking powder is super important in pancakes because it's a leavener that's super acting and it helps to create thick, fluffy pancakes. Therefore, if you don't have any baking powder or you just rather not use it, you do have a few options. I must admit that using alternatives might not create the most fluffiest pancakes, but they do still come out pretty good.
While there are a few great alternatives to baking powder, this is certainly the best DIY option: ¼ teaspoon baking soda + ½ teaspoon cream of tartar + ¼ teaspoon cornstarch = 1 teaspoon DIY baking powder.
How to Store + Freeze Leftover Pancakes
If you're thinking about storing your leftover pancakes for a longer period of time OR you'd rather meal prep them for less hassle, it's so easy to freeze them. When you freeze them, they generally last for up to 3 months when stored properly. If you
Personally, I doing method #2, however, you can always pick and choose which works best for you:
Method #1: Place your cooled pancakes in an even layer on a baking sheet lined with parchment paper and freeze for about 1 hour or so. Once solid, add them to an airtight sealed container or ziplock bags and store in the freezer.
Method #2: Once your pancakes are cooled, stack them together with parchment paper in between each pancake and place them into an airtight sealed container or ziplock and store in the freezer.
When you're ready to reheat and serve, simply do so in a microwave, toaster, oven, or over the stove top in a skillet until warmed through.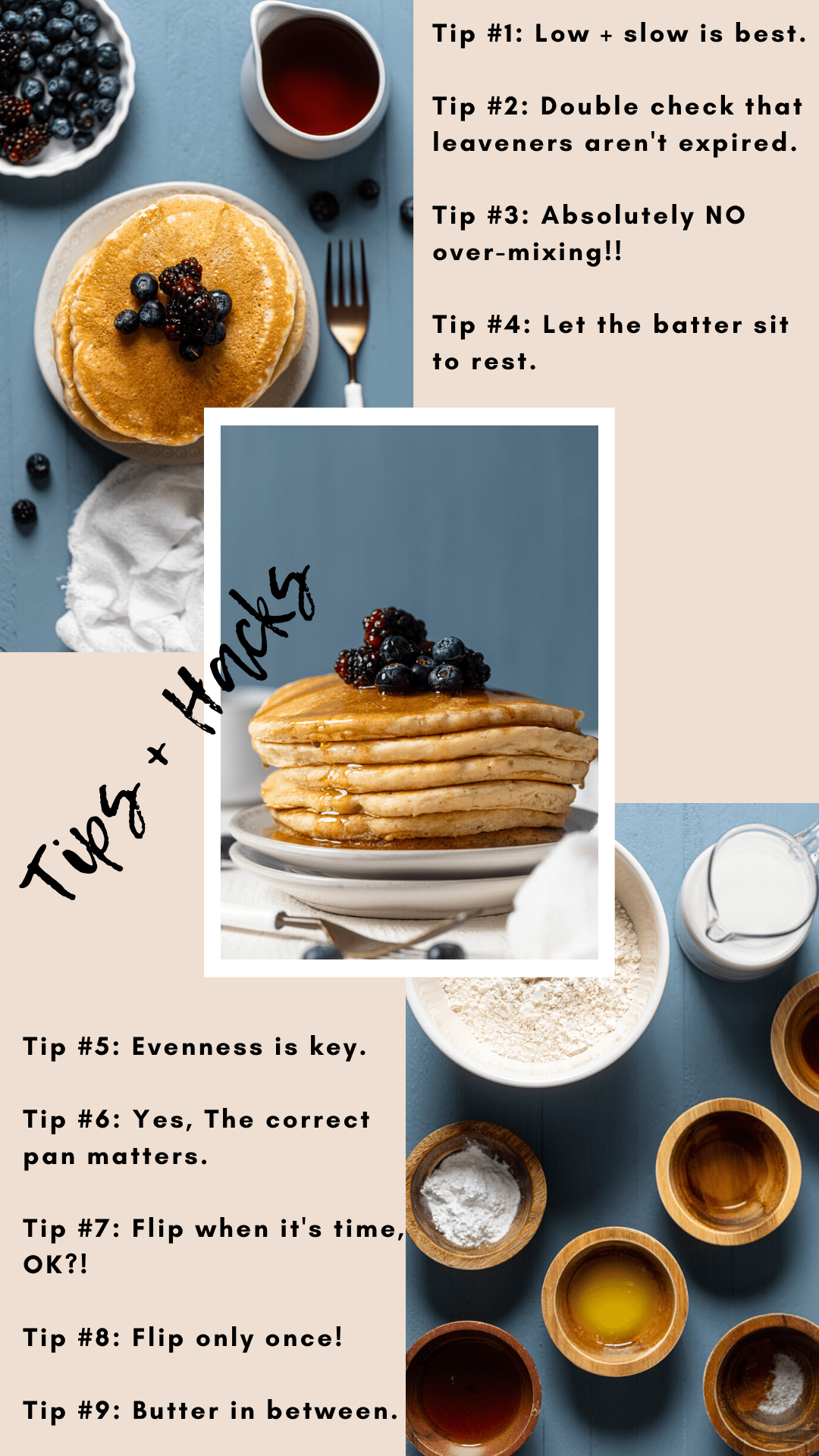 How to Make the Perfect Pancakes with Pancake Mix
Like I said, my very first mastering of pancakes came out of a pancake mix box, so I totally understand if you'd prefer this method. Besides, there are many healthier pancake mixes out today which makes for a quick, easy alternative to whipping together the ingredients yourself.
When using pancake mix, I definitely recommend a high-quality mix for starters. Secondly, here are a few tips to turning that pancake mix into fluffy pancakes:
Sift the dry ingredients of the mix.
Use melted butter or vegetable oil to add fat to the mix, especially when it says to just add water.
Again, even if it says to just add water, use milk or milk + apple cider vinegar instead.
Add 1 teaspoon of baking powder to the mix as an extra boost in fluffiness---it's helps!
Pancake Topping Ideas
You're already eating (healthier) pancakes for breakfast, so why not go all out with fun toppings—right?
I love serving any fluffy pancake with:
Coconut whipped cream (store-bought or homemade)
Chopped nuts (pecans, walnuts, almonds, etc.)
A drizzle of agave, maple syrup or honey (for non-vegans)
Fresh fruit, especially other berries
Peanut butter (softened)
Chopped chocolate
Many more.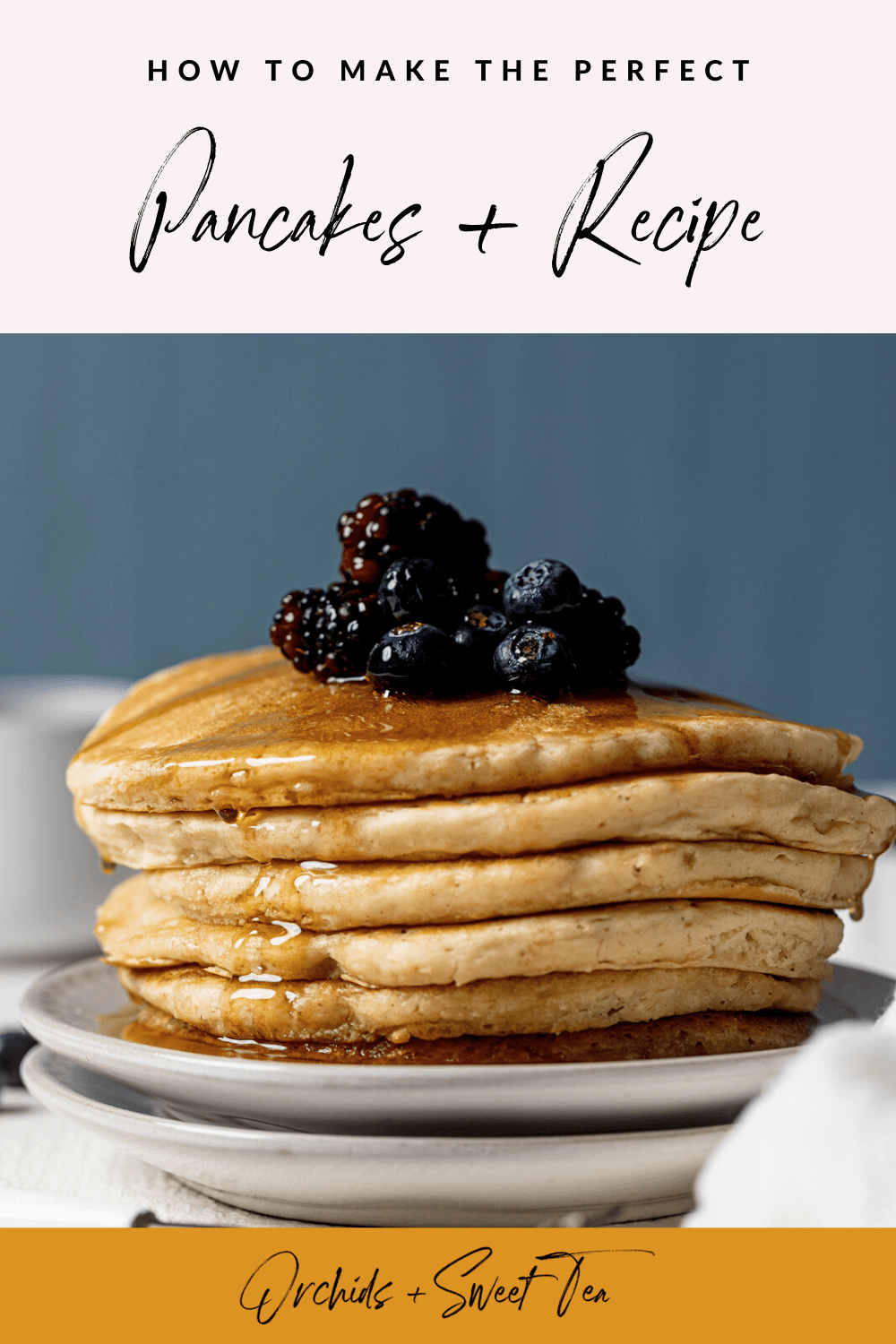 More Delicious Pancake Recipes
Now that you've fallen in love with these tips for the perfect pancakes and recipe, put them to good use with these other delicious pancake recipes:
MADE OUR RECIPE(S)?
If you choose to make these Tips for Making the Perfect Pancakes + Recipe or any other recipe from us, be sure to tag us on Instagram at #Orchidsandsweettea so that we can share the love, rate, comment below, + share!
2

cups

organic all-purpose flour

2

tsps

baking powder

½

teaspoon

sea salt

1

teaspoon

vanilla extract

2-3

Tbsps

pure maple syrup

2

Tbsps

vegan butter, melted + 1 tablespoon for cooking  

(See Notes!)

2

cups

Almond milk

(You can use your fave plant-based milk!)

1

tablespoon

apple cider vinegar
In a large bowl, add the flour, baking powder, and salt together and whisk until well combined.

Make a small well in the middle of the dry ingredients and add in the milk, apple cider vinegar, maple syrup, melted butter, and vanilla, stirring gently (using a spatula) until just combined. DO NOT OVERMIX! NOTE: If the batter is way too thick and hard to stir, add additional milk, 1 tablespoon at a time until more smooth, yet still thick enough.

Let the batter sit for 10 minutes so that it rests and "activates" the ingredients for a fluffier texture.

Add 1 tablespoon vegan butter to a heated skillet over medium-high heat and wait until fully melted. Pour ⅓ cup of pancake batter unto the surface of the skillet and cook for about 1-2 minutes (until batter begins to bubble) and gently flip pancake to it's opposite side, cooking another 1-2 minutes. NOTE: Be sure to gently press down on pancake to ensure that center cooks through.

Once cooked and lightly brown on both sides, remove pancake from heat and repeat steps until all batter is used.

To serve, stack pancakes onto one another and top with fresh berries and lightly drizzle with maple syrup, if desired.

Bon Appetit!
GLUTEN-FREE VERSION: To make these pancakes GF, I recommend using a GF Flour Blend (Bob's Red Mills has a great version!). NOTE: If the batter is too 'thin + runny', simply add additional GF flour, ¼ cup at a time.
SWEETENER: If you choose to opt out of pure maple syrup, you can always substitute with Agave, date syrup, coconut sugar, brown sugar, or organic cane sugar.
OIL: Instead of melted vegan butter,  you can use vegetable oil or coconut oil, if preferred.
WHAT PLANT-BASED MILKS ARE GOOD FOR THIS RECIPE? My go-to plant-based brand for Almond milk when using store-bought is Califia Farms. However, you can always use your fave or one of the following: Almond, coconut milk, oat milk (froths/foams VERY WELL), cashew milk, potato milk, flax milk, etc.
Calories:
218
kcal
|
Carbohydrates:
37
g
|
Protein:
5
g
|
Fat:
5
g
|
Saturated Fat:
1
g
|
Polyunsaturated Fat:
2
g
|
Monounsaturated Fat:
2
g
|
Trans Fat:
1
g
|
Sodium:
476
mg
|
Potassium:
64
mg
|
Fiber:
1
g
|
Sugar:
4
g
|
Vitamin A:
1
IU
|
Calcium:
192
mg
|
Iron:
2
mg
Tips for Making the Perfect Pancakes + Recipe.