Get ready to add a burst of color and excitement to your mornings with these delightful Vegan Funfetti Pancakes! These fluffy, plant-based pancakes are speckled with colorful sprinkles, guaranteed to bring a smile to your face and make breakfast the most fun meal of the day! They're quick and easy to make and SO fluffy the entire family will love them. Gluten-free option.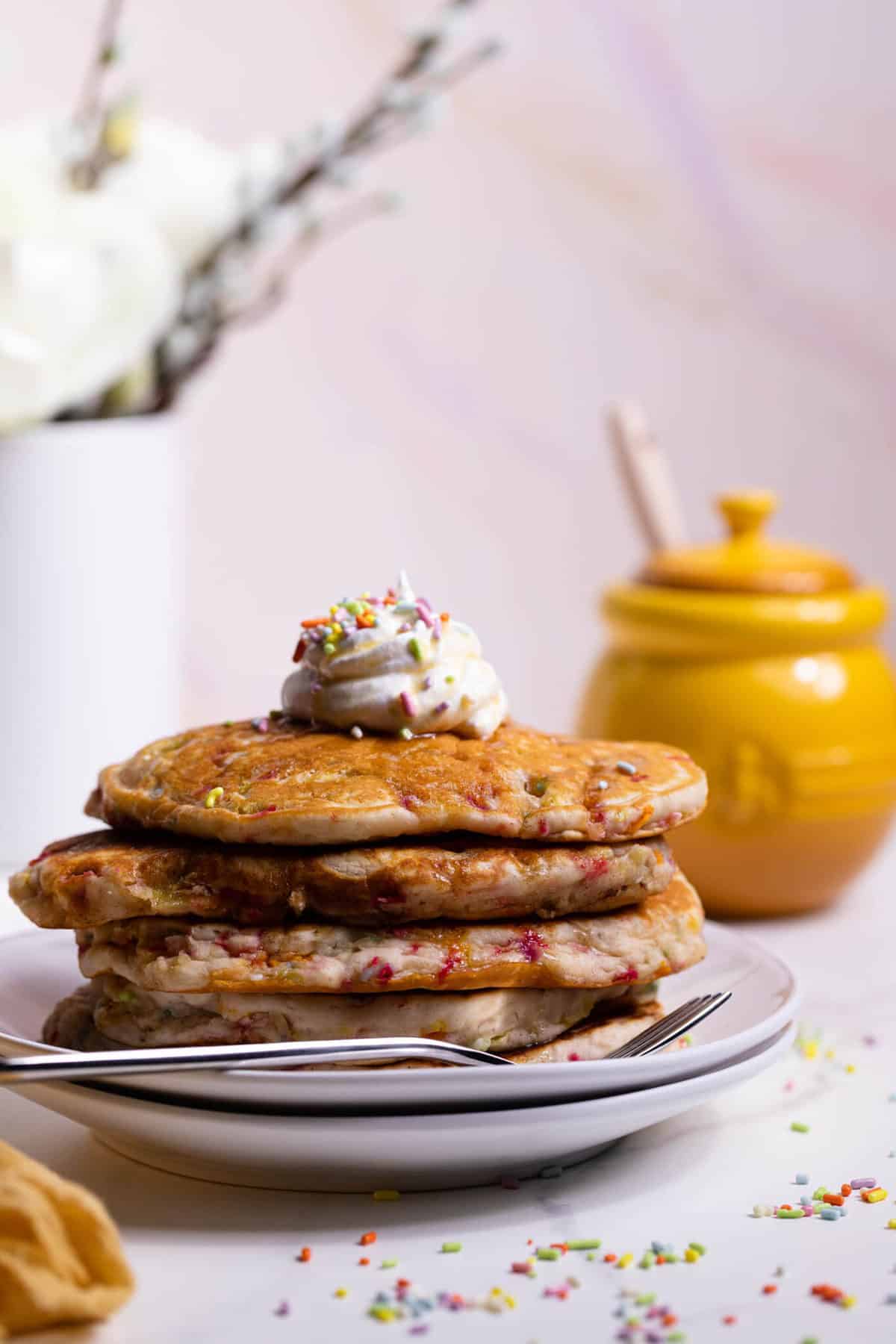 Why Vegan Funfetti Pancakes
These pancakes are the best start to any day. Not only are they colorful, fluffy, airy, and delicious. But they're also healthy! Made without any animal products, these pancakes are totally plant-based and just as delicious as the classic!
Starting your day with pancakes always feels like a special occasion. If you've followed Orchids + Sweet Tea for a while, you will know how I LOVE a good ol' pancake recipe, and I also love getting creative with flavors. Here are a few of my favorites Gluten-Free Blueberry Chia Pancakes, One-Bowl Fluffy Vegan Oreo Pancakes, and for my banana bread lovers, this Easy Healthy Banana Bread Pancakes is for you!
These Vegan Funfetti Pancakes are the real deal, ya'll. If you're a lover of pancakes + sprinkles, then these are PERFECT! They're like little pillows of joy on your plate. They are such a fun, 'bright' way to make breakfast and truly so easy + quick to make.
Jump to: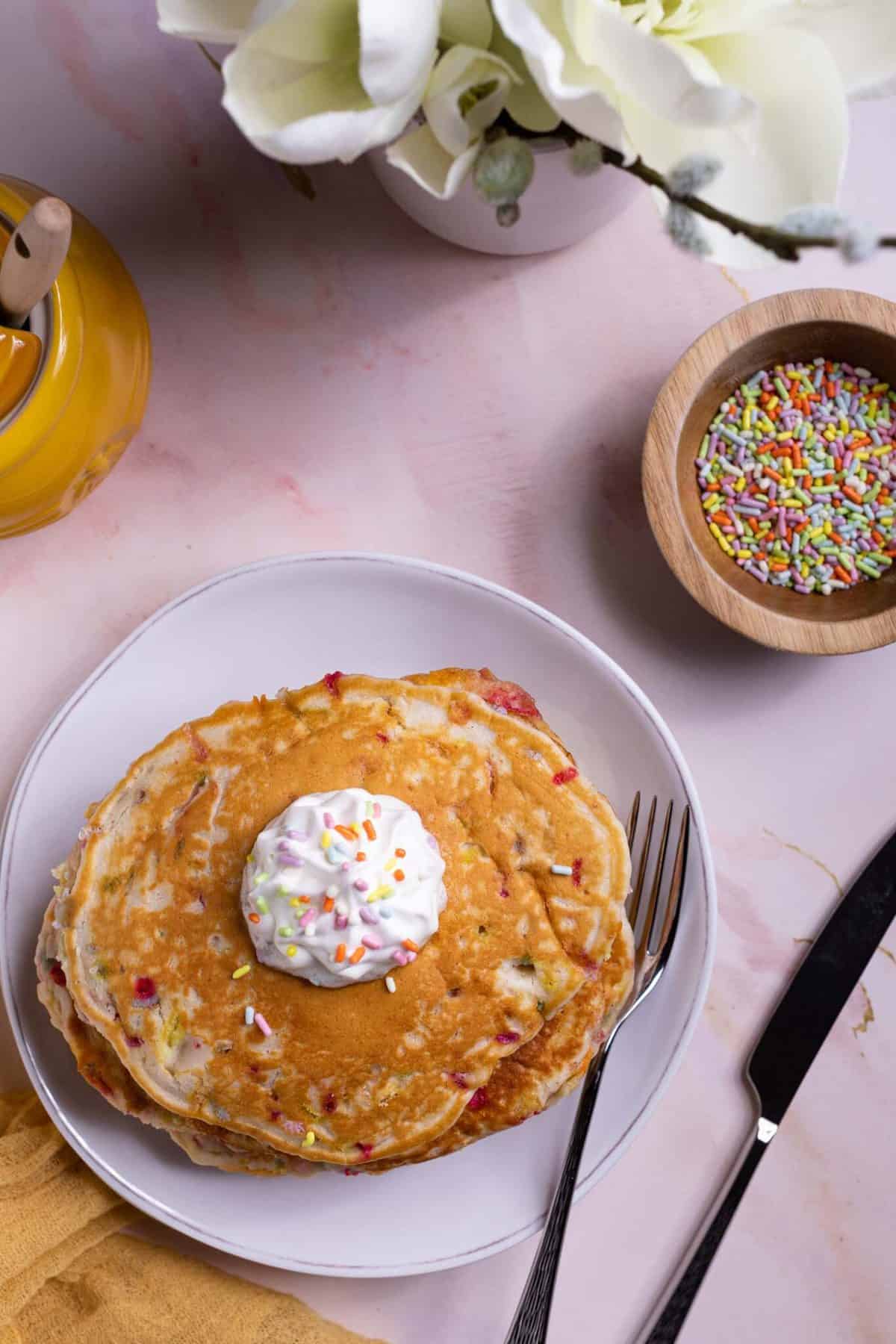 How to Make Vegan Funfetti Pancakes
I know you're excited to start making these easy one-bowl pancakes. Here's what you need to know to perfect this vegan pancake recipe.
Ingredients
If you're looking for more ingredient substitutions, be sure to check out our Ingredient Hacks page:
Flour: I use organic all-purpose flour from Bob's Red Mill. It's certified vegan.
Baking Powder: This helps your Funetti pancakes become light and airy.
Vanilla: For the signature nutty, comforting Funfetti flavor.
Agave: This liquid sweetener is less refined and has a mild flavor. If you're not vegan, you can substitute with honey. Other vegan-friendly sweeter options include maple syrup, date syrup or coconut sugar.
Almond Milk: You can easily substitute this with soy milk, rice milk, coconut milk (my NEW Fave!), oat milk, hemp milk, or even dairy milk if you're not vegan.
Apple Cider Vinegar: This adds a bit of tang and acidity to turn your almond milk into vegan buttermilk. Baking powder needs some acid to activate.
Vegan Butter: you can also use regular butter or coconut or avocado oil to cook the pancakes.
Vegan Rainbow Sprinkles: These are a non-negotabile!
Looking For Natural Sugar Alternatives?
The Best Healthy Sugar Alternatives + Substitutes list is all about finding better ways to enjoy your favorite sweets without compromising your healthy lifestyle. For those who follow a vegetarian and/or vegan lifestyle, this lists offers a few great ideas to incorporate healthy sweeteners into your diet.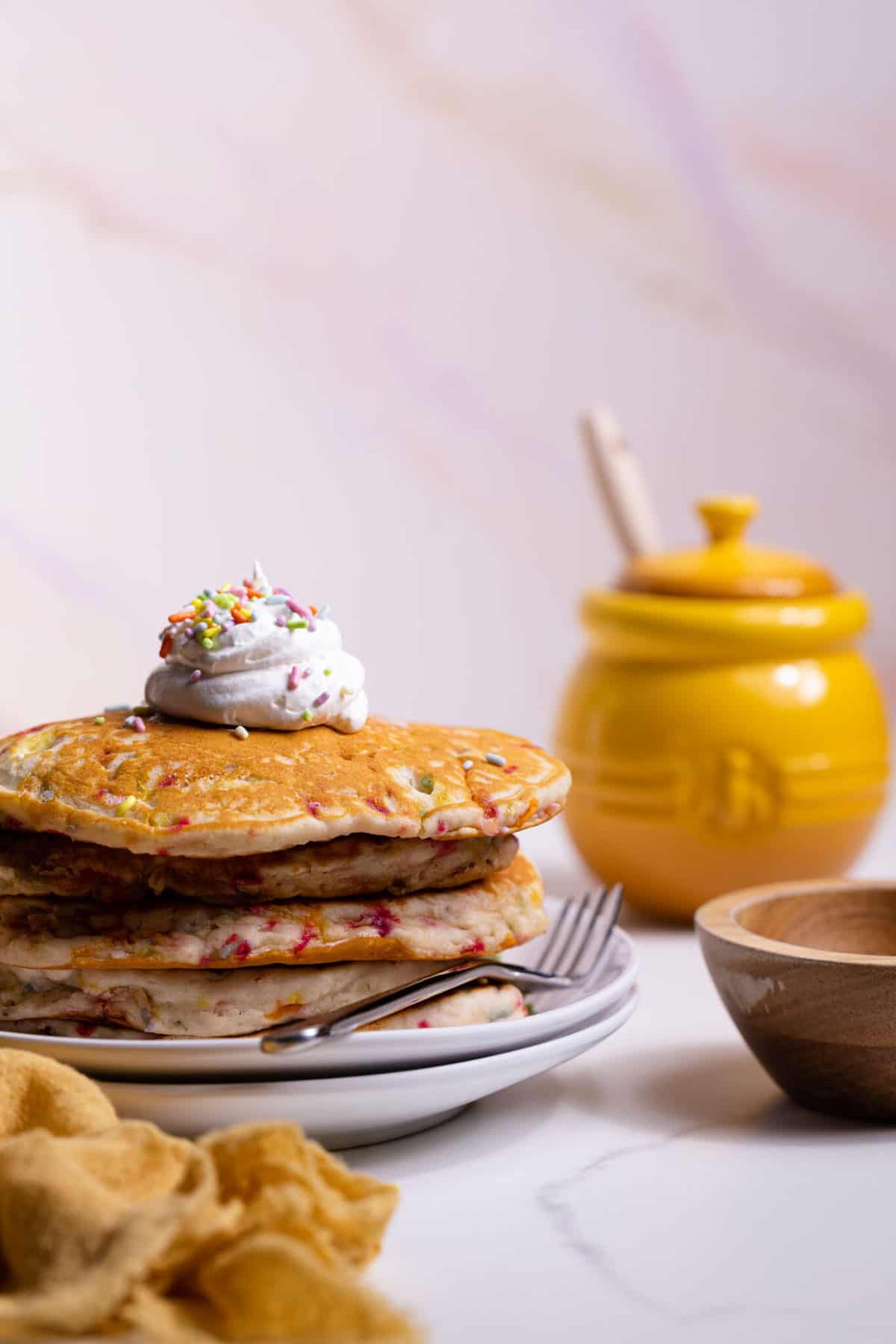 Here Are A *Few* Reasons You Will Love These Funfetti Flapjacks
They are SUPER fluffy + light.
So easy to whip together.
Only requires ONE bowl! No mixer required!
Perfectly sweet + loaded with Sprinkles.
Entirely dairy-free + vegan. Gluten-free option available!
Fun for the entire family to make.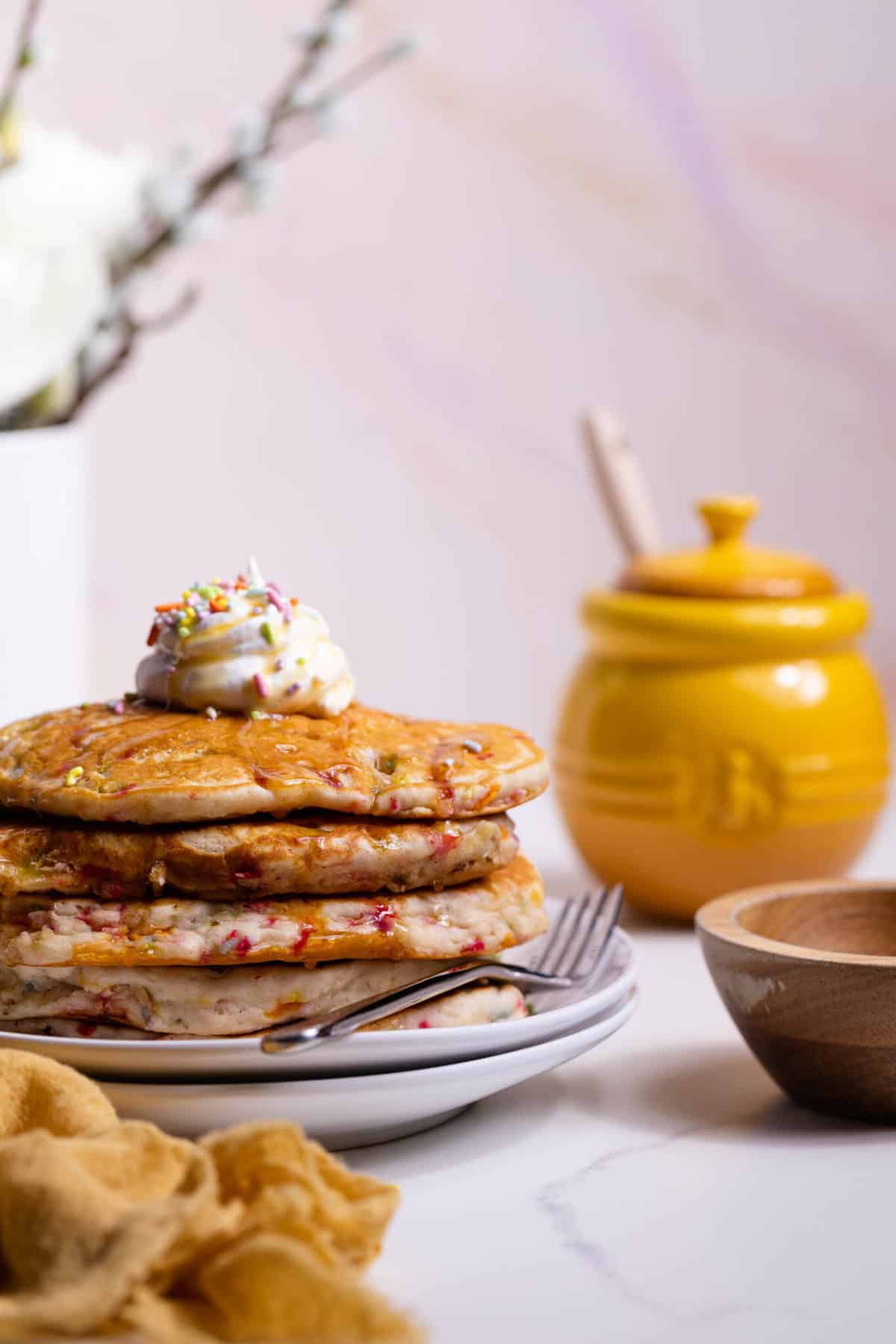 Tricks to Make the Best Vegan Pancakes
LOW + SLOW IS BEST.
When it comes to cooking your pancakes, keeping the heat on low is the key. This ensures that your pancakes are fully cooked through without making the outsides dark before their time.
DOUBLE CHECK THAT YOUR LEAVENERS AREN'T EXPIRED.
Ensuring that the leaveners that are used (baking powder, baking soda, etc) aren't expired and are completely fresh. This ensures that your pancakes rise at their best and are super fluffy as intended.
NO OVER-MIXING, PLEASE!
Once all ingredients are well combined after stirring with a spatula, stop mixing. Remember, you want airy, fluffy pancakes—not chewy pancakes due to the gluten formulating from over-mixing.
USE THE CORRECT PAN!
I find that using a flat cast-iron griddle works the best when making pancakes. Unfortunately, a regular sauté pan isn't flat enough (slopped sides?) aren't friendly in making the perfect stack.
DON'T FLIP THOSE PANCAKES JUST YET!
I've been guilty of this in the past. Be patient and don't flip the pancakes until the bubbles have 'popped' and opened into holes. This means that all of the bottom is formed and OK to flip. Otherwise, your pancake might fall apart when you try to flip it.
That's that. Follow these simple tricks and those pancakes on your table are sure to be perfect for everyone!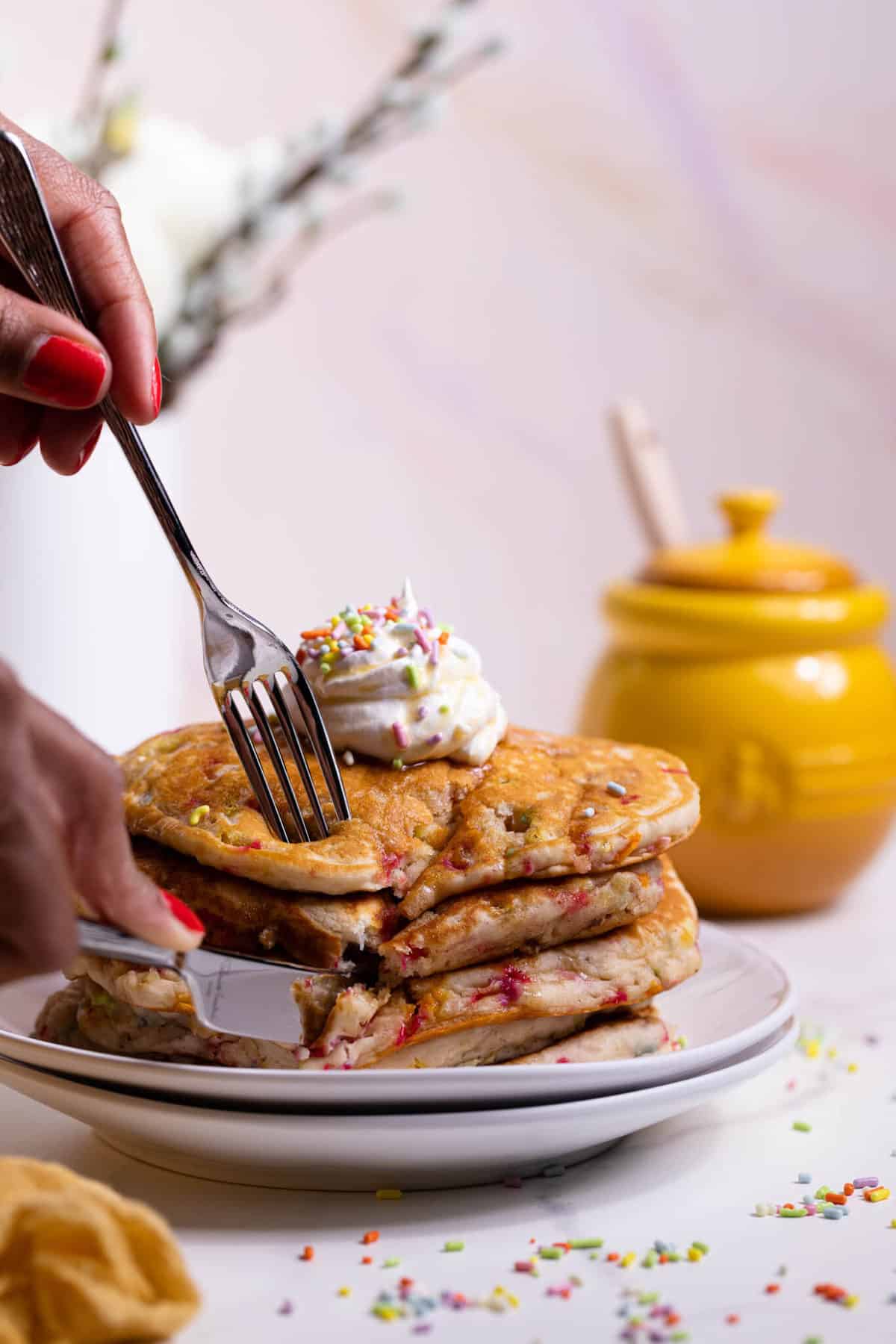 Best Toppings for Vegan Funfetti Pancakes
You can either keep it simple with the toppings for your vegan pancakes, or you can add a variety of toppings for an extra pizazz!
Here are some options:
Maple syrup: Drizzle with pure maple syrup for classic sweetness.
Chopped nuts: Add a delightful crunch with chopped walnuts or pecans.
Dairy-Free Yogurt or CocoWhip: Creamy and tangy, perfect for a luxurious touch.
Chocolate chips: Indulge in sweetness with a sprinkling of chocolate chips.
Fresh berries: Add a burst of freshness with strawberries, blueberries, or raspberries.
More Vegan Rainbow Sprinkles: Because why not!
Get creative and mix and match these toppings to create your ultimate banana bread pancake experience. Enjoy!
Can I Use Another Plant-Based Milk for Vegan Funfetti Pancakes?
Yes, you can use any dairy-free milk you like to make these delicious dairy-free vegan pancakes. Here are some easy recipes to make your own milk that's cheaper and so easy!
How to Know If Your Baking Powder + Baking Soda Are Fresh
Baking is such a science, but more importantly because certain ingredients like your leaveners (aka baking powder + baking soda) are completely fresh so that your banana cake (and other baked goods) fully rise and bake through nicely.
Incase you weren't aware, there's an easy to double check both the baking powder and baking soda. Here's what you need:
BAKING SODA HACK:
-Add 1 teaspoon baking soda with ¼ cup vinegar or lemon juice in a bowl and if it's fresh, the mixture should "bubble/fizz". If no bubble/fizz is present, then your baking soda needs to be replaced.
BAKING POWDER:
-Add 1 teaspoon baking powder with ¼ cup Hot tap water in a bowl and if it's fresh, the mixture should "bubble/fizz". If no bubble/fizz is present, then your baking powder needs to be replaced.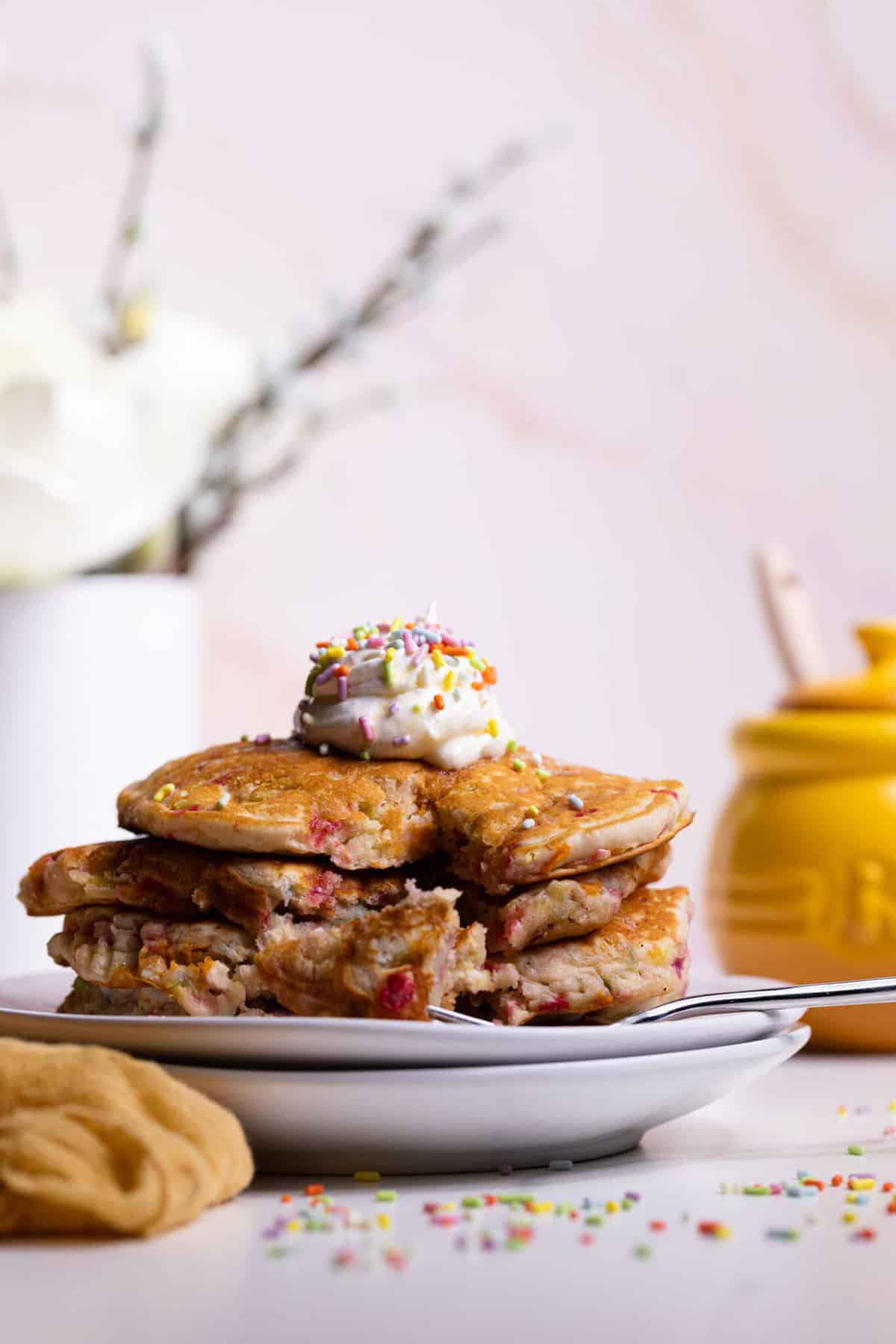 Vegan Funfetti Pancake Q + A's
Can I Make Gluten-Free & Vegan Funfetti Pancakes?
Yes! You can make this recipe gluten-free with a simple swap. Simply replace the flour with a gluten-free flour blend (I recommend Bob's Red Mill brand). If the batter is thinner than you'd like, add more flour, ¼ cup at a time until it is thick but pourable. 
Are there any alternatives to sprinkles for a healthier option?
Of course! If you want a healthier twist, you can use natural food coloring or add chopped fresh fruits like berries or kiwi to add color and natural sweetness.
Can I prepare the batter the night before and cook the pancakes in the morning?
Yes, you can! Prepare the batter the night before and store it in the refrigerator. In the morning, give it a quick stir before cooking the pancakes.
Can I use oil instead of butter?
Instead of melted vegan butter,  you can use vegetable oil or coconut oil, if preferred.
Can I store any leftover Vegan Funfetti Pancakes?
Absolutely! If you have any leftovers, you can store them for later enjoyment. Let the pancakes cool completely, then place them in an airtight container or a resealable plastic bag. They can be kept in the refrigerator for up to 2-3 days.
Can I freeze these vegan pancakes?
If you'd like to make these dairy-free pancakes, you can freeze them for up to six months. Simply cool the pancakes to room temperature, then arrange them in a single layer on a baking sheet. Freeze for an hour, then place in a zip-top bag and keep in the freezer. You'll have a healthy vegan breakfast to grab anytime.
Love Funfetti? These Recipes Are Must-Tries!
MADE OUR RECIPE(S)?
If you choose to make these Quick + Easy Vegan Funfetti Pancakes or any other recipe from us, be sure to tag us on Instagram at #Orchidsandsweettea so that we can share the love, rate, comment below, + share!
PANCAKES:
2

cups

organic all-purpose flour

2

tsps

baking powder

½

teaspoon

sea salt

1

teaspoon

vanilla extract

2-3

Tbsps

pure maple syrup

(See Notes!)

2

cups

Almond milk

(You can use your fave plant-based milk!)

1

tablespoon

apple cider vinegar

2

Tbsps

vegan butter, melted + 1 tablespoon for cooking 

(See Notes!)

½

cup

Vegan rainbow sprinkles
TO MAKE THE DAIRY-FREE 'BUTTERMILK':
Add the Almond milk and apple cider vinegar together in a small bowl, stirring together until combined and letting it sit for 5 minutes until it becomes "slightly thickened" and activated.
TO MAKE THE PANCAKE BATTER:
In a large bowl, add the flour, baking powder, and salt together and whisk until well combined.

Make a small well in the middle of the dry ingredients and add in the milk-ACV mixture, maple syrup, vegan butter, and vanilla, stirring gently (using a spatula) until just combined. DO NOT OVERMIX! NOTE: If the batter is way too thick and hard to stir, add additional milk, 1 tablespoon at a time until more smooth, yet still thick enough.

Fold in rainbow sprinkles until well incorporated.
TO COOK THE PANCAKES:
Add 1 tablespoon vegan butter to a heated skillet over medium-high heat and wait until fully melted. Pour ⅓ cup of pancake batter unto the surface of the skillet and cook for about 1-2 minutes (until batter begins to bubble) and gently flip pancake to it's opposite side, cooking another 1-2 minutes. NOTE: Be sure to gently press down on pancake to ensure that center cooks through.

Once cooked and lightly brown on both sides, remove pancake from heat and repeat steps until all batter is used.

To serve, stack pancakes onto one another and top with coconut whipped cream, rainbow sprinkles, and lightly drizzle with maple syrup, if desired.

Bon Appetit!
GLUTEN-FREE VERSION: To make these pancakes GF, I recommend using a GF Flour Blend (Bob's Red Mills has a great version!). **NOTE: If the batter is too 'thin + runny', simply add additional GF flour, ¼ cup at a time.**
SWEETENER: If you choose to opt out of maple syrup, you can always substitute with Agave, date syrup, coconut sugar, brown sugar, or organic cane sugar.

 

OIL: Instead of melted vegan butter,  you can use vegetable oil or coconut oil, if preferred.
Calories:
278
kcal
|
Carbohydrates:
51
g
|
Protein:
5
g
|
Fat:
6
g
|
Saturated Fat:
1
g
|
Polyunsaturated Fat:
2
g
|
Monounsaturated Fat:
2
g
|
Trans Fat:
1
g
|
Sodium:
475
mg
|
Potassium:
49
mg
|
Fiber:
1
g
|
Sugar:
17
g
|
Vitamin A:
1
IU
|
Vitamin C:
1
mg
|
Calcium:
185
mg
|
Iron:
2
mg