These Fluffy Vegan Banana Chocolate Chip Pancakes are the perfect rendition of a delicious classic flavor----chocolate chip with banana flavor! Completely fluffy, soft, jam-packed with warm spices, and naturally sweetened, these pancakes are truly irresistible for both kids + adults-alike! Made in just a few short steps and under 25 minutes TOTAL. Entirely dairy-free + vegan. Gluten-free option.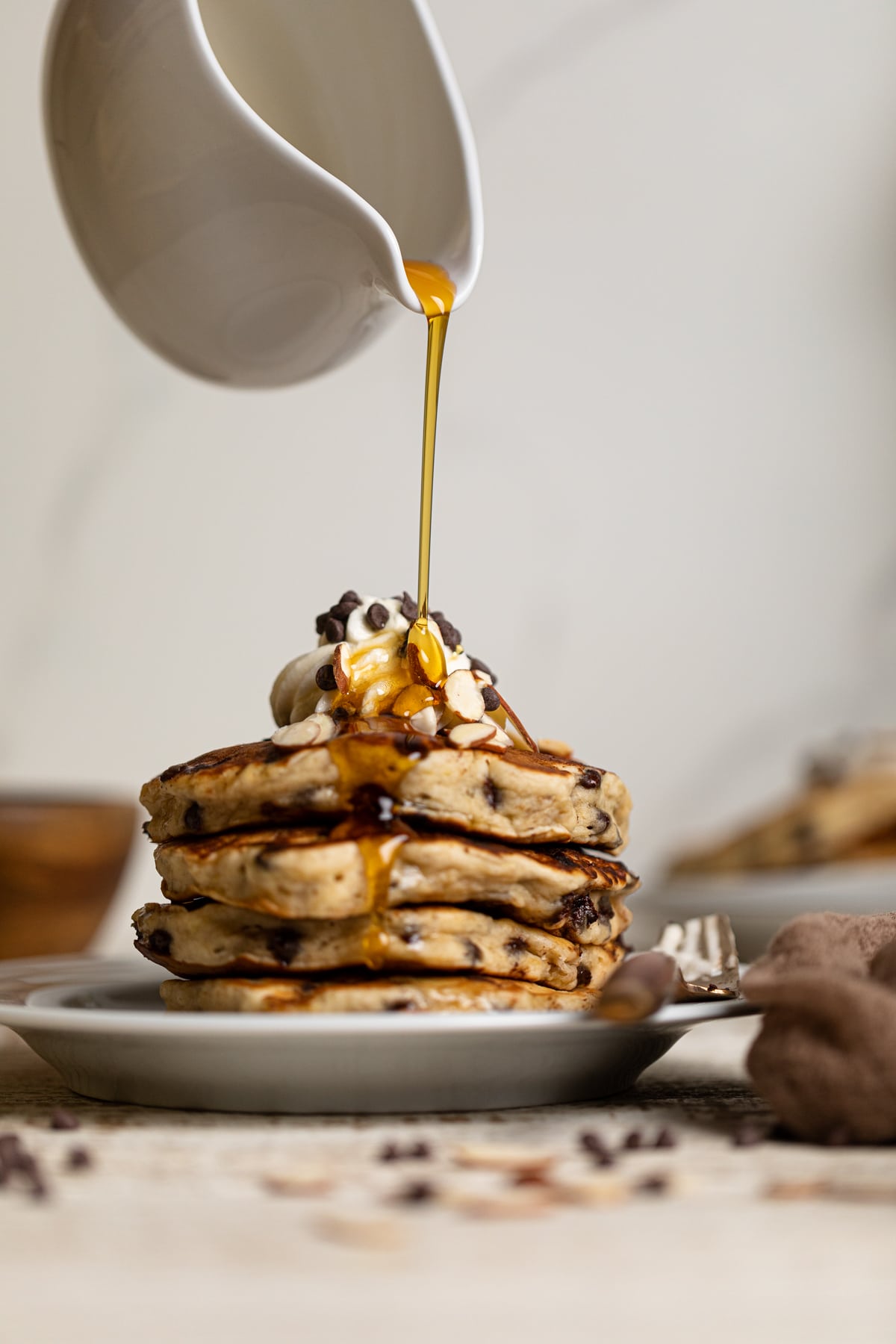 Pancakes have always been a very popular thing in households, including mine and there's just something about a good stack of soft, fluffy slapjacks (in my Southern voice) that makes everything better. Growing up, I would love pancakes on the weekends which were my second favorite breakfast to cereal. While pancakes weren't anything fancy for me back then, I get so excited now as an adult because I get to experiment with so many different flavors like these Fluffy Vegan Banana Chocolate Chip Pancakes.
By far, this recipe is one of our long-time favorites in our house and they're guaranteed to be in your house too. The banana makes these thick and fluffy pancakes extra sweet with a cake-like texture. And who doesn't love the combo of chocolate and banana, right? It's a classic for a reason. So why not enjoy it for breakfast? This recipe is perfect for back to school or laidback summer days, so it's something to enjoy year-round. Plus, I recommend trying these Fluffy Banana Oat Pancakes [Vegan], Healthy Banana Bread Pancakes, Warm Vegan Apple Cinnamon Pancakes, Dairy-Free Almond Blueberry Pancakes, and One-Bowl Fluffy Vegan Oreo Pancakes.
Jump to:
Why You'll LOVE These Vegan Banana Chocolate Chip Pancakes?
Basically, these banana chocolate chip pancakes come together easily. You'll need just one bowl and a skillet or griddle to get these pancakes going. Plus, the entire recipe takes just 25 minutes! But also:
Flavorsome. The banana, chocolate, and warm spices in these pancakes add a subtle sweetness + bold decadence. A flavorful combination if you ask me.
Easy. This Banana chocolate chip pancake recipe is simple and doesn't take much time at all, and best of all, you don't need any fancy equipment!
Perfect texture. I don't want to toot my own horn, but these pancakes are so fluffy and moist that you'll want to whip them up every morning, not just on weekends or special occasions.
Gluten-Free Option. If you are gluten sensitive no problem. We have a gluten free version that's just as tasty and fluffy!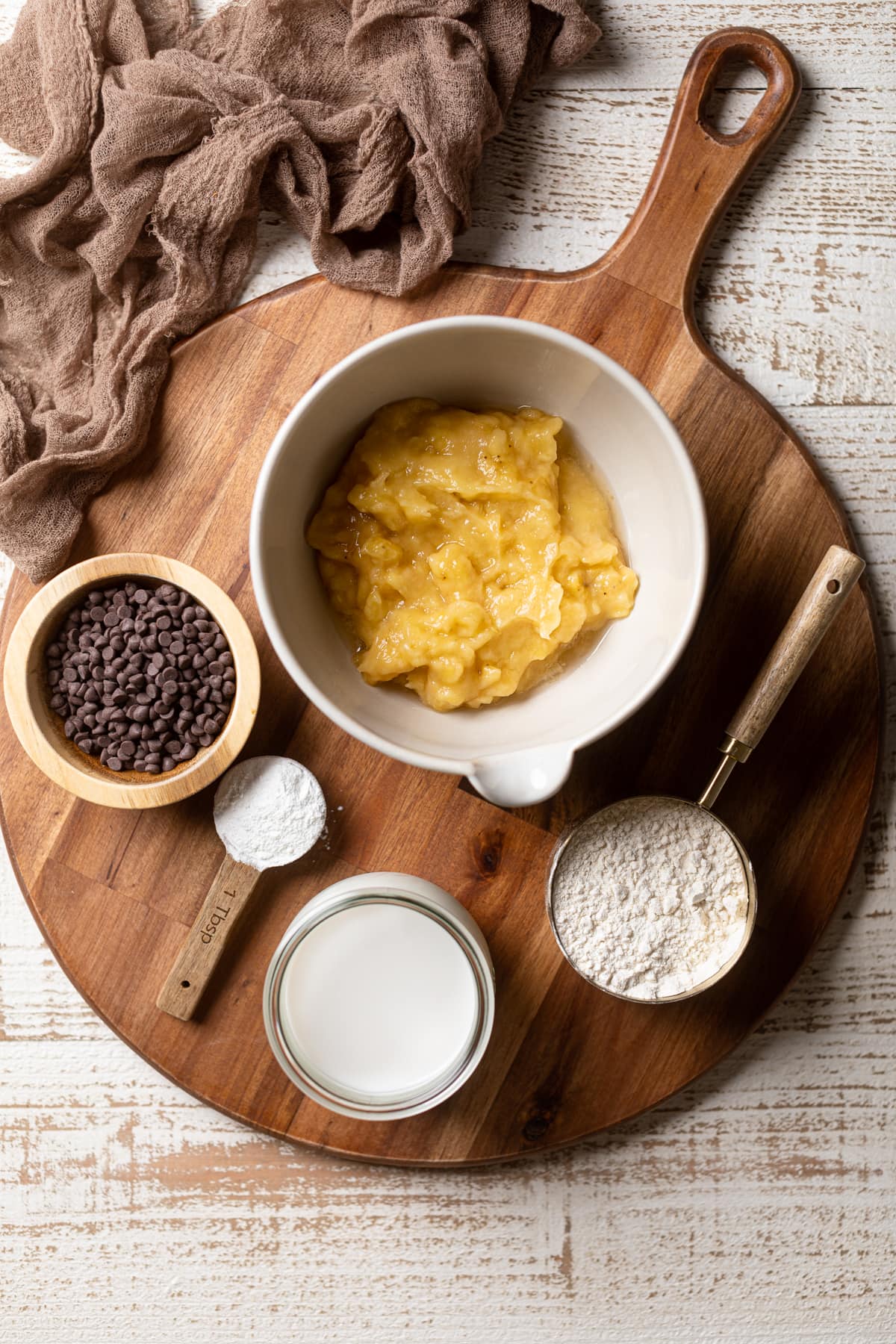 How to Make Vegan Banana Chocolate Chip Pancakes
Don't be intimidated by a pancake recipe. I know that many people are afraid to experiment with pancakes because they might not be perfect, but you probably already have most, if not all, of the ingredients at home for these Vegan Banana Chocolate Chip Pancakes. And I include a few tips + tricks to ensure that your pancakes come out perfectly every time. Simply start by making your batter, flipping the pancakes on each side in a good skillet or griddle, stack, top, + wallah!
Ingredients for Banana Chocolate Chip Pancakes
Banana. Use very ripe bananas for the sweetest flavor.
All-purpose flour. I recommend organic flour from Bob's Red Mill or King Arthurs for the best quality.
Baking powder. This will lighten your pancakes so they're fluffy and airy. Make sure your baking powder is fresh (not expired!) for best results.
Cinnamon + nutmeg. These add a warm fall flavor the pancakes that compliments sweet banana nicely and helps to amplify the flavor, including the chocolate.
Maple syrup. This vegan-friendly liquid sweetener is subtly sweet and won't overpower the cinnamon and banana flavor. You can also sub maple syrup with Agave, date syrup, coconut sugar, brown sugar, or pure cane sugar. If you're not vegan, honey also works.
Apple cider vinegar. This adds tang to turn the dairy-free milk into buttermilk. It helps activate the baking powder and improve the flavor.
Almond milk. You can use a store-bought version or make your own Almond milk. Also, feel free to use any dairy-free milk you have on hand (try my Creamy Homemade Oat Milk or Easy Homemade Coconut Milk).
Vanilla. Another important flavor boost to these decadent banana pancakes.
Vegan butter. I like Earth Balance butter for the pancake batter and for cooking. It's easily heated and melts and has great ingredients.
Chocolate. I love using vegan semi-sweet chocolate chips or chocolate bars and chopping them into pieces. It's up to you!
Health Benefits of Maple Syrup
I often use maple syrup and agave interchangeably in recipes. However, I love to use pure maple syrup as much as possible. Agave is said to have a lower glycemic index, which makes it a good option for those with diabetes. However, pure Maple syrup has tons of antioxidants because it comes directly from a plant's sap. Maple syrup is also a good source of essential nutrients, including:
Calcium
Potassium
Iron
Zinc
Manganese
All of these nutrients support a healthy skeletal and immune system! For more info on healthy sweeteners, read my guide to The Best Healthy Sugar Alternatives + Substitutes.
Tip: choose darker colored Maple Syrup for even more Antioxidants.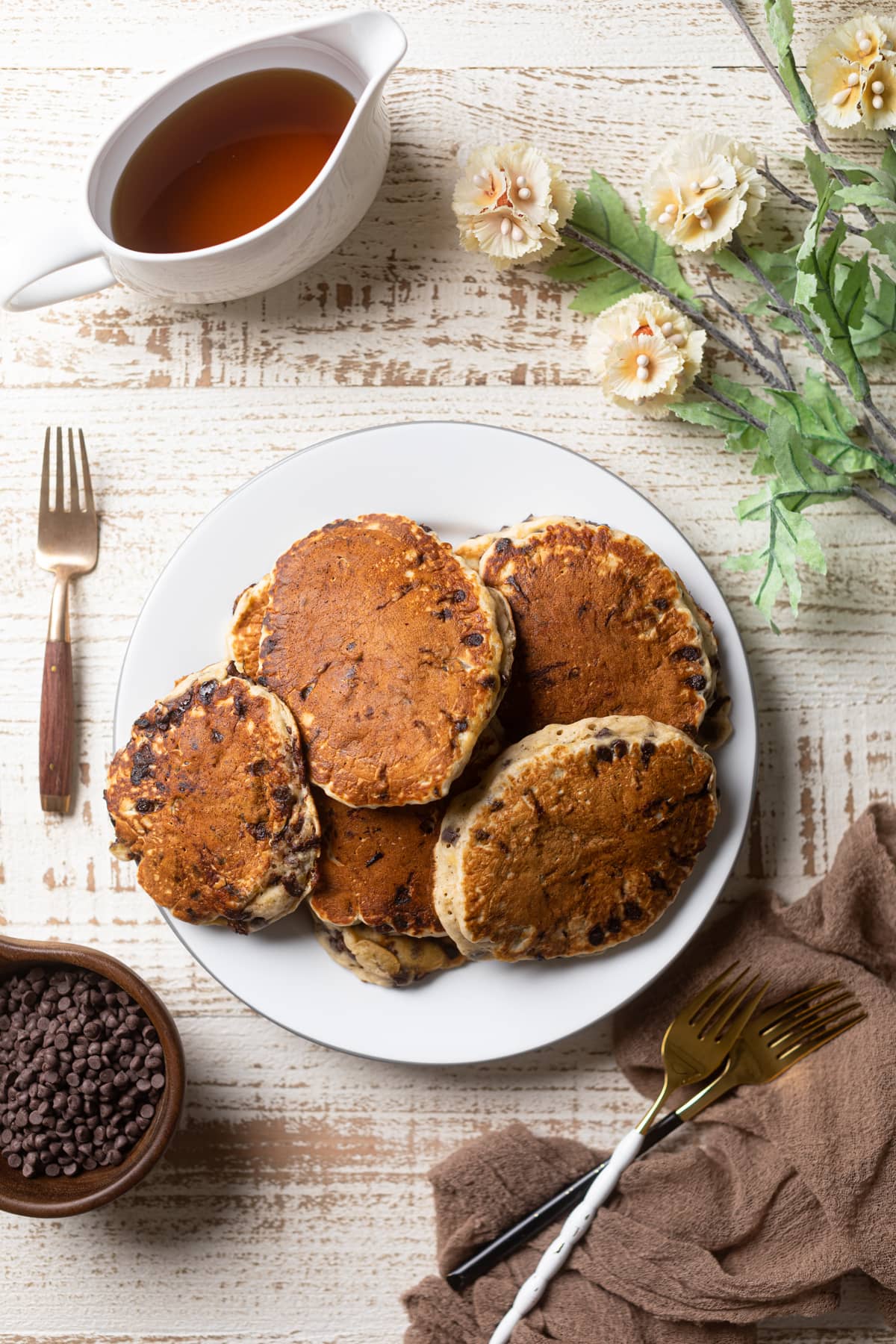 Tips + Hacks for Making the Perfect Pancakes Every Time
Ensuring that you make the perfect banana pancakes each time can sometimes feel like a science, but it's fairly easy with these simple tips + hacks:
TIP #1: LOW + SLOW IS BEST.
TIP #2: DOUBLE CHECK THAT LEAVENERS AREN'T EXPIRED.
TIP #3: ABSOLUTELY NO OVER-MIXING!!
TIP #4: LET THE BATTER SIT TO REST.
TIP #5: EVENNESS IS KEY.
TIP #6: YES, THE CORRECT PAN MATTERS.
TIP #7: FLIP WHEN IT'S TIME, OK?!
TIP #8: FLIP ONLY ONCE!
TIP #9: BUTTER IN BETWEEN.
How to Ripen Bananas for these Pancakes
Have you ever had bananas that weren't fully ripe, but you were dying to make banana pancakes? Well, I totally understand. I've definitely been there. Luckily, I've come across a few hacks to help you ripen your bananas if you're in a pinch and here's what you can do:
Keep the banana bunches together to avoid the ripening process from stalling.
Store your bananas in a warm place like near a heater or atop your refrigerator. This helps them to ripen faster.
Using a paper bag, add your bananas inside and fold it over to close it. The gases from inside the bag once shut tight will ripen the bananas within 24-36 hours.
If you're looking to ripe your bananas more quickly for baking purposes then you can do one of the following:
Oven Method: Preheat the oven at 300 degrees Fahrenheit and place bananas (with peels on) unto a baking sheet and let them bake for 15-20 minutes or until skins are black. The bananas at this point should be soft and sweet.
Microwave Method: Poke holes into the peel bananas (all around) and microwave for 30 seconds at a time until the bananas are soft enough.
The Best Toppings for Your Pancakes
If you'd like to spruce things up with these banana chocolate chip pancakes, then that's super easy! You can add any of the following ingredients to the top of your pancakes for a nice bite:
Chocolate chips or chopped chocolate
Nuts or seeds (chia seeds, pecans, walnuts, almonds, etc.)
Peanut butter, drizzled
Cacao nibs
Coconut whipped cream
Fresh berries
Dairy-free ice cream (for an extra fancy treat)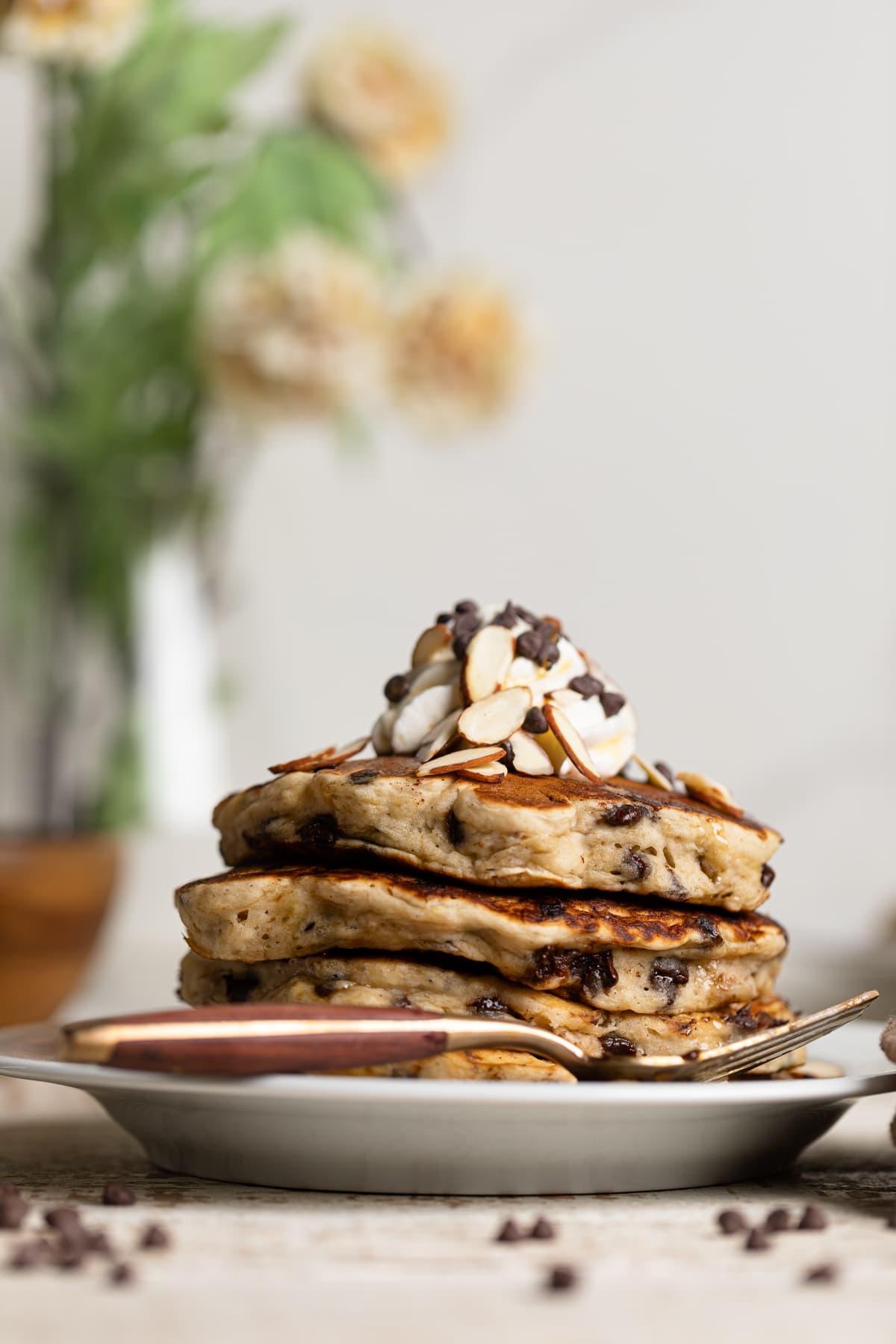 What Does it Mean to Fold in Chocolate Chips?
To fold in chocolate chips or chocolate means to carefully combine to different textures together (chocolate + pancake batter) into a single smooth texture without over-mixing the batter or breaking up the chocolate chips. This can usually be easily achieved with a spatula or wooden spoon as opposed to any electric mixers, etc. which would be too aggressive for the fold.
How to Know If Your Baking Powder + Baking Soda are Fresh
Baking is such a science, but more importantly because certain ingredients like your leaveners (aka baking powder + baking soda) are completely fresh so that your banana cake (and other baked goods) fully rise and bake through nicely.
Incase you weren't aware, there's an easy to double check both the baking powder and baking soda. Here's what you need:
BAKING SODA HACK:
-Add 1 teaspoon baking soda with ¼ cup vinegar or lemon juice in a bowl and if it's fresh, the mixture should "bubble/fizz". If no bubble/fizz is present, then your baking soda needs to be replaced.
BAKING POWDER:
-Add 1 teaspoon baking powder with ¼ cup Hot tap water in a bowl and if it's fresh, the mixture should "bubble/fizz". If no bubble/fizz is present, then your baking powder needs to be replaced.
What Kind of Milk Works Best?
When it comes to vegan milk options, there are so many possibilities. From soy milk to nut milk to the newest trend, potato milk, you can find a delicious plant-based option you love. And what makes these milks even better? You can make them from scratch at home! All of these dairy-free milk recipes will work for this Fluffy Banana Chocolate Chip Pancakes recipe:
If you're curious about the wide world of dairy-free milk options, start with this guide to The Best Milk Alternatives for Your Entire Household.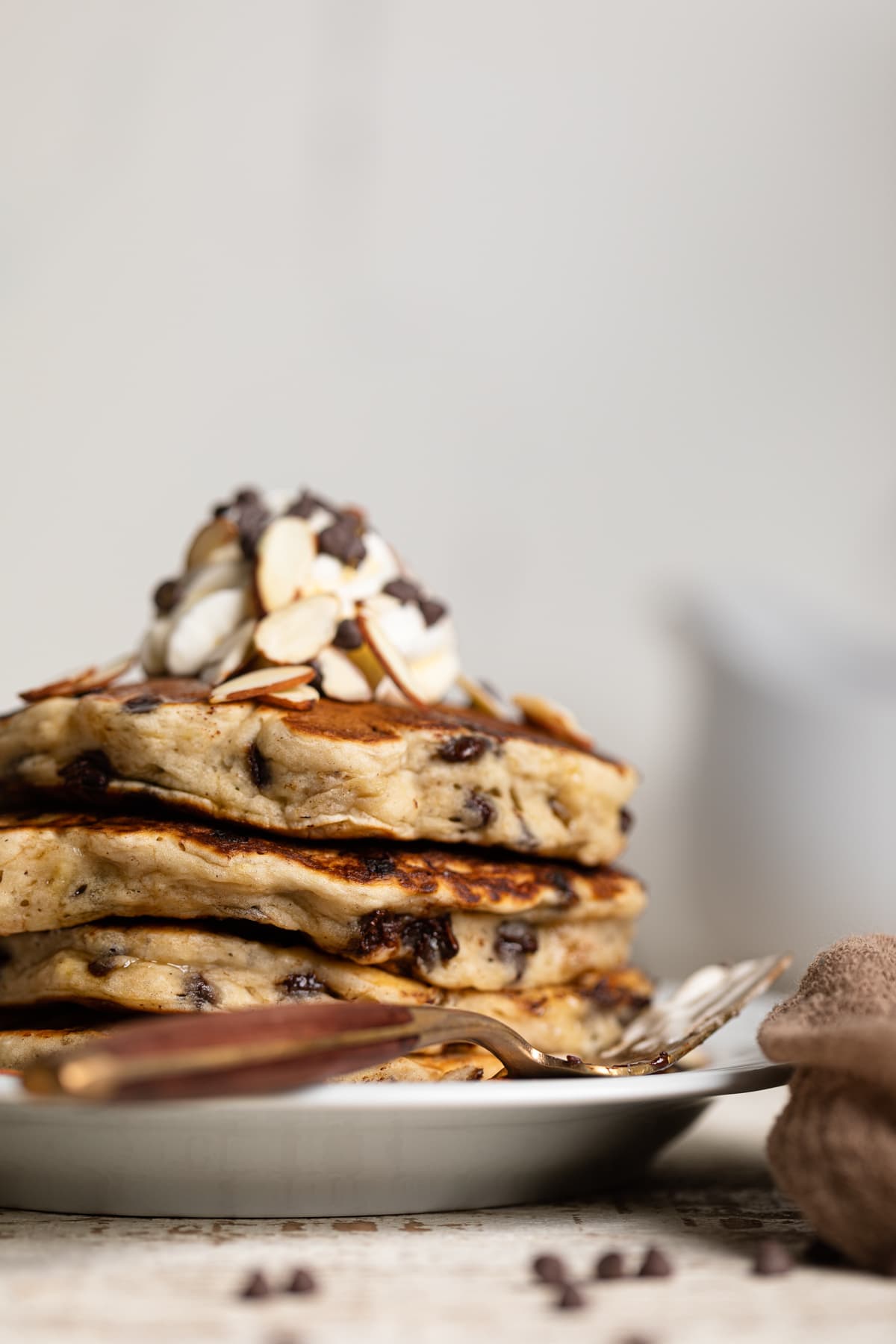 How to Store + Freeze Leftover Pancakes
If you're thinking about storing your leftover pancakes for a longer period of time OR you'd rather meal prep them for less hassle, it's so easy to freeze them. When you freeze them, they generally last for up to 3 months when stored properly.
Personally, I love doing method #2, however, you can always pick and choose which works best for you:
Method #1: Place your cooled pancakes in an even layer on a baking sheet lined with parchment paper and freeze for about 1 hour or so. Once solid, add them to an airtight sealed container or ziplock bags and store in the freezer.
Method #2: Once your pancakes are cooled, stack them together with parchment paper in between each pancake and place them into an airtight sealed container or ziplock and store in the freezer.
When you're ready to reheat and serve, simply do so in a microwave, toaster, oven, or over the stove top in a skillet until warmed through.
Common Q + A's for these Fluffy Vegan Banana Chocolate Chip Pancakes
Can I make these banana chocolate chip pancakes gluten-free?
Absolutely! To make these pancakes GF, I recommend using a GF Flour Blend (Bob's Red Mills has a great version!). NOTE: If the batter is too 'thin + runny', simply add additional GF flour, ¼ cup at a time.
Do I have to use maple syrup in these pancakes?
Nope! If you choose to opt out of maple syrup, you can always substitute with honey (if not restricted to vegan), date syrup, coconut sugar, brown sugar, or organic cane sugar.
Can I use something else besides melted vegan butter?
Yes! Instead of vegan butter,  you can always use organic vegetable oil, coconut oil or grapeseed oil, if preferred.
How do you keep chocolate chips from burning in pancakes?
Basically, to avoid burnt chocolate chips in your pancakes, try the following hacks: cooking the pancakes on medium-low heat, ensuring that the chocolate chips are evenly distributed when folding it in the batter, and flipping the pancake once the edges start to cook and the surface begins to bubble.
Do you use milk or water for pancake batter?
While most boxed mixes call for water, I find that substituting milk for water will add a richness that creates an even fluffier pancake. Milk will yield a thicker batter, so the amount may need to be adjusted to get the desired consistency or you can try half water, half milk.
Is it better to cook pancakes in butter or oil?
This is a major debate that seems to be divided, however, I personally find that butter creates a nice golden outside and adds rich flavor to your pancakes. Also, the trick is to always butter in between frying to keep pancakes evenly cooked.
How do you know when to flip a pancake?
Basically, you'll know that it's time to flip your pancake once the edges begin to form and turn golden as well as bubbles start to form (and pop which creates holes) on the tops of the batter.
How many times should you flip a pancake?
You should generally flip pancakes once, which is why it's best to ensure that the bubbles that form at the tops have popped and created holes before making the flip.
Are banana pancakes supposed to be gooey?
Not at all! Banana Pancakes are supposed to be soft, fluffy, moist, and rich tasting but not mushy. If your pancakes come out mushy, it's likely because the heat on your griddle or skillet is too high which causes the cooking of the outside to happen much faster than the inside. Slow + sure---is key!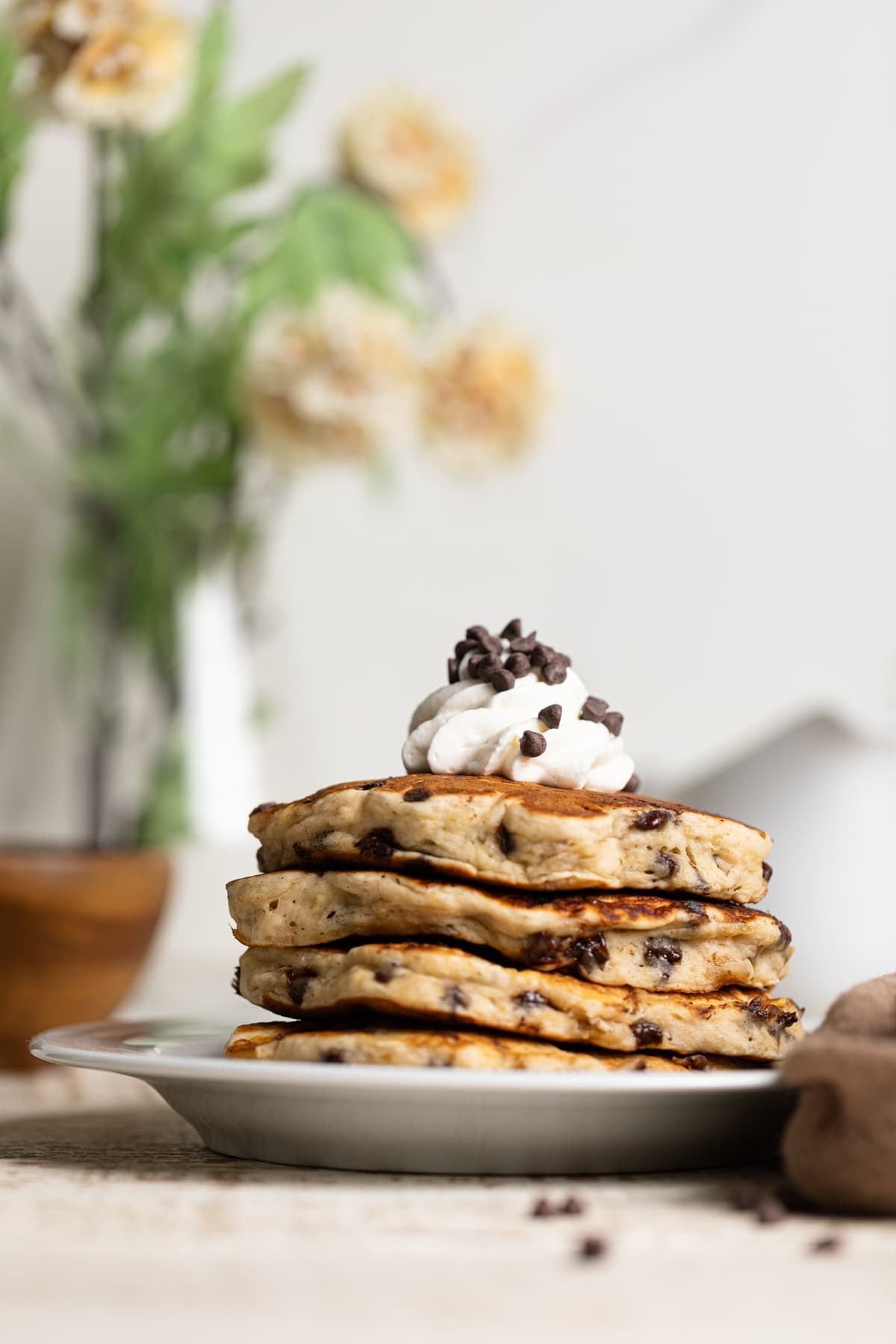 More Delicious Family-friendly Breakfast Recipes!
MADE OUR RECIPE(S)?
If you tried this Fluffy Vegan Banana Chocolate Chip Pancakes recipe or any other recipe on my website, please please leave a 🌟 star rating and let me know how you go in the 📝 comments below. I love hearing from you.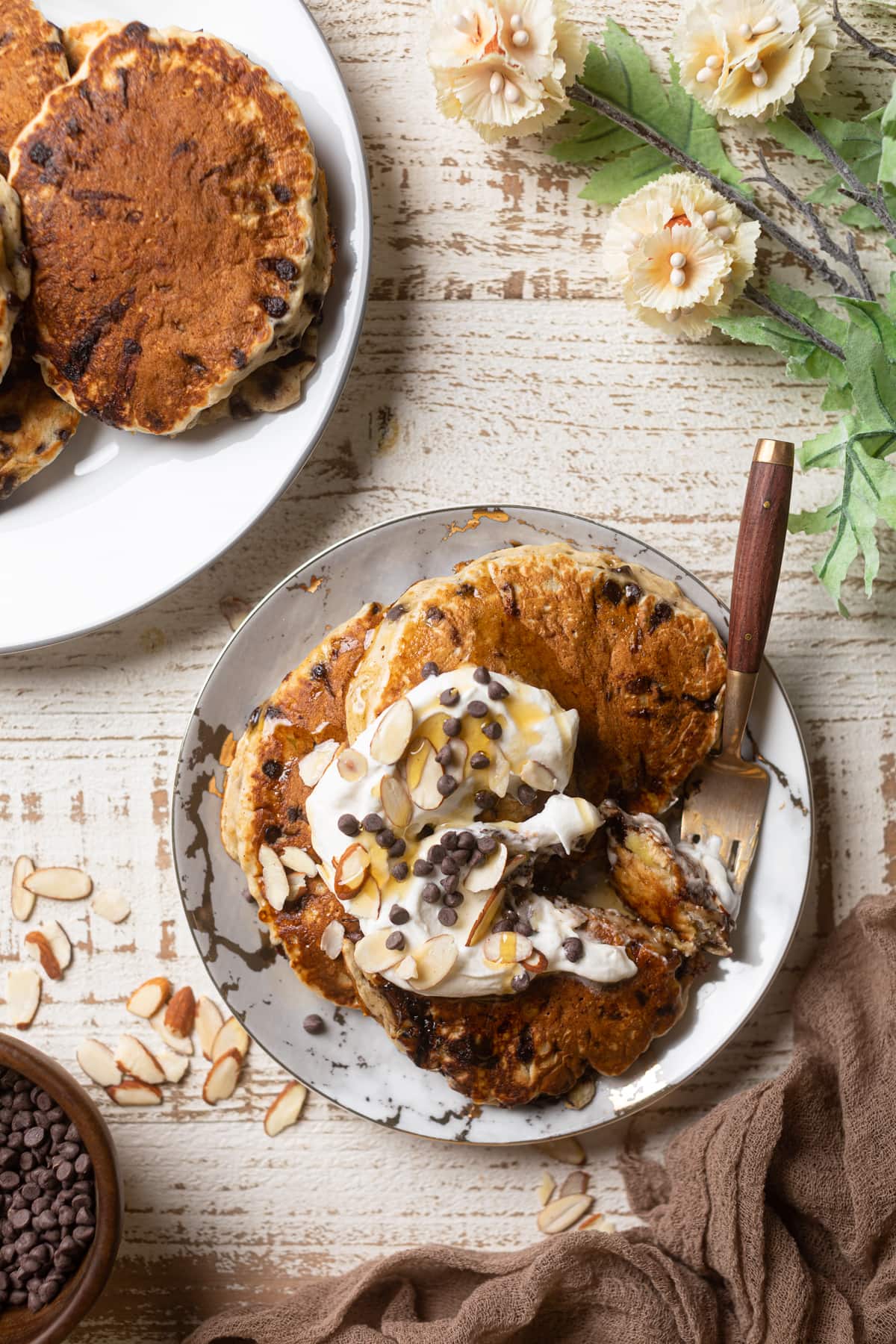 PANCAKES:
2

very ripe

ripe bananas, mashed

2

cups

organic all-purpose flour

2

tsps

baking powder

1

teaspoon

ground cinnamon

½

teaspoon

ground nutmeg

½

teaspoon

sea salt

2

cups

Almond milk 

(You can use your favorite plant-based milk)

3

Tbsps

pure maple syrup

1

tablespoon

apple cider vinegar

1

teaspoon

vanilla extract

2

Tbsps

vegan butter, melted

(See Notes!)

1

cup

vegan chocolate chips, semi-sweet

(You can also use chopped vegan chocolate)
OPTIONAL TOPPINGS:
Coconut whipped cream

Sliced bananas

Vegan chocolate chips or chopped chocolate

Pure maple syrup, for drizzle

Sliced almonds, toasted
TO MAKE THE BATTER:
Add the Almond milk and apple cider vinegar together in a small bowl, stirring together until combined and letting it sit for 5 minutes until it becomes "slightly thickened" and activated.

In a large bowl, add the flour, baking powder cinnamon, nutmeg, and salt together and whisk until combined.

Make a small well in the middle of the dry ingredients and add in the ACV-milk mixture, mashed bananas, vanilla, melted butter, and maple syrup, stirring gently (using a spatula) until just combined. DO NOT OVERMIX! NOTE: If the batter is way too thick and hard to stir, add additional milk, 1 tablespoon at a time until more smooth, yet still thick enough.

Fold in the chocolate chips.
COOK THE PANCAKES:
Add 1 tablespoon of unsalted butter to a heated skillet over medium-high heat and wait until fully melted. Pour ½ cup of pancake batter unto the surface of the skillet and cook for about 1-2 minutes (until batter begins to bubble) and gently flip pancake to it's opposite side, cooking another 1-2 minutes. NOTE: Be sure to gently press down on pancake to ensure that center cooks through.

Once cooked and lightly brown on both sides, remove pancake from heat and repeat steps until all batter is used.

To serve, stack pancakes onto one another and top with sliced bananas, coconut whipped cream, sliced almonds, chocolate chips, and/or drizzle with maple syrup, if desired.
FREEZE OPTION: If you'd like to make these banana oat pancakes ahead of time, you can freeze them for up to six months. Simply cool the pancakes to room temperature, then arrange them in a single layer on a baking sheet. Freeze for an hour, then place in a zip-top bag and keep in the freezer. You'll have a healthy  breakfast to grab anytime.
GLUTEN-FREE VERSION: To make these pancakes GF, I recommend using a GF Flour Blend (Bob's Red Mills has a great version!). NOTE: If the batter is too 'thin + runny', simply add additional GF flour, ¼ cup at a time.
SWEETENER: If you choose to opt out of maple syrup, you can always substitute with honey (if not restricted to vegan), date syrup, coconut sugar, brown sugar, or organic cane sugar.
OIL: Instead of vegan butter,  you can always use organic vegetable oil, coconut oil or grapeseed oil, if preferred.
Calories:
380
kcal
|
Carbohydrates:
58
g
|
Protein:
7
g
|
Fat:
15
g
|
Saturated Fat:
7
g
|
Polyunsaturated Fat:
2
g
|
Monounsaturated Fat:
2
g
|
Trans Fat:
1
g
|
Sodium:
476
mg
|
Potassium:
74
mg
|
Fiber:
4
g
|
Sugar:
20
g
|
Vitamin A:
2
IU
|
Vitamin C:
0.05
mg
|
Calcium:
239
mg
|
Iron:
4
mg