Porridge is a childhood nostalgic, easy breakfast that has layers of flavor and awesome texture. My Banana Chai Oatmeal Porridge is a sweet and warm, comforting version that is all dairy-free + vegan, textured, with a gluten-free option! The whole family will love this oatmeal and the array of toppings that can be added for an even bigger kick of flavor.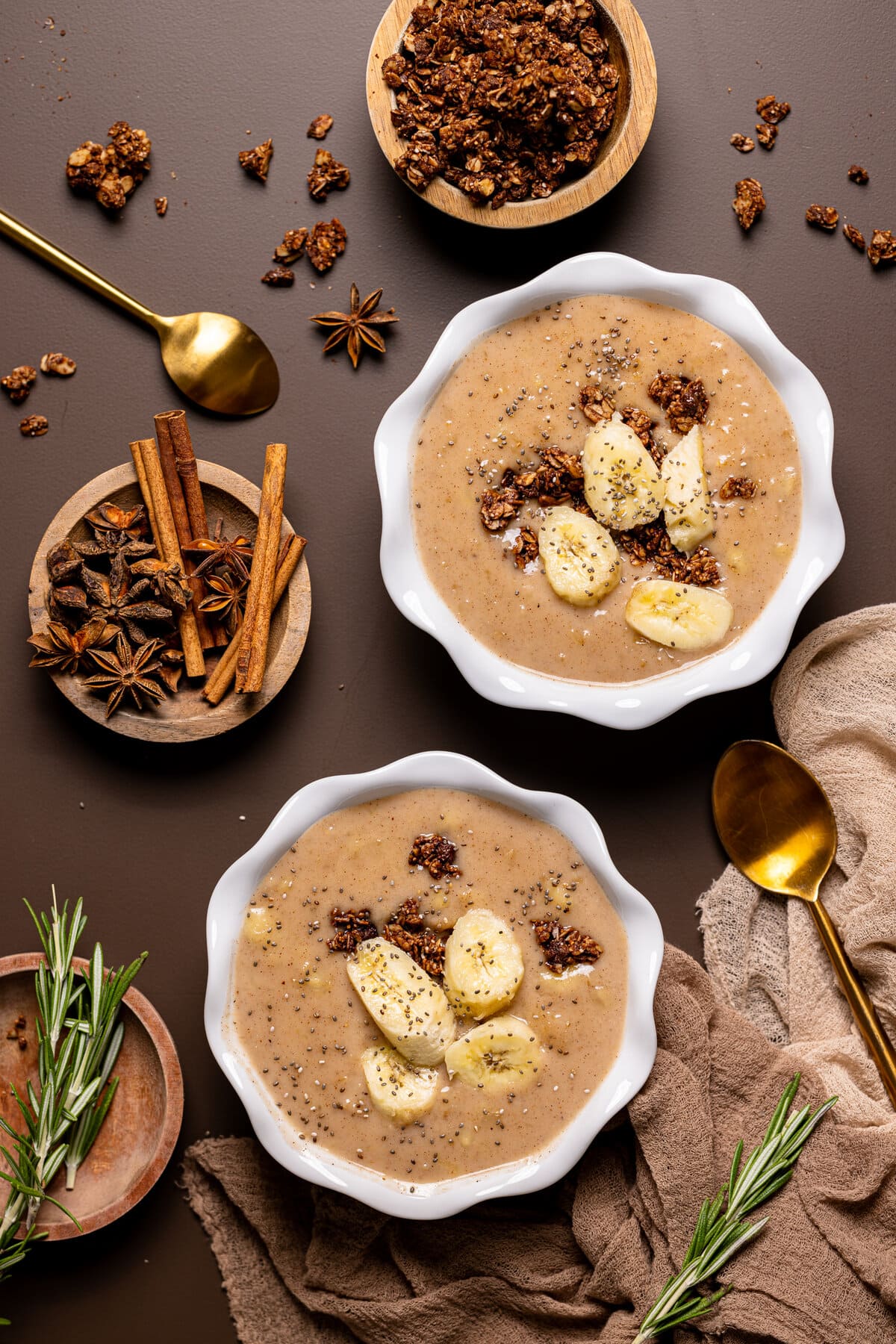 Porridge is something that speaks to my childhood greatly. I remember it being the biggest staple in the mornings and growing up in the South, oatmeal porridge was the main thing. However, because most of my family comes from Jamaica, I've had the pleasure of trying all kinds of porridge.
I'm talking, hominy porridge (aka corn porridge), spiced oatmeal porridge, cornmeal porridge, green banana porridge, and so many others.
But I must say, that now that I'm able to experiment with my own foods, I've had the most fun making so many flavorful versions like this Banana Chai Oatmeal Porridge, which pays a bit of homage to my Jamaican roots and consistent use of bananas with spices.
Plus, Oatmeal is an incredibly nutritious food, packed with essential nutrients like iron, magnesium, phosphorous, folate, and zinc. Not to mention dietary fiber and antioxidants! So it's a win, win with both the taste and nutritional value.
What is Porridge?
Porridge is a breakfast food traditionally made by cooking oats in milk or water. The oats soften over time, creating soft, moist oatmeal with a little more liquid than traditional oatmeal. You can also use other grains for porridge such as quinoa, buckwheat, brown rice, or spelt.
Porridge can be served sweetened or not. Some cultures make a savory porridge, topped with jammy eggs, herbs, or sauces. Either way, porridge is delicious when sweetened, or unsweetened!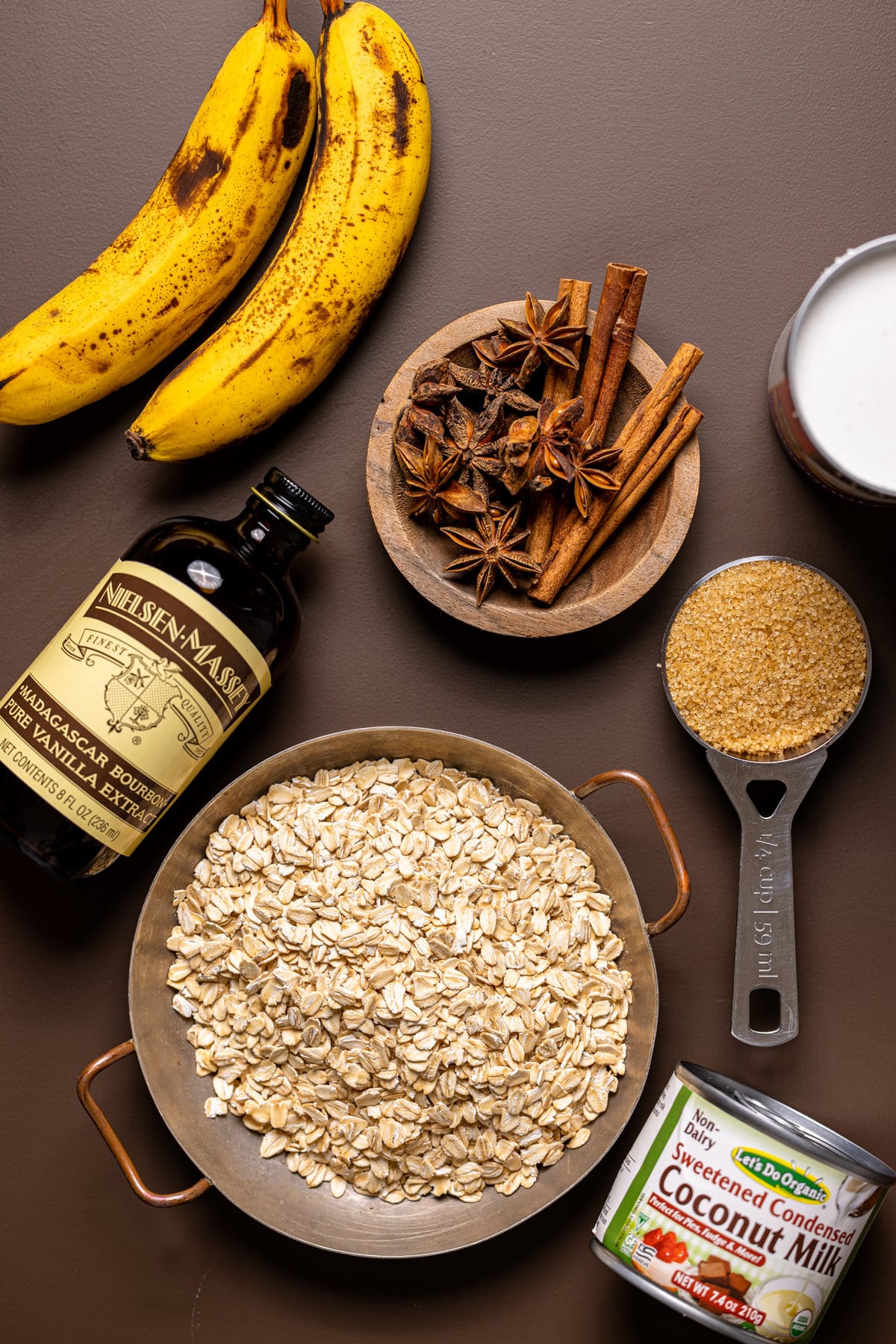 How to Make Banana Chai Oatmeal Porridge
There are a few key ingredients in this warm porridge recipe that you may not usually use in your morning oatmeal. these make this bowl better for you and even tastier.
Of course, I always use Bob's Red Mill products when it comes to my flours, oats, and grains, so this recipe was no different.
Ingredients
Here's the list of ingredients to make Banana Chai Oatmeal Porridge for breakfast today:
Bananas. You'll want to use really ripe bananas for the densest, sweetest flavor.
Thick Cut Rolled Oats. Choose gluten-free if necessary. You can also use old fashioned if preferred.
Coconut Milk. You can use either full-fat canned coconut milk or cream.
Condensed milk. For this recipe, I used dairy-free condensed milk by Let's Do....Organic. Such a nice creamy substitute.
Chai spices. This porridge is all about the spice blend, which includes cinnamon, nutmeg, ginger, allspice, cardamom, cloves, and black pepper.
Brown Sugar. I like to use organic sugar to make sure it's fully vegan.
Chia Seeds. These add tons of healthy fats and fiber, plus they make your oatmeal extra creamy.
Nuts. Use walnuts, pecans, hazelnuts or your favorite kind!
Granola. You can use a great store-bought brand like Purely Elizabeth or make your own!
How to Ripen Bananas for This Oatmeal Porridge
Have you ever had bananas that weren't fully ripe, but you were dying to make this porridge or something else like a bread? Well, I totally understand. I've definitely been there. Luckily, I've come across a few hacks to help you ripen your bananas if you're in a pinch and here's what you can do:
Keep the banana bunches together to avoid the ripening process from stalling.
Store your bananas in a warm place like near a heater or atop your refrigerator. This helps them to ripen faster.
Using a paper bag, add your bananas inside and fold it over to close it. The gases from inside the bag once shut tight will ripen the bananas within 24-36 hours.
If you're looking to ripe your bananas more quickly for baking purposes then you can do one of the following:
Oven Method: Preheat the oven at 300 degrees Fahrenheit and place bananas (with peels on) unto a baking sheet and let them bake for 15-20 minutes or until skins are black. The bananas at this point should be soft and sweet.
Microwave Method: Poke holes into the peel bananas (all around) and microwave for 30 seconds at a time until the bananas are soft enough.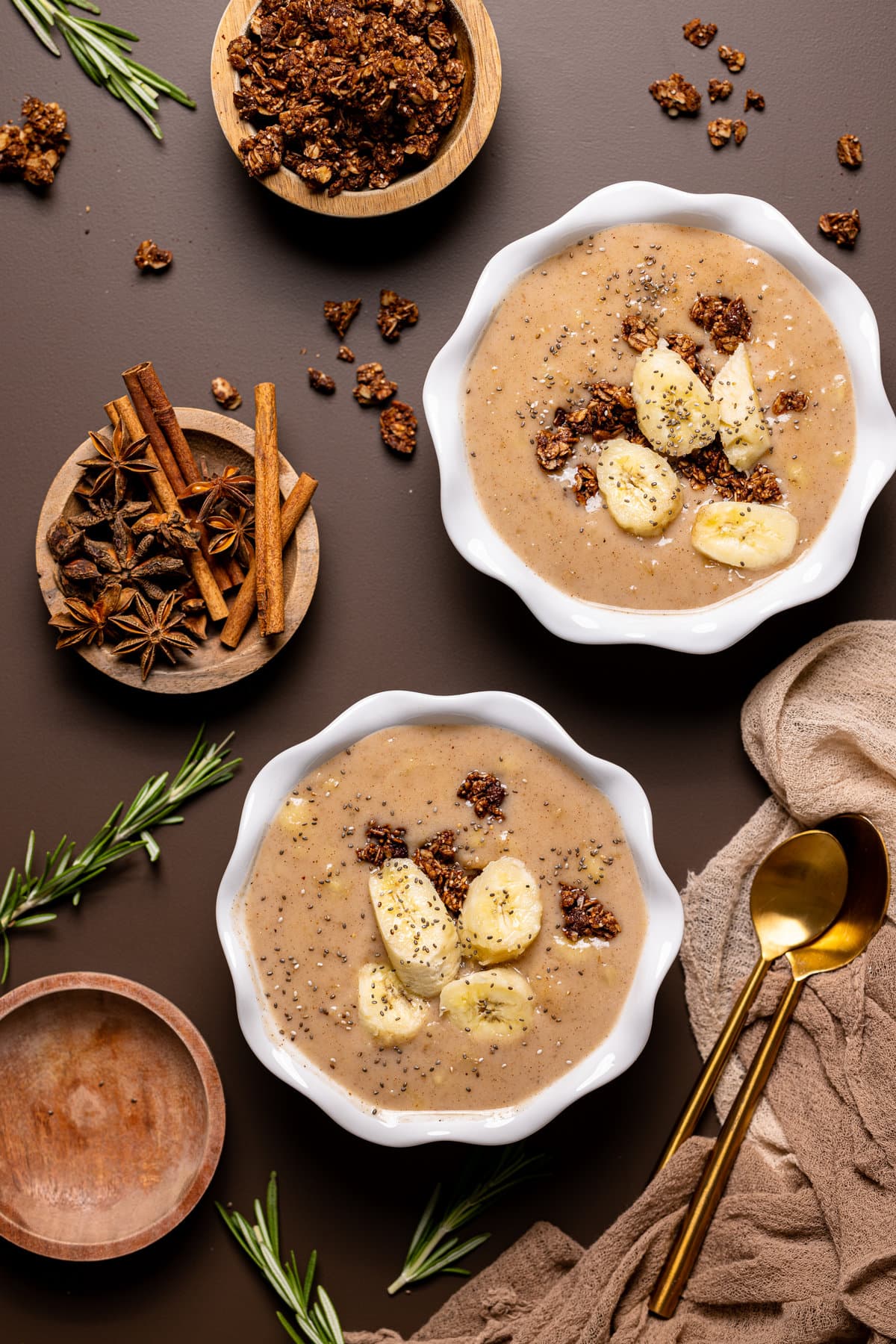 Why Sweetened Condensed Milk is so important!
First, I must let you know that Sweetened Condensed Milk is a canned milk that has 60 percent of it's water content removed, making it thicker in consistency.
Also, it has 40-45% sugar, making it a great sugar substitute in recipes that use sugar. More importantly, condensed milk creates a caramelized flavor along with it's sweetness, which give the dishes that require it, a beautiful kick of flavor.
That being said---I generally love using the original Sweetened Condensed Milk like the Eagle Brand's version, however, in this recipe, I love using Let's Do Organic's dairy-free coconut version for vegan-friendly meals.
Can I Use Other Types of Milk for This Porridge?
Absolutely! If you'd like to switch things up with the type of plant-based milk that you use—–that's totally fine! The world of plant-based milk is constantly expanding. From the classics like coconut milk, cashew milk, soy milk and almond milk, we now have delicious options like oat milk, and even potato and quinoa milk.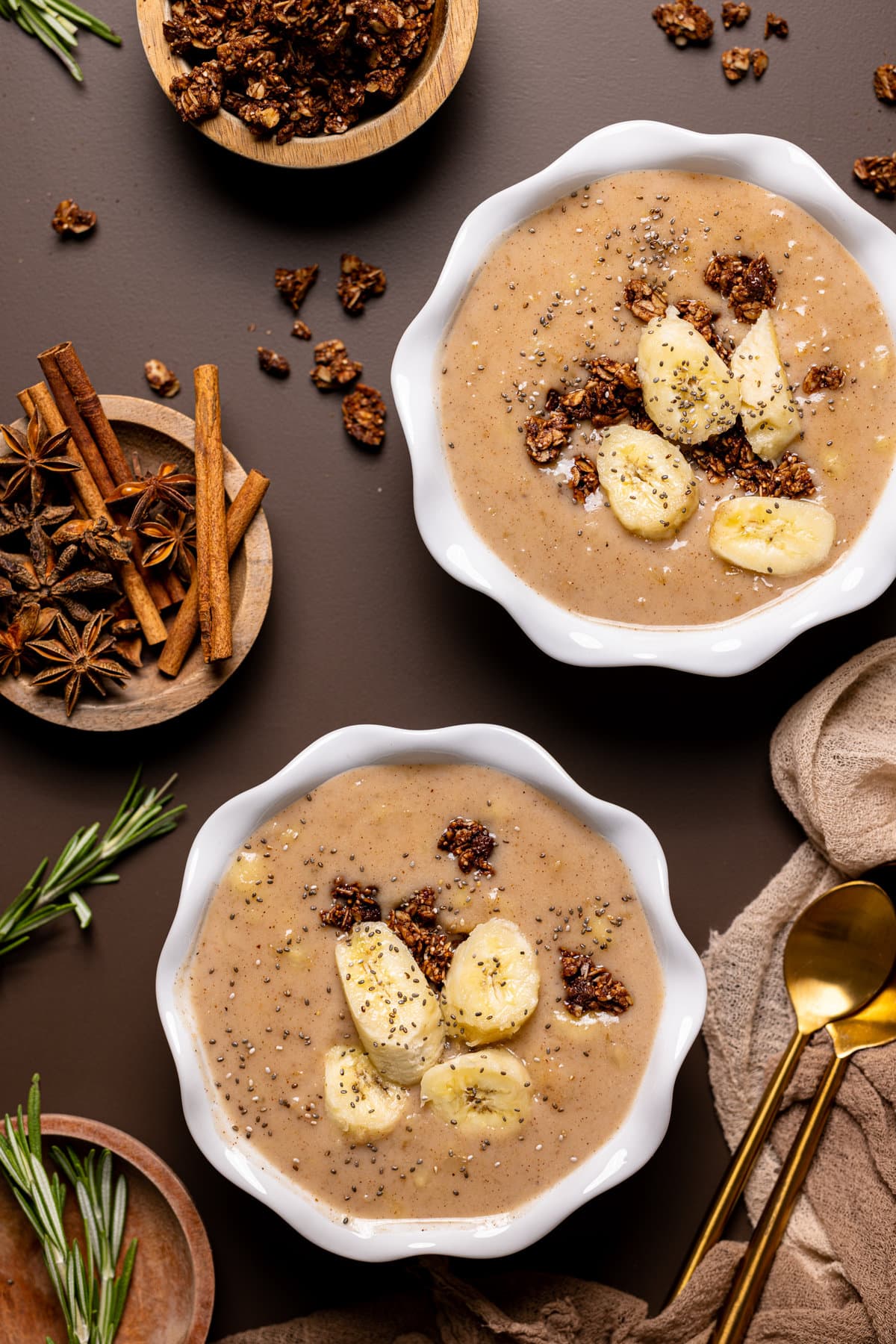 HOMEMADE CHAI SPICE BLEND
While you can purchase chai spice blends in stores, it's definitely a blend that is easy to find, but also easy to make. Your Banana Chai Oatmeal Porridge will taste amazing, whichever you use.
If you do plan on making your own spice blend, you will need:
Cinnamon
Nutmeg
Ground ginger
Allspice
Ground cardamom
Ground cloves
Black pepper
WHY ADD CHIA SEEDS TO OATMEAL
Chia seeds are one of my favorite superfoods to cook with. They are rich in fiber, vegetarian protein, and heart-healthy fats.
Research shows that eating nuts and seeds like chia can help protect reduce the risk of heart disease. While some nuts and seeds are dense in calories, chia seeds have very few calories. That's why I love adding a sprinkle to my oatmeal, or even smoothies.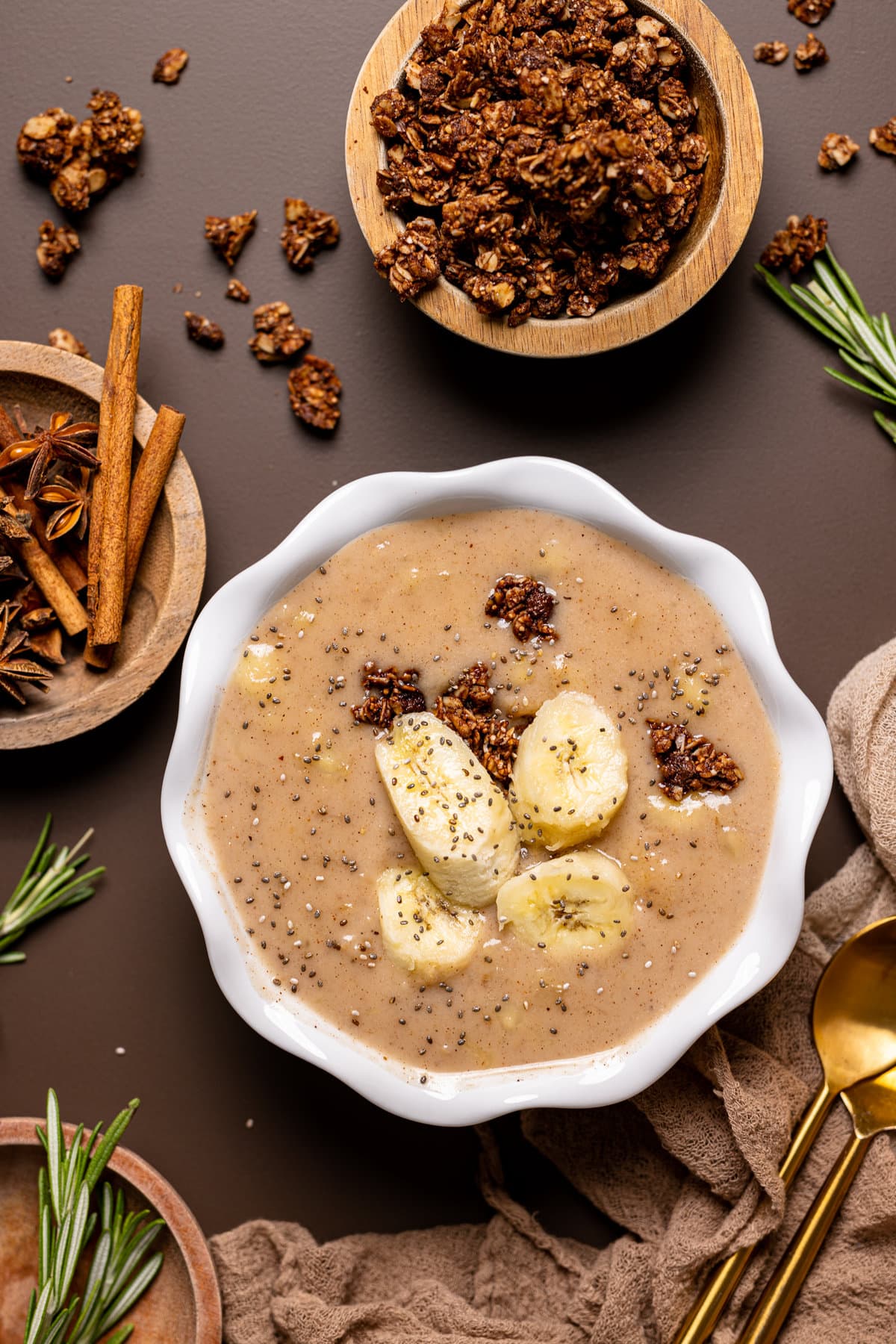 Health Benefits of Oats
Oats are another superfood that's great to start your day with. Rolled oats like the ones used in this recipe, are a healthy source of complex carbs, fiber (the soluble kind!), protein, and fat. In addition, they are loaded with important vitamins, minerals, and antioxidants.
Other great benefits of oats, according to studies:
They can help lower cholesterol.
Helps regulate blood sugar levels to avoid crashes and spikes
May help with losing weight.
Helps to relieve constipation.
Is This Banana Chai Oatmeal Porridge
 Gluten-Free?
Yes! This recipe is totally gluten-free for my celiac friends out there. Be sure to buy oats that state "gluten-free" on the package. Some oats are GF and some are not, so pay attention when shopping! If you are not sensitive to gluten, you can use any variety of oats.
Also, ensure that your condensed sweetened milk and full-fat coconut cream/milk are also GF-friendly---as well as the granola if you're using it as a topping!
How to Store + Serve Banana Chai Oatmeal Porridge
Leftovers can be stored in the refrigerator for up to 5 days. Perfect for meal prep for the week!
OVERNIGHT OPTION: Simply add all oatmeal ingredients (substituting the brown sugar with maple syrup) to a bowl and mix together until combined. Tightly cover bowl with plastic wrap and refrigerate overnight (or at least 8 hours). Once ready to serve, top overnight oats with toppings and enjoy.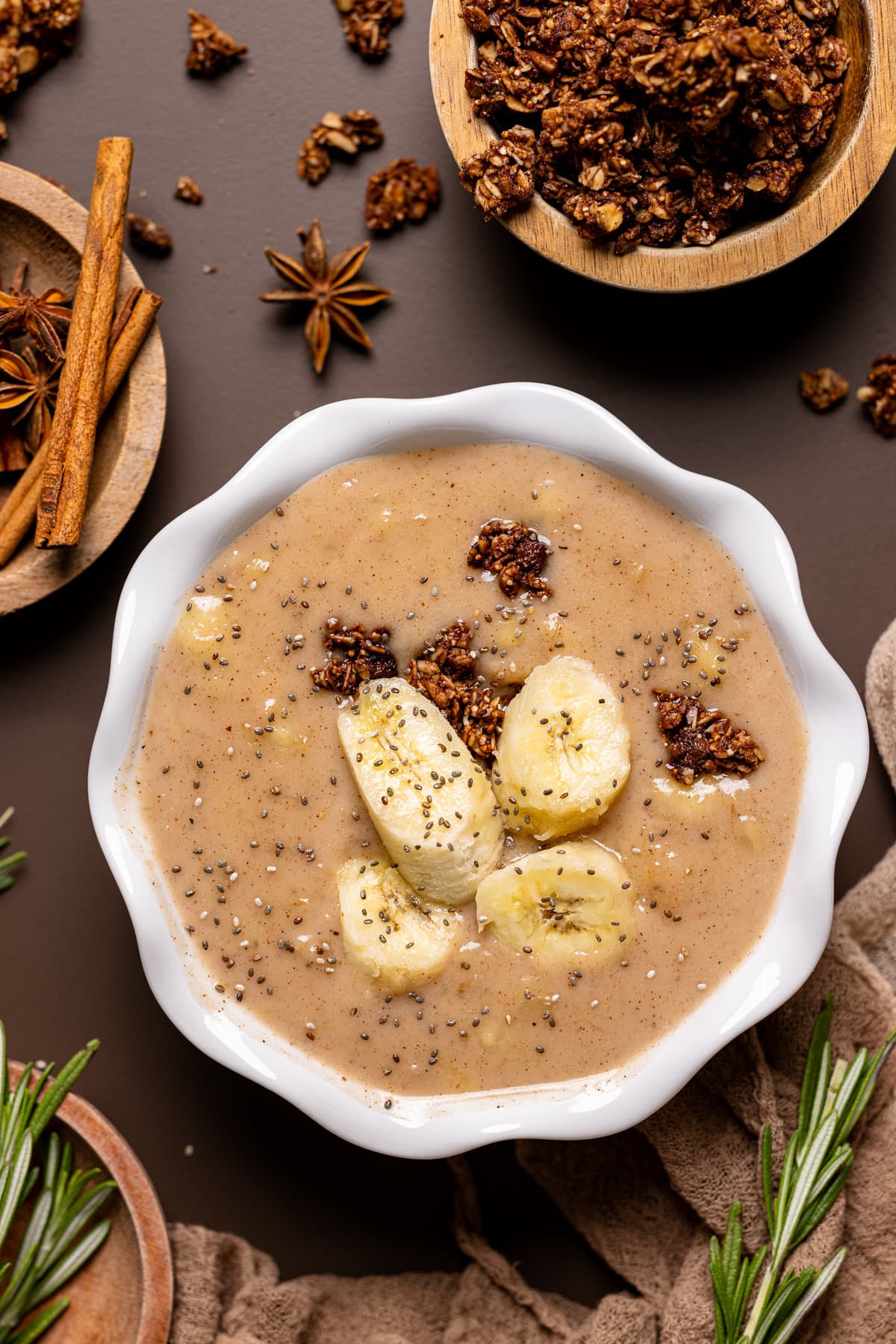 More Oat Recipes To Try!
If you love this Banana Chai Oatmeal porridge, then you're sure to love the following recipes:
MADE OUR RECIPE(S)?
If you make this Banana Chai Oatmeal Porridge, tag @orchidsnsweettea_ on Instagram and hashtag it #orchidsandsweettea!
OATMEAL:
1

cup

thick-cut Rolled oats, organic

1

very ripe banana, mashed

2

cups

Almond milk

(You can use water or your fave plant-based milk instead!)

1

(14 oz.) can

full-fat coconut milk/cream

(You can sub with your fave plant-based milk; See Notes!)

1

(7 oz.) can

dairy-free condensed milk

¼

cup

organic brown sugar

½

teaspoon

sea salt
CHAI SPICE BLEND:
1

teaspoon

ground cinnamon

½

teaspoon

ground nutmeg

¼

teaspoon

ground ginger

¼

teaspoon

ground allspice

⅛

teaspoon

ground cardamom

Pinch of

ground cloves

Pinch of

black pepper
OPTIONAL TOPPINGS:
Banana slices

Your favorite nuts

(Like pecans, walnuts, almonds, etc.)

Chia seeds

Granola, homemade or store-bought
TO MAKE THE OATMEAL:
Add oats, coconut milk, Almond milk, cinnamon, nutmeg, ginger, allspice, cardamom, cloves, black pepper, and sea salt to a medium saucepan over medium-high heat, stirring until everything is combined. Bring to a boil, then reduce heat to low so that everything simmers for 8-10 minutes, stirring occasionally.

Once done, oats should thicken and become swollen + fluffy and creamy with half the the liquid still remaining. Stir in the condensed milk, brown sugar, and mashed banana and let it simmer for an additional 2-3 minutes before removing it from heat.

To serve, portion oatmeal into serving bowl(s) and top with sliced bananas, your fave nuts, chia seeds, and/or granola, if desired.

Bon Appetit!
STORAGE: Can be stored in the refrigerator for up to 5 days. Perfect for meal prep for the week!
OVERNIGHT OPTION: Simply add all oatmeal ingredients (substituting the brown sugar with maple syrup) to a bowl and mix together until combined. Tightly cover bowl with plastic wrap and refrigerate overnight (or at least 8 hours). Once ready to serve, top overnight oats with toppings and enjoy.
TOASTED NUTS: Add chopped walnuts/pecans/almonds, etc. to a baking sheet and toasting them in the oven (400 degrees Fahrenheit) for 5-10 minutes, tossing them halfway to avoid browning on one side.
COCONUT CREAM: I love using canned coconut cream from Thai Kitchen, however, you can always use canned coconut milk as well and refrigerate it overnight to thicken and create more creaminess. 
WHAT PLANT-BASED MILKS ARE GOOD FOR THIS RECIPE? You can always use your fave plant-based milk instead of full-fat coconut cream/milk. Any one of the following works: Almond, coconut milk, homemade oat milk (froths/foams VERY WELL), homemade cashew milk, flax milk, etc.
Banana Chai Oatmeal Porridge.