Get ready to fall in love with this Easy Homemade Oat Milk recipe! This plant-based milk recipe is so delicious that once you try it, you'll want to add it to everything. Completely versatile and enjoyed in anything that requires milk, this simple ingredient vegan recipe will become a staple in your fridge. Simply soak your oats for a few minutes, drain, rinse, blend, and strain. It's perfect for plant-based plates and won't break the bank. Trust me, once you try it, you'll be hooked. Completely Plant-based, Gluten-Free, Nut-free, No Added Sugar, & Vegan!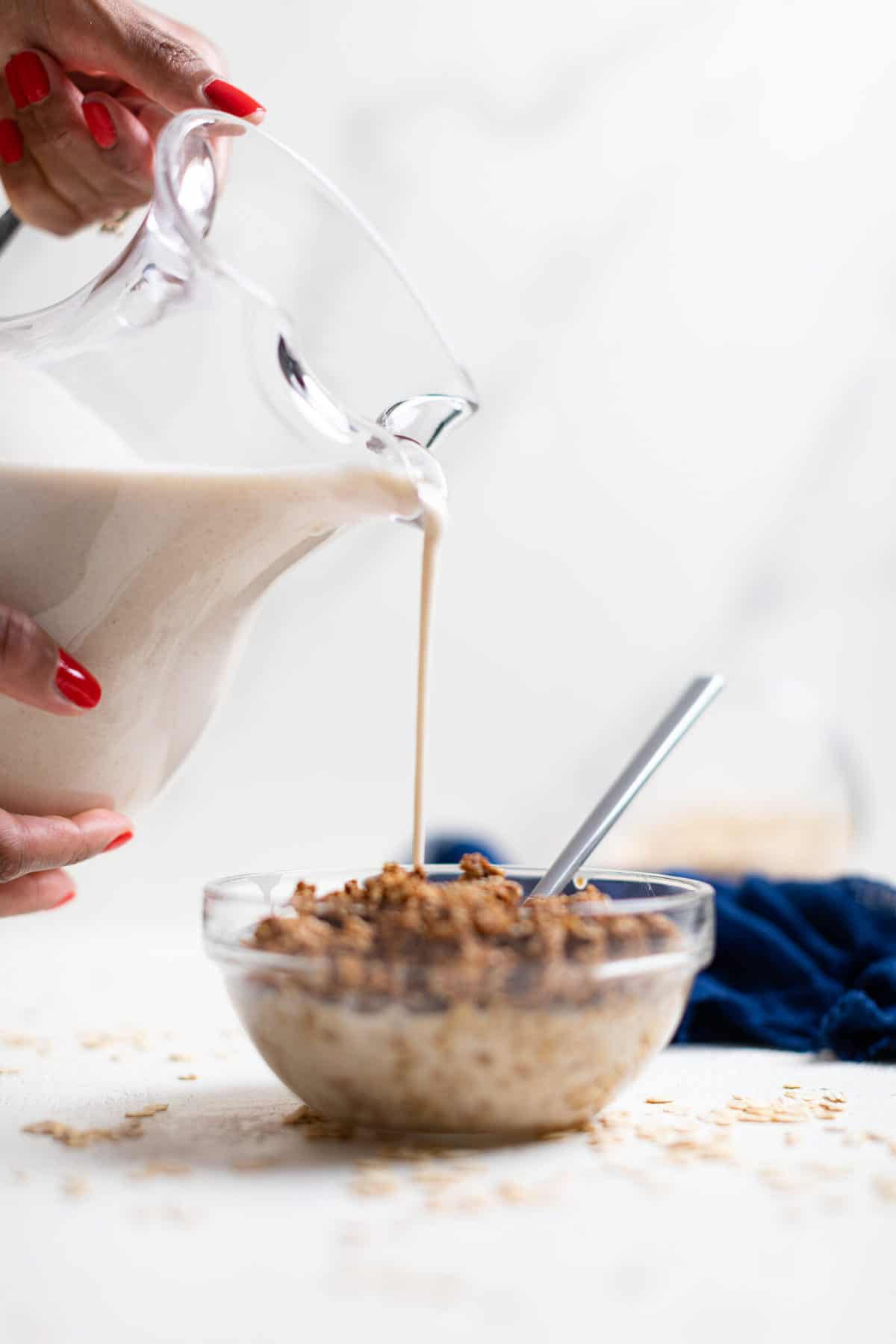 What is Oat Milk?
Say goodbye to store-bought milk and hello to Easy Homemade Oat Milk, the super creamy and non-slimy variety!

All you need are rolled oats and water and a few other simple ingredients to blend and strain your way to a natural, dairy-free & nut-free milk alternative that's perfect for any simple ingredient vegan recipe. It's very been easier to be plant-based on a budget! Add it to Coffee, Granola, Cereal, Overnight Oats, Baked Goods, Desserts & More!
Homemade Easy Oat Milk Ingredients
Super simple and easy ingredients!
GF Rolled Oats. Use gluten-free if necessary.
Filtered cold water. You can use filtered tap water or buy it from the store.
Agave. Feel free to use less for a less-sweet milk.
Dates. Natural Sweetener. Use less if you don't like sweet!
Vanilla extract. For a touch of added flavor.
Sea salt. Enhances the other flavors.
Ground Cinnamon. This adds a nice spice.
Jump to:
How to Make Non-Slimy Easy Homemade Oat Milk
Making my own Oat Milk was a learning curve. There are a few tricks I've learned that drastically affect the outcome. I'm talking about avoiding an ooey-gooey, slimy texture and getting a creamy oat milk masterpiece instead. With a little practice and finesse, I have mastered the perfect recipe of oaty goodness to share with you.
TIPS TO AVOID SLIMY OAT MILK
DONT OVER-BLEND! Blend for 10 seconds initially in a high-speed blender to prevent over-blending. If necessary, increase blending time gradually in 5-second intervals, but do not exceed 30 seconds.
USE ICE-COLD WATER. This seems to help in avoiding any slimy-ness!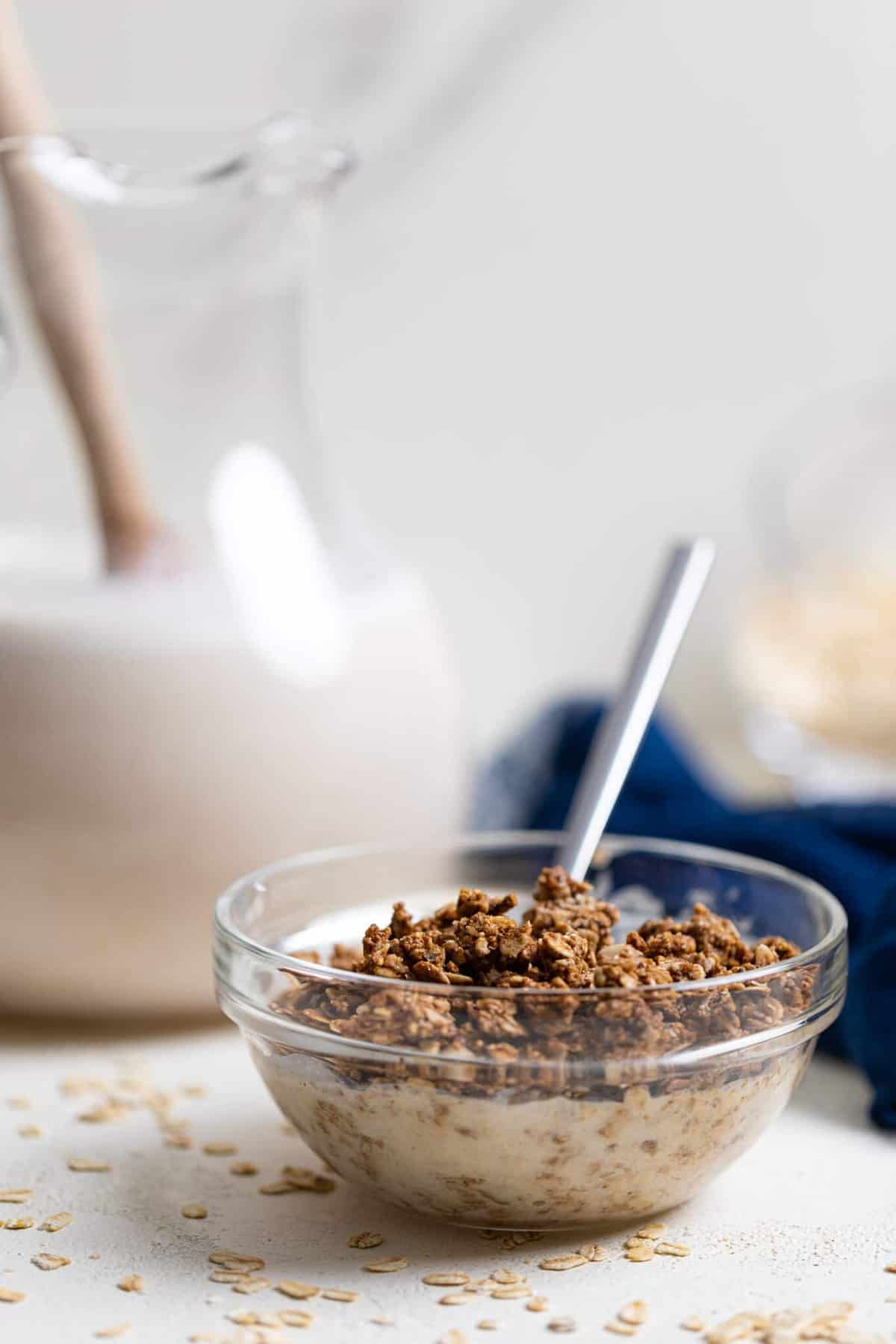 Homemade Vs Store Bought Oat Milk
This simple ingredient vegan milk recipe of Homemade Oat Milk is definitely a staple in my fridge. Lately, I've noticed a major trend in homemade milks, especially when it comes to Oat Milk, with famous brands like Oatly taking center stage. It's a crowd favorite, and I can see why.
I have to admit I was a little late to the homemade plant-based milk train, opting for my favorite go-to brands like Califia Farms and So Delicious instead. They're amazing, so why make my own, right? Haha. Whelp. I've since given in to the trend, and I must say that I'm glad I did. There are a lot of great reasons to opt for homemade oat milk.
BENEFITS OF MAKING YOUR OWN HOMEMADE OAT MILK
You have complete control over the ingredients and can customize it to your liking
It is generally less expensive than store-bought oat milk
You can make smaller batches to avoid waste
It is fresh and free from preservatives.
It is a fun DIY project!
You can avoid added sugars, oils, thickeners, and salts!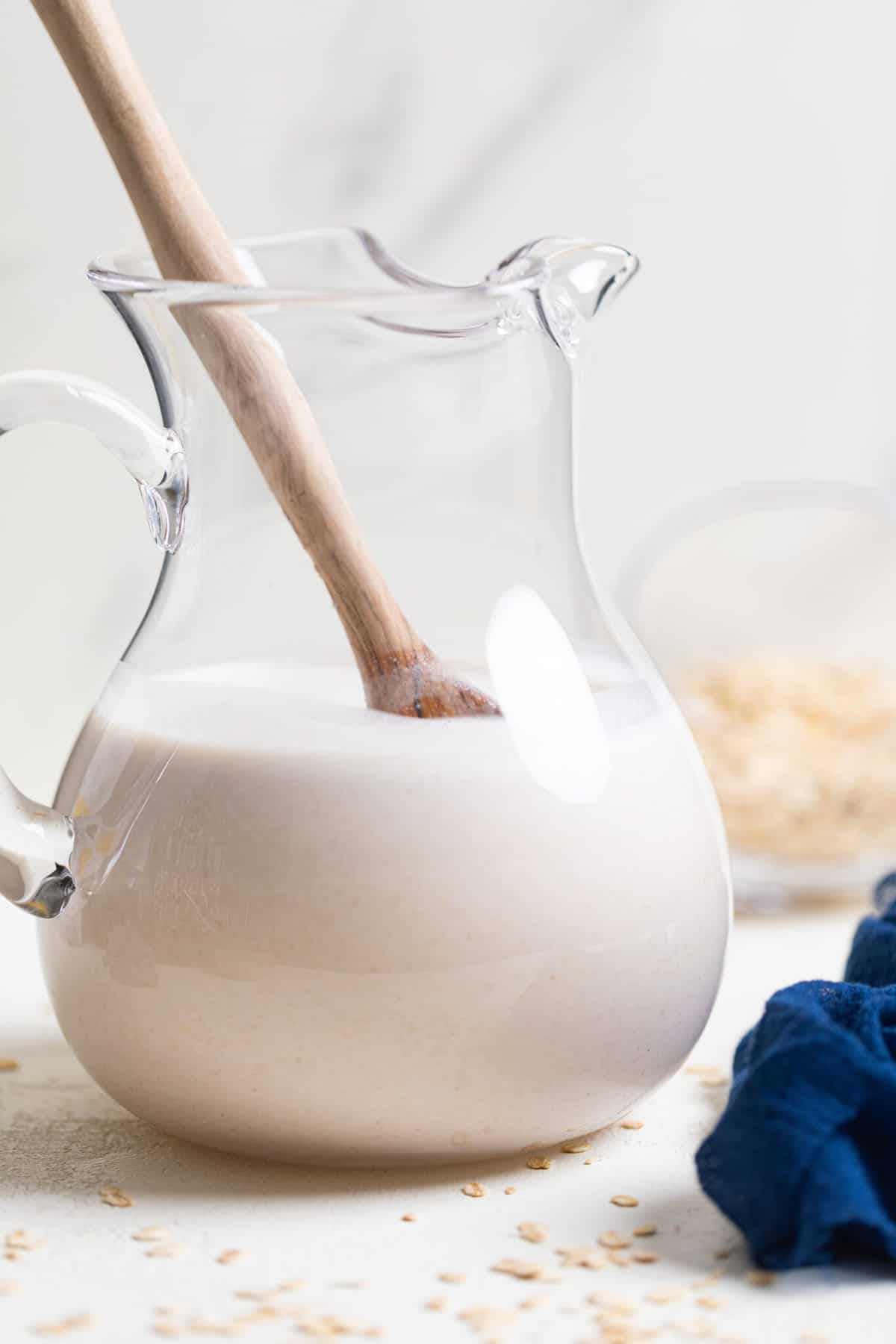 Common Q+A's About Oat Milk
I Don't Like Oats. What Are Some Other Nut-free Alternative Plant-based milk?
If you don't like oats, then try my other plant-based milks such as soy milk, rice milk, coconut milk, hemp milk, flax milk, rice milk, and the list goes on!
How Long Does Oat Milk last for?
When properly stored in the refrigerator, oat milk lasts for up to 1 week, at best. Usually, I like to consume my batch within the first 2-3 days. The great thing is that making a new batch isn't hard at all.
Is Homemade Oat Milk Better Than Store-Bought?
Of course, it depends on your preference and time. However, making anything homemade gives you more control over the ingredients used. Store-bought oat milk might be filled with added sugars, oils, thickeners, and salts, which aren't that good for you, depending on the brand.
Can I Omit Dates If I Don't Like Them Or Am Allergic?
Absolutely! Dates are a great sweetener option, however, if you aren't a fan of their taste or might be allergic to them, you can simply adjust the amount of Agave used as a replacer.
Do I Need To Strain My Oat Milk?
Yup! To ensure that your oats blend to an incredibly smooth consistency along with your other ingredients, it's super important that you let your oats soak in fresh water for 15-20 minutes.
Why You Will LOVE This Oat Milk
Smooth & creamy texture
Mild & slightly sweet flavor
Completely Nut-free, Dairy-free & Vegan
Super Budget Friendly!
Versatile, can be used in so many ways!
Not to mention, it's just DELICIOUS!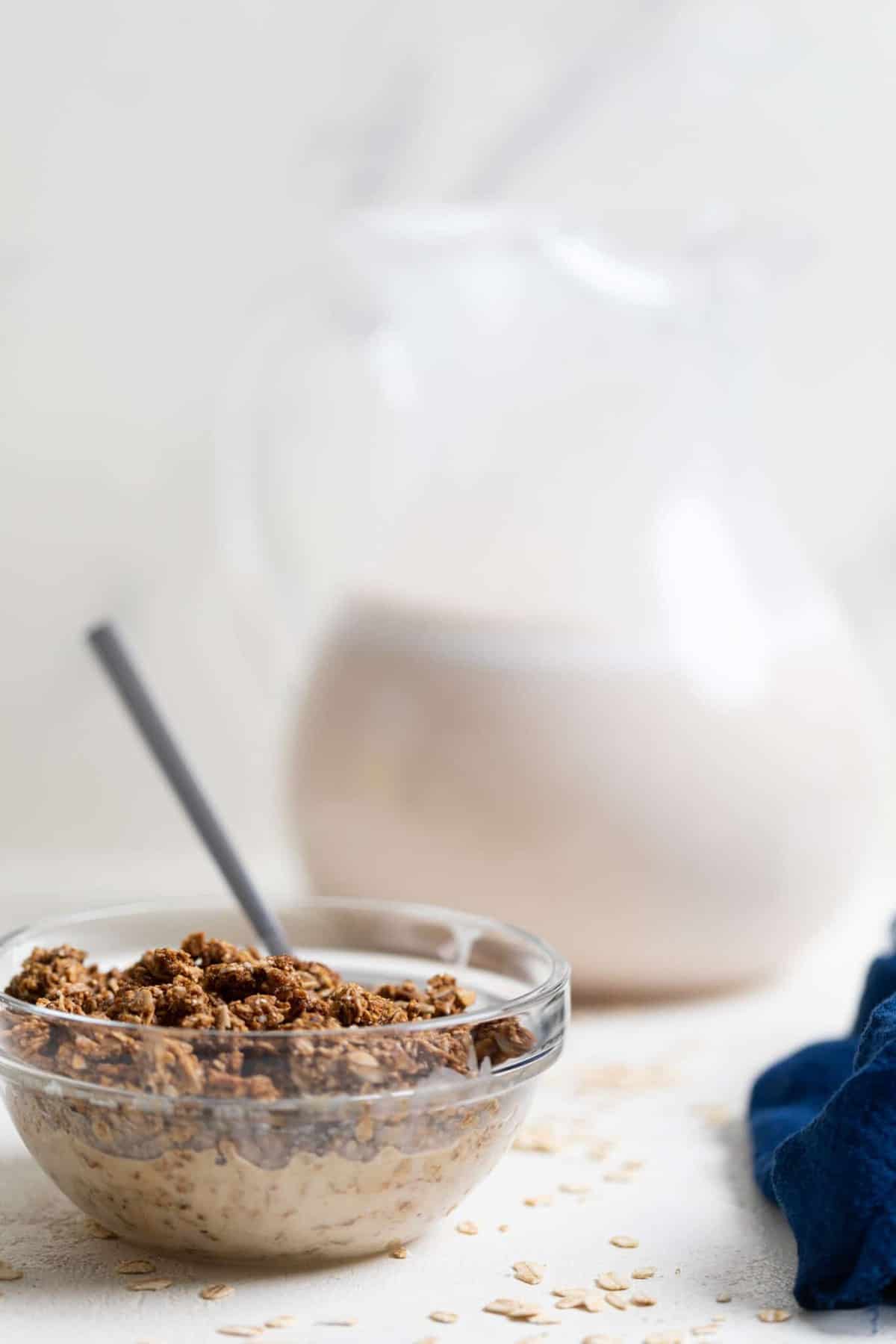 How To Use Homemade Oat Milk
Oat Milk is SO versatile and can be used in so many ways. Here are some ideas!
HOMEMADE LATTES -- I love this Iced Caramel Latte.
SMOOTHIES -- Add this plant-based milk to all your favorite drinks!
CHOCOLATE -- Try these Homemade Vegan Chocolate Bars
CEREAL OR GRANOLA -- Pour on top of your favorite breakfast goodies, and voila!
SOUPS -- This is especially great in creamy soups!
OVERNIGHT OATS. So many options. Oat milk adds another level of creaminess!
MORE HOMEMADE PLAN-BASED MILK RECIPES
MADE OUR RECIPE(S)?
If you make this Easy Homemade Oat Milk, tag @orchidsnsweettea_ on Instagram and hashtag it #orchidsandsweettea!
1

cup

Rolled oats, gluten-free 

(You can also use a non-GF version!)

5

cups

filtered water, divided

2

pitted

medjool dates

(See Notes!)

1-2

Tbsps

Agave

(Adjust amount based on preference!)

1

teaspoon

vanilla extract

½

teaspoon

ground cinnamon

pinch of

sea salt
In a large bowl, add dry rolled oats along with 2 cups of fresh water and soak for 15-20 minutes. Once oats have swollen and softened, drain out water, rinse with more fresh water, and drain again and set aside. NOTE: Be sure to discard all drained water.

Next, add all ingredients (including drained oats + 5 cups of filtered water) to a high-powered blender and blend on medium-high speed for about 30-45 SECONDS. NOTE: Do not over-blend; Adjust sweetness as needed.

Once done, slowly strain (using a cheesecloth) milk into a pitcher, squeezing the oatmeal pulp to ensure that all milk is extracted. NOTE: You may have to repeat this process until all oat milk has been fully strained by re-pouring milk on top of pulp to extract more milk, if needed.

Refrigerate milk (best if tightly sealed/covered) for up to 1 week. Stir before serving.

Sip and Enjoy!
STORAGE: When properly stored in the refrigerator, oat milk lasts for up to 1 week, at best. Usually, I like to consume my batch within the first 2-3 days.
REMAINING OAT PULP: You can always repurpose leftover 'oat pulp' by covering it in the refrigerator and using it in overnight oats, smoothies, etc.
SERVING: To make less milk, cut ingredient measurements in half. To make more, simply double or triple the measurement of ingredients, depending on your desired amount. 
SWEETENER: If dates aren't desired, you can use additional Agave, pure maple syrup, or date syrup, instead if preferred.
USES: Oat milk's creamy consistency makes it perfect in lattes, cappuccinos, smoothies, creamy soups, and baked goods. Can also be used as regular milk for cereal, etc.
Calories:
65
kcal
|
Carbohydrates:
14
g
|
Protein:
1
g
|
Fat:
1
g
|
Saturated Fat:
0.1
g
|
Polyunsaturated Fat:
0.2
g
|
Monounsaturated Fat:
0.2
g
|
Sodium:
8
mg
|
Potassium:
80
mg
|
Fiber:
1
g
|
Sugar:
6
g
|
Vitamin A:
9
IU
|
Vitamin C:
0.5
mg
|
Calcium:
15
mg
|
Iron:
0.5
mg
Creamy Homemade Oat Milk.