Pineapple Ginger Turmeric Lemonade is a refreshing and healthy non-alcoholic drink perfect for hot summer days. Ginger adds a bit of a spicy kick to match the sweet, refreshing pineapple juice and earthy turmeric.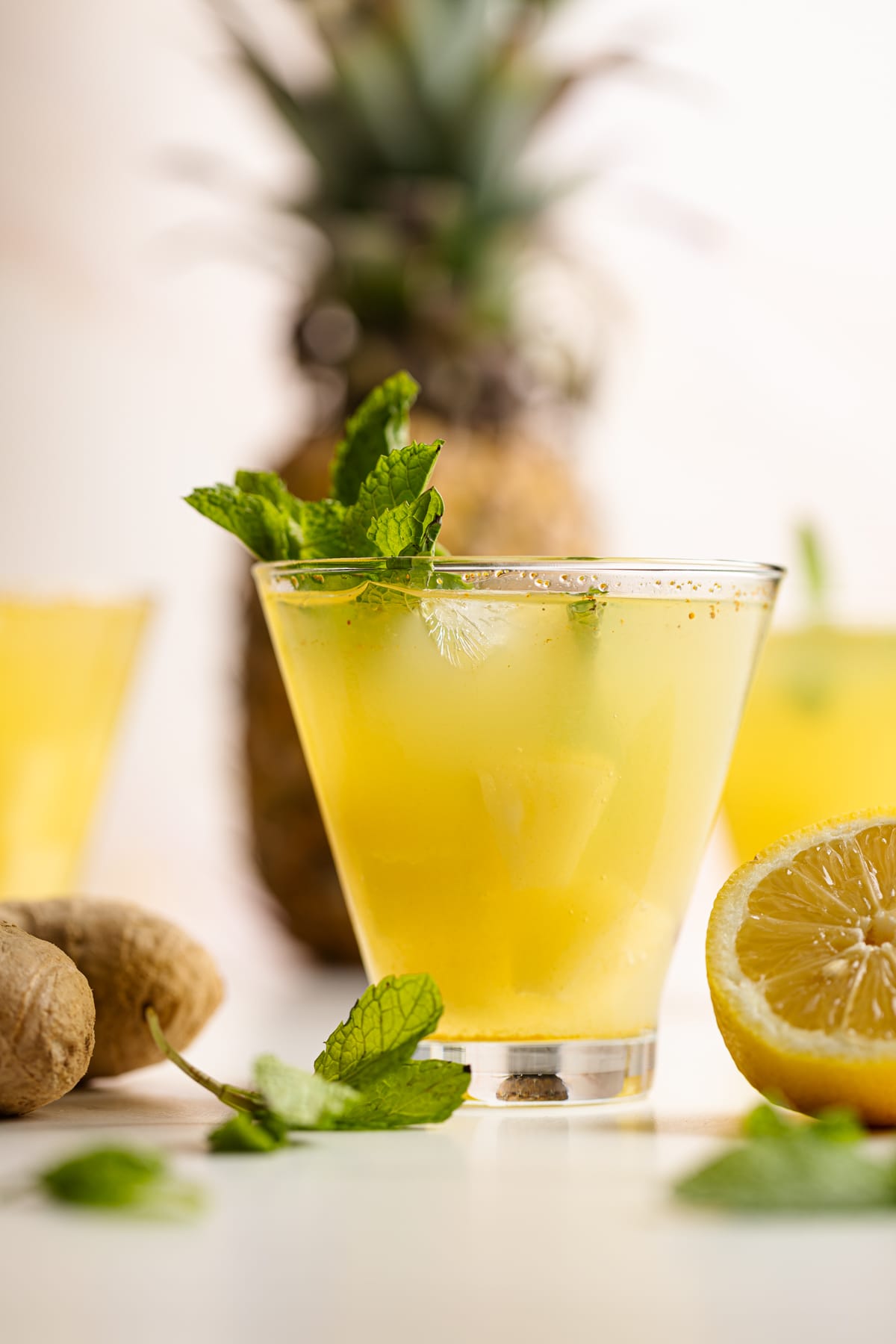 Lately, I've been enjoying experimenting with new drink recipes like Apple Citrus Strawberry Juice and Healthy Blood Orange Kiwi Drink. I recently got turned onto pineapple, which is so perfect for mixing drinks because it's naturally sweet and refreshing. 
This pineapple ginger turmeric lemonade is bold in flavor, refreshing, and SO healthy for you. It's full of vitamins A and C to provide an immune-boosting jolt an  to keep your skin and hair looking and feeling their best. 
Why You'll Love This Healthy Lemonade:
It's super easy to make.
Refreshing and delicious, with a nice tropical feel.
Only uses a handful of ingredients.
Health benefits include better digestion, immune support, antioxidants, and more.
All NATURAL — including the sweetener!
Bursting with a nice mix of sweet, tart,+ spicy flavors!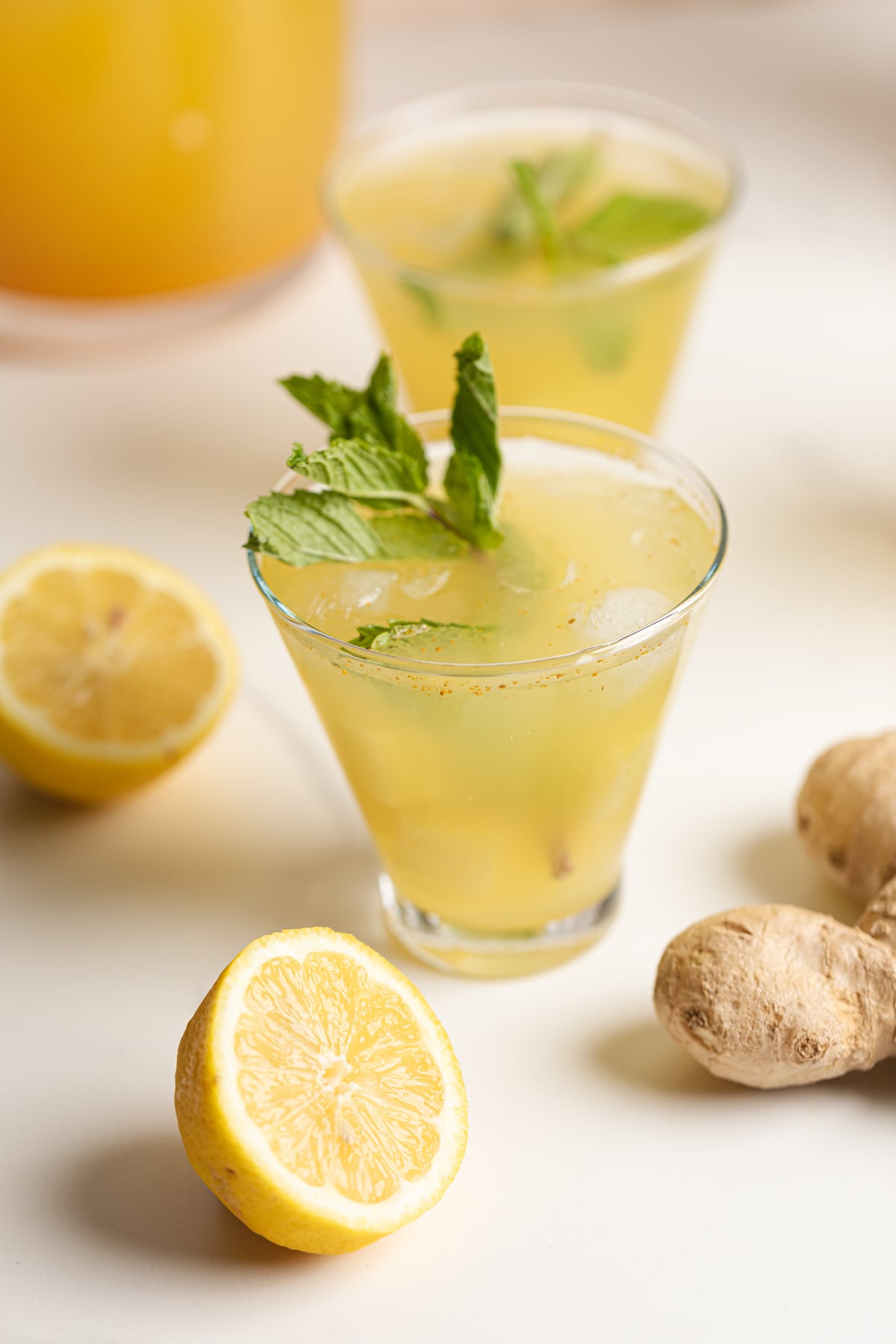 How to Make Pineapple Ginger Turmeric Lemonade
You only need a few simple, fresh ingredients to make this drink:
Fresh ginger. You can use as little or as much ginger as you like. It adds spicy flavor to the drink, which some people love!
Freshly squeezed lemon juice. You'll need up to 10 lemons to make this healthy lemonade! I recommend using a citrus juicer to save yourself the wrist pain. 
Pineapple juice. You can use store-bought pineapple juice if you like. If you'd rather make your own, see the notes below the recipe for how to do it in your blender with fresh fruit. 
Agave. You can use another sweetener if you like, including honey (or vegan honey), maple syrup or coconut sugar. For more on healthy sweetener options, read my post on The Best Healthy Sugar Alternatives + Substitutes.
Turmeric. This orange spice is packed with antioxidant properties. Read more about the health benefits of turmeric here. 
Black pepper. Adding a touch of black pepper to your lemonade will allow your body to absorb the turmeric better, and you won't taste it in the final drink.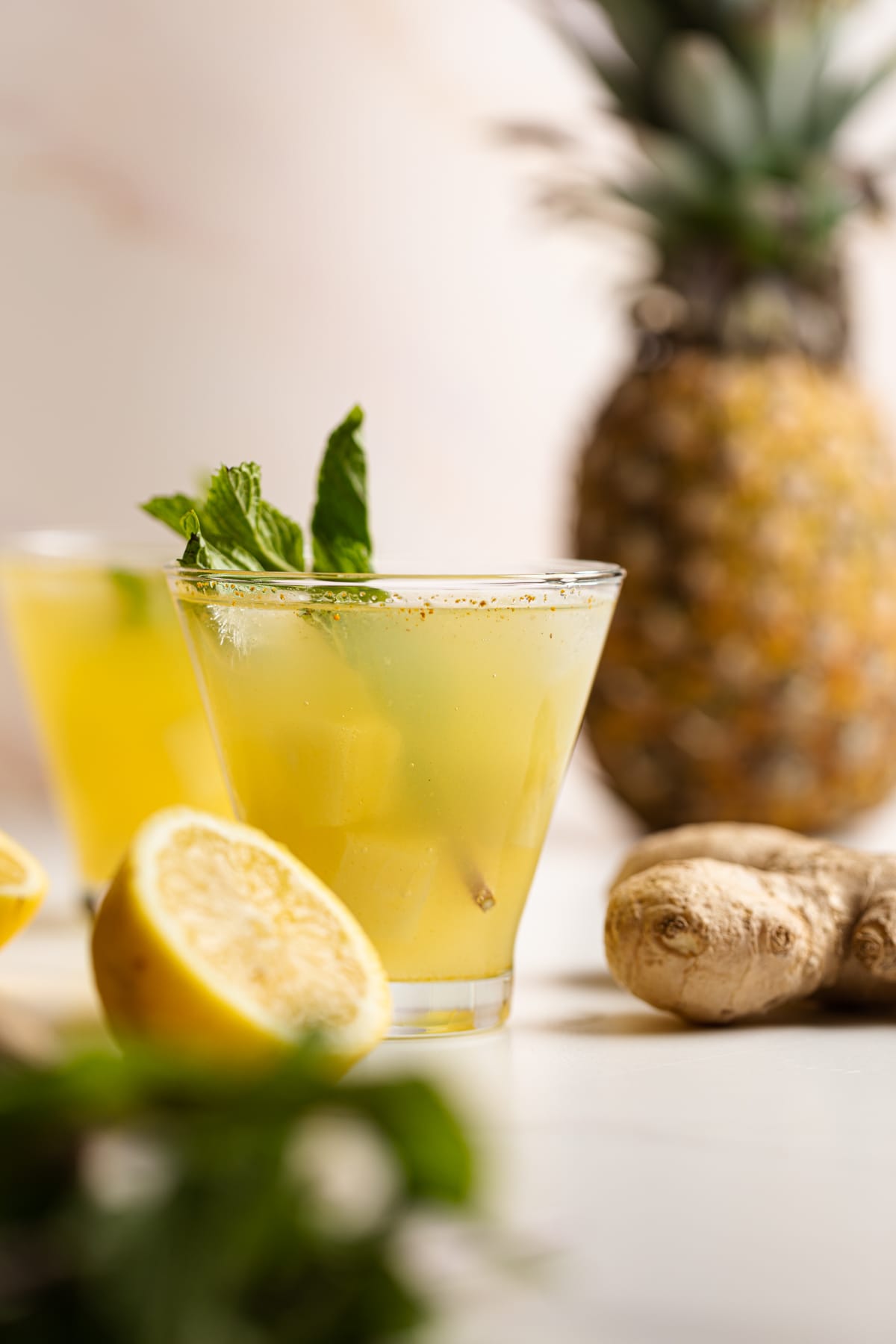 Health Benefits of Pineapple Juice
Besides the fact that pineapples are insanely delicious, pineapple juice adds some impressive health benefits to this healthy drink. 
Pineapples are loaded with nutrients, antioxidants, and other enzymes that help to fight inflammation, etc.
Here are a few pineapple health benefits:
They are low in calories + loaded with nutrients such as vitamin C, manganese, vitamin B6, protein, among others.
Loaded with healthy antioxidants that combat oxidative stress.
Contains digestive enzymes which helps to better support the digestive system + functioning.
It May help to boost Immunity + suppress inflammation, including Arthritis.
It May help to speed recovery after surgery or a strenuous workout.
Of course, you can always use fresh pineapple which will be blended in together with everything. However, if using pineapple juice like me, be sure to keep things healthy by using organic.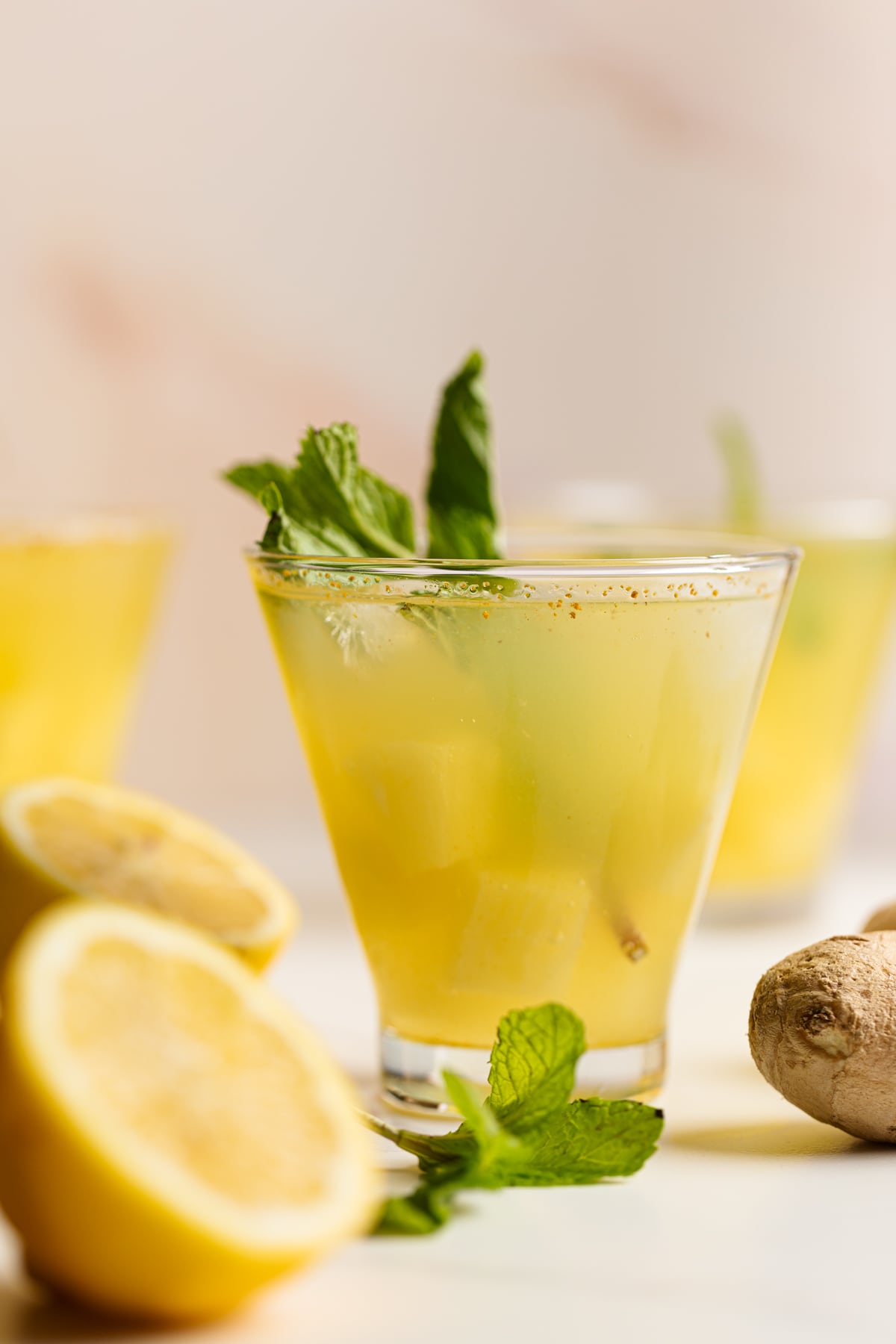 Why You Should Pair Lemon and Ginger Together:
There are some surprising health benefits from this refreshing turmeric lemonade recipe. In fact, when you combine lemon and ginger together, you'll reap some major benefits, including:
IMPROVES COGNITIVE FUNCTION:
The superfood combination of lemon and ginger does wonders to our brains. Compounds in both plants help soothe specific nerves, reduce anxiety and improve our mood. As a result, we can think more clearly. In addition, both lemon and ginger are full of antioxidants. These help eliminate oxidative stress and may lower your risk of Alzheimers and dementia.
IMPROVES SKIN HEALTH:
Lemon and ginger both have skin health-promoting properties. The vitamins and antioxidants in both foods help calm skin inflammation and improve glow. 
These foods also have antibacterial and antiviral properties, which can help prevent skin infection.
IMPROVES HAIR HEALTH
While each ingredient has been used individually to help your hair health, combining them actually provides a boost of vitamins A and C. These essential nutrients both promote hair growth.
In addition, lemon and ginger can reduce dry skin and dandruff naturally. So adding more of these ingredients to your diet is a great idea if you struggle with dry scalp.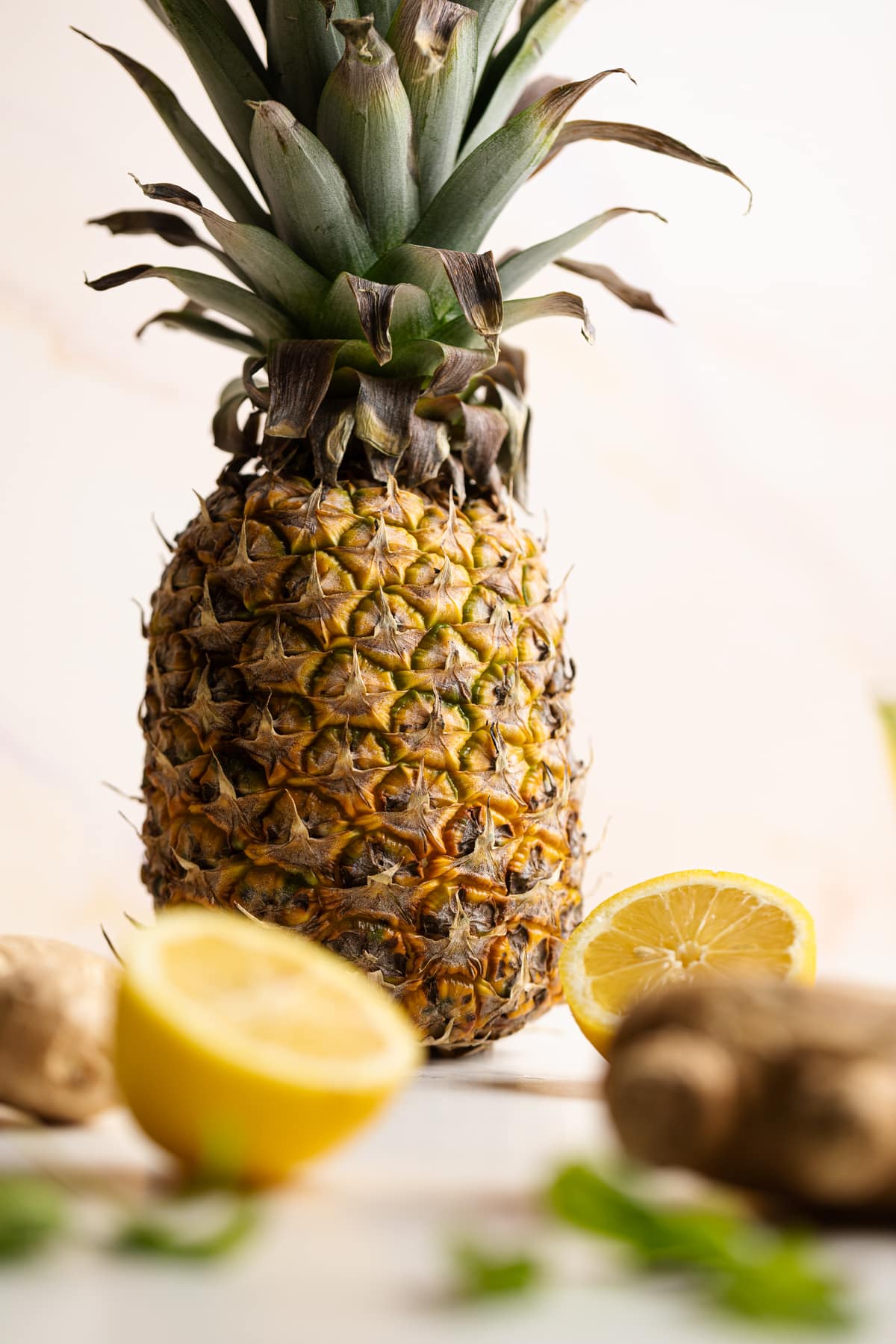 HELPS TO RELIEVE PAIN:
Ginger in particular has powerful anti-inflammatory properties. For this reason, the root can also act as a pain reliever. It can help your body recover from body pain, menstrual cramps, surgeries, and other illnesses.
So the next time you find yourself contemplating on whether to take another painkiller, try sipping ginger tea as a natural home remedy.
HELPS CONTROLS DIABETES:
Finally, studies suggest that ginger can help moderate your blood sugar levels, which is good for anyone who suffers from diabetes. However, research shows that lemon can also help to control diabetes as well.
The soluble fiber and Vitamin C in lemon helps limit spikes in blood sugar, as well as blood pressure and cholesterol.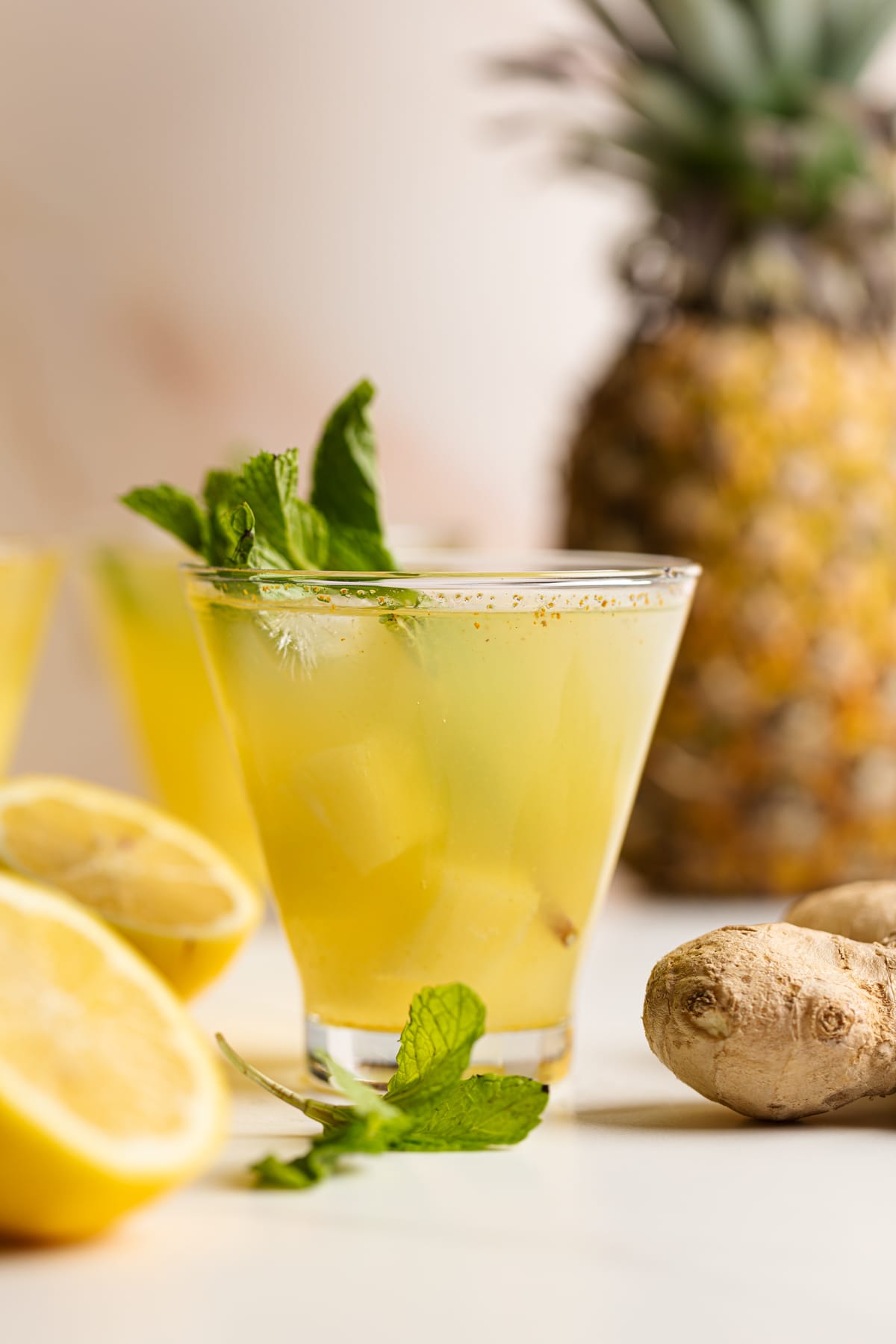 Jamaican Herbs That You Should Always Keep On Hand + Remedies!
I am a strong proponent of relying on fresh herbs and natural remedies as much as possible to address health concerns. This list of Jamaican Herbs That You Should Always Keep On Hand + their Remedies showcases many popular herbs that help fight everything from colds/flu to pain to acne; traditionally used by many Jamaicans for centuries.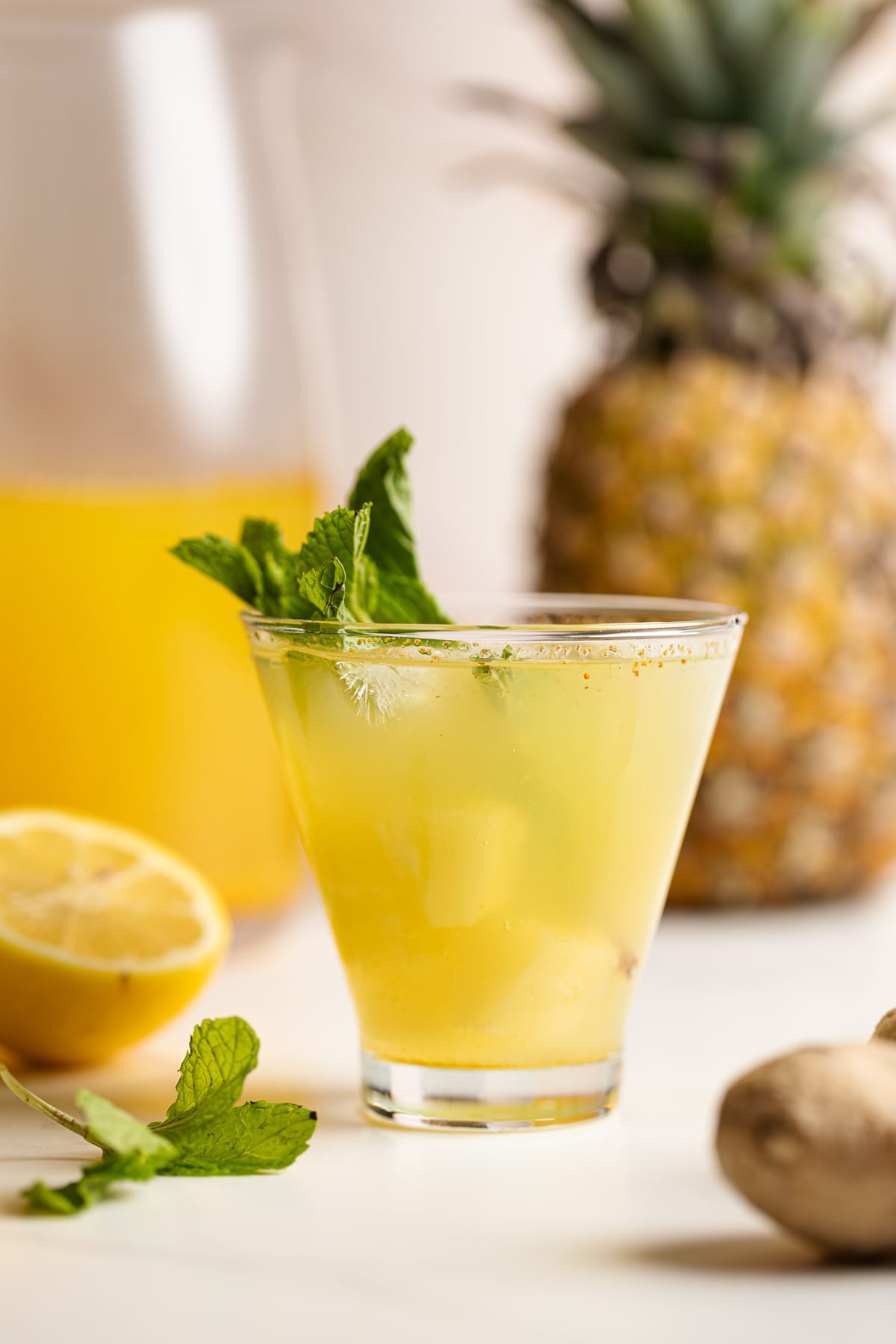 More Refreshing and Healthy Drink Recipes
MADE OUR RECIPE(S)?
If you make this Pineapple Ginger Turmeric Lemonade, recipe or any other recipe from us, be sure to tag us on Instagram at #Orchidsandsweettea so that we can share the love!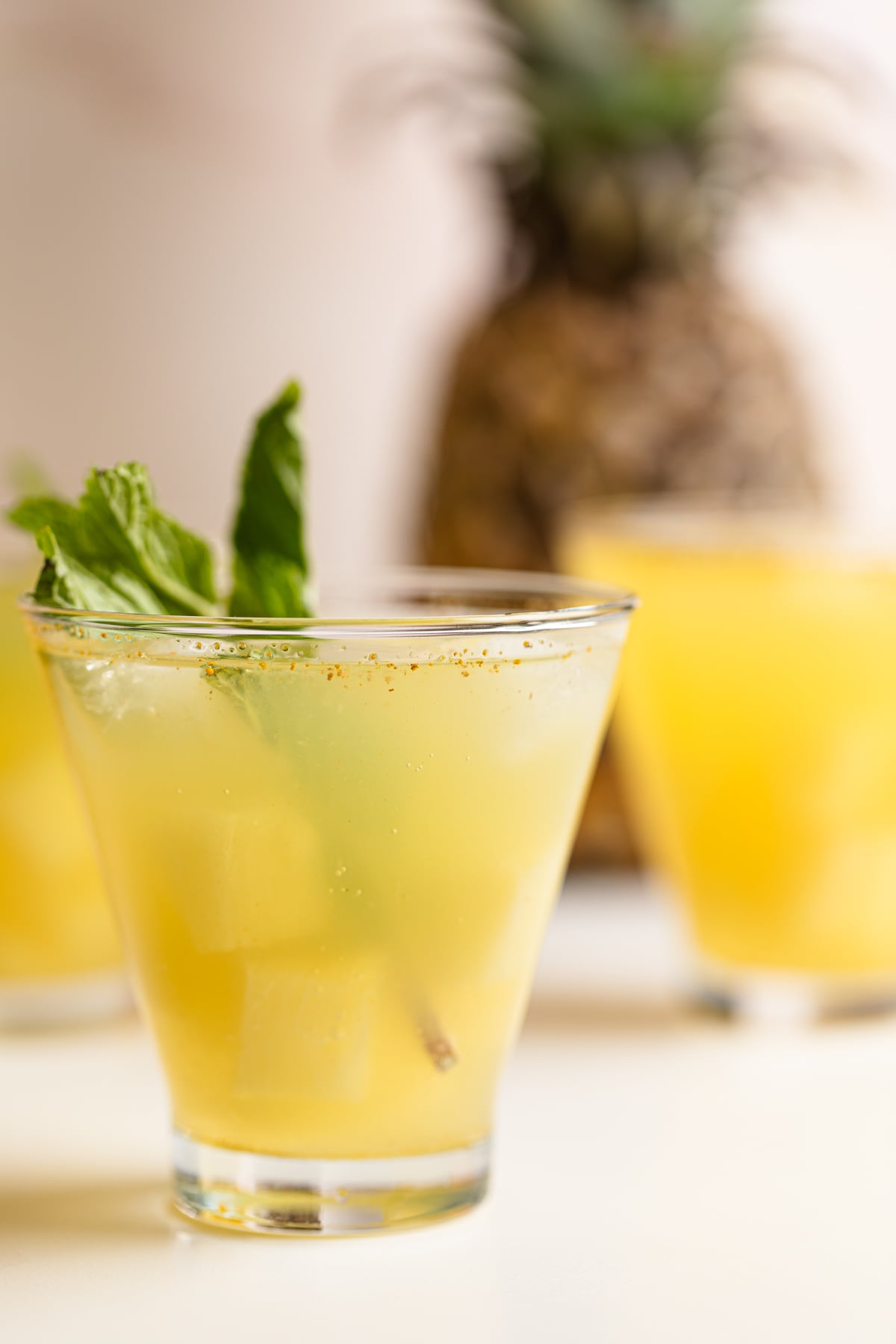 4

cups

filtered water

2-3

cups

peeled + chopped ginger root

(Depending on the amount of Ginger flavor desired)

1 ½

cups

freshly-squeezed lemon juice

(That's about 9-10 large lemons)

2

cups

pineapple juice

(See Notes)

½

cup

Agave + more if needed! 

(See Notes)

1 ½

tsps

turmeric powder

(See Notes)

⅛

teaspoon

black pepper
BOIL THE GINGER + COOL:
In a large pot over medium-high heat, add water and let it begin to boil. Once boiling, add the ginger roots and boil for 10 minutes.

After the 10 minute mark, turn off the heat and cover the mixture with a pot cover, allowing everything to steep for about 10-15 minutes to ensure that flavors are fully infused and potent.

Once fully steeped, add in the sweetener, turmeric, and black pepper, whisking until well incorporated and dissolved.
TO MAKE THE LEMONADE:
In a large pitcher, add the ginger-turmeric mixture followed by the freshly-squeezed lemon juice and pineapple juice, stirring everything together until well combined.

To serve—add the crushed ice into prepared glass(es), followed by pineapple ginger turmeric lemonade and add diced pineapple and mint as garnish, if desired.

Sip and enjoy!
PINEAPPLE: If you decide not to use store-bought pineapple juice, you can always use 2 cups of fresh pineapple chunks and them to blender along with freshly steeped ginger-turmeric mixture. Blend for 1-2 minutes until smooth and pineapples are fully broken down. Continue recipe.
SWEETENER: You can always use 'honey', pure cane sugar, or maple syrup instead of using Agave. This makes for a more subtle sweet taste. For Vegan honey option—Bee Free Honee, click link.
TURMERIC: For health benefits of using turmeric, ensuring that it is paired with black pepper, helps to aid in curcumin absorption.
SWEETNESS: Add more Agave (or other sweetener) for more sweetness if needed, 1 tablespoon at a time.
STORAGE: Keep any leftovers in the refrigerator, tightly covered in your pitcher or in a sealed mason jar. Best if consumed within a few days (around 4-5 days).
Calories:
140
kcal
|
Carbohydrates:
34
g
|
Protein:
1
g
|
Fat:
1
g
|
Saturated Fat:
0.1
g
|
Polyunsaturated Fat:
0.1
g
|
Monounsaturated Fat:
0.1
g
|
Sodium:
15
mg
|
Potassium:
312
mg
|
Fiber:
1
g
|
Sugar:
22
g
|
Vitamin A:
8
IU
|
Vitamin C:
36
mg
|
Calcium:
25
mg
|
Iron:
1
mg