This Cucumber Ginger Lemon Detox Juice is an incredible way to boost your immune system and reset everything in between daily consumption.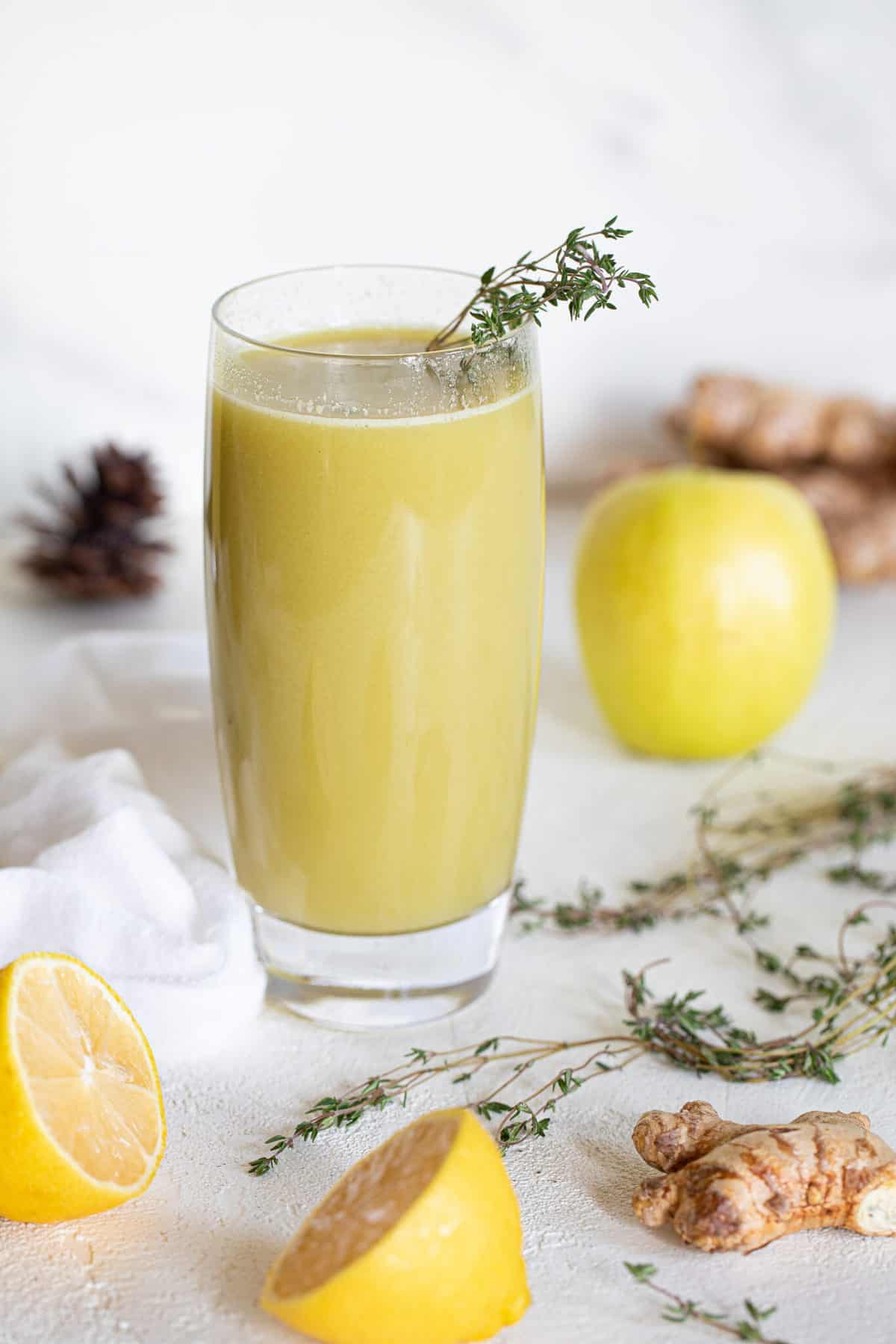 I love using natural remedies for my health and when it comes to keeping my body in tip top shape, I try to incorporate recipes like this one to best ensure that the body feels refreshed. 
Why Cucumber + Ginger + Lemon Together?
Well, the short answer is that each ingredient has a ton of health benefits, therefore, putting them together adds more power! I delve further into their individual benefits throughout this post, but that's really my main reason for adding them together for this detox.
What is a Detox?
By dictionary definition, Detox is the psychological or medicinal removal of toxic substances from the human body. Therefore, detoxes like this one helps your body to reset and get rid of toxins (which can be built up by many factors internally and externally) so that we can feel rejuvenated, improve our health, and help with weight loss.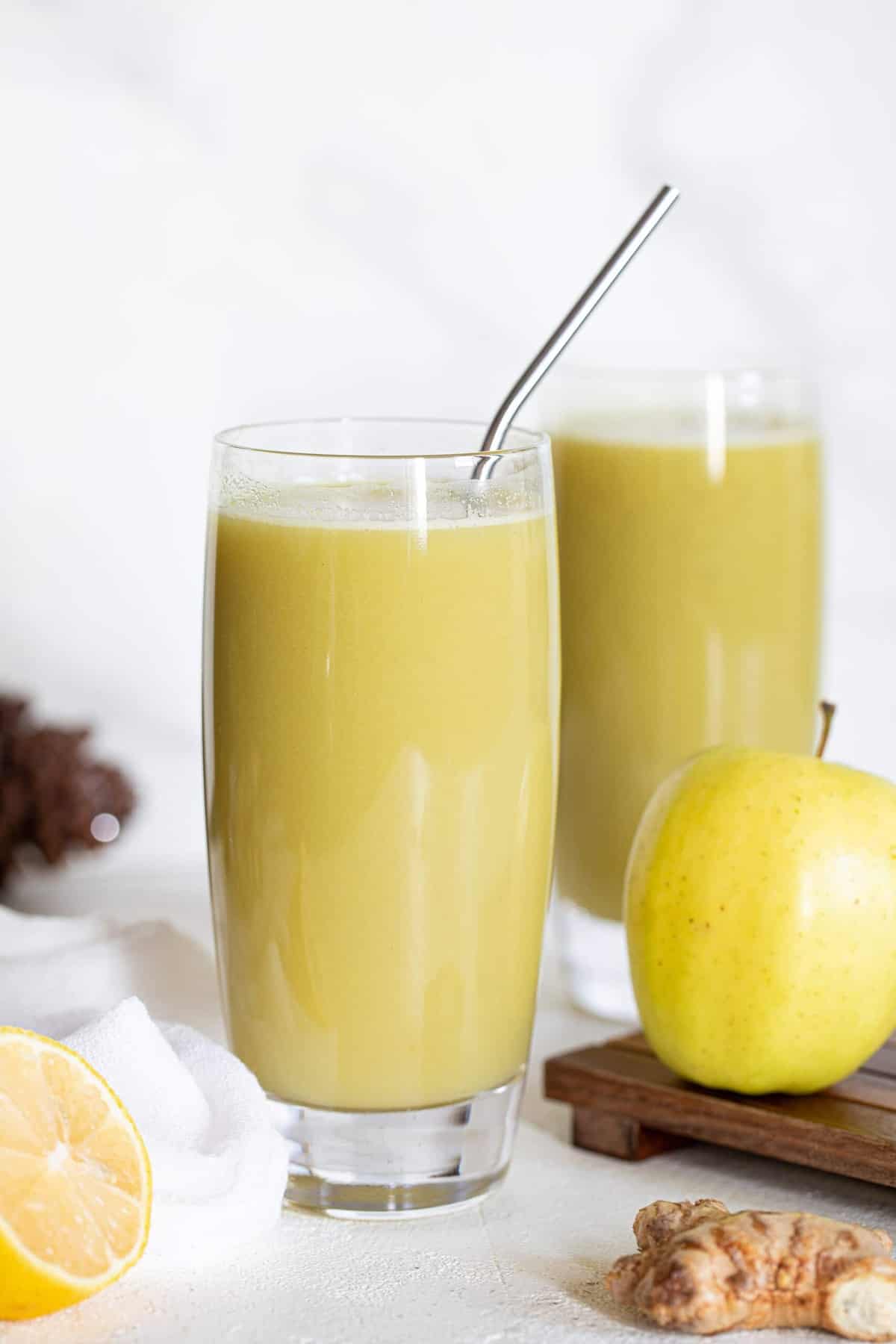 Other Great Ways to Detox.
Despite the misconception, there are many ways to detox your whole body which don't always require making your own recipe of drinks and teas. 
When it comes to natural home remedies, we often think that taking little steps won't eventually bring us to the major milestones that we hope for. However, truth is–every big milestone occurs after several mini steps. Therefore, 3 Detoxes That You Should Be Doing More Often discusses some of the mini steps that you can take to ensure that your goal to 'complete wellness' happens before the year ends.
Why Add Thyme? Is There a Benefit?
Although thyme is a common garden herb, many people don't understand the overall health benefits of using it in recipes such as a drink like this one. Thyme run in the mint family and acts as a great anti-inflammatory, antimicrobial, and antioxidant agent. 
Therefore, adding this herb to other beneficial ingredients will only create a greater powerhouse effect!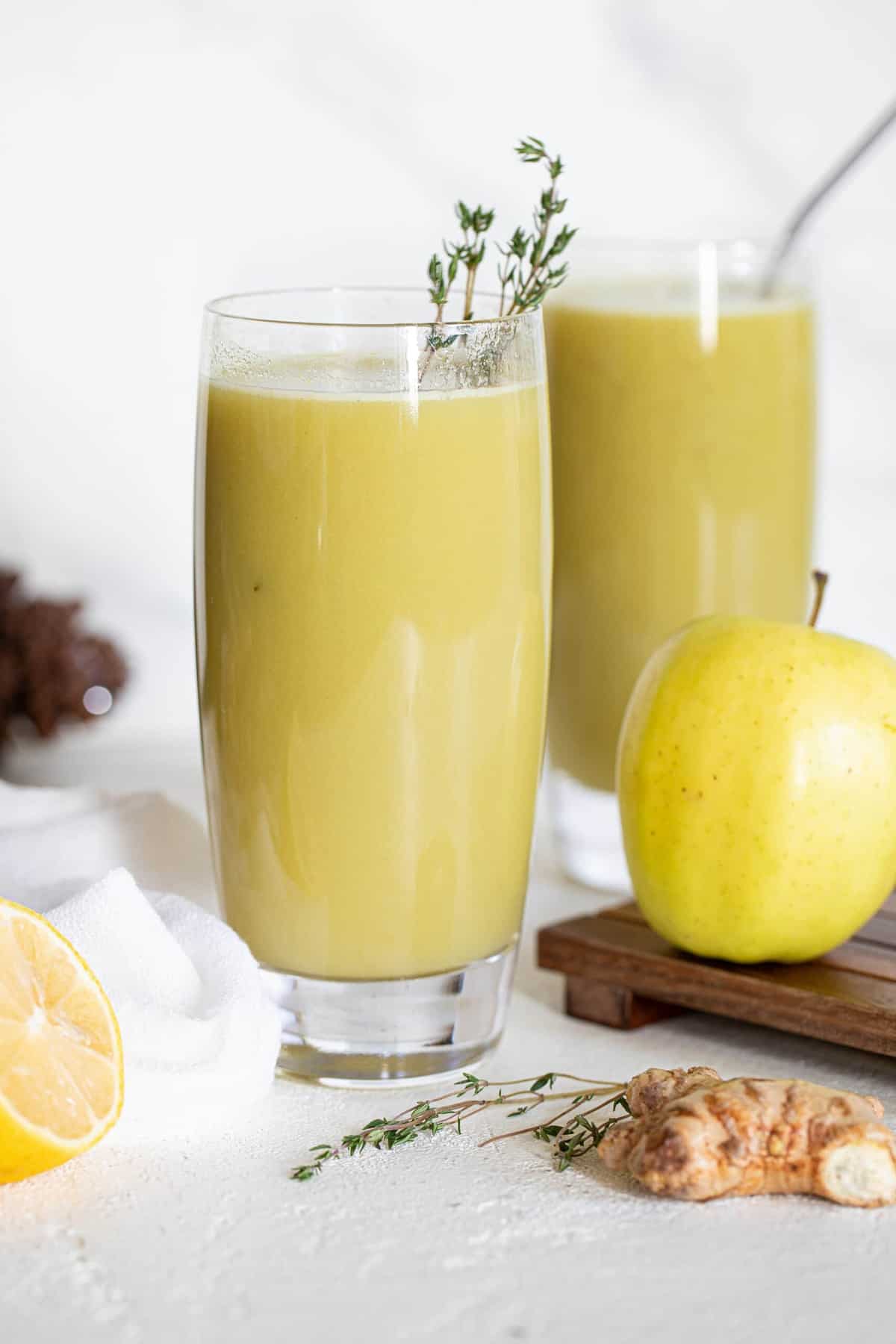 Other Healthy Recipes that Can Be Used As a Mini Detox.
If you've been an avid reader of Orchids + Sweet Tea then you've seen our Natural Homemade Lemon Ginger Ale recipe. This homemade drink is so refreshing and is great for your health! More importantly, lemon and ginger together does wonders as well!
This Fall Detox Sweet Potato Veggie Soup is sure to keep you warm and comforted throughout the cooler months of the year. A great nourishing and healthy alternative, this soup boasts of it's major flavor factor and comes loaded in nutrients. All vegan and gluten-free. Slow Cooker option available.
When it comes to this Healthy Citrus Pear Ginger Detox Tea, the immune boosting properties are without question. Made from fresh oranges, ginger roots, pears, lemons, grapefruit, and naturally sweetened, this tea is a great recipe for the entire family. Easy to make, vegan + gluten-free.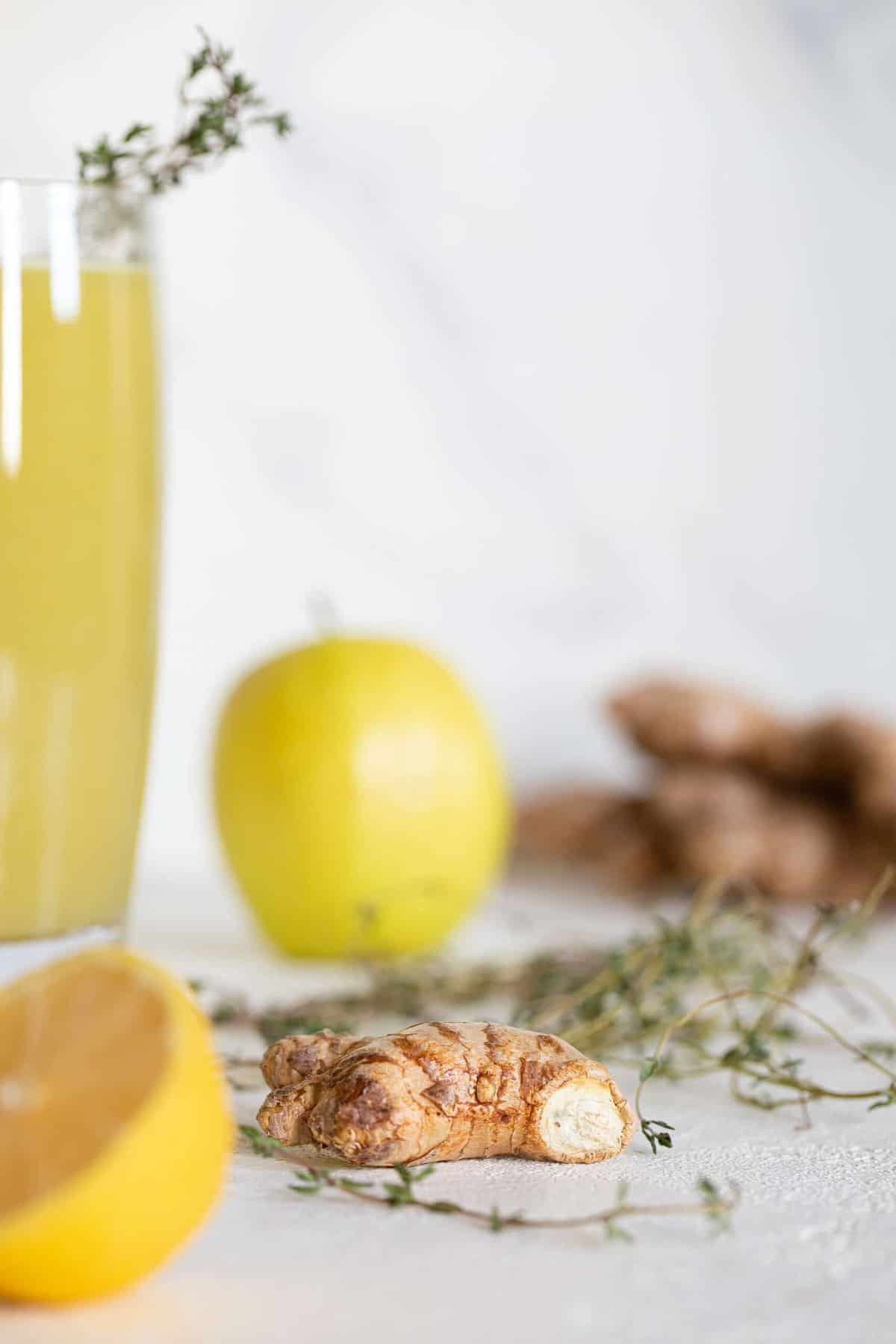 What's the Deal with Cucumbers?
Before we dig into this recipe, did you know that Cucumber is an actual fruit and not vegetable? I know.
It's pretty crazy how we think of all fruit being sweet or at least a little sweet in the midst of any tartness. However, a cucumber just don't fit either category right? Is it just me? Haha.
But yes---cucumber is a fruit and it has some pretty awesome benefits as well:
It's high in nutrients, containing Fiber, Protein, Vitamins C + K, Magnesium, and more (all with the skin + unpeeled).
Has great antioxidants---flushes out toxins and all!
Promotes hydration and can help meet your daily fluid needs---they're made up of 96% water!
They can help aid in weight loss.
May lower blood sugar levels.
Great for digestion!
Supplies skin friendly minerals.
Revives the eyes---think spa day and cucumber slices on your eyes to reduce puffiness and under-eye bags.
Refreshes the mouth and heals diseased gums.
Keeps kidneys healthy!
Makes hair and nails stronger.
And the list goes on.
Let's face it---cucumbers are more than just that one ingredient that you throw on top of a salad to add character! It's healthy stuff!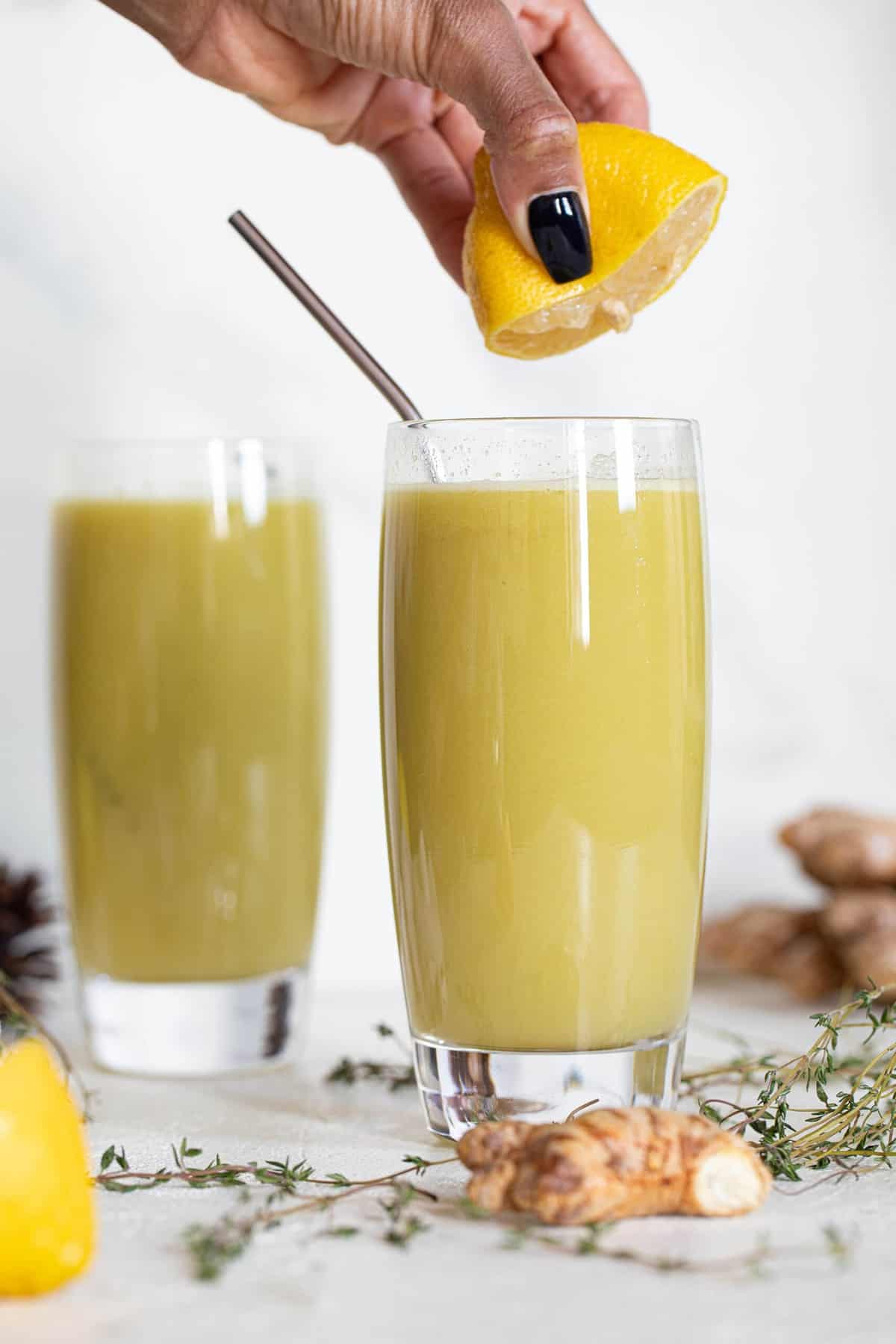 5-6

cups

fresh water

2

large

cucumbers, peeled + diced

1-2

ounces

ginger roots, peeled + roughly chopped

(I recommend starting with 1 ounce and then increasing based on preference)

juice of

lemon

(That's about 2 Tbsps!)

1

medium

Granny smith apple, skin on + sliced

handful

fresh mint leaves, rinsed

1-2

fresh thyme leaves, rinsed

½

cup

Agave
In a medium pot over medium-high heat, add water and let it begin to boil. Once boiling, add chopped ginger, mint leaves, + thyme leaves and boil for 5 minutes before reducing the heat to the lowest setting and letting it simmer for another 5-10 minutes.

Remove from heat and cover the pot to let everything cool + steep for 20-25 minutes.

Next, add cooled mixture (leaves + chopped roots included) to a high-powered blender along with diced cucumbers + apple and blend on medium-high speed until smooth and 'foamy', about 2-3 minutes.

Add in juice of a lemon and Agave and blend for another 15-20 seconds.

Once done, slowly pour + strain juice into a pitcher, squeezing the pulp against the strainer to ensure that all juices are extracted. NOTE: If preferred, you can skip this step and leave pulp in.

To serve---add drink to prepared glass(es) and garnish, if desired. NOTE: If preferred, you can let the juice chill in the refrigerator for 1-2 hours before serving as well.

Sip and enjoy!
Calories:
129
kcal
|
Carbohydrates:
31
g
|
Protein:
1
g
|
Fat:
0.5
g
|
Saturated Fat:
0.04
g
|
Polyunsaturated Fat:
0.04
g
|
Monounsaturated Fat:
0.01
g
|
Sodium:
20
mg
|
Potassium:
256
mg
|
Fiber:
2
g
|
Sugar:
25
g
|
Vitamin A:
137
IU
|
Vitamin C:
12
mg
|
Calcium:
33
mg
|
Iron:
0.5
mg
Cucumber Ginger Lemon Detox Juice.