This Healthy Kale Lemonade is a quick, healthy option for a great detox or immune system boost with a tasty, refreshing element during those hot sunny days. Made from freshly-squeezed lemons, chopped kale, raw honey, and pineapple chunks, this lemonade is bursting with delicious flavors as well as amazing health benefits which include a boost in digestion, cleansing/detoxing properties, metabolic aide, and more. Vegan option available.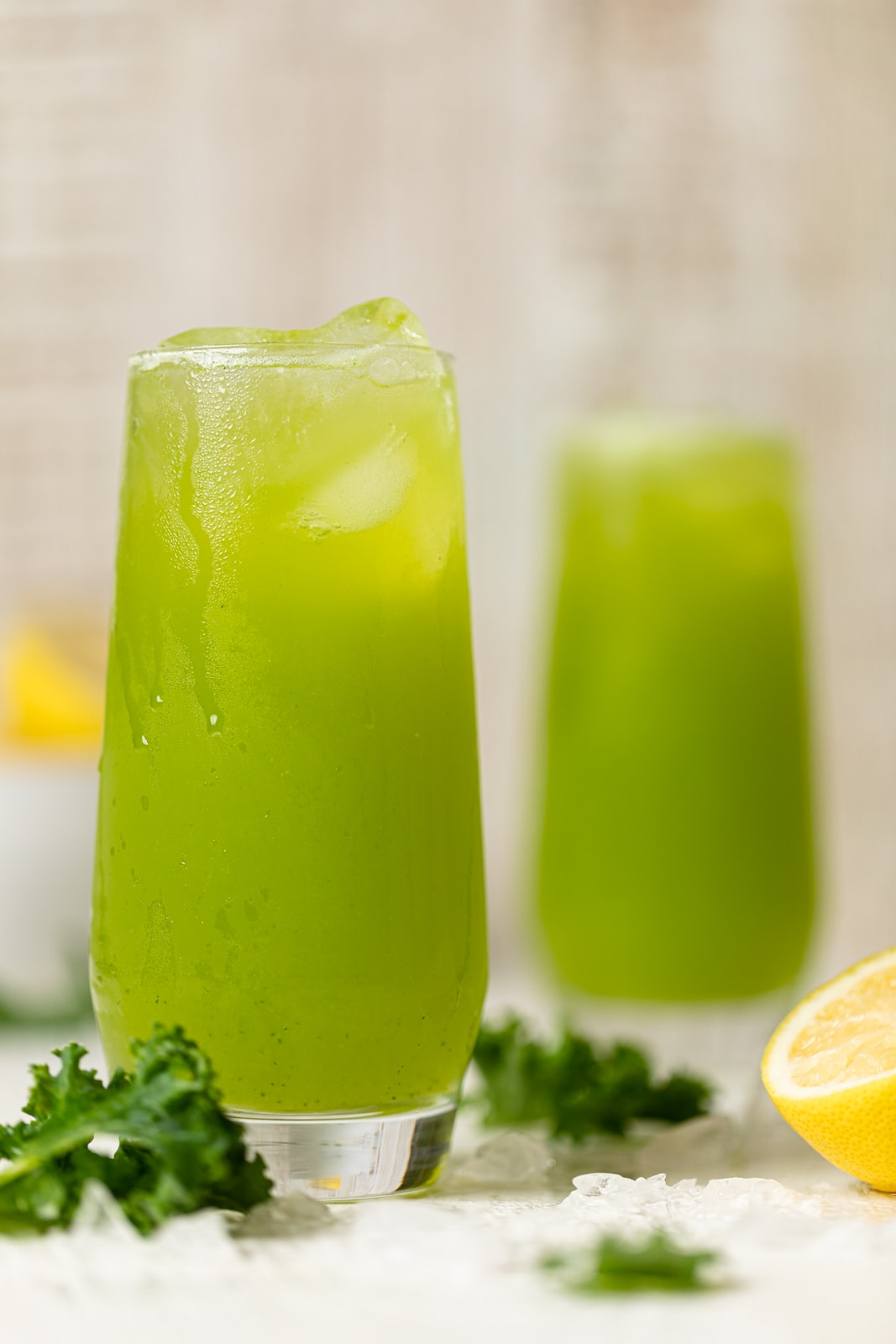 This Kale Lemonade is by far my newest favorite drink. I've always been more of a "drinker" than an eater, so I especially love whenever I get to share a new drink recipe with you. Mocktails are usually my go-to, especially during the summer months however, lemonade is something that I grew up drinking and there's nothing like freshly made lemonade at home.
While I don't detox often, it's definitely one of the best things to do to ensure that you help aide your body it's daily replenishment process. Yes—drinking detox ingredients in the form of a smoothie or juice is fun, but it's really even more fun in the form of a lemonade—-which can be served during gatherings and parties as a healthier option. Cheers to this Healthy Kale Lemonade! Plus, if you're into healthier drinks, you'll love this Mango Lemonade Kombucha Mocktail, Honey Grapefruit Cucumber Thyme Tea, and Anti-Inflammatory Pineapple Citrus Smoothie.
What is a Detox?
By dictionary definition, Detox is the psychological or medicinal removal of toxic substances from the human body. Therefore, detoxes like this one helps your body to reset and get rid of toxins (which can be built up by many factors internally and externally) so that we can feel rejuvenated, improve our health, and help with weight loss.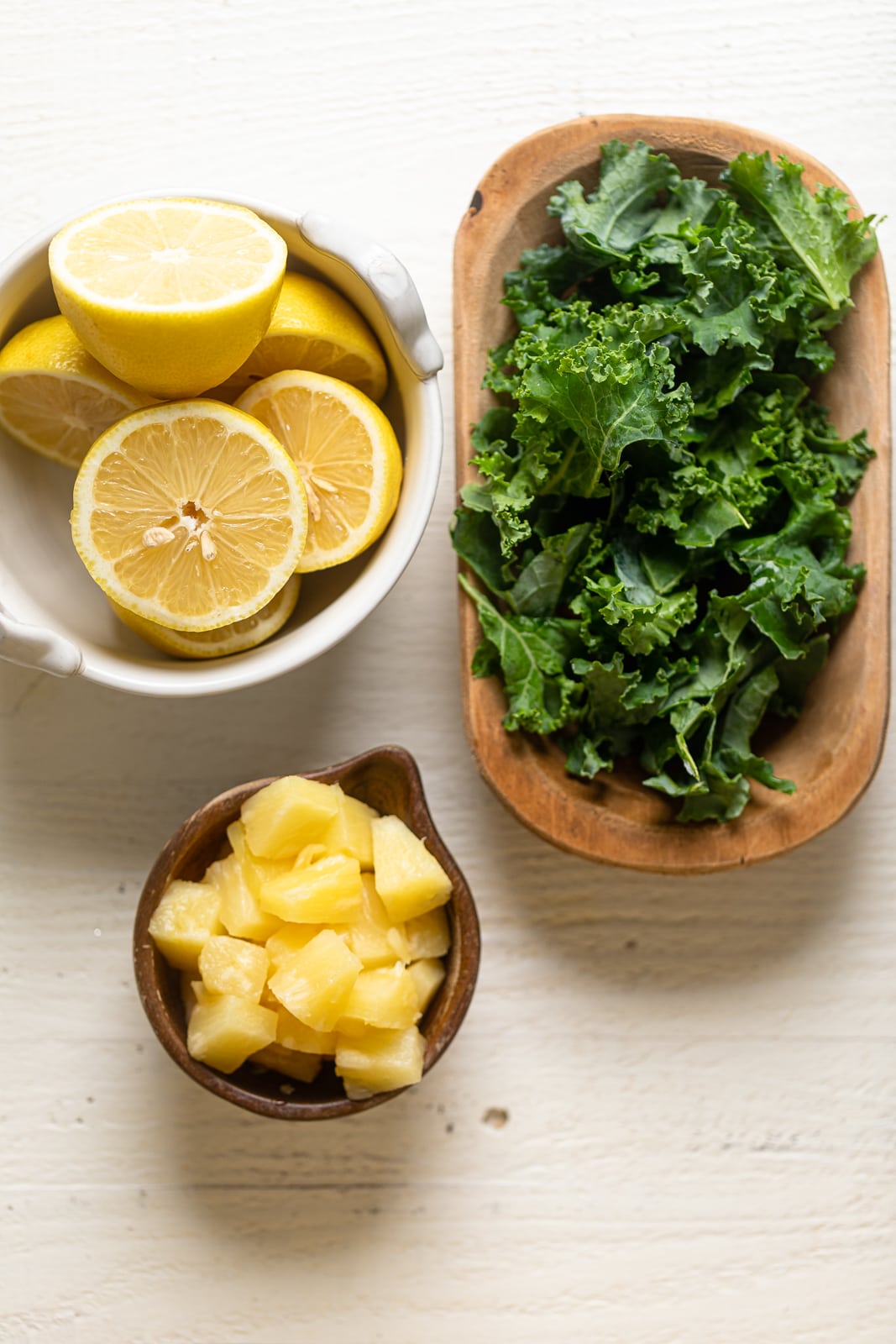 Ingredients in Healthy Kale Lemonade
It just takes a few fresh ingredients for this detox kale lemonade recipe:
Kale. For a nice refreshing green color/flavor and is a superfood with a great source of Vitamin A, C, Calcium, Folate, among others.
Lemon juice. This perks up the richness of the other ingredients and adds a nice acidity.
Pineapple chunks or juice. Again, I like to purchase organic pineapple chunks or I'll cut a whole pineapple myself. Also, organic unsweetened pineapple juice works.
Water.
Honey. You could also use Agave or maple syrup or omit the sweetener altogether.
How to Make Kale Lemonade
The first step to making this detoxifying kale lemonade drink is to make your freshly squeezed lemon juice. You'll need about 4 large, juicy organic lemons to produce enough juice for this drink.
I like to slice my lemons in halves, and squeeze out the juices through a strainer to prevent seeds from being included. However, you can also use a "squeezing tool" for greater ease if preferred.
Once you have plenty of lemon juice, you can add everything to a high-powered blender and blend until combined and kale is full broken down. Strain into a pitcher or bowl and then serve over ice!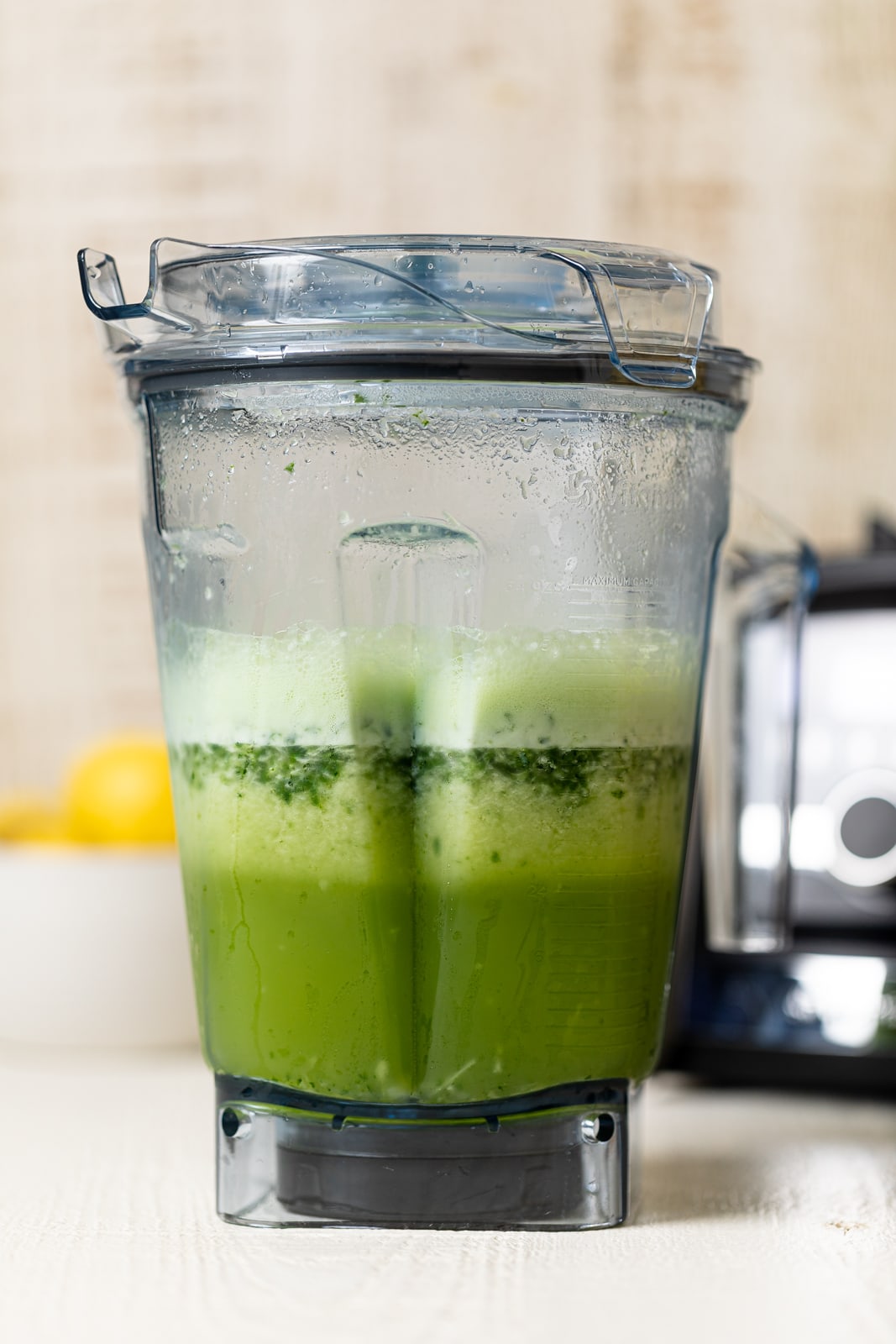 Lemonade Ice Cubes: The Perfect Way to Avoid Waste
Making any kind of drink, especially this kale lemonade throughout the week can sometimes mean that you might want to switch things up a bit for a different taste or fancier feel, especially when it comes to lemons that you might have lying around unused. Yes—instead of letting your organic lemons get spoiled, why not just freeze them and re-create a new drink infused with lemonade each day? Right? Haha.
Ingredients for Lemonade Ice Cubes:
Lemon juice. You need about 2 lemons freshly-squeezed.
Agave. You can also use honey or maple syrup as a sweetener substitute.
Lemon. Adds additional lemon flavor. I dice them into tiny pieces so that they fit within the ice.
Water.
Great Ways to Spruce Up Your Kale Lemonade
Whether you make this Kale Lemonade often or just feel like sprucing things up for additional health benefits or for a greater taste, here are a few ingredients that you can add to the mix:
Apple cider vinegar
Celery
Herbs (basil, oregano, etc.)
Ginger
Turmeric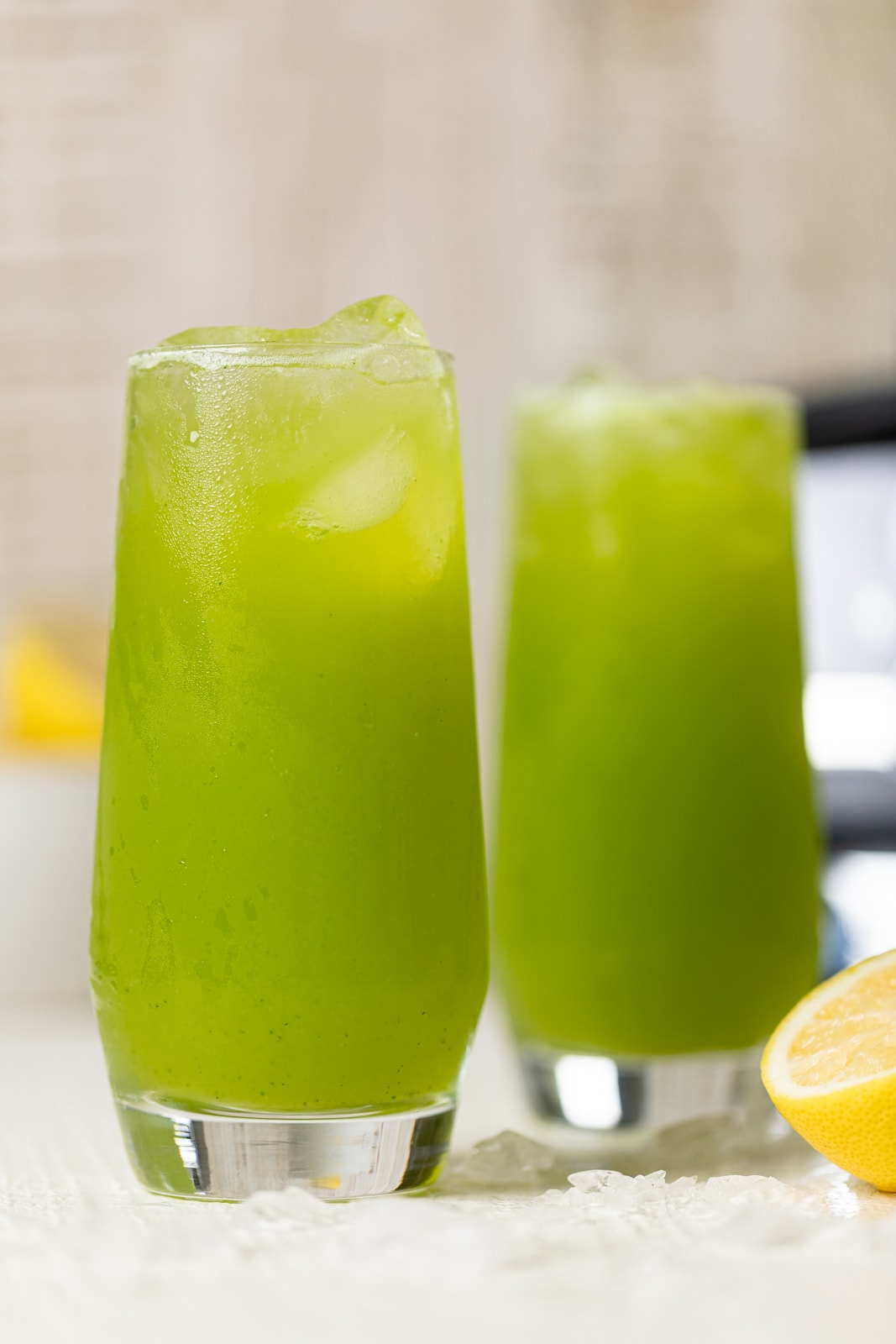 Benefits of Fresh Lemon Juice
The lemons in this kale lemonade pack some important health benefits, including:
Vitamin C, for a strong immune system
Citric acid, which can help prevent blood disorders like anemia
Soluble fiber if you include some of the lemon pulp, which helps promote healthy digestion
Why Use Kale as a Detox? How to Prepare it.
In case you weren't aware, kale has many health benefits that makes it a great option for detox drinks. Actually, it's considered a superfood and comes packed with protein, Vitamin A, C, + K, along with other minerals/vitamins, which is why I wanted to share some of the few ways to prepare kale for detoxifying benefits:
Steam it
Pair it with good fats
Juice it or add it to a smoothie
Include it in baked goods, foods, etc.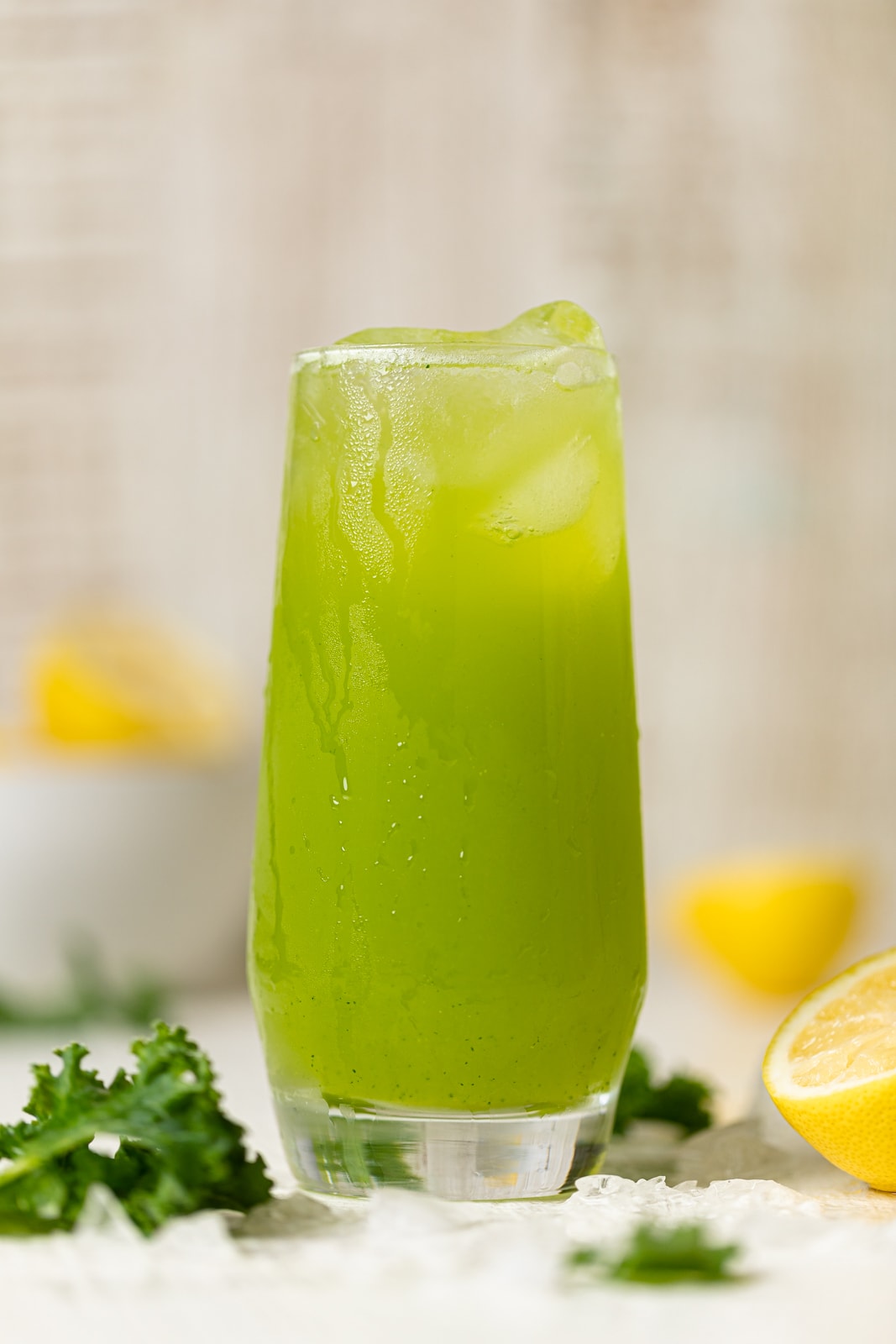 Serving Suggestions for this Kale Lemonade
I like to keep this kale lemonade chilled in the fridge. To serve, pour glasses over ice and enjoy.
And for a nice garnish, I like to decorate each glass with a juicy wedge of lemons for a simple look.
Storage
You can store a pitcher of your Kale Lemonade drink in the fridge for up to a week. Best if consumed within a few days.
More Detox Drink Recipes
MADE OUR RECIPE(S)?
If you make this Healthy Kale Lemonade or any other recipe from us, be sure to tag us on Instagram at #Orchidsandsweettea so that we can share the love!
LEMONADE:
4-5

cups

filtered water

4

large

organic lemons, freshly-squeezed

½

cup

raw honey

(Add additional sweetener if needed)

2

cups

chopped kale

1

cup

pineapple chunks
In a high-speed blender, add together the water, chopped kale, lemon juice, honey, and pineapples, and blend until smooth and kale is fully broken down. NOTE: Add more sweetener if needed.

Using a strainer, strain the liquid mixture into a bowl and discard any pulp from the kale.

ASSEMBLY: For each drink, fill the glass with crushed ice followed by the kale lemonade. Garnish with lemon wedges or pineapple chunks, if desired.

Sip and Enjoy!
STORAGE: Keep any leftovers in the refrigerator, tightly covered in your pitcher or in a sealed mason jar for up to 1 week. Best if consumed within a few days.
SWEETENER: Instead of Honey, you can always use Agave or maple syrup.
VEGAN OPTION: To make this lemonade vegan, simply substitute honey with Agave or maple syrup.
Calories:
207
kcal
|
Carbohydrates:
56
g
|
Protein:
3
g
|
Fat:
1
g
|
Saturated Fat:
0.1
g
|
Polyunsaturated Fat:
0.3
g
|
Monounsaturated Fat:
0.1
g
|
Sodium:
34
mg
|
Potassium:
361
mg
|
Fiber:
5
g
|
Sugar:
46
g
|
Vitamin A:
3400
IU
|
Vitamin C:
94
mg
|
Calcium:
132
mg
|
Iron:
2
mg