This Cranberry Lemon Spritzer with Lemonade Ice Cubes has a tart finish from the cranberry and lemon flavors and just the right amount of sweetness and fizz. This mocktail is sure to be the next big thing during the warmer months and during any occasion.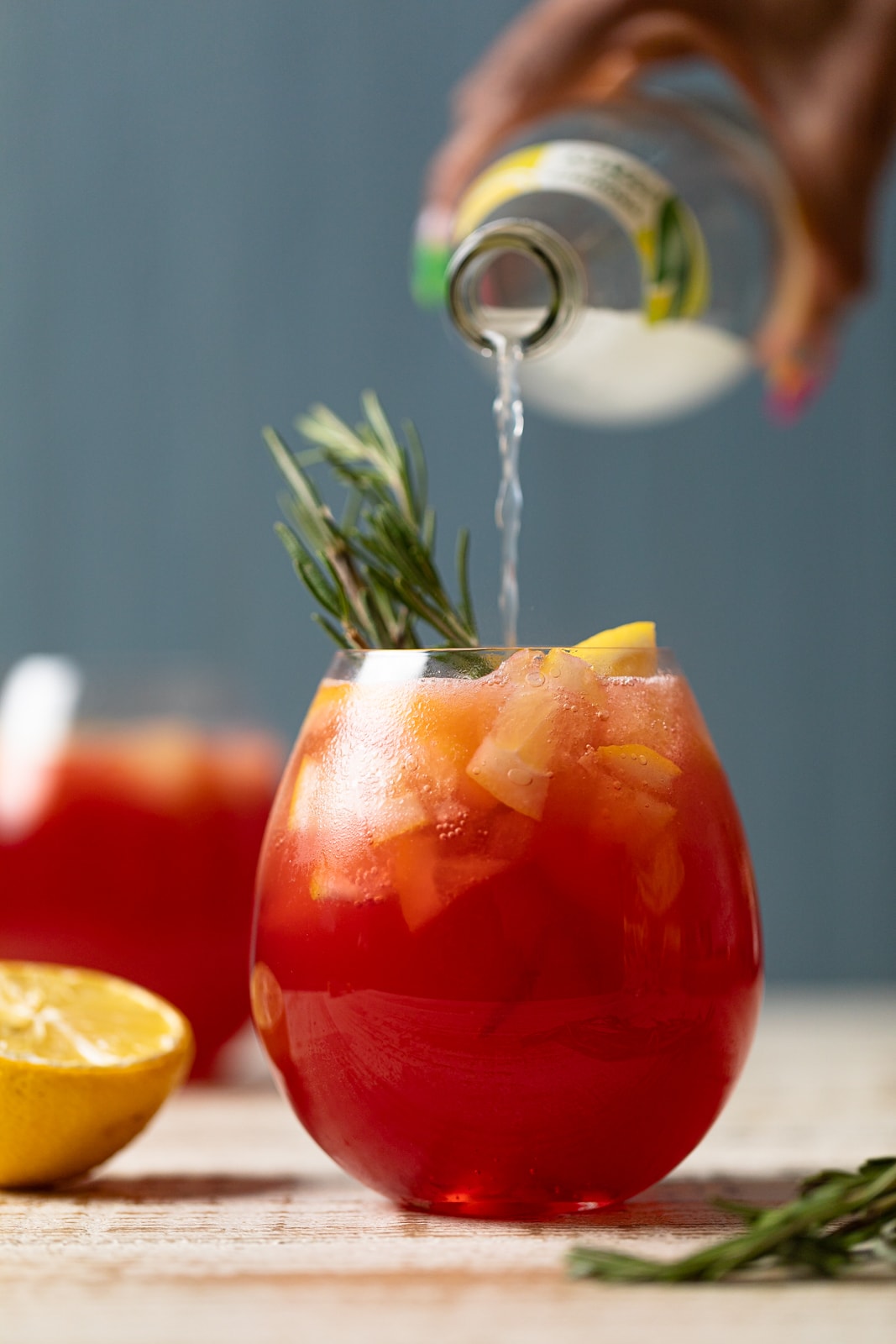 As you might have already realized, mocktails are my thing. I enjoy every variation, flavor combination, and mocktails that are "dressed up" (packed with fruit + garnish) or "dressed down" (less fruit + garnish). Either way---I love a good mocktail.
This Cranberry Lemon Spritzer with Lemonade Ice Cubes is so simple, easy to make, bursting with sweet + tart flavors, has the perfect fizz, and is just delicious.
Honestly, this mocktail is one that I plan on making a few times throughout the summer because it's so refreshing and it's definitely on my top faves list.
How to Make Cranberry Lemon Spritzer with Lemonade Ice Cubes
The first thing you need to make for these tasty drinks are the lemonade ice cubes. You literally stir together the ingredients, pour it in your favorite ice cube tray, set it and forget it for a minimum of 3-4 hours (or overnight) until ice cubes are formed.
Then, you whip together the mocktail ingredients and assemble.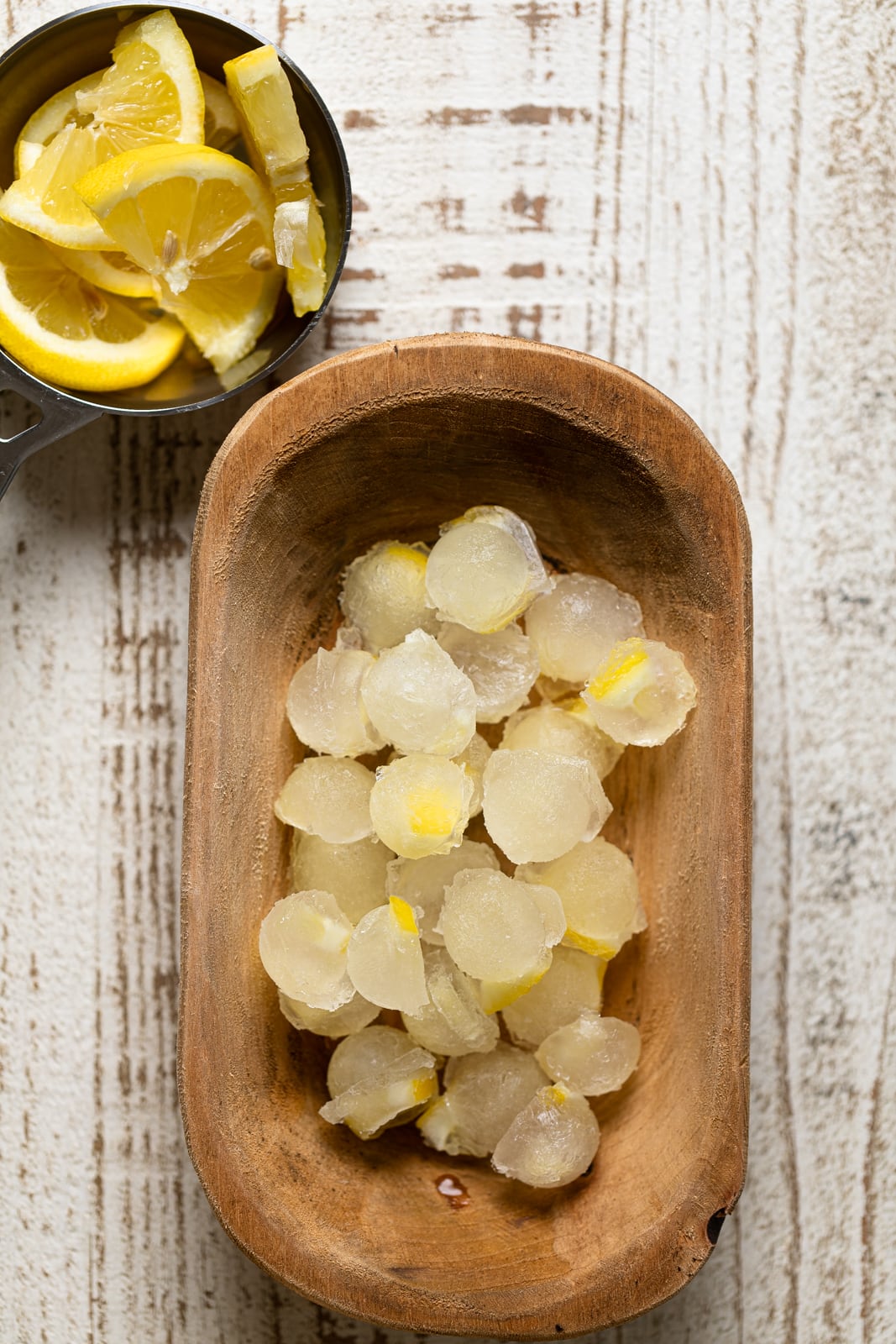 Lemonade Ice Cubes: The Perfect Way to Avoid Waste
Making any kind of drink throughout the week can sometimes mean that you might want to switch things up a bit for a different taste or fancier feel, especially when it comes to lemons that you might have lying around unused. Yes—instead of letting your organic lemons get spoiled, why not just freeze them and re-create a new drink infused with lemonade each day? Right? Haha.
Plus, it's really simple to make, so there's that.
Ingredients for this Cranberry Lemon Spritzer
The two components in this simple Cranberry Lemon Spritzer are the lemonade ice cubes and the actual mocktail. Here's what you need to make the mocktail:
Organic cranberry juice. I use organic and unsweetened to make sure it's vegan and pure cranberry juice.
Lemon soda. I love using the Whole Foods brand because it's organic.
Agave. You can also use honey or maple syrup as a sweetener substitute.
Garnish. This creates a nice, fancy experience for your mocktails. I love using lemon slices, fresh cranberries (optional), and rosemary sprigs.
To make your lemonade ice cubes, you'll use:
Lemon juice. You need about 2 lemons freshly-squeezed.
Agave. You can also use honey or maple syrup as a sweetener substitute.
Lemon. Adds additional lemon flavor. I dice them into tiny pieces so that they fit within the ice.
Water.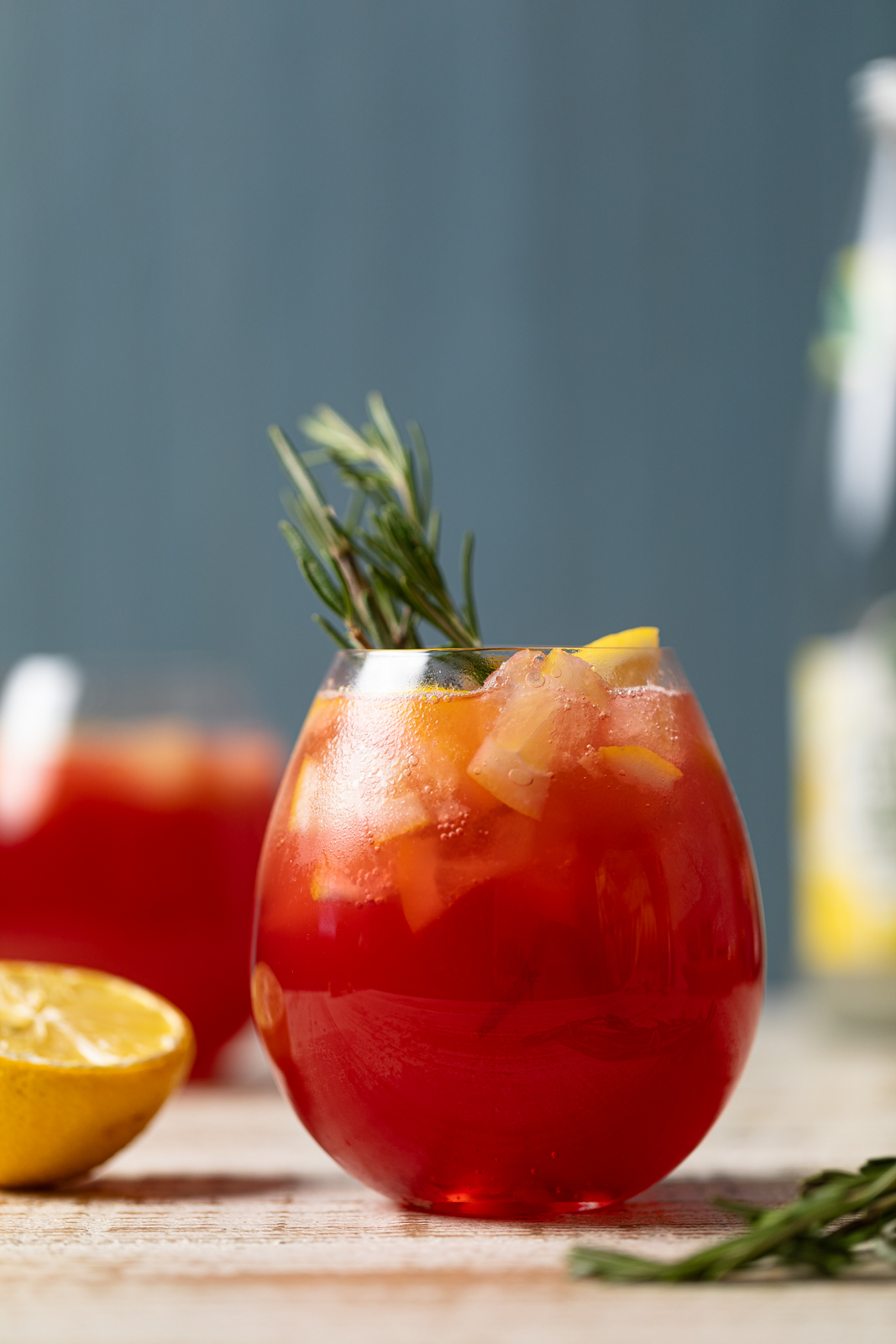 Doubling the Recipe
This recipe serves two. But you'll probably want more Cranberry Lemon Spritzer, and I can't blame you! You can easily double or triple the recipe to serve a crowd.
The lemonade ice cubes mixture make about 1 ½ dozen small circular ice cubes. The amount depends on the size of your ice cubes.
Benefits of Fresh Lemon Juice
The lemons in this drink pack some important health benefits, including:
Vitamin C, for a strong immune system
Citric acid, which can help prevent blood disorders like anemia
Soluble fiber if you include some of the lemon pulp, which helps promote healthy digestion
Garnishes for Cranberry Lemon Spritzer with Lemonade Ice Cubes
I'm all about big, edible garnishes in my mocktails. Here's what I like to add to glasses:
Fresh cranberries. If you prefer a nice pronounced cranberry flavor, I would add fresh cranberries.
Other fruit. To spruce things up, you can also add sliced strawberries, pineapple chunks, lime wedges, or pomegranate arils.
Lemon wedges. You can always slice the lemons thin or into thick wedges for a fun look.
Fresh rosemary sprigs. You could also use mint, basil, or thyme sprigs for an added herby touch.
Can I Add Alcohol?
If you're serving someone who wants to turn these mocktails into a cocktail, it's easy. Simply add a shot of rum, vodka or gin per serving. Stir well and enjoy!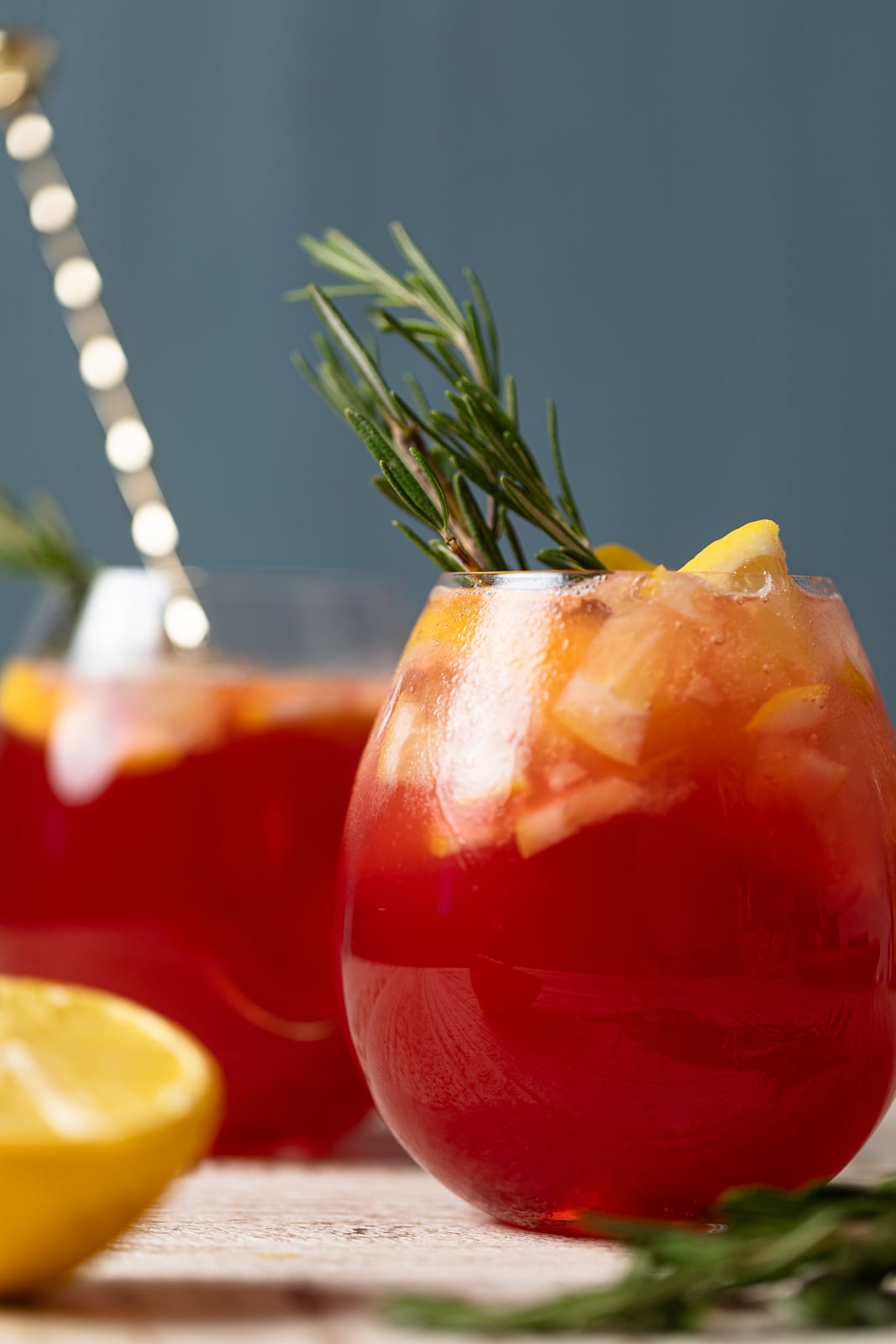 My Fave Summer Mocktail Recipes
MADE OUR RECIPE(S)?
If you make this Cranberry Lemon Spritzer with Lemonade Ice Cubes, be sure to tag me on Instagram @orchidsandsweettea!
MOCKTAIL:
½

cup

organic cranberry juice, unsweetened

½

cup

Agave syrup or Honey

Lemon soda, for topping

(I like to use an organic soda from Whole Foods)
TO MAKE THE LEMONADE ICE CUBES:
In a bowl, add the water, sweetener, and lemon juice, whisking together until combined. In your favorite ice tray----carefully pour the lemonade mixture into each cavity, filling them ¾ full followed by a few pieces of the dice lemons. Repeat until all ice cube cavities are filled. Add the tray(s) to the freezer and freeze for 3-4 hours (or overnight) until ice is formed.
TO MAKE MOCKTAILS:
In a cocktail shaker, add the cranberry juice and sweetener, shaking it together until combined.

ASSEMBLY: Add lemonade ice cubes to glass(es), Add the mocktail mixture until ½ filled followed by the lemon soda. For additional garnish, add fresh cranberries, lemon slices, and rosemary sprigs, if desired. Repeat for every serving. 

Sip and Enjoy!
SERVING: To make additional mocktails, simply double or triple ingredients, depending on need.
Calories:
324
kcal
|
Carbohydrates:
83
g
|
Protein:
2
g
|
Fat:
1
g
|
Saturated Fat:
0.1
g
|
Polyunsaturated Fat:
0.2
g
|
Monounsaturated Fat:
0.03
g
|
Sodium:
19
mg
|
Potassium:
238
mg
|
Fiber:
4
g
|
Sugar:
67
g
|
Vitamin A:
58
IU
|
Vitamin C:
91
mg
|
Calcium:
48
mg
|
Iron:
1
mg
Cranberry Lemon Spritzer with Lemonade Ice Cubes.