This Pineapple Coconut Basil Mocktail with Lime has an herby finish from fresh basil and just the right amount of sweetness and fruity punch from the pineapple. This mocktail is sure to be the next big thing during the warmer months.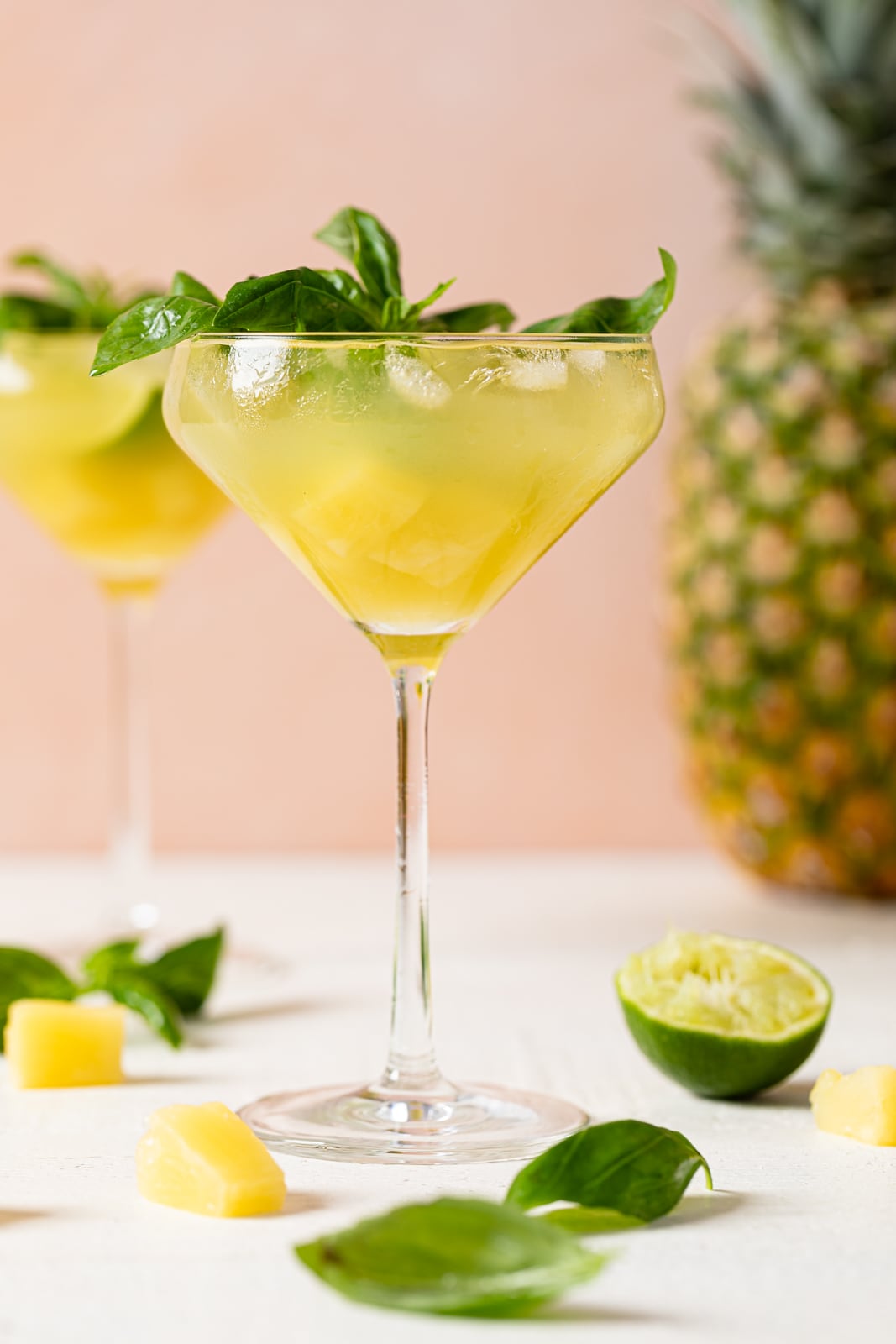 I'm always here for a good mocktail as many of you may know and this Pineapple Coconut Basil Mocktail with Lime does not disappoint. It has so much tropical flavor mixed in with freshness from the coconut water and a nice hint of herby flavor from the basil.
Honestly, this mocktail is one of my top faves and I'm sure that you'll love it just as much as I do.
How to Make Pineapple Coconut Basil Mocktail with Lime
The first thing you need to make for these tasty drinks is a basil infused simple syrup. You can make this in a small pot on the stove.
Then, when your simple syrup is nice and cool, you can prepare the mocktails.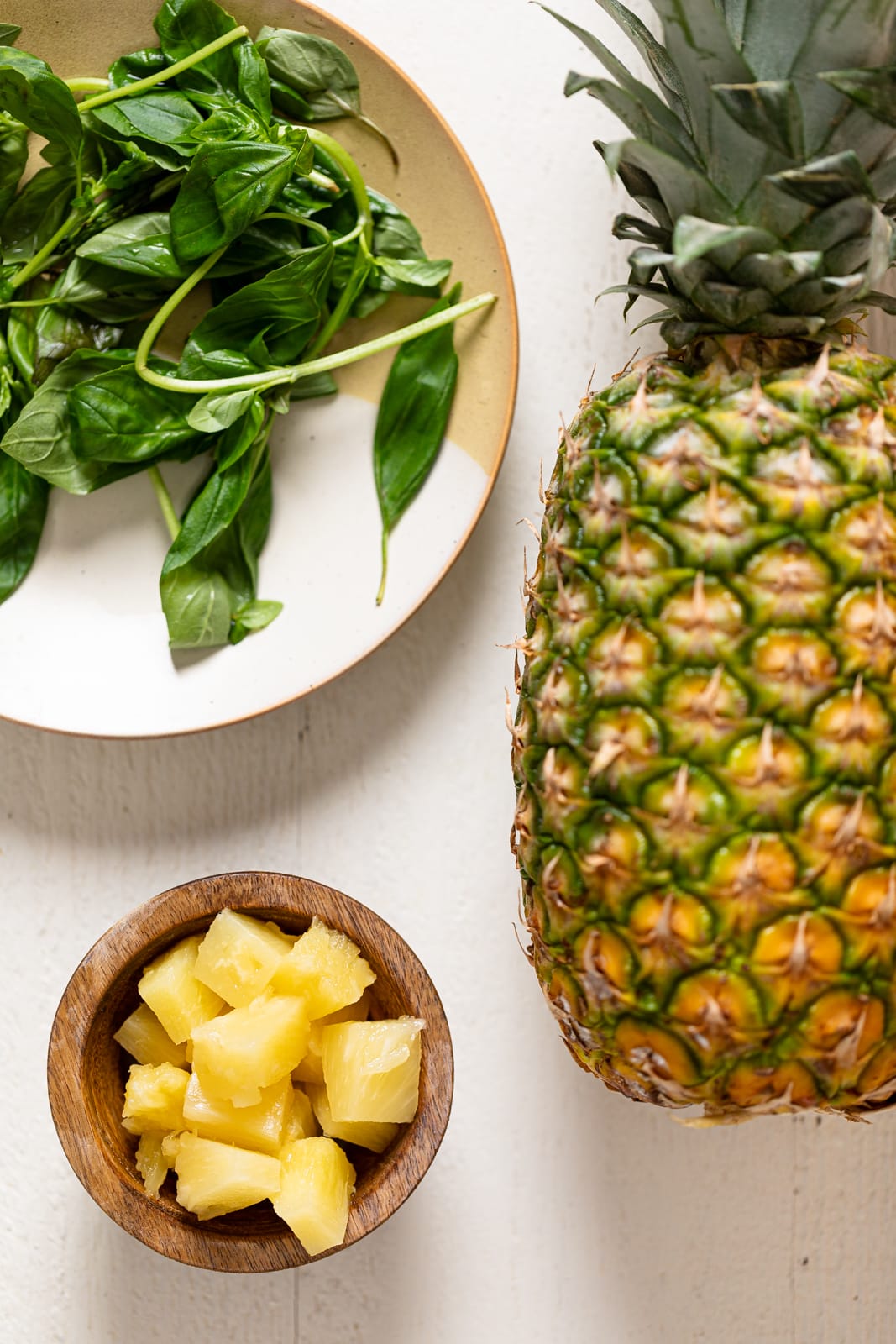 Basil Simple Syrup
Here's what you need for the mocktail simple syrup:
Cane sugar. I like to use organic to ensure it's vegan, but you could use any granulated sugar you have on hand.
Lime. Use a big, juicy lime to add a tart pop of flavor.
Basil. You can add as much basil as you like!
Assembling the Pineapple Coconut Basil Mocktail with Lime
It's important that your simple syrup cool completely before you make the drinks. Hot syrup will melt the ice and your mocktails just won't be as fruity and refreshing.
To assemble the Pineapple Coconut Basil drinks, you'll need:
Pineapple juice. Again, I like to purchase organic unsweetened pineapple juice.
Simple basil syrup
Lime juice. For more tart flavor to cut through some of the sweetness of the syrup.
Coconut water. You can use freshly strained coconut water or organic store-bought coconut water. Top with a lemon or lime soda or ginger beer to finish off the drinks with some bubbles, if desired.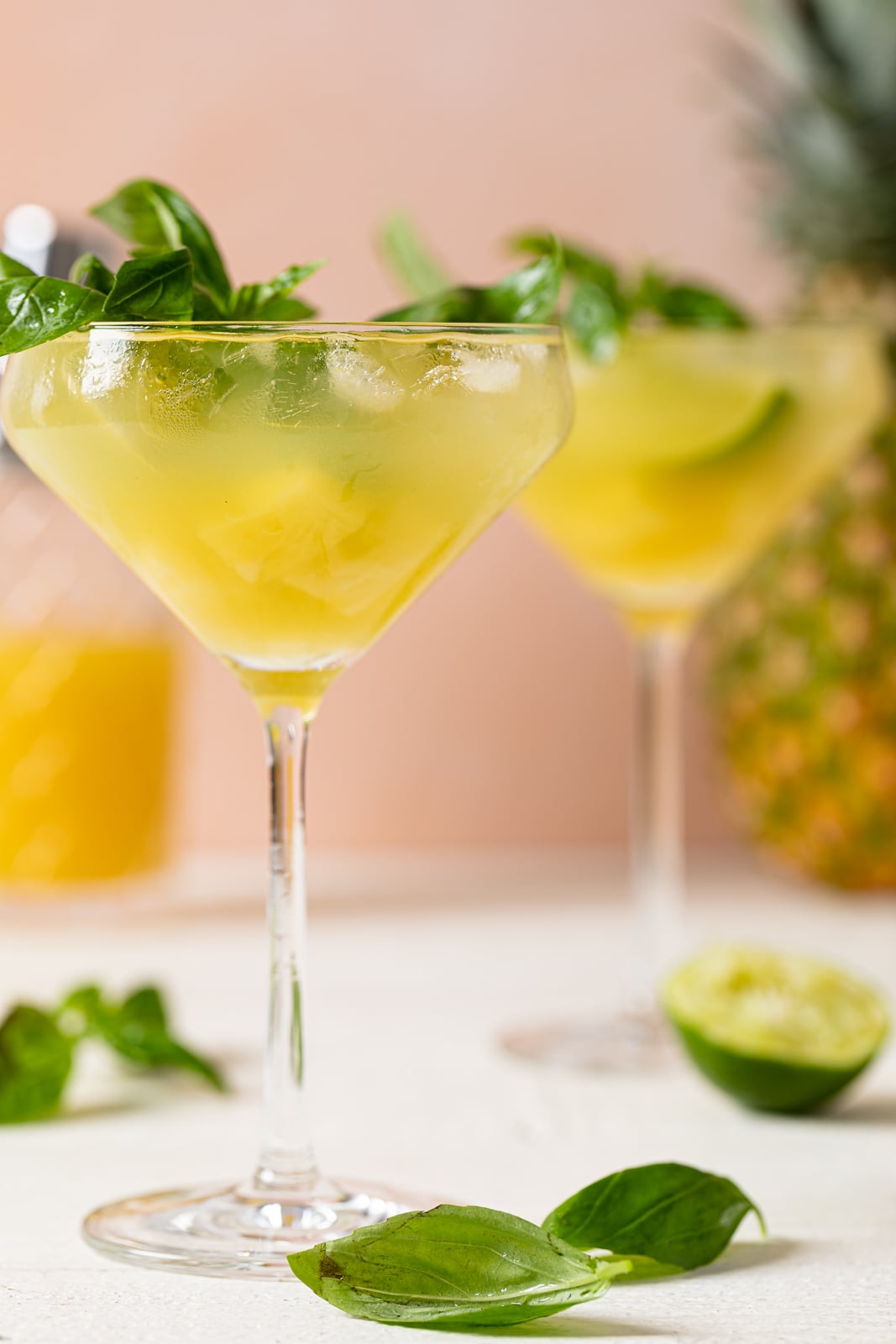 Garnishes for Pineapple Coconut Basil Mocktail
I'm all about big, edible garnishes in my mocktails. Here's what I like to add to glasses:
Fresh pineapple chunks. If you prefer a nice pronounced pineapple flavor, I would grill or char them.
Lime wedges. You can always slice the lime thin or into thick wedges for a fun look.
Fresh basil leaves. You could also use mint or thyme sprigs for an added herby touch.
Can I Add Alcohol?
If you're serving someone who wants to turn these mocktails into a cocktail, it's easy. Simply add a shot of rum, vodka or gin per serving. Stir well and enjoy!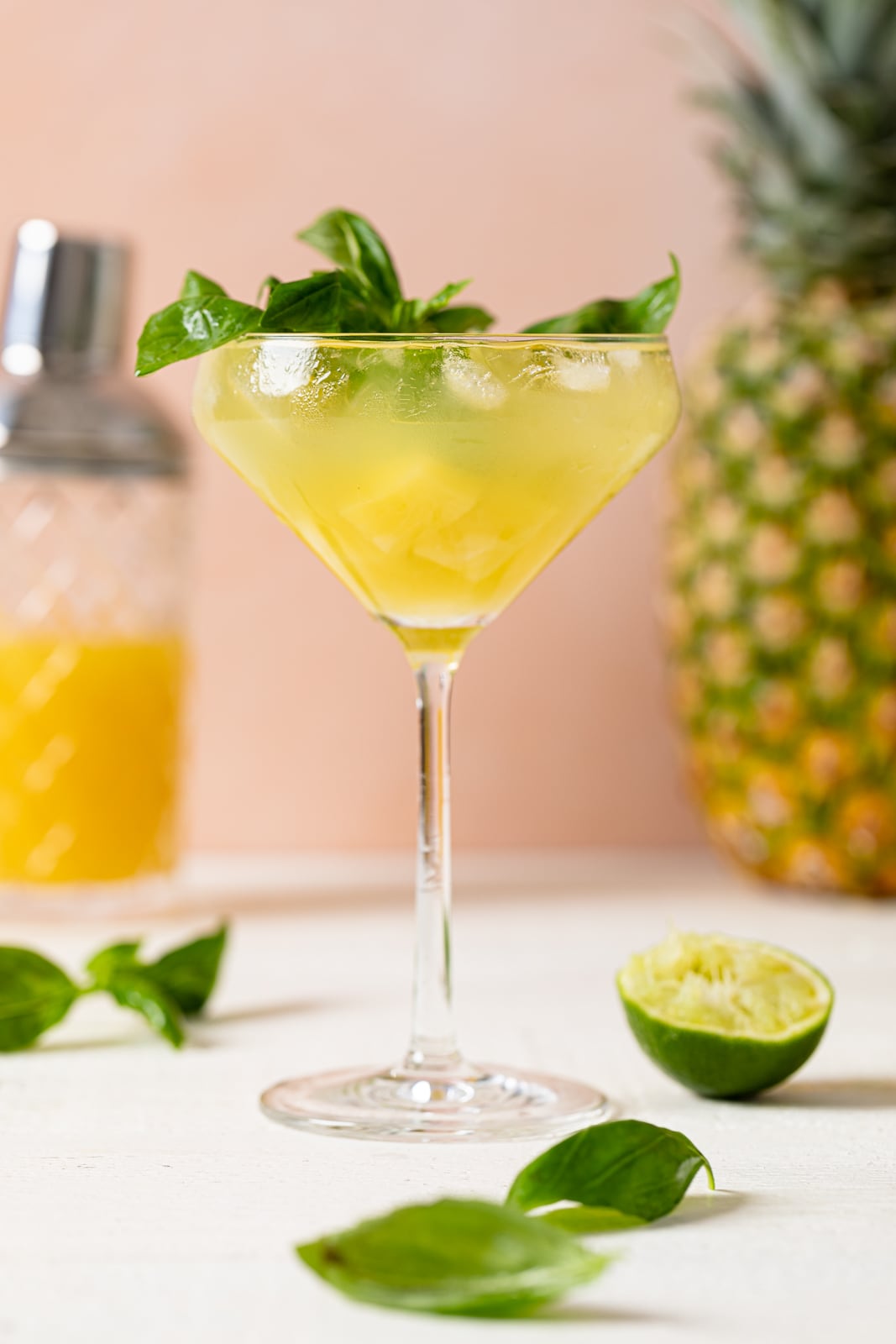 My Fave Mocktail Recipes
MADE OUR RECIPE(S)?
If you make this Pineapple Coconut Basil Mocktail with Lime, be sure to tag me on Instagram @orchidsandsweettea!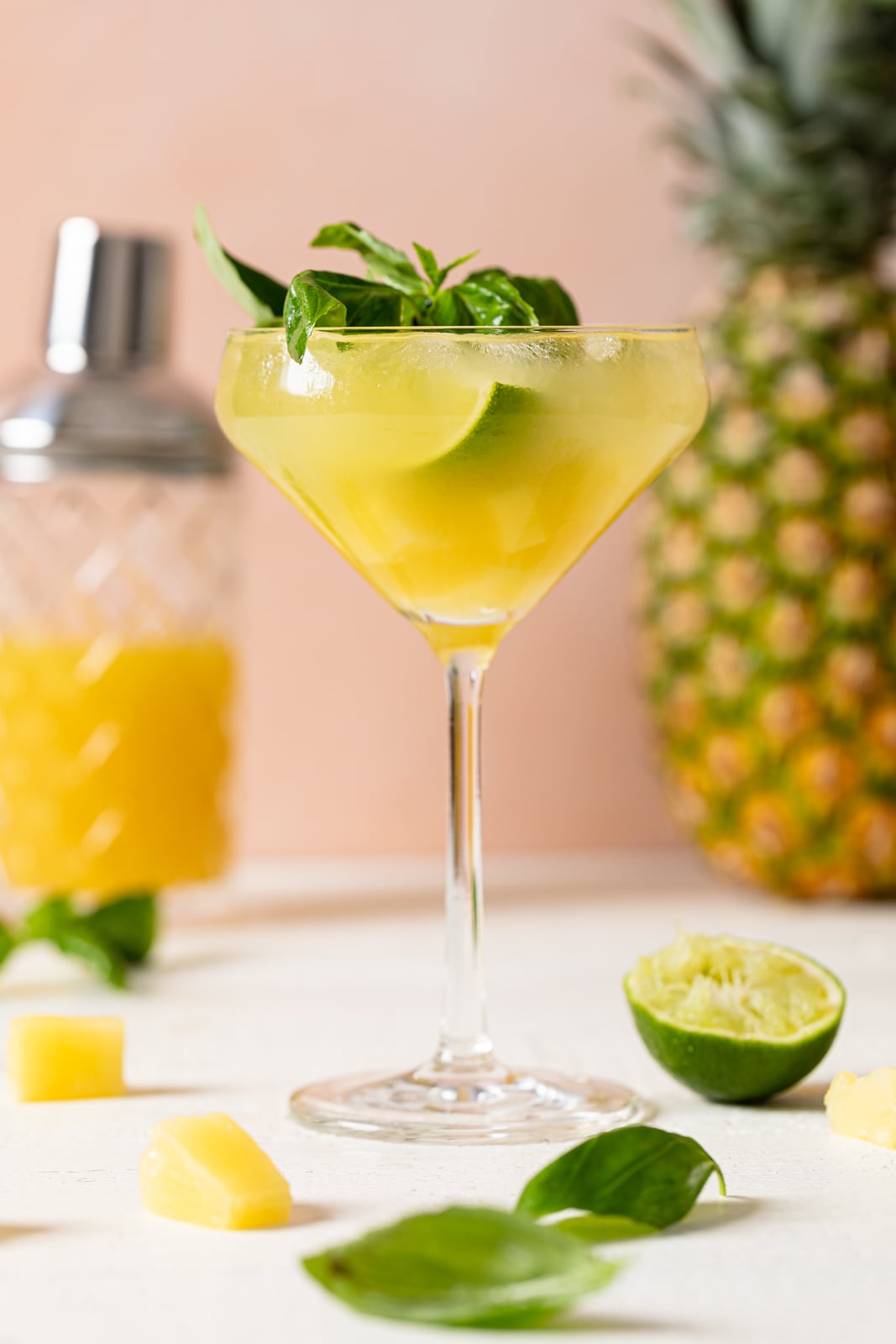 MOCKTAIL:
½

cup

organic pineapple juice, unsweetened

¼

cup

simple basil syrup

2

Tbsps

freshly-squeezed lime juice

organic coconut water, for topping
SIMPLE BASIL SYRUP:
In a saucepan over medium-high heat, add the water and bring to a boil for 1-2 minutes. Reduce the heat to low and add in the sugar, lime juice, and basil leaves, stirring everything together. Let simmer for 5-6 minutes and then remove from heat. Let it cool completely.
TO MAKE THE MOCKTAIL:
In a cocktail shaker, add the pineapple juice, simple basil syrup, and lime juice, shaking it together until combined.

ASSEMBLY: Add crushed ice to glass(es), Add the mocktail mixture until ½ filled followed by pineapple chunks, lime wedges, and then top with coconut water. For additional garnish, add fresh basil leaves, if desired. Repeat for every serving. 

Sip and Enjoy!
SERVING: To make additional mocktails, simply double or triple ingredients, depending on need.
Calories:
297
kcal
|
Carbohydrates:
79
g
|
Protein:
1
g
|
Fat:
0.2
g
|
Saturated Fat:
0.01
g
|
Polyunsaturated Fat:
0.1
g
|
Monounsaturated Fat:
0.02
g
|
Sodium:
52
mg
|
Potassium:
242
mg
|
Fiber:
0.4
g
|
Sugar:
74
g
|
Vitamin A:
21
IU
|
Vitamin C:
21
mg
|
Calcium:
30
mg
|
Iron:
3
mg
Pineapple Coconut Basil Mocktail with Lime.