Get ready to sip on the coolest summer mocktail ever! Say hello to the Spicy Cucumber Jalapeno Mocktail. This refreshing non-alcoholic cocktail packs a punch of bright, sweet, and spicy flavors. Picture a tantalizing blend of cool cucumber, zesty lime, and fiery jalapenos, all balanced with a touch of raw honey for sweetness. It's the perfect addition to your summer mocktail menu and the best part? You can whip them up in just 5 minutes flat! Vegan option.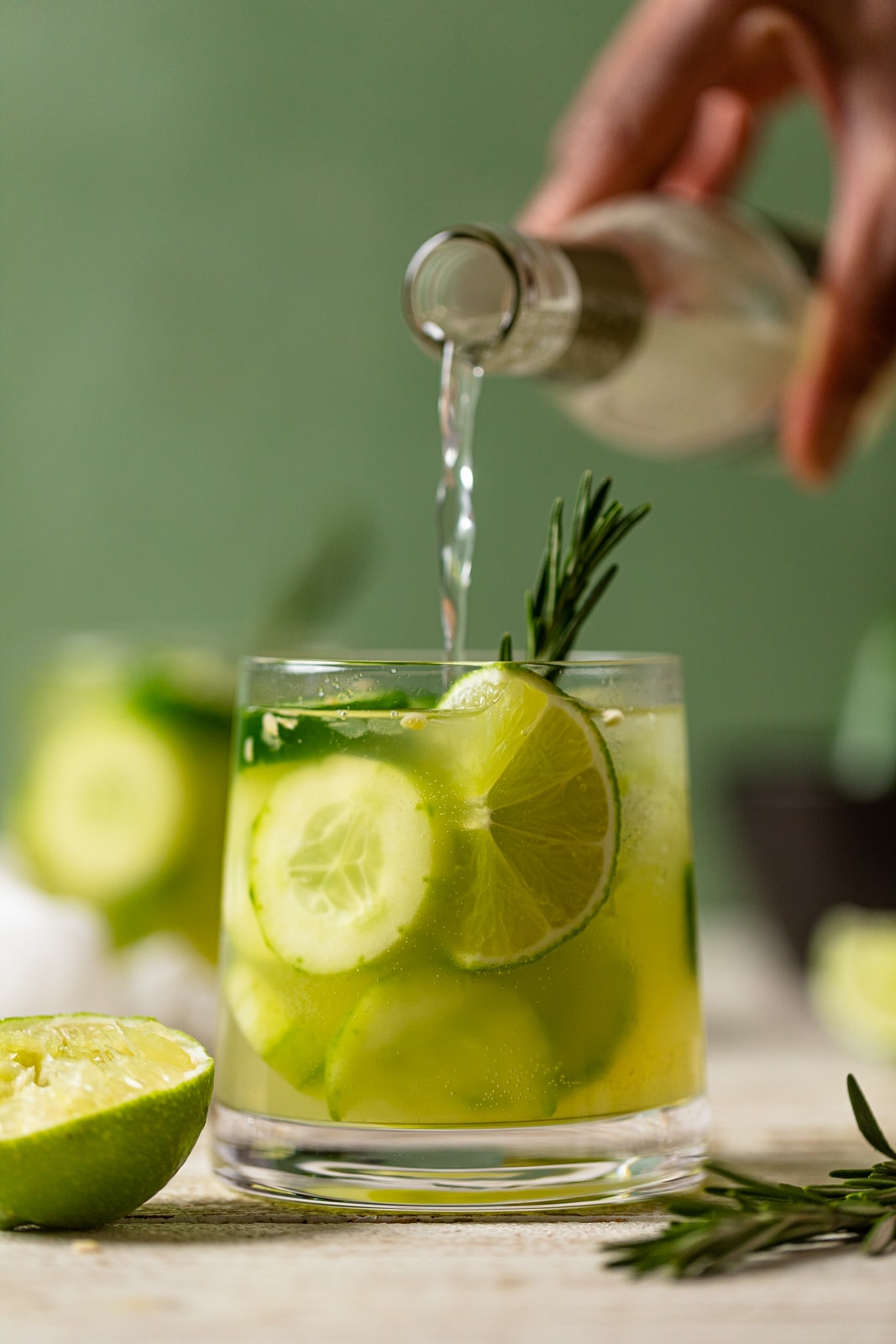 Why Spicy Jalapeno Cucumber Mocktails?
This new summer mocktail recipe is a total winner. It's fresh + bright, just the way I love to enjoy my mocktail menu-- If you are a lover of a little spice, then you're sure to love this Pineapple Jalapeño Lime Mocktail and this Jalapeno Lemon-Lime Mocktail. Oh, and my all-time favorite non-alcoholic cocktail, this Spicy Watermelon Mojito Mocktail, it's seriously so refreshing!
These Spicy Jalapeno Cucumber Mocktails are by far one of my top favorite mocktails this summer, and I'll have it on repeat for as long as cucumber and lime are in season. They're so spicy, easy to make, refreshing, quick to whip together, and a fun sip experience for adults and children alike (reducing the jalapeños, of course).
Jump to: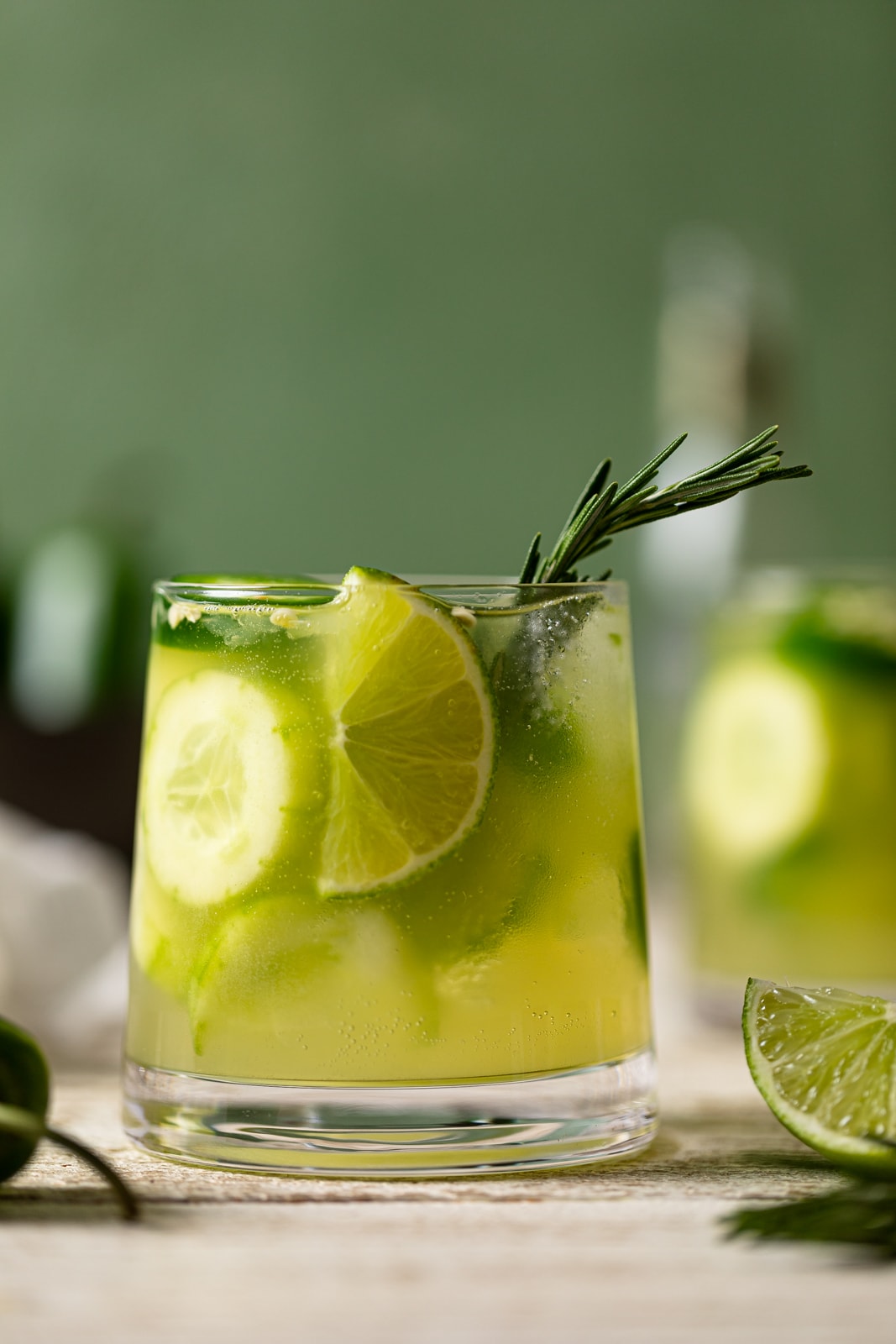 What is A Mocktail?
So if you're sitting here thinking, what is a mocktail? Let me explain. A mocktail is like a party in a glass, minus the hangover. It's a non-alcoholic cocktail-- a delicious and refreshing drink that's packed with all the flavor and complexity of a traditional cocktail but without any of alcohol.
Whether you're a designated driver, a health-conscious human, or just someone who wants to enjoy a delicious drink without the buzz, mocktails are the perfect solution.
Are Mocktails Healthy?
Mocktails can be healthy, depending on the ingredients used. Fresh juices, herbal teas, and natural sweeteners like honey can provide vitamins, minerals, and antioxidants. However, mocktails made with high-calorie syrups, sodas, and artificial flavors can be less healthy. Y'all know my mocktail menu for Orchirds & Sweet Tea I like to try to keep it as natural and healthy as possible!
Ingredients for Jalapeño Cucumber Mocktails
The ingredients for this spicy and refreshing non-alcoholic cocktail are simple:
Limes. Fresh lime juice makes all the difference in these drinks to brighten them up!
Jalapeños. Remove the seeds for less spice in your mocktails
Cucumbers. Any kind of cucumber will work!
Raw honey. Feel free to use a different liquid sweetener if you like. And see my guide to The Best Healthy Sugar Alternatives + Substitutes for more ideas.
Ginger beer. This adds a nice amount of fizz and extra ginger spice. It's alcohol-free!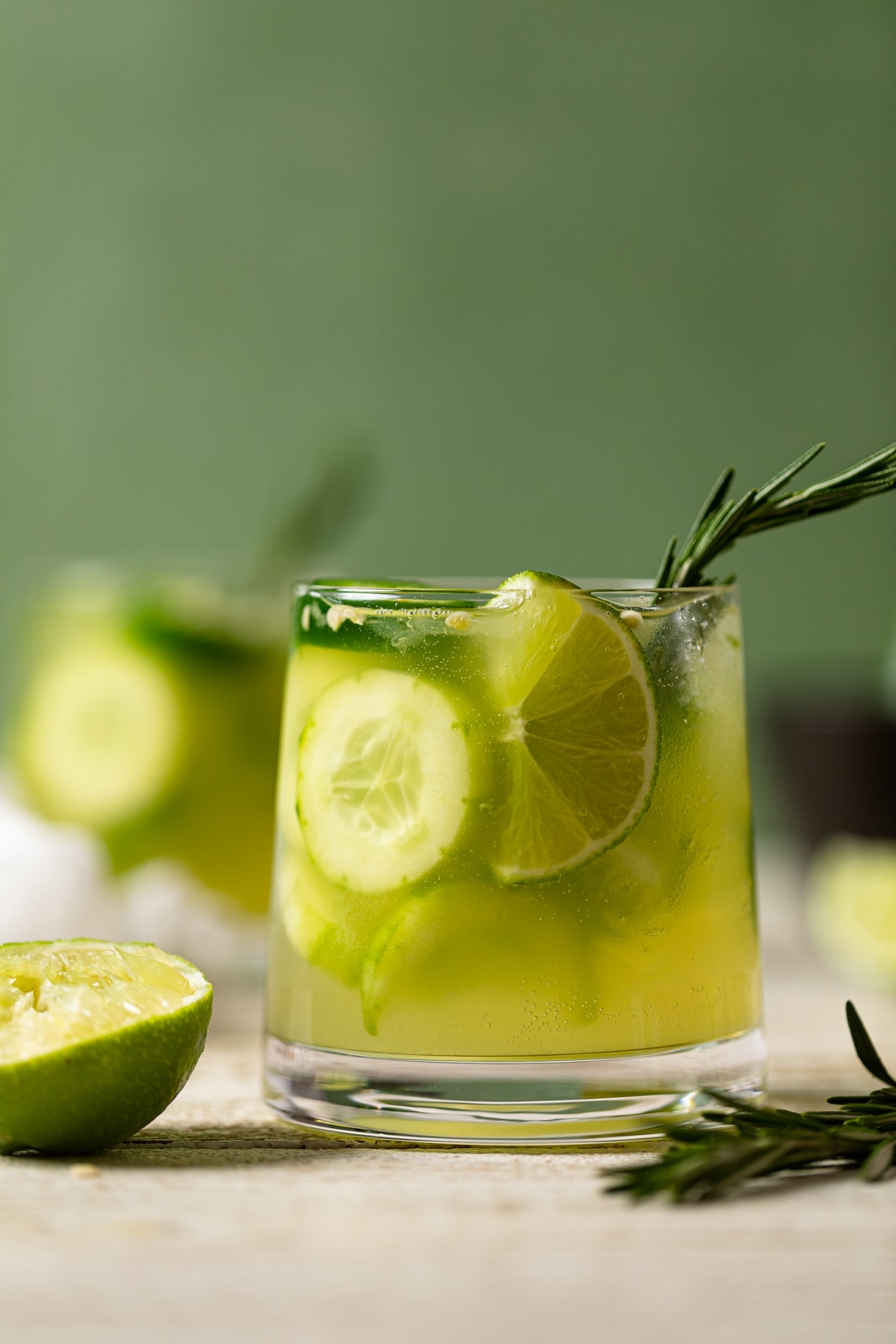 Spicy Summer Mocktail Garnish Ideas
Want to make your Spicy Jalapeño Cucumber Mocktail look extra special? Here are some easy and pretty garnishes to try-
Fresh Orange + Lime Slices. Thin slices or wedges of fresh citrus add a burst of color to your mocktail. Mix things up by using different types of oranges for a fun twist, like bold red and pink blood oranges.
Dried Citrus. Dried orange or lemon/lime slices make for a beautiful and tasty garnish, and you can even infuse your mocktail with their flavor by soaking them in the drink for a little while.
Lime Zest. Fancy things up with big curls of orange zest created with a vegetable peeler or a citrus zester. It's an easy way to make your mocktail look extra elegant.
Fresh Ginger. A slice or two of fresh ginger is the perfect complement. It's fresh, it's spicy, and it's so good.
Pretty Ice Cubes. Freeze cranberries, pomegranate, citrus, mint, or edible flowers into your ice cubes for a fun and pretty touch. It's an easy way to elevate your mocktail menu game.
How to Sweeten Spicy Jalapeño Mocktails
For a simple sweetener, just use raw honey. Or, if you prefer to use maple syrup or all simple syrup-----do so! These are great vegan options.
The Best Healthy Sugar Alternatives + Substitutes list is all about finding better ways to enjoy your favorite sweets without compromising your healthy lifestyle. For those who follow a vegetarian and/or vegan lifestyle, this list offers a few great ideas to incorporate healthy sweeteners into your diet.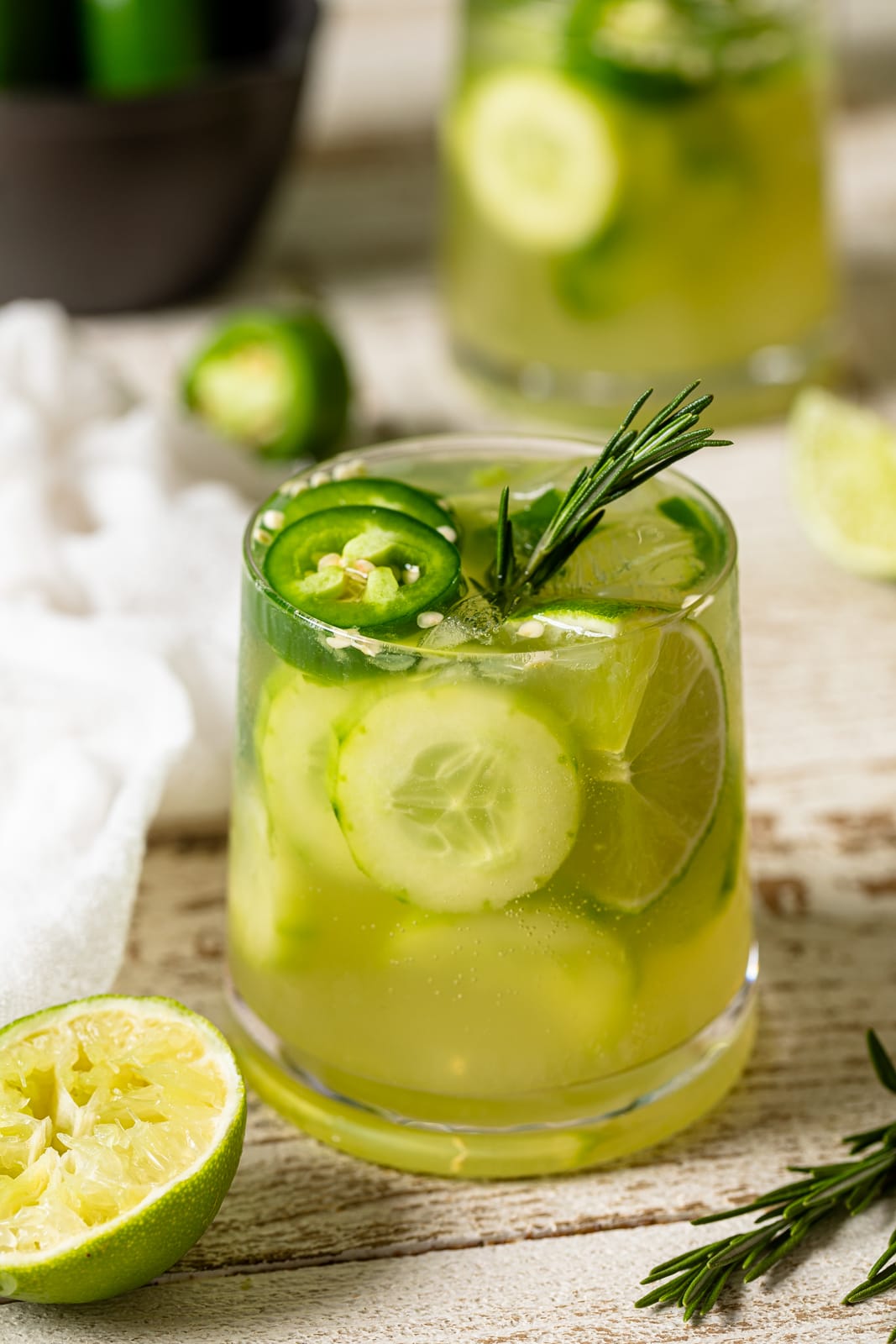 Why You'll Love This Jalapeño Cucumber Mocktail
First and foremost, the flavors in this simple and easy Jalapeño Cucumber Mocktail are enough to convince anyone. However, here are a few more reasons why you'll love this recipe:
Similar to the real 'feel' of a cocktail.
Yes, while this mocktail doesn't have actual alcohol, I promise that it's just as complex in flavor, with a slight "burn" (very minimal), and tasty as any cocktail----obviously with additional bold flavors from the tart limey flavor and the nice ginger beer fizz. Of course, you can always add a nice alcohol-free cocktail option from Ritual Zero Proof.
Quick + Easy
In just 5 minutes, you can whip up this summer mocktail and indulge in its delightful flavors. It's the perfect drink when you're short on time but still want a refreshing treat to enjoy.
You save money!
This, by far is one of my biggest reasons for making my own drinks at home. You definitely save more money purchasing the ingredients and making your own servings at home.
It's Healthier!
This is my biggest plus! I love when I am able to know what ingredients I use whenever making drinks, cooking, or baking. Making my non-alcoholic cocktail & drinks in general at home has definitely allowed me to switch to healthier, organic ingredients, which is a win, win!
SHOP MY FAVORITE DRINKWARE ITEMS AND ACCESSORIES!
Here, I've curated a list of drinkware and mocktail essentials that I use to achieve my favorite drinking experiences, especially with these Spicy Jalapeño Cucumber Mocktails. Everything from my fave glassware, cocktail shakers, ice cubes trays, and more. SEE THEM HERE!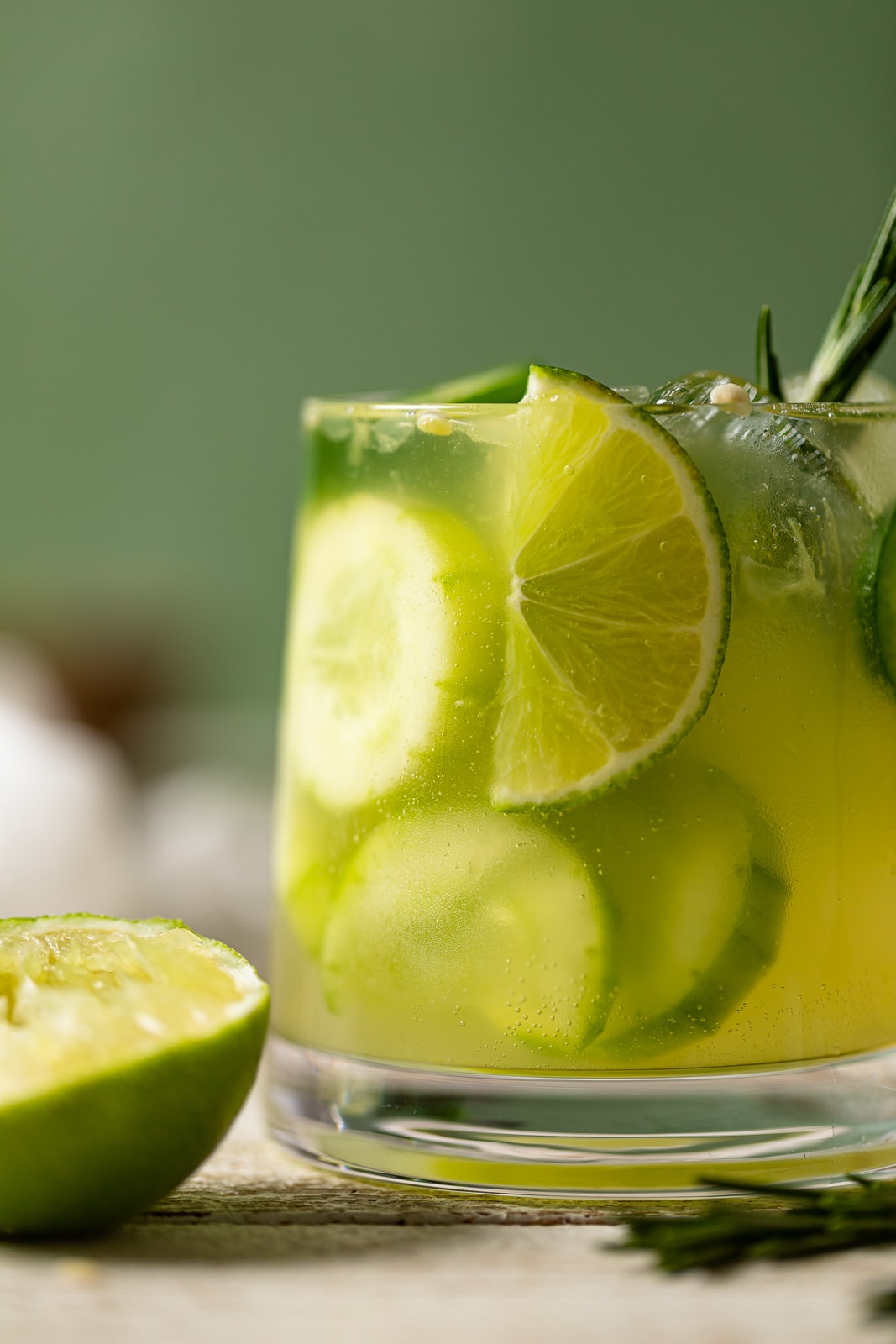 Spicy Jalapeño Cucumber Mocktails Q + A's
Can I Add Alcohol?
Of course! If you'd like to serve this as a cocktail, you can add your favorite alcohol to the mixture. The best types of alcohols (just about 1 ounce or so) that work great with this flavor combo are:
Gin
Rum
Tequila
Whiskey
Vodka
Can I Adjust The Spiciness Level?
The level of spiciness can be adjusted to your preference. If you enjoy a milder kick, remove the seeds from the jalapeño slices. For a spicier experience, leave the seeds in. Feel free to experiment and find the perfect balance of spice for your taste buds.
Can I Make A Big-Batch Spicy Jalapeño Mocktails?

Absolutely! To make these alcohol-free drinks for a crowd, simply scale the recipe up as needed for your mocktail menu!
Are These Mocktails Suitable for Kids?
While the spiciness can be adjusted, it's always a good idea to consider the preference and tolerance of children. You may want to reduce or omit the jalapeño slices to make it more kid-friendly.
Can I Substitute Ginger Beer With Another Carbonated Beverage?
While ginger beer adds a unique flavor and effervescence to these summer mocktails, you can experiment with other carbonated beverages such as club soda or sparkling water if you prefer a milder taste. Adjust the sweetness and overall flavor balance accordingly.
Can I Use A Different Type Of Pepper Instead Of Jalapeño?
Absolutely! If you're looking to switch up the spice level or flavor on your non-alcoholic cocktail, you can experiment with different types of peppers, such as serrano, habanero, or even bell peppers, for a milder option. Be mindful of the heat level and adjust accordingly.

More Spring + Summer Mocktail Recipes
These non-alcoholic drinks are a hit at backyard BBQs or for any occasion:
MADE OUR RECIPE(S):
If you make this Spicy Jalapeno Cucumber Mocktail, tag @orchidsnsweettea_ on Instagram and hashtag it #orchidsandsweettea
GARNISH:
Lime wedges

Sliced cucumbers

Sliced jalapeños

Fresh rosemary sprigs
TO MAKE MOCKTAILS:
In a bowl, add the chopped jalapeños and cucumbers along with the lime juice, mulling (crushing) it together until jalapeños and cucumbers are mostly broken down. Add the water and honey and stir until combined. Add a pinch of sea salt for heightened flavor. NOTE: Add additional sweetener if needed.

ASSEMBLY: For each drink, fill an 4-ounce glass halfway with crushed ice. Add ½ cup of the mocktail mixture. Garnish with lime wedges, chopped jalapeños, and sliced cucumbers, and top with ginger beer until filled completely. Add a rosemary sprig, if desired.

Sip and Enjoy!
STORAGE: Leftovers can be stored in the refrigerator in a tightly sealed jar for up to a week. 
SWEETENER: Instead of honey, you can always use Agave or maple syrup or create a simple syrup by boiling water with organic cane sugar to sweeten.
MAKE AHEAD: You can make the mocktail mixture up to 1 day ahead and refrigerate in an airtight container. The day off, simply slice/chop fruit and assemble.
SERVING: To make additional mocktails, simply double or triple ingredients, depending on need.
Calories:
300
kcal
|
Carbohydrates:
81
g
|
Protein:
2
g
|
Fat:
0.4
g
|
Saturated Fat:
0.1
g
|
Polyunsaturated Fat:
0.1
g
|
Monounsaturated Fat:
0.03
g
|
Sodium:
20
mg
|
Potassium:
351
mg
|
Fiber:
3
g
|
Sugar:
73
g
|
Vitamin A:
292
IU
|
Vitamin C:
41
mg
|
Calcium:
57
mg
|
Iron:
1
mg