This Strawberry Grapefruit Mocktail is a simple delicious mocktail that comes rich in bold strawberry + grapefruit flavors. Made with an easy homemade lemon simple syrup, freshly-squeezed grapefruit juice, mulled strawberries, and topped with your favorite grapefruit bubbly, this mocktail is the best addition to any occasion or holiday! Vegan option.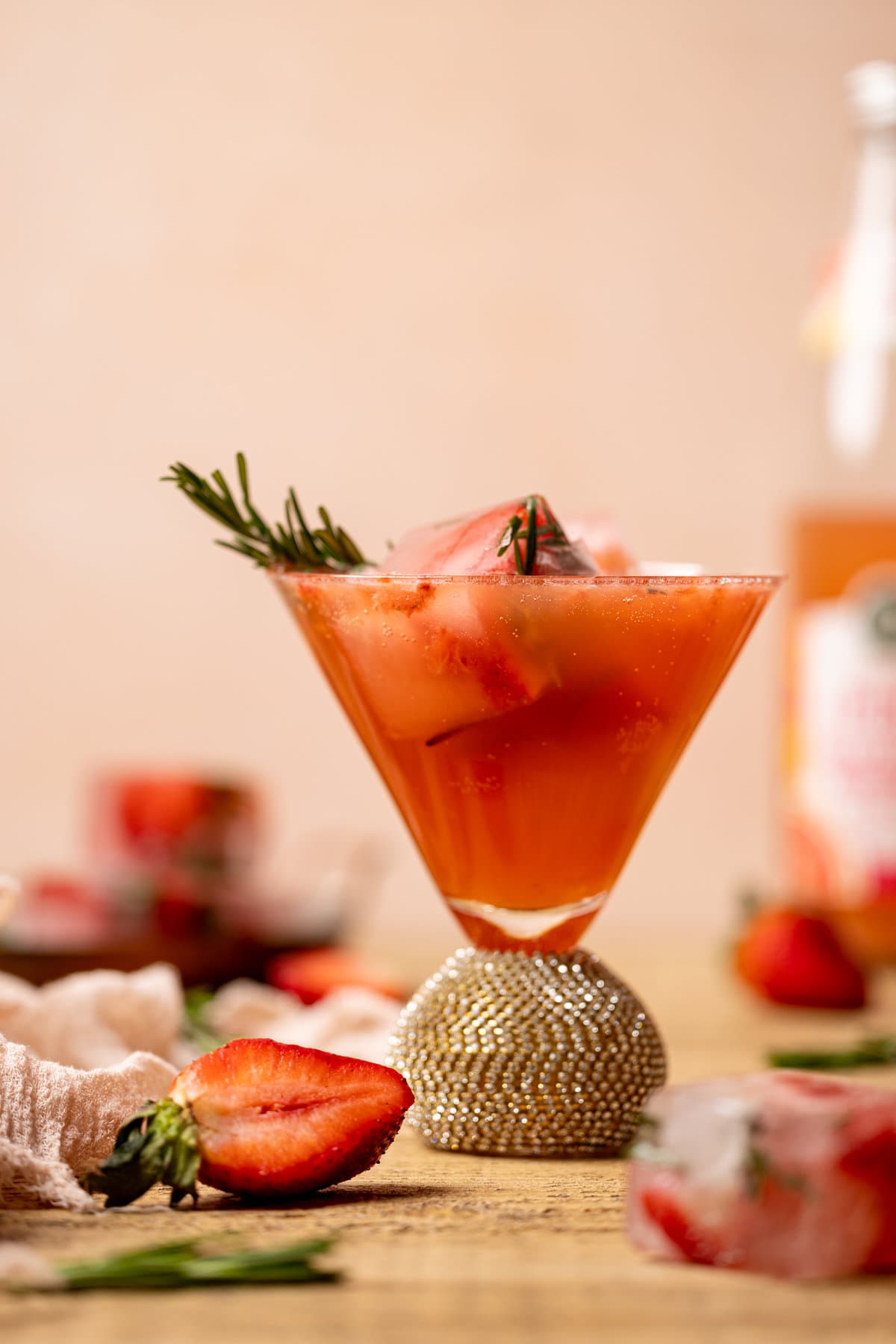 Disclaimer: This post contains affiliate links via Amazon for products that I wholeheartedly love.
I love strawberries. Actually, I think that it's safe to say that it's one of my favorite fruits---hands down. I'm so happy to finally be sharing this Strawberry Grapefruit Mocktail with you all because they are SO good! I enjoy making simple, tasty drinks that the entire family can enjoy and this one is a star in my house. My son is so very much in love with this mocktail and it's such a delicious drink without the fizz.
Either way, you're guaranteed to love it!
It's DAY 4 OF LOVE WEEK on Orchids + Sweet Tea and I couldn't be more excited for the deliciousness coming your way all week long---in honor of Valentine's Day next week! Be sure to watch all recipes via IG Reels for a nice visual.
As you can tell, one of the fun highlights of this mocktail is the ice cubes. Usually, I like to make fun and infused ice cubes for an extra pizazz with my mocktails, but to make things really "fancy + beautiful" look, I chose to add sliced strawberries and rosemary sprigs because why not?! Haha. I seriously think that my son enjoyed adding the fruit and sprigs to the ice cube tray more than I did and he really treated it like a science experiment which was so funny.
Plus, this Strawberry Grapefruit Mocktail is super easy to make, requires just a handful of ingredients, comes whipped together in 10 minutes (or less), and is the perfect balance between tart + sweet. For a fun, family-friendly drink---simply omit the grapefruit juice for less tartness so that the kids can enjoy---if they aren't a fan!
Need More Fancy Mocktail Options? Here's What I'm Currently Loving!
Fancy Hot Honey Lemon Mocktail
Why You'll Love This Strawberry Grapefruit Mocktail
First and foremost, the flavors in this simple and easy Strawberry Grapefruit Mocktail is enough to convince anyone, however, here are a few more reasons why you'll love this recipe:
It's Very Similar to the real 'feel' of a cocktail. Yes, while this mocktail doesn't have actual alcohol, I promise that it's just as complex in flavor, with a slight "burn" (very minimal), and tasty as any cocktail----obviously with additional bold flavors from the tart lemony flavor and the nice grapefruit fizz.
It's super fun to make! I literally love the creation of the ice cubes and the shaking of all of the ingredients the cocktail shaker and the mulling process too!
You save money! This by far is one of my biggest reasons for making my own drinks at home (minus the last point to come). You definitely save more money purchasing the ingredients and making your own servings at home.
It's healthier. Most of all, this is my biggest plus! I love when I am able to know what ingredients I use whenever making drinks, cooking, or baking. Making my mocktails and drinks in general at home has definitely allowed me to switch to healthier, organic ingredients which is a win, win!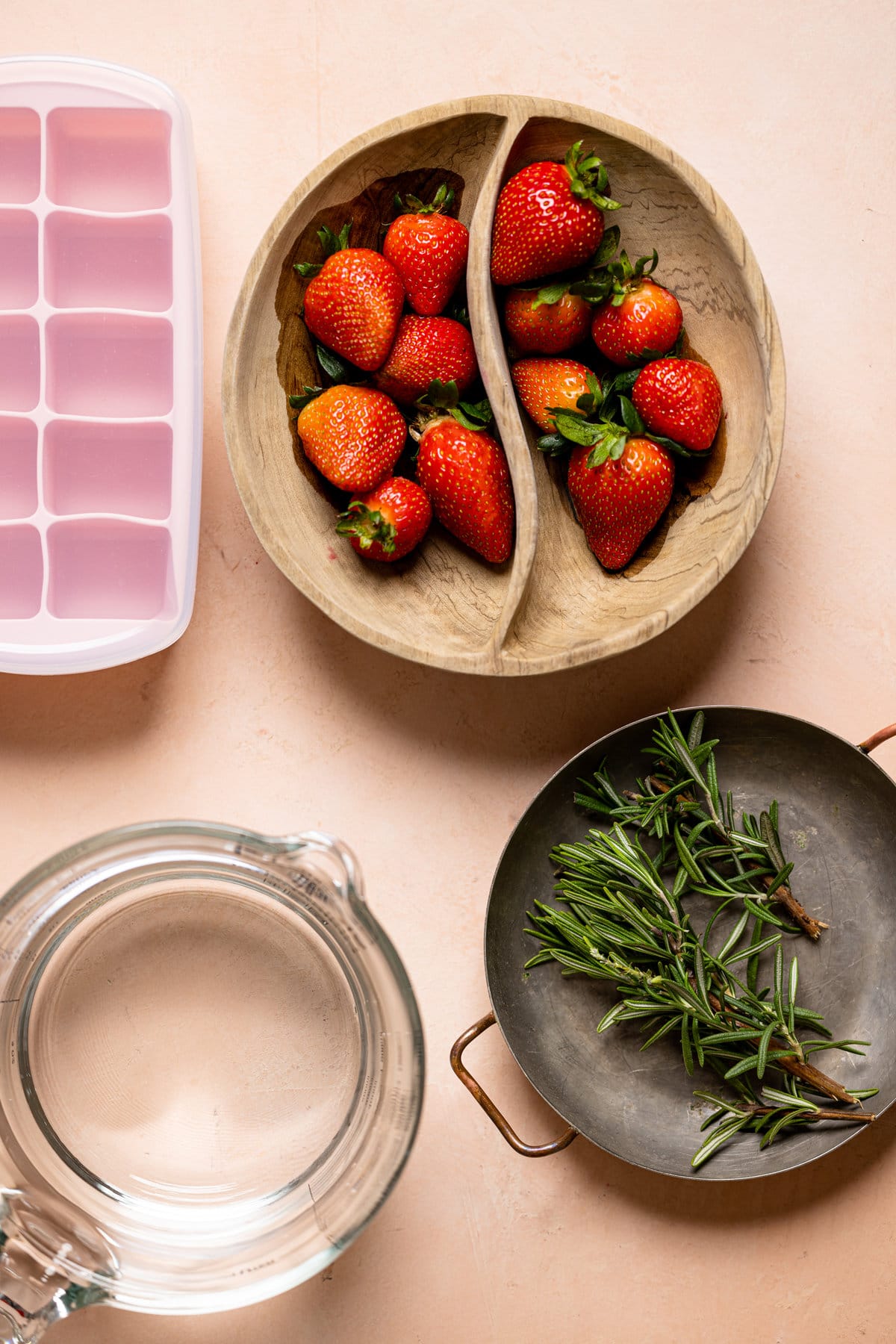 How to Make Strawberry Grapefruit Mocktail
The first thing you need to make for these tasty drinks are the strawberry rosemary ice cubes. You literally add the strawberries + rosemary pieces in your favorite ice cube tray, top with water, set it and forget it for a minimum of 3-4 hours (or overnight) until ice cubes are formed.
Then, you whip together the mocktail ingredients and assemble. Serve and enjoy!
Ingredients for Strawberry Grapefruit Mocktail
Here's what you need for these Strawberry Grapefruit Mocktails:
Strawberries. The use of fresh organic strawberries with the stems cut off makes for a nice burst of fresh flavor. Plus, you need them for your ice cubes!
Lemons. Use big, juicy lemons to add a tart pop of flavor. You need about 1 or so lemons sliced for the simple syrup.
Honey. I like to use raw, organic honey, but you can substitute with cane sugar or brown sugar for simple syrup.
Grapefruit soda. I love using the Whole Foods brand because it's organic. You can also use ginger ale, ginger beer, club soda, etc for your topping if preferred. If not using grapefruit soda, be sure to add grapefruit juice (1-2 large grapefruits freshly-squeezed).
Grapefruit juice. This is optional. You'll need 1 large pink grapefruit, freshly-squeezed.
Water. For clearer ice cubes, it's best to use store-bought "pure" water. See post for more info!
Garnish. This creates a nice, fancy experience for your mocktails. I love using strawberry slices, grapefruit wedges, and rosemary sprigs.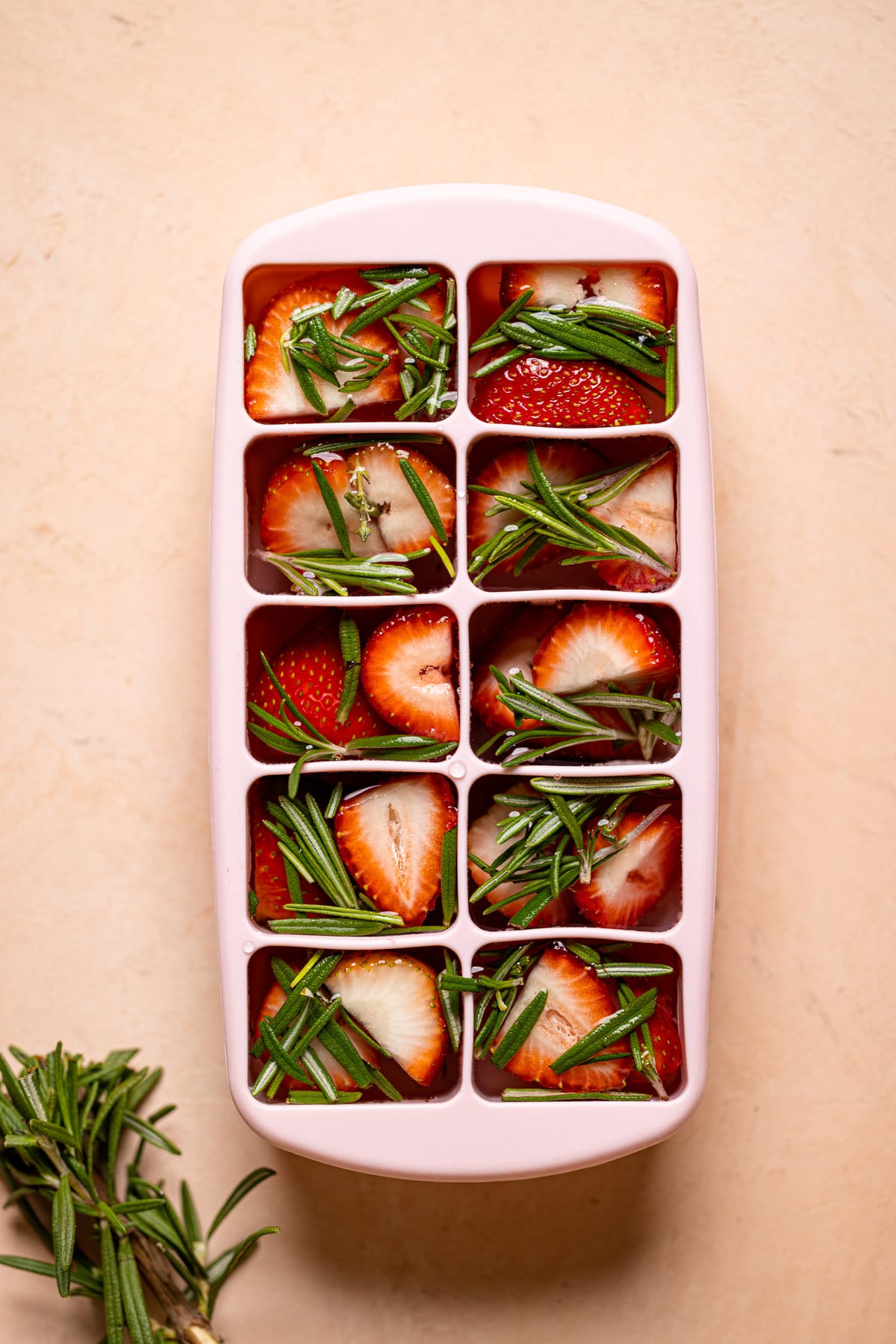 How to Make Clear Ice Cubes without a a Clear Ice Cube Mold
One of the greatest phenomenons when it comes to ice cubes has been seeing super clear ice cubes from those clear ice cube systems or molds and wanting to try it, but not necessarily wanting to have a huge contraption in my freezer. Haha. Anyone else feel my pain? Whelp, no need to worry----I've done my research and tested it out a bit and have found some solutions to help those of us who don't have any fancy system to making clear ice cubes. Here are a few ways:
Tip #1: It's best to use water that is distilled or super filtered to avoid gasses and dissolved oxygen, which are the two things that cause our ice to "fog up" when frozen.
Tip #2: Boil your water and freeze your water hot. Again, much to my previous point, this removes any dissolved oxygen or gasses. Just be sure to carefully pour the hot water into your ice cube tray or mold-----preferably one made from materials that naturally insulates like silicone. Also, ensure that your tray lays FLAT while freezing.
Tip #3: Slow freeze your ice cubes. This should be done for about 24 hours, which allows any impurities to be forced out of the ice---resulting in much clearer ice.
SHOP MY FAVORITE DRINKWARE ITEMS AND ACCESSORIES!
Here, I've curated a list of drinkware and mocktail essentials that I use to achieve my favorite drinking experiences, especially with these Strawberry Grapefruit Mocktails. Everything from my fave glassware, cocktail shakers, ice cubes trays, and more. SEE THEM HERE!
ANY BENEFITS OF GRAPEFRUIT?
The main plus about consuming Grapefruit is that is has high nutritional value but is low in carbs. In addition, it has a decent amount of fiber and comes jam-packed with Vitamins.
Other benefits:
Great for your Immune System. (Think high sources of Vitamin C!)
May help to promote Appetite Control. (Diets high in fiber helps to keep you more full, resulting in less frequent eating!)
May help with weight loss. (Since they are few in calories and contain more water, they aide in weight loss!)
Possibility of preventing Insulin Resistance. (This generally reduces your chances of Diabetes.)
May improve Heart Health! (Consuming Grapefruit daily may help to prevent Blood Pressure and reduce Cholesterol.)
High in Powerful Antioxidants!
Very Hydrating. (Think high water content which is awesome for our 

bodies

!)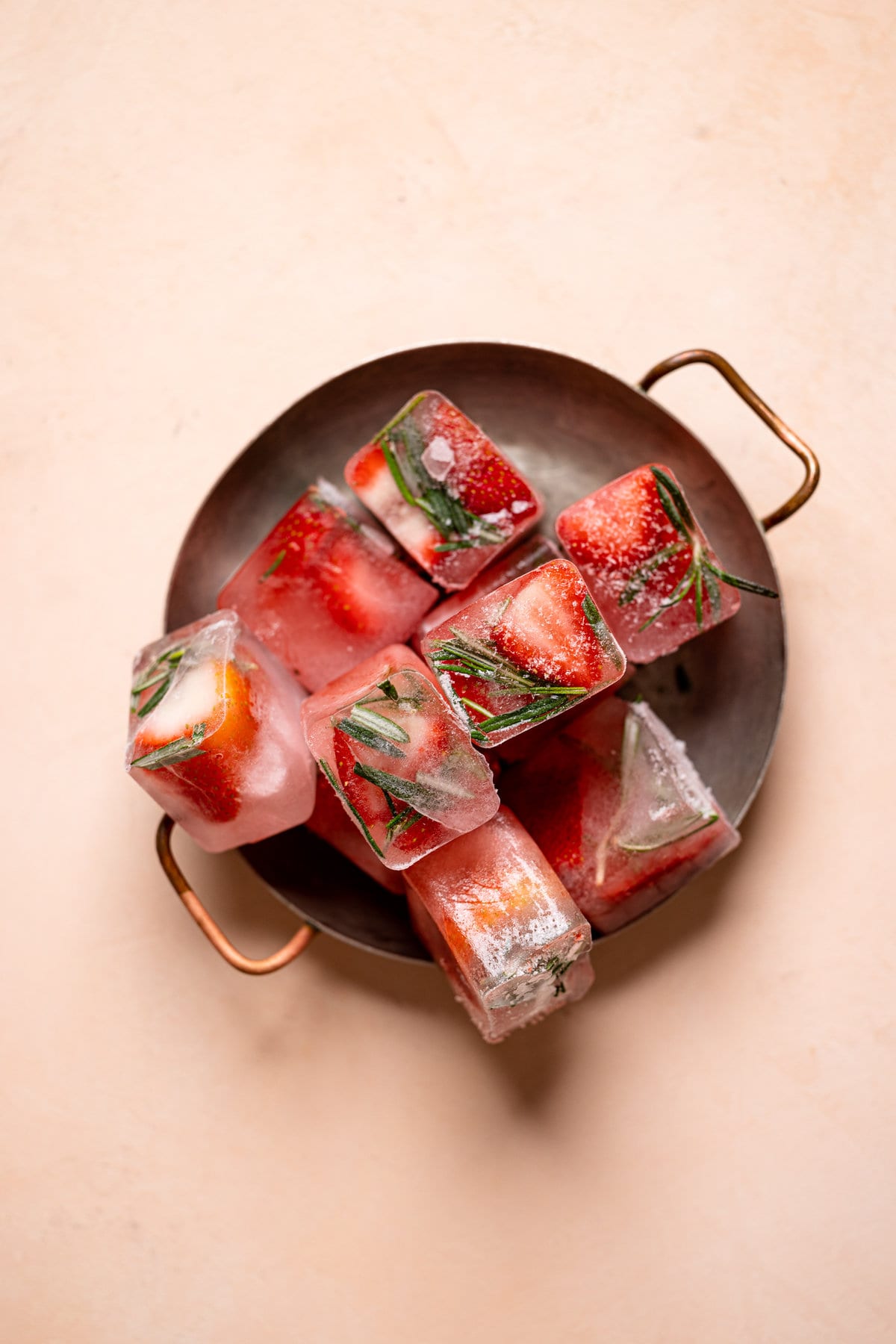 Creating Additional Mocktail Servings
This Strawberry Grapefruit Mocktail recipe serves two. But you'll probably want more and I can't blame you! You can easily double or triple the recipe to serve a crowd or your entire family.
The strawberry rosemary mixture makes about 10 decent-sized (medium) ice cubes or 4 large circular ice cubes. The amount depends on the size of your ice cubes.
Can I Add Alcohol?
Of course! If you'd like to serve this as a cocktail, you can add your favorite alcohol to the mixture. The best types of alcohols (just about 1 ounce or so) that work great with this Strawberry Grapefruit flavor combo is:
Gin
Rum
Champagne
Tequila
Whiskey
Vodka
Sweetener Options? Vegan-friendly?
Absolutely! I like to add a bit of natural sweetener to most things that I drink, including this Strawberry Grapefruit Mocktail. Maple syrup is a great option because it's vegan and has antioxidants, much like honey which adds additional nutrients. However, you can try any healthy sweetener substitutions you like.
In fact, this post about The Best Healthy Sugar Alternatives + Substitutes is a great place to start! For example, you can use agave or maple syrup to sweeten your ice cubes in general when using other ingredients.
Health Benefits of Strawberries
It's strawberry season, which means it's time to celebrate! I'll share my all-time favorite strawberry recipes plus the benefits of enjoying strawberries.Known for their plump and juicy flavor, strawberries are a summer staple for good reason. I've always been a big strawberry fan so in honor of strawberry season, I wanted to answer some of the most asked questions about strawberries.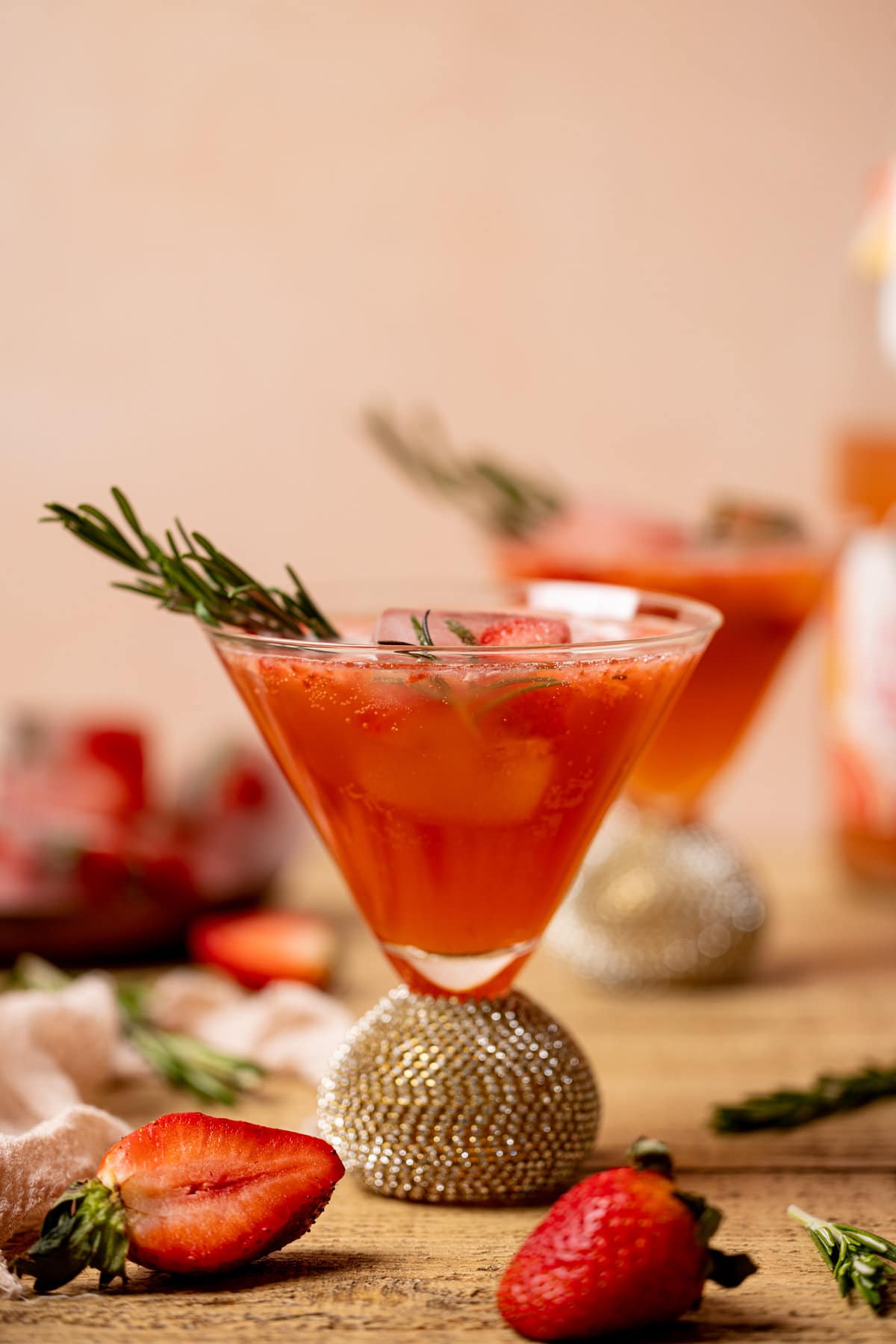 More Delicious Strawberry Recipes to Try!
If you love this Strawberry Grapefruit Mocktail, try these other plant-based treats next:
MADE OUR RECIPE(S)?
If you make this Strawberry Grapefruit Mocktail, tag @orchidsnsweettea_ on Instagram and hashtag it #orchidsandsweettea!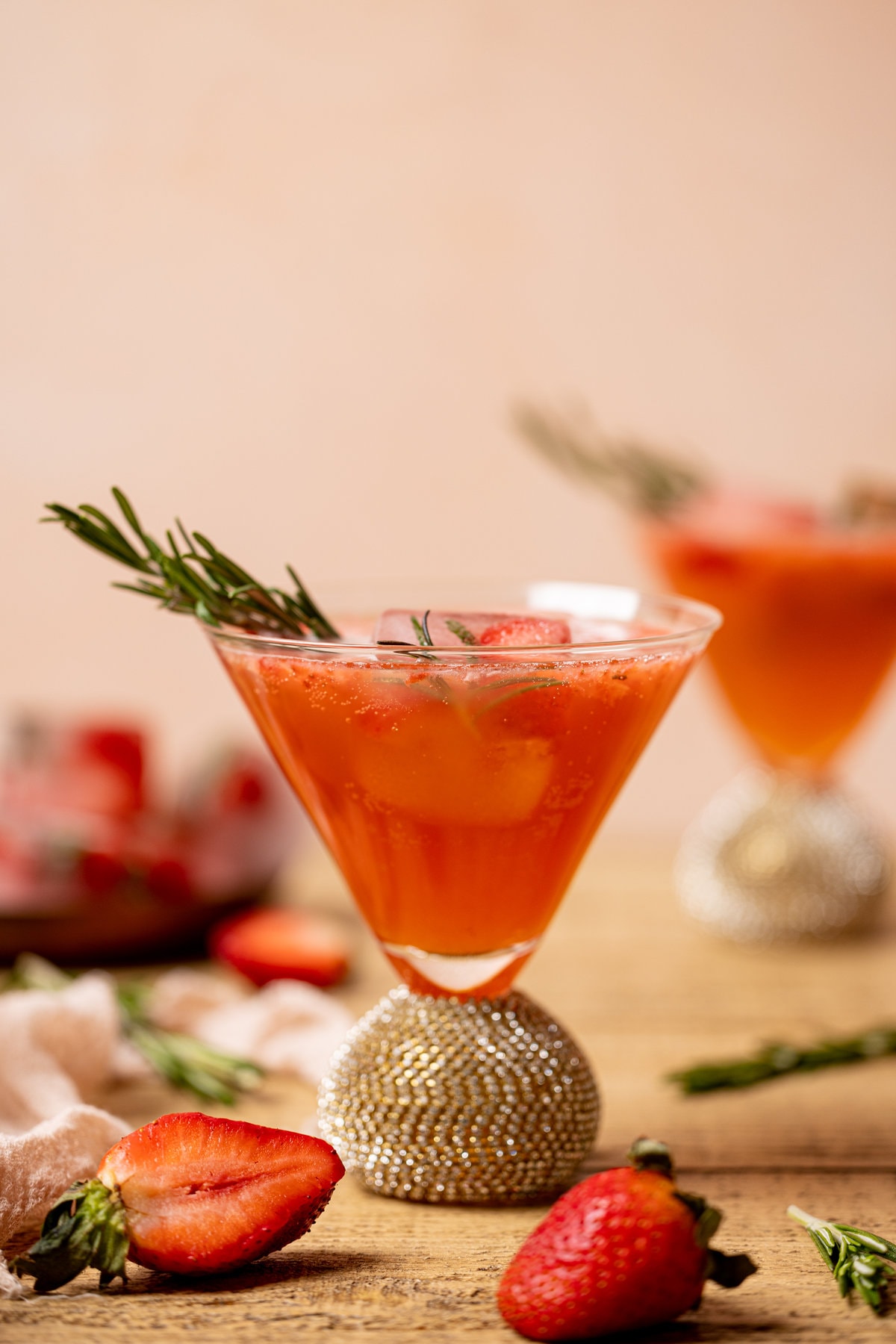 STRAWBERRY ROSEMARY ICE CUBES:
2

cups

filtered water

(For clearer ice, it's best to use purified water; See Posts for more!)

1

cup

sliced strawberries, organic

handful of

fresh rosemary sprigs, cut into pieces
LEMON SIMPLE SYRUP:
1

organic lemon, sliced thin

1

cup

filtered water

½

cup

raw honey

(You can also use organic cane sugar, if desired)
MOCKTAILS:
1

cup

strawberries, stems removed + sliced

¼

cup

lemon simple syrup

1

organic pink grapefruit, freshly-squeezed

(optional)

Grapefruit soda, for topping

Strawberry rosemary ice cubes
TO MAKE THE ICE CUBES:
In your favorite ice tray----add the sliced strawberries and chopped rosemary sprigs into each cavity and carefully cover them with water, filling them until all completely full. Repeat until all ice cube cavities are filled. Add the tray(s) to the freezer and freeze for 3-4 hours (or overnight) until ice is formed.
TO MAKE THE LEMON SIMPLE SYRUP:
In a saucepan over medium-high heat, add together all ingredients (stirring them to combine) and bring to a boil, about 1-2 minutes.

Reduce the heat to low and simmer for another 5 minutes or so. Remove from heat and let it cool completely.
TO MAKE THE MOCKTAILS:
In a mason jar or bowl, add the strawberry slices, grapefruit juice (if using), and cooled lemon simple syrup, mulling the strawberries until completely broken down. Stir.

Assemble the mocktail(s): For each mocktail, fill a good cocktail glass (11 oz. or so) with a few strawberry rosemary ice cubes and pour half the amount of the mocktail mixture (w/ mulled fruit) and top with grapefruit soda until glass(es) is ¾ filled. Add strawberry slices, grapefruit wedges, and rosemary sprigs, if desired.

Sip and Enjoy!
SERVING SIZE: To make additional mocktails, simply double or triple ingredients, depending on need.
ALCOHOL: If you'd like to keep this recipe dairy-free, but want to spruce things up with alcohol, feel free to add 1 ounce of rum, vodka, etc.
EQUIPMENT: Here, I've curated a list of drinkware and mocktail essentials that I use to achieve my favorite drinking experiences, especially with this Strawberry Grapefruit Mocktail. Everything from my fave glassware, cocktail shakers, ice cube trays, and more. SEE THEM HERE!
VEGAN OPTION: To make this mocktail vegan, be sure to substitute the honey with another sweetener like maple syrup, organic cane sugar, or brown sugar.
Calories:
281
kcal
|
Carbohydrates:
75
g
|
Protein:
1
g
|
Fat:
0.2
g
|
Saturated Fat:
0.01
g
|
Polyunsaturated Fat:
0.1
g
|
Monounsaturated Fat:
0.03
g
|
Sodium:
22
mg
|
Potassium:
154
mg
|
Fiber:
2
g
|
Sugar:
73
g
|
Vitamin A:
9
IU
|
Vitamin C:
43
mg
|
Calcium:
27
mg
|
Iron:
1
mg
Strawberry Grapefruit Mocktail.