Strawberry season: The benefits + strawberry recipes to match. Ah, the strawberry. This ruby red, antioxidant-filled fruit is a favorite among other foods. Known for their plump and juicy flavor, strawberries are a summer staple for good reason. I've always been a big strawberry fan so in honor of strawberry season, I wanted to share some of my favorite strawberry recipes as well as answer some of the most asked questions about strawberries.
You might be thinking that you already know everything there is to know about strawberries—especially since most of us have been enjoying them since we were in diapers. But, strawberries have a ton of nutritional benefits you might not know about. We'll also dive into when strawberry season is in your state, the difference between wild strawberries and supermarket strawberries, and more!
Strawberry Benefits
Strawberries are an excellent source of vitamin C. Just one cup of strawberry halves offers about 89 mg of vitamin C, which is 99% of the daily recommended value. Interestingly, the human body cannot produce or store vitamin C, which means we need to enjoy vitamin C-rich foods daily. 
Besides being high in vitamin C, strawberries also contain manganese, folate, and potassium. Manganese is a mineral that is essential for the body to function properly, while folate helps support healthy cell division. 
Even though strawberries are a sweet treat, they are 91% water. This means that strawberries have a relatively low glycemic index score so they usually won't lead to big spikes in blood sugar levels. So strawberries are a great treat for anyone who needs to watch their blood sugar levels.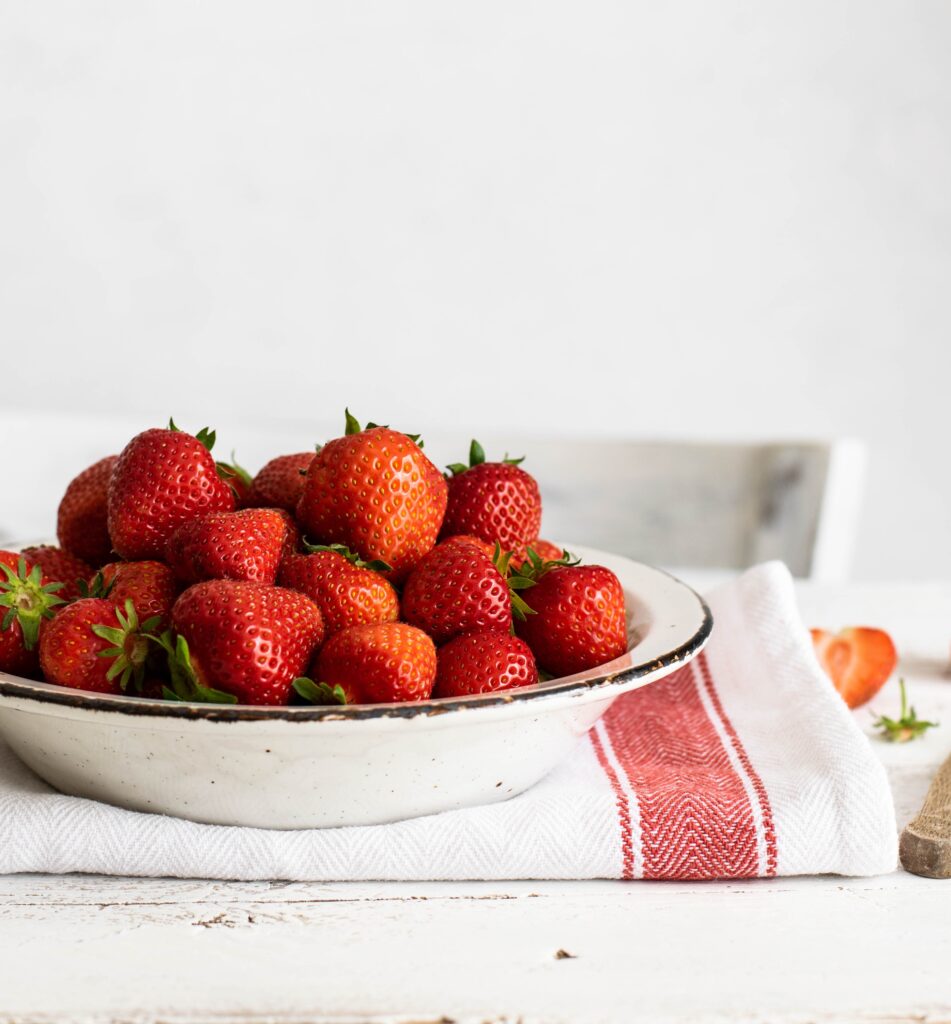 Are strawberries on the Dirty Dozen list?
While strawberries are a super delicious and healthy treat, they are listed at the top of the Dirty Dozen list. If you aren't familiar with the Dirty Dozen, it's a list of crops that farmers use the most pesticides on. The data comes from the United States government's Pesticide Data Program report, which has been monitoring pesticide residue since 1991. 
While eating completely organic isn't financially feasible for most people, knowing which crops are statistically proven to contain more pesticides might have you reaching for organic products more often. While the number of pesticides on these foods likely won't affect you in the short term, long-term exposure to certain pesticides has been shown to be neurotoxins and endocrine disruptors. 
I'm not sharing this to scare anybody, but since strawberries are at the top of the Dirty Dozen list, I thought it was important to share before sharing some of my favorite strawberry recipes. 
When is strawberry season in the United States?
Since the United States is a huge place, strawberries ripen at different times depending on where you are. In the south, where the weather tends to get pretty hot earlier into spring, strawberries are ready to be picked in late April in May. If you live in the middle part of the country, you'll usually have the most luck in May and June. In the north and in Canada, peak picking time will be in late June, or right about now.
This year, strawberry picking seasons came a little early in some parts of the United States, but a simple Google search should be able to tell you how to find strawberry picking near you. 

How are wild strawberries different from supermarket strawberries? 
Speaking of strawberry picking, depending on where you go you might encounter wild strawberries, which are different from the strawberries you'll find in the supermarket. The first thing you would probably notice about wild strawberries is that they are much smaller than other strawberries. But, even though they're smaller, they pack a flavorful punch.
Wild strawberries are known to have a fruitier flavor as well as a darker red color than supermarket strawberries. Wild strawberries are usually much harder to come by than their supermarket sisters, but they're definitely worth a try if you're a strawberry lover!
Strawberry Recipes
Now that you have learned everything there is to know about this special fruit, it's time for me to share some of my favorite strawberry recipes. Strawberries add the perfect amount of acidity to creamy or buttery recipes, which is why it always makes a wonderful addition to any dessert. I'll also share some of my favorite strawberry mocktails and a few other strawberry-inspired drinks!
Strawberry Food Recipes
Vegan Strawberry Cake with Oatmeal
This moist and fluffy Vegan Strawberry Cake with Oatmeal is packed with incredible strawberry flavor that can be enjoyed year-round. With its pretty pink layers it makes a great birthday cake or any other fun celebration. Made with delicious ingredients like rolled oats, cinnamon, and fresh strawberry purée, it's definitely a recipe you don't want to miss.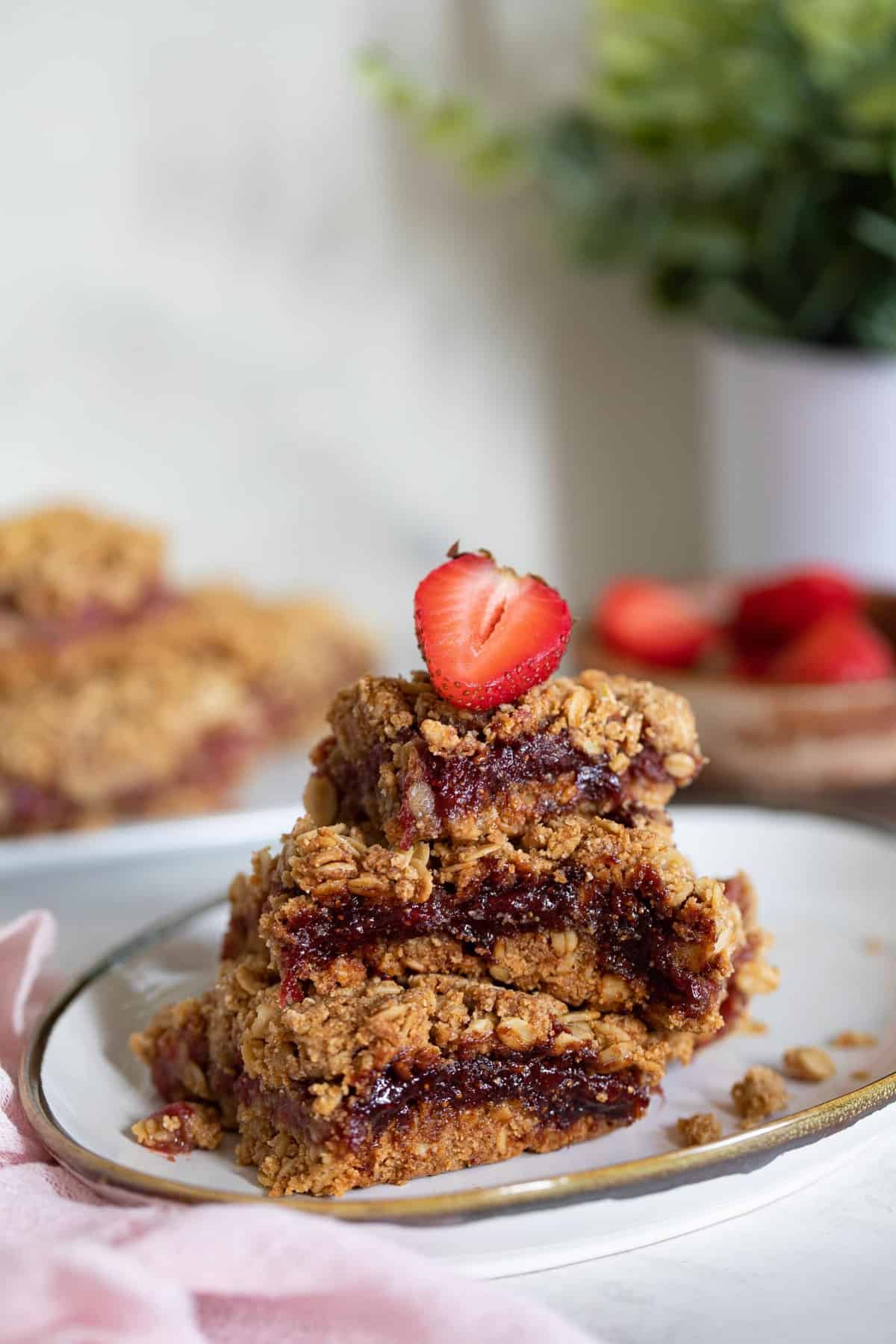 Vegan Strawberry Peanut Butter Oatmeal Bars
If you love a good oatmeal bar, you need to try these Vegan Strawberry Peanut Butter Oatmeal Bars. Between the creamy peanut butter, the tart strawberries, and the crunch of rolled oats, it's hard to get enough of these bars. With a classic combination like peanut butter and jelly, these are sure to be a hit at any event.
Maple Whole Wheat Strawberry Shortcake
It would be a crime to get to the end of a blog post all about strawberry recipes and not include a strawberry shortcake recipe. But that is especially true for this Maple Whole Wheat Strawberry Shortcake. Not only is it a little healthier than your typical shortcake since it's sweetened with maple syrup and made with whole wheat, but it's also delicious. Between the flaky, buttery shortcake, the sweet and saucy strawberry slices, and fresh whipped cream, there is so much to love!
Cream Cheese Pound Cake + Strawberry Glaze
It's hard to go wrong with pound cake, but it's even harder when you add in cream cheese and strawberry glaze. This Cream Cheese Pound Cake + Strawberry Glaze is irresistible—seriously. When I made this cake for the first time I gobbled it up in less than two days because it was that rich and delicious. I'm also a sucker for southern recipes because of my southern heritage so if I were you, I wouldn't stay away from this recipe for long.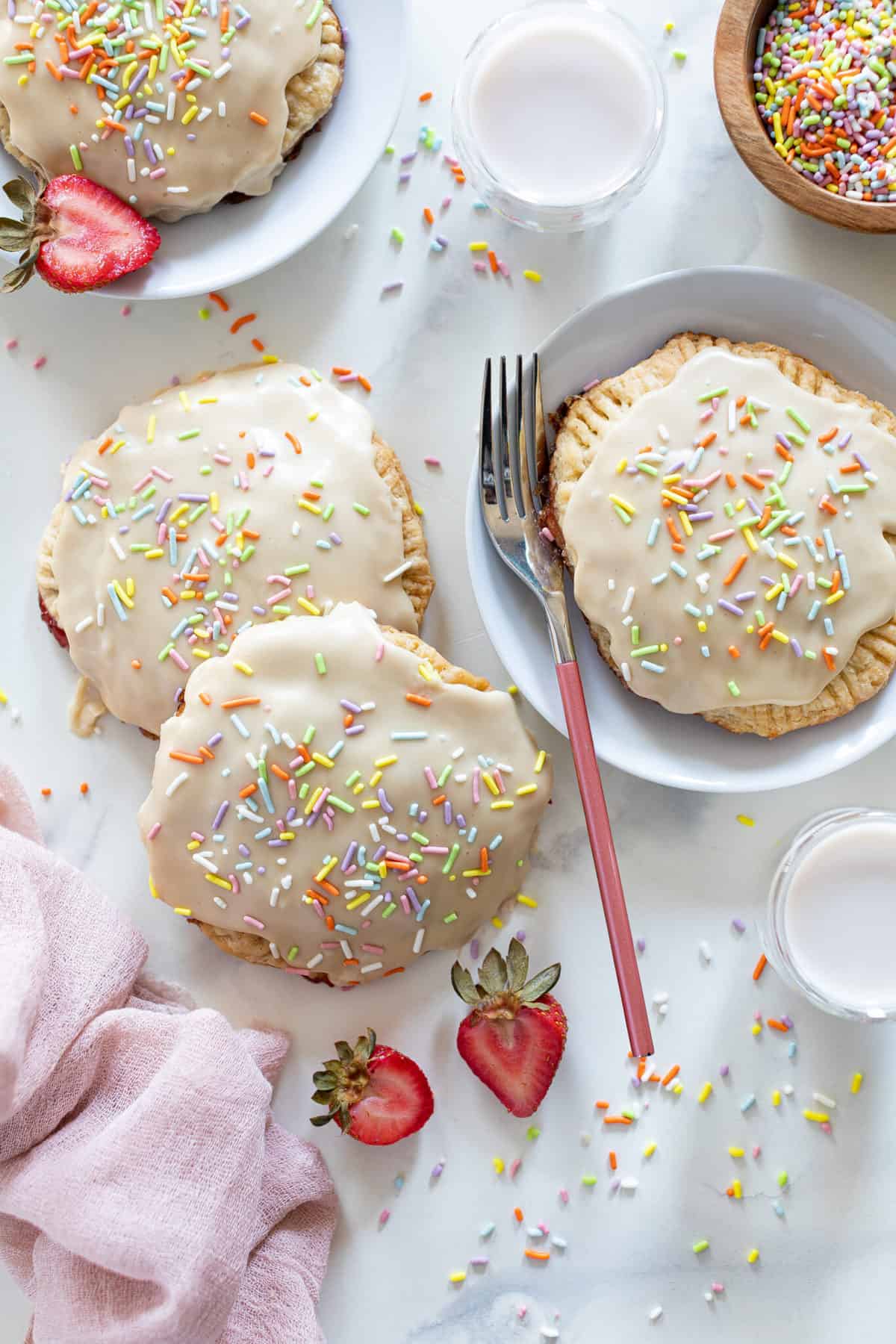 Homemade Vegan Strawberry Pop-Tarts
Pop-tarts are a classic childhood favorite, but there is something really special about the Homemade Vegan Strawberry Pop-Tarts. These babies are flaky and naturally sweet with a delicious maple glaze and filled with fresh strawberry flavor. Plus, they're completely vegan and have a gluten-free option so they can be enjoyed by everyone. So if you've been craving a childhood sweet treat with a healthier twist, this is the strawberry recipe for you. 
Strawberry Sweet Rolls with Lemon Cream Cheese Glaze
Who doesn't love a good sweet roll? These Strawberry Sweet Rolls with Lemon Cream Cheese Glaze are just begging to steal the show at your next event. Made with a homemade tender dough, sweet strawberries, and a creamy glaze, these sweet rolls will have everyone lining up for more. If you're a cinnamon roll junkie, but you're ready to try something new, you should definitely give these a try. 
Strawberry Drink Recipes
While you can't go wrong with strawberry-based desserts, in the hot summer sunshine everyone needs a way to cool down. Going for a strawberry drink is both refreshing and delicious. 
Strawberry Basil Pineapple Mocktail
One of my most recent mocktail creations, the Strawberry Basil Pineapple Mocktail might just be the star of your summer. Crafted with fresh berries, ginger beer, and tropical fruit, there is a lot to love about this delicious drink. You will find me sipping on this drink all summer long.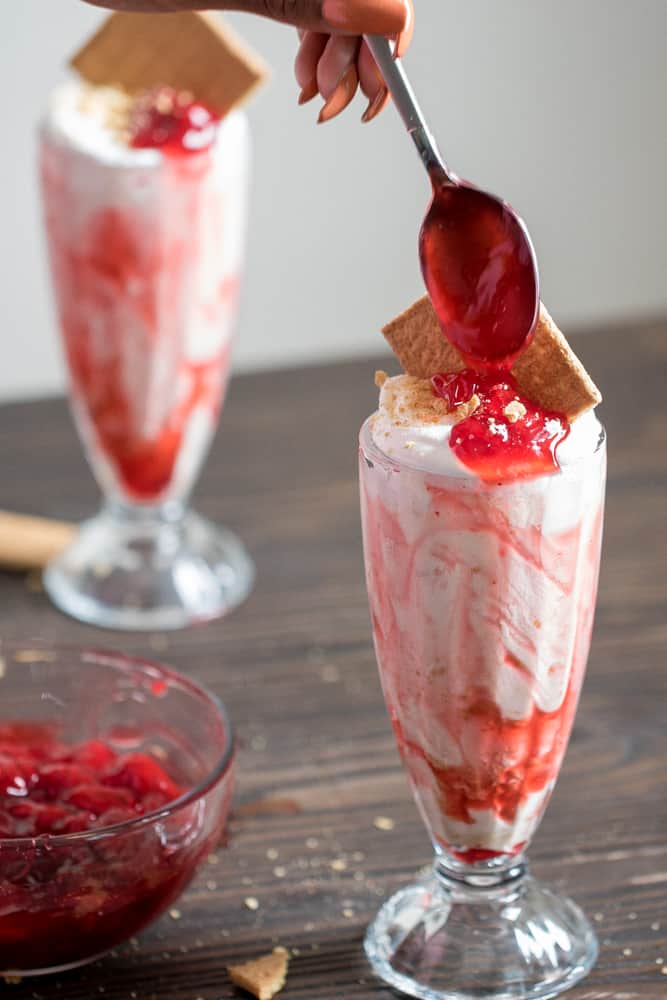 5-Ingredient Strawberry Cheesecake Milkshake
If you don't already know, I am a sucker for a good milkshake. With just five ingredients, you'll get to enjoy the deliciousness that is this 5-Ingredient Strawberry Cheesecake Milkshake in a snap. Strawberry cheesecake is a classic summertime desert, but some might argue it's even better in milkshake form.
Blood Orange Strawberry Mocktail
Back with another mocktail, this Blood Orange Strawberry Mocktail is one of my favorites. Great for both summer and winter get-togethers, this citrusy drink should be on everyone's must-try list. Made with mint, grapefruit, orange, strawberries, and ginger beer, it will always hit the spot!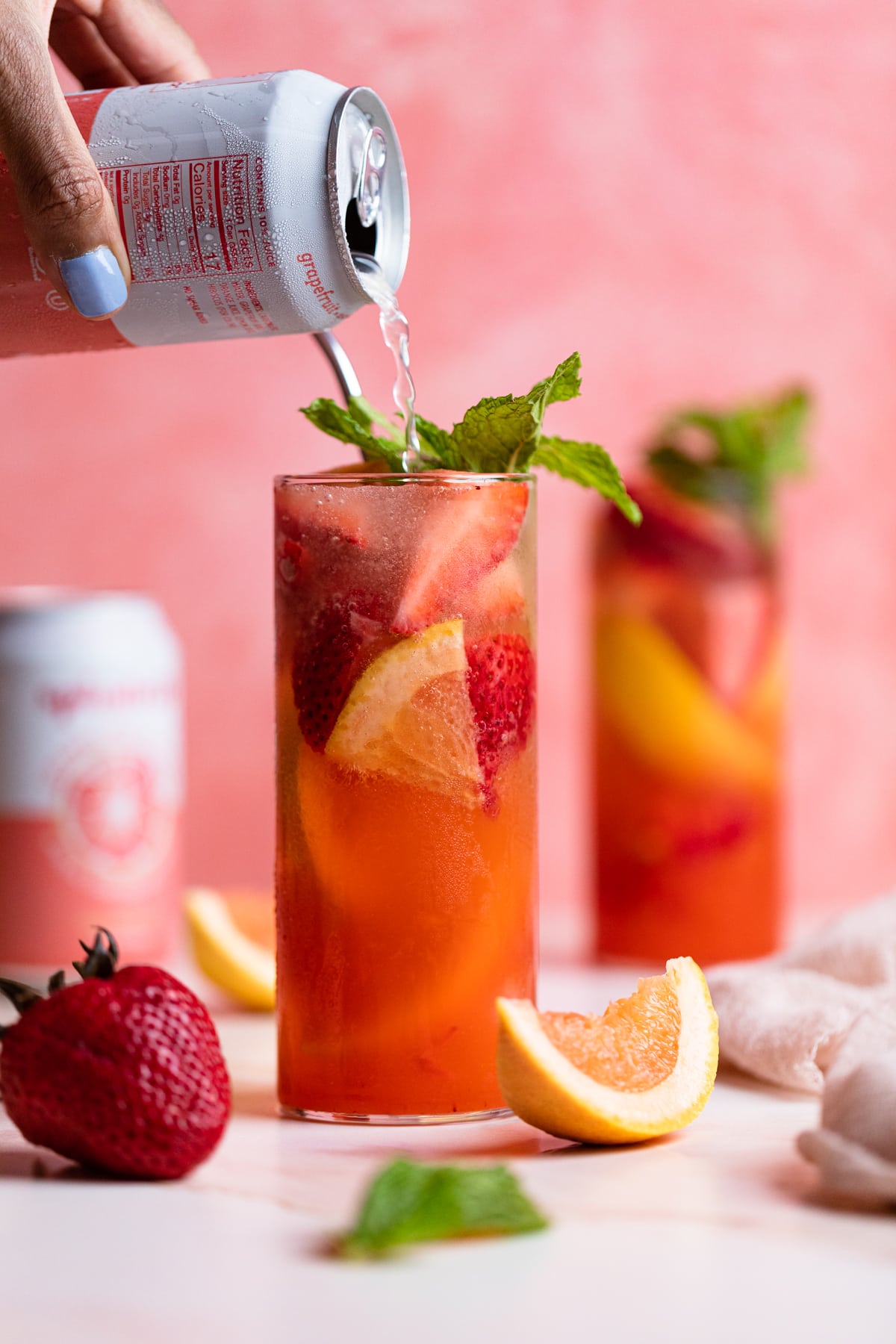 Strawberry Grapefruit Soda
If you've learned to stay away from soda, you might change your mind with this Strawberry Grapefruit Soda. Just like strawberries, grapefruits are full of vitamin C, which helps promote a healthy immune system.
Apple Citrus Strawberry Juice
I'm always looking for a way to eat more nutrient-dense food as easily as I can. When I discovered juicing I could not get over how easy it was to enjoy fruits and vegetables in fruit form. This Apple Citrus Strawberry Juice is made with apples, oranges, grapefruit, and strawberry, which means that is a lot to love about this drink. 
Well now that we've both made it to the end of the strawberry recipes, we know that we're going to need to get some fresh strawberries into our lives asap!