These Strawberry Grapefruit Mint Spring Sodas are made with a simple mint syrup, fresh strawberries, grapefruit juice, and coconut carbonated water. These homemade sodas will leave you feeling refreshed on any sunny day. Vegan option available.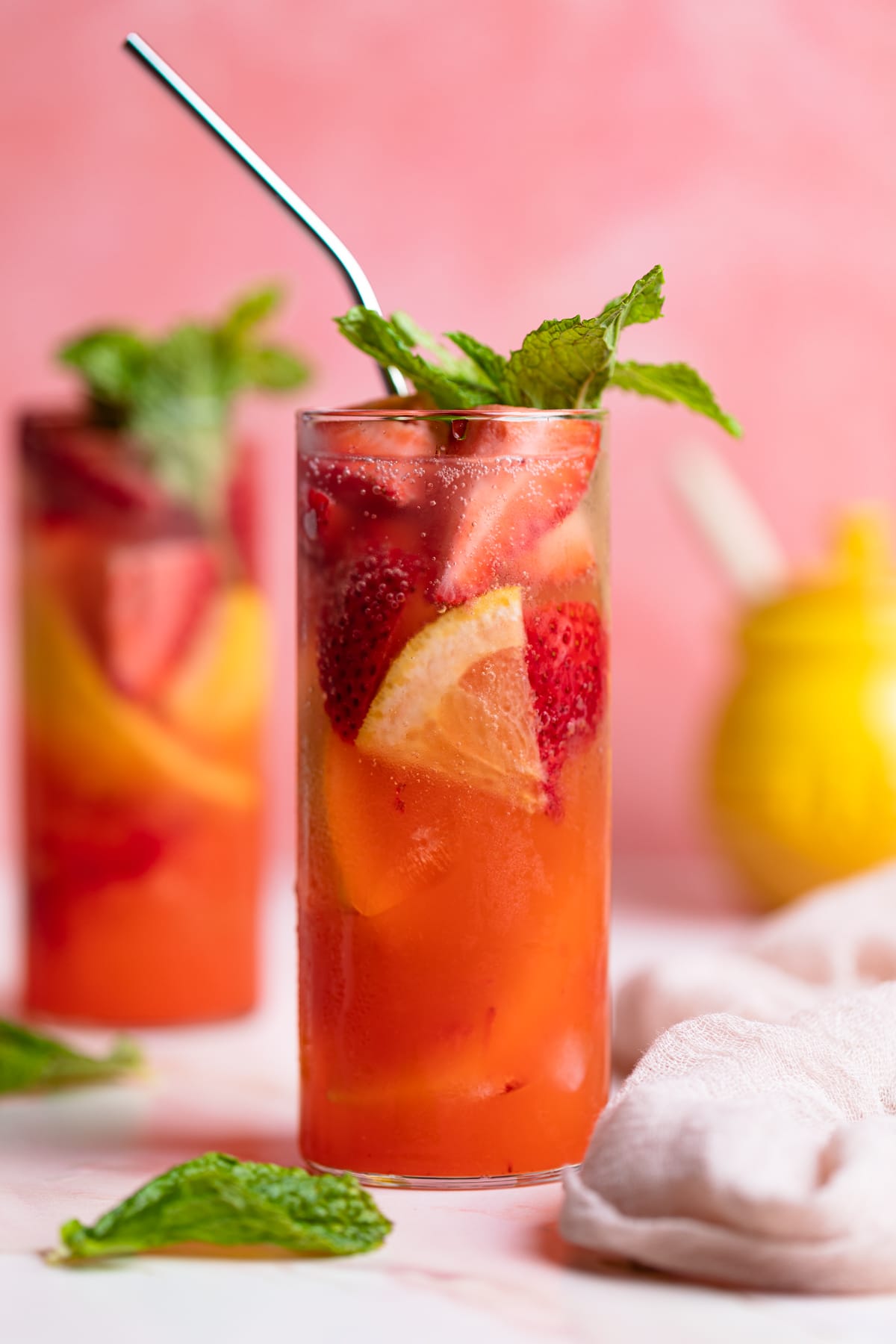 Summer is the time to sip on refreshing drinks. And next time, instead of buying a fancy mocktail or store-bought soda, why not make your own? You can start with Pineapple Ginger Turmeric Lemonade or a Citrus and Honey Mocktail. Then, be sure to try these sparkling Strawberry Grapefruit Soda!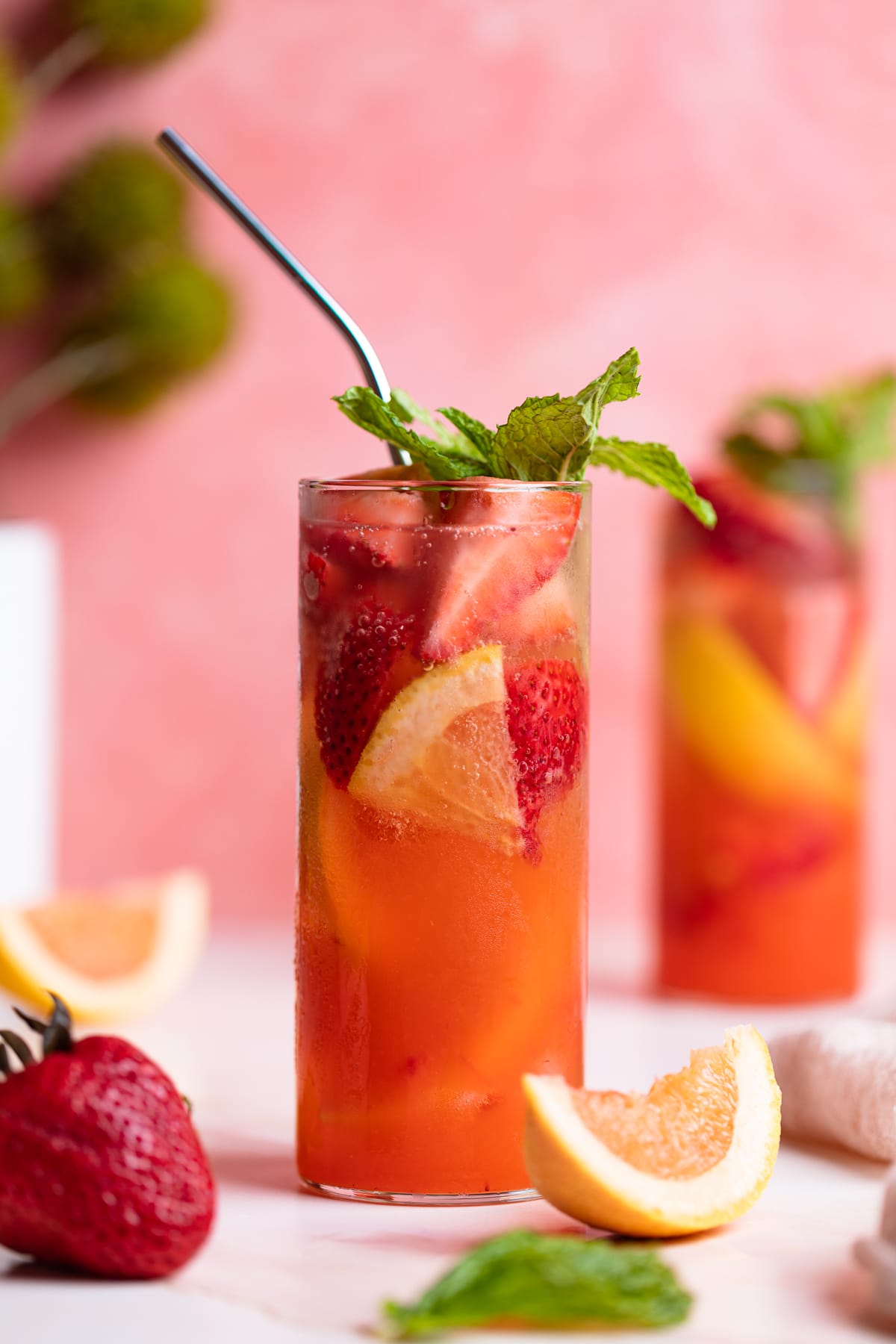 How to Make Simple Syrup for Drinks
Making simple syrup is an easy way to add a pop of flavor to your homemade drinks. And you can flavor it however you like.
I like to flavor my simple syrup with fresh mint and grapefruit. It's naturally sweetened with honey and organic pure cane sugar (optional) is super easy to make!
For a vegan version: swap the honey for agave syrup. 
To make your own simple syrup, boil the flavoring ingredients in water to bring out their natural oils. Then stir in the sugars. Finally, let the syrup cool and infuse with flavor for about 30 minutes. Now, you can store the syrup in an airtight container or jar the fridge and use it to make refreshing drinks whenever you like.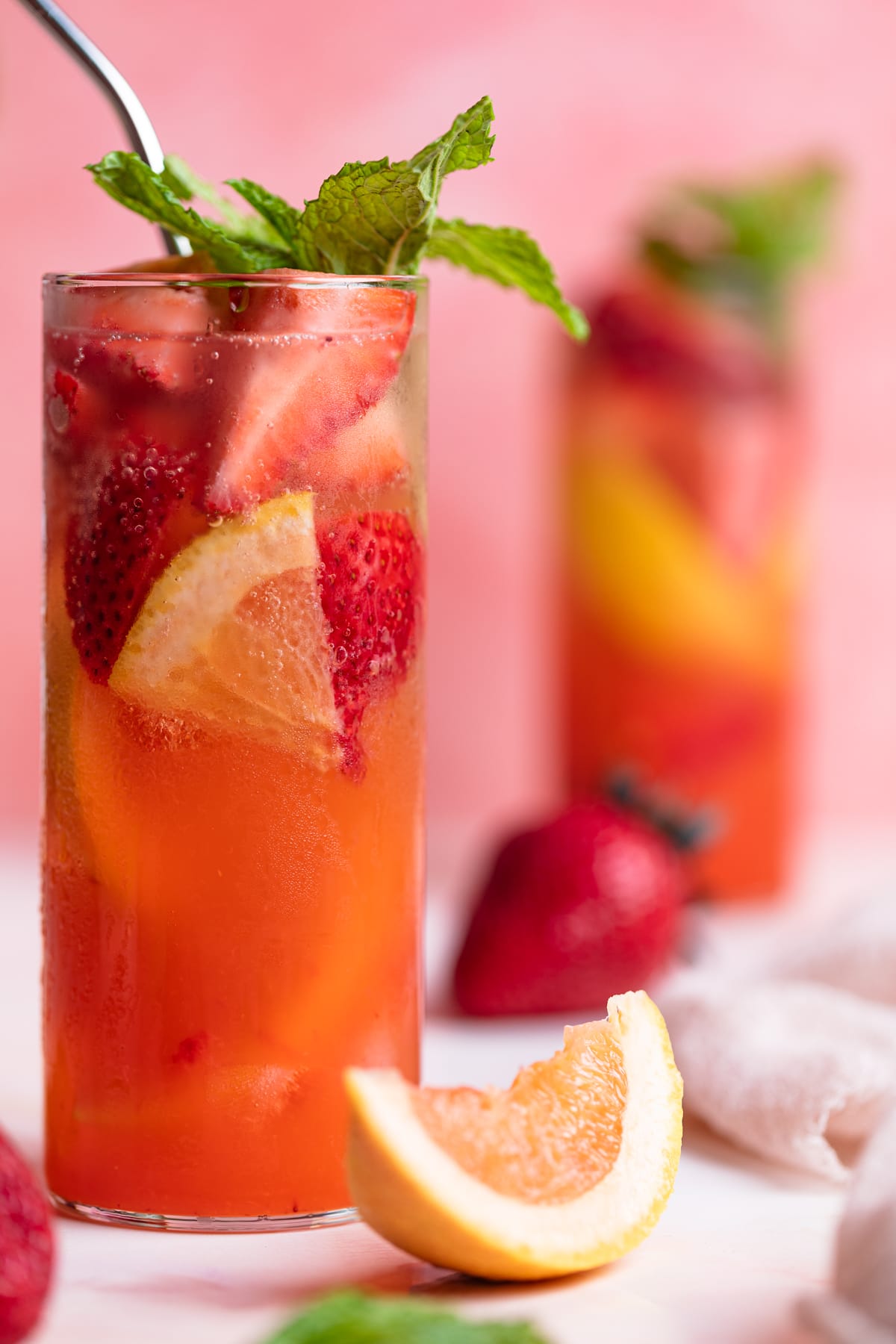 Health Benefits of Grapefruit
Grapefruit has high nutritional value but is low in carbs. In addition, it has a decent amount of fiber and comes jam-packed with Vitamins.
Other benefits of eating (to drinking!) more grapefruit:
Great for your Immune System. This citrus fruit is high in vitamin C.
May help to promote Appetite Control. Diets high in fiber helps to keep you more full.
May help with weight loss. Grapefruit helps you feel full but is naturally low in calories and full of hydrating water. 
Possibility of preventing Insulin Resistance. This generally reduces your risk of type 2 diabetes.
May improve Heart Health! Consuming Grapefruit daily may help to prevent blood pressure and reduce cholesterol.
High in Powerful Antioxidants!
Very Hydrating. 
Looking for other citrus recipes? I'd recommend trying this Healthy Blood Orange Kiwi Drink. You'll be surprised at just how easy it is to make, using all natural and organic ingredients, by a simple blend, all in just under 10 minutes TOPS! It's certainly the best drink of the spring and summer seasons.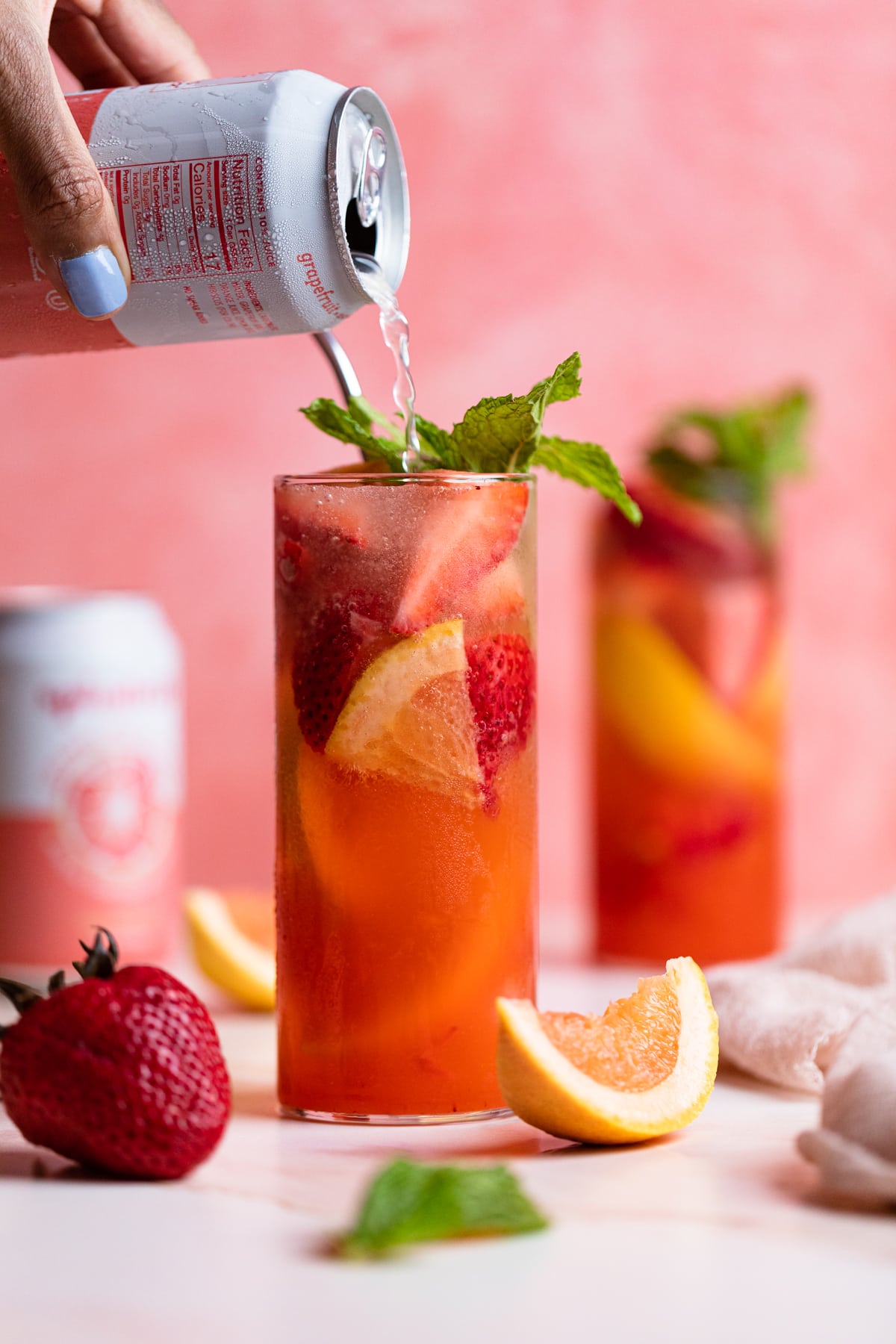 Making Strawberry Grapefruit Sodas
Once you've made the mint and grapefruit simple syrup, you'll want to remove the mint leaves and before making the sodas.
To serve, fill your glasses with crushed ice. Then add the mint syrup (it's best if this is chilled). Next, a splash of grapefruit juice and finally finish the drinks off with coconut carbonated water up to the rim.
For garnish, I like fresh sliced strawberries and more mint leaves for color!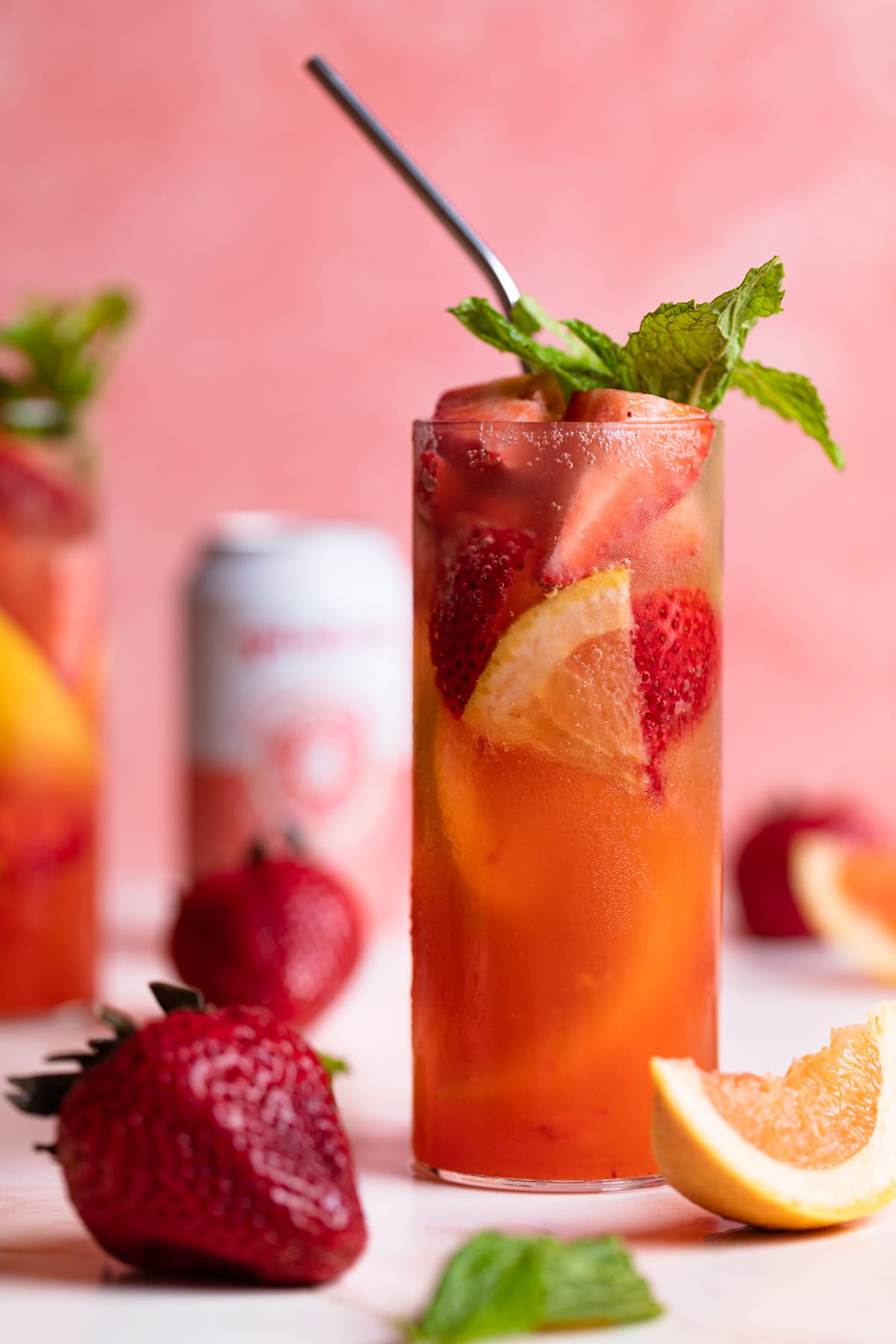 Summery Recipes to Make with Strawberry-Grapefruit Sodas
MADE OUR RECIPE(S)?
If you make these Strawberry Grapefruit Sodas or any other recipe from us, be sure to tag us on Instagram at #Orchidsandsweettea so that we can share the love!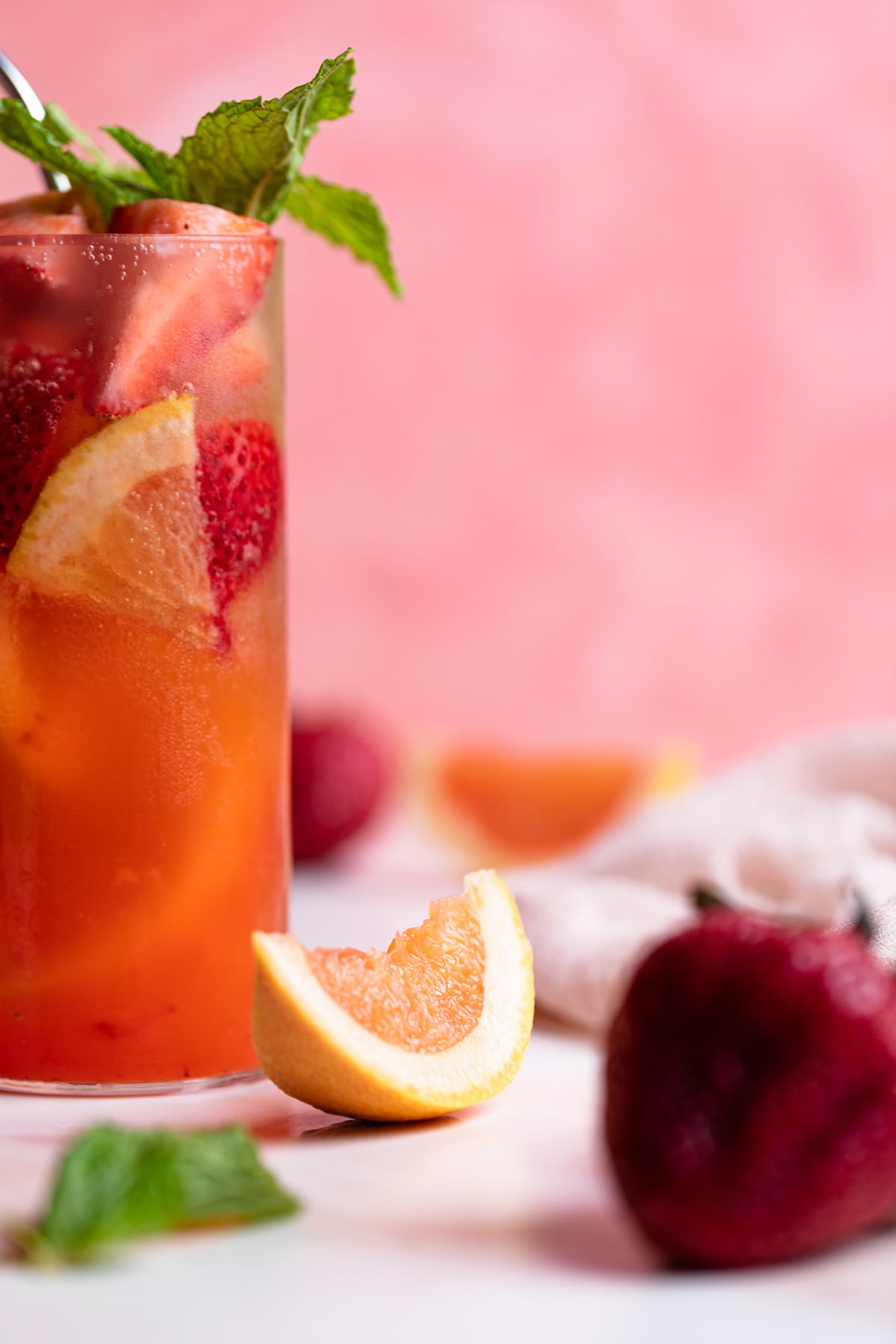 SODAS:
2

cups

strawberries, de-stemmed + mulled

handful

fresh mint leaves, mulled

1

cup

freshly-squeezed grapefruit juice

(That's about 2 large Grapefruits!)

3

Tbsps

raw honey

(See Notes for Vegan option!)

3-4

parts

sparkling water, for topping

(I love using La Croix or Spindrift)
OPTIONAL TOPPINGS:
Sliced strawberries

Sliced grapefruit

Fresh mint leaves

Crushed ice
MULL THE FRUITS:
In a bowl, add the fresh strawberries, grapefruit juice, and mint leaves mulling (crushing) everything together until strawberries and leaves are fully broken down. Add Agave and stir until combined. Let sit for 10 minutes to ensure that flavors fuse together.
TO MAKE THE SODAS:
In two glasses, add the crushed ice and fill ½ of each glass with the grapefruit-strawberry mixture, and top with sparkling water to the ¾ mark. For additional garnish, add sliced strawberries, sliced grapefruit, and mint leaves.

Sip and Enjoy!
SWEETENER: Instead of Agave syrup, you can substitute with pure maple syrup or organic cane sugar as a syrup (sugar + water boiled over the stove top).
VEGAN OPTION: You can use Agave or maple syrup as a sweetener instead of honey to make this vegan.
Calories:
196
kcal
|
Carbohydrates:
50
g
|
Protein:
2
g
|
Fat:
1
g
|
Saturated Fat:
0.02
g
|
Polyunsaturated Fat:
0.2
g
|
Monounsaturated Fat:
0.1
g
|
Sodium:
5
mg
|
Potassium:
428
mg
|
Fiber:
3
g
|
Sugar:
46
g
|
Vitamin A:
26
IU
|
Vitamin C:
117
mg
|
Calcium:
34
mg
|
Iron:
1
mg