This recipe for Lemon Pepper Cauliflower Wings is one of the best vegetarian wings out there --Imagine crispy cauliflower florets coated in a sweet and tangy glaze infused with the zingy freshness of lemon and the bold kick of pepper. A true flavor explosion + crowd pleaser that will leave you wanting more! Whether you're hosting a game day or simply looking for a delicious veggie side dish or snack, this vegetarian side will steal the show. Vegan + Gluten-free Option.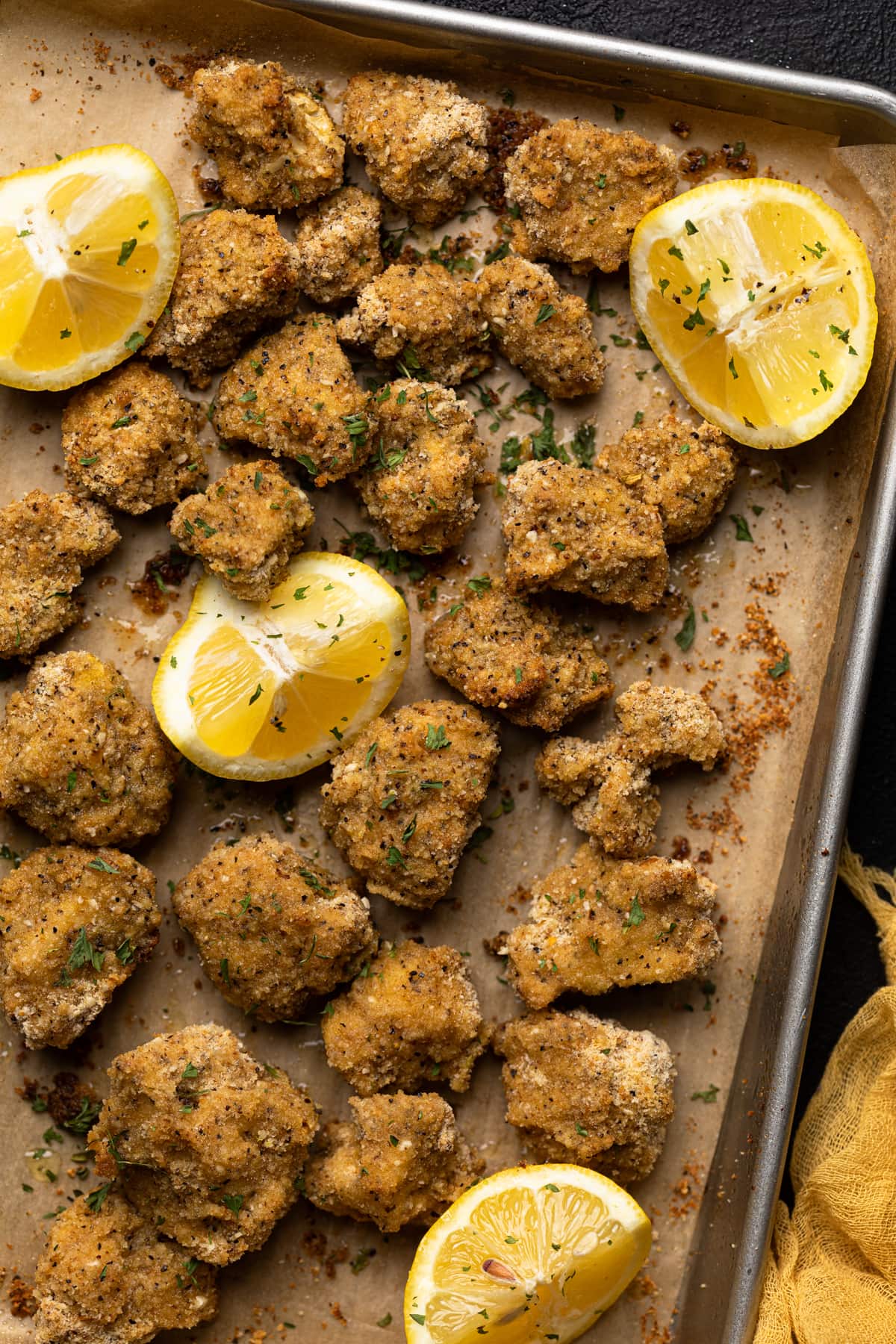 Disclaimer: This post contains affiliate links via Amazon for products that I wholeheartedly love and receive commission from.
Why Lemon Pepper Cauliflower Wings?
It's no secret that I love wings of all varieties. Y'all know I have so many chicken wing recipes, like these Baked Jamaican Jerk Chicken Wings. But sometimes, you just want something a little lighter to snack on or want to be more inclusive to your vegetarian/vegan friends. That's why I took my favorite lemon pepper seasoning to make crispy + dunkable cauliflower wings. These two-bite snacks have all the flavor and crunch of popcorn chicken, but they happen to be vegetarian.
Jump to:
So if you are looking for an easy-to-make vegetarian-friendly appetizer that's sure to be a hit at your next get-together or game-day party-- These Lemon Pepper Cauliflower Wings are a perfect choice! They're a great crowd-pleasing snack irresistible to vegetarians and non-vegetarians alike. Throw together and dip away with your favorite seasonings and sauces. FYI they go amazing with this spicy Dairy-free Creamy Chipotle Sauce or with this tangy Creamy Lemon Garlic Dressing
And the best part? This recipe is versatile and can be used in a variety of dishes, from nourishing power bowls to pizzas. You'll love these vegetarian wings; you will love these Sticky Coca-Cola Cauliflower Wings, Crispy Baked Orange Cauliflower Bites, and Everything Bagel Cauliflower Bites.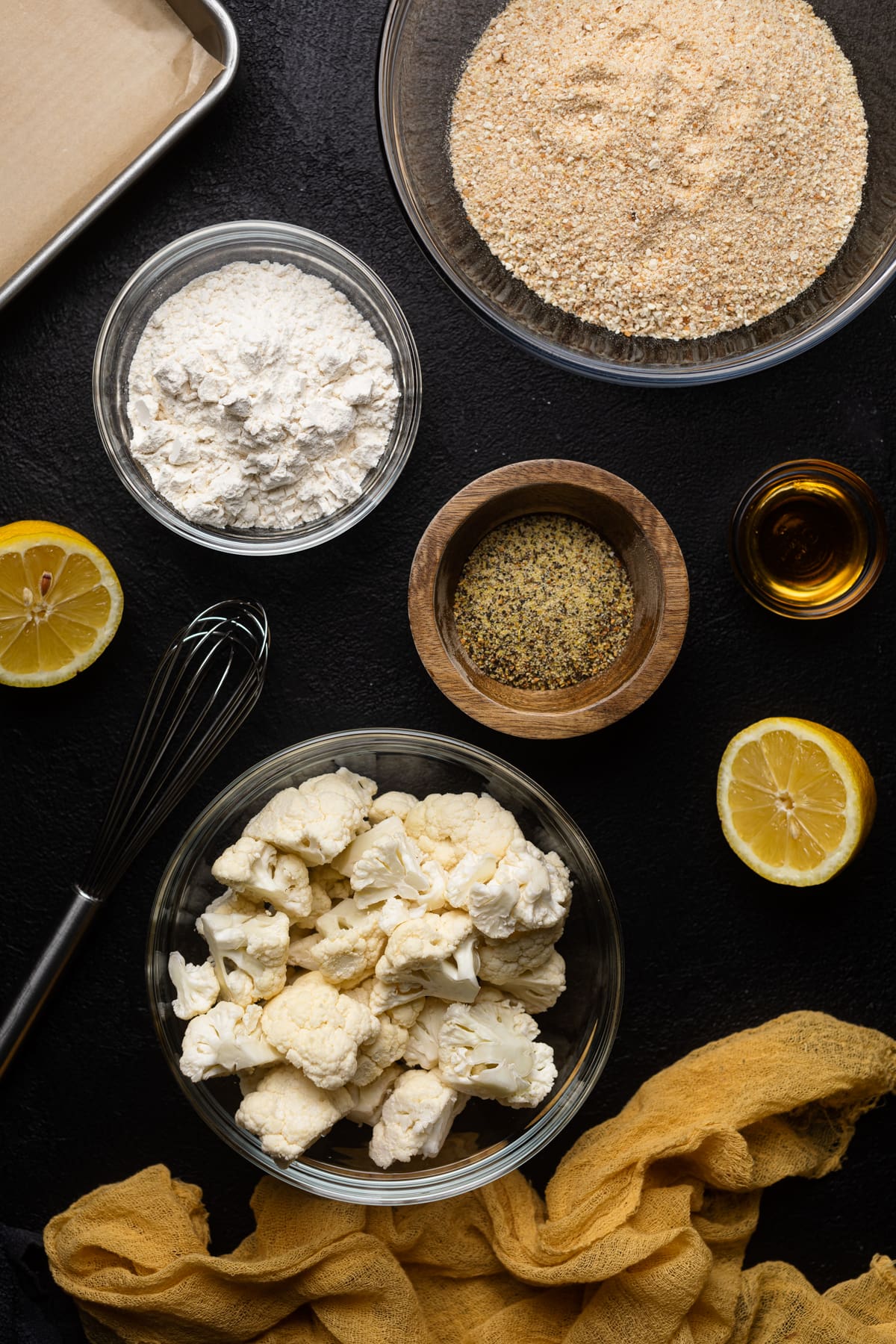 What Are Cauliflower Wings?
Ah, cauliflower wings! They're like little bites of veggie heaven, a twist on the classic chicken wings. Instead of using chicken, these delightful creations feature cauliflower as the star of the show. The cauliflower florets are transformed into crispy, flavorful bites that are sure to satisfy your cravings. Whether you coat them in tangy sauces, zesty spices, or even barbecue goodness, cauliflower wings are a fantastic vegetarian/vegan alternative. The perfect vegetarian side if you ask me!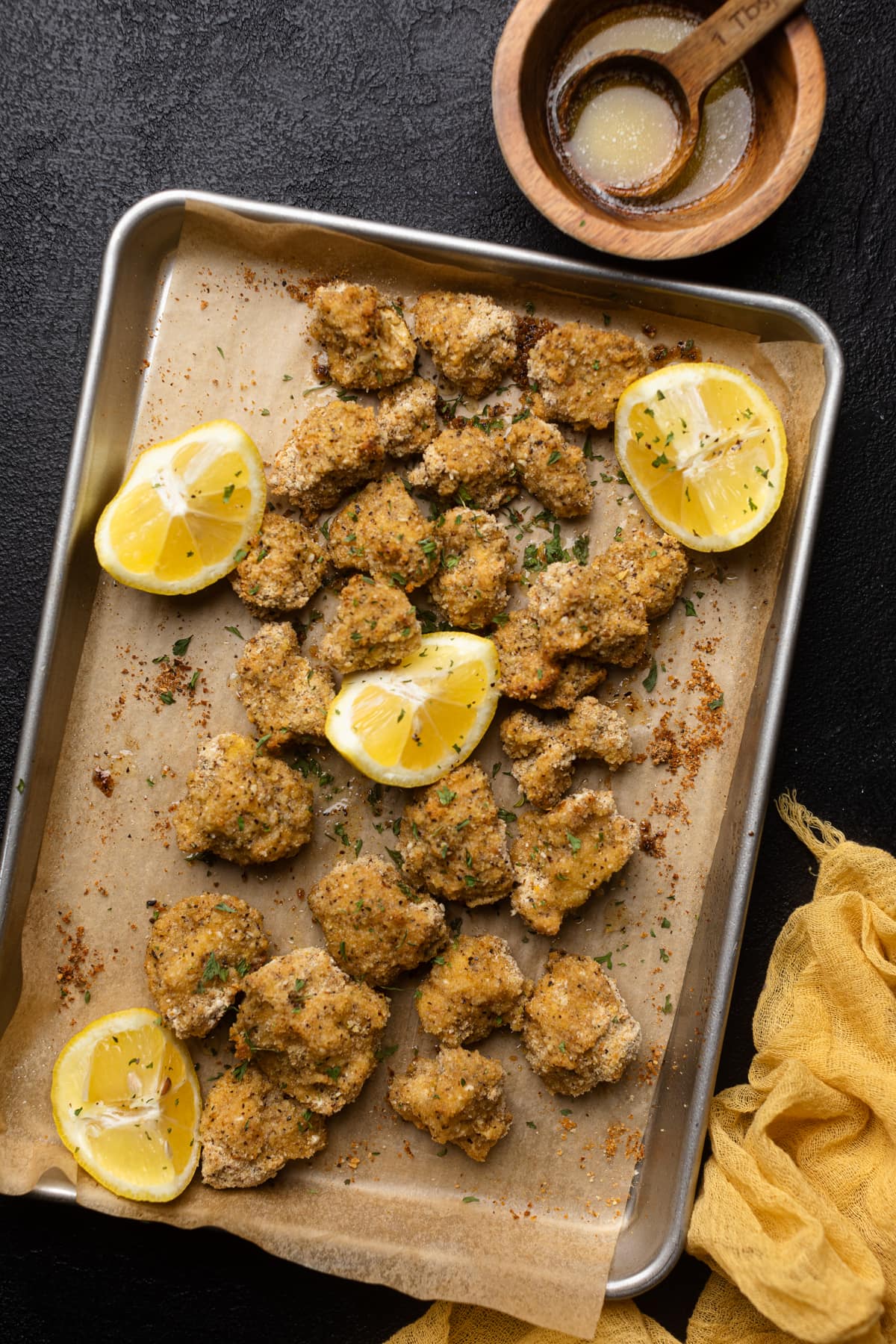 How to Make Crispy Lemon Pepper Cauliflower Bites
You don't need many ingredients to make these vegetarian wings. In fact, the hands-on part of this recipe can be finished in 20 minutes or less. Then you'll have a hot-and-ready app to serve up fresh out of the oven.
Ingredient Notes
Here's what you need to make these cauliflower bites:
Cauliflower. Choose a nice large head and cut it into bite-sized florets.
Bread crumbs. Feel free to use gluten-free panko if you like. You can use store-bought or make your own Seasoned Toasted Panko Bread Crumbs.
Almond milk. If you like, use water or another dairy-free milk. Just make sure it's unflavored and unsweetened.
All-purpose flour. I love using Bob's Red Mill organic flour.
Lemon pepper seasoning. To make your own seasoning blend for the cauliflower bites, simply combine:

¼ cup lemon zest
1 ½ Tbsps black pepper
1 tablespoon finely-ground sea salt
1 teaspoon dried thyme leaves
1 teaspoon garlic powder
1 teaspoon onion powder

Unsalted butter. For vegan, use vegan butter.
Honey. For vegan, use maple syrup, agave, or vegan honey.
Breading Cauliflower
To get the crispiest baked cauliflower, you want an even coating of bread crumbs. here's how to do it:
Set up one bowl with your almond milk or water
Set up a second shallow dish with the seasoned bread crumbs.
Working quickly, dip each cauliflower floret into the liquid, then immediately into the breadcrumbs. Do not let the cauliflower pieces sit in either bowl for too long.
Shake off any excess breading, then place on a baking sheet.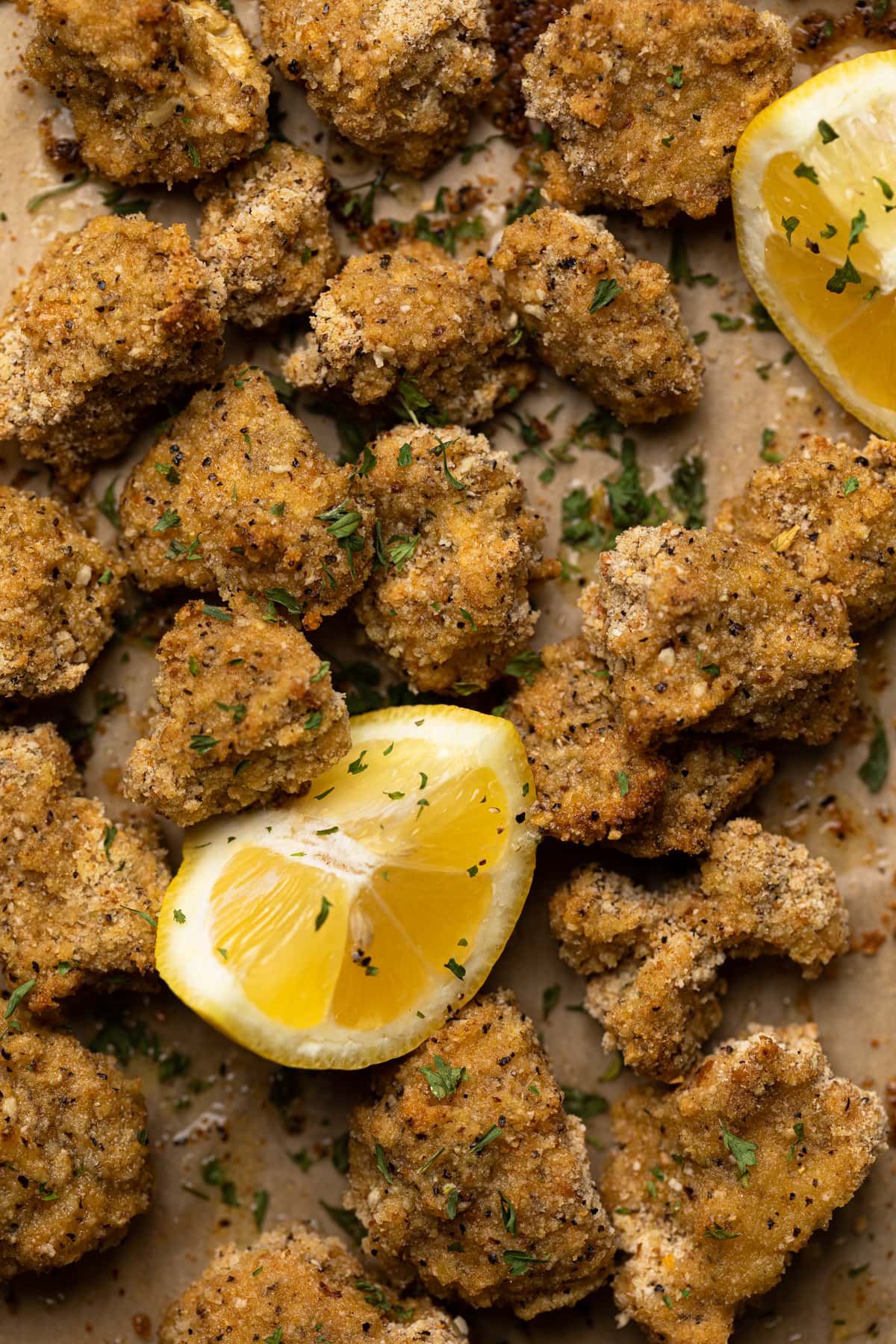 Tricks to The Crispiest Cauliflower Wings
Get your cauliflower wings perfectly crispy every time with these easy tips-
Give each wing enough space on the baking sheet to allow for proper airflow.
Use fresh breadcrumbs and avoid any that are soggy or stale.
Line the baking sheet with parchment paper to prevent sticking and promote even cooking.
Let the wings cool for 5 to 10 minutes before serving to help them set and achieve maximum crispiness.
Make sure your oven is fully preheated to 450°F before you put the cauliflower wings inside
With these simple tricks, you'll be enjoying perfectly crispy cauliflower wings in no time!
Cauliflower Wings vs. Chicken Wings
Let's get one thing straight-- Cauliflower wings are not trying to be chicken wings. If you come across a recipe claiming they taste exactly the same, it's time to run the other way. Cauliflower wings won't fool anyone into thinking they're chicken wings--It has its own unique flavor and texture, and that's what makes these Lemon Pepper Cauliflower Wings so special.
These cauliflower wings are delicious in their own right, no need for comparisons. They stand tall as a fantastic plant-based option-- perfect any time you're craving something tasty!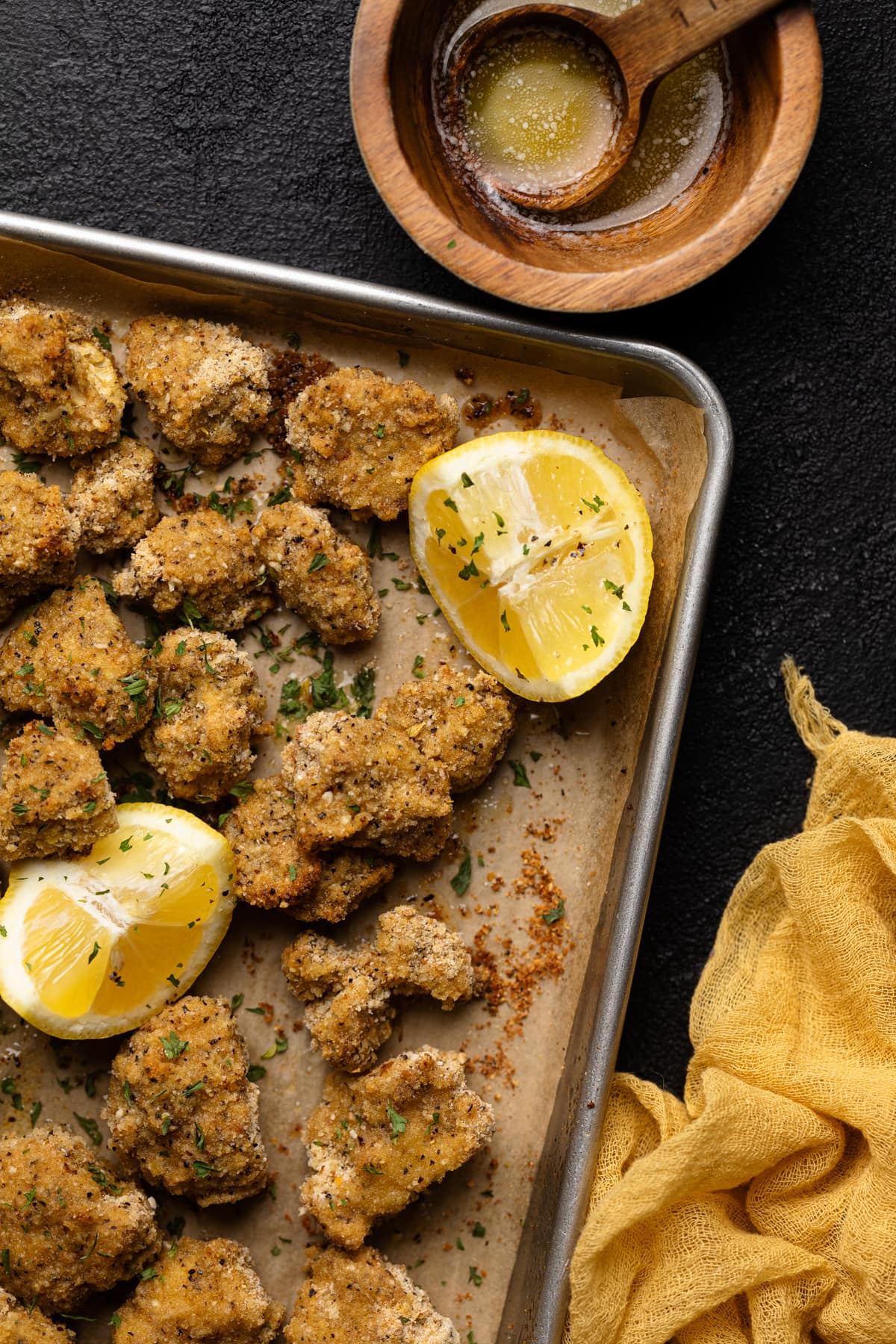 How to Serve Lemon Pepper Cauliflower Wings?
When it comes to serving these cauliflower wings, the possibilities are endless! Here are a few ideas to get you started:
Appetizer Platter: Arrange your cauliflower bites on a platter alongside some dipping sauces like Ranch + Creamy Honey Mustard. It's the perfect finger food for gatherings or parties.
Salad Topping: Add some crunch and flavor to your salads like this Easy Loaded Corn Salad by using cauliflower wings as a delicious topping.
Tacos or Wraps: Stuff some cauliflower bites into warm tortillas or wraps along with your favorite veggies, sauces, and toppings. It's a fantastic way to create a satisfying and plant-based meal.
Buddha Bowl: Build a nourishing Buddha bowl like this Healthy Pesto Buddha Bowl by combining cauliflower bites with grains, leafy greens, roasted vegetables, and a flavorful dressing. It's a wholesome and balanced meal in a bowl.
Side Dish: Serve cauliflower bites as a tasty and nutritious vegetarian side dish alongside your favorite main course. They complement a variety of dishes, from roasted chicken to pizza.
Remember, you can always get creative and experiment with different serving ideas. So, go ahead and enjoy these delectable bites in whichever way tickles your taste buds!
How Can I Make My Own Breadcrumbs?
To make your own breadcrumbs, simply grind 1-2 cups of cubed bread into a food processor until finely chopped. Place crumbs onto a parchment-lined baking sheet and spread out evenly. Bake for 5-6 minutes in the oven set at 350 degrees Fahrenheit, stirring occasionally. Once brown + crisp, remove from oven and let cool. Continue the recipe steps and store the remaining breadcrumbs in a tightly sealed container.
Why You Will LOVE Lemon Pepper Cauliflower Wings
Versatile snack or side.
Healthy and finger-licking goodness.
Zesty and bold flavor combo.
The perfect vegetarian side
Irresistibly crispy and flavorful.
Snack-time happiness in every bite.
Addictively tasty + irresistible
Is Cauliflower Healthy?
Cauliflower is a nutrient-rich vegetable that offers tonnes of health benefits which is one of the reasons I LOVE creating recipes with it!
Health Benefits of Cauliflower
Packed with vitamins C, K, and folate.
Excellent source of antioxidants.
Supports digestion and gut health.
Promotes bone health with vitamin K.
Anti-inflammatory properties.
Helps regulate blood sugar levels.
Incorporating cauliflower into your diet is a great way to boost your nutrient intake and promote overall health and well-being, and what better way than in a crispy bite-sized snack?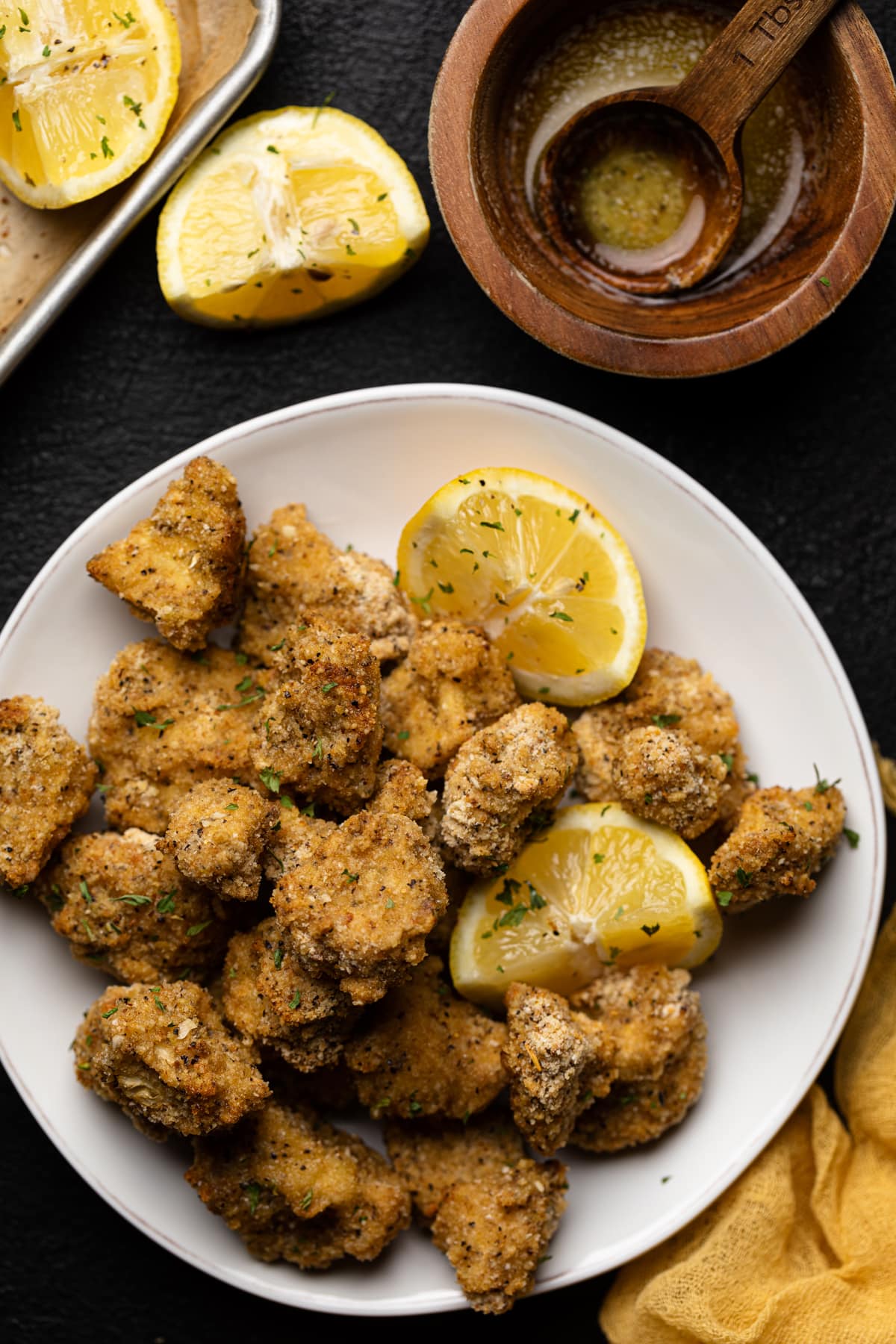 Lemon Pepper Cauliflower Wings Q + A's
How Do I Store Cauliflower Wings?
These bites will be their crispiest when they're fresh out of the oven. However, you can store them in an airtight container in the fridge for up to five days. To re-crisp them, pop them into a hot oven for 10 minutes or until crispy. 
Can I Make These Cauliflower Wings Vegan?
Yes. All you need to do is replace the butter with vegan butter, and voila, you have a delicious vegan + vegetarian side dish!
Can I Make Lemon Pepper Cauliflower Wings Gluten-free?
My gluten-sensitive friends, don't worry. I've got you! You can either buy gluten-free breadcrumbs or make your own gluten-free breadcrumbs with your fav GF bread of choice! It's that easy. Then you've got yourself a fully gluten-free & vegetarian side dish to suit everyone's dietary needs!
Can I Air-Fry These Cauliflower Wings?
Absolutely! Simply do all steps the same and cook them in your air-fryer for the amount of time needed (somewhere between 10-15 minutes, I believe).
As you know, this recipe is for baked wings, and honestly, they're just as crispy as using them in the air- fryer, so the choice is yours! Remember to still space them out so they don't stick to each other.
More Mouthwatering Cauliflower Recipes
Sweet + Spicy Cauliflower Bites + Maple Pecan Waffles
MADE OUR RECIPE(S)?
If you make these Lemon Pepper Cauliflower Bites or any other recipe from us, be sure to tag us on Instagram at #Orchidsandsweettea so that we can share the love!
1

head of

Cauliflower, chopped in medium chunks

3

cups

bread crumbs, GF if needed!

(You can make your own Seasoned Toasted Panko Bread Crumbs)

1

cup

unflavored Almond milk or water

¾

cup

organic all-purpose flour

¼

cup

lemon pepper seasoning + 2 Tbsps

(See Notes!)
OPTIONAL TOPPINGS:
Dried or fresh parsley

Lemon wedges
Preheat your oven to 450 degrees Fahrenheit and line your baking sheet with parchment paper. **NOTE: Doing this step is a MUST to prevent sticking.**

In a medium-sized bowl, add bread crumbs along with the lemon pepper seasoning (minus 2 Tbsps), whisking until combined. Set aside.

In a separate bowl, add milk (or water), flour, and the 2 Tbsps lemon pepper seasoning, and whisk together until fully incorporated and the batter is thick and slightly runny.

Now, dip each cauliflower into batter (shaking off any excess) and then toss into bread crumbs. Then lay each cauliflower side by side on the baking sheet (about an inch apart). Repeat until all cauliflower are coated.

Bake for 30-35 minutes or until golden brown and "crunchy" looking. NOTE: If not crispy enough, turn on broil and bake for another 5-10 minutes.
Lemon Pepper Butter:
In a microwave-safe bowl, melt the butter and whisk in seasoning and honey until well combined.

To serve, add cauliflower bites to a salad, atop pasta, as a topping on pizza, with quinoa or rice, or by themselves and with lemon pepper butter drizzled atop.

Bon Appetit!
STORAGE: Best if consumed within the same day. Store leftovers in a tightly sealed container in the refrigerator for up to 2 days. Reheat in oven when ready to serve.
LEMON PEPPER SEASONING: Mix together ¼ cup lemon zest, 1 ½ Tbsps black pepper, 1 tablespoon finely-ground sea salt, 1 teaspoon dried thyme leaves, 1 teaspoon garlic powder, and 1 teaspoon onion powder. 
Calories:
554
kcal
|
Carbohydrates:
87
g
|
Protein:
15
g
|
Fat:
17
g
|
Saturated Fat:
8
g
|
Polyunsaturated Fat:
3
g
|
Monounsaturated Fat:
4
g
|
Trans Fat:
0.5
g
|
Cholesterol:
30
mg
|
Sodium:
680
mg
|
Potassium:
400
mg
|
Fiber:
8
g
|
Sugar:
6
g
|
Vitamin A:
436
IU
|
Vitamin C:
1
mg
|
Calcium:
298
mg
|
Iron:
6
mg
Lemon Pepper Cauliflower Bites