The ultimate plant-based vegan dressing that will take your meals to the next level - Creamy Lemon Garlic Dressing! You can easily whip up this delicious vegan dressing with just a handful of simple ingredients in no time. The combination of tangy lemon and savory garlic creates a perfectly balanced flavor that's both refreshing and satisfying with a creamy, silky-smooth texture. Completely Vegan & Gluten-free + Nut-free options!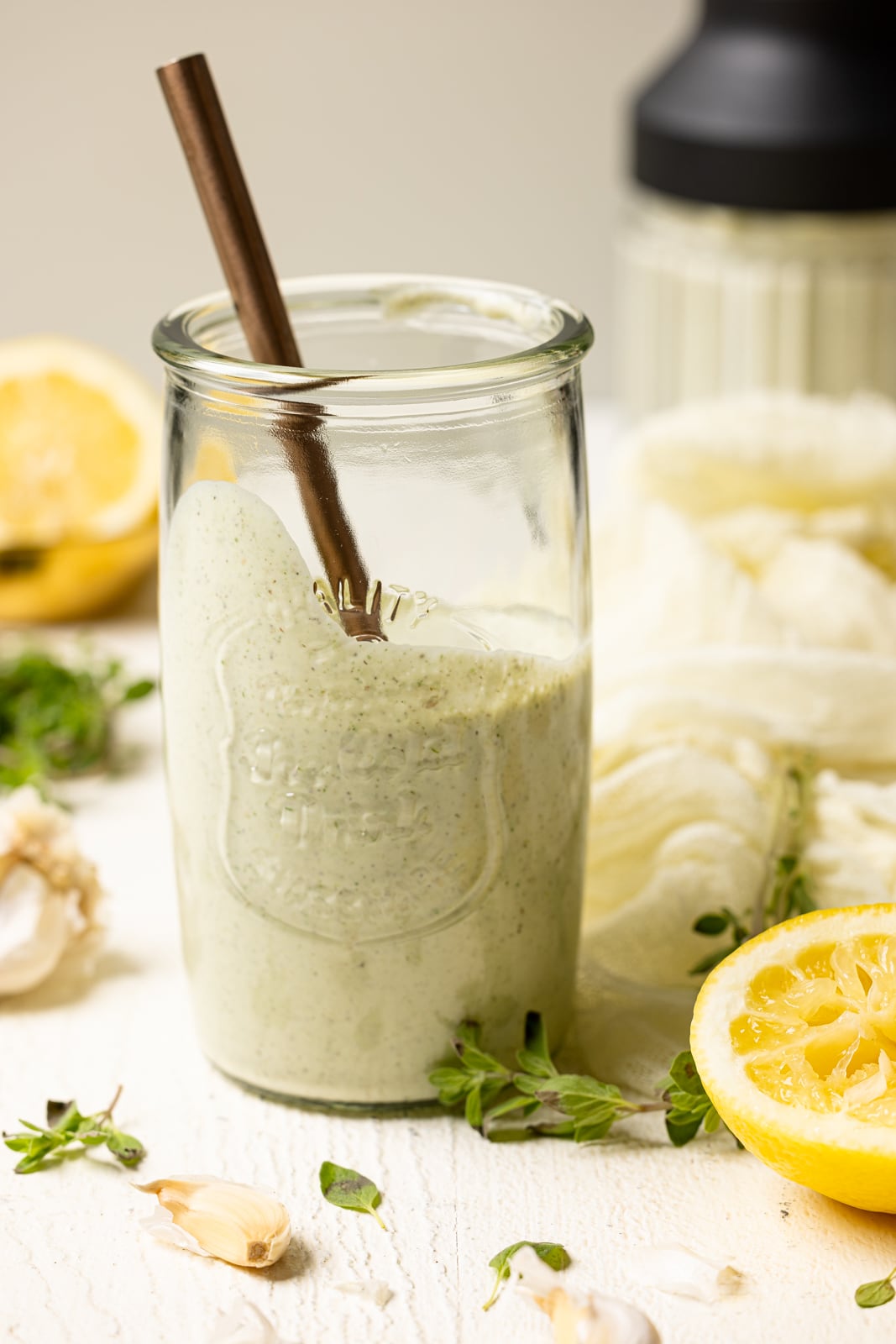 Disclaimer: This post contains affiliate links via Amazon for products that I wholeheartedly love and receive commission from.
Why Creamy Lemon Garlic Dressing?
As the weather gets warmer, it's time to break out those fresh, vibrant salads and plant-based plates!
And let's be real, is there anything better than a hearty salad and nourishing bowls? From my classic Chicken Caesar Salad to my Orange Salmon Bowl or a more plant-based friendly option like a Savory Chickpea Quinoa Buddha Bowl I've got everything you need to satisfy those taste buds.
But let's not forget the most crucial part of any salad - THE DRESSING! Without the perfect dairy-free dressing, your salad or power bowl just ain't gonna cut it. That's why I created my Creamy Lemon Garlic Dressing - the ultimate dairy-free dressing for your food game.
Sometimes, you just need that extra oomph to take your salad to the next level. A little creaminess, richness, or sweetness can go a long way, and this simple ingredient dressing has got it all. Get ready to be blown away by the explosion of flavors in every bite.
Jump to:
Why You'll Love This Creamy Lemon Garlic Dressing
Tangy umami flavor
Creamy texture without dairy products.
A perfect flavor melody
Simple, easy-to-find ingredients.
Versatile - use it on salads, sandwiches, and beyond!
Options to Pair This Creamy Lemon Garlic Dressing With?
Salads: Of course, the most obvious pairing for Creamy Lemon Garlic Dressing is with salads! I love pairing it with this Ultimate Summer BBQ Chopped Kale Salad
Roasted Vegetables: This dairy-free dressing is also a great sauce to drizzle over roasted vegetables, making them even more delicious.
Grain/Buddha Bowls: If you're a fan of Buddha bowls, then this easy vegan dressing is a must-try! It pairs well with grains like quinoa, rice, farro, or bulgur.
Sandwiches and Wraps: Creamy Lemon Garlic Dressing is a great alternative to mayonnaise or other spreads on sandwiches and wraps. Pair it with this Everything Chicken Tomato Grilled Cheese! SO YUMMY.
Veggie Burgers: A dollop of Creamy Lemon Garlic Dressing on top of a veggie burger takes it to the next level! It adds a creamy and tangy flavor that complements the veggie patty well.
Veggie Dipping Sauce: This dairy-free dressing can also be used as a dipping sauce for veggies. It makes for a tasty and healthy snack or appetizer.
Tacos: It can also be used as a sauce for tacos. It pairs well with vegetarian options like my Vegan Gochujang Cauliflower Tacos and meat-based options like chicken or shrimp.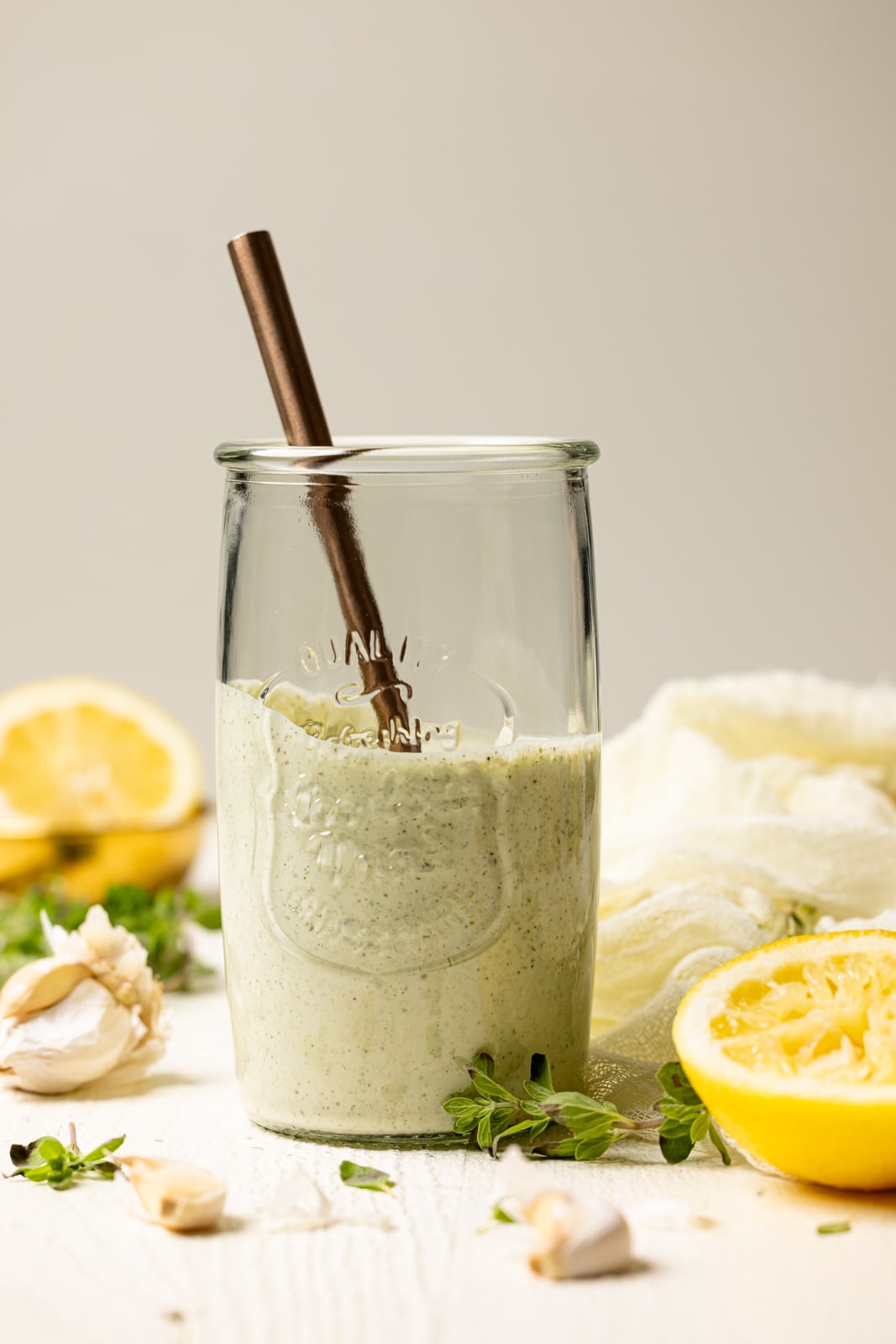 The Ingredients
With just a handful of basic ingredients and a breeze to whip up, this plant-based dairy-free dressing is going to become your go-to. Trust me, once you try it, you'll wonder how you ever survived without it.
VEGENAISE - Aka, my favorite vegan mayo. It is super creamy and smooth but feel free to add your fave if you prefer.
Garlic - A strong and pungent flavor that adds depth!
Dried Herbs - Parsley and oregano are great herbs to add to dressings for their herbaceous flavors.
Lemon - Adds a citrusy, tangy feel.
Sea Salt & Pepper - To round out the flavors
Almond milk - Adds a slightly nutty flavor, sub out for another plant milk if you want a nut-free version.
Voila! The perfect simple ingredient dressing for those who love quick, easy, and delicious recipes - the Creamy Lemon Garlic Dressing! With just a handful of simple ingredients and a quick whisking session, you can create a rich and luscious dressing that's perfect for salads, sandwiches, and much more.
Creamy Lemon Garlic Dressing Q + A's
How Long Does This Dairy-free Dressing last?
This dressing can last for up to a week in the refrigerator as long as it's stored in an airtight container.
Is This Vegan Dressing Recipe Gluten-free?
Yes, this recipe is gluten-free as long as you use Gluten-free mayo.
Can I Make This Creamy Lemon Garlic Dressing Ahead Of Time?
Yup! In fact, Creamy Lemon Garlic Dressing can benefit from some time in the fridge to allow the flavors to meld together. You can make it up to a day ahead of time and store it in the fridge until you're ready to use it. Just give it a good stir before serving.
Can I Adjust The Amount Of Garlic or Lemon In This Dressing?
Absolutely! You can easily adjust the amount of garlic or lemon juice to your personal taste preferences. Just add more or less until you achieve your desired flavor.
More Flavorful Lemon Recipes
If you tried this Creamy Lemon Garlic Dressing [Dairy-Free] or any other recipe on my website, please please leave a 🌟 star rating and let me know how you go in the 📝 comments below. I love hearing from you.
To Make the Dressing:
Add the vegan mayo, milk, lemon juice, garlic cloves, garlic powder, parsley, oregano, lemon zest, and salt + black pepper into a high-powdered blender and blend until sauce becomes creamy.

Add dressing to your favorite mason jar or tightly sealed container and refrigerate for 3-4 days for optimal freshness. 

Bon Appetit!
Calories:
381
kcal
|
Carbohydrates:
9
g
|
Protein:
1
g
|
Fat:
37
g
|
Saturated Fat:
4
g
|
Polyunsaturated Fat:
0.2
g
|
Monounsaturated Fat:
0.2
g
|
Sodium:
362
mg
|
Potassium:
66
mg
|
Fiber:
1
g
|
Sugar:
1
g
|
Vitamin A:
15
IU
|
Vitamin C:
16
mg
|
Calcium:
59
mg
|
Iron:
0.5
mg