This Orange Salmon Bowl with Farro is the next best thing for the entire family! Absolutely comforting, easy to make, and the perfect healthy weeknight meal option, this salmon bowl is one that is sure to be a favorite repeat meal in your house. Cooked farro topped with orange salmon, broccolini, and a simple veggie 'salad'-----all that you can't go wrong with for dinner. Dairy-free, Gluten-free, + make ahead options.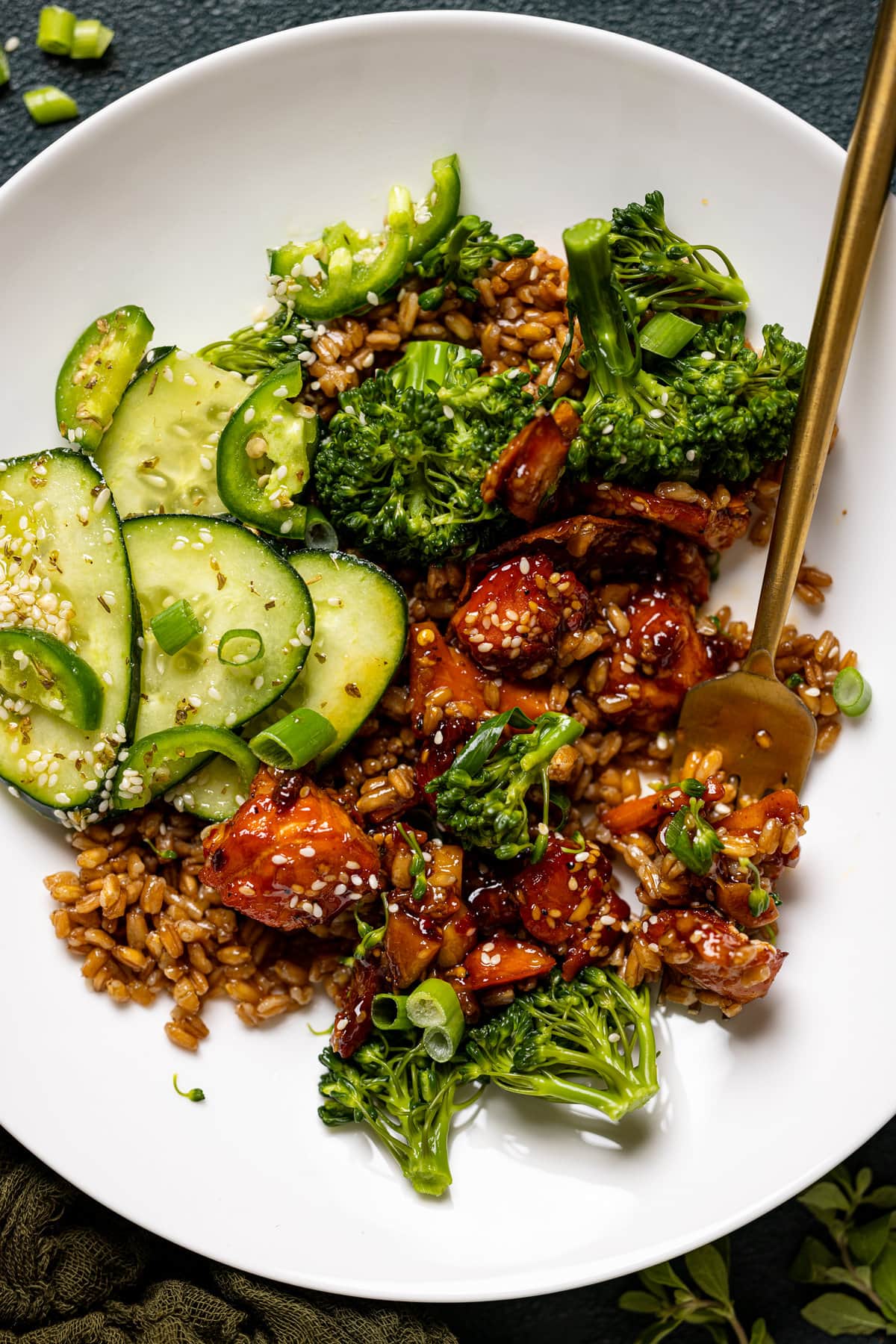 Disclaimer: This post contains affiliate links via Amazon for products that I wholeheartedly love.
I seriously am so excited to share this Orange Salmon Bowl with Farro with you all because it's SO delicious! I promise that this dish is one for the books and is sure to be a crowd-pleaser---adult + kid-approved! Yes---I know that salmon bowls have been such a thing, especially on TikTok during the summer, and while I'm a little late to the game---I'm so thrilled that I finally gave it a try.
Unlike the traditional trendy salmon bowls, this recipe is served with farro for a healthier option, but can totally be enjoyed with rice such as basmati, brown rice, jasmine rice, etc. Plus, the sides are just as fresh and light which include cooked broccoli (easily steamed or sautéed) and a simple veggie salad that includes sliced cucumber and jalapeños tossed in olive oil and lightly seasoned. If you're a huge fan of salmon, then these Jerk Salmon Tacos are a MUST TRY! Oh and this Easy Green Goddess Buffalo Chicken Bowl is so good too!
And if you ever needed a non-meat or seafood option, then you can easily substitute your protein with another alternative (which I discuss further below) or you can give this delicious Jerk Vegetable Farro Bowl with Maple Herb Apples a try!
Overall, this salmon bowl is super easy to make, a great weeknight option, can be easily personalized with your fave ingredients, includes bold flavors, balance between savory, spicy, and sweet, and just plain DELICIOUS.
What is Farro + How To Best Cook It?
Basically, farro is a high-protein, high-fiber ancient whole grain wheat that's very similar to barley. When it comes to the texture, farro holds a good amount of chew once cooked and also contains gluten---unlike quinoa.
When it comes to making farro (my favorite go-to brand for this is Bob's Red Mill), I enjoy cooking it in some sort of stock (vegetable or chicken) or bone broth to add additional flavor + nutrients---much like my preference for cooking quinoa. However, if you choose to go down the traditional route, you can always cook farro in just water while seasoning it with salt.
If you aren't familiar with farro, it's rather similar to rice and quinoa in the cooking process which means that you first begin by rinsing it, then boiling it for around 20-25 minutes or until it swells and becomes tender. Usually, the amount of liquid reduces greatly and the remaining liquid that must be drained after it's cooked is pretty minimal. That's it!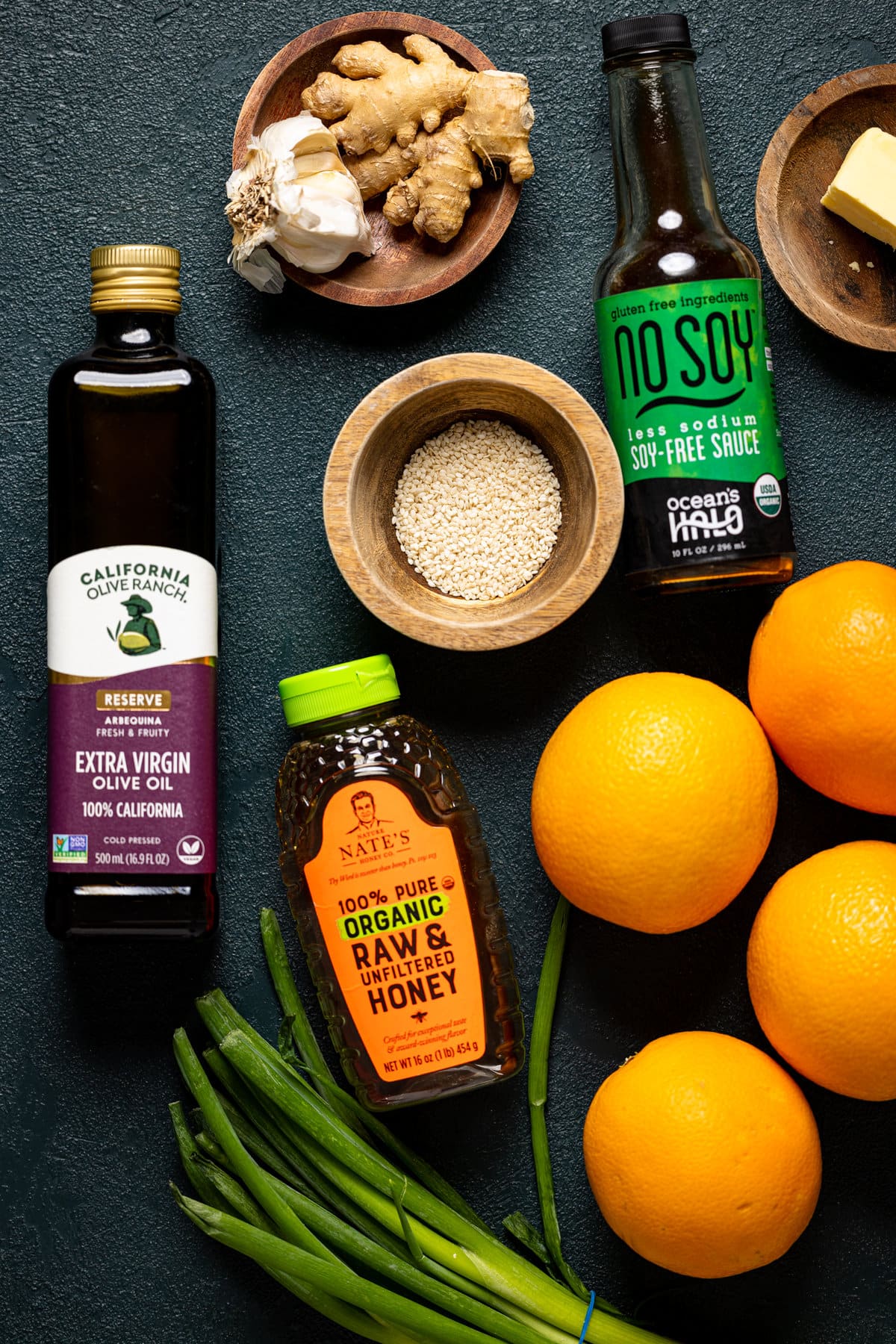 How to Make Orange Salmon Bowl with Farro
The THREE parts of this Salmon Bowl is the cooked farro, orange salmon, and the veggies.
Start by cooking your farro according to the packaging and set aside. Cook your broccolini or broccoli. Meanwhile, you can season your salmon once washed, patted dry, and cut into medium-sized chunks. Sear the salmon on both sides in a medium-skillet, remove and set aside, then make the orange sauce, then add the salmon in sauce, toss, and bake for a few minutes. Prep your veggies and toss them in olive and season. Assemble and and finally, enjoy!
INGREDIENTS
Here's what you need for this Orange Salmon Bowl with Farro:
Salmon fillets. I like to use wild-caught Sockeye salmon for a tastier flavor. If yours are fresh, defrost them in the refrigerator prior to making this bowl and when ready to use, let them sit at room temp. for 30 minutes or so before seasoning + cooking. You can also use shrimp, tilapia, or a non-meat option like chickpeas or tofu, which all can be delicious with orange sauce!
Farro. I chose to use a healthier grain for this bowl, but you can sub with basmati, brown, or jasmine rice. Also, cauliflower rice, quinoa, grits/polenta, pasta, etc. works too!
Olive oil. you can also use avocado oil, sesame oil, or Grapeseed oil, if you prefer.
Unsalted butter. This adds additional flavor.
Cucumber. Freshly peeled (or non-peeled) cucumber adds refreshing crunch to this salmon bowl.
Herbs + seasoning. You'll need salt, black pepper, + smoked paprika for the salmon. For the rest of the dish, you'll need red pepper flakes, salt, and oregano.
Jalapeños. I like the extra spicy flavor. They are nice when roasted in the oven. Remove the seeds for less spicy. You can also use poblano peppers as well.
Filtered water. This gives the sauce additional liquid.
Freshly-squeezed orange juice. I love using actual oranges, but you can substitute with store-bought orange juice if needed.
Honey. For an alternate option, you can use agave or maple syrup.
Garlic. Fresh minced or grated garlic also works.
Arrowroot starch. Works as a thickener for the sauce.
Red pepper flakes + fresh minced ginger. Use as much or as little spice as you like. If in a pinch, you can use ½ teaspoon of ground ginger.
Broccolini. I love adding broccoli or broccolini. Feel free to use asparagus or brussels sprout instead, if preferred.
Orange peels. For a nice burst of orange flavor. You can also use orange zest, if preferred.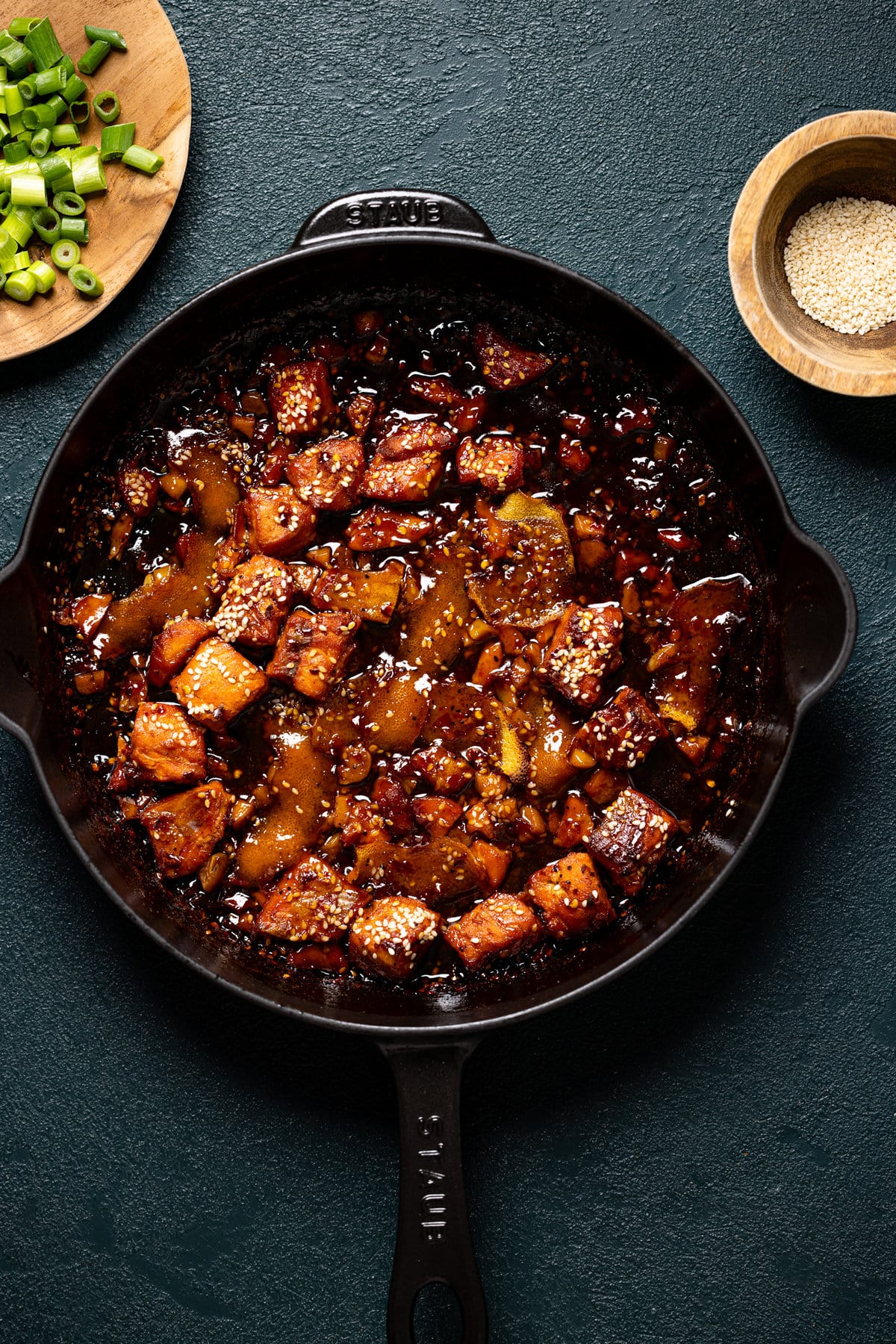 Top Reasons Why You'll Love This Salmon Bowl!
Can I be honest? Once you taste this orange salmon bowl with farro you'll fall in absolute love. Haha. More importantly, here are the reasons why you'll love it the most:
It's ALL full of protein and nutrients.
Super easy to make and quick for a great weeknight option!
So much flavor in one bowl.
The perfect balance between sweetness/spiciness + savoriness (The best reason!)
Perfect for any time of day—Dinner, Lunch, Breakfast (if that's your thing), whatever!
What Goes Best with this Orange Salmon
As mentioned before, you can feel free to serve this Orange Salmon Bowl with any of the following options instead of farro:
Cauliflower rice (Great GF option)
Brown rice / Jasmine rice / Basmati
Quinoa (Great GF option)
Wild rice (Great GF option)
Organic noodles
Roasted asparagus
Veggie salad
Orzo
Couscous
Polenta or grits (Great GF option, when version is used)
Pasta
WHY BROWN RICE AND HOW TO COOK IT
While rice remains one of the biggest staples in food, it's super important to note that brown rice is a great healthy alternative to white rice. Most of the benefits however, comes from the way it is prepared compared to it's counterparts.
Brown Rice is a whole grain (meaning that it contains 3-parts of the grain kernel) which makes it highly nutritious and loaded with vitamins and fiber.
When it comes to cooking brown rice----it should be thoroughly rinsed like all other rices, however, the cook time is a bit longer. Usually, it's best to boil it in enough water that slightly covers the rice and once the water has boiled, reducing the heat to low and simmering the rice covered for about 45 minutes or so is key.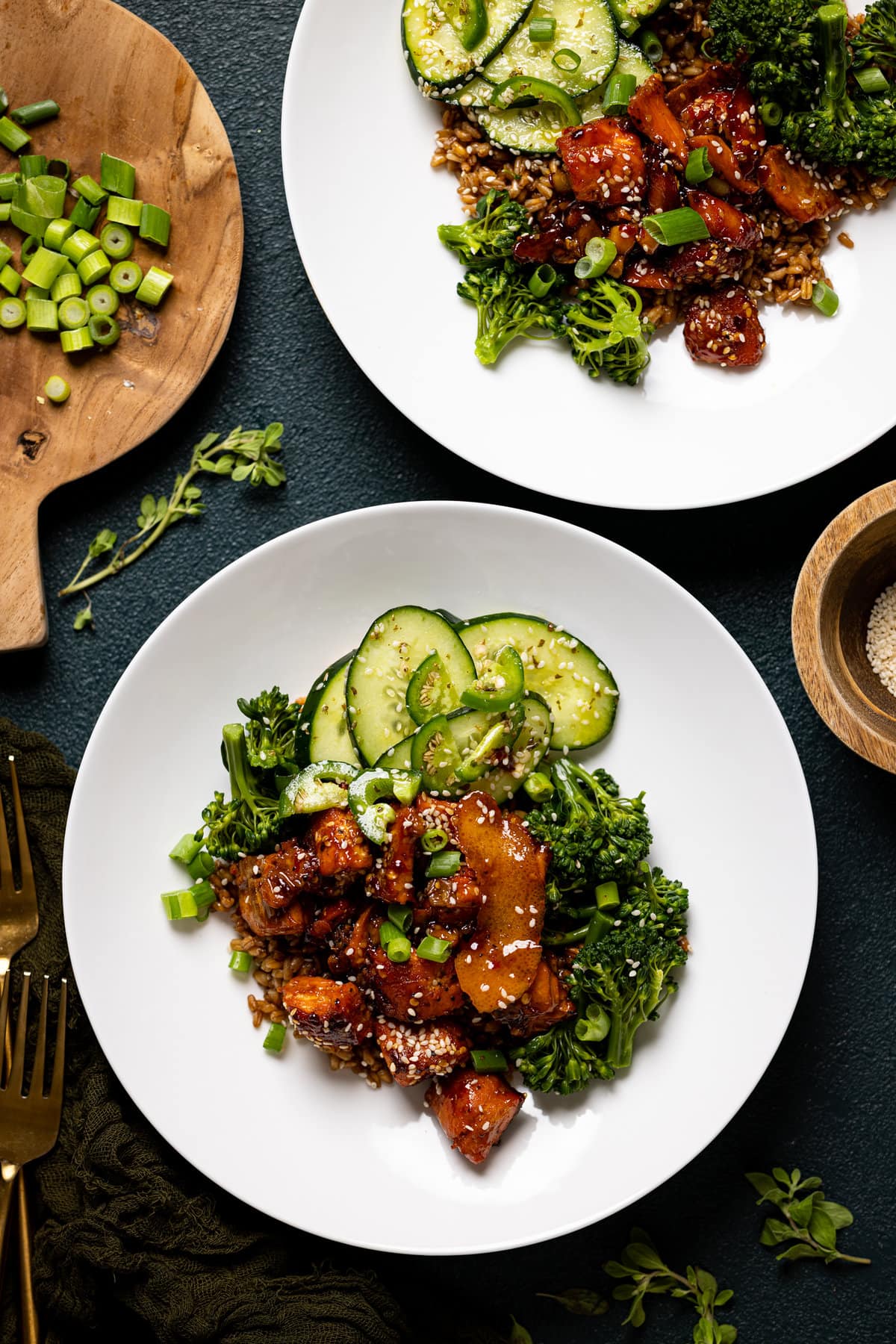 BEST TYPES OF PASTA TO GO WITH ORANGE SALMON
If you're thinking of serving your Orange Salmon Bowl with pasta, then I'm so with ya! When it comes to pasta, you can use long pastas like Bucatini, Pappardelle, Fettuccine, Tagliatelle, etc. if desired.
I'd recommend tossing your pasta in the orange sauce with tongs after the salmon is fully cooked to ensure that pasta is fully manageable and fully coated. Otherwise, the traditional penne or rigatoni pasta works perfectly too!
Awesome Cooking Methods for Farro
In case you didn't know, farro can be easily made several different ways such as:
STOVETOP
The traditional way of cooking farro as I've mentioned above. Usually, the process starts over high-heat and then once boiling, you reduce the heat to medium-high and allow it to continue to cook, stirring occasionally.
PRE-SOAK
When you're ever too busy or want to make the cooking process much quicker, like beans, you can soak the farro overnight (covered with water) and in the refrigerator. This brings down the stovetop cook time to a total of 10 minutes or so, instead.
SLOW COOKER
If you prefer more of a hand-off kind of process, cooking the farro in a slow cooker is an awesome choice! Add the amount of liquid (water or stock) according to the packaging and let it slowly cook for around 2-2 ½ hours. This way you don't have to watch it and you can get other important things done while the cooking magic happens.
INSTANT POT
Another great quick way to cook the farro is in an Instant Pot or Multi-Cooker. Simply add the amount of liquid (water or stock) according to the packaging and cook with high pressure for 10-12 minutes and wallah!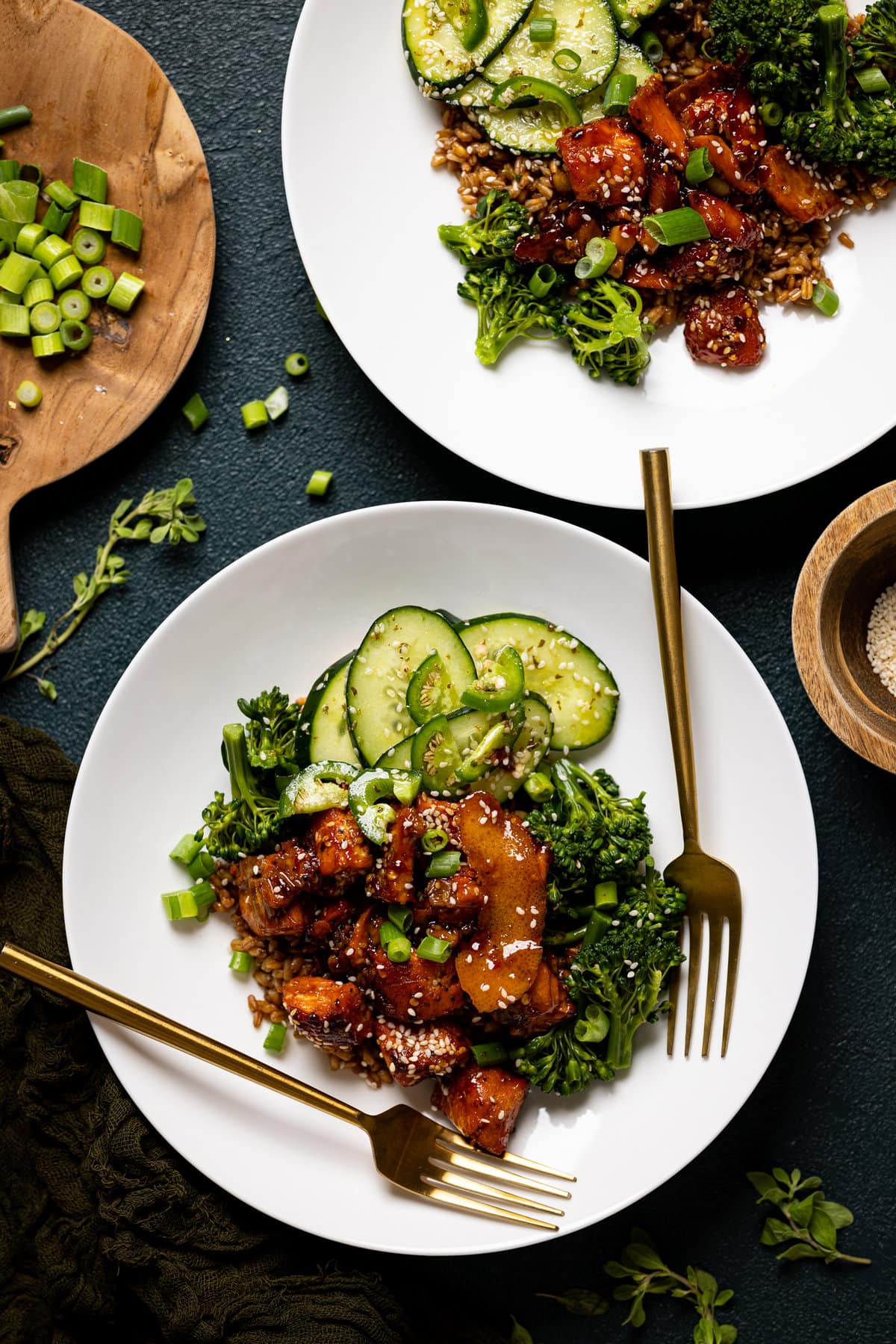 HOW DO YOU THICKEN THE ORANGE SAUCE?
It's important to thicken your orange sauce so it gets nice and sticky. Personally, I love using arrowroot starch (which is a great gluten-free option). However, if you don't have this on hand, using other subs like all-purpose flour, regular cornstarch, or tapioca flour work just fine. Just be sure to always stir your thickener with warm water until it becomes a 'milky' liquid before adding it to the sauce.
CAN YOU ADD MORE ORANGE FLAVOR TO SAUCE?
Yes! If you're looking for an extreme burst of orange flavor, feel free to add orange peels into the sauce while it simmers. The fragrance and flavor of the orange peels will add more flavor. Just remove them before tossing in your salmon if you don't want them to stay in.
DO I NEED TO COOK THE VEGGIES FIRST?
Quickly boil or steam your broccolini or broccoli for a few minutes until "al dente" if you don't want to have a little crunch adding them directly to the skillet. DO NOT COOK UNTIL SOFT! Once cooked, drain, and add to a large bowl of iced cold water immediately to stop the cooking process. Resume with recipe.
Can I Make this Orange Salmon Bowl with Farro Ahead of Time?
Absolutely! All ingredients can be made and individually stored as meal prep and assembled when ready to serve.
How to Store Leftovers
Place any leftovers in a tightly sealed container in the refrigerator for up to 3-4 days.
More Easy Weeknight Meals
MADE OUR RECIPE(S)?
If you make this Orange Salmon Bowl with Farro recipe or any other recipe from us, be sure to tag us on Instagram at #Orchidsandsweettea so that we can share the love!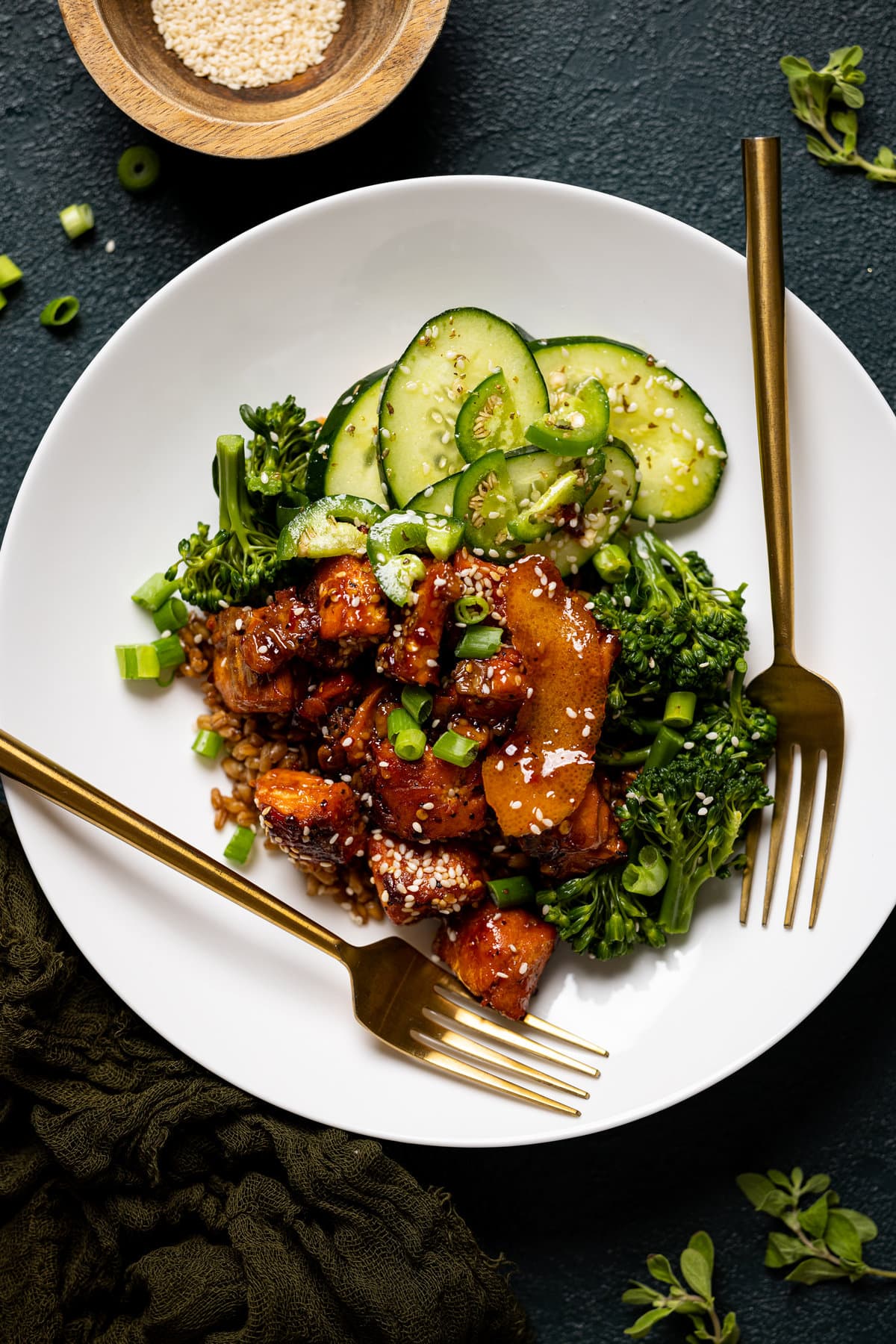 ORANGE SALMON:
2

(4-6 ounce)

wild-caught Sockeye salmon, cut into medium chunks

(You can also use regular salmon fillets also)

1

teaspoon

sea salt

1

teaspoon

black pepper

1

teaspoon

smoked paprika

4

Tbsps

Extra virgin olive oil

2

Tbsps

filtered water

1

tablespoon

unsalted butter

4

garlic cloves, minced

1

cup

freshly-squeezed orange juice

¼

cup

raw organic honey

(You can substitute with maple syrup)

1

teaspoon

arrowroot starch + 2 Tbsps warm water

(Mix both together until a "milky mixture" forms.)

1

teaspoon

minced fresh ginger

¼

cup

soy sauce, low-sodium

(I like to use soy-free vegan soy sauce by Ocean's Halo)

1

tablespoon

apple cider vinegar

(You can also use rice vinegar, if preferred)

1

navel orange, peels only!

3-4

Tbsps

organic vegetable stock/broth

1

teaspoon

red pepper flakes

(Adjust spiciness based on preferences)

sesame seeds, for garnish

chopped green onions

(aka scallions)
BOWL:
2-3

cups

cooked farro

(See post for details on best ways to cook this; Can also use other options like rice, etc.)

2

cups

Cooked broccolini or broccoli

(That's about 1 small bunch)

1

cucumber, sliced thin

1

jalapeño, chopped

1

tablespoon

Extra virgin olive oil

2

tsps

sesame seeds

½

teaspoon

sea salt

½

teaspoon

dried oregano
COOK THE FARRO:
Cook the farro based on the packaging instructions. Set aside. NOTE: See post for additional tips/notes on how to best cook farro.
COOK THE BROCCOLINI:
You can easily steam or sauté your broccolini until tender and dark in color when ready.
TO MAKE THE ORANGE SALMON:
Preheat the oven to 400 degrees Fahrenheit.

Season your washed, patted dry, + cut salmon with salt, black pepper, and smoked paprika until completely coated. In a medium oven-safe (10-inch skillet) over medium-high heat, add the olive oil and butter until heated and the butter melts. Add the minced garlic and ginger, sautéing until fragrant, about 1-2 minutes. Add the salmon chunks and sear both sides (3-4 minutes each) until they become golden brown. Remove salmon chunks from skillet and unto a plate.

In the same skillet, add the orange juice, water, honey, soy sauce, apple cider vinegar, veggie stock, red pepper flakes, and orange peels, stirring everything together until combined. Let it boil for 1-2 minutes before reducing heat to medium-low. Add in arrowroot mixture and stir until sauce thickens. Add the salmon chunks again, tossing them in the sauce until coated. Sprinkle sesame seeds atop salmon. Remove from heat and add the skillet to the oven and bake for 5-6 minutes or until the sauce has "baked unto salmon" and it's cooked through. Remove from oven and set aside.
MAKE THE VEGGIE 'SALAD':
In a bowl, add the sliced cucumber and jalapeño along with olive oil, salt, oregano, and sesame seeds, tossing everything together until veggies are coated.
ASSEMBLY:
To serve, evenly divide the farro to prepared bowl(s)---spreading it out a bit, followed by: cooked broccolini, veggie salad, and orange salmon chunks. Garnish with chopped green onions (aka scallion).
STORAGE: Place any leftovers in a tightly sealed container in the refrigerator for up to 3-4 days.
MEAL PREP: All ingredients can be made and individually stored as meal prep and assembled when ready to serve.
EQUIPMENT: Here, I've curated a list of cooking + baking essentials that I use to achieve my favorite baked goods or cooked meals, especially with this Orange Salmon Bowl with Farro. Everything from my fave high-powered blender, baking sheets, wooden spoons, mixing bowls, and more.
FARRO: To learn about the best ways to cook Farro + health benefits, see above post. To purchase it, visit Here!
SERVING: To make this dish for a bigger family, simply double (or triple) all ingredients.
GLUTEN-FREE OPTION: To see great GF options for farro, see post on what can be served with orange salmon!
DAIRY-FREE OPTION: To ensure that this dish is entirely dairy-free, sub butter with vegan butter or just use olive oil.
Calories:
668
kcal
|
Carbohydrates:
66
g
|
Protein:
9
g
|
Fat:
43
g
|
Saturated Fat:
9
g
|
Polyunsaturated Fat:
5
g
|
Monounsaturated Fat:
28
g
|
Trans Fat:
0.2
g
|
Cholesterol:
15
mg
|
Sodium:
3482
mg
|
Potassium:
580
mg
|
Fiber:
8
g
|
Sugar:
12
g
|
Vitamin A:
1361
IU
|
Vitamin C:
72
mg
|
Calcium:
91
mg
|
Iron:
4
mg
Orange Salmon Bowl with Farro.