This Sheet Pan Garlic Herb Salmon, Lobster, + Veggies recipe is the perfect easy weeknight meal for the entire family! Baby potatoes, broccolini, corn, and tomatoes, all roasted alongside Salmon and Lobster tails entirely coated in a garlic herbed seasoning; Everything is jam-packed with bold flavor and packed with heart-healthy Omega-3 fats and lean protein. This flavorful dish will be a hit in your house and you'll love how simple it is to prepare and clean up afterward. Dairy-Free option.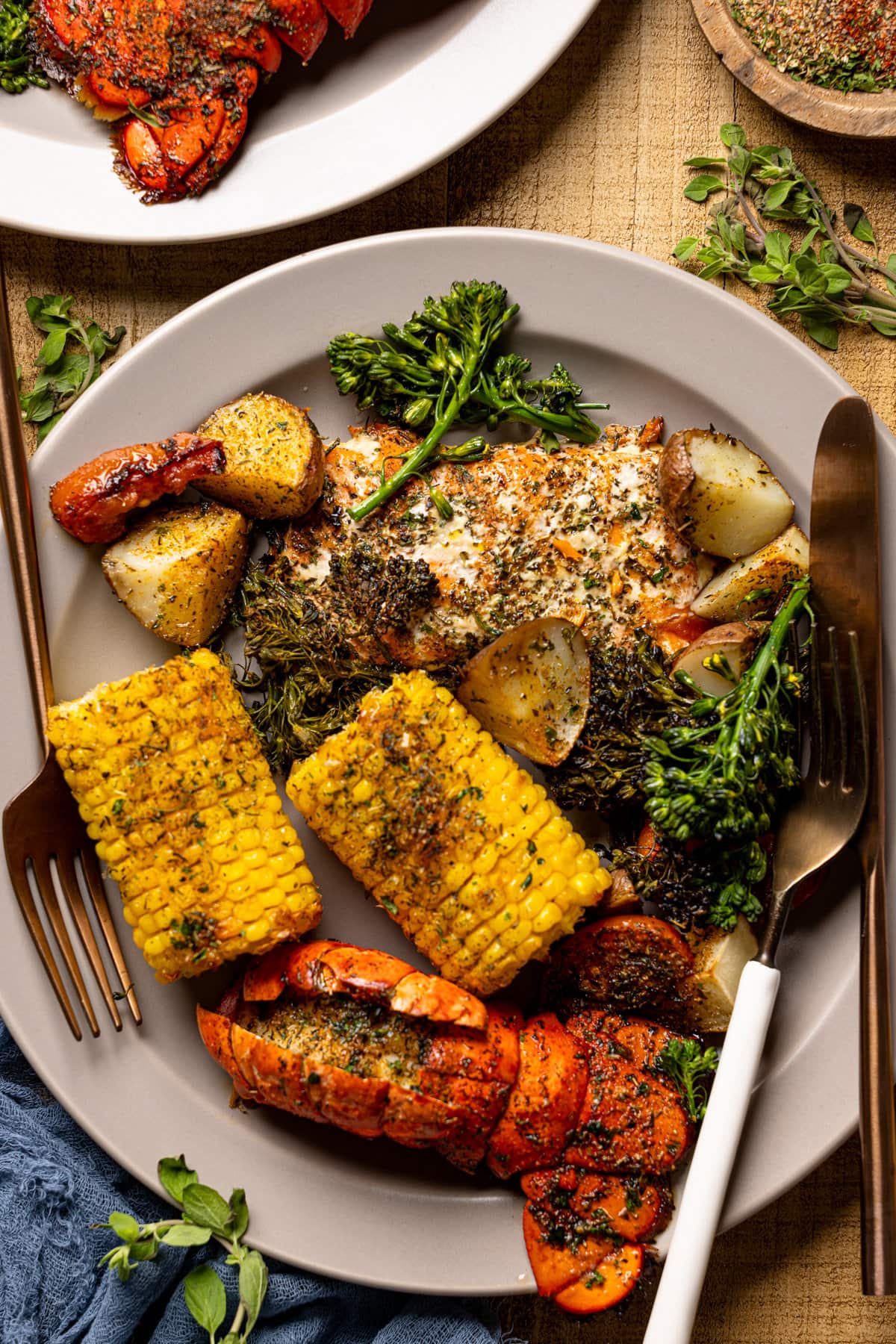 Disclaimer: This post contains affiliate links via Amazon for products that I wholeheartedly love.
To be honest, I truly enjoy making these easy, one-pot (or pan) meals, especially during the week or as a laidback weekend. While more complex recipes allow for me to get super creative in terms of the put-together, making something easy like this Sheet Pan Garlic Herb Salmon, Lobster, + Veggies is my most fave! If you love Garlic Herb flavor, then this recipe is a MUST! There's truly flavor in all layers which creates a satisfying finish once served. This recipe specifically was inspired by my love for salmon and my husband's obsession with lobster. Plus, this sheet pan recipe reminds me of a seafood boil, which is a Southern staple around this tie of the year and during the summer months. Definitely recommend trying this Chipotle Chicken Sheet Pan Quesadilla [Dairy-Free] next!
Originally, this recipe was made in early 2020 and while I had such a great vision for it, the execution was just not there. Haha. But I of course had to reshoot and revamp the recipe to perfection so that you can enjoy this one as much as we did in my house. 
Overall, this sheet pan meal is definitely comfort food on a pan, includes simple steps, and can totally be personalized based on preference----i.e. sub with shrimp, scallops, or another meat like chicken, etc.
What is a Sheet Pan Dinner?
So I have another sheet pan dinner for you guys, they're just too darn easy but first what even is a sheet pan dinner?
Basically, a sheet pan dinner is when everything is roasted together on one rimmed baking sheet, making it perfect for a weeknight meal! However, there are apparently guidelines to making the best sheet pan meal which include: investing in the right baking sheet, pairing together proteins + veggies that have similar cook times, season everything separately, understand the trick of layering or mixing when applicable. 
What Pan is Best for Sheet Pan Dinners?
OK, so the next step is understanding which sheet pan works best for these types of meals. In general, it is said that a commercial, high-quality half-sheet pan is the best to making sheet pan dinners with great results. Why? Mostly because it's sturdy enough to withstand high oven heat.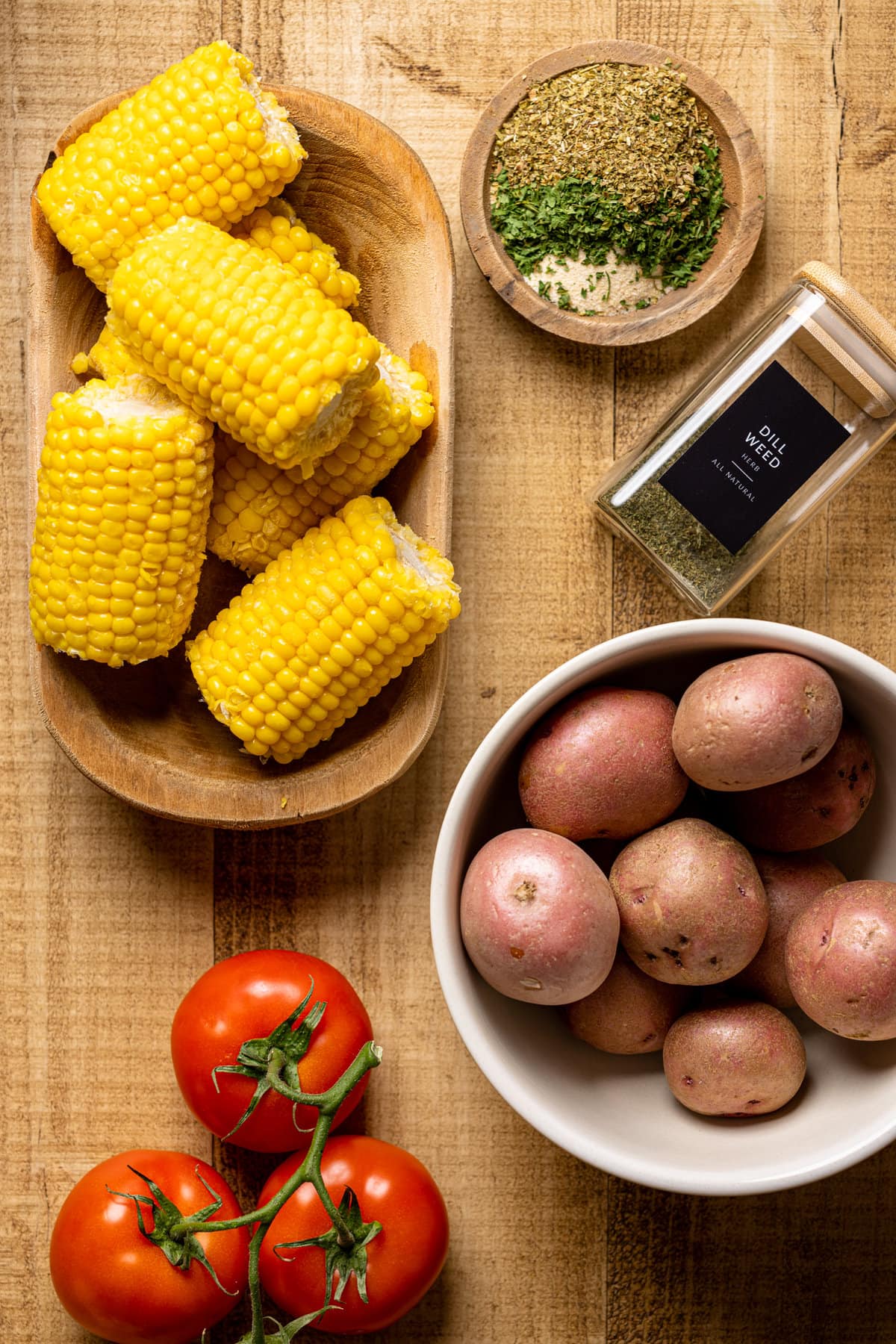 Top Reasons Why You'll Love This Sheet Pan Dinner
Once you make and eat this Sheet Pan Garlic Herb Salmon, Lobster, + Veggies—– you'll fall in absolute love. Haha. More importantly, here are also the reasons why you'll love it the most:
It's super easy to make.
Simple set + forget it—-let the oven do all of the magic!
Only requires ONE pan for roasting. Hello, easy cleanup!
Makes for a great weeknight meal or a laidback weekend dinner.
So well seasoned and full of texture.
Great for meal prepping and make aheads for the week!
Super customizable with the protein and veggie options.
Perfect ANY season vibes!
Did I mention, it's just delicious? Both kids + adults approve!
Do You Cover Sheet Pan Meals with Foil?
I don't always cover everything with foil when making my sheet pan meals, however, you can do this to help entrap the heat when everything is baking to allow the food to cook more quickly, evenly, and with better results. But it's not at all required, depending on the ingredients. 
How to Make Sheet Pan Garlic Herb Salmon, Lobster, + Veggies
Sheet pan dinners can be thought of as an oven-friendly version of a "one pot" meal and y'all know how much I LOVE the ease of a one-pot meal on busy days. On the same baking sheet, we will prepare our gorgeous garlic-herbed salmon & lobster, along with some potatoes, tomatoes, corn, and broccolini----all seasoned to perfection. Essentially we throw everything onto a sheet pan and pop it in the oven and VOILA dinner is cooked. 
Ingredients for Sheet Pan Garlic Herb Salmon, Lobster, + Veggies
Here's what you need to make this Sheet Pan Garlic Herb Salmon, Lobster, + Veggies at home:
Wild lobster tails. If yours are fresh, defrost them before starting to make.
Salmon fillets. I like to use wild-caught Sockeye salmon for a tastier flavor. If yours are fresh, defrost them in the refrigerator prior to making this sheet pan and when ready to use, let them sit at room temp. for 30 minutes or so before seasoning + baking.
Olive oil. You can also use Grapeseed oil or coconut oil as well.
Butter. I recommend unsalted. For a dairy-free option, sub with vegan butter.
Garlic Herb seasoning. You can use a store-bought version or make your own blend easily by adding: salt, black pepper, garlic powder, parsley, oregano, basil, thyme, onion powder, + dill.
Corn. Use fresh or frozen corn. You can choose either to keep the corn on the cobs large or cut them into smaller pieces.
Tomatoes. You can add as many tomatoes as you'd like to fill this sheet pan. I used tomatoes-on-the-vine, however, heirlooms, roma, grape, etc. works too! Just chop them up into nice bite-sized pieces.
Broccoli. I love using broccoli or broccolini. You can also sub with an entirely different veggie. See post for options!
Potatoes. Use baby red potatoes or russet or Yukon gold potatoes for the best texture. Peeled + cubed or you can leave the skin on for an extra crisp!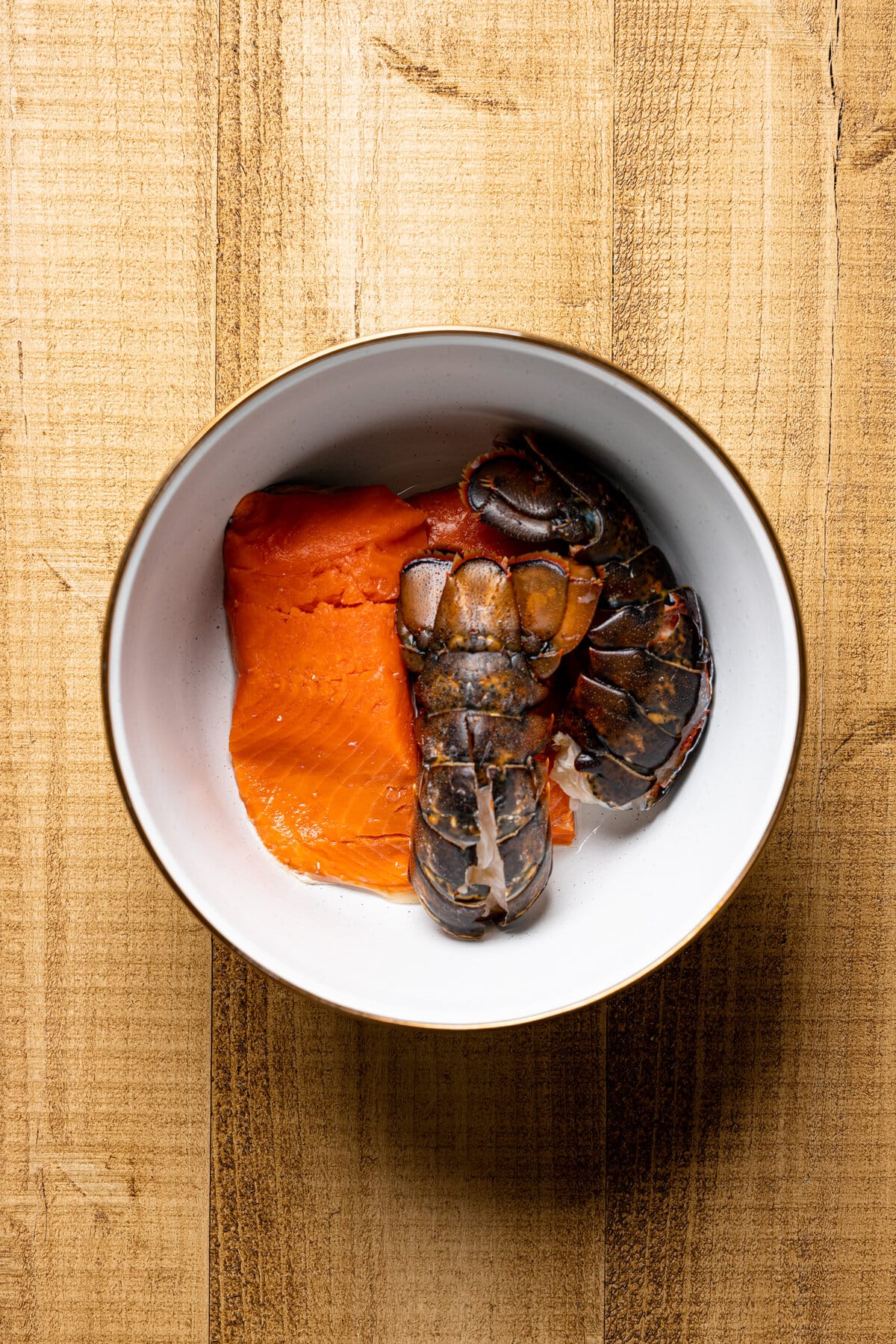 Can I Use Pre-Cooked Lobster?
Certainly, if you'd rather skip the step of cooking the lobster tails, you can make this sheet pan with cooked lobster (adding it after everything else roasts or within the last 5 minutes). You'll need about 24 ounces of lobster meat.
Homemade Garlic Herb Seasoning Blend
Sure, you can find pre-made seasoning blends at the grocery store. But there's nothing like the fresh, customized flavor you get by making your own blend. The herbs and spices in this Garlic Herb mix for this recipe are inspired by the fresh herbs that I often enjoy using together that offers a bold garlicky flavor. Here's what you need:
Salt
Black pepper
Garlic powder
Dried parsley
Oregano
Basil
Thyme
Onion powder
Dill
You can Store the seasoning blend in an airtight container at room temperature for up to a month. Use it on anything from simple roasted vegetables to salad dressing to herb oil for dipping bread.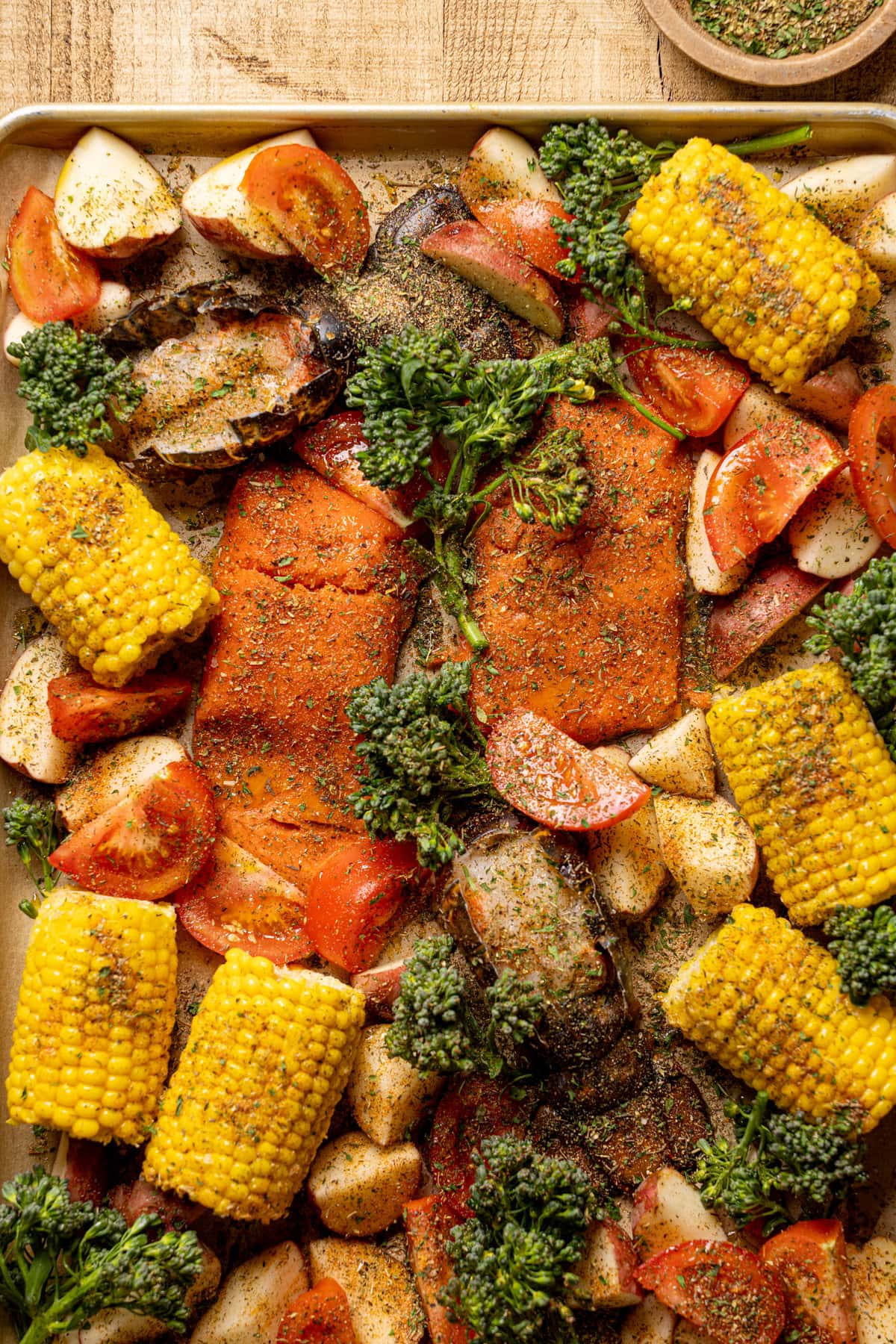 SHOP MY FAVORITE TOOLS FOR COOKING, ESPECIALLY FOR THIS SHEET PAN!
Here, I've curated a list of cooking + baking essentials that I use to achieve my favorite baked goods or cooked meals, especially with this Sheet Pan Garlic Herb Salmon, Lobster, + Veggies. Everything from my fave commercial sheet pans, dutch ovens, wooden spoons, mixing bowls, and more. SEE THEM HERE!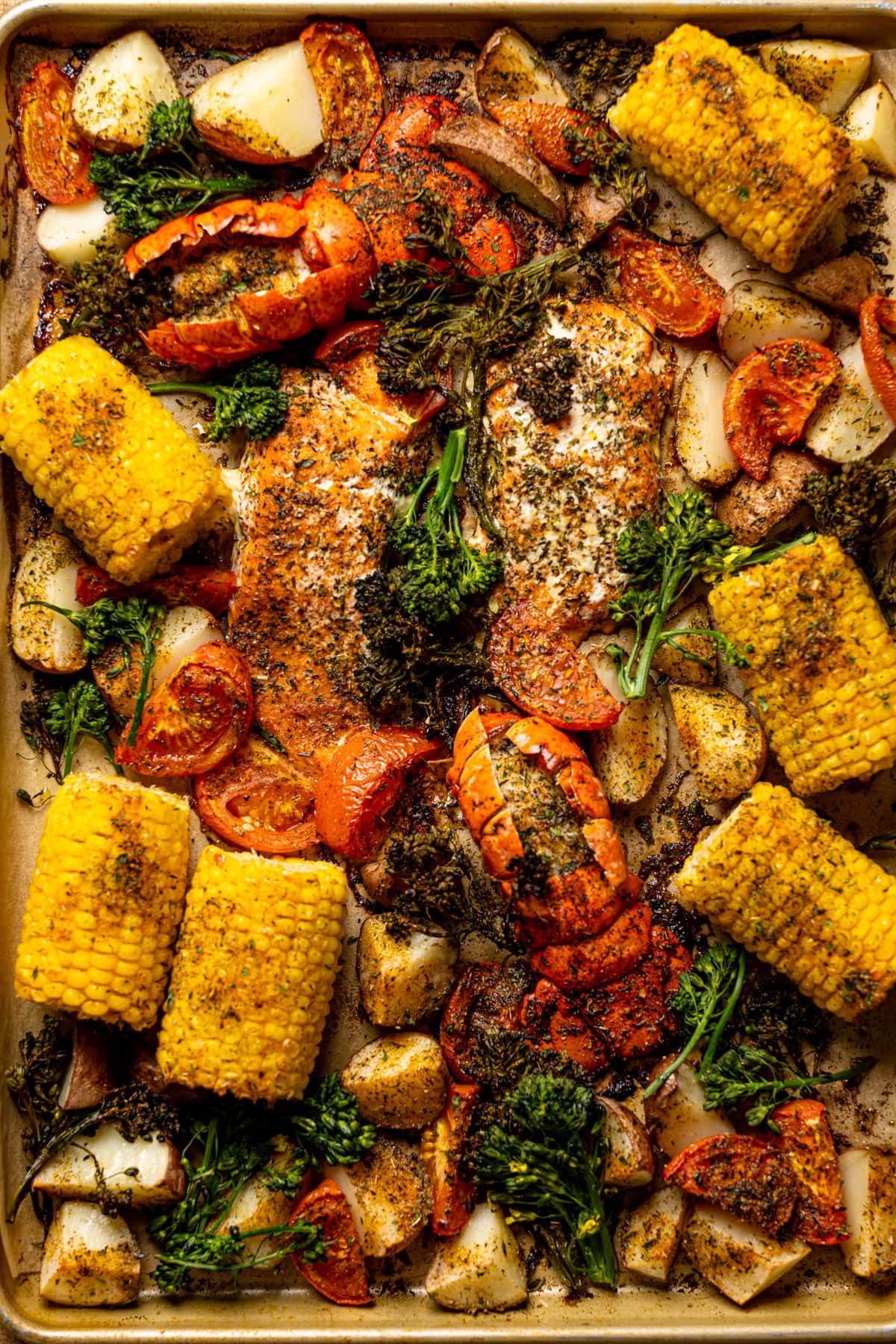 What Can I Add to this Sheet Pan Garlic Herb Salmon, Lobster, + Veggies?
I like to add some extra texture to my sheet pan dinners like this one. Most people might enjoy this Sheet Pan Garlic Herb Salmon, Lobster, + Veggies as is, however, in case you make this recipe a few times or just want to substitute a few ingredients, here are other things that you can use to build this garlic herb sheet pan dinner:
Carrots
Asparagus
Chicken or a non-meat option like tofu or tempeh
Cauliflower
Zucchini
Chickpeas or other bean/legumes
Brussels sprouts
Sweet potatoes or winter squash
Yukon or russet potatoes
Shrimp, Scallops, etc.
Bell peppers
Eggplant
Pork, Beef, or other meats
And more!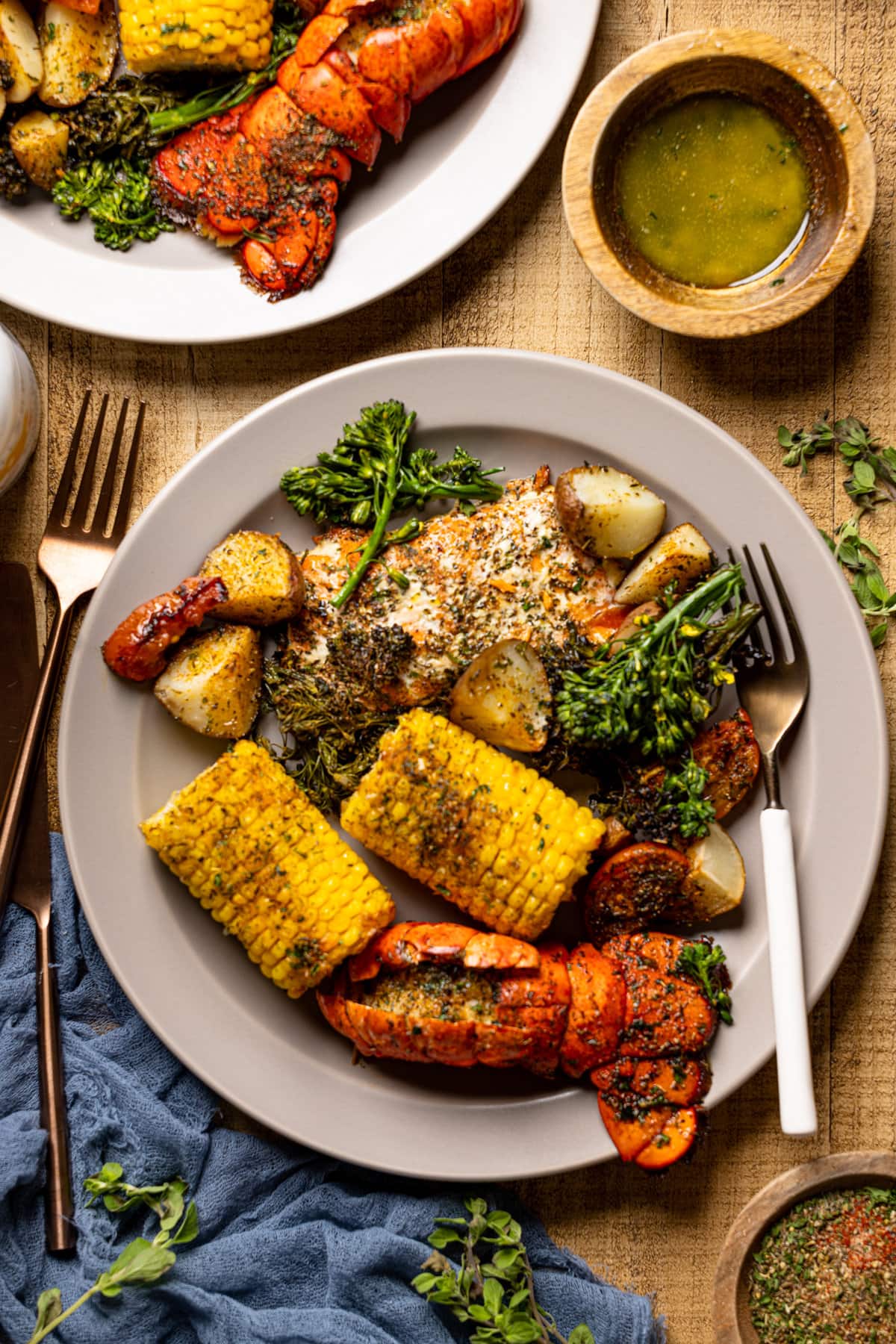 Sheet Pan Garlic Herb Salmon, Lobster & Veggies Q + A's
How To Store Leftovers
Seafood like salmon and lobster can be kept fresh in the fridge for up to three or four days if stored in an airtight container. Salmon that has been cooked can be kept fresh in the freezer for up to three months. To reheat it in the oven, first, let it defrost completely in the fridge.
How Do I Know When My Salmon Is Cooked?
A cooking thermometer is the most convenient tool for this task. The internal temperature of salmon fillets, taken from the thickest area, should reach 145 degrees Fahrenheit before they are considered cooked through. But if you don't have a thermometer no problem! Try grazing the fillet gently with a fork -It's ready to eat when its flesh becomes opaque and easily flakes.
Do I Need To Flip Salmon?
Nope! It cooks perfectly without the need to flip sometimes flipping can result in your little fishy friend sticking to the pan which nobody wants! 
Is Salmon Skin Safe To Eat?
It sure is! Some people love it some people hate it, if you like crispy skin then go ahead! Totally up to you!
More Delicious Sheet Pan Recipes to Try!
MADE OUR RECIPE(S)?
If you make this Sheet Pan Garlic Herb Salmon, Lobster, + Veggies, tag @orchidsnsweettea_ on Instagram and hashtag it #orchidsandsweettea!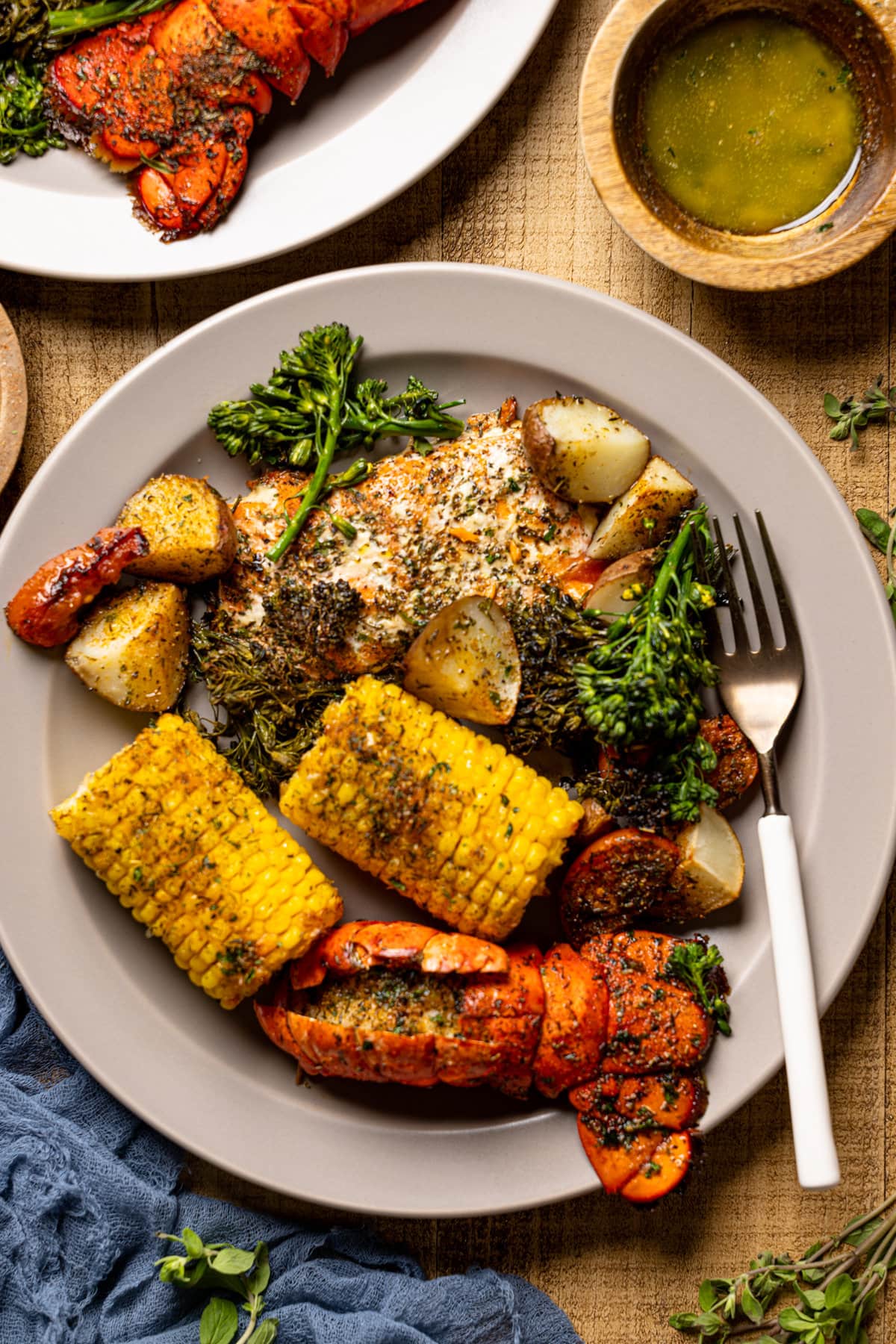 SALMON + LOBSTER:
1

lb.

wild-caught Sockeye salmon, fillets

(You can remove the skin, if desired)

2-4

(6 oz.)

wild-caught lobster tails

(You can sub with shrimp, etc.)

2

Tbsps

Extra virgin olive oil
GARLIC HERB BLEND:
1

tablespoon

garlic powder

2

tsps

dried oregano

2

tsps

dried basil

2

tsps

sea salt

2

tsps

black pepper

2

tsps

dried parsley

2

tsps

onion powder

2

tsps

dried thyme

1

teaspoon

dill
VEGGIES:
2

lbs.

baby red potatoes, halved

2

tomatoes-on-the-vine, chopped

2

cups

organic broccolini or broccoli, stems trimmed

2

corn on the cobs, chopped into smaller pieces

2

Tbsps

Extra virgin olive oil
HERB BUTTER:
6

Tbsps

unsalted butter, melted

1

teaspoon

smoked paprika

1

teaspoon

garlic powder

1

teaspoon

dried parsley

1

teaspoon

dried oregano

1

teaspoon

dried basil
PREP THE SALMON + LOBSTER:
Preheat your oven to 375 degrees Fahrenheit and prepare a baking sheet by lining it with parchment paper.

To prep lobster tails, slightly crack shell and remove most of lobster meat outside of shell without completely detaching shell from meat. NOTE: This allows the lobster meat to fully cook through with shell blocking it. Drizzle 1 tablespoon of olive oil unto the meat of the lobsters and lightly sprinkle with a bit of garlic herb blend.

Pat dry and season salmon, drizzle with remaining olive oil and season with a bit of the garlic herb blend, massaging everything in until salmon are coated.

Line the lobster tails and salmon fillets unto prepared baking sheet, leaving room for the veggies. NOTE: The other veggies (broccolini and tomatoes) will shrink, therefore, if you don't want this------bake the seafood, corn, and potatoes for the first 20-25 minutes and then add in the other veggies after for the remaining time. OR you can pre-cook the potatoes and corn separately (boiling or roasting them prior) and add the broccoli + tomatoes last, so that everything cooks within a 30 minute timeframe.
PREP THE VEGGIES:
In a bowl, add the halved baby potatoes, broccolini, chopped tomatoes, corn on the cob pieces, olive oil, and remaining garlic herb blend, mixing everything together until veggies are coated.

On the prepared baking sheet, add the veggies around the lobster and salmon, side by side---evenly spreading them out.

Bake everything for 30-35 minutes or until the salmon and lobsters are fully cooked through and the potatoes and corn are tender when tested with a knife or fork.
MAKE THE HERB BUTTER:
In a bowl, mix together the melted butter, garlic powder, smoked paprika, parsley, oregano, and basil until combined.

Once done, remove everything from the oven, drizzle with herb butter and serve immediately.

Bon Appetit!
STORAGE: Store any leftovers in a tightly covered container or glass dish and refrigerate for 3-4 days.
VEGGIE OPTIONS: To change things up, you can always add any of the following veggies to this sheet pan meal: sweet potatoes, russet or Yukon potatoes, brussels sprouts, asparagus, carrots, zucchini, butternut squash, bell peppers, etc.
SPICES/HERBS: If desired, you can reduce the amounts slightly. Please know that this recipe is bold in flavor, so feel free to adjust based on your tastebuds.
OIL: You can also use coconut oil or grapeseed oil, instead of olive oil.
OTHER MEAT OPTIONS: If you'd like to switch things up, see post for more alternatives!
DAIRY-FREE OPTION: To make this entirely DF, simply substitute the butter with vegan butter.
Calories:
295
kcal
|
Carbohydrates:
5
g
|
Protein:
1
g
|
Fat:
31
g
|
Saturated Fat:
13
g
|
Polyunsaturated Fat:
2
g
|
Monounsaturated Fat:
15
g
|
Trans Fat:
1
g
|
Cholesterol:
45
mg
|
Sodium:
588
mg
|
Potassium:
113
mg
|
Fiber:
2
g
|
Sugar:
0.3
g
|
Vitamin A:
1053
IU
|
Vitamin C:
0.3
mg
|
Calcium:
55
mg
|
Iron:
2
mg