Craving for a seafood dish that's both easy to make and indulgent? Why not try this amazing Creamy Tuscan Lobster Pasta recipe featuring Tagliatelle! It's perfect for any season and a great option for a stress-free easy weeknight meal that your whole family will love. Imagine the deliciousness of creamy Tuscan-infused sauce with chunks of succulent lobster meat served over perfectly cooked pasta.
It's like a fancy restaurant dish that you can enjoy in the comfort of your own home. Whether you're a seafood lover or just want to try the best lobster pasta recipe out there, this creamy lobster pasta is definitely worth a try! Dairy-free option.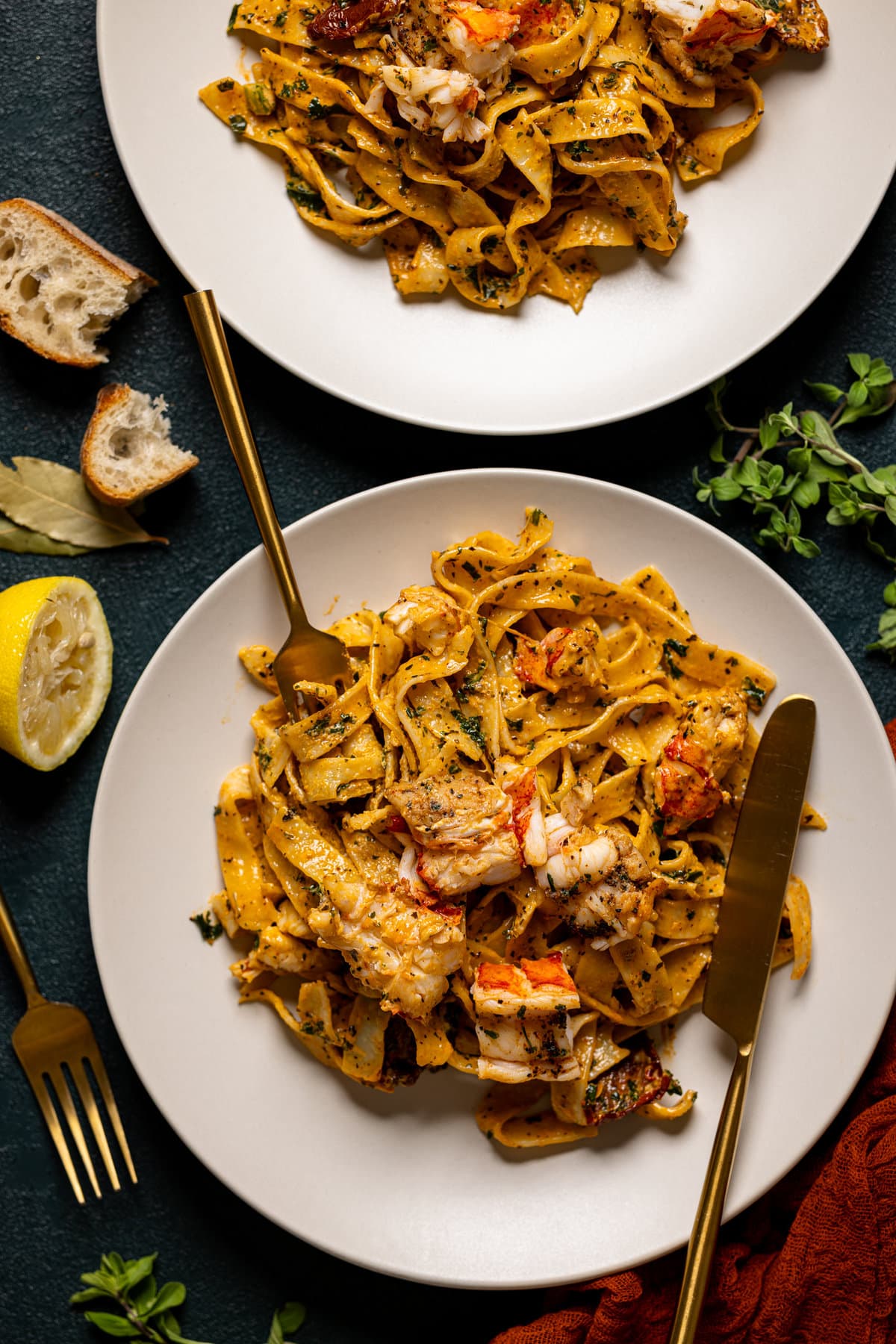 Disclaimer: This post contains affiliate links via Amazon for products that I wholeheartedly love.
What Is Creamy Tuscan Lobster Pasta?
Tuscan flavor is the taste of the traditional cuisine of Tuscany. It's all about using fresh, high-quality ingredients and keeping the flavors simple and rustic which if you're been following Orchids + Sweet Tea for a while you know I'm all about! This easy seafood pasta recipe is exactly that, simple and full of flavor!
This creamy lobster pasta recipe was specifically inspired by my love for easy, quick dishes and of course, we always need an easy weeknight meal that can be whipped together on those days when we're extremely busy or perhaps tired. That's why I created the Weeknight Meals category. If you like creamy pasta dishes, check out my Creamy Jamaican Shrimp Rasta Pasta or this amazing Creamy Lemon Garlic Herb Kale Pasta or Creamy Salmon Alfredo Pasta. Elevate your weeknight dinners with our Creamy Roasted Butternut Squash Pasta, a delightful blend of seasonal ingredients that's both family-friendly and irresistibly creamy.
Jump to:
What You'll Love Most About this Tuscan Lobster Recipe
It's super easy to make. (Under 30 Minutes)
Bold flavors—Tuscan + Lobster, all go so well together!
Smooth, chunky, + comforting, all at the same time.
Dairy-free option!
Minimal steps
Comes fully seasoned!
Great comforting option for lunch or dinner or weeknights.
Did I mention, delicious?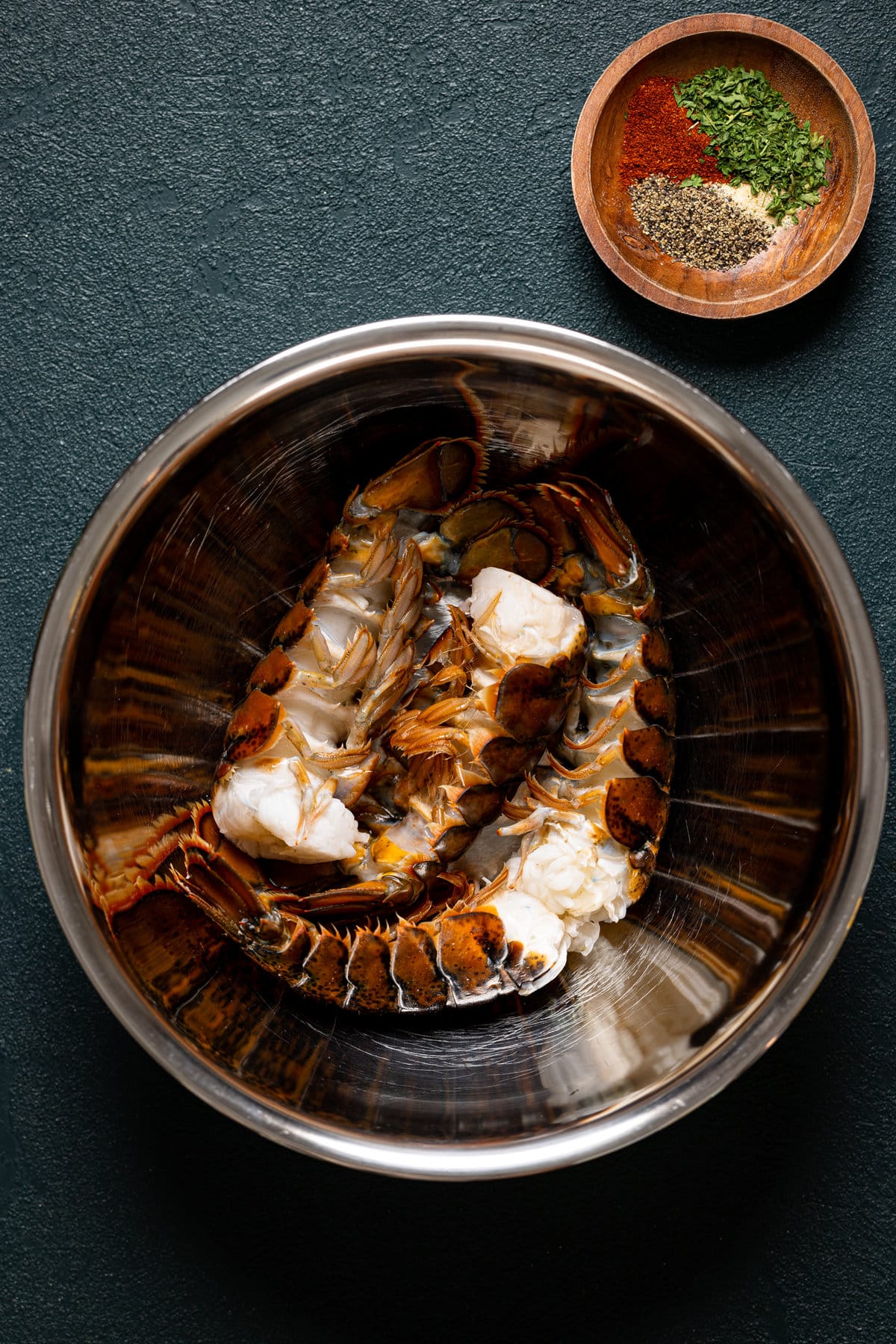 Is Creamy Tuscan Lobster Pasta Easy To Make?
I still remember the first time I tried making lobster pasta at home. I was a bit intimidated at first, but boy was I pleasantly surprised! It was like a burst of flavor in every bite, and yet it was so easy to put together.
This recipe is fairly quick to make, especially since the lobsters are baked in the oven which gives you time to boil the pasta then make the sauce, toss, and wallah!
Overall, this lobster pasta is definitely a easy weeknight meal aka comfort food in a bowl, includes simple steps, and can totally be personalized based on preference----i.e. sub with shrimp, scallops, or another meat like chicken, dairy-free option, etc.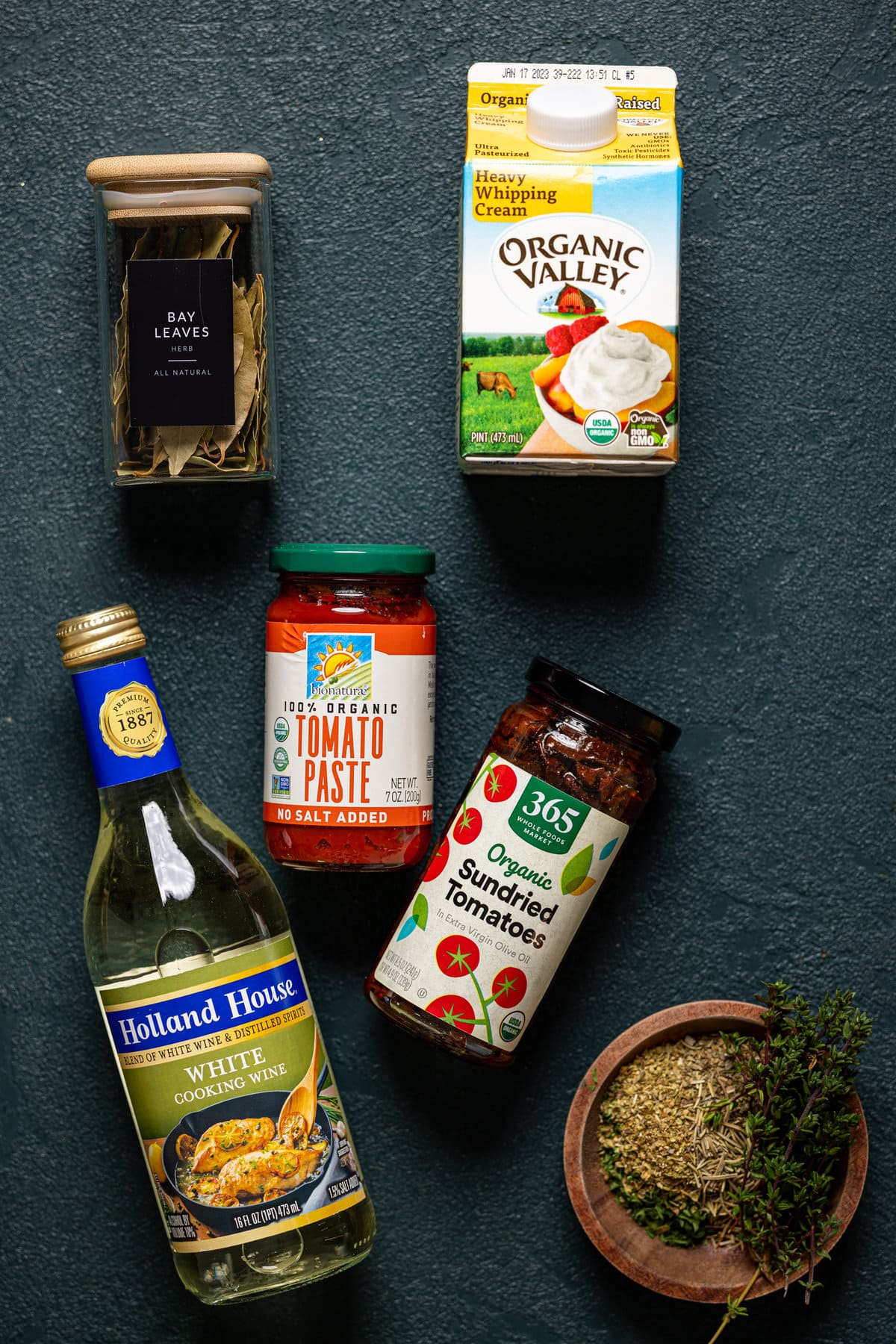 How to Make Creamy Tuscan Lobster Pasta
This Creamy Tuscan Lobster Pasta is an easy weeknight meal, but it does have three components: well-seasoned + cooked lobster tails, a simple dried Tuscan blend, and the pasta itself.
Ingredients for Creamy Tuscan Lobster Pasta
Here's what you need to make this Creamy Tuscan Lobster Pasta at home:
Tagliatelle. I like to use organic and a high-quality brand! However, you can sub with Fettuccine or Pappardelle. For a last resort, you can use Linguine.
Wild lobster tails. If yours are fresh, defrost them before starting to make the pasta.
Chicken or vegetable or seafood stock. Use store-bought organic, low-sodium broth or make your own! For a dairy-free or vegan option, use veggie stock.
Heavy cream. I recommend organic–always! Of course, for a dairy-free option, just use full-fat coconut cream/milk.
Olive oil. You can also use Grapeseed oil or coconut oil as well.
Sun-dried tomatoes. Choose an organic bottle of sun-dried tomatoes or make your own

roasted tomatoes

.
Garlic. I prefer fresh, but you could substitute with ½ teaspoon garlic powder in a pinch.
Herbs + Seasonings. A great addition of flavor. You can make your own tuscan herb blend!
Parmesan cheese. You could also use pecorino romano. For a dairy-free option, So Delicious Dairy-Free or Violife cheese shreds tastes great.
White wine. Optional. Choose a dry wine that you like the taste of.
Red tomato paste. This is my secret flavor-enhancer and the thing that gives this dish some color.
Kale. Use fresh for best results, but frozen also works! Ensure that it's chopped.
Lemon juice. You can use store-bought or freshly-squeeze juice from an actual lemon.
Butter. Use unsalted butter to control the flavor of the lobster tails.
What Makes this Dish SO Creamy?
While you might think that most of the creaminess of this pasta comes from the heavy cream added (from my go-to brand Organic Valley by the way), the truth is that most of it actually comes from the parmesan cheese. Yup, that's right.
Personally, I love using the full brick of parmesan cheese as opposed to the powdered version. For one, you're able to cut off a lot more cheese as opposed to the finely grated Parmesan cheese that you would normally purchase, which is usually almost invisible like powder and takes a TON to bring forth this kind of creaminess (granted, there isn't anything wrong with this version, don't get me wrong!).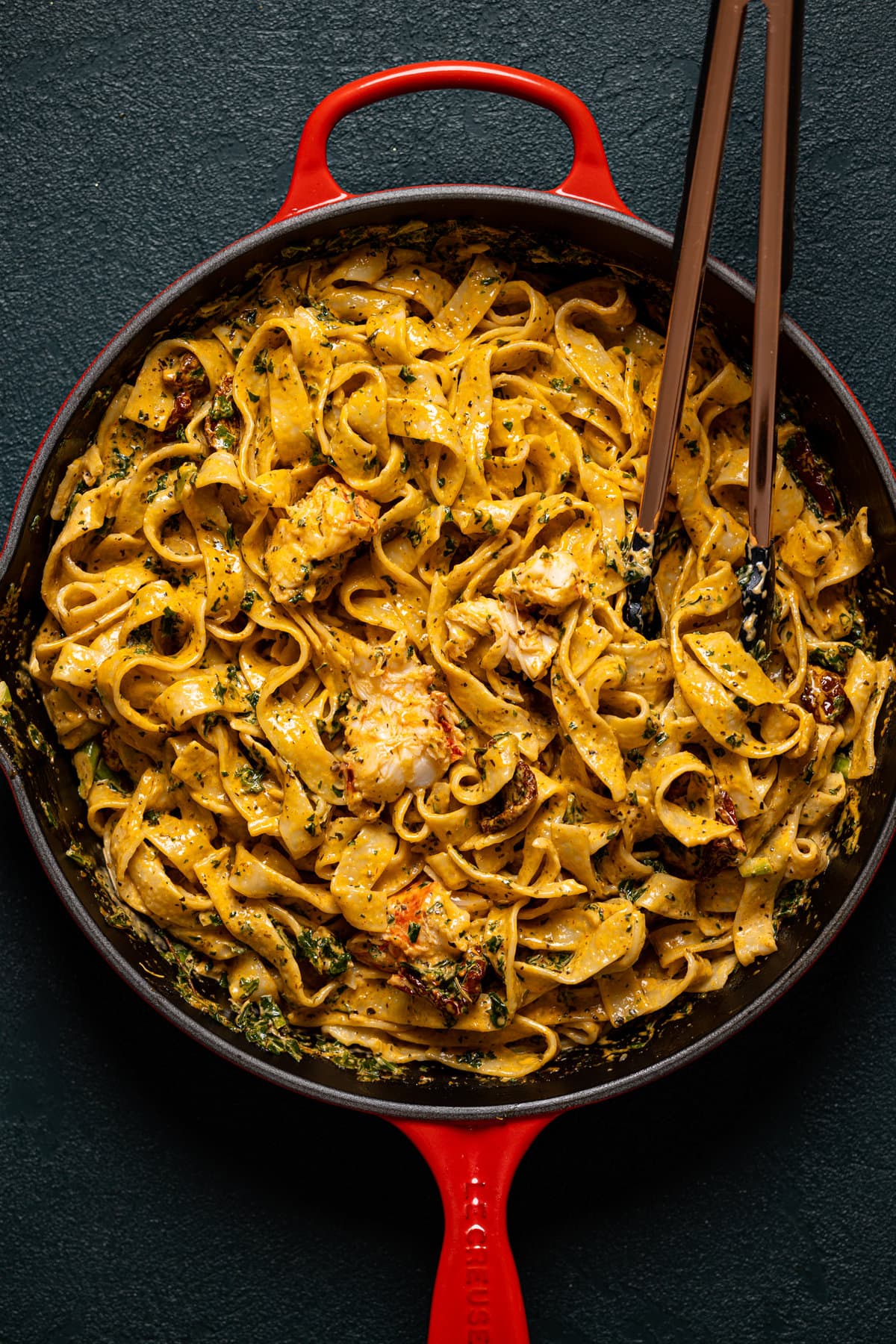 Homemade Tuscan Seasoning Blend
Sure, you can find pre-made seasoning blends at the grocery store. But there's nothing like the fresh, customized flavor you get by making your own blend. The herbs and spices in the Tuscan spice mix for this recipe are inspired by the fresh herbs that grow in Italy, mixed with a bit of heat from smoked paprika.
You can store the seasoning blend in an airtight container at room temperature for up to a month. Use it on anything from simple roasted vegetables to salad dressing to herb oil for dipping bread.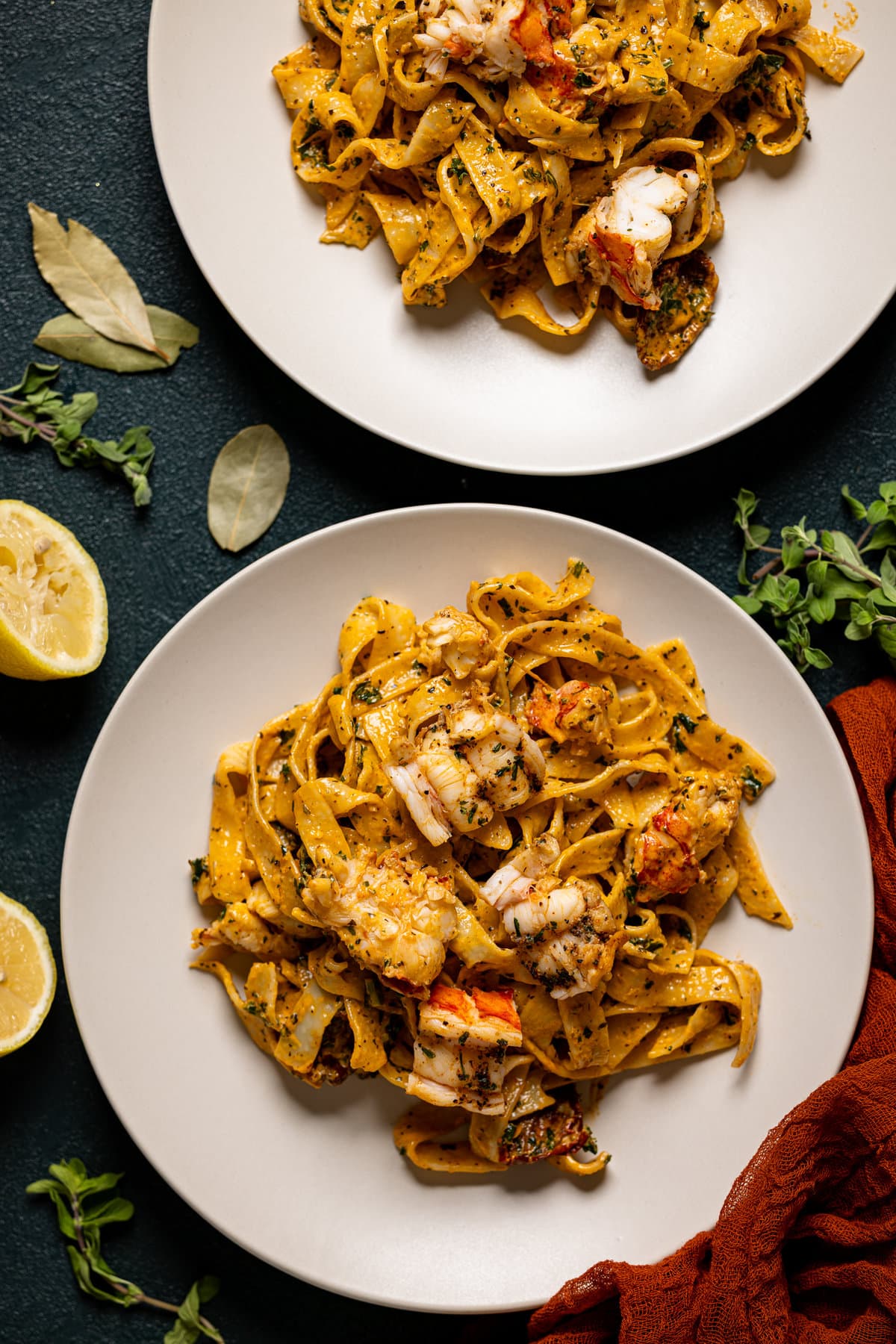 Creamy Tuscan Lobster Pasta Q + A's
What is Tagliatelle?
All in all, Tagliatelle is a long, flat ribbon-like shaped pasta made from semolina, which is a type of coarse flour. It derives from the Italian term "tagliare", which translates to "cut up". Basically, the process of making Tagliatelle is by rolling the dough into flat sheets and cutting them into ribbons----hence the shape.
How Long To Cook Tagliatelle?
Like with many other types of pasta, you bring a pot of water to a boil, add the Tagliatelle along with olive oil or salt, and let it simmer for 7-10 minutes, depending on the packaging and brand and whether you're using fresh pasta vs. dried pasta. Fresh pasta cooks more quickly than dried ones.
The Best Substitutes for Tagliatelle Pasta.
If you aren't a fan of Tagliatelle or just don't have it on hand, the best alternative pasta are: Fettuccine or Pappardelle---which are both ribbon pasta as well. In addition, you can also use Linguine if you don't have either of the first two!
Is Lobster Worth The Price?
I must admit--lobster can be a bit pricey. However, it's just so amazing and I enjoy it on occasion, especially now! I love using lobster tails for this recipe because they're more affordable and easy to work with.

But if you're feeling adventurous and want to break down a whole lobster, go for it! It'll be worth it, I promise. And if you're more of a chicken lover, I recommend this Creamy Tuscan 'Marry Me' Chicken with similar flavors it's SO good!
What Can Be Used in Place of Kale in this Creamy Pasta?
Although, kale is the most common veggie used in this Creamy Tuscan Lobster Pasta, you can definitely use other greens such as spinach, collard greens, bokchoy, etc. for a nice twist!

When it comes to vegetables, there are so many benefits as we all know. While some veggies pack a greater punch when it comes to nutrients, we've curated a special list of our Our Top 12 Favorite Healthy Green Leafy Vegetables! Most of these are super popular while others are under utilized in many dishes. Lettuce Eat, Shall We?
Storing + Reheating Leftover Pasta?
Store leftovers in an airtight container in the fridge for up to four days. This makes a great meal prep recipe for a satisfying lunch! Reheat in the microwave or on the stove to serve. Add a bit of heavy cream (about ½ cup or so) for a creamy base to be revived again.
Can I Make Dairy-Free Creamy Tuscan Lobster Pasta?
Yes! To make this sauce dairy-free, simply use vegan butter instead of the regular butter. Then swap the cream with full-fat coconut milk or coconut cream. And use your favorite dairy-free shredded cheese or nutritional yeast instead of parmesan. Also, stick with veggie stock.
What is the Difference between Fettuccine and Tagliatelle?
Both pastas are very similar which is why they are often compared to each other. In addition, both pastas are strand pastas that are cut into long, flat ribbons. However, the main difference between the two is that while tagliatelle is made with egg along with semolina, fettuccine does not contain egg.
Why does Tagliatelle taste different?
Although Tagliatelle pasta is made with the same ingredients as other similar pastas, believe it or not---the difference in shape changes things! Differences in texture will affect how we experience both the taste of the sauce and the pasta in any dish.
Why is my Tagliatelle sticky?
Basically, if there isn't enough water when boiling your Tagliatelle, then the pasta will get mushy and sticky. Also, be sure to always use cold water for boiling.
Does Olive oil prevent pasta from sticking?
Despite this popular myth---unfortunately, olive oil doesn't prevent pasta from sticking together. Because pasta often floats to the top of the water while the it's cooking in the water, having the oil there does nothing to prevent the pasta from sticking together while cooking. Instead, just make sure that you use enough water for boiling (it should cover the pasta entirely), bring water to a complete rolling boil before adding pasta in, and stir the pasta a few minutes after it begins to cook.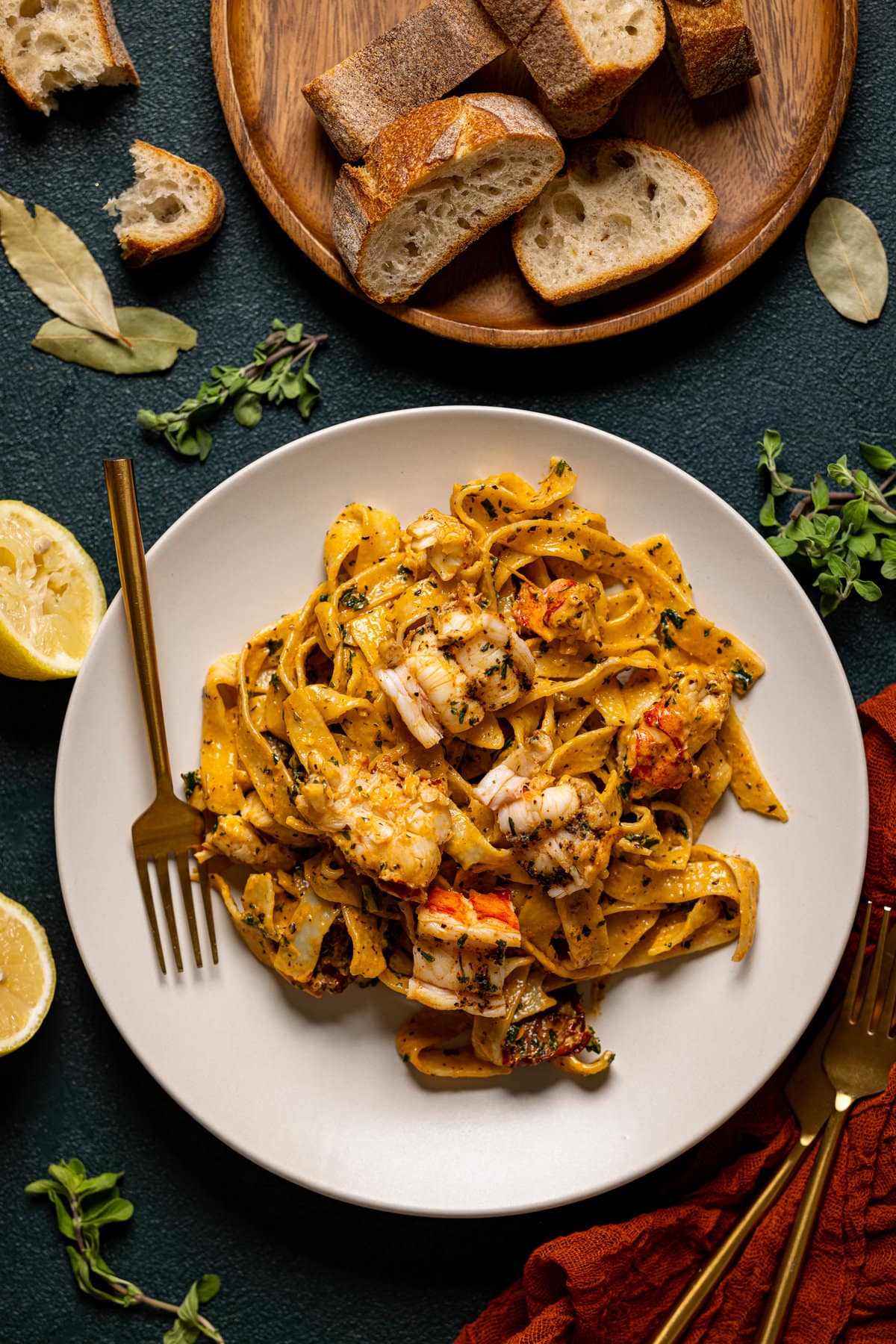 What Other Meats Work for this Creamy Lobster Pasta?
For this specific creamy pasta recipe, I chose to use lobster tails, however, there are so many options that can help to elevate this entire dish outside of lobster meats based on the use of any of the following:
Chicken
Steak
Entirely meatless
Shrimp
Scallops
Mushroom
Grilled or roasted veggies
What Are Delicious Foods to Pair This Pasta With?
When it comes to most pasta dishes, I often enjoy them with a side of bread of some sort. Most times, I make my own homemade Garlic Bread, however, you can choose to spruce things up with many other options such as: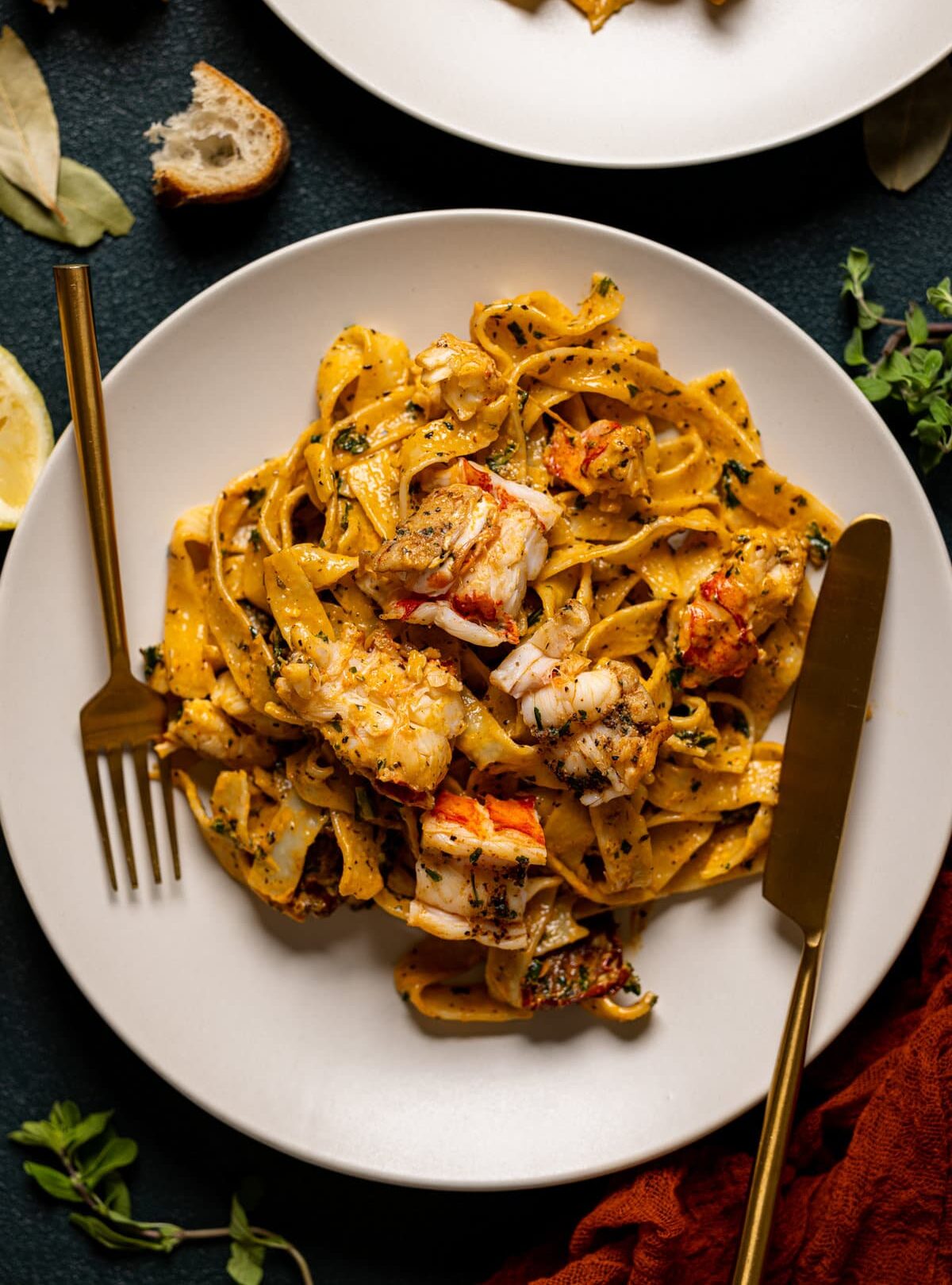 More Delicious Tuscan Recipes:
Love this Creamy Tuscan Lobster Pasta recipe? Try these other Tuscan-inspired dishes next!
MADE OUR RECIPE(S)?
If you make this Creamy Tuscan Lobster Pasta, I'd love to see your creations! Tag @orchidsnsweettea_ on Instagram and hashtag it #orchidsandsweettea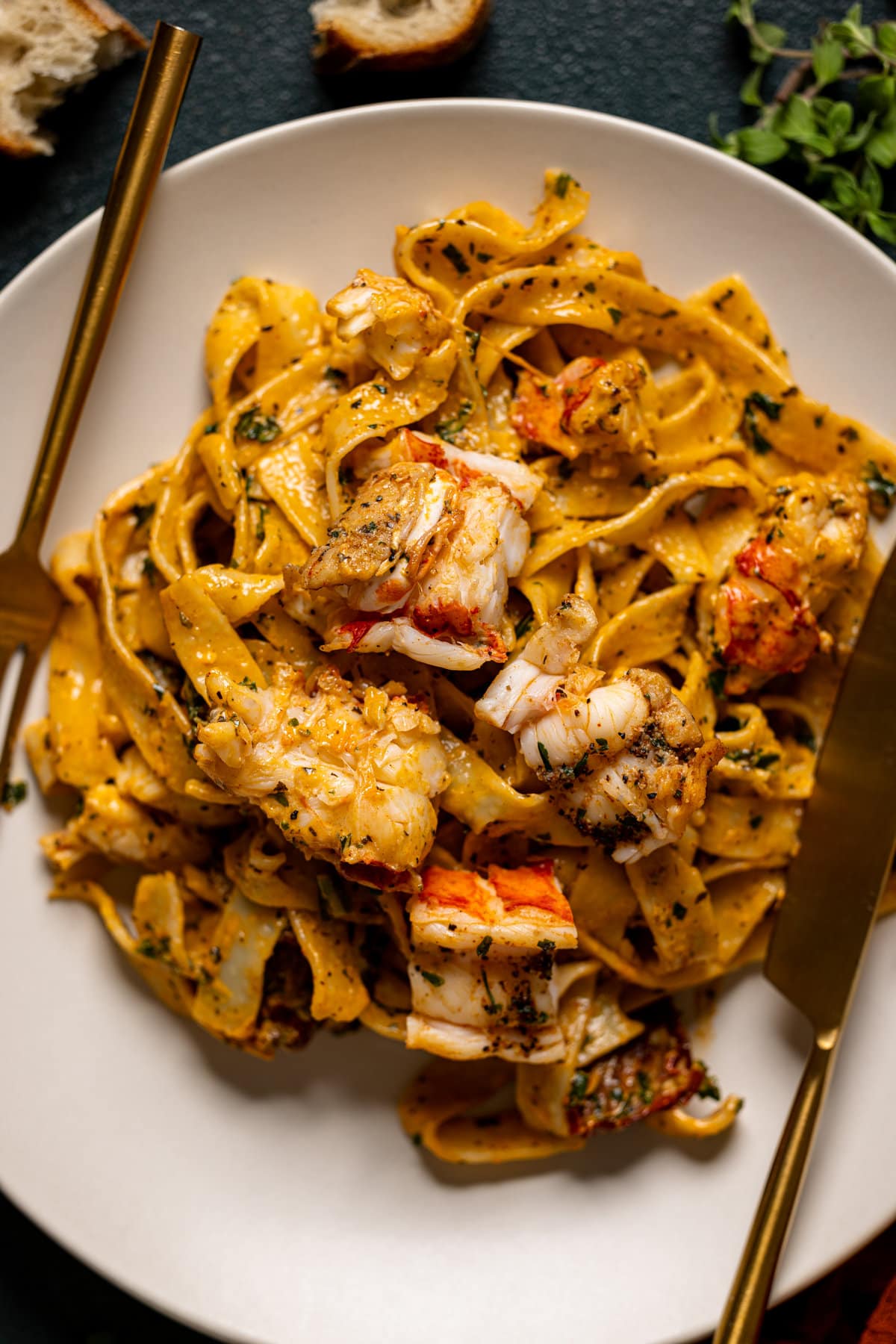 LOBSTER:
4-6

(6 oz.)

wild lobster tails

2

Tbsps

unsalted butter, melted

1

teaspoon

sea salt

1

teaspoon

garlic powder

1

teaspoon

black pepper

1

teaspoon

smoked paprika
SAUCE:
2

Tbsps

Extra virgin olive oil

4

garlic cloves, minced

5-6

organic sun-dried tomatoes

1 ¼

cups

organic heavy cream

½

cup

organic stock

(You can use chicken, seafood, or veggie)

2

Tbsps

white cooking wine

1-2

Tbsps

Tuscan blend

1

tablespoon

freshly-squeezed lemon juice

½

cup

freshly-grated parmesan cheese

1

tablespoon

organic tomato paste
HOMEMADE TUSCAN BLEND:
1

tablespoon

smoked paprika

2

tsps

dried parsley

2

tsps

dried basil

2

tsps

dried oregano

1

teaspoon

sea salt

1

teaspoon

black pepper

1

teaspoon

dried thyme

1

teaspoon

garlic powder

½

teaspoon

dried rosemary

2

bay leaves
COOK THE PASTA:
Cook pasta according to packaging. NOTE: Tagliatelle cooks about the same time as other pastas, usually 7-10 minutes, depending on brand.
PREPARE THE LOBSTER TAILS:
Preheat your oven to 400 degrees Fahrenheit and lightly grease a 10-inch or 12-inch oven-safe skillet.

To prep lobster tails, slightly crack shell and remove most of lobster meat outside of shell without completely detaching shell from meat and remove any "grey lining", and rinse with water and vinegar to clean. Pat dry. NOTE: Slightly detaching meat from shells allows the lobster meat to fully cook through with shell blocking it.

Add lobster tails to prepped skillet and generously brush tops of lobster meat with butter-seasoning mixture and bake them for 10-15 minutes or so. NOTE: Once lobster are completely cooked, they will turn light pink in color fully.

 Once lobsters are cooked through, remove from oven and let cool slightly before removing the meat entirely from the shells and cutting them into medium-sized chunks or leaving them whole----whichever your prefer. Set aside.
TO MAKE THE CREAMY TUSCAN SAUCE:
In a medium skillet over medium-high heat, add the olive oil. Add the garlic cloves and sauté for 1 minute or so, until fragrant.

Add the sun-dried tomatoes and sauté until translucent + fragrant, about 1-2 minutes. Add 1-2 Tbsps tuscan blend seasonings, stirring until combined. Add the tomato paste and continue to stir until combined.

Reduce the heat to medium-low and slowly add in the heavy cream, stock, lemon juice, and white wine, stirring until combined. Let it slightly bubble for 1-2 minutes and then add in the grated parmesan, whisking until fully melted and sauce thickens, about 2-3 minutes. Add in the chopped kale, stirring until combined and let it simmer for 2-3 minutes, stirring frequently.

When the Tagliatelle pasta is done, drain it and add it to the sauce, tossing until sauce fully coats + sticks to pasta. Feel free to add lobster chunks to coat them, if desired. If not, add pasta to prepare plate(s) or bowl(s) and top with lobster meat chunks. Serve immediately!
STORAGE: Any leftovers can be kept in a tightly sealed container and refrigerated for up to 3-4 days.
OIL: You can also use coconut oil or grapeseed oil, instead of olive oil.
PASTA: You can use long pastas like 

Pappardelle, Fettuccine, etc. however, I would recommend tossing with tongs to ensure that pasta is fully manageable and fully coated. Otherwise, other pastas such as Penne, Rigatoni, Paccheri, Orecchiette, etc. are perfect.

GREENS: To add a bit more flavor to this dish, you can always feel free to add in your favorite greens such as spinach, broccolini, collards, or asparagus.
OTHER MEAT OPTIONS: If you'd like to switch things up, see post for more alternatives!
TUSCAN SEASONING (STORAGE): Any leftover tuscan blend seasoning can be stored in a ziplock bag for later use or used as garnish. 
Calories:
473
kcal
|
Carbohydrates:
14
g
|
Protein:
9
g
|
Fat:
44
g
|
Saturated Fat:
24
g
|
Polyunsaturated Fat:
3
g
|
Monounsaturated Fat:
14
g
|
Trans Fat:
0.2
g
|
Cholesterol:
111
mg
|
Sodium:
1462
mg
|
Potassium:
435
mg
|
Fiber:
5
g
|
Sugar:
4
g
|
Vitamin A:
5996
IU
|
Vitamin C:
35
mg
|
Calcium:
359
mg
|
Iron:
4
mg