Delight your loved ones with a scrumptious and personalized family favorite - Easy Weeknight Creamy Tuscan Ravioli. This comforting one-pot pasta is perfect for busy evenings, as it combines the convenience of a quick meal with irresistible flavors. Imagine tender ravioli enveloped in a creamy, lemon-infused sauce, complemented by wilted kale and herb-roasted tomatoes. This simple pasta recipe is crowned with a herby-cheesy touch that will have everyone asking for seconds. Ready in less than 30 minutes! Dairy-free + Vegan Option.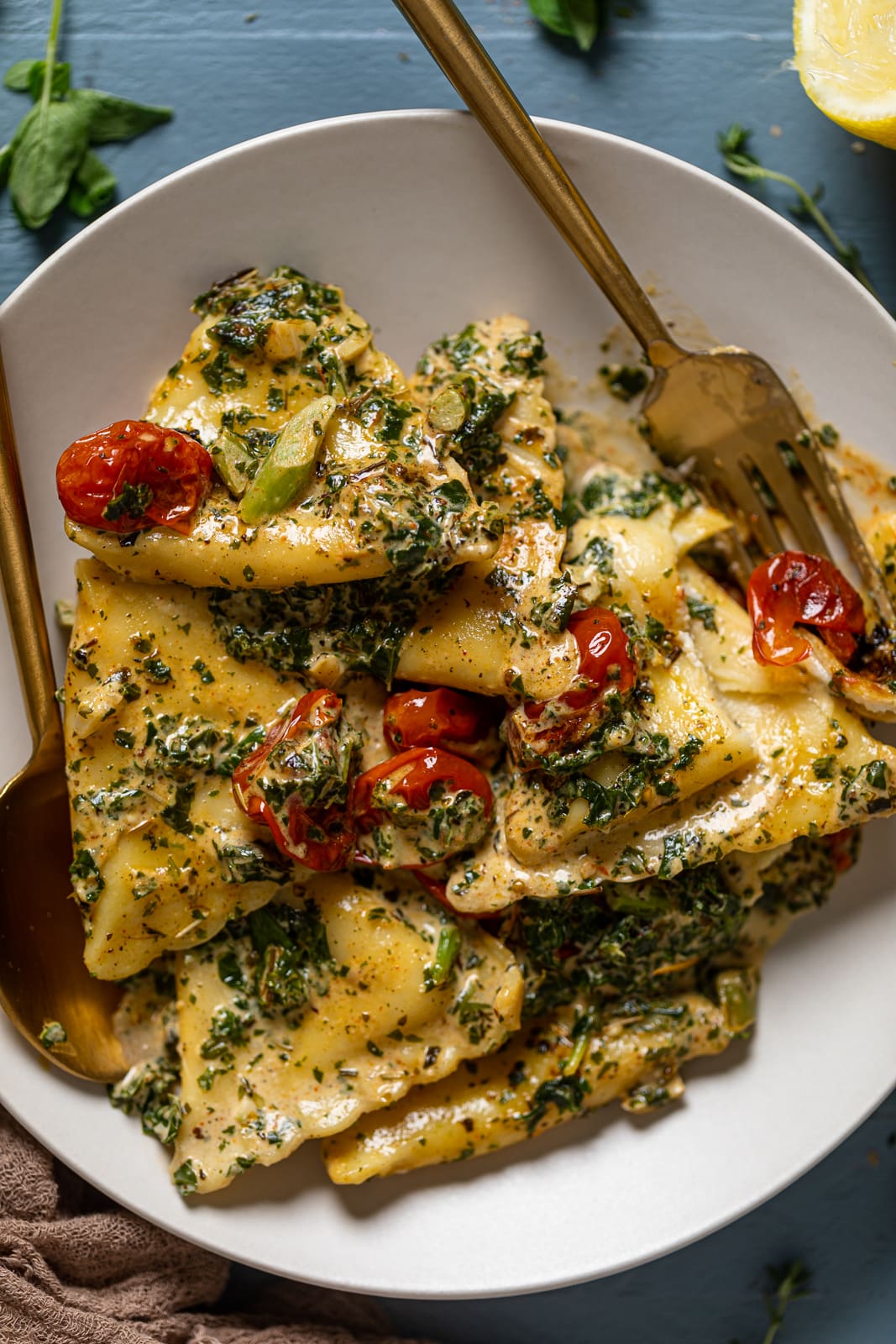 Why Creamy Tuscan Ravioli?
Whenever I'm in the mood for a quick, easy weeknight meal, my first instinct is almost always pasta. My family loves this Weeknight Creamy Chicken Alfredo and this Meatless Pumpkin Skillet Lasagna. The best thing about pasta is that it's so versatile, and there are so many options (shapes + sizes) to choose from. And Ravioli, AKA little tasty pillows of heaven, make a big appearance on Orchids + Sweet Tea, and this Hubby's Date Night Vodka Ravioli is no exception!
Jump to:
But today, we are here for Creamy Tuscan Ravioli, and boy, oh boy, are you in for a treat! It's packed with deeply rich and savory flavors from jammy tomatoes and a fragrant Tuscan herb blend that can be stored for future use. It's a total staple in my house, the perfect one-pot pasta recipe!
What is Creamy Tuscan Ravioli?
Creamy Tuscan ravioli is a play of Tuscan-style chicken, which comes based on herbs and a sun-dried tomato sauce. While you can use sun-dried tomatoes in this recipe to keep things more traditional, I definitely like making my Herb Roasted Tomatoes which mimic them rather well! You can make them ahead of time in the oven, then keep the tomatoes in the fridge unit you're ready to make the pasta. They'll stay fresh for up to three days in an airtight container!
Plus, this dish is the "main dish" as opposed to a side to some sort of meat, so it creates a nice, light, easy feel for dinner.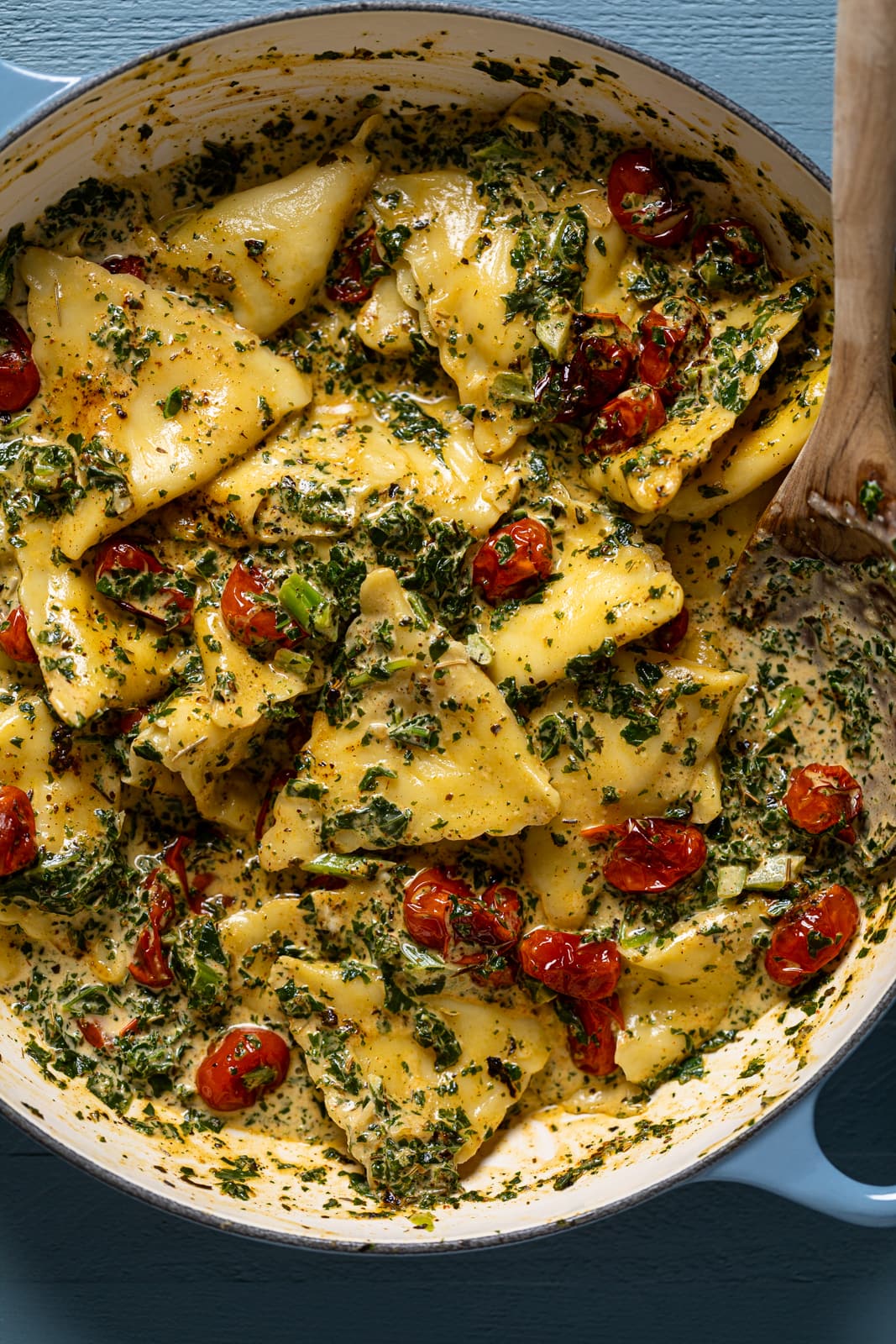 How to Make Easy Weeknight Creamy Tuscan Ravioli
This is a very simple pasta recipe, but it does have three components: jammy roasted tomatoes, a simple dried Tuscan blend, and the ravioli itself.
Creamy Sauce Ingredients
Here's what you need to make this fast, creamy one-pot pasta recipe:
Butter. Use unsalted butter to control the flavor of the dish.
Garlic. I recommend fresh, but you could use ½ teaspoon granulated garlic.
Vegetable stock. Use low-sodium store-bought or make your own.
Heavy cream. I recommend organic--always!
White wine. Choose a dry wine that you like the taste of.
Lemon juice. You can use store-bought or freshly-squeeze juice from an actual lemon.
Parmesan cheese. You could also use pecorino romano.
Kale. Use fresh for best results, but frozen also works! Ensure that it's chopped.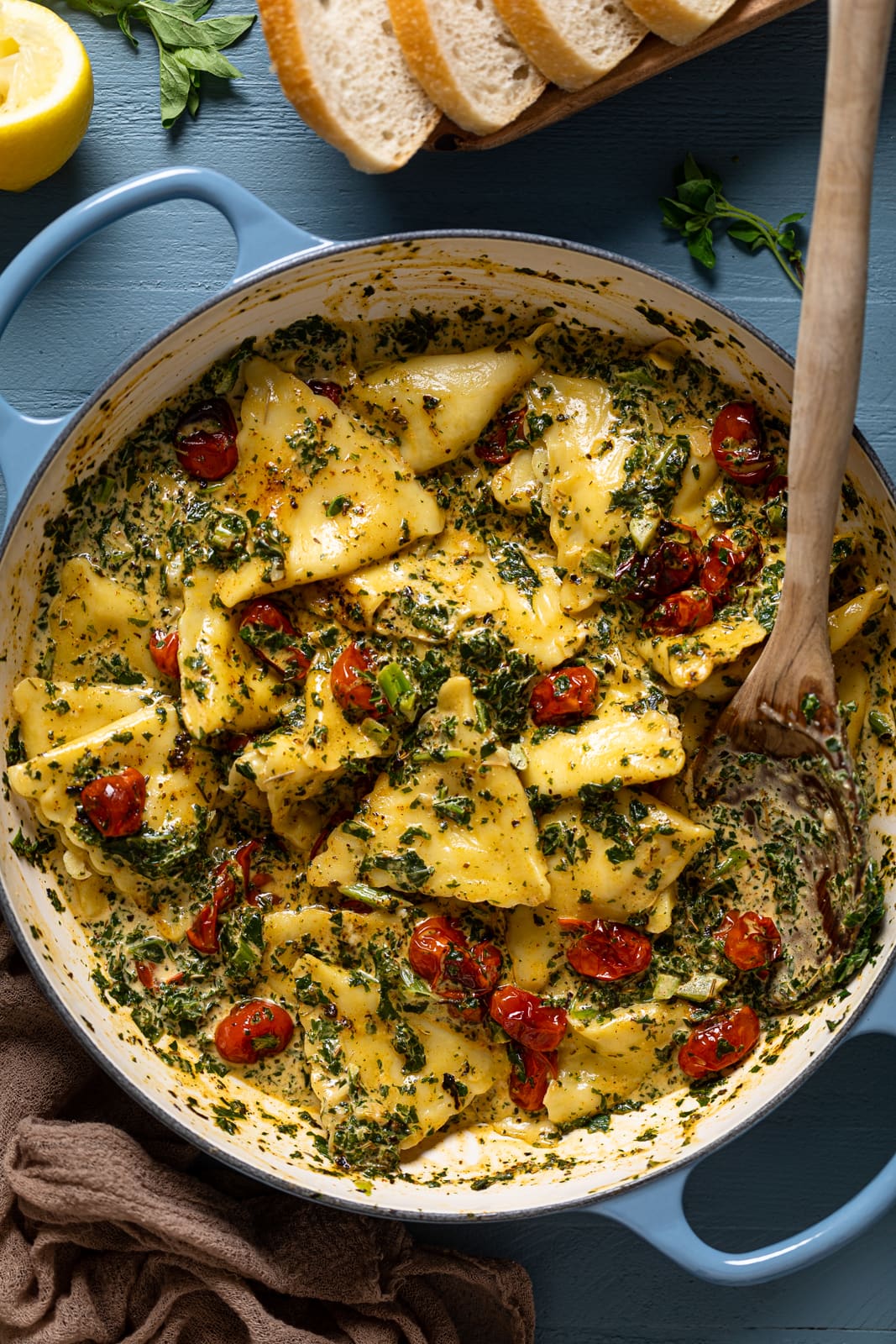 Homemade Tuscan Seasoning Blend
Sure, you can find pre-made seasoning blends at the grocery store. But there's nothing like the fresh, customized flavor you get by making your own blend. The herbs and spices in the Tuscan spice mix for this recipe are inspired by the fresh herbs that grow in Italy, mixed with a bit of heat from smoked paprika.
You can store the seasoning blend in an airtight container at room temperature for up to a month. Use it on anything from simple roasted vegetables to salad dressing to herb oil for dipping bread.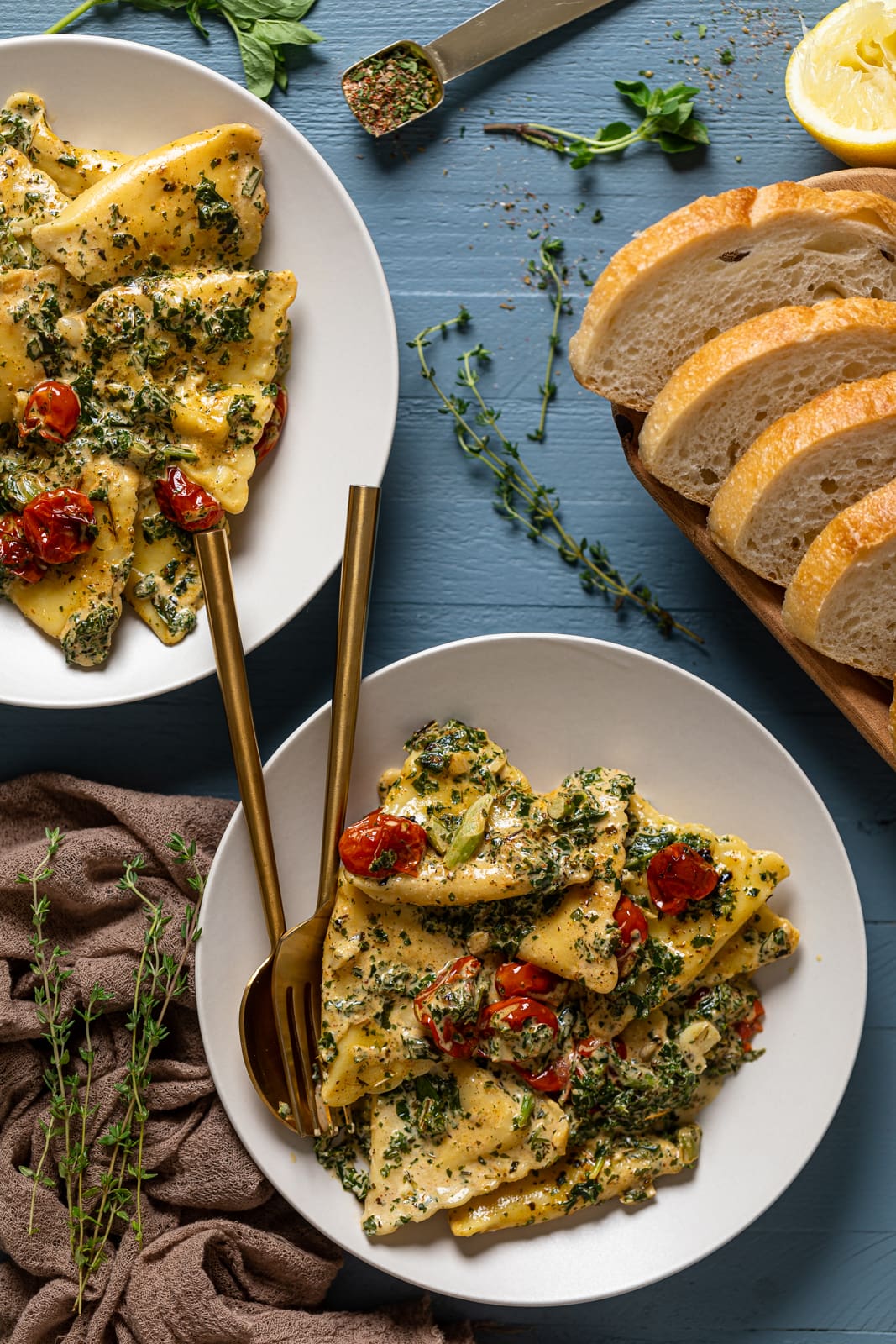 What Kind of Ravioli Fillings Work for this Creamy Pasta
For this specific one-pot pasta recipe, I chose to use cheese ravioli. However, there are so many options (whether homemade or store-bought) that can help to elevate this entire dish based on the use of any of the following ravioli:
Chicken
Sausage
Vegan filling options
Spinach and Ricotta
Lobster or Seafood stuffed
Mushroom
Four cheese
Add Ons
Although this Creamy Tuscan Ravioli is amazing on its own, if you feel like adding a little extra flare, here are some ideas -
Veggie
Roasted chickpeas for added crunch and protein
Grilled eggplant or zucchini slices
Marinated artichokes
Sliced Kalamata olives for a tangy twist
Crumbled tofu or tempeh for a meaty texture
Steamed broccoli florets for added greenery
Dollops of Pesto Sauce
Meat
If you aren't restricted to only meatless options, then you can spruce things up by adding -
Grilled or roasted chicken strips
Sliced Italian sausage (spicy or mild)
Chopped bacon or pancetta
Shrimp or lobster
Sliced grilled steak or beef strips
What Are Delicious Foods to Pair This Pasta With?
Here's the thing. This Creamy Tuscan Ravioli is so delicious and flavorful that you can honestly enjoy it all by itself. Seriously, the fluffy, tender ravioli pillows + aromatic tomato Tuscan sauce is everything! So, feel free to dig in and savor every single bite. It's a dish that stands tall on its own!

But if you're anything like me (A huge bread lover Haha), then I recommend enjoying some crusty bread on the side. I make my own homemade Cheesy Kale Garlic Bread -- it is an amazing vessel for scooping up every last drop of saucy goodness.
If you're looking for a burst of freshness, try serving it alongside a delicious salad, I love it paired with this Roasted Cauliflower Green Goddess Salad or this Healthy Loaded Kale Salad with Spicy Chickpeas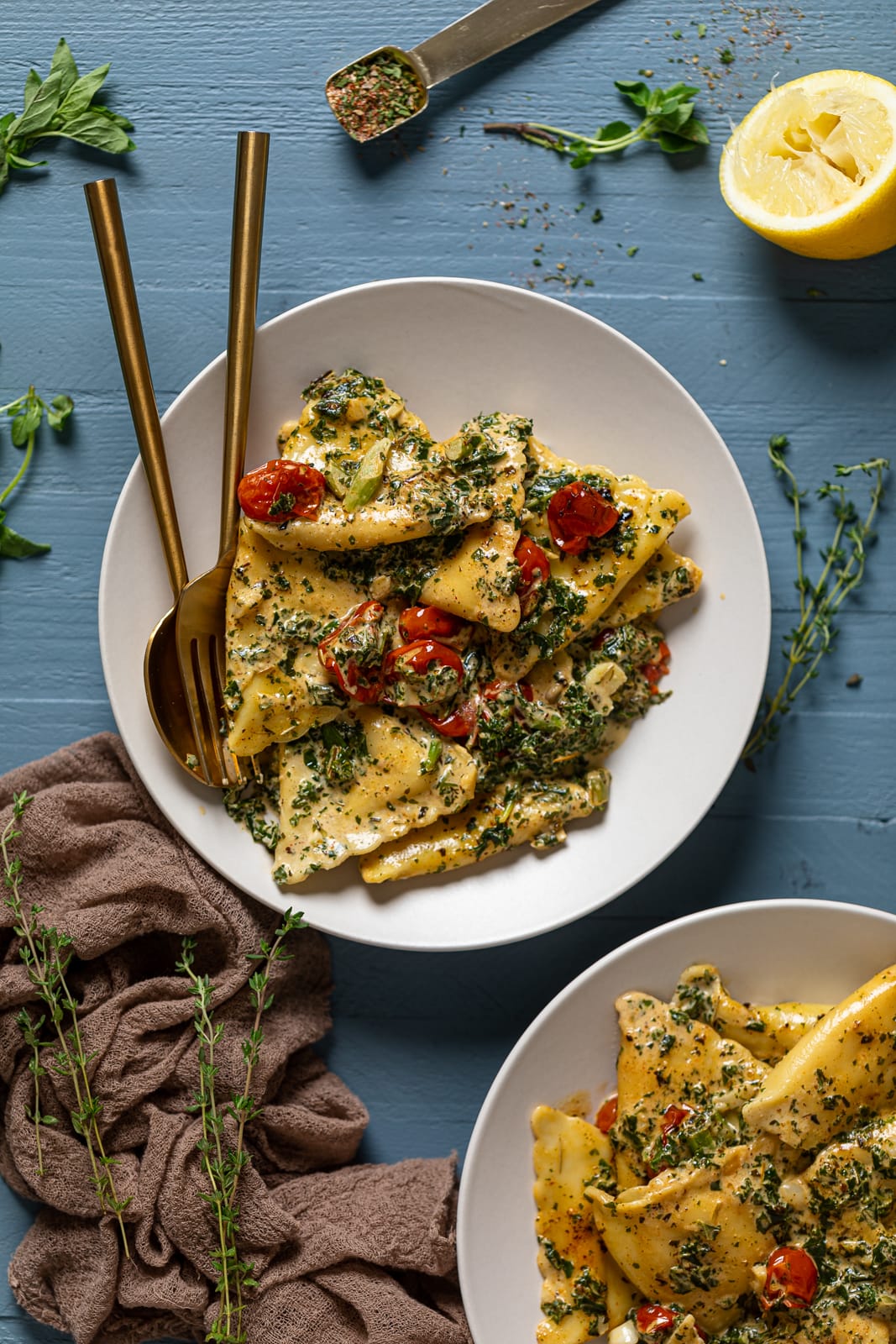 Why You Will LOVE This Tuscan Ravioli
Creamy, dreamy, and oh-so-delicious!
Bursting with Tuscan flavors that will transport your taste buds to Italy.
A one-pot wonder, making cleanup a breeze.
Perfect for busy weeknights
It's a crowd-pleaser, loved by both kids and adults.
Creamy Tuscan Ravioli Q + A's
How Do I Store One-pot Pasta Leftovers?
Store leftovers in an airtight container in the fridge for up to four days. This makes a great meal prep recipe for a satisfying lunch! Reheat in the microwave or on the stove to serve.
Can I Make Dairy-Free + Vegan Creamy Tuscan Pasta?
Yes! To make this sauce dairy-free, simply use vegan butter instead of regular butter. Then swap the cream with full-fat coconut milk or coconut cream. And use your favorite dairy-free shredded cheese or nutritional yeast instead of parmesan. As for the pasta, simply use a vegan-friendly ravioli as a great substitute!

Can I Use Store-bought Ravioli for This Recipe?
Absolutely! Store-bought ravioli is what I use for this pasta recipe. It's a convenient option that saves time and effort. Just make sure to choose a flavor that complements the creamy Tuscan sauce, such as cheese or spinach-filled ravioli.
Is It Possible To Make This Creamy Ravioli Gluten-free?
Yes, you can easily make this one-pot pasta gluten-free by using gluten-free. Many stores now offer gluten-free ravioli options made from rice flour, corn flour, or other gluten-free grains.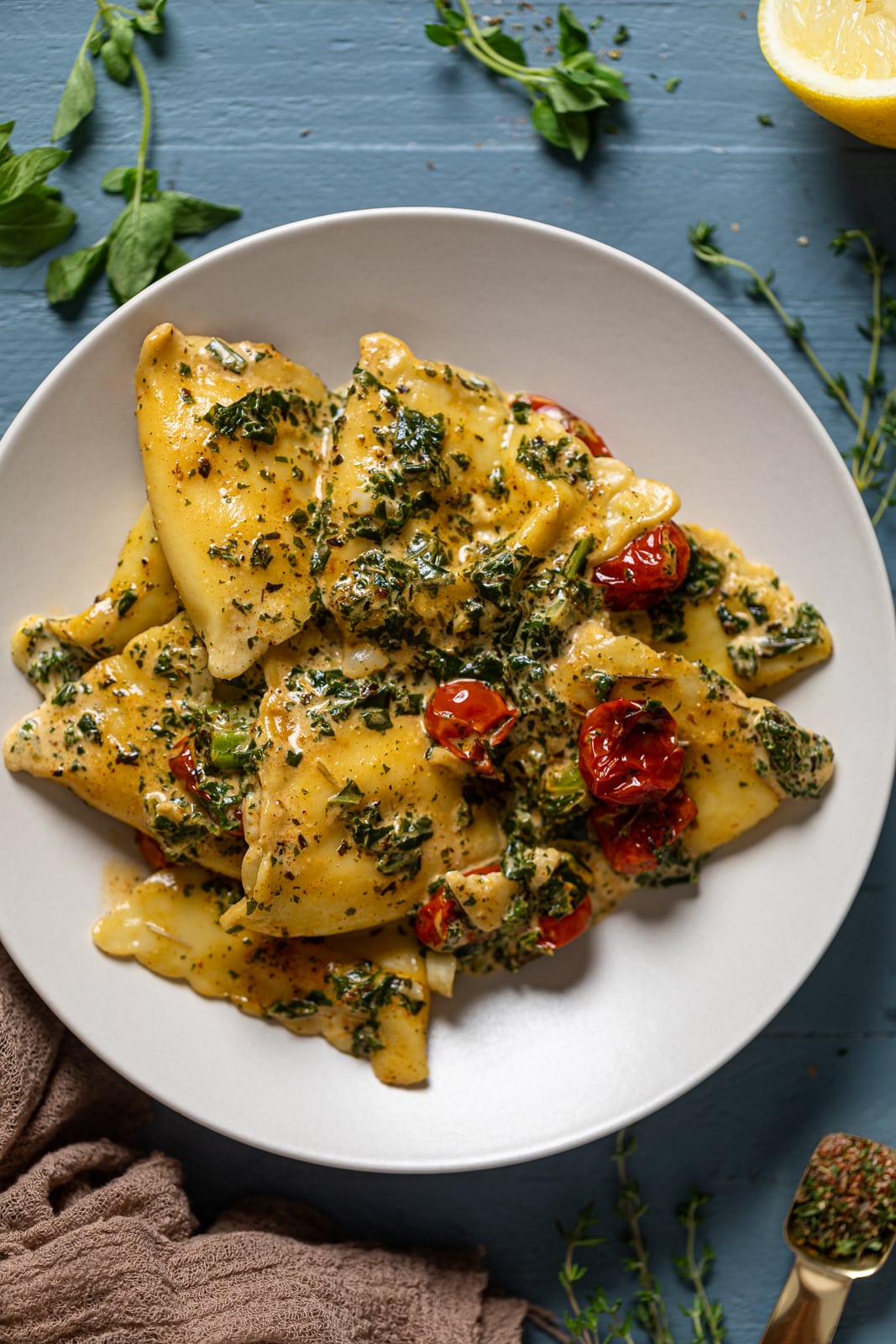 More Delicious Pasta Recipes
MADE OUR RECIPE(S)?
If you make this Easy Weeknight Creamy Tuscan Ravioli, I'd love to see your creations! Tag @orchidsnsweettea_ on Instagram and hashtag it #orchidsandsweettea
2

(8 oz.) packages

organic cheese ravioli 

(I love using Artisola)

2

cups

chopped kale

2

cups

Herb roasted tomatoes
HOMEMADE TUSCAN BLEND:
1

tablespoon

smoked paprika

2

tsps

dried parsley

2

tsps

dried basil

2

tsps

dried oregano

1

teaspoon

sea salt

1

teaspoon

black pepper

1

teaspoon

dried thyme

1

teaspoon

garlic powder

½

teaspoon

dried rosemary
CREAMY SAUCE:
2

Tbsps

unsalted butter

4

garlic cloves, minced

1 ¼

cup

organic heavy cream

½

cup

vegetable stock

2

Tbsps

white cooking wine

1-2

Tbsps

Tuscan blend

1

tablespoon

freshly-squeezed lemon juice

½

cup

freshly-grated parmesan cheese
COOK THE PASTA:
Cook pasta according to packaging. NOTE: ravioli doesn't take a long time to cook, usually 4-5 minutes, depending on brand.
TO MAKE THE CREAMY TUSCAN SAUCE:
In a medium skillet over medium-high heat, add 1 tablespoon of butter until melted.

Add the garlic cloves and sauté for 1 minute or so, until fragrant. Add in 1-2 Tbsps tuscan blend seasonings and stir until well combined.

Reduce the heat to medium-low and slowly add in the heavy cream, veggie stock, lemon juice, and white wine, stirring until combined. Let it slightly bubble for 1-2 minutes and then add in the grated parmesan, whisking until fully melted and sauce thickens, about 2-3 minutes. Add in the chopped kale, stirring until combined and let it simmer for 2-3 minutes, stirring frequently.

Add in the roasted herb tomatoes and continue to stir until combined. NOTE: At this point, the sauce should change in color a bit, which is great!

When the ravioli is done, drain it and add it to the sauce, stirring until sauce fully coats + sticks to pasta. Serve immediately!
STORAGE: Any leftovers can be kept in a tightly sealed container and refrigerated for up to 3-4 days.
PASTA: You can use long pastas like 

Pappardelle, Fettuccine, etc. however, I would recommend tossing with tongs to ensure that pasta is fully manageable and fully coated. Otherwise, other pastas such as Penne, Rigatoni, Paccheri, Orecchiette, etc. are perfect.

GREENS: To add a bit more flavor to this dish, you can always feel free to add in your favorite greens such as spinach, broccolini, collards, or asparagus. 
MEAT OPTION: If you'd like to switch things up and aren't restrictive to non-meat, feel free to add chicken breasts, shrimp, or lobster to this pasta for extra decadence. 
TUSCAN SEASONING (STORAGE): Any leftover tuscan blend seasoning can be stored in a ziplock bag for later use or used as garnish. 
Calories:
811
kcal
|
Carbohydrates:
65
g
|
Protein:
26
g
|
Fat:
50
g
|
Saturated Fat:
27
g
|
Polyunsaturated Fat:
2
g
|
Monounsaturated Fat:
9
g
|
Trans Fat:
0.2
g
|
Cholesterol:
171
mg
|
Sodium:
1861
mg
|
Potassium:
365
mg
|
Fiber:
9
g
|
Sugar:
9
g
|
Vitamin A:
6265
IU
|
Vitamin C:
37
mg
|
Calcium:
413
mg
|
Iron:
16
mg
Easy Weeknight Creamy Tuscan Ravioli.