Get ready to fall in love with a dish that will transport your taste buds to culinary bliss- Lemon Garlic Shrimp Pasta. Just imagine succulent shrimp, perfectly cooked pasta, and a sauce bursting with the zesty brightness of lemon and the comforting aroma of garlic. Each bite is a symphony of tastes that will leave you craving for seconds. It's a fast weeknight dinner that will win the hearts of your family and friends. Dairy-free + Gluten-free option.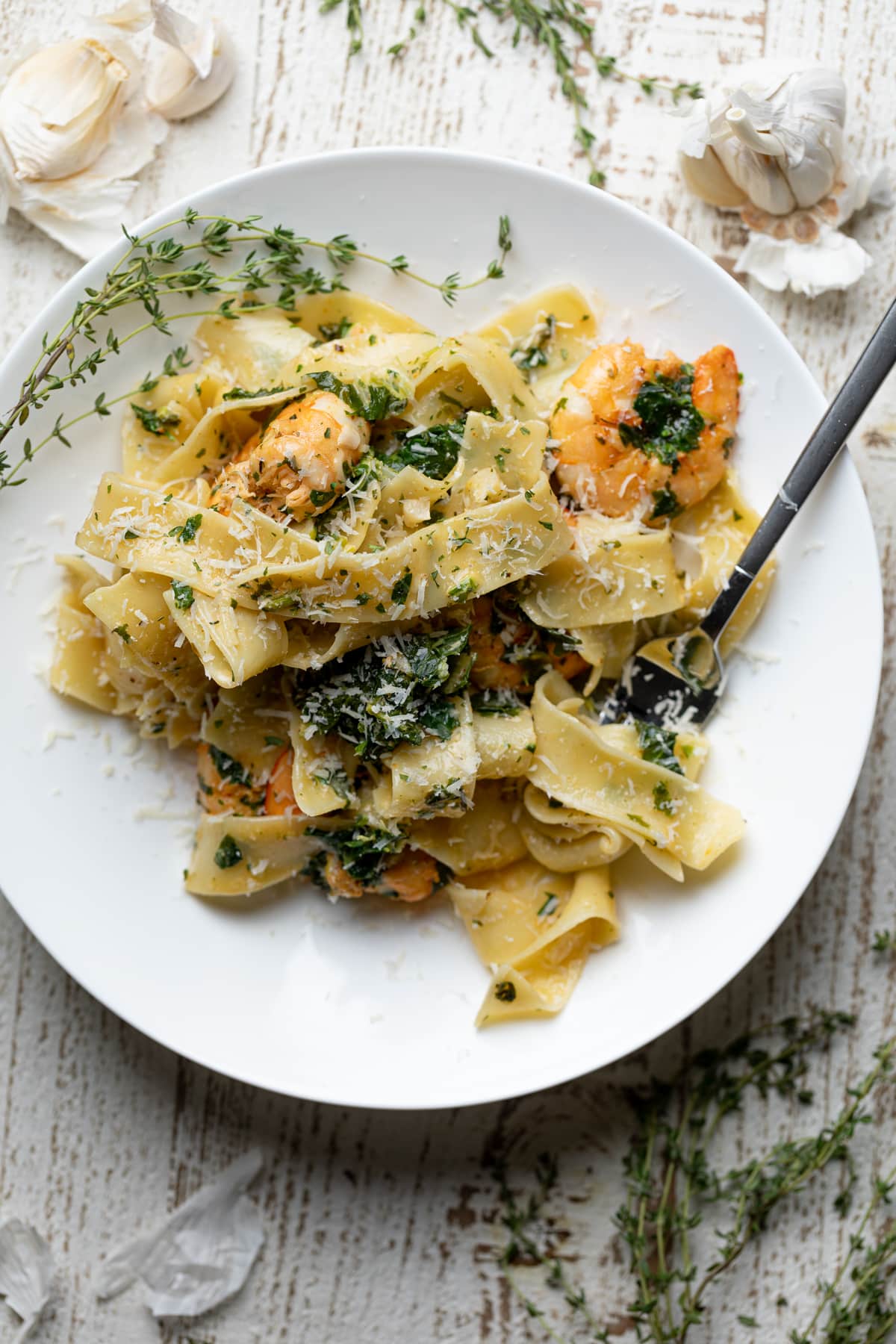 Why Lemon Garlic Shrimp Pasta?
Pasta holds a special place in my heart, especially when it's paired with the plump goodness that is shrimp! What can I say? I love incorporating shrimp into my recipes, from Creamy Shrimp Scampi Pasta and Jamaican Spicy 'Pepper' Shrimp to this family favorite, Weeknight Gochujang Shrimp Tacos. So if y'all love shrimp recipes as much as me, check out these Shrimp Recipes for more!
Jump to:
This Lemon Garlic Shrimp Pasta recipe brings together the best of both worlds: convenience + mouthwatering flavors. The beauty of this dish lies in its simplicity. With just a handful of ingredients and a few easy steps, you'll create a meal that tastes like it was prepared by a seasoned chef. It's the perfect solution for those busy weeknights when you crave a satisfying dinner without the fuss. Ready in less than 30 minutes!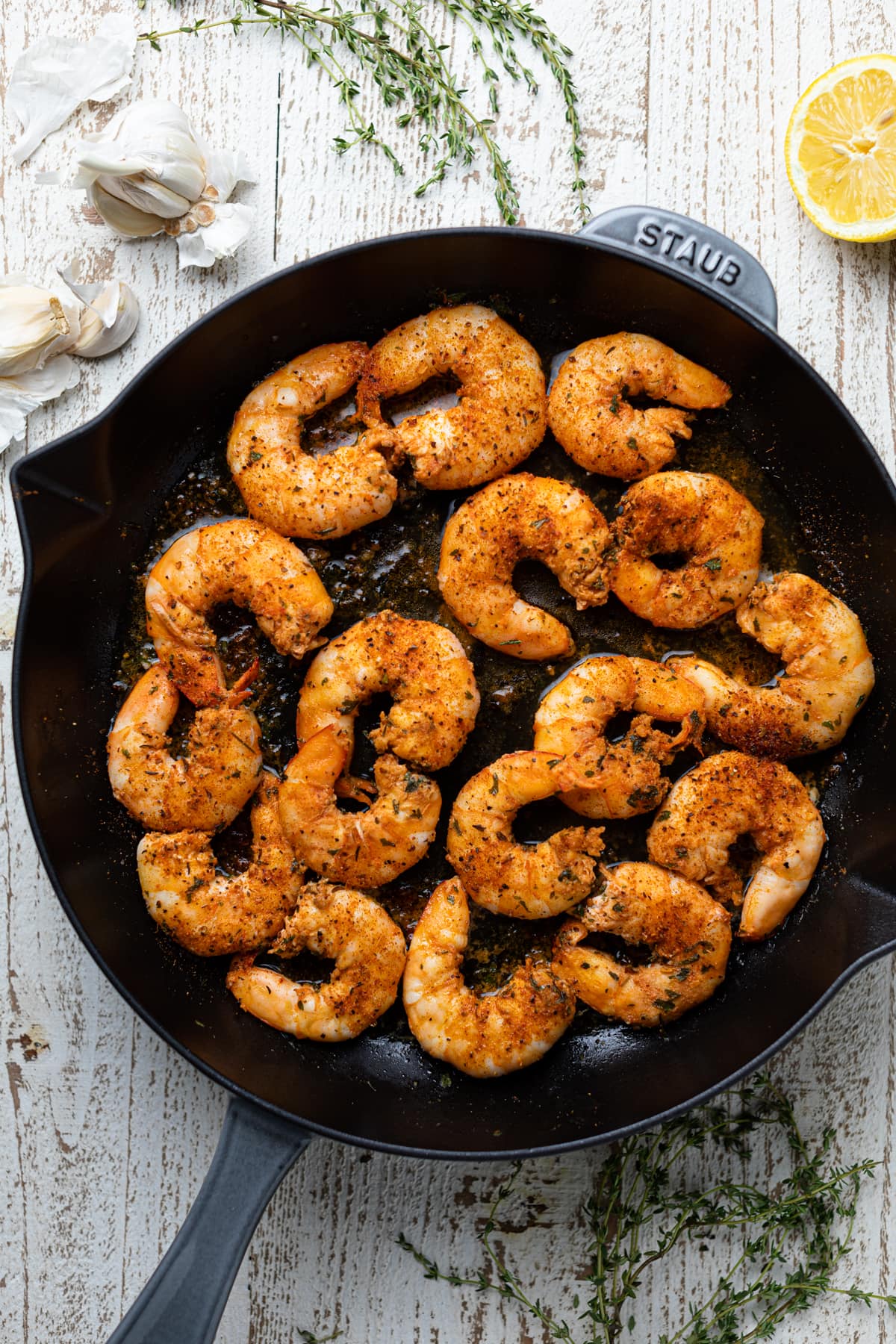 How to Make Lemon Garlic Shrimp Pasta
While the pasta cooks, you can quickly whip up the savory lemon garlic shrimp sauce in one skillet. Maximum weeknight dinner deliciousness + minimal clean-up!
Ingredient Notes
Here are some things to keep in mind about the ingredients in this pasta recipe:
Pappardelle pasta. You can use any pasta you like. I think the thick, chewy pappardelle is perfect for soaking up and holding onto the savory, lemony cream sauce.
Colossal shrimp. These are the biggest, meatiest shrimp you can find, and I highly recommend using them! Leaving the tail on adds more seafood flavor to your pasta sauce.
Heavy cream. This thickens your sauce and adds a delicious creamy dimension to the dish.
White wine. You can omit the wine to make this recipe alcohol-free. You may want to substitute it with lemon juice for some acid.
Parmesan cheese. This enriches the dish a ton. You can also use another savory cheese like pecorino romano or ricotta salata.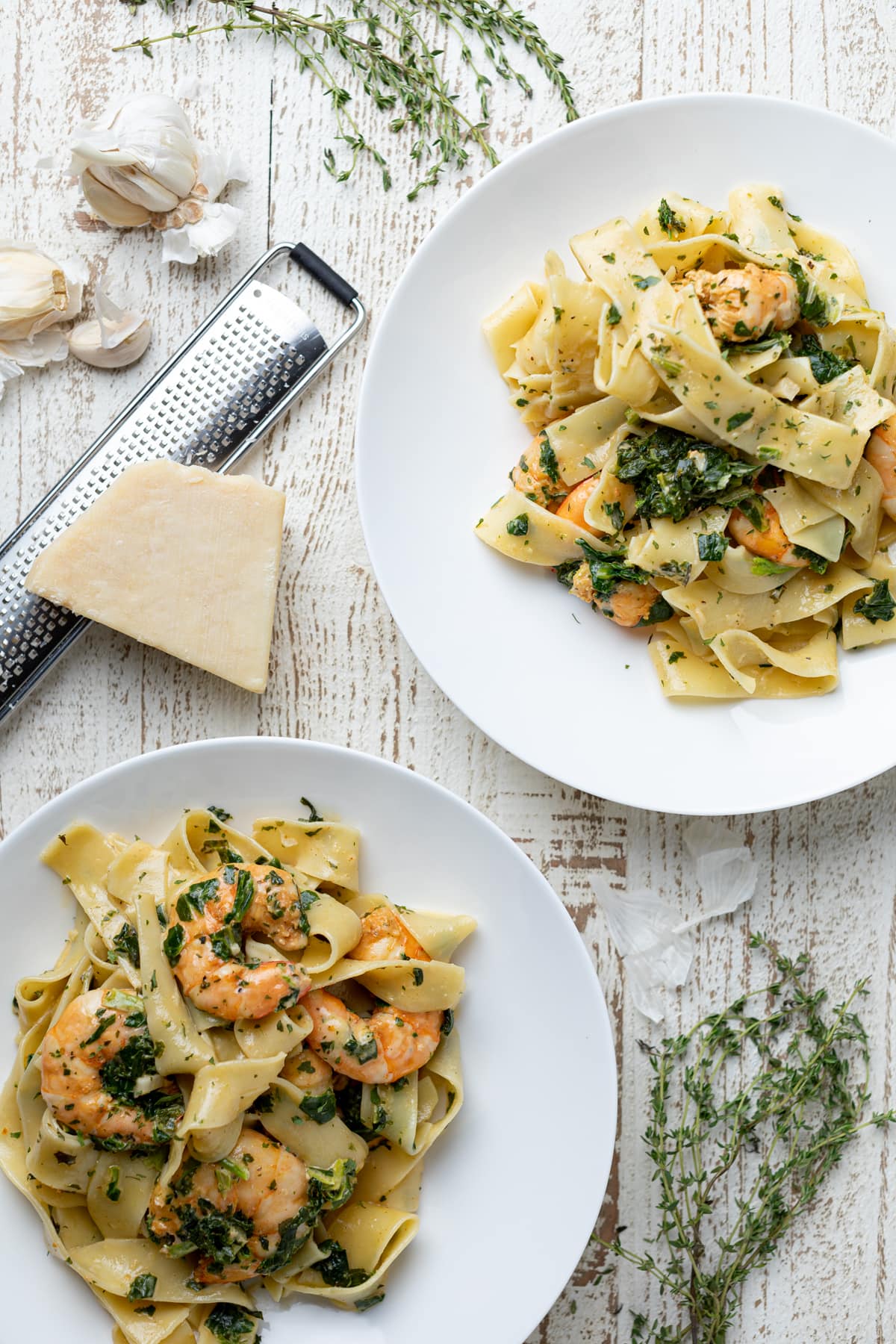 What You'll Love About This Garlic Shrimp Pasta
It's easy to make.
Creamy and satisfying sauce.
Perfect for busy weeknights
Zesty and refreshing flavors.
Fancy without the fuss
Did I mention it is ABSOLUTELY delicious?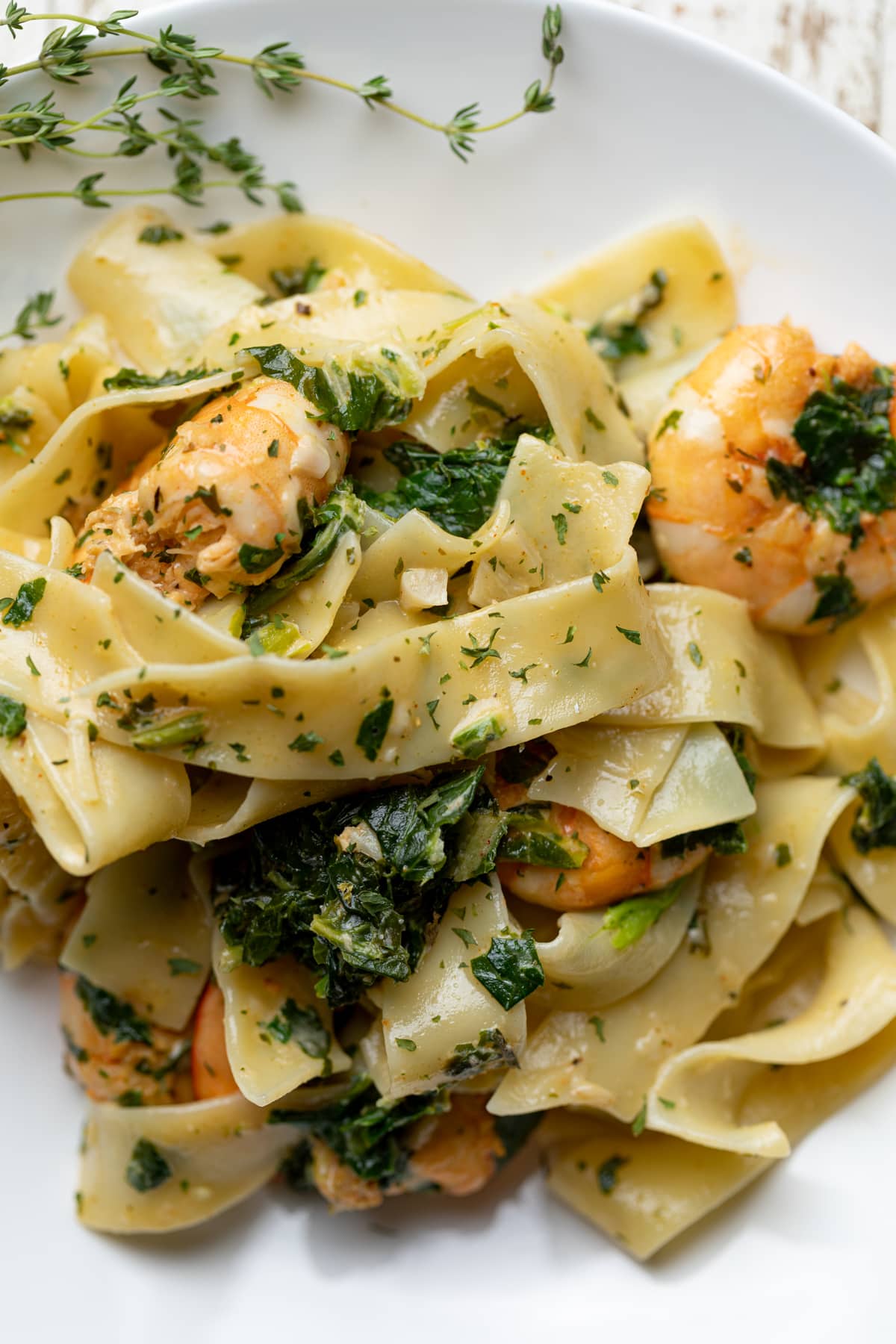 What Type Of Shirmp Is Best?
When selecting shrimp for this recipe, I suggest going for extra large or large shrimp. These sizes strike a balance between being substantial enough to provide a satisfying bite and not too overwhelming.
While it may sound counterintuitive, using frozen and thawed, shrimp can actually be advantageous. Opting for frozen shrimp allows you to have more control over the quality and timing of your meal preparation. It's like having a secret stash of deliciousness in your freezer, ready to be transformed into a scrumptious shrimp pasta whenever you desire an easy weeknight dinner.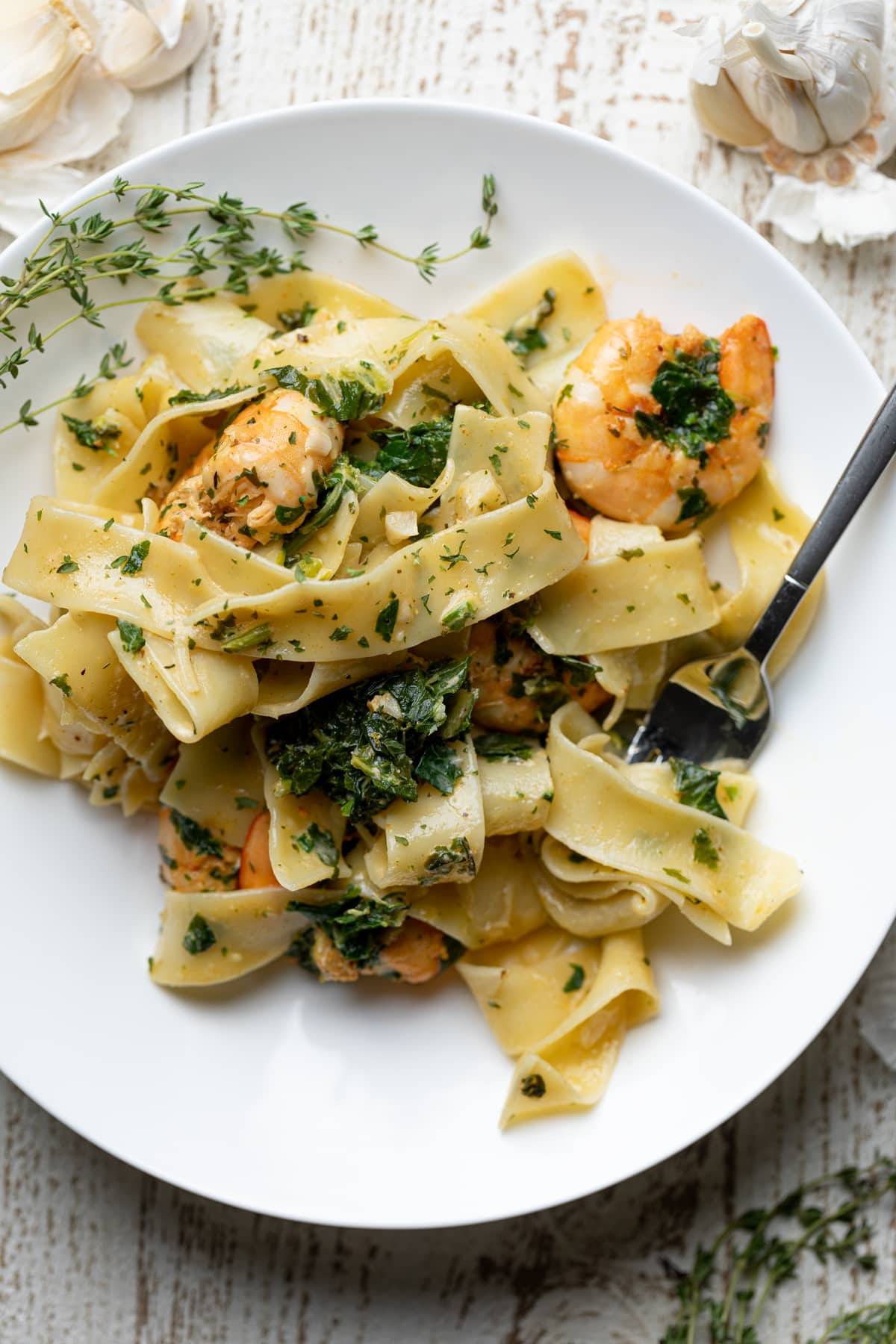 Is Shrimp Healthy?
Yes! This is one of the main reasons I love incorporating shrimp into my recipes. Not only is it juicy and delicious, but it has so many health benefits -
It is packed with high-quality protein, aiding in tissue repair and muscle growth.
Contains vitamin D, which helps with the absorption of calcium and magnesium, promoting strong bones and teeth.
The zinc content in shrimp can boost leptin levels, regulating fat storage and energy usage in the body.
It's a good source of iodine, supporting energy levels and playing a role in thyroid gland function.
It is rich in phosphorus, vitamin A, and omega-3 fatty acids, contributing to heart health, healthy hair and skin, and bone strength.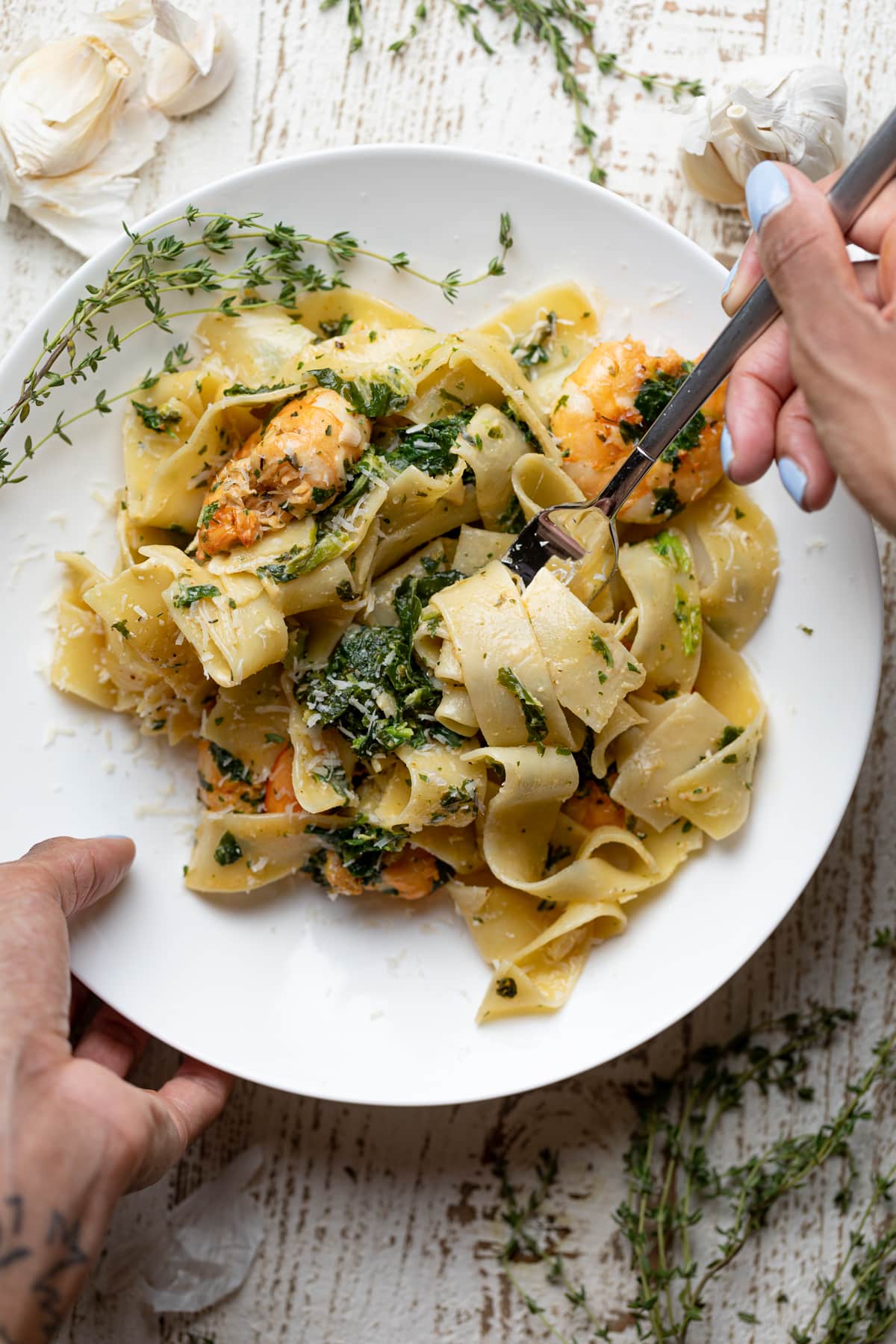 Tips For Delicious Shrimp Pasta
When making this Lemon Garlic Shrimp Pasta, it's important to avoid a couple of common mistakes.
Don't Overcook The Shrimp!
One of them is overcooking the shrimp. To ensure juicy and tender shrimp, sauté them just until they turn pink and are cooked through. Be careful not to leave them on the heat for too long, as they can become tough and rubbery.
Keep an eye on the pasta.
Similarly, you'll want to avoid overcooking the pasta. Cook it until it reaches a tender texture but still has a slight bite (al dente). This ensures that the pasta retains its ideal texture and doesn't become overly soft or mushy. Keep an eye on the cooking time and test the pasta for doneness to achieve the perfect balance of flavors and textures in your Lemon Garlic Shrimp Pasta.
What Can I Serve This Lemon Garlic Shrimp Pasta With?
When it comes to serving Shrimp pasta, it's delicious all on its own, but if you would like to add a little something, here are some mouthwatering options to consider-
Garlic bread: Whip up some garlic bread with a crispy exterior and a soft, buttery interior. It's perfect for mopping up the delicious sauce. Try this Cheesy Kale Garlic Bread
Salad: Add a refreshing touch to your meal with a crisp green salad like this Roasted Cauliflower Green Goddess Salad or this Harvest Apple Kale Salad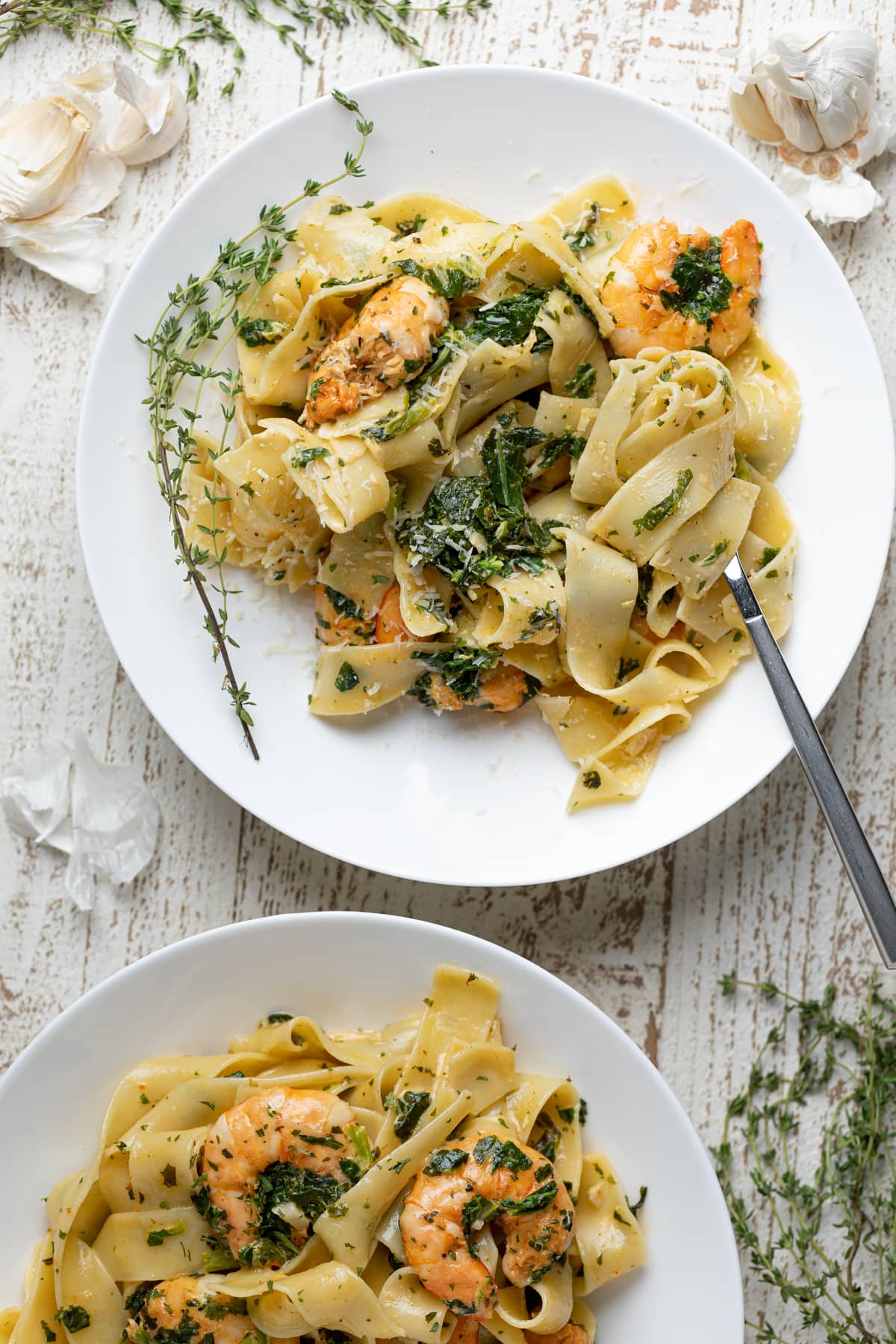 Lemon Garlic Shrimp Pasta Q + A's
How To Store Lemon Garlic Shrimp Pasta?
You can store leftover shrimp pasta in an airtight container for 3 to 4 days. I don't recommend freezing the pasta, as it won't defrost well.
Can I Make This Pasta Dairy-free?
Of course! Yes! To make this sauce dairy-free, simply use vegan butter instead of regular butter. Then swap the cream with full-fat coconut milk or coconut cream. And use your favorite dairy-free cheese shred or dairy-free parmesan instead of regular parmesan.
Why Put Lemon Juice In Pasta?
Overall, lemons are a flavor enhancer just like salt but without all the sodium. A fresh squeeze of lemon brings out the acidity of the sauce and enhances the flavor of the pasta, making the entire dish more savory.
Can I Make This Weeknight Shrimp Pasta Gluten-free?
Yes! You can make this weeknight pasta dish gluten-free by swapping the pasta with a GF-friendly one and ensuring that the stock being used is GF-friendly as well.
What Wine Is Best For Cooking?
I tend to use a lot of white cooking wine, which is easiest for me. However, I do occasionally add quality white wine to my dishes, and I recommend using a dry white wine.
A dry white wine will add the right amount of acidity rather than sweetness, which will better complement your dish. In general, any of the following dry white wines work great in this weeknight pasta dish.
Pinot Grigio, Pinot Gris, Sauvignon Blanc, Pinot Blanc, and dry sparkling wines.
More Shrimplicious Recipes
MADE OUR RECIPE(S)?
If you make this Lemon Garlic Shrimp Pasta or any other recipe from us, be sure to tag us on Instagram at #Orchidsandsweettea so that we can share the love, rate, comment below, + share!
PASTA:
1

(16 oz.) package

Your fave Ribbon-shaped pasta 

(I love using Pappardelle pasta)
SAUCE:
2

Tbsps

Extra virgin olive oil

(You can also sub with butter if desired)

4-6

garlic cloves, minced

1 ½

cups

organic heavy cream

½

cup

organic stock

(You can use chicken, veggie, or seafood stock)

2

Tbsps

white cooking wine 

(You can also sub with additional stock, instead)

1

lemon, freshly-squeezed

½

teaspoon

garlic powder

½

teaspoon

fresh or dried oregano

½

teaspoon

fresh or dried basil

½

teaspoon

fresh or dried thyme

sea salt + black pepper, to taste

1

cup

freshly-grated parmesan cheese 

1

cup

organic kale, de-stemmed + roughly chopped

(See Notes!)
COOK THE PASTA:
Cook pasta according to packaging. NOTE: Most ribbon pasta shapes cook about the same time as other pastas, usually 8-12 minutes, depending on brand and shape.
COOK THE SHRIMP:
In a bowl, add the shrimp along with salt, black pepper, smoked paprika, parsley, and garlic powder, mixing everything together until shrimp are coated.

In a medium 10-inch skillet over medium-high heat, add the butter until melted. Add in the shrimp and cook on both sides (about 3-4 minutes), until pink and cook through. Once done, remove from skillet and set aside on a plate.
TO MAKE THE CREAMY SAUCE:
In the same skillet over medium-high heat, add the olive oil. Once heated, add the garlic cloves and sauté for 1 minute or so, until fragrant.

Add the herbs + seasonings, stirring until combined.

Reduce the heat to medium-low and slowly add in the heavy cream, stock, lemon juice, and white wine, stirring until combined. Let it slightly bubble for 1-2 minutes and then add in the grated parmesan, whisking until fully melted and sauce thickens, about 2-3 minutes. Add in the chopped kale and shrimp, stirring until combined and let it simmer for 2-3 minutes, stirring frequently.

When the pasta is done, drain it and add it to the sauce, tossing until sauce fully coats + sticks to pasta.

 Remove from heat and serve immediately with additional grated parmesan atop, if desired.
STORAGE: Any leftovers can be kept in a tightly sealed container and refrigerated for up to 3-4 days.
OIL: You can also use coconut oil or grapeseed oil, instead of olive oil.
PASTA: You can use long pastas like Tagliatelle, 

Pappardelle, Fettuccine, etc. however, I would recommend tossing with tongs to ensure that pasta is fully manageable and fully coated. Otherwise, other pastas such as Penne, Rigatoni, Paccheri, Orecchiette, etc. are perfect.

GREENS: To add a bit more flavor to this dish, you can always feel free to add in your favorite greens such as spinach, broccolini, collards, or asparagus.
Calories:
552
kcal
|
Carbohydrates:
12
g
|
Protein:
11
g
|
Fat:
52
g
|
Saturated Fat:
29
g
|
Polyunsaturated Fat:
3
g
|
Monounsaturated Fat:
16
g
|
Trans Fat:
0.2
g
|
Cholesterol:
138
mg
|
Sodium:
1055
mg
|
Potassium:
278
mg
|
Fiber:
2
g
|
Sugar:
4
g
|
Vitamin A:
3632
IU
|
Vitamin C:
31
mg
|
Calcium:
342
mg
|
Iron:
1
mg