Get ready to satisfy your mac + cheese cravings with this amazing Easy Vegan Pumpkin Mac + Cheese recipe. With its creamy seasonal pumpkin goodness, a unique blend Cajun spices, and homemade vegan cream cheese, it all combines for a mouthwatering, dairy-free mac + cheese that's an absolute delight for everyone, making every delicious forkful a celebration of flavors. Perfect as a main dish or a holiday side! Gluten-free option.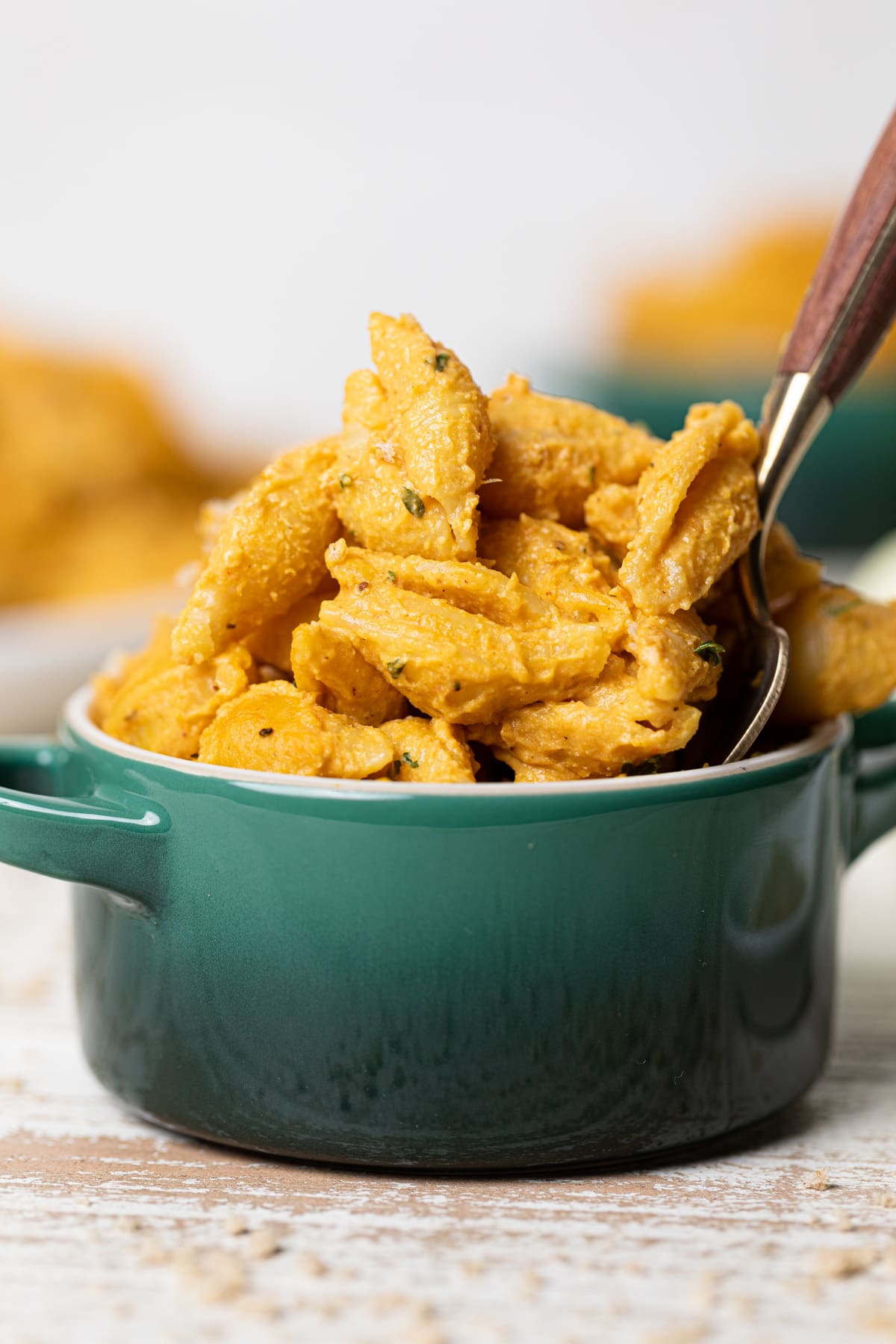 What Makes This Pumpkin Mac + Cheese SO TASTY?
As a true Southern girl who values flavor, mac + cheese holds a special place in my heart. I've already shared a variety of incredible mac and cheese recipes, from Baked Vegan Buffalo Mac + Cheese to Stovetop Southern Mac and Cheese, and of course, Ultimate Vegan Mac + Cheese. In my book, it's the epitome of comfort in a bowl, perfect for cozying up on the couch with a rom-com, a warm blanket, and perhaps a mocktail.
Now, for all the vegans foodies looking to indulge in the same comforting experience, this Easy Vegan Pumpkin Mac + Cheese has got you covered. The addition of pumpkin puree not only lends a beautiful golden hue but also imparts a sense of familiarity to the classic mac and cheese. What's more, the homemade Cajun seasoning elevates this dish with an explosion of flavor that'll keep you coming back for more.
Believe me, whether you're a die-hard vegan or not, this Pumpkin Mac + Cheese is going to steal your heart! It also makes for a fantastic vegan-friendly side dish for Thanksgiving. It's a wonderful addition to your holiday spread, offering a tasty alternative that can be enjoyed by everyone. It's the ultimate indulgence for the whole family – kids + adults alike. And if you're on the hunt for more pumpkin recipe inspiration, be sure to check out our lineup of 20 Pumpkin Recipes For When You Have Too Many Pumpkins
Jump to:
What is Nutritional Yeast? 
Nutritional Yeast is a vegan staple ingredient also sometimes called 'Nooch' or Savoury Yeast Flakes. It's known for its cheesy flavor and is great when it comes to making dairy-free sauces! AKA it's perfect for vegan mac and cheese! Nutritional Yeast is an inactive, dry form of Saccharomyces cerevisiae, a species of yeast.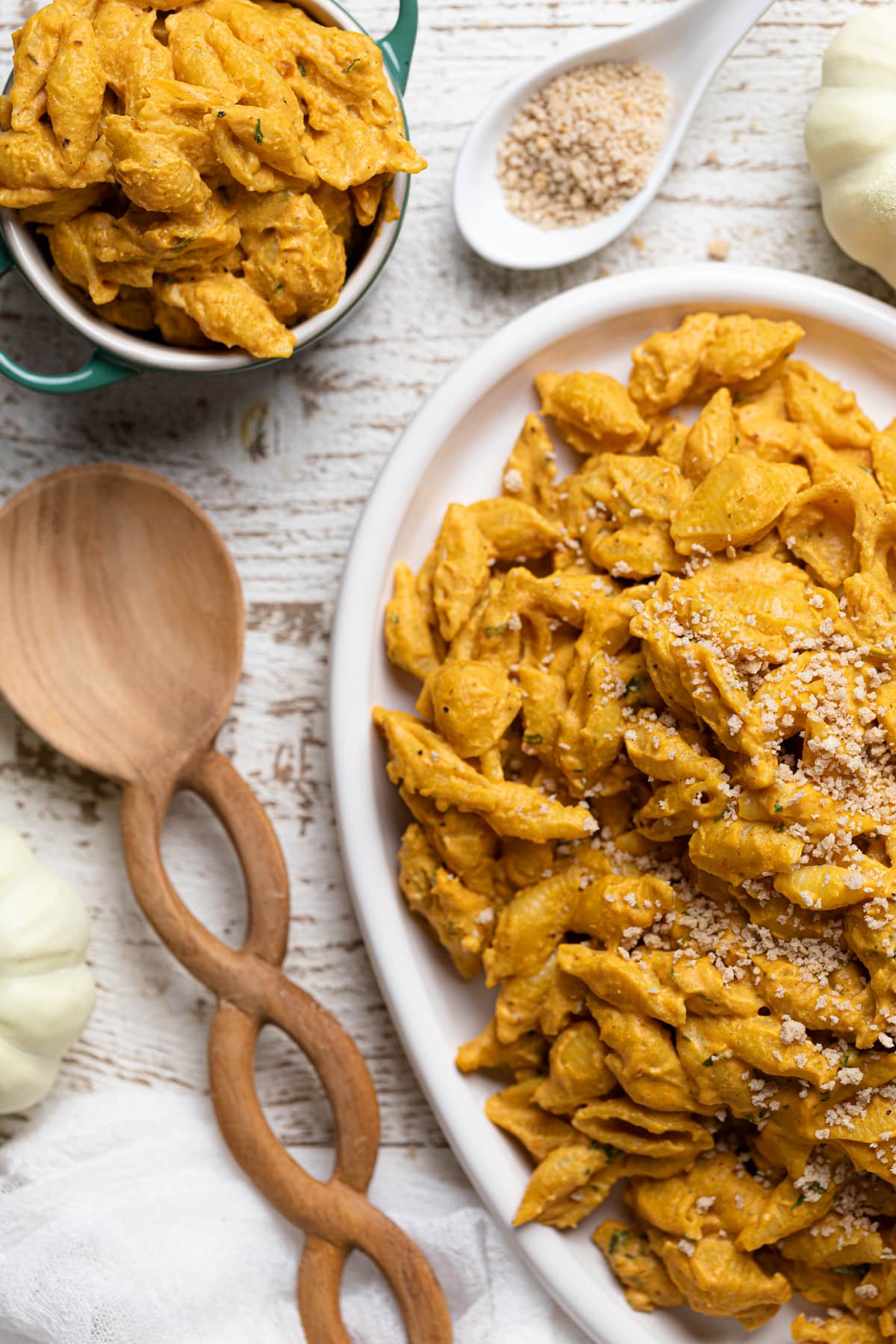 How To Make Easy Vegan Pumpkin Mac + Cheese?
This recipe is a breeze to make! First, boil your macaroni according to package instructions and set them aside. Then, blend cashews, grapeseed oil, lemon juice, apple cider vinegar, rosemary, and sea salt until you have a creamy paste. If needed, adjust the consistency with a bit of warm water.
In a saucepan, sauté garlic in butter, add flour, and whisk until it's bubbly. Gradually pour in almond milk and pumpkin puree, whisking to create a thick mixture. Then, stir in vegan cream cheese, nutritional yeast, ground mustard, homemade Cajun seasoning (more on that later), lemon juice, and red pepper flakes. Combine the sauce with the drained pasta, and you're all set!
Ingredients
MAC + CHEESE:
Organic macaroni or shells: You can use a different short noodle if you like also.
Organic pumpkin puree (Canned version; Not Pie Filling): Adds a creamy and subtly sweet pumpkin flavor to the mac and cheese. See below on how to make your own!
Almond milk (your favorite plant-based milk): Creates a creamy base for the sauce. Try my homemade almond milk!
Vegan butter: Provides richness and flavor to the sauce. I love using the brand Miyoko's
Minced garlic cloves: Infuses the sauce with a garlicky aroma and taste.
Organic all-purpose flour (or gluten-free alternative): Acts as a thickening agent for the sauce.
Nutritional yeast: Enhances the cheesy flavor of the dish.
Ground mustard: Adds a hint of tangy depth to the sauce.
Lemon juice: Provides a fresh, citrusy note.
Red pepper flakes for garnish: Adds a touch of heat and a colorful garnish.
Homemade Cajun Seasoning: Infuses the dish with a spicy and flavorful Cajun kick.
VEGAN CREAM CHEESE SAUCE:
Raw cashews, soaked overnight, drained, + rinsed: Forms the base for a creamy, nutty sauce.
Filtered water: Thins the sauce to the desired consistency.
Extra virgin olive oil: Adds richness and a hint of olive flavor.
Freshly-squeezed lemon juice: Provides a zesty, citrusy element.
Apple cider vinegar: Adds a mild tang to the sauce.
Dried rosemary: Imparts a subtle herbaceous note.
Sea salt: Enhances overall seasoning and flavor.
SHOP MY FAVORITE BAKEWARE ITEMS AND ACCESSORIES FOR THIS MAC + CHEESE!
Here, I've curated a list of cooking + baking essentials that I use to achieve my favorite baked goods or cooked meals, especially with this Vegan Mac + Cheese. Everything from my fave dutch pot/oven, wooden spoons, immersion hand-blender, mixing bowls, and more. SEE THEM HERE!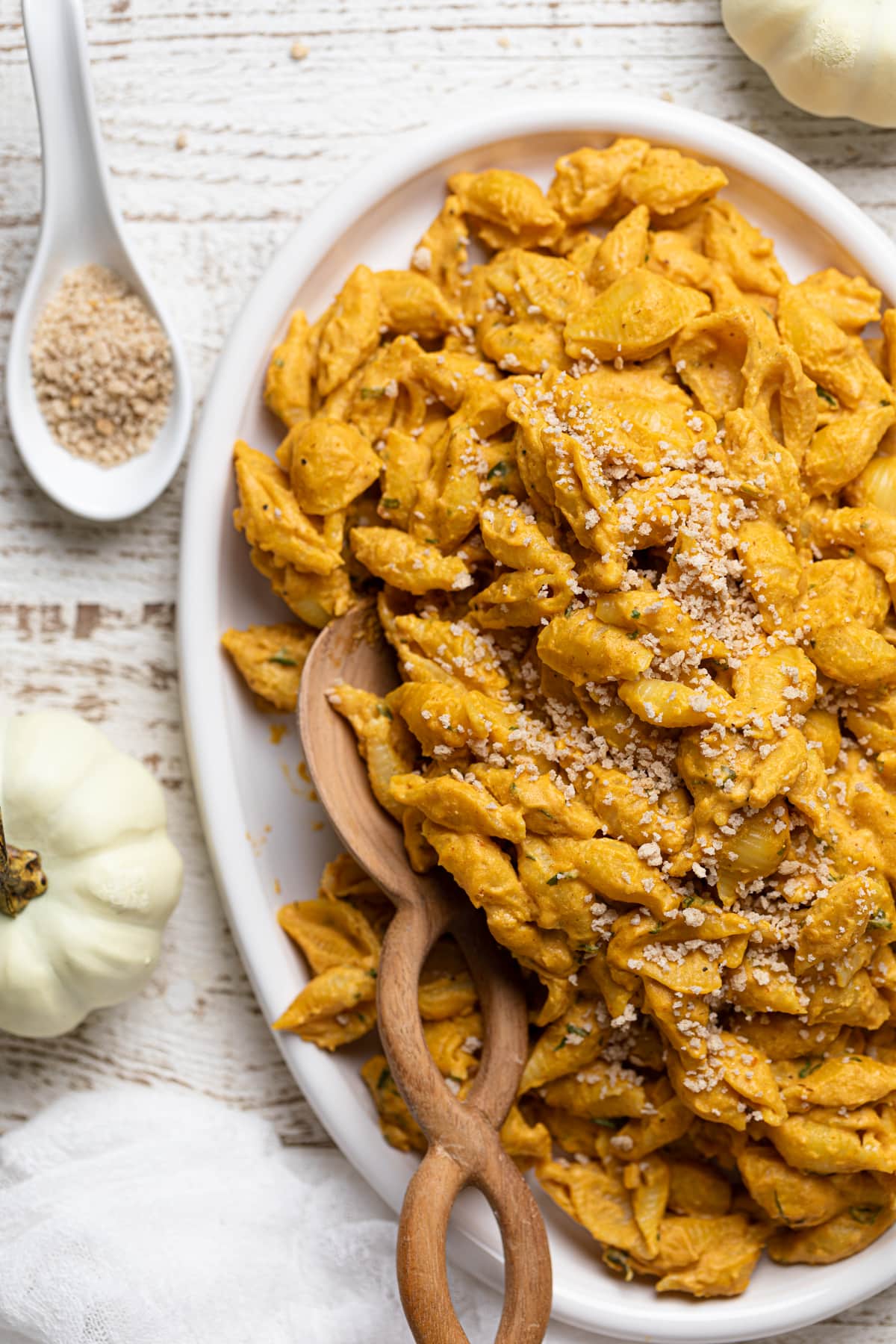 What is Cajun Seasoning?
Cajun seasoning is a distinctive spice blend hailing from the American South, particularly Louisiana, known for its bold and spicy flavor profile with a hint of smokiness. Essentially, Cajun spices can elevate the taste of any dish that could use a little heat and depth of flavor.
Homemade Cajun Seasoning Blend
Sure, you can find pre-made seasoning blends at the grocery store. But there's nothing like the fresh, customized flavor you get by making your own blend. The herbs and spices in the cajun spice mix for this recipe are inspired by the fresh herbs that work so beautifully together to create a bold, spicy flavor (from the cayenne + paprika).
You can Store the seasoning blend in an airtight container at room temperature for up to six months. Use it on anything from simple roasted vegetables to salad dressing to herb oil for dipping bread.
CAJUN SEASONING BLEND
To make your own homemade seasoning, combine the following:
Garlic Powder: Adds a savory kick.
Italian Seasoning: Contributes a blend of dried herbs for complexity.
Smoked Paprika: Infuses a smoky undertone.
Sea Salt: Enhances overall flavor.
Black Pepper: Provides a pungent, spicy element.
Cayenne Pepper: Introduces fiery heat.
Dried Thyme: Offers an earthy, aromatic note.
Onion Powder: Imparts a subtle, sweet onion flavor.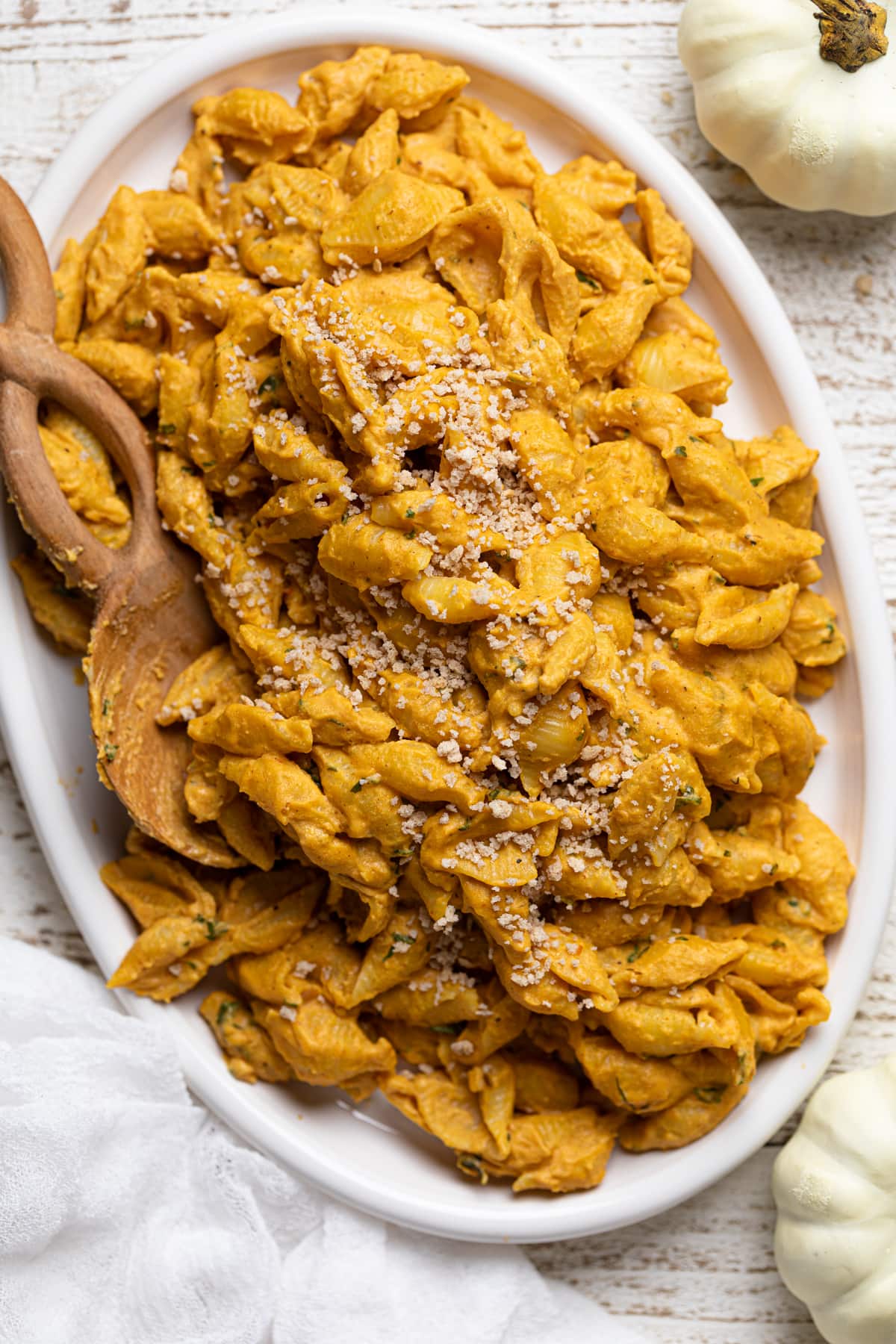 The Secret to Creamy Vegan Mac + Cheese
This silky sauce is spectacular when paired with macaroni. The sauce is thick and rich thanks to homemade vegan cream cheese made with soaked raw cashews. It is seasoned with apple cider vinegar, lemon, and rosemary. The next step to the perfect vegan cheese sauce is to make a roux. I made a roux using vegan butter and flour before adding almond milk and the homemade vegan cream cheese.
These two sauce methods combine to make the perfect silky sauce. Cheesy flavor is added with a homemade Cajun spice mix and nutritional yeast. You can't make a vegan cheese sauce without nutritional yeast! For extra cheesy flavor, you can always add in dairy-free shreds.
Can I Use This Vegan Sauce for Other Recipes?
YES! Feel free to use this creamy sauce for other vegan dishes that require a cheese sauce. You can also keep the vegan cream cheese in the fridge for gluten-free bagels.
Some vegan dishes you can use this sauce with are: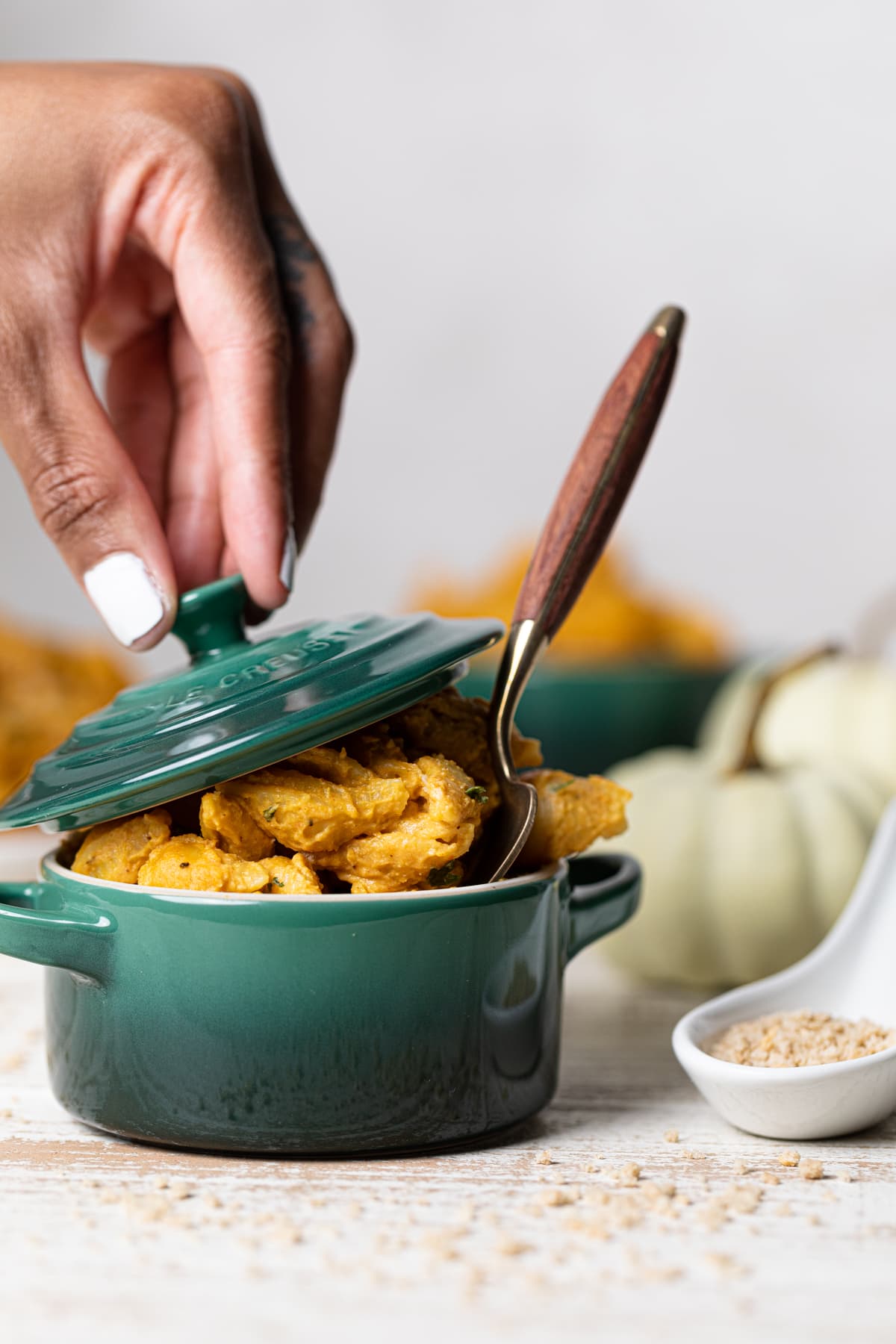 Topping Ideas for Pumpkin Mac + Cheese
While I love this Vegan Mac + Cheese Recipe dinner as-is, straight from the pan, you can dress it up with toppings if you like.
For extra flavor, color, and texture, you can try:
Kale
Candied bacon (if you're a meat eater)
Black olives
Grated lemon zest --adds a zesty, citrusy twist that brightens up the dish.
If you discover a new favorite topping idea, be sure to let me know in the comments section below!
Adding More Protein
If you'd like to add protein to this Vegan Pumpkin Mac + Cheese dish, it's easy to do, regardless of your diet!
PLANT-BASED PROTEIN OPTIONS:
Crispy seared or baked tofu cubes
Roasted chickpeas
Crumbled stir-fried seitan
Crumble vegan bacon on top
Sautéed cauliflower florets or broccoli
Sautéed asparagus, Brussels sprouts, etc.
MEAT-BASED PROTEIN OPTIONS:
If you're a seafood lover, feel free to swap out the chicken for these delightful options!
Salmon
Shrimp
Lobster
Fish (fried, grilled, baked, etc.)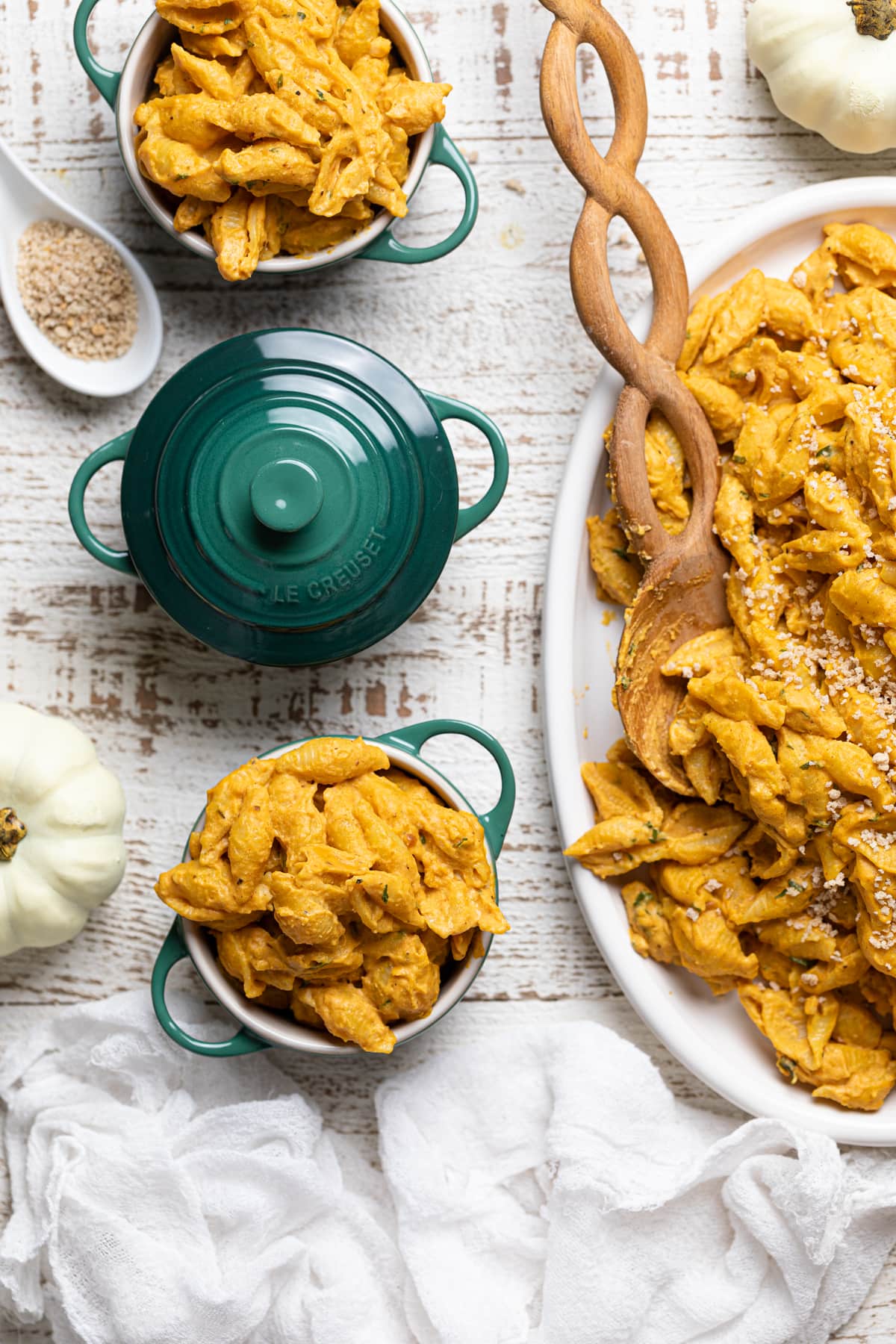 What Are Delicious Foods to Pair Pumpkin Vegan Mac + Cheese With?
When it comes to serving this mouthwatering Vegan Mac + Cheese there are some options that will truly elevate your meal. First off, don't forget to have some bread on hand. I love this homemade Soft Buttery Vegan Brioche Bread. Trust me; you'll want to dip it into that luscious, saucy goodness. If you want a little freshness, serve it with a salad on the side, like this Fall Harvest BBQ Chickpea Kale Salad  or this Best Buffalo Chickpea Kale Salad. It's like a fresh burst of flavor that complements this easy weeknight dinner beautifully.

Enjoy alongside a tall glass of Southern Strawberry Iced Sweet Tea or Traditional Southern Iced Sweet Tea for some extra Southern flare.

But here's the thing. This Pumpkin Vegan Mac + Cheese is so darn amazing that you can honestly enjoy it all by itself. Seriously, the creamy ooey gooey 'cheesy' sauce is a game-changer. It's just bursting with flavor. So, feel free to dig in and savor every single bite. It's a dish that stands tall on its own!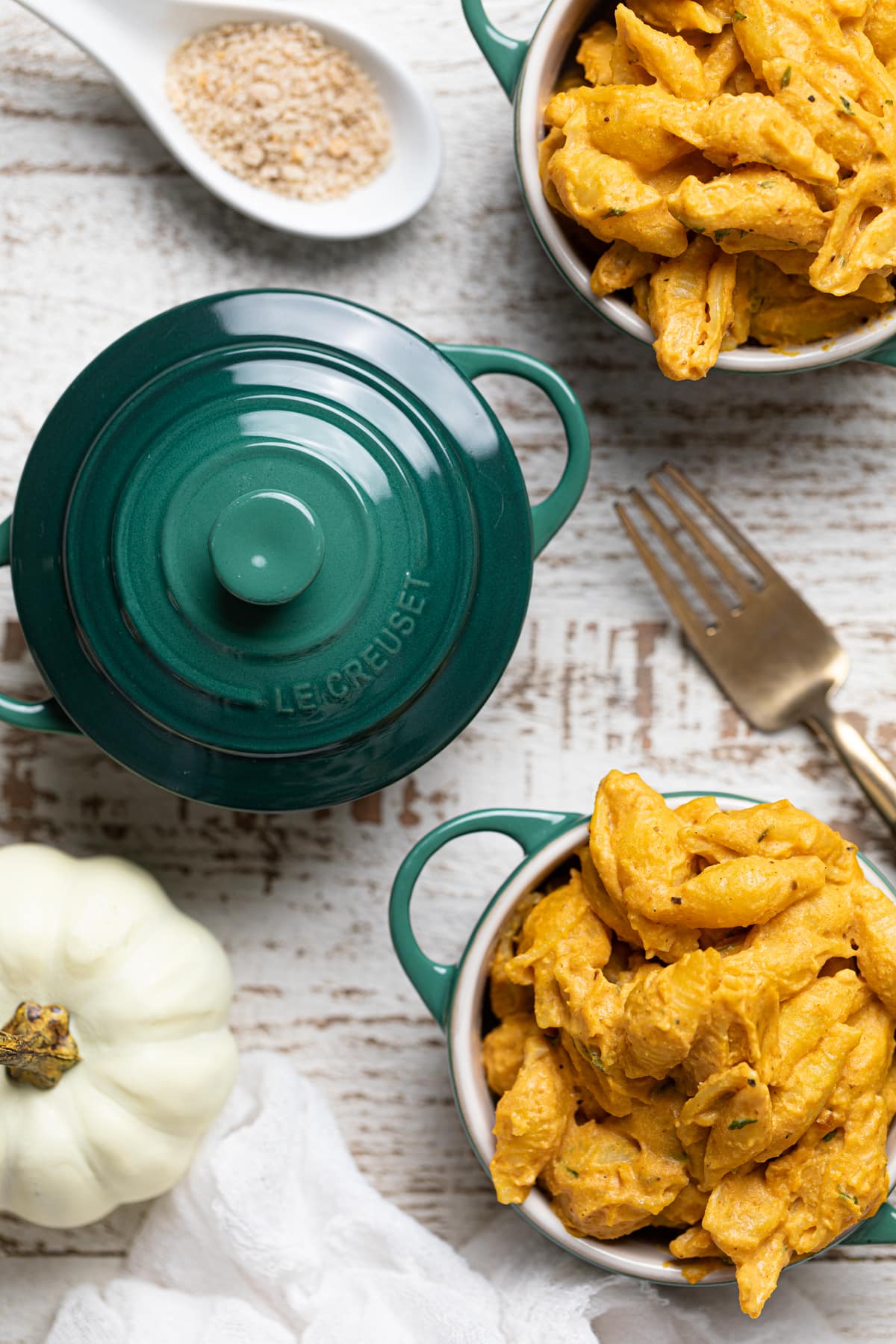 Why You Will LOVE This Easy Vegan Pumpkin Mac + Cheese
Super easy to make + quick.
Full of savory, comforting flavor! (The best reason!)
Very kid-friendly!
Great for meal prepping + make aheads for the week!
Perfect Fall + Winter vibes!
The perfect side or main meal
Choosing Your Perfect Pasta
You can use any type of pasta that you like in this Easy Vegan Pumpkin Mac + Cheese recipe. That is what makes this recipe so adaptable!
I love using shells because it does a beautiful job of embracing and holding onto the sauce. But any of these pasta varieties would work for this dish -
Macaroni --For a more traditional feel.
Pappardelle
Tagliatelle
Fettuccine
Penne
Spirals
Ravioli or gnocchi would also go wonderfully with this sauce combo!
I would recommend tossing with tongs to ensure that longer varieties of pasta is fully manageable and fully coated. You can also use gluten-free pasta, whole-wheat pasta, or even zoodles for a low-carb option!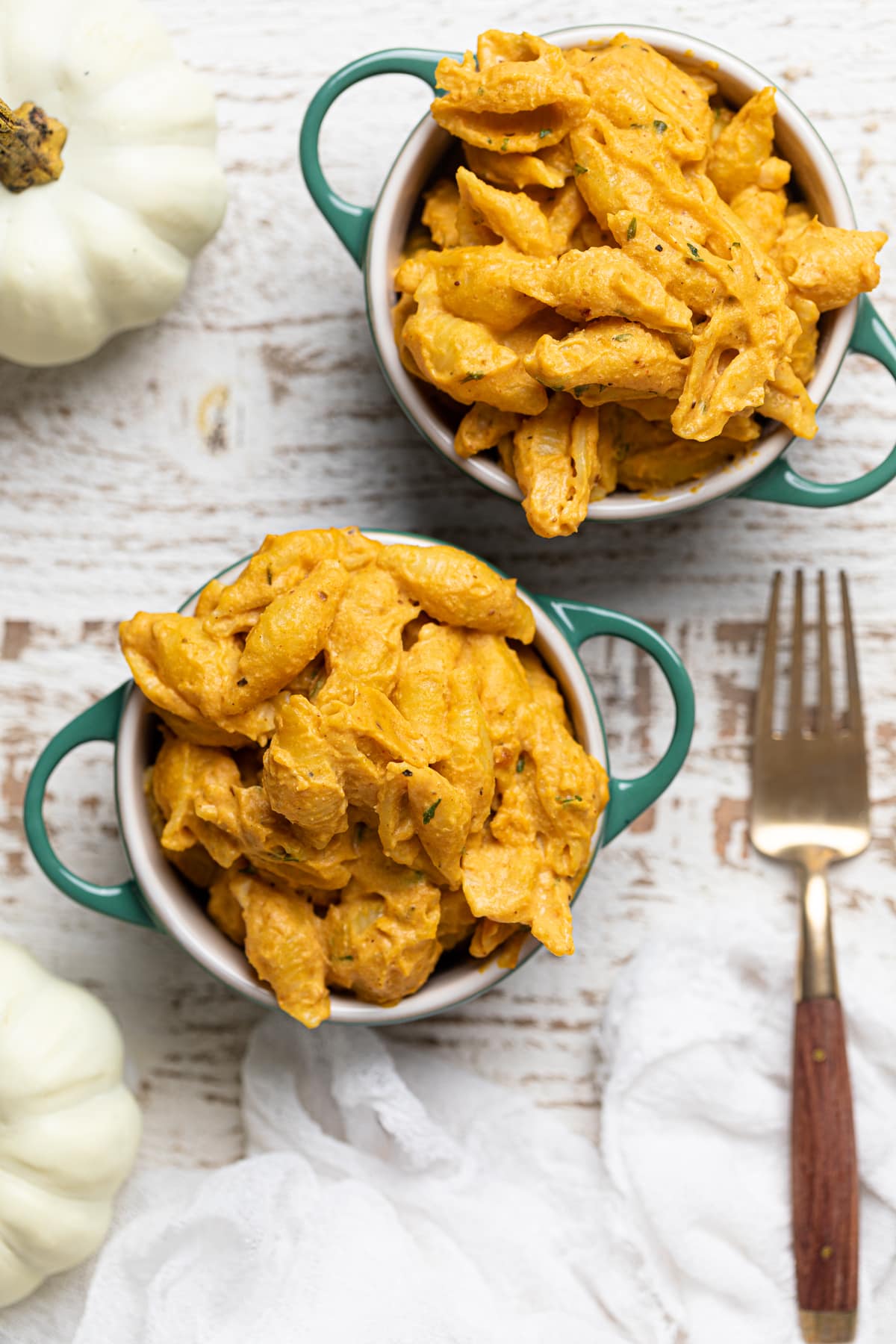 How to Make Your Own Pumpkin Puree
If you're thinking about making your own pumpkin puree instead of using a store-bought canned version, then you'll be happy to know that it is rather simple:
Step 1: Cut your pumpkins in half and scoop out the seeds. Be sure to save the seeds for another time because you can definitely use those!
Step 2: Feel free to cube the pumpkins into medium-large chunks and then place them unto a baking sheet lined with parchment paper. NOTE: ensure that the skin of pumpkin are peeled off at this point.
Step 3: Always season your pumpkin pieces (salt, black pepper, + smoked paprika) and lightly grease with olive oil until coated.
Step 4: Roast in the oven at 375 degrees Fahrenheit for about 40-45 minutes or until the edges are golden and they become super tender once tested with a fork or knife.
Step 5: Using a food processor or blender, puree your pumpkin along with water or veggie stock, until smooth. You can either use this immediately in whatever pumpkin recipe you'd like, store it in the freezer for later use.
Is Pumpkin Healthy?
Yes--- Pumpkin in the mac and cheese, it's not only the best comfort food but also a nutritional gem:
Packed with vitamin A for eye health
A fiber-rich addition to support digestion
Antioxidants that help fend off free radicals
A guilt-free indulgence, being low in calories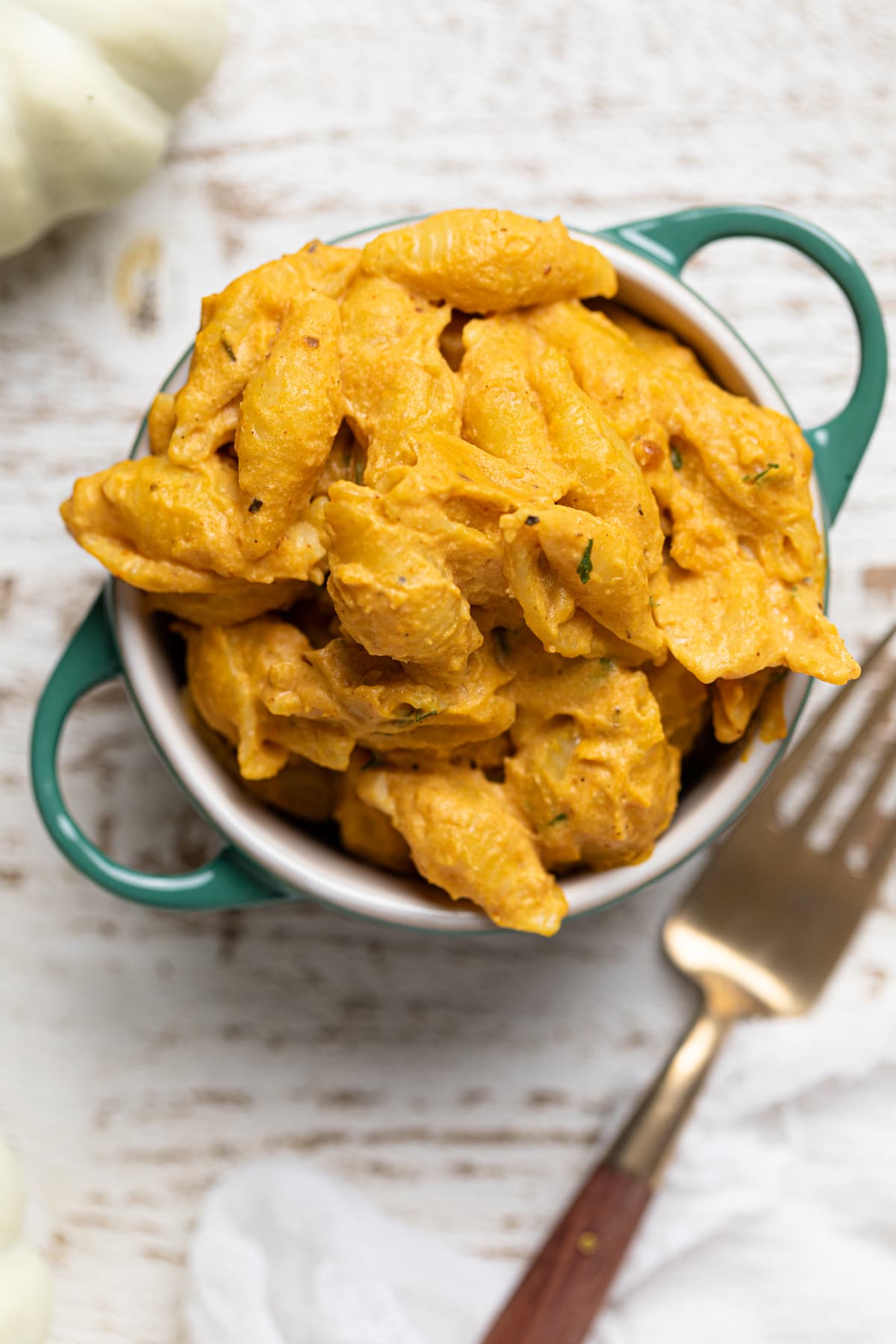 Easy Vegan Pumpkin Mac + Cheese Q + A's
How to store?
Any leftovers can be kept in a tightly sealed container and refrigerated for up to 3-4 days.
How To Make Gluten-free?
To make this mac + cheese gluten-free, simply substitute the pasta and flour with GF-friendly ones. Also, ensure that pumpkin puree is GF-friendly as well.
How spicy is the Cajun seasoning?
The spiciness of the Cajun seasoning can be adjusted to your liking. You can use a smaller or larger quantity to control the level of heat in your dish.
Is this Easy mac + cheese recipe a good option for Thanksgiving?
Yes, this mac and cheese can be a wonderful vegan-friendly side dish for Thanksgiving, adding a creamy and flavorful component to your holiday feast.
What's the best way to reheat leftovers without compromising the creamy texture?
When reheating, you may need to add a little almond milk or your preferred plant-based milk to maintain the desired creamy consistency.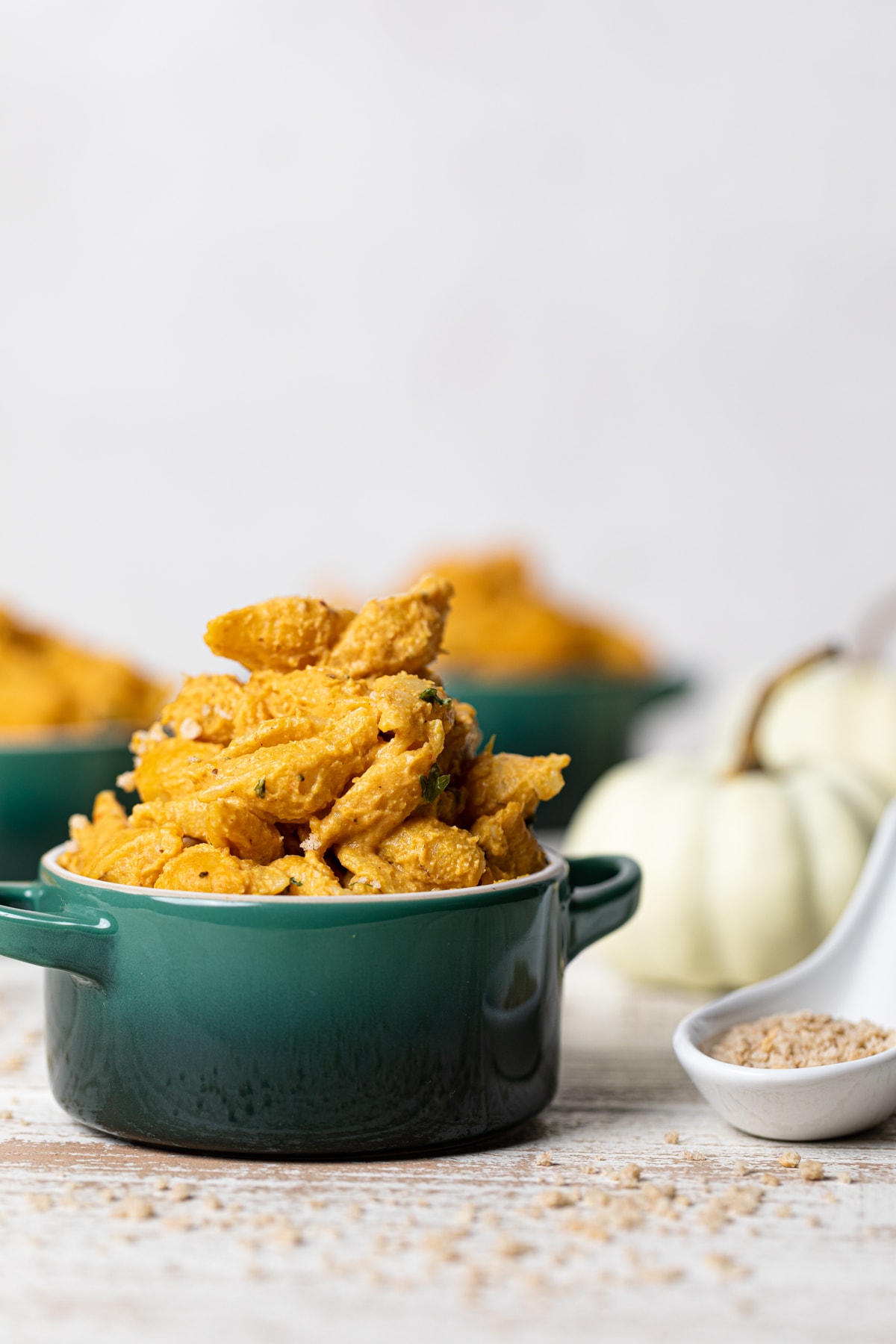 My Fave Vegan Recipes To Try Next
If you've fallen for the incredible flavors of this  Easy Vegan Pumpkin Mac + Cheese recipe and are eager to explore more homemade basic recipes, here are some delicious options to dive into next!
MADE OUR RECIPE(S)?
If you tried this Easy Vegan Pumpkin Mac + Cheese recipe or any other recipe on my website, please please leave a 🌟 star rating and let me know how you go in the 📝 comments below. And don't forget to tag @orchidsnsweettea_ on Instagram  and hashtag it #orchidsandsweettea! I love hearing from you!
MAC + CHEESE:
1

(8 oz.) box

organic macaroni or shells

(See FAQ for gluten-free option)

¾

cup

organic pumpkin puree

(Canned version; Not Pie Filling!)

1 ¾

cups

Almond milk 

(You can use your fave plant-based milk!)

2

Tbsps

vegan butter

2

garlic cloves, minced

¼

cup

organic all-purpose flour

(See FAQ for gluten-free option)

2

Tbsps

nutritional yeast

½

teaspoon

ground mustard

1

teaspoon

juice of a lemon

red pepper flakes, garnish
HOMEMADE CAJUN SEASONING:
1-2

tsps

Homemade Cajun Seasoning
VEGAN CREAM CHEESE SAUCE:
1 ½

cups

raw cashews, soaked overnight, drained, + rinsed

(See Notes!)

¼

cup

filtered water

1

tablespoon

Extra virgin olive oil

(See Notes!)

1

tablespoon

freshly-squeezed lemon juice

½

teaspoon

apple cider vinegar

1

teaspoon

dried rosemary

¼

teaspoon

sea salt
BOIL THE PASTA:
Bring a large pot of water to a boil and add macaroni or shells and cook according to packaging. Once cooked, drain and set aside.
TO MAKE THE VEGAN CREAM CHEESE SAUCE:
Add the cashews, water, oil, lemon juice, apple cider vinegar, rosemary, and sea salt to a high-powdered blender. Blend for about 1 minute on medium-high speed, until smooth, and it looks like a semi-thick paste that resembles cream cheese. NOTE: If too thick, add a little warm water (1 tablespoon at a time), until desired consistency is formed.
TO MAKE THE PUMPKIN 'CHEESE' SAUCE:
In a medium saucepan over medium-high heat, add the butter (and let it melt) and add garlic and sauté for a minute or so. Next, add flour and whisk until incorporated. Add nutritional yeast, ground mustard, and cajun seasonings.

Slowly add Almond milk, whisking frequently until combined and smooth (without lumps). Once mixture becomes thick, add 1 cup vegan cream cheese and pumpkin puree, whisking frequently again. Add the lemon juice, and red pepper flakes. Continue to whisk sauce becomes smooth and ingredients are combined.

Once combined, add drained pasta and toss in sauce carefully.

Garnish with red pepper flakes (optional) and enjoy! Serve with your favorite vegan mains and sides.

Bon Appetit!
STORAGE: Any leftovers can be kept in a tightly sealed container and refrigerated for up to 3-4 days.
CAJUN SEASONINGS: Any leftover cajun seasoning mix can be stored in a ziploc bag for later use or used as garnish.
SOAKED CASHEWS: To best soak cashews, add 1 cup of cashews to a bowl or measuring cup and cover with cold water, sealing the top with plastic wrap and leaving it out (at room temp.) overnight. When ready to use, drain and rinse. If not able to soak overnight, simply cover cashews with boiling water and let sit for 30 minutes, drain, + rinse.
OIL: Instead of olive oil, you can substitute with grapeseed oil, avocado oil, or coconut oil.
GLUTEN-FREE OPTION: To make this mac + cheese glute-free, simply substitute the pasta and flour with GF-friendly ones. Also, ensure that pumpkin puree is GF-friendly as well.
Calories:
285
kcal
|
Carbohydrates:
18
g
|
Protein:
8
g
|
Fat:
21
g
|
Saturated Fat:
4
g
|
Polyunsaturated Fat:
4
g
|
Monounsaturated Fat:
12
g
|
Trans Fat:
1
g
|
Sodium:
229
mg
|
Potassium:
342
mg
|
Fiber:
3
g
|
Sugar:
3
g
|
Vitamin A:
4767
IU
|
Vitamin C:
3
mg
|
Calcium:
112
mg
|
Iron:
3
mg