When it comes to this Easy Vegan Pumpkin Mac + Cheese recipe, it is by far more than a fork full of goodness! Super creamy, light, tender, and loaded with pumpkin + cajun flavors, this 'Mac + Cheese" is made from gluten-free macaroni, savory seasonings, pumpkin puree, and cashews. Completely vegan and gluten-free and perfect for your Thanksgiving menu or as a Fall comfort food.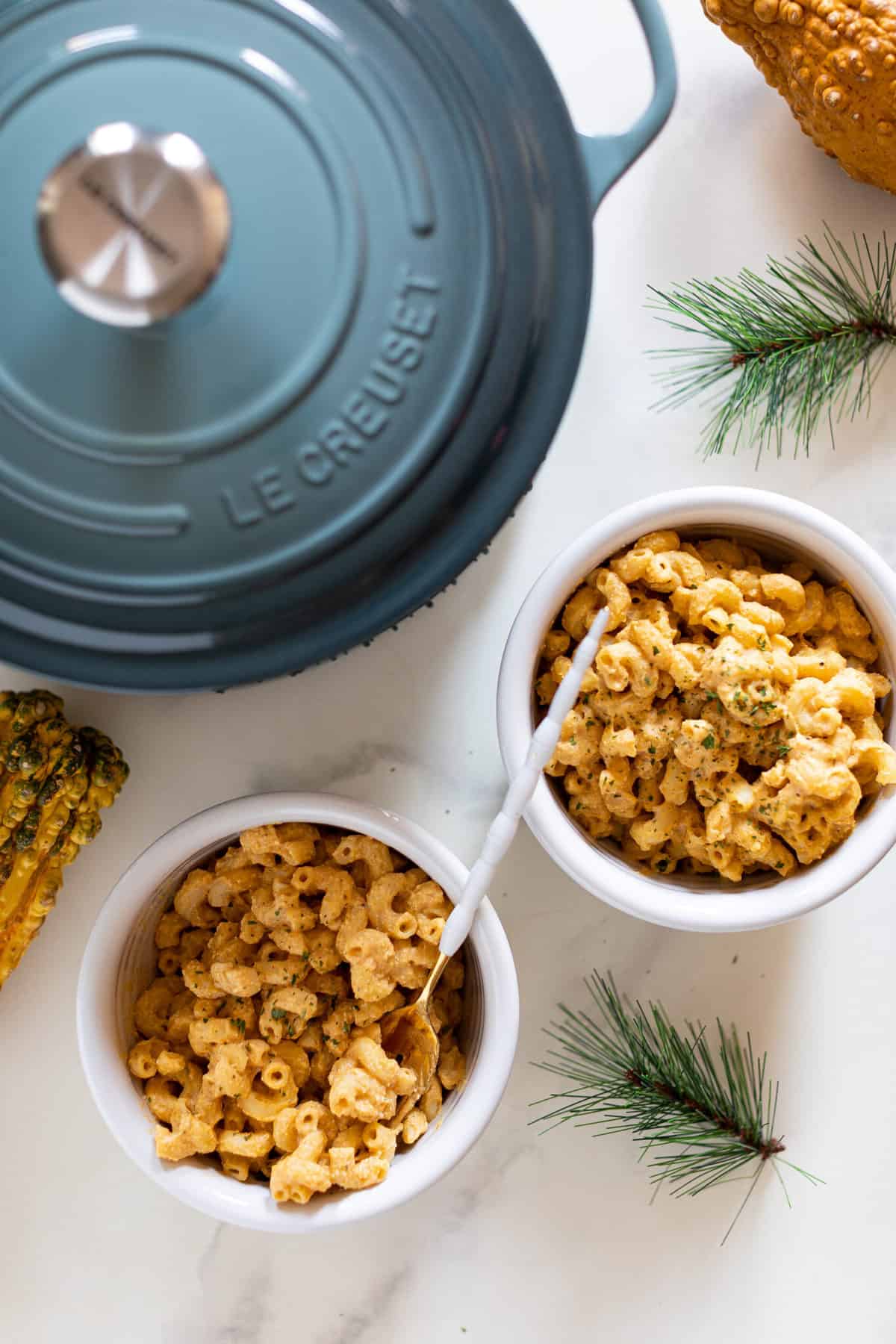 Easy Vegan Pumpkin Mac + Cheese—-the perfect vegan mac + cheese you'll ever taste! Seriously!
A beautiful twist on a classic dish that it sure to be a staple in your household. Completely vegan and gluten-free.
Now, if you've been an avid follower of Orchids + Sweet Tea, then you'll know that I'm a Southern girl at heart who LOVES flavor! So, of course Mac + Cheese is on my top favorites list.
Growing up, I use to love this stuff. I mean, eating an entire bowl of Mac + Cheese was nothing for me. Plus, in the South, this stuff is almost always prepared during every cookout, gathering, or occasion, so how could I not be obsessed, right?
However, this recipe is truly a nice remix on my Ultimate Vegan Mac + Cheese recipe, which is so easy and GOOD!
What You'll Need For This Mac + Cheese?
Pumpkin – The epitome Fall flavor. Rich + Savory subtle flavors
Almond Milk – Makes things nice + creamy; You can use your fave plant-based milk
Cajun Seasonings – A great addition to the pumpkin flavor. Adds such savoriness nice + a beautiful kick of spice
Flour or Starch – Adds thickness to the sauce
Herbs – Always love adding an earthy feel to my savory dishes
Veggie Stock – Helps to add extra flavor and creaminess
Nutritional Yeast – A light addition of "cheesy" flavor to marry everything together
Need Savory PumpkinVegan Recipes? These are a Must!
These Vegan Pumpkin Cinnamon Rolls most certainly live up to being the best. They are moist, soft, thick, sweet, and surely does just melt in your mouth. Not being your typical Cinnamon Roll, this recipe is topped with a mouth-watering Maple Glaze that will leave you wanting more.
This One-Pot Cajun Pumpkin Alfredo Pasta is the perfect way to enjoy a good plate of creamy pasta much like the classic Alfredo version, but without the dairy and cheese (all Vegan), completely loaded with pumpkin flavor married with cajun seasonings, and of course with the amazing texture of Pappardelle noddles. This recipe is easy to make, satisfying, and is sure to be your family's next staple Fall-inspired comfort food.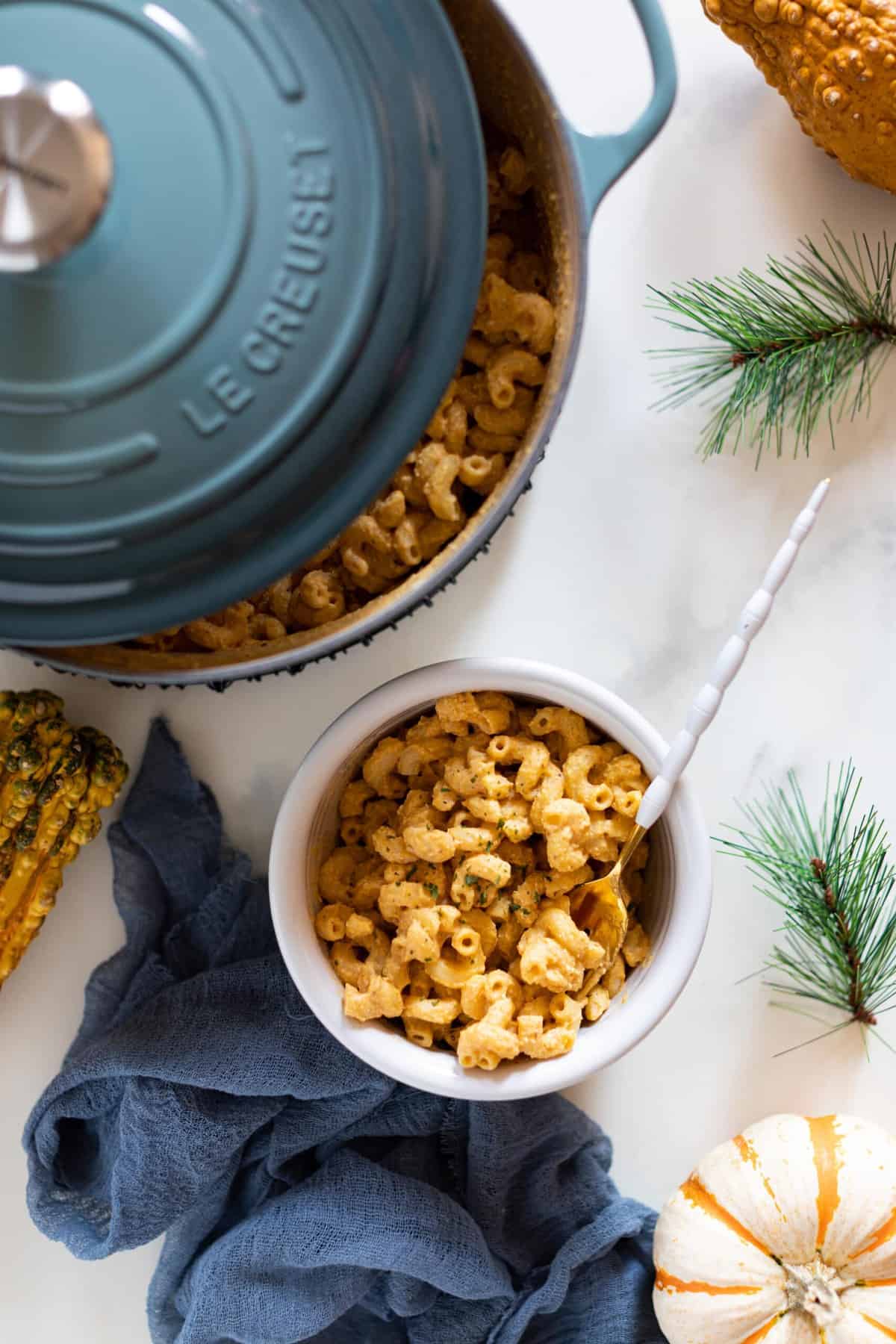 5 Reasons Why You'll Love This Mac + Cheese!
Can I be honest? Once you taste this mac + cheese, you'll fall in absolute love. Haha. More importantly, here are the reasons why you'll love it the most:
It's Vegan + Plant-based
Super easy to make and quick (plus, no crazy clean-up! Can we say–Everything in one-pot?)
Cajun flavor adds a beautiful spice to everything
Full of flavor + so creamy! (The best reason!)
Perfect for any time of day—Dinner, Lunch, Breakfast (if that's your thing), whatever!
The Secret to Making this Recipe Perfectly Creamy.
When it comes to most of my vegan pasta dishes, I usually use cashews as a base to making the entire dish creamy.
However, with the pumpkin flavored pasta, I didn't need to use cashews due to the pumpkin puree acting as a creamy base when paired with Almond milk and veggie stock.
Once you have the sauce simmering on the stovetop, the MOST IMPORTANT thing is to ensure that you whisk constantly. This prevents any clumping together and keeps everything smooth as the sauce thickens.
Easy as 1, 2, 3.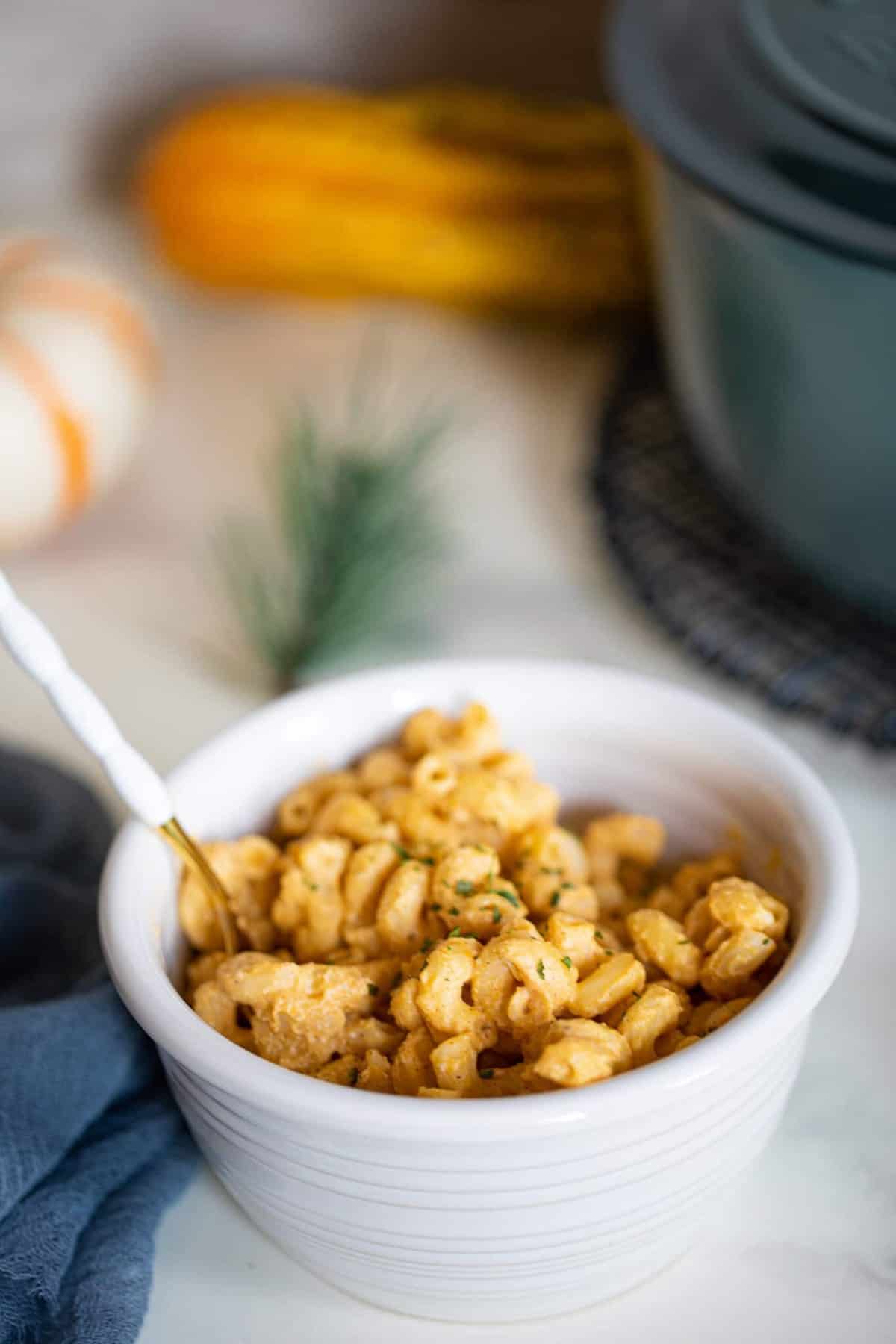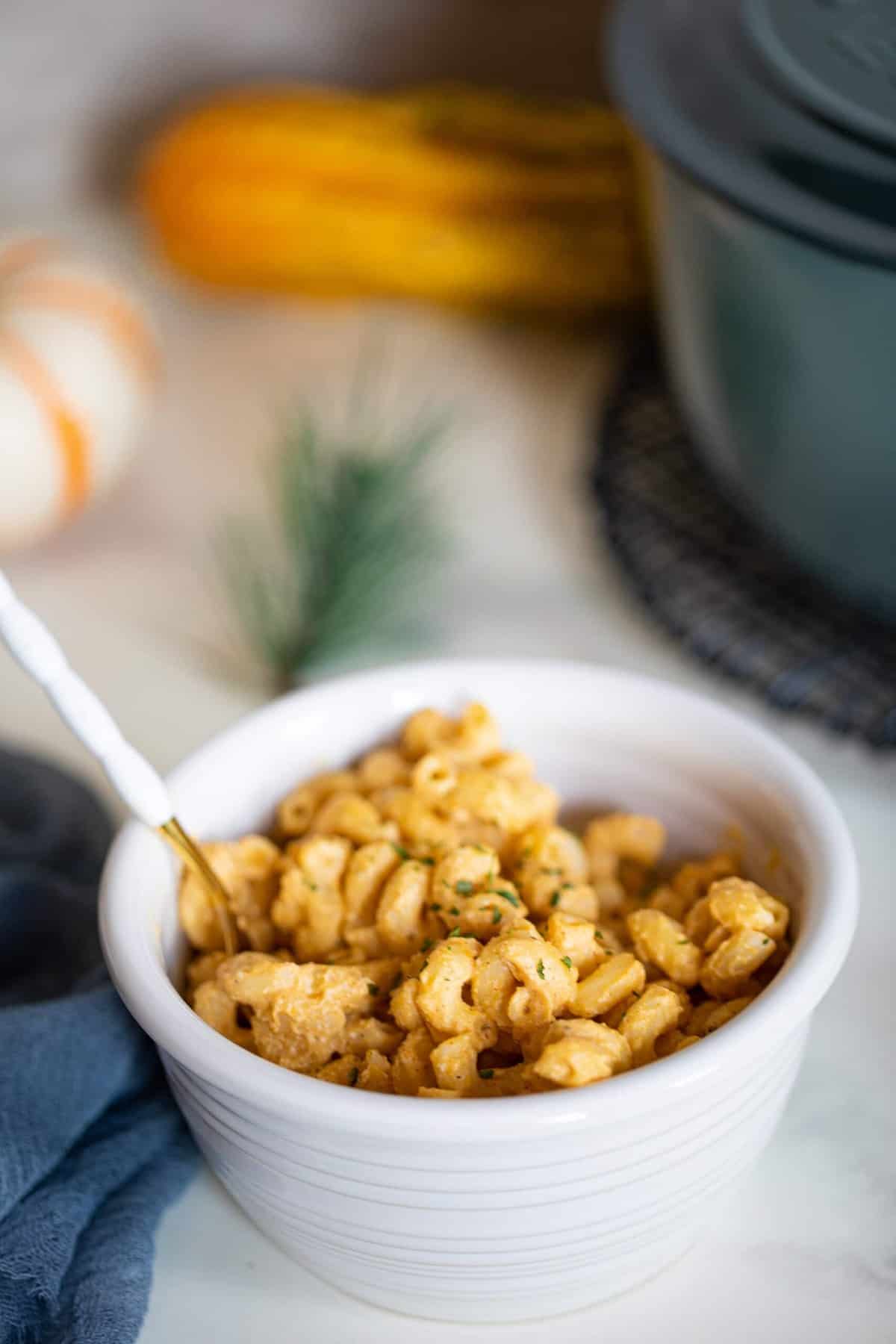 NEED A FEW GLUTEN-FREE RECIPE IDEAS TO ENJOY?
This Gluten-Free Weeknight Baked Meatball Penne Pasta Casserole is a healthier classic recipe for the entire family! Packed with bold, savory flavors, this recipe is the perfect hearty, vegetarian option that is made with creamy ricotta + vegan meatballs tucked away in between the penne pasta and topped with a seasoned tomato sauce, and generous amounts of Mozzarella cheese.
Gluten-Free Coconut Lime Shrimp Pasta—-the perfect weeknight meal for the entire family. Nicely flavored + creamy, this pasta is the epitome of comfort food and comes completely Gluten-Free and Dairy-Free. Based with GF noddles, tossed in a light sauce that highlights true lime + coconut flavors, then topped with sautéed tomatoes and well seasoned shrimp.
Black Bean + Quinoa Skillet Nachos — the perfect vegan + gluten-free meal for Meatless Mondays or Taco Tuesdays. This recipe comes loaded with crispy nacho chips, black beans, quinoa, onions, tomatoes, jalapeños—–all well seasoned with homemade taco seasoning and topped with a delicious vegan cashew-based queso sauce.
What About the Pumpkin?
When it comes to the pumpkin flavor, I use the pumpkin from the can specifically for pumpkin puree, NOT pumpkin pie filling (I use the organic version from Libby's). of course, you can go down the route of roasting pumpkin and pureeing it yourself. Either way, you'll love this dish.
Common FAQs for Mac + Cheese.
How Do I Store Leftovers? Can I Freeze It?
OK, so like most other dishes, you can store leftover Mac + Cheese in an airtight container for up to 4 days. When it comes to freezing, you can make ahead + store the Pumpkin Cream sauce and add it in a freezer-safe zip loc bag for up to 3 months. Once ready to use, simply thaw it out, cook your macaroni, and toss it together over the stovetop over medium-high heat until warmed.
Can You Do a Baked Mac + Cheese Version?
Absolutely! Simply follow all steps and add everything to a baking pan. Top with breadcrumbs and bake for a few minutes. For inspiration, see my Baked Vegan Buffalo Mac + Cheese!
Is it Necessary to Soak Cashews?
Yes! To ensure that cashews are soft enough to fully blend and create the desired creaminess, it's super important to soak them. If you aren't able to soak them overnight, you can do a fast soak: simply cover cashews with boiling water and let sit for 30 minutes, drain, + rinse.
Do I need to Add Cajun Seasoning?
Not at all! If preferred, you can keep things pretty simple! Check out my Ultimate Vegan Mac + Cheese recipe for inspo!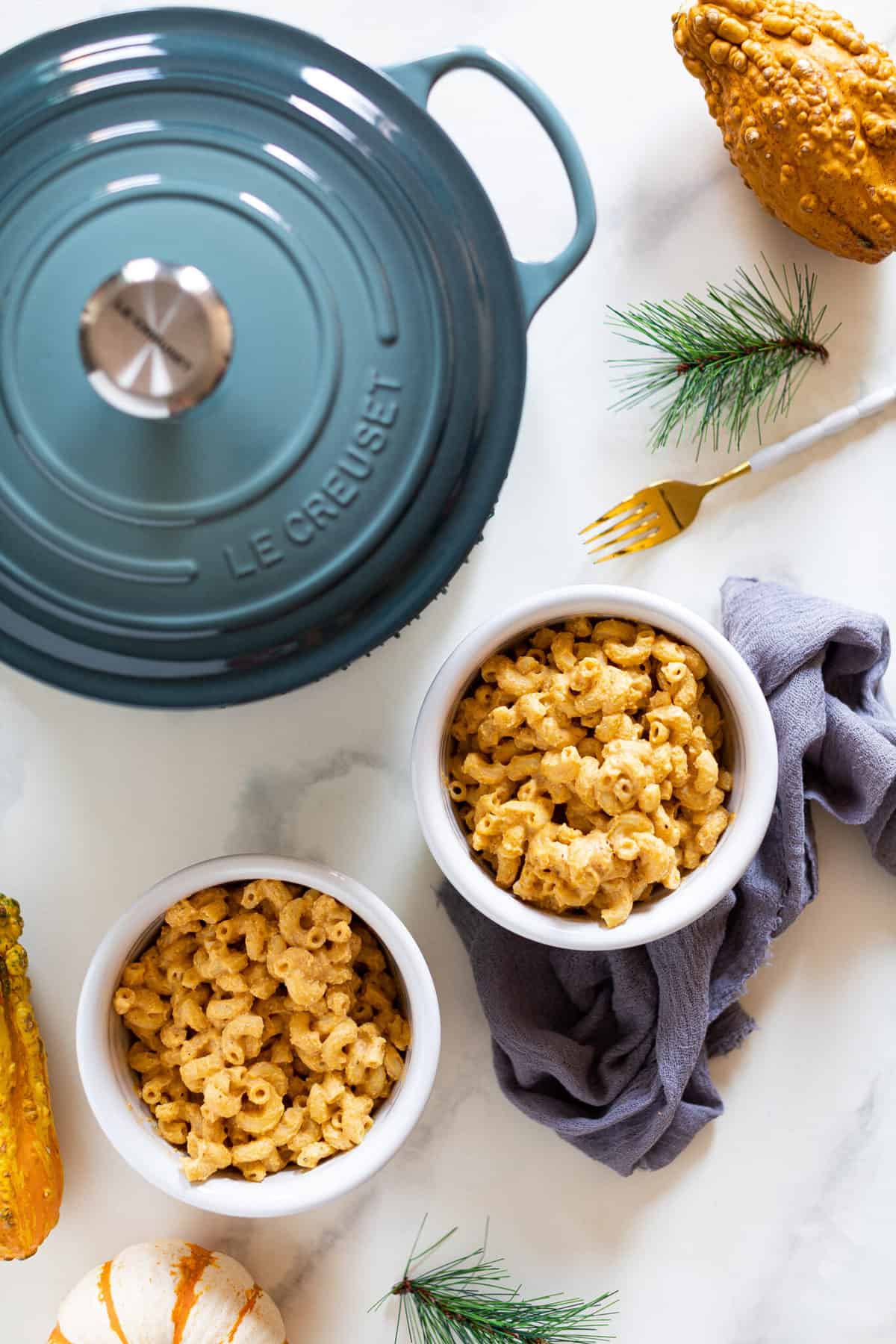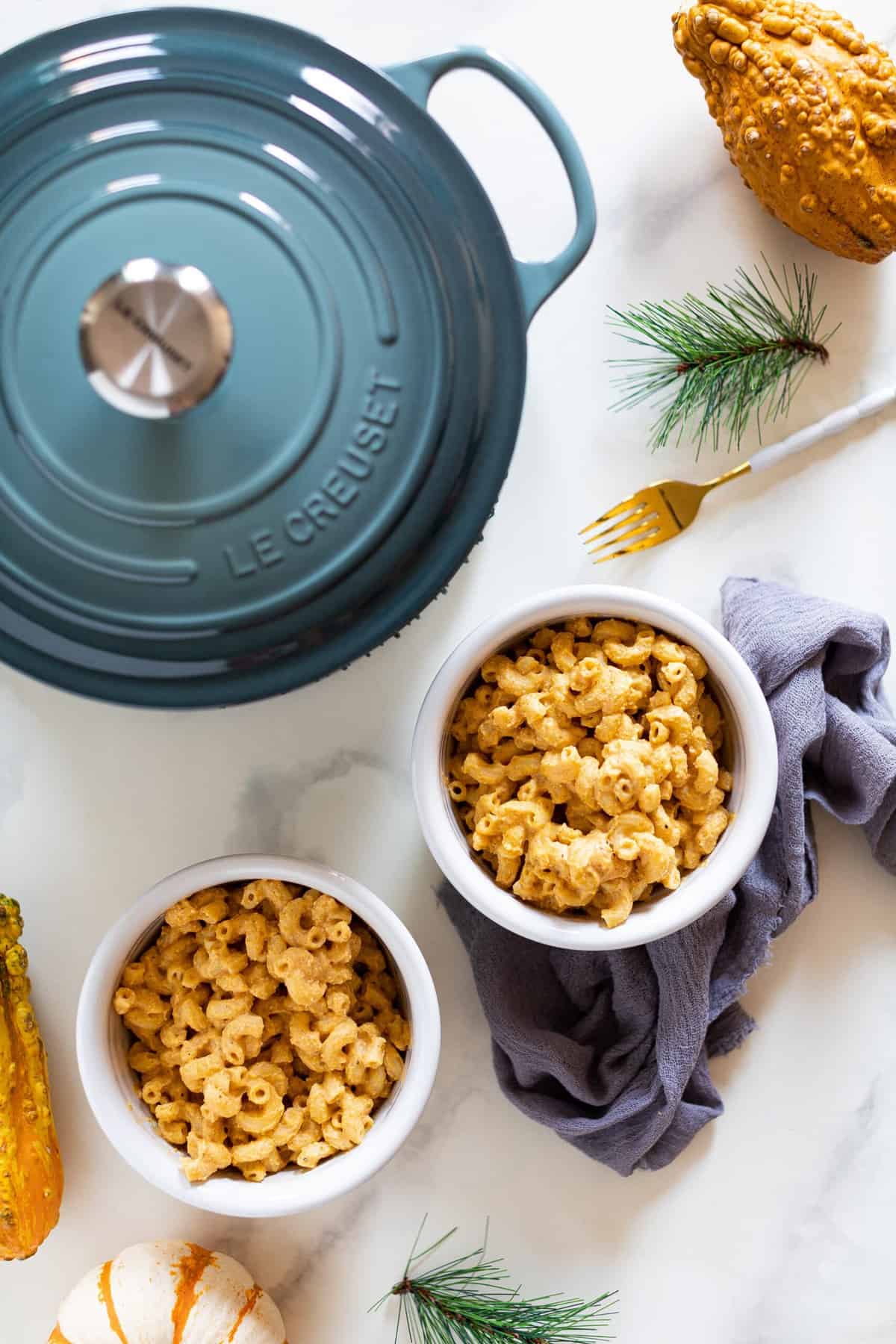 1

(8 oz.) box

GF macaroni shells

1

cup

pumpkin puree

(Canned version; Not Pie Filling!)

1 3/4

cups

Almond milk 

(You can use your fave plant-based milk!)

2

Tbsps

vegan butter

2

garlic cloves, minced

1/4

cup

GF 1-to-1 Baking Flour

(You can sub with Arrowroot Starch as well!)

2

Tbsps

nutritional yeast

1/2

tsp

ground mustard

1

tsp

juice of a lemon

red pepper flakes, garnish
Homemade Cajun Seasoning:
2

Tbsps

garlic powder

2

Tbsps

Italian seasoning

2

Tbsps

smoked paprika

1

tsp

sea salt + black pepper

1

Tbsp

cayenne pepper

1

Tbsp

dried thyme

1

Tbsp

onion powder
Vegan Cream Cheese:
1 1/2

cups

raw cashews, soaked overnight, drained, + rinsed

(See Notes!)

1

Tbsp

grapeseed oil

(See Notes!)

1

Tbsp

juice of a lemon

1/2

tsp

apple cider vinegar

1

tsp

dried rosemary

1/4

tsp

sea salt
Bring a large pot of water to a boil and add macaroni and cook according to packaging. Once cooked, drain and set aside.
To Make Vegan Cream Cheese:
Add the cashews, grapeseed oil, lemon juice, apple cider vinegar, rosemary, and sea salt to a high-powdered blender. Blend for about 1 minute on medium-high speed, until smooth, and it looks like a thick paste that resembles cream cheese. **NOTE: If too thick, add a little warm water (1 Tbsp at a time), until desired consistency is formed.

In a medium saucepan, heat butter on medium-high heat and add garlic and sauté for a minute or so. Next, add flour and whisk until well incorporated and bubbly.

Slowly add Almond milk and pumpkin puree, whisking frequently. Once mixture becomes thick, add 1 1/2 cups vegan cream cheese, whisking frequently again. Add nutritional yeast, ground mustard, cajun seasonings, lemon juice, and red pepper flakes. Continue to whisk sauce until well combined.

Once fully combined, add drained pasta and toss in sauce carefully.

Garnish with red pepper flakes (optional) and enjoy!

Bon Appetite!
STORAGE: Any leftovers can be kept in a tightly sealed container and refrigerated for up to 3-4 days. CAJUN SEASONINGS: Any leftover cajun seasoning mix can be stored in a ziploc bag for later use or used as garnish. SOAKED CASHEWS: To best soak cashews, add 1 cup of cashews to a bowl or measuring cup and cover with cold water, sealing the top with plastic wrap and leaving it out (at room temp.) overnight. When ready to use, drain and rinse. If not able to soak overnight, simply cover cashews with boiling water and let sit for 30 minutes, drain, + rinse. OIL: Instead of grapeseed oil, you can substitute with extra virgin olive oil or coconut oil.
Easy Vegan Pumpkin Mac + Cheese.