This Baked BBQ Chicken Grilled Cheese [Dairy-Free] recipe is the epitome of a sandwich upgrade! This grilled cheese is sweet + savory, tender, crunchy, balanced, and filled with dairy-free melted cheese. If you're ready to take your lunch or quick snack to the next level, this is the recipe for you. Definitely one that will become the newest family staple. Gluten-Free option.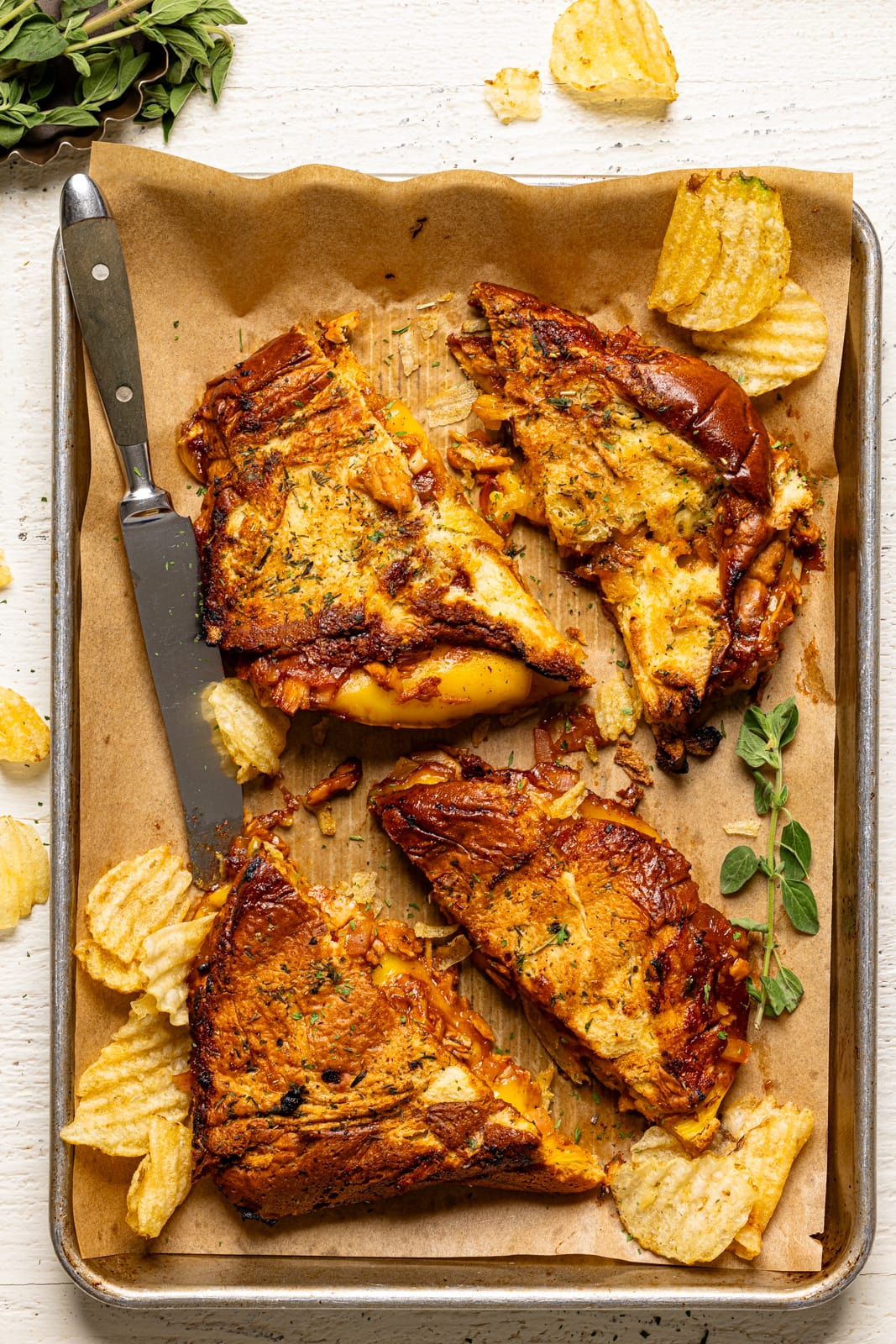 Disclaimer: This post contains affiliate links via Amazon for products that I wholeheartedly love and receive commission from.
Growing up, grilled cheeses were my lifeline. Everyday after school, I would grab two slices of soft bread, a few slices of cheese, and a skillet to whip together the most basic sandwich, but one that satisfied my tastebuds every time. This Baked BBQ Chicken Grilled Cheese [Dairy-Free] is definitely an upgrade from the ones I used to make and it's SO good. Believe me when I tell you that this recipe will be an absolutely family favorite once you make it. This Southern Honey Mustard Chicken Bacon Sandwich is truly something you need to try next!
The best part is that sandwiches like this one is super easy to make, usually only needs a handful of ingredients and can be whipped together in a few minutes. However, this particular grilled cheese sandwich not only comes with a nicely golden appearance, but it's so crunchy from being baked, which adds such great texture to the saucy + gooey combo happening on the inside. Lovers of grilled cheese sandwiches beware because this Everything Chicken Tomato Grilled Cheese, Broccoli Pesto Grilled Cheese, and Southern-Style Bacon Grilled Cheese Sandwich is one to try next! Guaranteed crowd-pleaser!
Plus, it's entirely dairy-free with a gluten-free option so that it works for those with sensitivities. If you're thinking of making your own bread, check out my Soft Buttery Vegan Brioche Bread!
Jump to:
What's the Secret to a Good Grilled Cheese Sandwich?
When it comes to a good grilled cheese, the core main thing is to ensure that you use butter and cook your sandwiches low and slow. As a result, I love creating a softened herb butter of some sort to spread on each side of the bread to ensure that it browns nicely.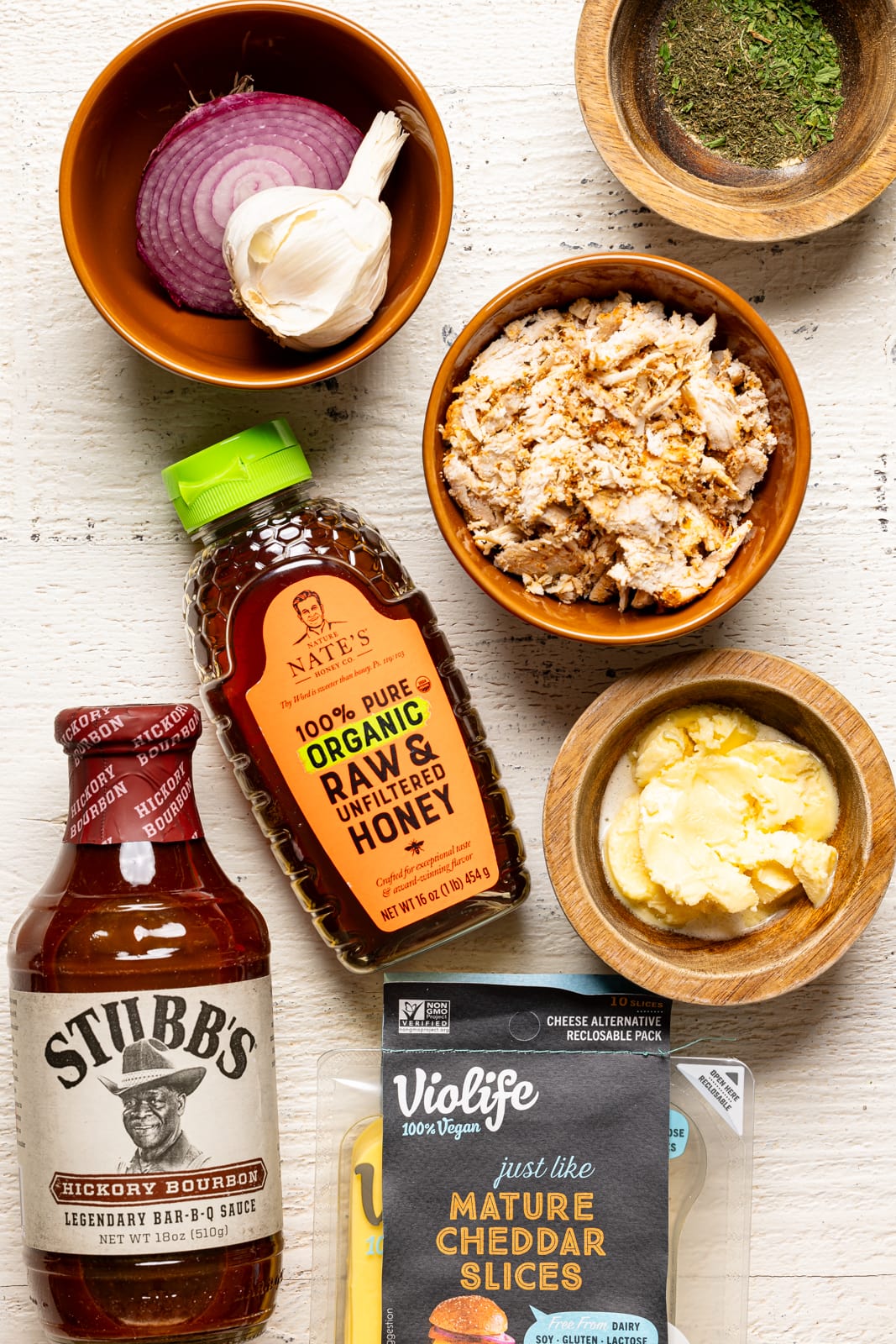 How to Make Baked BBQ Chicken Grilled Cheese
There are FOUR components to these decadent grilled cheese sandwiches: the sliced dairy-free cheddar cheese, shredded chicken, Herb Butter, and the BBQ sauce.
Start by prepping your ingredients: shred your cooked chicken breasts, chop the onions and mince the garlic, and slice the bread. You could also add roasted and seasoned tomatoes for extra flavor. Then make the softened Herb Butter. You'll need a bowl and fork or spoon. Then, it's a simple matter of assembling + cooking each sandwich to perfection! Then adding them to a baking sheet, bake for a few minutes, and wallah!
Ingredients for this Dairy-Free Grilled Cheese
Bread. I love using brioche bread for this sandwich or some crusty sourdough. You can use your fave rustic bread. To keep these sandwiches dairy-free, ensure that you use vegan brioche bread.
Chicken Breasts. One of the stars of this dish. I decided to shred them after it being cooked for a nice bite; Can also be diced in chunks.
BBQ sauce. You can use a premium store-bought sauce. Again, it's easy to make your own. See the post for how to make homemade BBQ.
Olive oil. you can also use avocado oil, coconut oil, or Grapeseed oil, if you prefer.
Garlic. I prefer fresh, but you could substitute with 1 Tablespoon garlic powder in a pinch for a bold flavor.
Red onion. I like a bit of red onion to add a pop of bitey, acidic flavor to the filling of the sandwiches. You can also use yellow or white onions.
Honey. The golden god of sweeteners. You can also substitute with maple syrup instead.
Herb butter. I like a mixture of vegan butter that's softened at room temp. and mixed with garlic powder, oregano, basil, parsley, thyme, + dill for a nice, bold flavor.
Dairy-free Cheddar. Adds a great amount of savory and beautiful melty cheese flavor between the fillings of this sandwich without the dairy. You can also use cheese shreds as a substitute like mozzarella, cheddar, or Mexican blend.
Homemade Vegan Brioche Bread for your Grilled Cheese
If you're looking to make this grilled cheese sandwich entirely dairy-free or just prefer using vegan brioche bread, then I highly recommend my recipe! It's the easiest, fluffiest Vegan Brioche Bread with this simple and fun baking recipe with yeast, vegan butter, and a secret ingredient–aquafaba!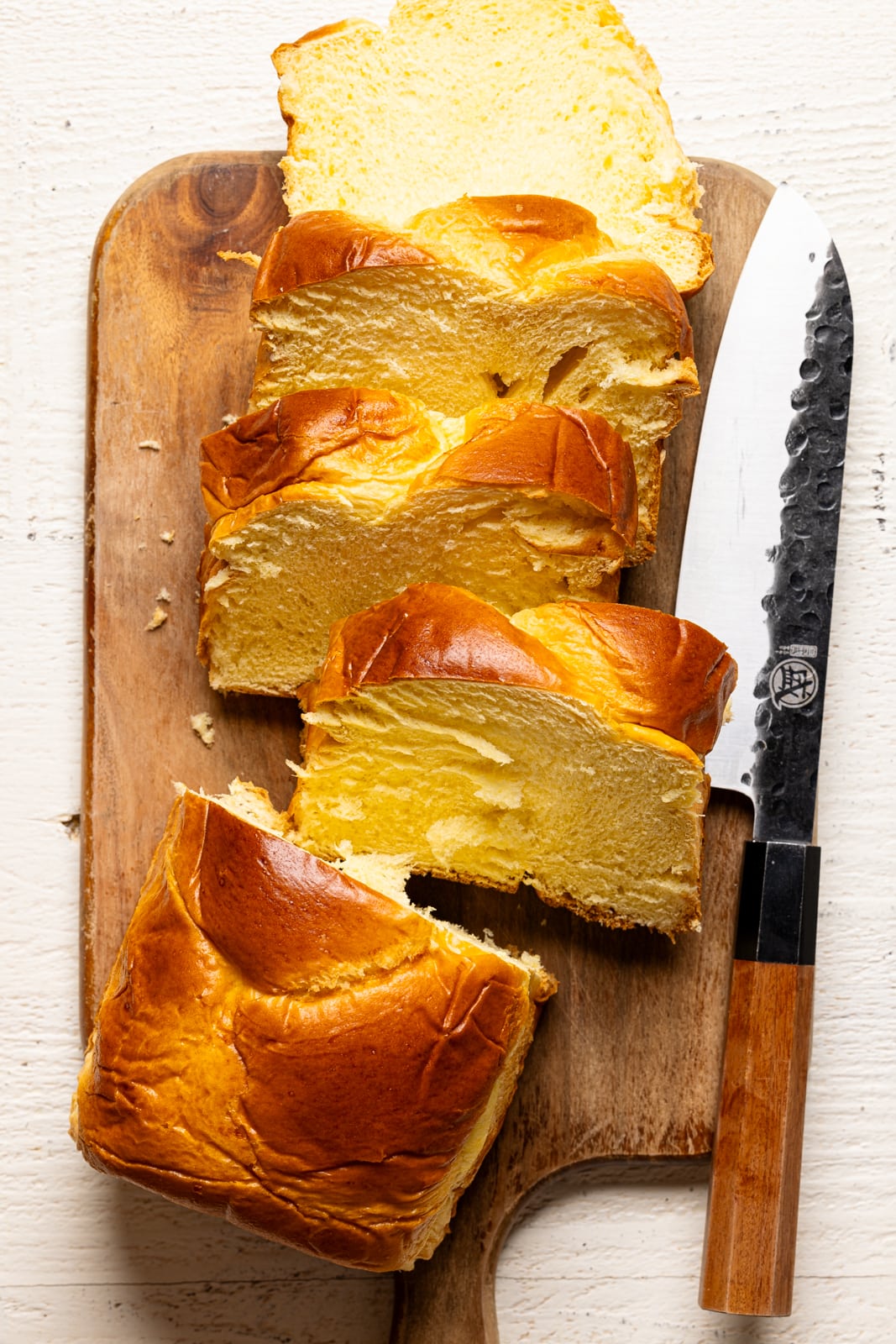 What is the Best Cheese for Grilled Cheese?
Even though this Baked BBQ Chicken Grilled Cheese is based on using dairy-free cheddar cheese, you can also switch things up and add a new flare in their flavor profile by adding any of the following cheeses (whether dairy-free or with dairy):
Havarti
Mild Cheddar Cheese
Gouda
American cheese
Goat cheese
Swiss
Provolone
Pepper Jack
Muenster
Homemade BBQ Sauce
To make your own BBQ sauce for these sandwiches is rather simple and doesn't require a lot. Here's what you'll need:
1 (15 oz.) can of tomato sauce
¾ cups water
¼ cup balsamic vinegar
2 Tbsps sriracha sauce
2 tsps ground mustard
⅓ cup agave syrup
2 Tbsps pure maple syrup
1 teaspoon sea salt
1 teaspoon onion powder
1 tablespoon red pepper flakes
1 teaspoon smoked paprika
DIRECTIONS: Place all ingredients in a medium saucepan on medium-high heat and whisk together until it begins to boil. Reduce heat to low-medium and let everything simmer for about 15 minutes or so, stirring occasionally. Once thickened enough to desired consistency, remove from heat and let cool. Set aside until ready to use or store remainder in an airtight container and refrigerate for up to 2 weeks.
Should I Cook Grilled Cheese Fast or Slow?
So, when it comes to cooking grilled cheese much like things like pancakes, it's super important to cook things slowly. Main reason: it helps the cheese and other ingredients to warm through evenly without the outside of the breads getting burned because it's on high-heat. Therefore, trying keeping things on low or medium-low and allowing everything to cook slow + sure. Patience will be your best friend!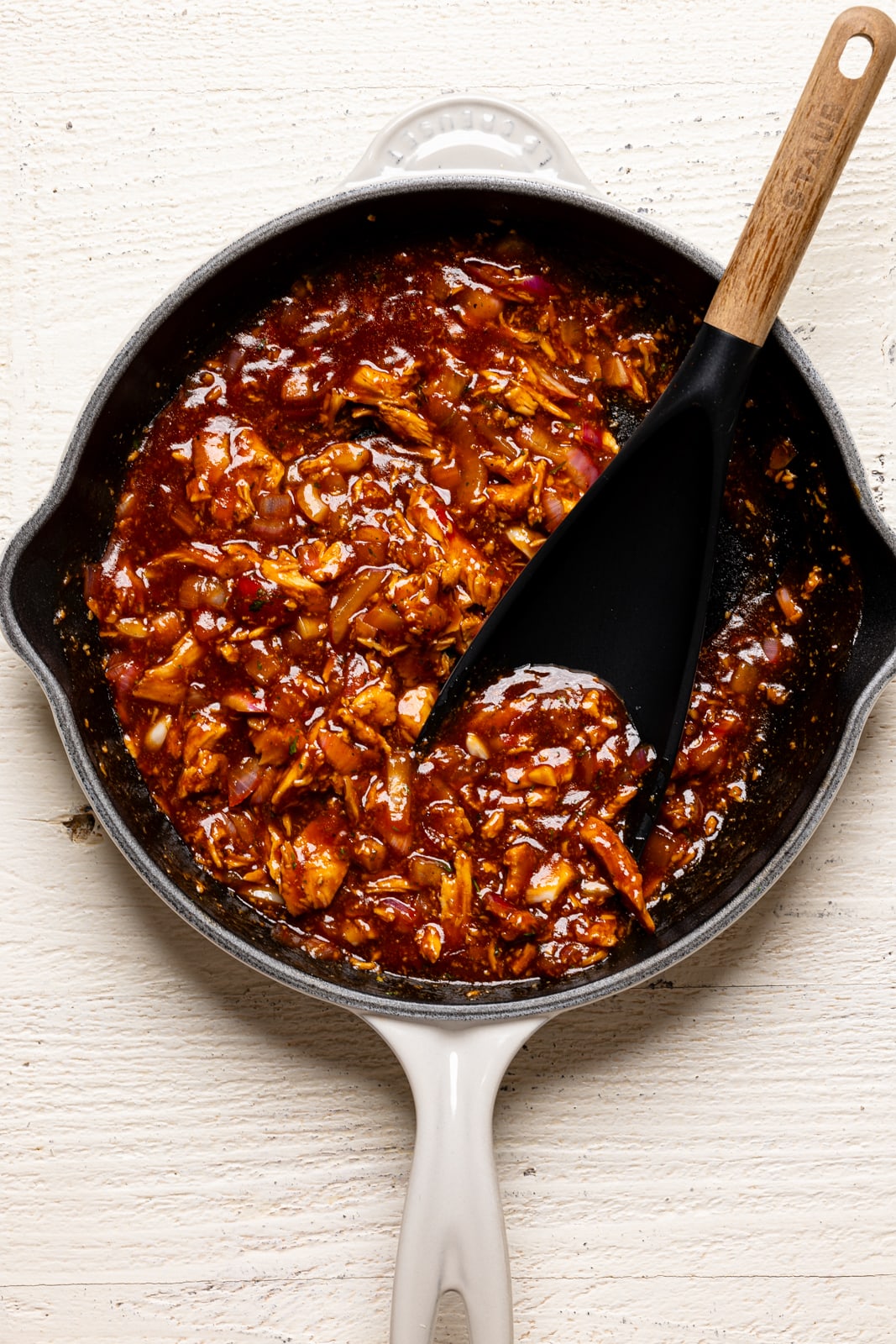 How to Best Shred Chicken
When it comes to creating pulled or shredded chicken, there are two most effective ways to do so. Firstly, you would need to ensure that your chicken is fully cooked and cooled and then you shred the chicken in one of the following ways:
Forks: For this method you would need two forks. If using this method, place your cooked chicken breast onto a plate or cutting board and use both forks to separate the chicken meat and 'shred' as you separate. Continue doing this until all of your chicken is shredded.
Stand Mixer: If you're looking to avoid using arm strength, then the method of a stand mixer might be just for you. This is by far the fastest and easiest way to shred chicken and you simply place all of your cooked chicken breasts in the bowl of stand mixer. Add the paddle attachment and mix on low. In just 15-20 seconds you'll have shredded chicken. That easy!
Other Ingredient Ideas
If you're looking for more grilled cheese ingredient inspiration or want to just make this Baked BBQ Chicken Grilled Cheese even more delicious, here are some more ideas of what ingredients to add:
Bacon: Candied or Regular crispy
Add greens: Kale, Spinach, Broccoli, Asparagus, Brussels sprouts (shredded), etc.
Roasted veggies: Bell peppers, zucchini, chipotle peppers, etc.
Caramelized onions
Roasted garlic
Sundried tomatoes
Meat alternatives: mushrooms, tofu, chickpeas, etc.
Kimichi (Think Gordon Ramsey's version)
Pickles
Other meats: beef, steak, prosciutto, ham, turkey, etc.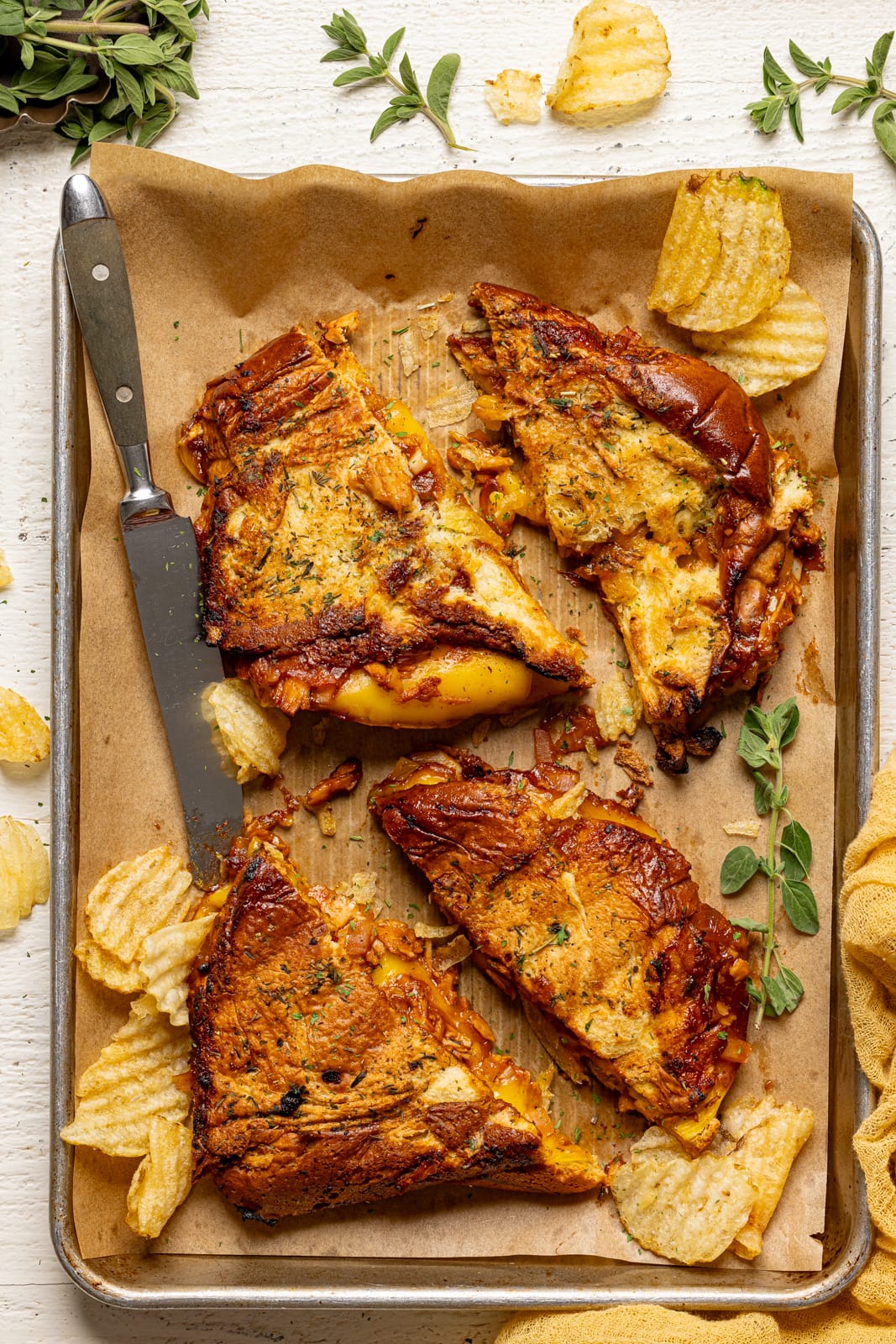 What Goes Well with this Grilled Cheese
I like to enjoy my Grilled Cheese on it's own most days or at least with a very simple side, however sometimes you can always spruce things up for a more hearty meal. Therefore, I wanted to share a few more ideas incase you make this grilled cheese more than once and want to switch things up!
Other food option ideas to enjoy this grilled cheese with----include:
Chips
Fries (like this Seasoned Crinkle Cut Fries, Crispiest Jumbo Garlic Herb Fries, or Spicy Honey Sweet Potato Wedges)
Other appetizers like wings (Classic Oven Baked Buffalo Wings, Sticky Peach Chicken Wings, Orange Chicken Wings, Crispy Buffalo Cauliflower Wings/Bites, or BBQ Cauliflower Wings)
Chicken Caesar Salad with Cornbread Croutons, Spicy Chipotle Sweet Potato Chopped Salad, or Quick + Easy Blood Orange Kale Salad
Delicious soups (like this Roasted Carrot Soup + Cheesy Croutons, Creamy Roasted Garlic Tomato Soup, Roasted Broccoli Cheddar Soup, or Creamy Garlic Chicken Gnocchi Soup)
Common Q + A's for this Dairy-Free Grilled Cheese
How to store + reheat leftovers?
Leftovers can be tightly wrapped in foil paper or an air-tight container and refrigerated for 1-2 days. To reheat, add leftovers to a baking sheet with parchment paper and warm in the oven at 375 degrees Fahrenheit until heated through.
Can I make these grilled cheeses gluten-free?
Absolutely! To make these grilled cheese sandwiches entirely GF, simply ensure that the bread is GF-Friendly.
Should you butter both sides of the bread for grilled cheese?
Yes! The general method for grilled cheese is to butter the outsides of the bread before placing it in the pan which creates more flavor and ensures that they are perfectly golden brown.
When should you flip a grilled cheese?
General rule of thumb: cook each grilled cheese butter-side-down letting it brown for 3 to 4 minutes before flipping to the other side. Then cook the other side for 3 to 4 minutes more, or until golden brown.
Do you cook grilled cheese on high heat?
No! When you try cooking it over high heat, it'll end up toasting the bread too quickly and not allowing the cheese to melt enough. Therefore, it's best to cook your grilled cheese over medium or medium-low heat.
How do you make grilled cheese not boring?
Honestly, it's all about adding additional ingredients or pressing your sandwiches with a burger press for nice ridges and more crisp. It's about having fun with your grilled cheeses!
How do you keep grilled cheese crispy?
Generally, with regular grilled cheese it's said to toast your bread prior to assembling and making your grilled cheese. However, in this recipe, you'll be baking it afterwards, therefore, the baking process will make it nice and crispy.
Why won't my cheese melt in my grilled cheese?
It's so important to use shredded or freshly-grated cheeses for the "gooey" results in your grilled cheese. For even better results, I always recommend having your cheese at room temperature for an easier melt. But always remember that certain cheese melt easier than others like American and Cheddar, which are often the go-to's!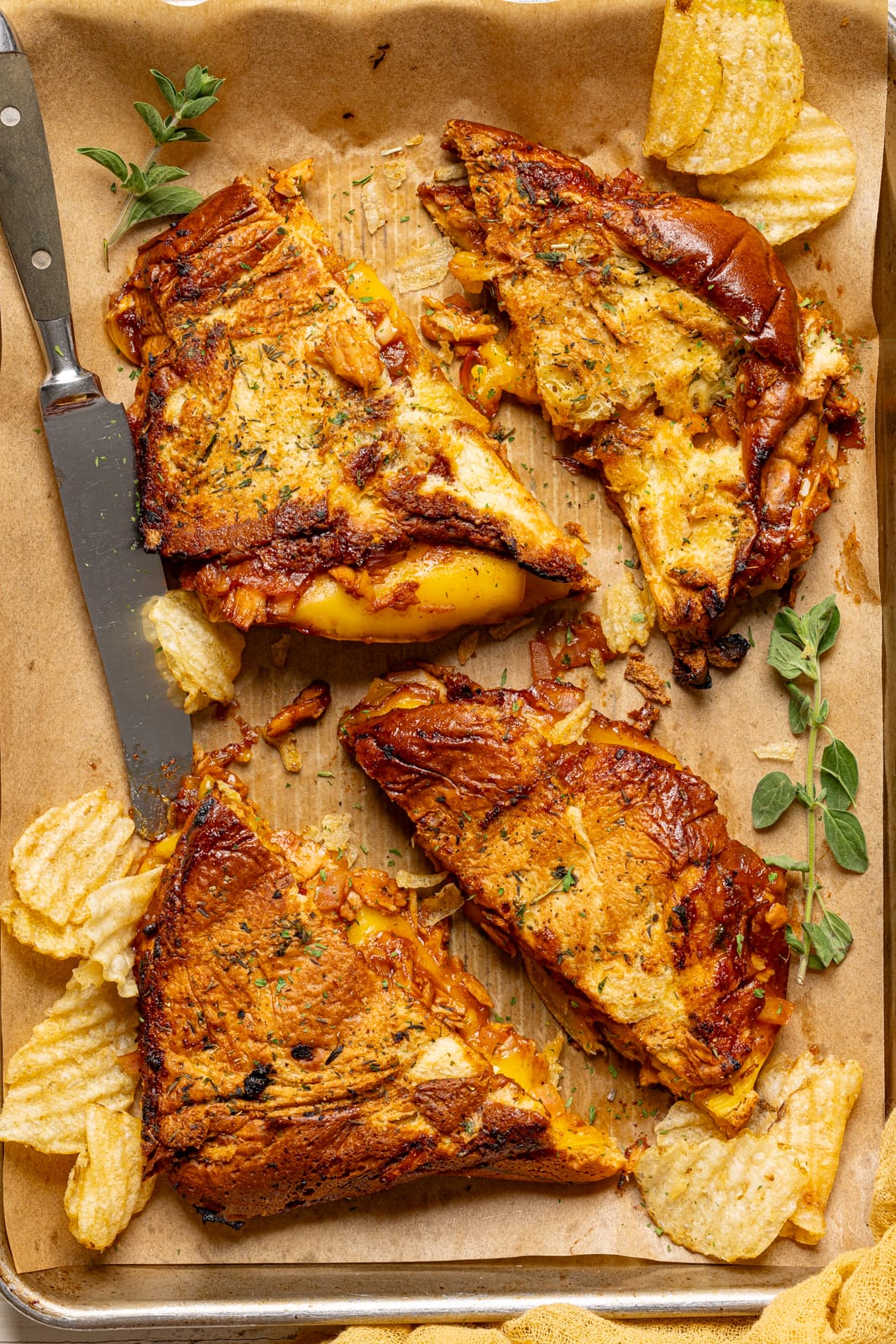 More Delicious Handheld Recipes to Try Next!
MADE OUR RECIPE(S)?
If you tried this Baked BBQ Chicken Grilled Cheese [Dairy-Free] recipe or any other recipe on my website, please please leave a 🌟 star rating and let me know how you go in the 📝 comments below. I love hearing from you.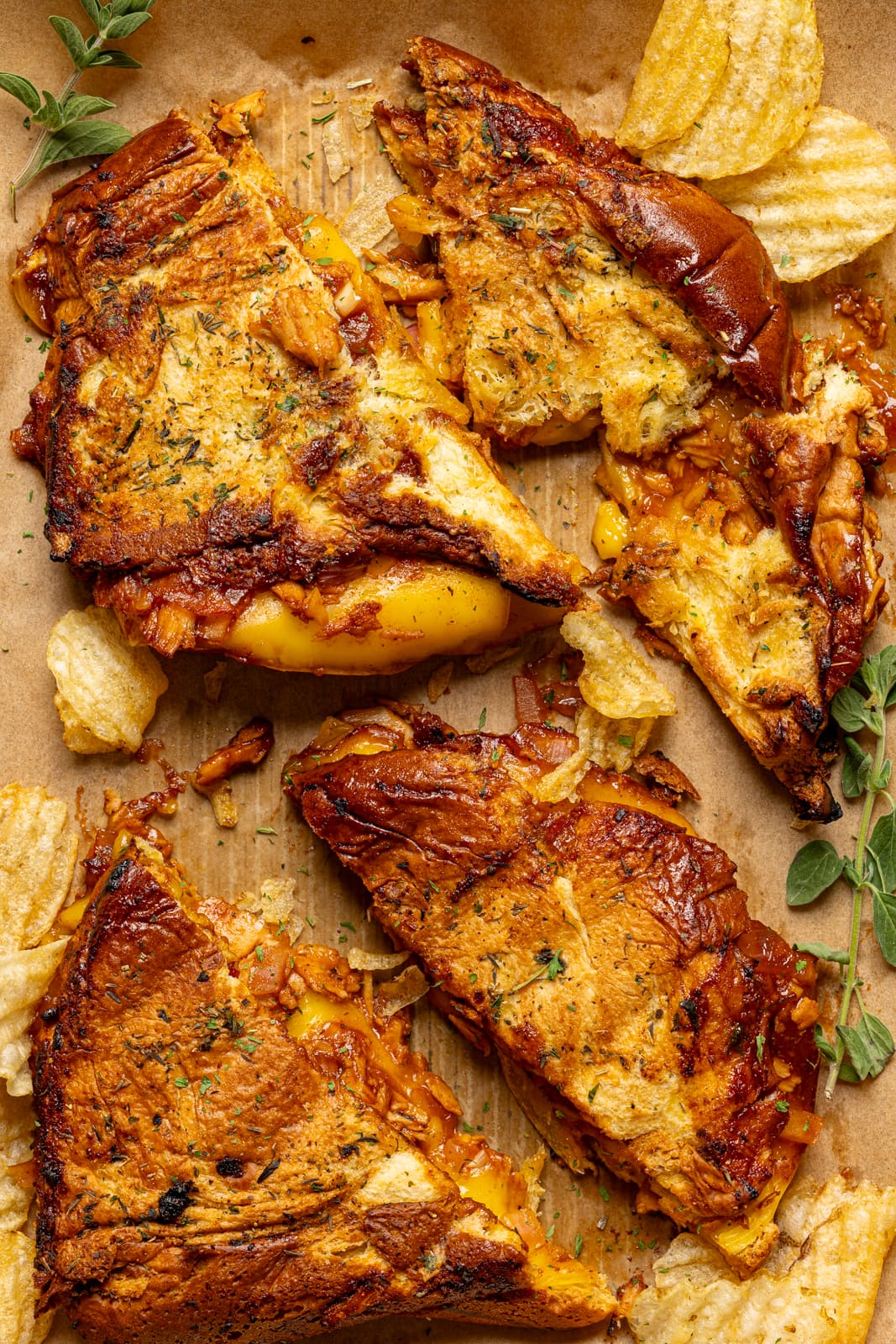 BBQ CHICKEN:
1

cup

cooked shredded chicken

1 ½

cups

BBQ sauce, premium

2

Tbsps

raw honey, organic

2

Tbsps

Extra virgin olive oil

1

teaspoon

smoked paprika

2

garlic cloves, minced

¼

red onion, chopped
GRILLED CHEESE:
4

slices

bread, vegan-friendly

(I love using brioche bread or other rustic bread like sourdough, etc. )

6

slices

dairy-free cheddar cheese
TO MAKE THE BBQ CHICKEN:
In a medium (10-inch) skillet over medium-high heat, add the olive oil. Once heated, add the garlic and onions, sautéing until fragrant, about 1-2 minutes. Add in the cooked shredded chicken, BBQ sauce, honey, and smoked paprika, stirring everything together until combines and everything begins to bubble a bit. Remove from heat.
TO MAKE THE HERB BUTTER:
In a bowl, add the softened butter and the following seasonings: garlic powder, oregano, basil, parsley, thyme, + dill, stirring them together until smooth, soft, and combined.
ASSEMBLY + SEAR:
On the outsides of each bread slice, spread a bit of the Herb Butter so that they become nicely crisp and golden.

In a medium (10-inch skillet) over medium-low heat, add one side of 2 slices of bread and top with a few slices of cheddar cheese followed by spoonfuls of BBQ chicken. Place the other side of bread that has nothing (ensuring that the buttered side is on the outside) atop the ingredients, pressing them gently together to make a sandwich and allowing the first side of the bread to become golden, about 2-3 minutes.

Flip sandwich unto opposite side and cook for another 2-3 minutes. NOTE: I love using a burger presser to create ridges like a panini sandwich on each side.

Repeat until all sandwiches are made.
BAKE THE SANDWICHES:
Preheat the oven to 400 degrees Fahrenheit and prepare a baking sheet with parchment paper.

Once all sandwiches are golden brown, add them to the prepared baking sheet and bake for 8-10 minutes or until the cheese has fully melted and the outsides have become extremely crispy. NOTE: Be sure to check them after the first 5 minutes to ensure that they aren't burning.

Remove from oven, cut in halves (if desired), plate the sandwiches with your favorite side or chips and enjoy.

Bon Appetit!
STORAGE: Leftovers can be tightly wrapped in foil paper or an air-tight container and refrigerated for 1-2 days. To reheat, add leftovers to a baking sheet with parchment paper and warm in the oven at 375 degrees Fahrenheit until heated through.  GUTEN-FREE OPTION: To make these grilled cheese sandwiches entirely GF, simply ensure that the bread is GF-Friendly. OILS: Instead of using Extra Virgin Olive Oil, you can substitute with Grapeseed Oil, Avocado Oil, or Coconut Oil. 
Calories:
833
kcal
|
Carbohydrates:
93
g
|
Protein:
20
g
|
Fat:
43
g
|
Saturated Fat:
8
g
|
Polyunsaturated Fat:
10
g
|
Monounsaturated Fat:
23
g
|
Trans Fat:
4
g
|
Cholesterol:
53
mg
|
Sodium:
2449
mg
|
Potassium:
767
mg
|
Fiber:
4
g
|
Sugar:
72
g
|
Vitamin A:
1047
IU
|
Vitamin C:
4
mg
|
Calcium:
130
mg
|
Iron:
4
mg