This Sticky Orange Chicken Popcorn Chicken recipe is a deliciously healthier option for the entire family. Made with an extra crunchy outside from the cornflake-breadcrumb coating and a juicy, tender inside from the perfectly cooked chicken, this popcorn chicken is just the thing you need! Just know that your taste buds will thank you for this bold citrus flavor. Super easy to make and whipped together in under 50 minutes. Gluten-Free + Vegan options.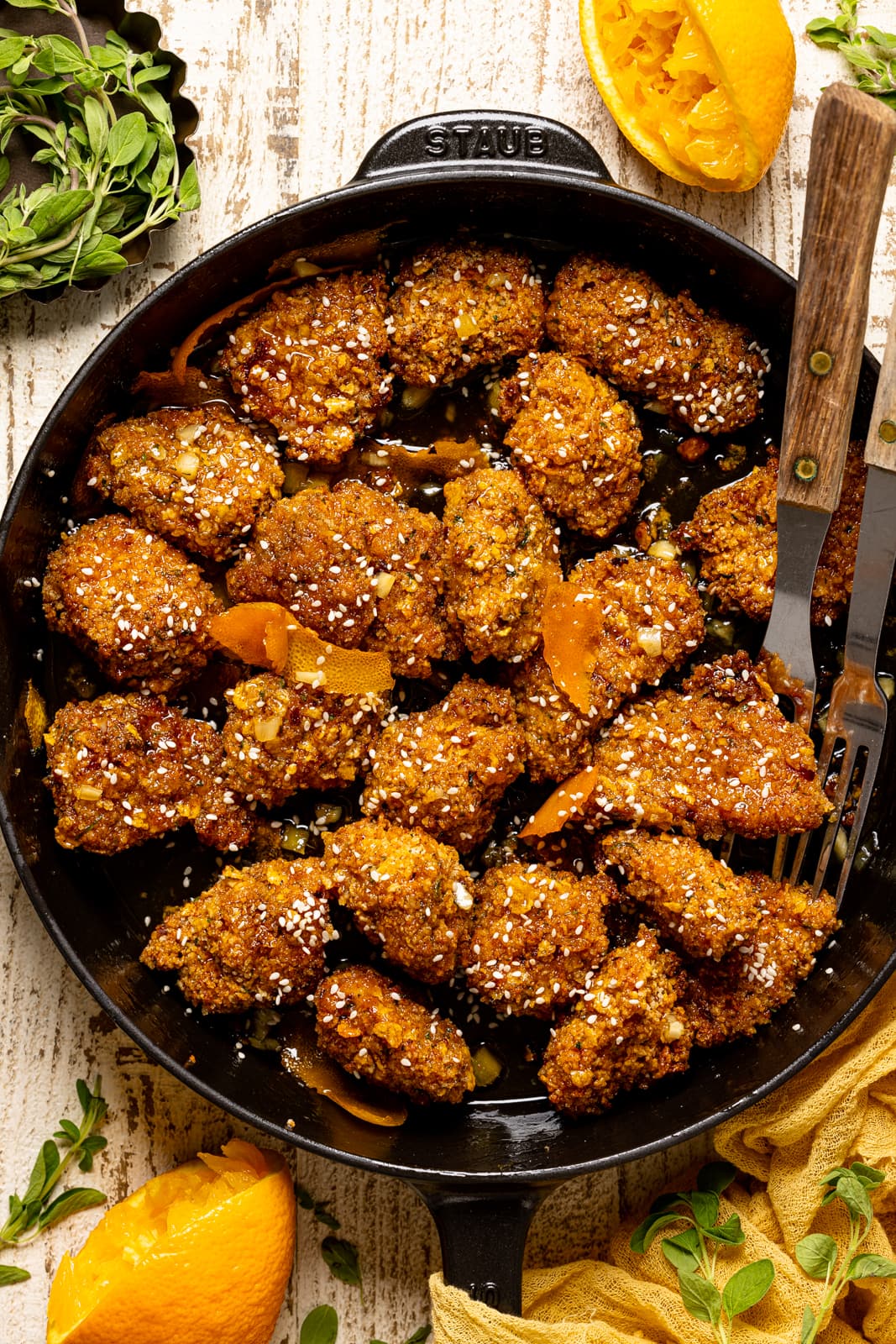 Disclaimer: This post contains affiliate links via Amazon for products that I wholeheartedly love and receive commission from.
Growing up, chicken nuggets and bite-sized chicken were one of my favorite things to eat. Naturally, I think that almost every child loves them, especially since they are just the perfect bite-size and can easily be dipped in your favorite condiment sauce. And while you might assume that your chicken needs to be fried, this recipe proves that even oven baked chicken creates the crunchiest outer layer once you get the coating right and that's what you get with this Sticky Orange Chicken Popcorn Chicken!
When it comes to creating a crispy layer that doesn't require frying, I've found great success with combining cornflakes and breadcrumbs. You'll be surprised by how incredibly crunchy they become while still remaining nice and juicy on the inside. Don't believe me----try this Crispy Baked Chicken Tenders recipe next! This popcorn chicken recipe offers a bold orange flavor which adds such a great eating experience for everyone. And if you're looking for a vegan or meatless option, my Baked Sticky Orange Cauliflower + Quinoa is something to try! Of course, you'll enjoy these Crispy Buffalo Chicken Tenders and Spicy Gochujang Chicken Tenders.
What is Popcorn Chicken?
Basically, popcorn chicken are bite-sized pieces unlike traditional chicken or chicken tenders. If you've had KFC popcorn chicken, then you know just how delicious these little breaded tender chunks of chicken breast are which come breaded and deep-fried to golden perfection!
The best part is that this chicken recipe comes together in under 50 minutes total and you'll only need a baking sheet with a wire rack, parchment paper, a skillet, and of course the handful of ingredients. Plus, there's a gluten-free option for those who are gluten sensitive because we still have to enjoy this goodness. Haha.
Jump to: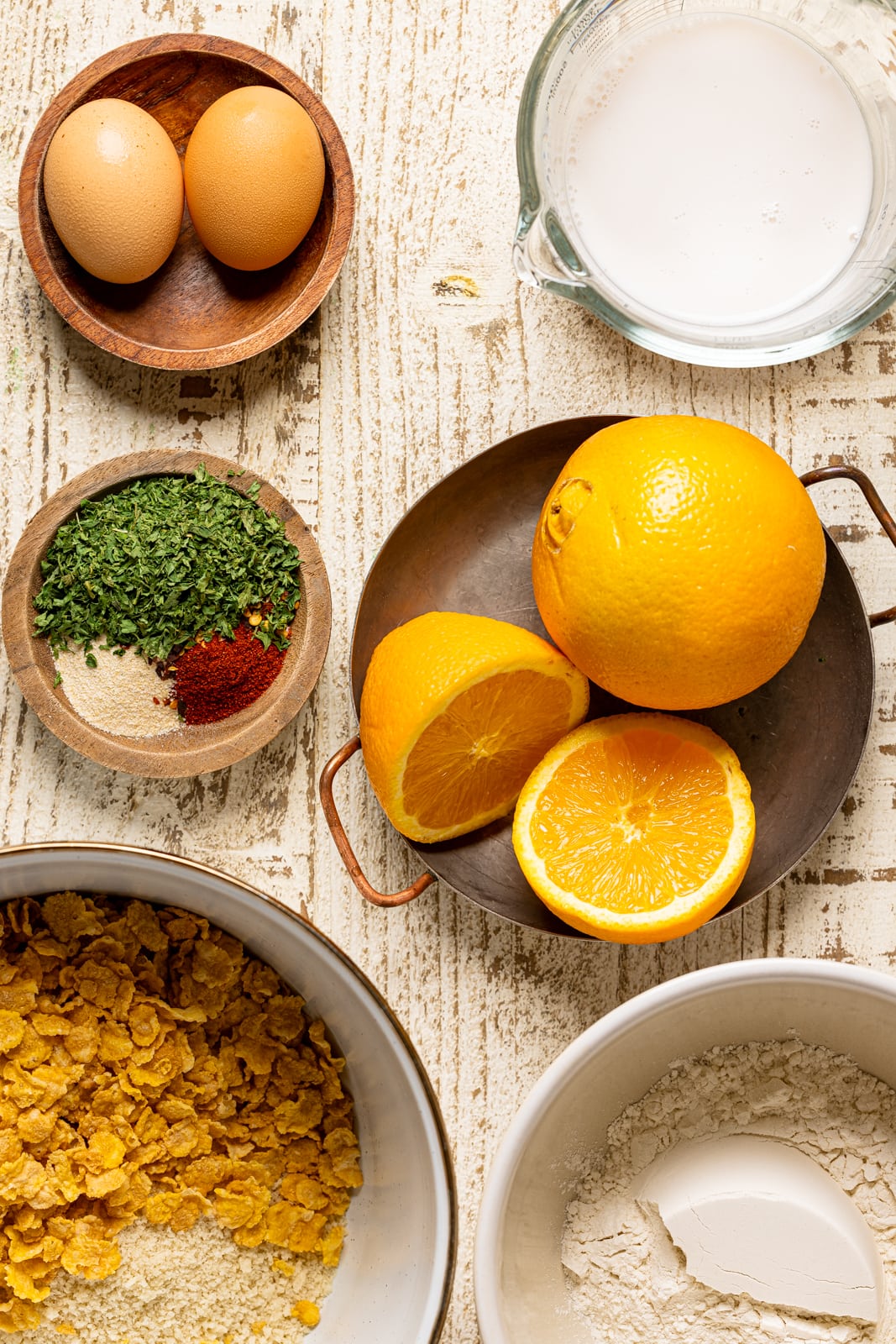 How to Make Sticky Orange Chicken Popcorn Chicken
Making these crispy little bite-sized chicken is a simple matter of seasoning your chicken and breading them in a seasoned cornflake-breadcrumbs crust before baking them for crispness. Finish everything off with a sticky, sweet orange sauce and serve them up with your favorite side or by themselves with your favorite condiment.
Ingredients for Orange Chicken Recipe
Here's what you need to prepare these crispy little orange popcorn chicken bites today:
Chicken breasts. Choose organic whenever possible. Simply cut the chicken breasts into medium-sized cubes or chunks. If you don't have chicken breasts, you can always use chicken tenderloins which are pre-cut and just cut those into chunks.
Herbs + seasonings. This adds great flavor to the chicken as a marinade and the coating. You'll need salt, black pepper, smoked paprika, garlic powder, onion powder, parsley, red pepper flakes, and thyme.
Corn flakes. Crush your cornflakes by placing them in a zip-top bag and crushing them with something heavy until you have a fine texture, but not a powder.
All-purpose flour. I use Bob's Red Mill organic flour. You can use gluten-free all-purpose flour to keep this recipe gluten-free.
Breadcrumbs. You can buy store-bought breadcrumbs or panko. Or see the notes below the recipe to easily make your own Seasoned Toasted Panko Bread Crumbs). Use GF-friendly ones for that option. I love Edwards & Sons GF breadcrumbs.
Butter. I recommend unsalted. This adds flavor to the sauce. For a dairy-free + vegan option, sub with vegan butter.
Almond milk. Or another plant-based milk (unsweetened). You can also use whole milk or heavy cream instead.
Eggs. Acts as a great binder for the wet marinade when coating chicken. You can sub with honey dijon mustard or mayo or yogurt or omit completely if using heavy cream.
Honey. You can substitute the honey with maple syrup or organic brown sugar if that's what you have on hand.
Filtered water. This gives the sauce additional liquid.
Brown sugar. This adds a nice glaze-like texture to the sauce.
Freshly-squeezed orange juice. I love using actual oranges, but you can substitute with store-bought orange juice if needed.
Garlic. Fresh minced or grated garlic also works.
Arrowroot starch. Works as a thickener for the sauce. This is also a GF-friendly starch, however, you can substitute with cornstarch, tapioca flour, or flour.
Orange peels. For a nice burst of orange flavor. You can also use orange zest, if preferred.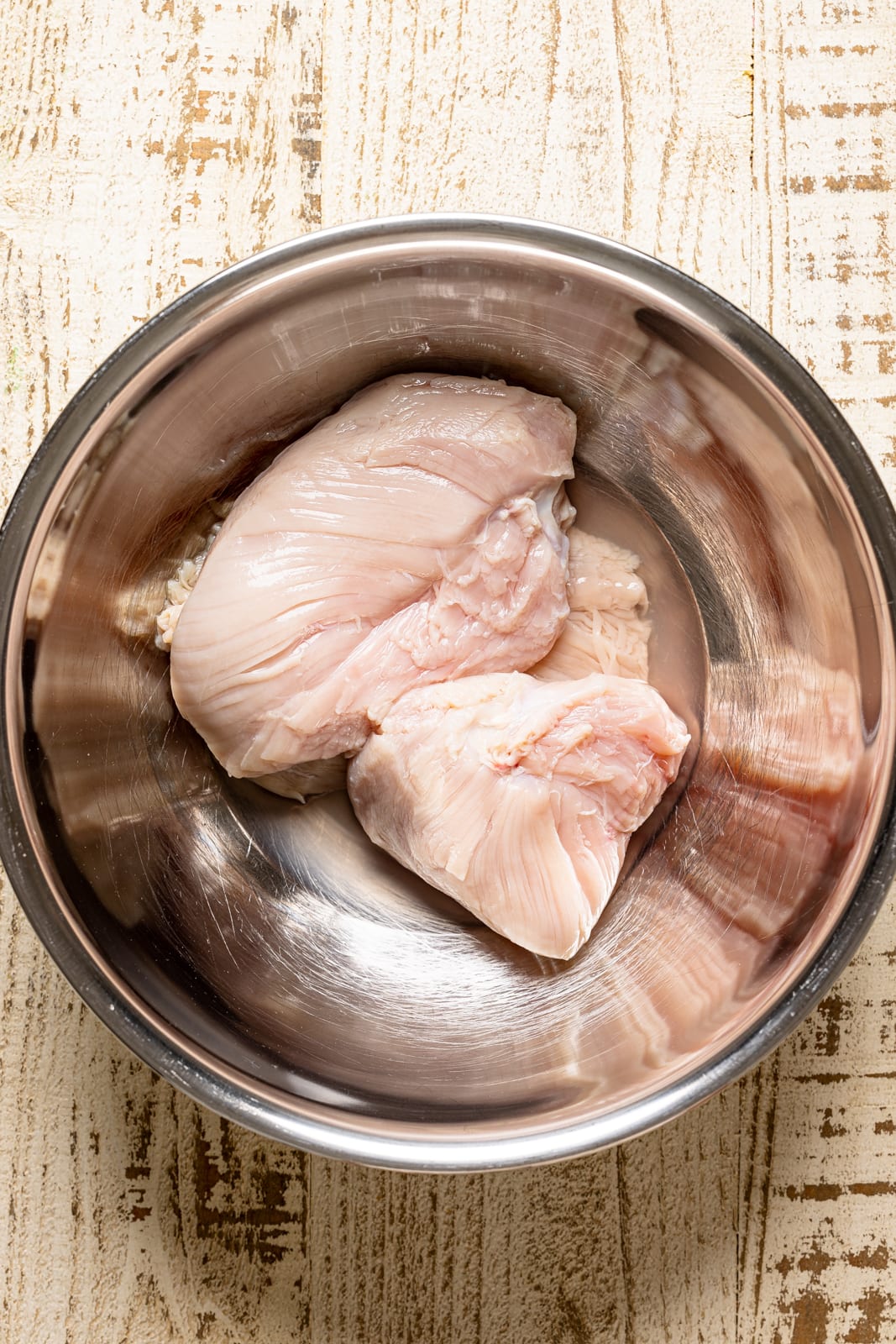 Tips for the Crispiest Popcorn Chicken
To make sure your popcorn chicken get as crispy as possible, follow these simple tips that are tried + true:
Cut the chicken into more even-sized pieces to ensure that everything cooks through at the same time.
Make sure each popcorn chicken has plenty of space on the baking sheet. The airflow helps things crisp up better.
Make sure you're using fresh, not soggy or stale, breadcrumbs AND cornflakes---this is so important!
Line the baking sheet with parchment paper and with a wire rack on top. This helps to make the bites crisp up nicely on both sides without the need for you to touch them or turn them over while they're baking.
Always season EVERY layer: both the chicken and breadcrumb coating should be seasoned for the tastiest results!
Add baking powder in with your flour for extra crispy popcorn chicken. It works wonders!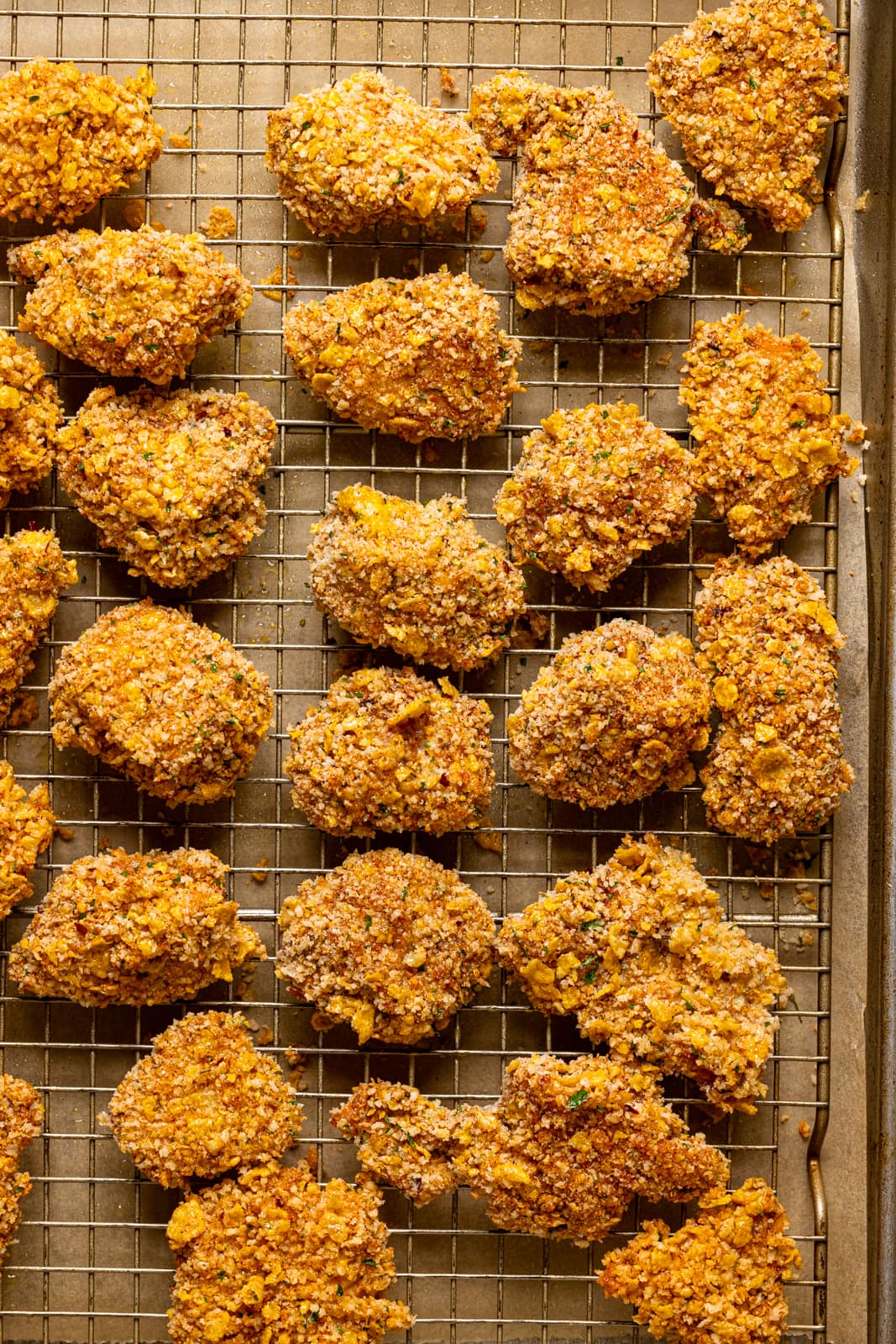 Easy Steps to Making Popcorn Chicken:
When it comes to making these crispy orange popcorn chicken, the process is fairly simple and easy! You'll need to:
Part 1: Make the batter. This is done by combining the milk and eggs in a bowl and whisking them together until combined and smooth.
Part 2: Make the coating. Simply combine the breadcrumbs and crushed cornflakes together in a bowl along with the seasonings (salt, black pepper, smoked paprika. parsley, onion powder, garlic powder, and thyme).
Part 3: Make the orange sauce. This is an easy recipe for a sticky, gooey orange sauce and can be adjusted to be more spicy or less. Just a quick sauté of garlic and ginger along with the the remaining ingredients and orange peels for extra flavor and wallah!
Part 4: Add the baked crispy popcorn chicken to sauce. Toss your baked and crispy chicken bites into the sauce over the stovetop and you're all set! Garnish with sesame seeds, if desired. Enjoy!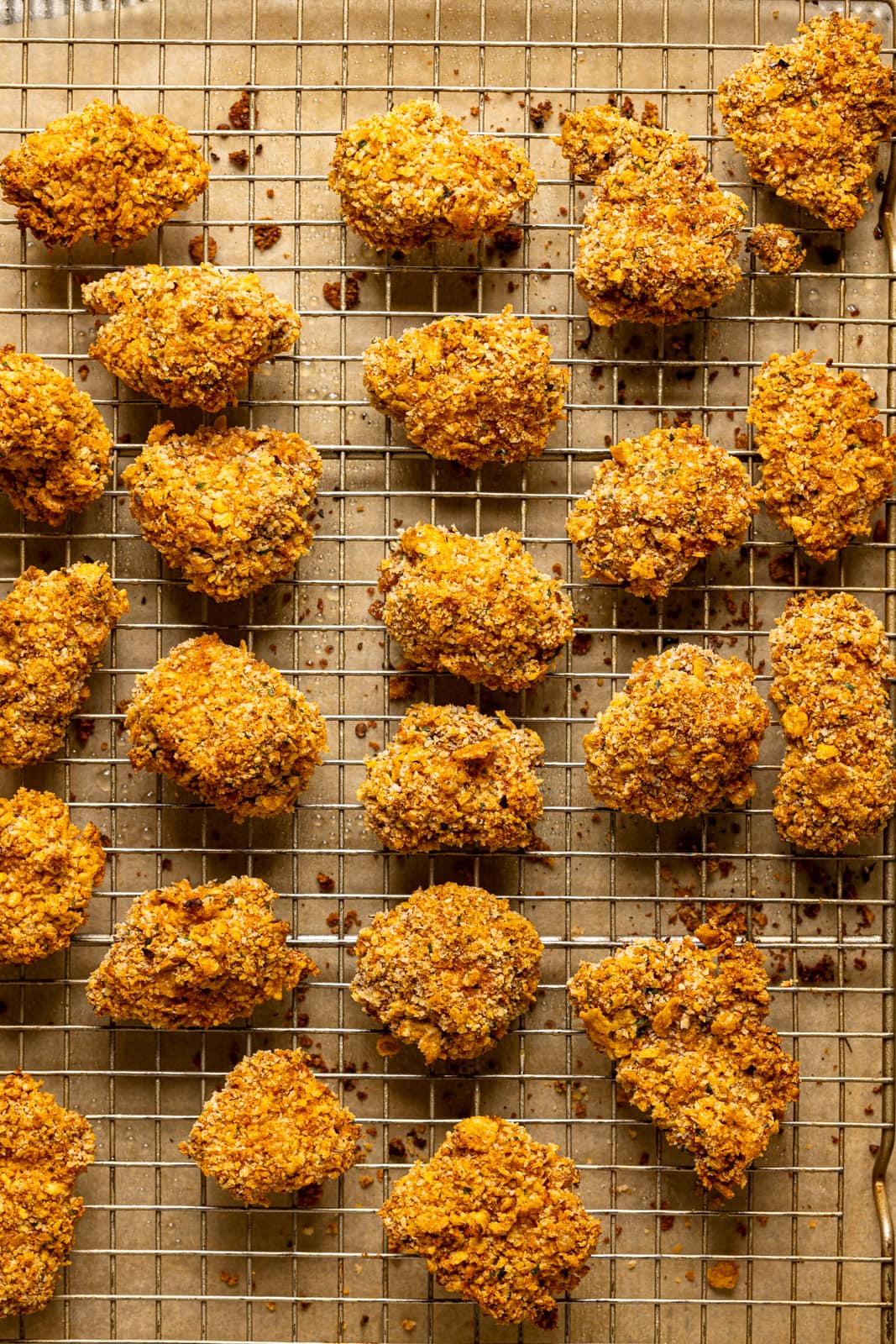 How to Cook Popcorn Chicken in an Air Fryer
You'll follow all of the steps to coating the bite-sized popcorn chicken and place them in your air fryer for 20 minutes or so at 390 degrees and flipping them halfway through to ensure that they crisp perfectly on both sides. NOTE: Be sure to spray the basket of your air fryer to ensure that chicken don't stick at all.
Once done, you can either create the sauce and toss the popcorn chicken in the sauce OR create the sauce and brush them on the popcorn chicken while they're still in the basket of the air fryer and cook again for another 1-2 minutes so that the sauce "bakes on".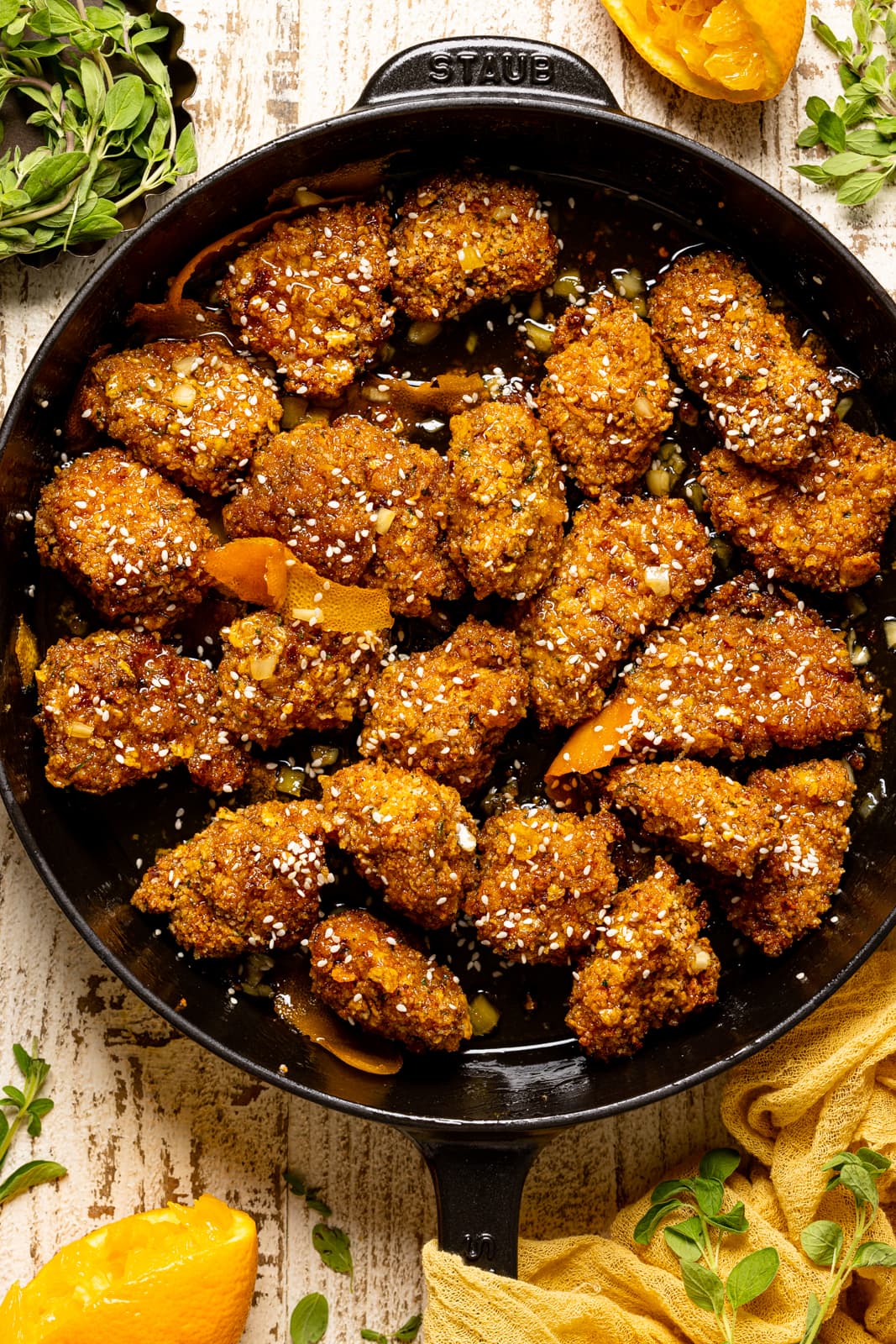 How to Serve
To serve these little chicken bites, I recommend enjoying them fresh out of the oven. You can serve them as an appetizer with forks and napkins with your favorite condiment. They're delicious with a side of ranch dressing. You can also enjoy your own homemade dressing/sauce like this Lemon garlic dressing or simple garlic dressing----that's such a delicious touch!
Or turn these popcorn chicken bites into a savory and saucy salad topper! You can also incorporate them unto pasta, on tacos, top homemade pizza or make a grain bowl with chicken and beans or roasted veggies.
Of course, as I've stated before, these popcorn chicken bites can be incorporated in the following foods as well:
Sandwiches
with Rice or noodles
with Fries or wedges
Atop mashed potatoes
and so much more.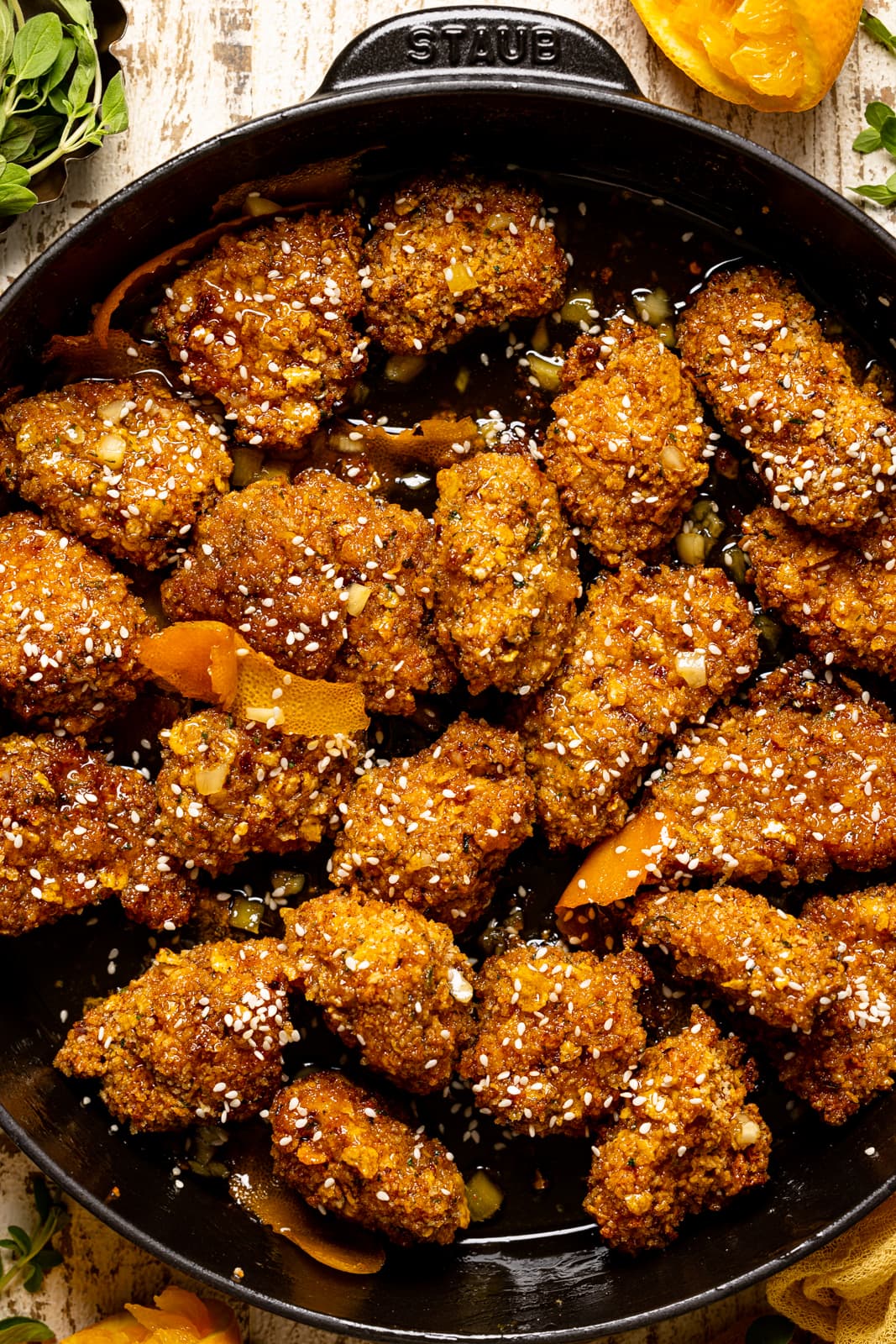 How to Make Homemade Breadcrumbs
To make your own breadcrumbs, simply grind 1-2 cups of cubed bread into a food processor until finely chopped. Place crumbs onto a parchment lined baking sheet and spread out evenly.
Bake for 5-6 minutes in the oven set at 350 degrees Fahrenheit, stirring occasionally. Once brown + crisp, remove from oven and let cool. Continue recipe steps and store remaining breadcrumbs in a tightly sealed container.
Make-Ahead Option
If you want to plan ahead, you can assemble the orange sauce and crushed cornflake-breadcrumb mixture up to two days ahead of time. Keep the orange sauce in an airtight container in the fridge and the cornflake-breadcrumbs in an airtight container at room temperature. Then bread and bake the chicken bites just before serving.
NOTE: You'll need to bring the orange sauce to room temperature and heat over the stovetop and add a bit more orange juice to create that "stickiness" if needed.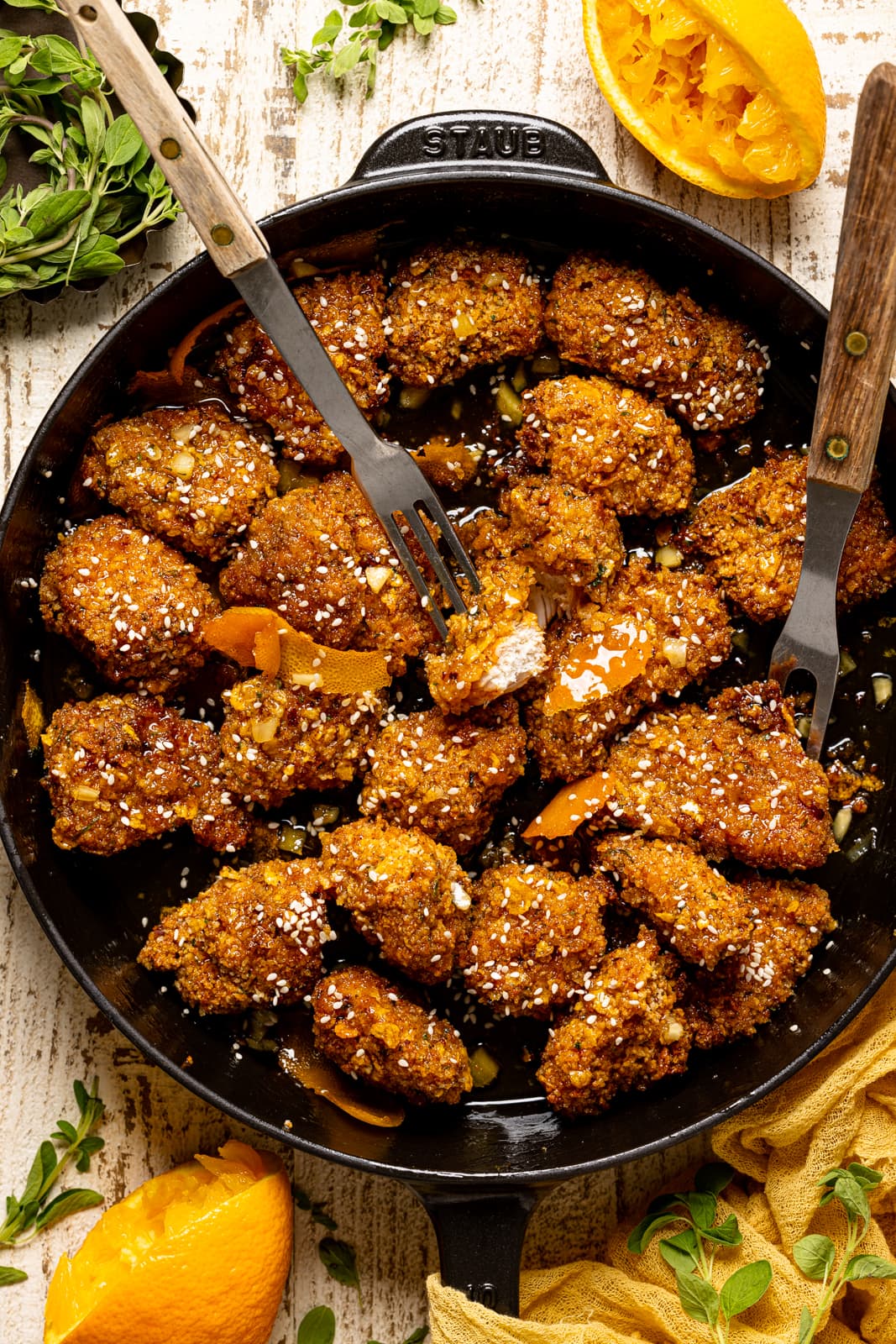 Common Q + A's for Orange Popcorn Chicken Recipe
What is popcorn chicken made from?
Basically, popcorn chicken is bite-sized and made with whole pieces of chicken breast meat that has been cut into chunks or cubes, while chicken nuggets use ground chicken.
Do I have to use brown sugar in the sauce?
Nope. It's easy to substitute brown sugar. For instance, try pure maple syrup. Although brown sugar caramelizes nicely, adding maple syrup will help with the stickiness. 
Are these popcorn chicken dairy-free or gluten-free?
Yes---that's an option! To ensure that these popcorn chicken are GF-friendly, ensure that you use GF breadcrumbs, flour, as well as GF-friendly starch like arrowroot. To make this recipe dairy-free, be sure to use plant-based milk for the "wet batter". Also, sub butter with vegan butter for cooking sauce.
How do you thicken the sauce?
It's important to thicken your orange sauce so it gets nice and sticky. Personally, I love using arrowroot starch. However, if you don't have this on hand, using other subs like all-purpose flour, regular cornstarch, or tapioca flour work just fine. Just be sure to always stir your thickener with warm water until it becomes a 'milky' liquid before adding it to the sauce.
Can you add more orange flavor to sauce?
Absolutely! If you're looking for an extreme burst of orange flavor, feel free to add orange peels into the sauce while it simmers. The fragrance and flavor of the orange peels will add more flavor. Just remove them before tossing in your bites if you don't want them to stay in.
What is the difference between General Tso' and orange chicken?
Basically, the difference is in the flavors! Orange chicken is crispy fried with a fruity, sweet, and tangy sauce that's caramelized into a sticky glaze. General Tso is stir-fried in a sweet, sour, and spicy umami sauce.
Is orange chicken always spicy?
Not at all! Generally, orange chicken usually has a lighter-colored sweet, fruity, savory glaze that isn't as spicy as other sauces. This orange chicken recipe uses just a pinch of red pepper flakes, however, you can always create a stronger spicy flavor, if desired.
What is orange chicken supposed to taste like?
Overall, the orange sauce has an intense sweet and fruity orange flavor, with just a pinch of heat.
Do you eat the peel in orange chicken?
You can eat the peel, although it might have a more bitter taste. When adding it to the sauce, feel free to start with half of the orange when peeling and adjust to taste as you like. However, eating the peel won't harm you at all.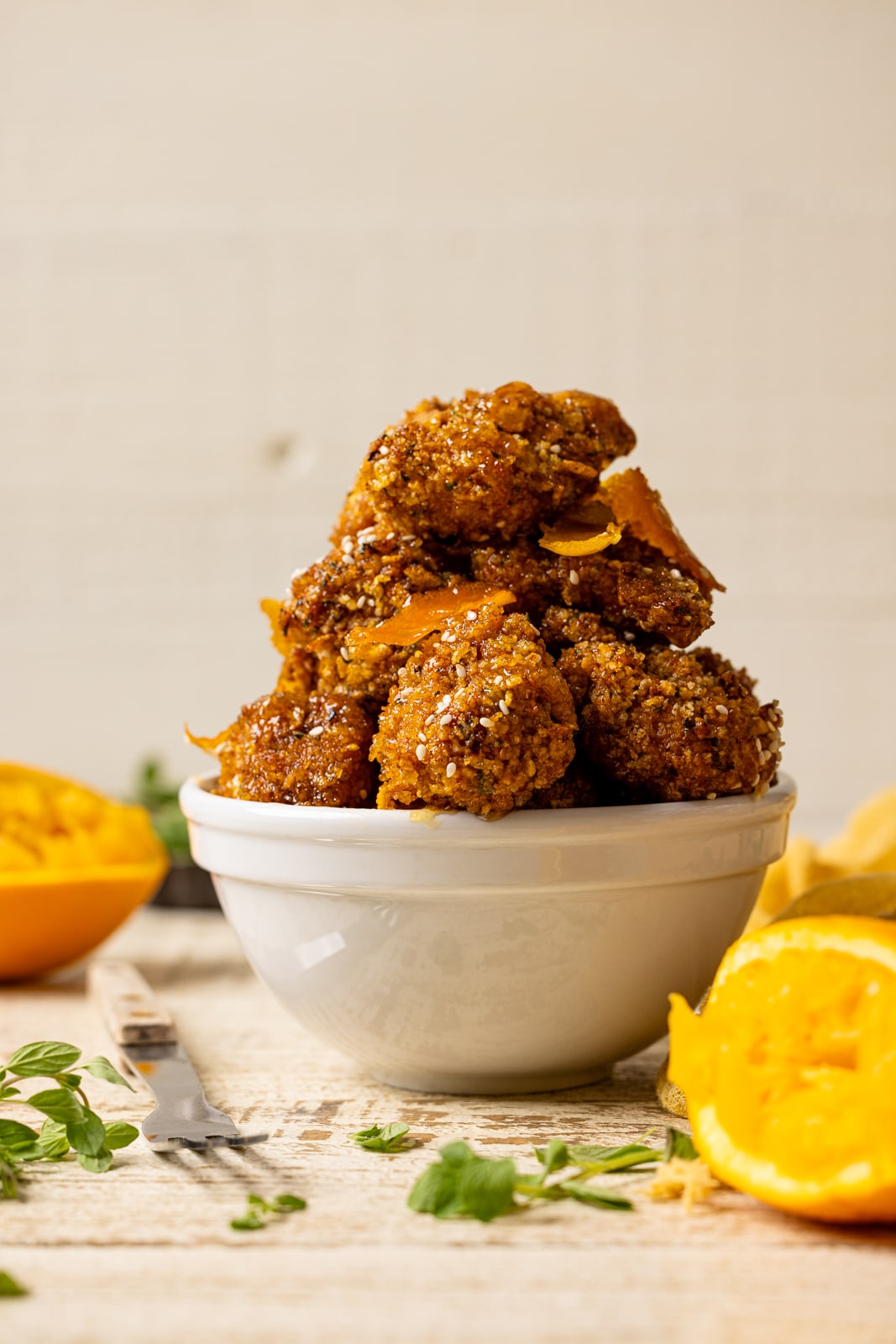 How to Store Leftovers
Store leftovers in a tightly sealed container in the refrigerator for up to 3 days. Reheat in oven when ready to serve.
More Delicious Chicken Recipes to Try!
Now that you're on a chicken kick with this popcorn chicken recipe, give these recipes that your entire family will love a try next:
MADE OUR RECIPE(S)?
If you tried this Sticky Orange Chicken Popcorn Chicken recipe or any other recipe on my website, please please leave a 🌟 star rating and let me know how you go in the 📝 comments below. I love hearing from you.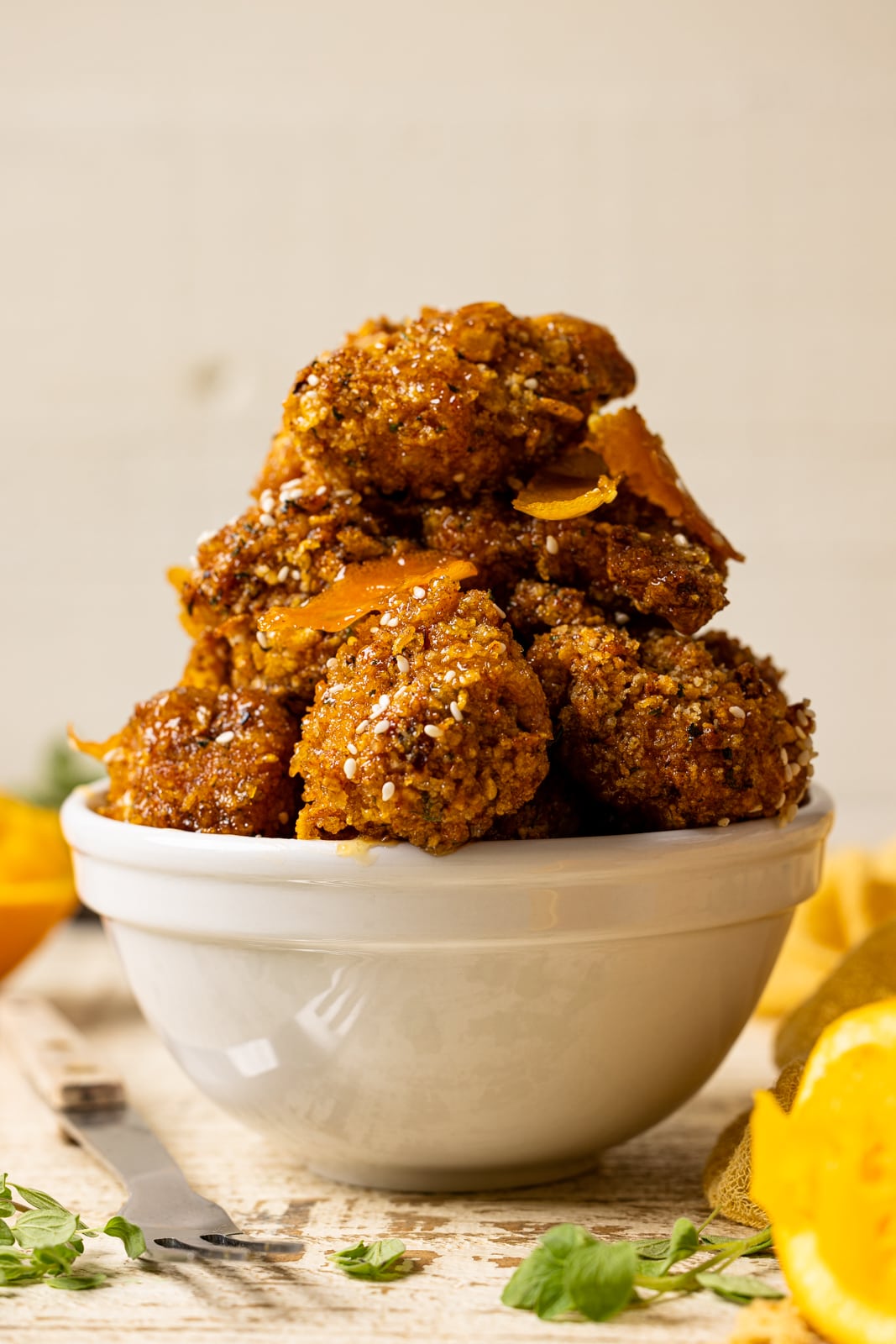 POPCORN CHICKEN:
2

lbs.

organic chicken breasts, cut into 1-inch cubes

2

tsps

sea salt

2

tsps

black pepper

2

tsps

smoked paprika

2

tsps

onion powder

2

tsps

garlic powder

2

tsps

dried parsley

2

tsps

dried thyme

Pinch of

red pepper flakes

2

large

eggs, beaten

¼

cup

Almond milk, unsweetened

(You can use whole milk or your fave plant-based milk)

½

cup

organic all-purpose flour

2

cups

organic cornflakes, crushed

1

cup

organic breadcrumbs

(You can make your own Seasoned Toasted Panko Bread Crumbs)
ORANGE SAUCE:
2

Tbsps

unsalted butter

3

garlic cloves, minced

2

Tbsps

filtered water

1

cup

freshly-squeezed orange juice

(That's about 3-4 navel oranges)

½

cup

raw honey

3

Tbsps

organic brown sugar

2

tsps

arrowroot starch + 4 Tbsps warm water

¼

teaspoon

minced ginger root

½

orange, peels only!

(You can use the entire orange peel once you've done a taste test after adding half; peels can be a bit bitter, so adjust to taste)
SEASON THE CHICKEN BITES:
Preheat your oven to 400 degrees Fahrenheit and line your baking sheet with parchment paper with a wire rack for the best results. NOTE: Doing this step is a MUST to prevent sticking.

In a bowl, add the chicken pieces along with 1 teaspoon of each: salt, black pepper, smoked paprika, onion powder, garlic powder, parsley, thyme, stirring everything together until chicken are coated.
TO MAKE THE POPCORN CHICKEN:
In a bowl, add the milk and beaten eggs whisking everything together until combined. Set aside.

In a separate bowl, add the breadcrumbs, crushed cornflakes, and 1 teaspoon of each: salt, black pepper, smoked paprika, onion powder, garlic powder, parsley, thyme, and red pepper flakes, stirring everything together and set aside also. 

In a plate or bowl, add the flour.

Now, toss each piece of chicken into the flour followed by the "wet" batter (shaking off any excess) and then toss into the breadcrumbs mixture. Then lay each coated chicken side by side onto the prepared baking sheet (about an inch apart). Repeat until all chicken are coated.

Bake for 30-35 minutes or until golden brown and "crunchy" looking. NOTE: If not crispy enough, turn on broil and bake for another 5-10 minutes.
TO MAKE THE ORANGE SAUCE:
In a saucepan over medium-high heat, combine the butter, minced ginger, and garlic cloves, sautéing until it becomes fragrant. Add in the orange juice, honey, brown sugar, water, and orange peels and let it simmer for 2-3 minutes, until bubbly, stirring occasionally. Reduce the heat to low and add in the arrowroot mixture (mix both together until it looks "milk-like") stirring until the sauce begins to thicken.

Once the chicken bites are crisp, remove from oven and toss them in the sauce until fully coated. Garnish with sesame seeds, if desired.

To serve, add popcorn chicken to a salad, tacos, atop pasta, as a topping on pizza, with quinoa or rice, or by themselves with dipping sauce.

Bon Appetit!
STORAGE: Store leftovers in a tightly sealed container in the refrigerator for up to 3 days. Reheat in oven when ready to serve.
GINGER: If you do not have actual ginger root, you can substitute for ¼ teaspoon ground ginger instead.
SWEETENER: Instead of brown sugar, you can always use maple syrup or extra honey as a sweetener.
EXTRA ORANGE FLAVOR: For a bolder flavor, you can add orange peels to sauce when bringing everything to a boil. Keep it in the sauce and remove them after tossing in the popcorn chicken.
VEGAN OPTION: To make this recipe vegan, see my Baked Sticky Orange Cauliflower + Quinoa recipe!
Calories:
54
kcal
|
Carbohydrates:
11
g
|
Protein:
1
g
|
Fat:
1
g
|
Saturated Fat:
1
g
|
Polyunsaturated Fat:
0.1
g
|
Monounsaturated Fat:
0.3
g
|
Trans Fat:
0.04
g
|
Cholesterol:
3
mg
|
Sodium:
199
mg
|
Potassium:
43
mg
|
Fiber:
0.3
g
|
Sugar:
8
g
|
Vitamin A:
136
IU
|
Vitamin C:
5
mg
|
Calcium:
11
mg
|
Iron:
0.4
mg