This Easy Green Goddess Buffalo Chicken Bowl is the epitome of delicious flavors in one simple dish. Packed with a ton of umami and boasting of perfectly roasted veggies, this bowl highlights cooked rice, broccoli, poblano peppers, green peas, buffalo popcorn chicken, and is moderately dressed with a creamy green goddess dressing that truly ties everything together. The perfect healthier meal option for dinner or lunch that adults and kids-alike will enjoy. All dairy-free ingredients with a meatless option.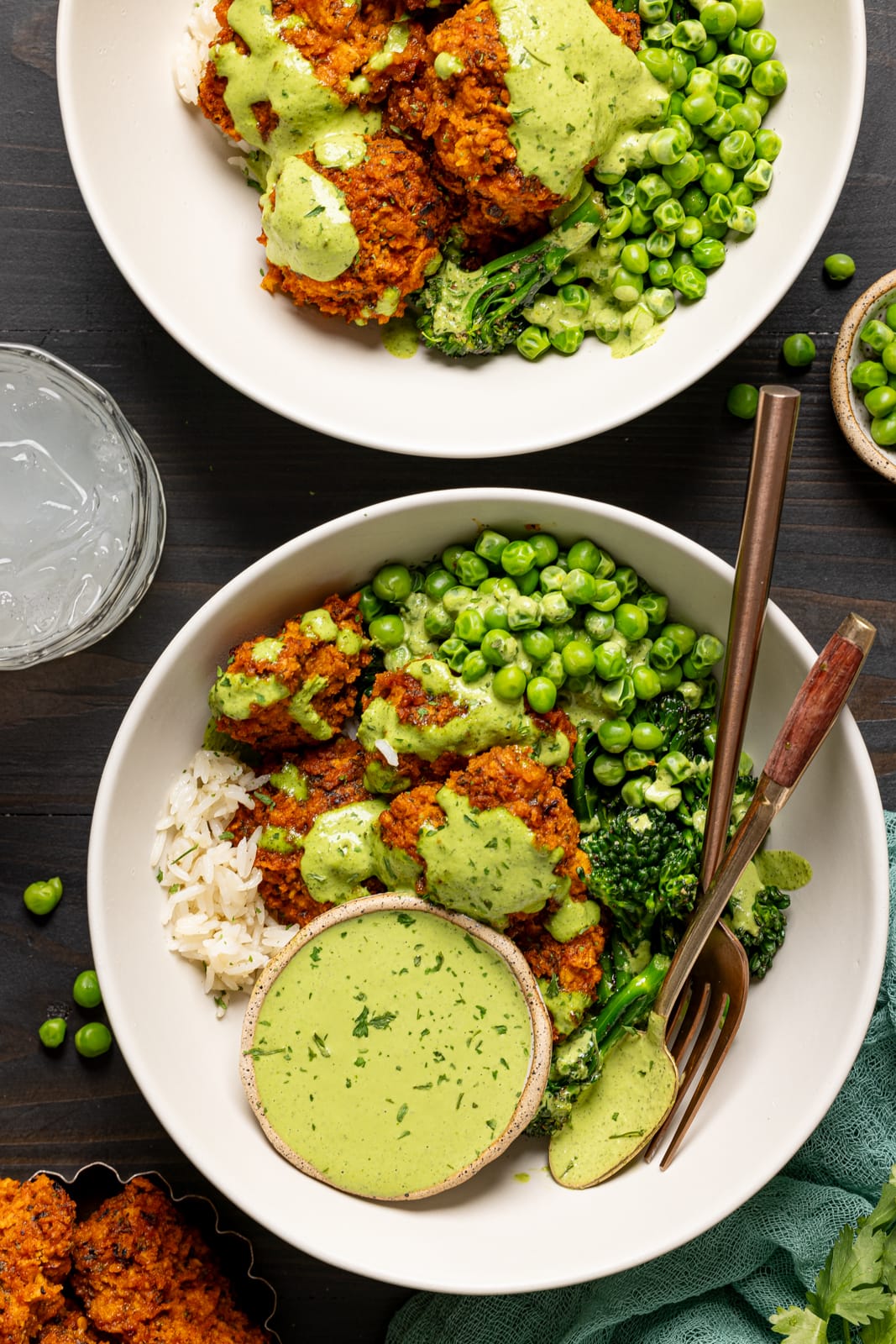 Disclaimer: This post contains affiliate links via Amazon for products that I wholeheartedly love and receive commission from.
Food bowls are literally one of my favorite things to eat. I just enjoy the easy assembly for a filling dish that allows you to mix and match based on your tastebuds. This Easy Green Goddess Buffalo Chicken Bowl is a recipe that the entire family will enjoy and it offers so many bold flavors wrapped in one simple weeknight meal. The star of it all----the creamy green goddess dressing/sauce can be easily whipped together with just a handful of ingredients. Either way, just a little blend and wallah. The perfect drizzle is created for the finishing touches of this bowl.
This buddha or food bowl is a healthy, tasty, and complex in flavor recipe that adds the right amount of comfort to your meal experience without compromising nutrition. So, if you're into more meal options like this one, you'll thoroughly enjoy this Healthy Pesto Buddha Bowl, Vegan Chickpea + Broccoli Mashed Potato Buddha Bowl, Vegan Curry Chickpea Mashed Potato Bowl, and Savory Chickpea Quinoa Buddha Bowl. Plus, this delicious Roasted Cauliflower Green Goddess Salad comes loaded with so much bold flavor and great ease in the cooking process for this summer season.
What is a Buddha Bowl + It's Components?
Whelp, basically a Buddha Bowl is a nourishing one-dish meal that has a little bit of everything. Generally, it consists of rice or grains, roasted veggies, a dressing, and a protein (usually beans, tofu, lentils, + sometimes meats + fish). In short, Buddha Bowls are made with the main focus on clean eating and was created based on Chinese + Japanese medicine principles.
Jump to:
What You'll Love About this Bowl.
It's super easy to make.
Simple set + forget it for the most part—-let the oven do all of the magic!
Makes for a great weeknight meal or a laidback weekend dinner.
So well seasoned and full of texture---with hints of spicy, sweet, + herby flavors!
Great for meal prepping and make aheads for the week!
Super customizable with the protein and veggie options.
Perfect ANY season vibes, even summer days.
Did I mention, it's just delicious? Both kids + adults approved!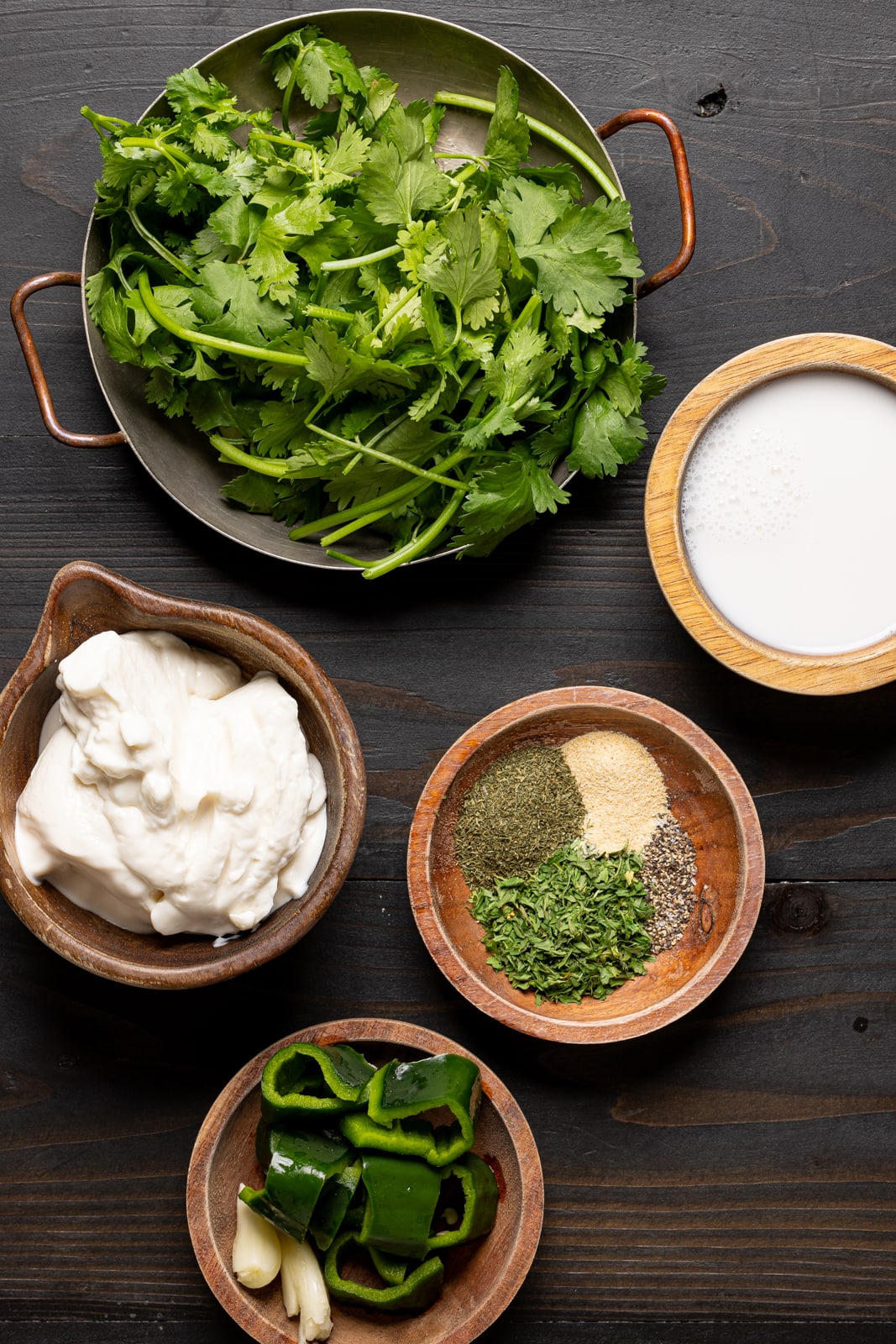 How to Make Easy Green Goddess Buffalo Chicken Bowl
To make this Easy Green Goddess Buffalo Chicken Bowl, you'll start by roasting your veggies after seasoning them until they are crisp and charred. Then you'll bake your crispy buffalo popcorn chicken and cook your green peas and grains of choice. Lastly, you'll add together the ingredients for your creamy green goddess dressing, blending them until creamy, and wallah! Assemble your bowl, Serve and enjoy!
Ingredients for Chicken Bowl
Here's what you'll need when making this delicious Green Goddess Chicken Bowl:
Grains. This fulfills the grains component of buddha bowls. You can always use brown rice, basmati rice, farro, barley, bulgur, etc. Quinoa, however is a great ingredient for those who are on a gluten-free. Plus, it's one of the highest protein whole grains and is so easy to cook.
Buffalo popcorn chicken. One of my favorite ways to enjoy this bowl. You can see my Crispy Buffalo Popcorn Chicken recipe for how to make. Feel free to sub with other flavors of chicken, tenders chopped up, or meatless options like chickpeas, mushrooms, tofu, cauliflower, beans, etc. which are great with buffalo sauce!
Olive oil. Use extra virgin olive oil for a richer flavor when roasting veggies. Can also use Grapeseed oil , avocado oil, or coconut oil as well.
Dried herbs and spices. I love a combination of salt, black pepper, garlic powder, and basil for veggies.
Peppers. I love adding roasted poblano peppers to the mix for a nice mild heat. You can sub with jalapeños, bell peppers, banana peppers, or totally omit.
Broccoli. I love using broccoli or broccolini. You can also sub with an entirely different veggie. See post for options!
Green peas. I love adding peas to my food bowls. It's a great source of protein, fiber, and Vitamins. Can sub with black-eyed peas, lima beans, edamame, or other veggies.
Creamy Green Goddess Dressing. This easy homemade dressing is blended together for a beautiful vibrant, creamy drizzle and added herby flavor. See recipe for how to make!
What Is Green Goddess Dressing?
Are you ready to level up your plant-based plates with a delicious and easy-to-make dressing? Look no further than Green Goddess Dressing! This creamy and dreamy salad dressing is named after its vibrant green hue and was all the rage back in the '70s, thanks to San Francisco's swanky Palace Hotel.
And guess what? It's making a comeback!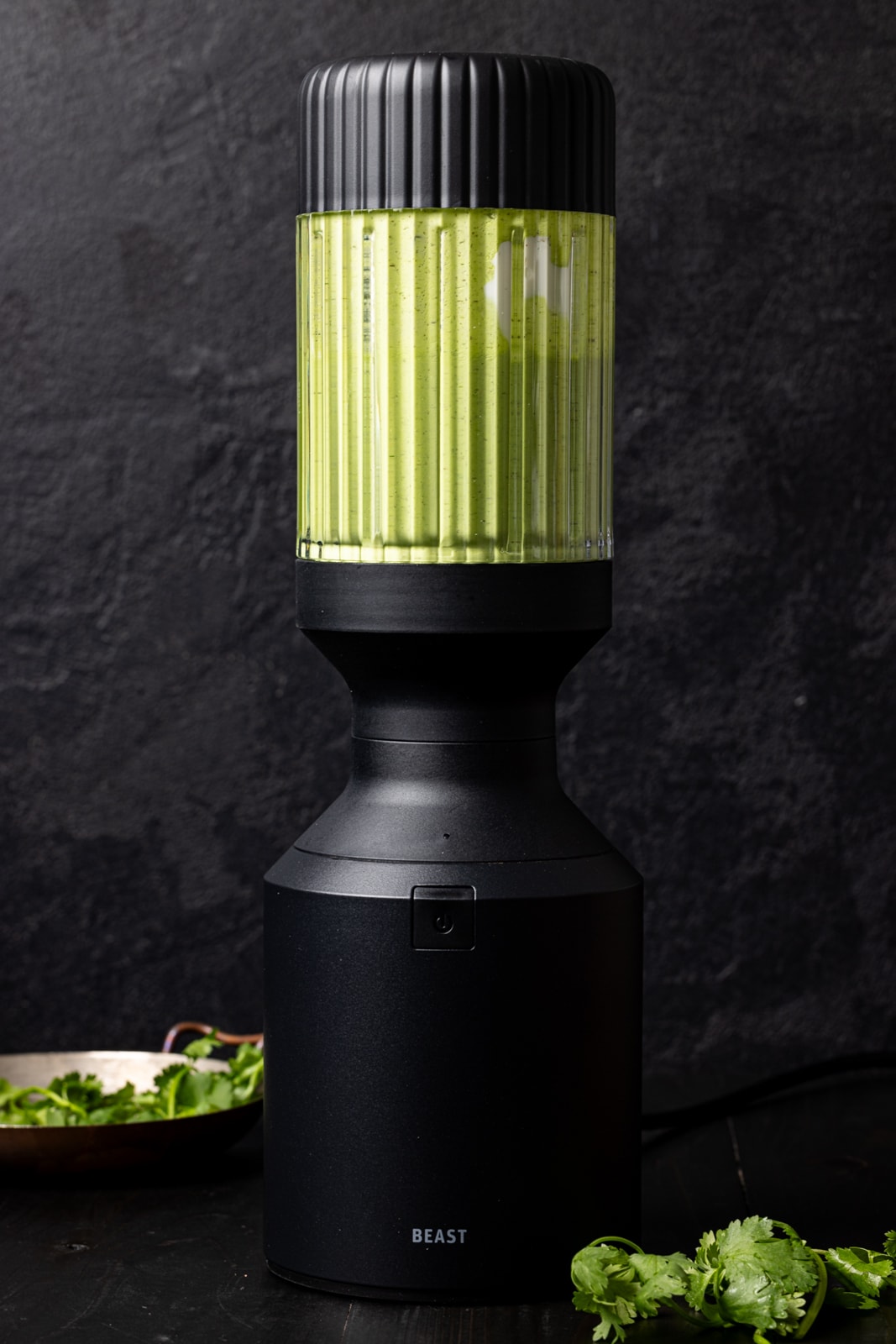 What Does Green Goddess Dressing contain?
Typically, green goddess dressing contains mayonnaise, sour cream, garlic, fresh herbs, chives, anchovy, and lemon. My dairy-free green goddess dressing has added flavor which include vegan mayo, jalapeños, garlic, kale, basil, plant-based milk, lemon, and an array of seasonings for a nice tie in.
Roast (Bake) Those Veggies For More Flavor
In this buddha or chicken bowl, I chose to roast the veggies first instead of boiling or steaming for more additional flavor! Knowing how to roast all vegetables (in general) perfectly is definitely a learned skill. All veggies are different and they all have vast cooking times.
The most common rule of thumb is to roast thicker vegetables at a higher temperature because they can handle the heat. For example, potatoes or sweet potatoes can roast at a higher temp because of their thickness. Broccoli, on the other hand, lends well to a lower heat when cut into florets.
Can I Add More Veggies to this Bowl?
Definitely! This is a great recipe to mix and match the ingredients/toppings. For added nutrients, fiber, and color, add your favorite veggies.
You can add roasted brussels sprouts, bell peppers, asparagus, green peas, roasted herb tomatoes, mushrooms, or leafy greens (kale, spinach, collard greens). All will be delicious! See further down for more great options.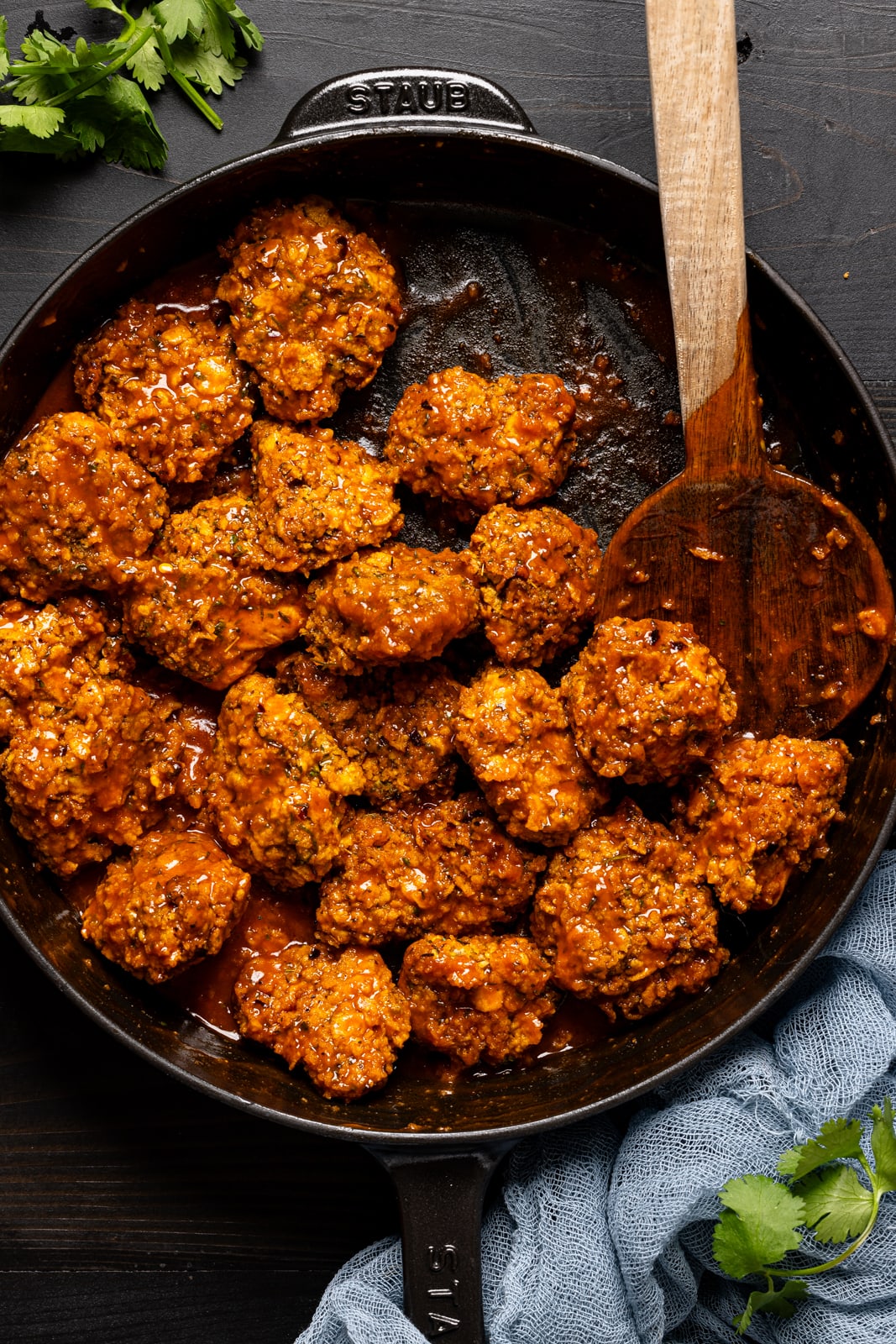 What Can I Add to This Buddha or Chicken Bowl?
I like to add some extra texture to easy food bowls like this Easy Green Goddess Buffalo Chicken Bowl. While the ingredients in this buddha bowl is perfect as is, I wanted to share a few more ideas of ingredients that you can add incase you make this bowl more than once and want to switch things up!
Other ingredient ideas include:
Roasted radishes, eggplants, onions, or bell peppers or Brussels sprouts, asparagus, beets, etc.
Sweet potatoes or regular potatoes or butternut squash.
Farro, quinoa, barley, millet, couscous, cauliflower rice, bulgar, etc. instead of brown rice
Raw veggies like red cabbage, rainbow carrots, etc.
Leafy greens like spinach, kale, collard greens, etc.
Beans like chickpeas, kidney beans, black beans, white beans, etc.
Other delicious dressings made with garlic, tahini, etc.
Proteins like lentil, tofu, tempeh, mushrooms, etc.
Other seeds + nuts like sesame seeds, walnuts, pecans, sunflower seeds, etc.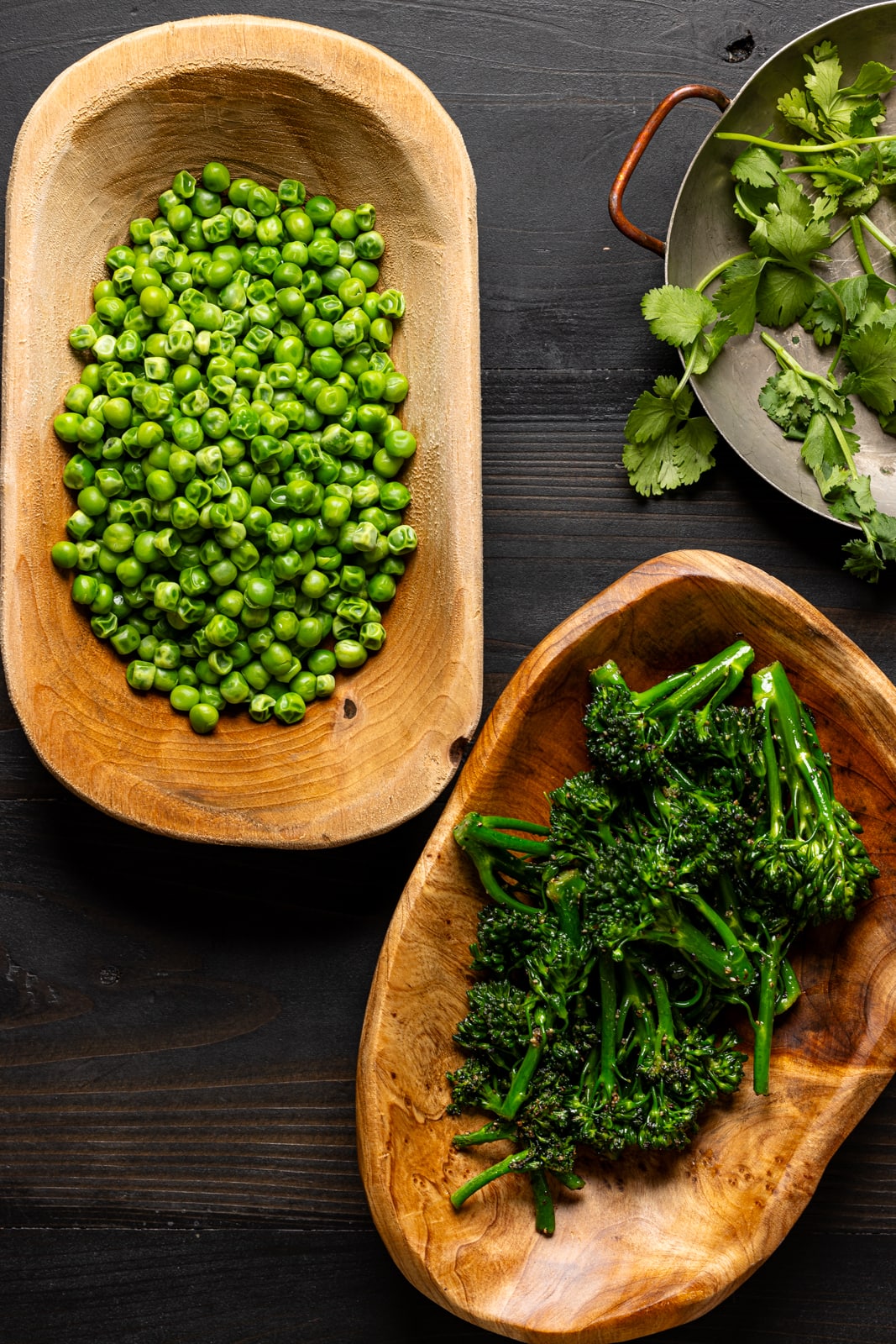 Common Q + A's for this Easy Green Goddess Buffalo Chicken Bowl!
How to best store leftovers?
Place any leftovers in a tightly sealed container in the refrigerator for 3-4 days.
How to best store dressing + how long does it last?
Leftover dressing can be kept in an airtight container or jar in the refrigerator for up to 2 weeks.
Can I make this buddha or chicken bowl ahead of time?
Absolutely! All ingredients can be made and individually stored as meal prep and assembled when ready to serve.
Is Green Goddess good for you?
Like many other dressings (store-bought), there will be high levels of sodium and other ingredients that aren't the best! However, the great thing about making it homemade like in this recipe is that you have more control over the quality of ingredients and since it's dairy-free and vegan, it's a lot healthier than store-bought.
What is the difference between goddess and green goddess dressing?
While at first glance you might assume that both are the same----they're not! Green goddess dressing is a creamier dressing that contains an array of herbs while Goddess dressing is more tahini-based with lemon and tangy flavors.
What is popcorn chicken made of?
Basically, popcorn chicken is bite-sized and made with whole pieces of chicken breast meat that has been cut into chunks or cubes, while chicken nuggets use ground chicken.
Can I make chicken with a different sauce beside buffalo?
Of course! If you aren't a fan of buffalo sauce or just don't feel for anything spicy, you can totally make your chicken without any sauce (but breaded like these Chicken Tenders) or grilled chicken or dry rub (w/ cajun or blackened seasonings) or with the following types of sauces: BBQ sauce, lemon garlic, honey garlic, dijon mustard, mango sauce, etc.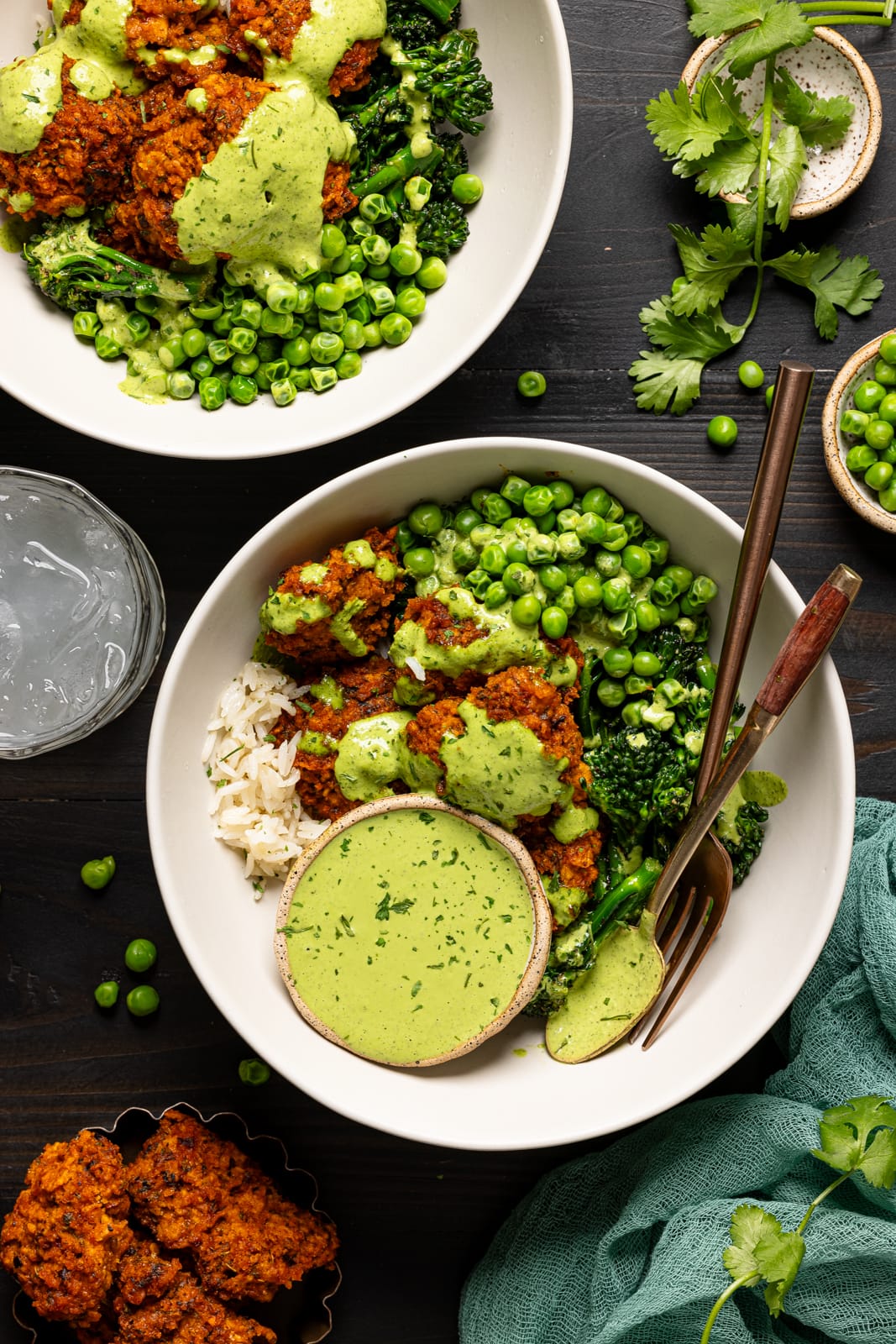 More Amazing Chicken Recipes to Try Next!
Weeknight Creamy Chicken Alfredo
MADE OUR RECIPE(S)?
If you tried this Easy Green Goddess Buffalo Chicken Bowl recipe or any other recipe on my website, please please leave a 🌟 star rating and let me know how you go in the 📝 comments below. I love hearing from you.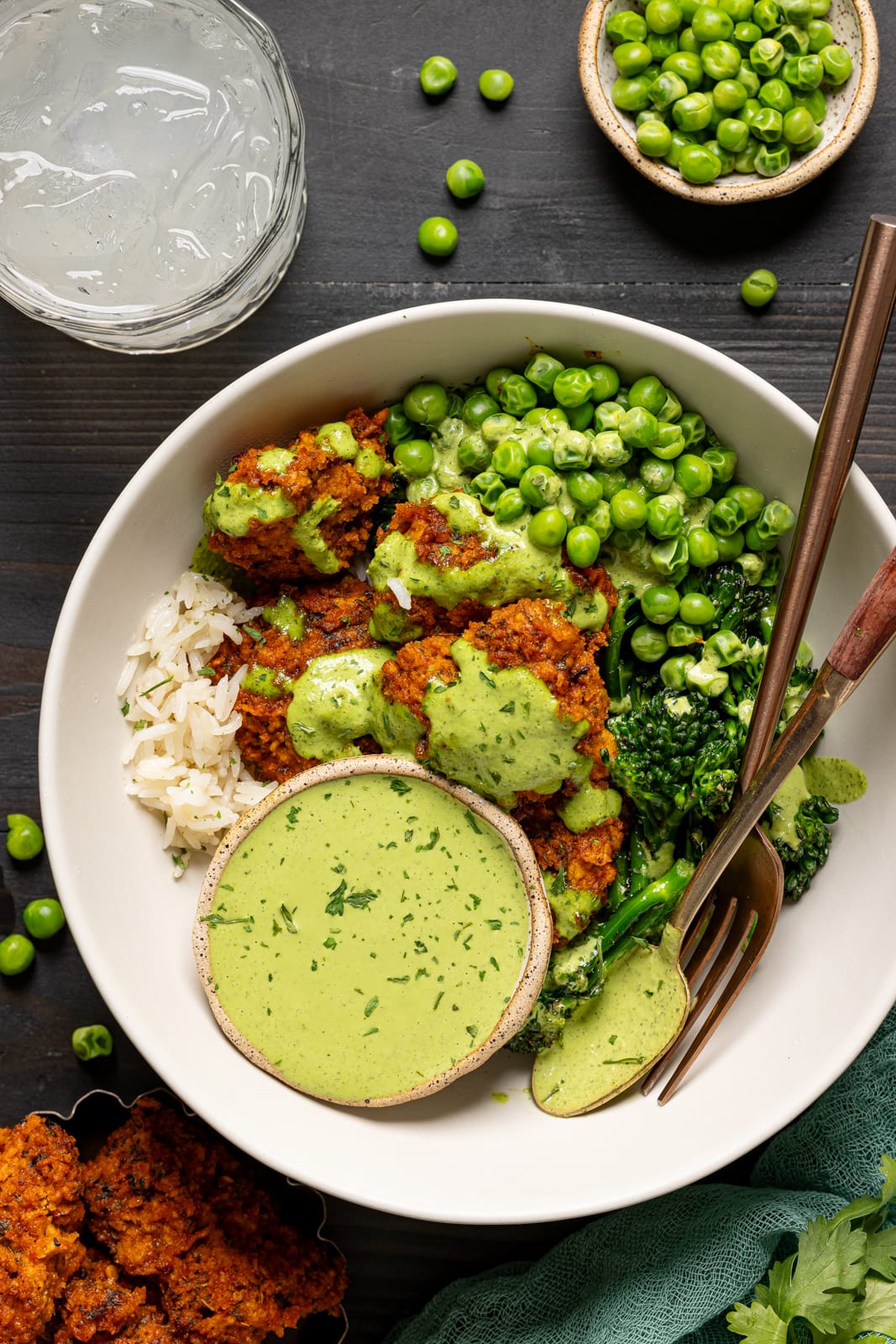 BOWL:
2

cups

cooked basmati rice

(See Post for other grain options)

1

cup

Cooked green peas

Roasted broccoli or broccolini

Roasted poblano peppers, optional
TO MAKE THE BUFFALO POPCORN CHICKEN:
TO ROAST THE VEGGIES:
Begin by preheating the oven to 400 degrees Fahrenheit and prepare a baking sheet by lining it with parchment paper.

Add the broccoli and peppers to the baking sheet (grouping them together by veggie type + spreading them out to a single layer). Drizzle with 1-2 Tbsps olive oil and sprinkle with 1 tsp: salt, black pepper, garlic powder, + basil.

Bake for 20-25 minutes or until the veggies are wilted and golden/charred. Remove from oven.
TO MAKE THE GREEN GODDESS DRESSING/SAUCE:
TO SERVE + ASSEMBLE:
To serve, add a spoonful of cooked rice to a low bowl(s), followed by: roasted broccoli, peppers, and cooked green peas, lining them side by side. Top with buffalo popcorn chicken and creamy green goddess dressing/sauce.

Bon Appetit!
STORAGE: Place any leftovers in a tightly sealed container in the refrigerator for 3-4 days.
OIL: If you'd like to use an alternative to olive oil, you can also use melted vegan butter, coconut oil, or grapeseed oil.
DRESSING (STORAGE): Leftover dressing can be kept in an airtight container or jar in the refrigerator for up to 2 weeks.
HERB ROASTED TOMATOES: To add roasted tomatoes to this bowl, see my recipe here.
Calories:
205
kcal
|
Carbohydrates:
45
g
|
Protein:
4
g
|
Fat:
0.4
g
|
Saturated Fat:
0.1
g
|
Polyunsaturated Fat:
0.1
g
|
Monounsaturated Fat:
0.1
g
|
Sodium:
2
mg
|
Potassium:
55
mg
|
Fiber:
1
g
|
Sugar:
0.1
g
|
Calcium:
16
mg
|
Iron:
0.3
mg