Ready to transform your salads and plant-based plates with a mouth-watering dressing? Look no further than my Homemade Green Goddess Dressing recipe! This healthy and flavorful dressing will take your dishes to the next level, leaving your taste buds begging for more. Made with fresh herbs and a few simple ingredients, this dressing is perfect for anyone who wants to add flavor and nutrition to their meals without compromising their dietary restrictions. Get your taste buds ready for a burst of fresh, herbaceous flavor. Completely Vegan, Dairy-free & Egg-free, + Nut-free options!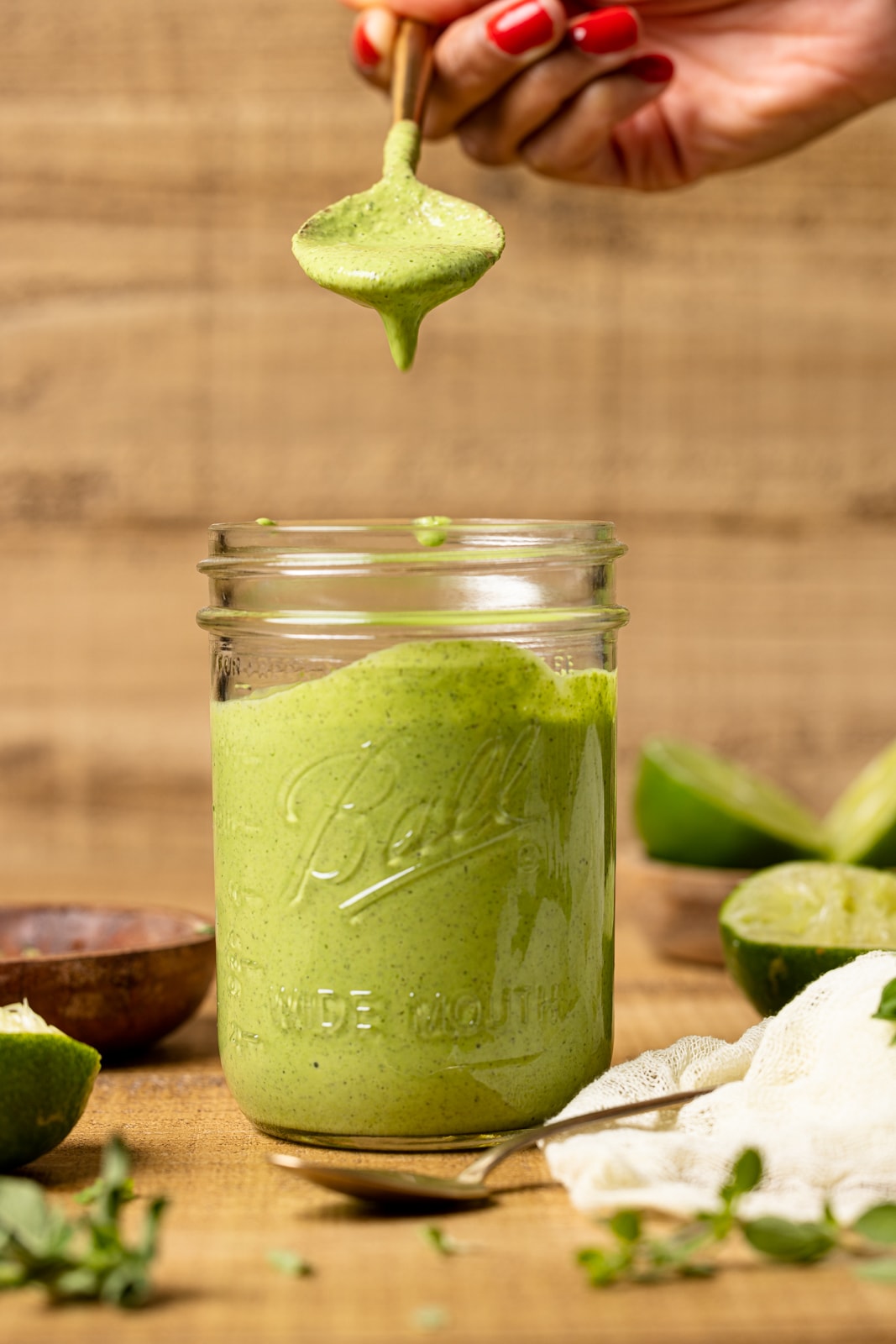 I have a confession to make - I've been putting my Homemade Green Goddess Dressing on everything lately. Seriously, everything! Salads, roasted veggies, even my morning toast (don't knock it 'til you try it!).
It's become a running joke in my house that if you leave your food unattended for more than 5 seconds, I'll probably put Green Goddess Dressing on it. Last year I even made a Green Goddess Salad Dip variation and a Green Goddess Mocktail so it's a long-standing obsession... What can I say? And this Easy Green Goddess Buffalo Chicken Bowl is a MUST try!
But can you blame me? This dressing is a game-changer! It's so flavorful and delicious that it makes eating salads fun. Yes, I said it - fun! So, if you're looking to add some pizzazz to your meals and make eating healthy more enjoyable, give this recipe a try. And who knows, maybe you'll end up like me, putting it on everything and anything in sight.
Satisfying Salad Recipes
Spicy Chipotle Sweet Potato Chopped Salad - Sometimes you're just craving a healthy, jam-packed salad for lunch or dinner, and this is just the thing that you need! Simply add a splash of color, flavor, and nutrients with a variety of ingredients. Entirely dairy-free, vegan, + gluten-free. Make ahead option.
Ultimate Summer BBQ Chopped Kale Salad - This crunchy and healthy kale salad is loaded with so much bold flavor! A hearty-packed salad for lunch or dinner, especially during the warmer months. Entirely dairy-free + gluten-free. Vegan option.

Baked Jamaican Jerk Chicken Salad - Just the thing that you need for any season! Simply add a splash of color, flavor, and nutrients with a variety of ingredients like red + green kale, jerk chicken breasts made in the oven, cucumbers, onions, avocado, bell peppers, etc., and topped with a delicious homemade Dairy-Free BBQ Ranch Dressing. Entirely dairy-free + gluten-free. Make ahead option.
Easy Vegan Roasted Potato Salad - There's no potato salad like this when it comes to flavors and textures working together! Perfectly roasted potatoes add a beautiful crunch, especially with the crispiness of their skin---while the creamy garlic herb dressing, chopped celery, and sweet relish add a nice reminder that this dish will always be a comfort food classic! Mayo-Free option!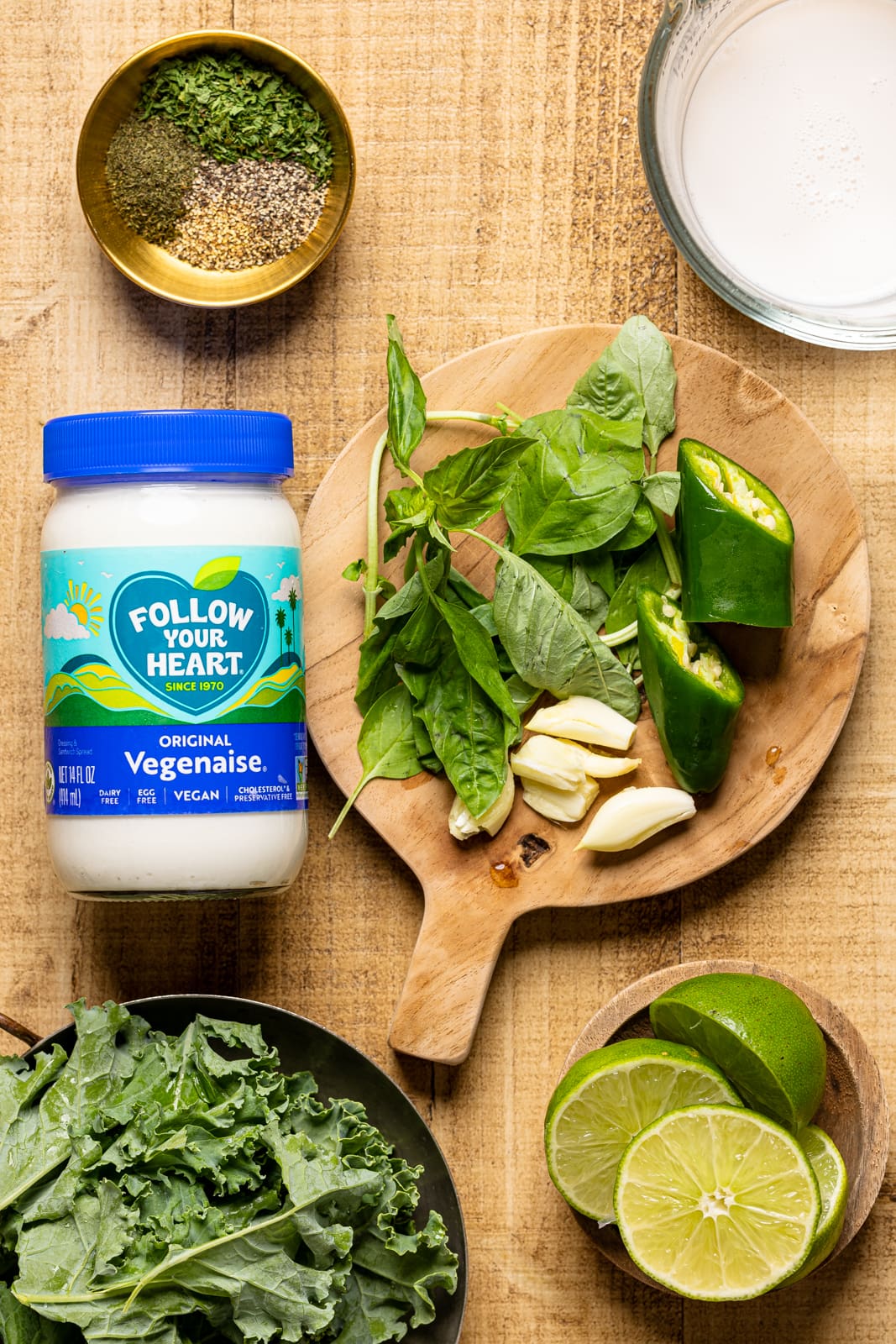 What Is Green Goddess Dressing?"
Are you ready to level up your plant-based plates with a delicious and easy-to-make dressing? Look no further than Green Goddess Dressing! This creamy and dreamy salad dressing is named after its vibrant green hue and was all the rage back in the '70s, thanks to San Francisco's swanky Palace Hotel.
And guess what? It's making a comeback! While the traditional recipe calls for fresh herbs, anchovies, garlic, and mayo, my version is a simple ingredient vegan recipe, so it's inclusive for everyone to enjoy.
Jump to:
Why You'll Love This Green Goddess Dressing
It's creamy, delicious, and vegan!
The vibrant green color brightens up any dish.
Simple ingredients that are easy to find and affordable.
Versatile
Quick and easy to make
A perfect flavor melody
Elevates your salads!
This quick vegan recipe is made with simple ingredients and fresh herbs, and it's perfect for meal prep, gluten-free plates, plant-based diets, and even southern-inspired dishes. Imagine drizzling this zesty dressing over a plate of Seasoned Crinkle Cut Fries, or adding a dollop to your favorite BBQ sandwich - y'all, the possibilities are endless!
Not only is this Green Goddess Dressing sugar-free and dairy-free, making it an ideal option for those with dietary restrictions, but it's also a vegan and gluten-free recipe that's perfect for plant-based plates. The best part? It's made with simple ingredients that you likely already have in your pantry, so it's a breeze to whip up.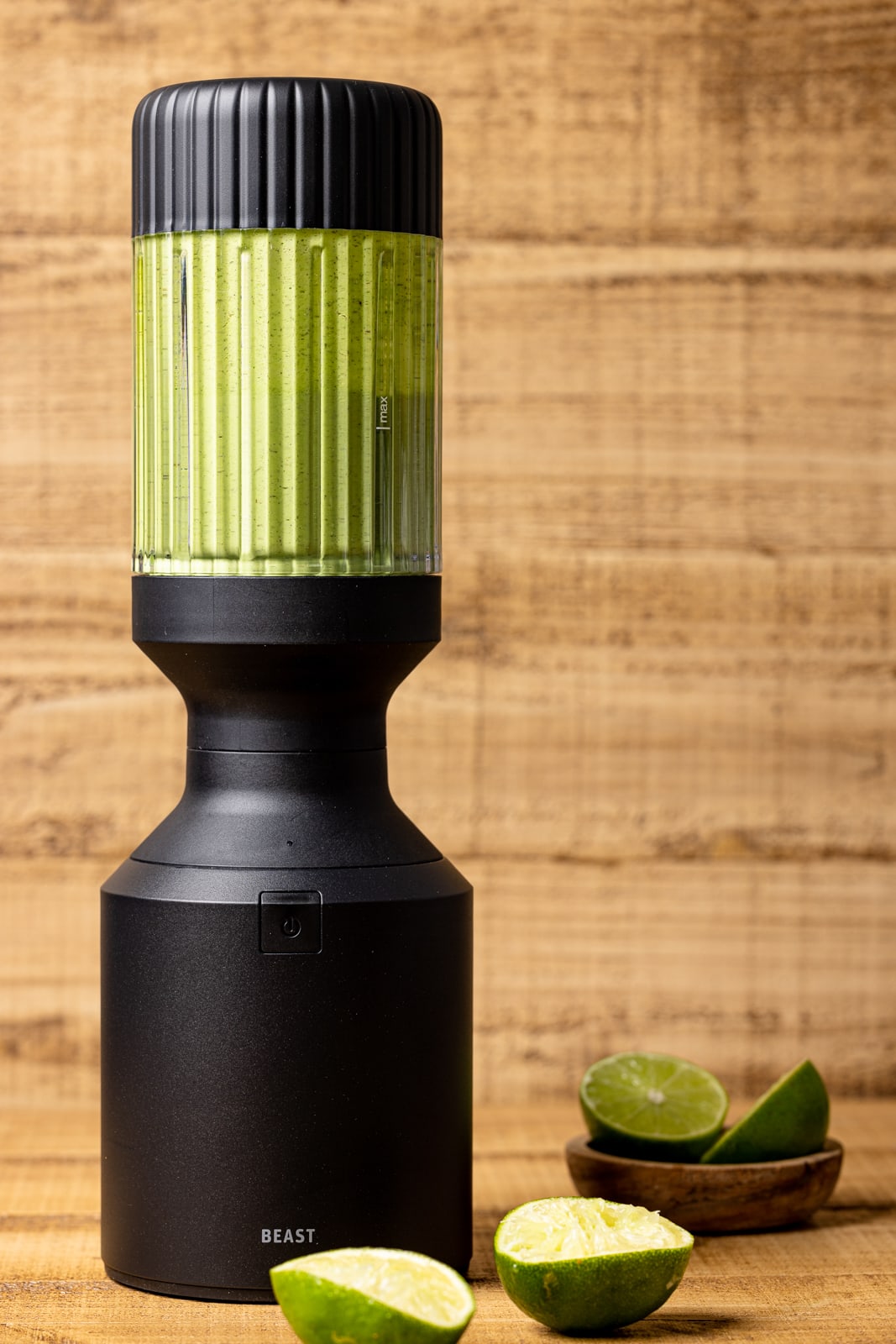 How To Make Homemade Green Goddess Dressing
Get ready to add some zing and zesty flavors to your plant-based plate with our Green Goddess Dressing! This simple ingredient vegan recipe relies on your favorite vegan mayo and a combination of fresh herbs like parsley, basil, and dill weed to create a vibrant green dressing that's creamy and dreamy.
With a squeeze of lemon juice and cloves of garlic, this dressing packs a flavorful punch. And don't forget about the garlic powder, which adds an umami element, and sea salt and black pepper for that extra oomph of flavor.
Simply blend everything together in a blender. The result? A thick and pourable dressing that will add a burst of freshness to any dish on your plant-based plate. So go ahead and get your green on!
Homemade Green Goddess Dressing Q + A's
How long does homemade Green Goddess Dressing last? 
Homemade green goddess dressing can last for up to a week in the refrigerator as long as it's stored in an airtight container.
Can Green Goddess Dressing be made ahead of time?
Yup! In fact, Green Goddess Dressing can benefit from some time in the fridge to allow the flavors to meld together. You can make it up to a day ahead of time and store it in the fridge until you're ready to use it. Just give it a good stir before serving.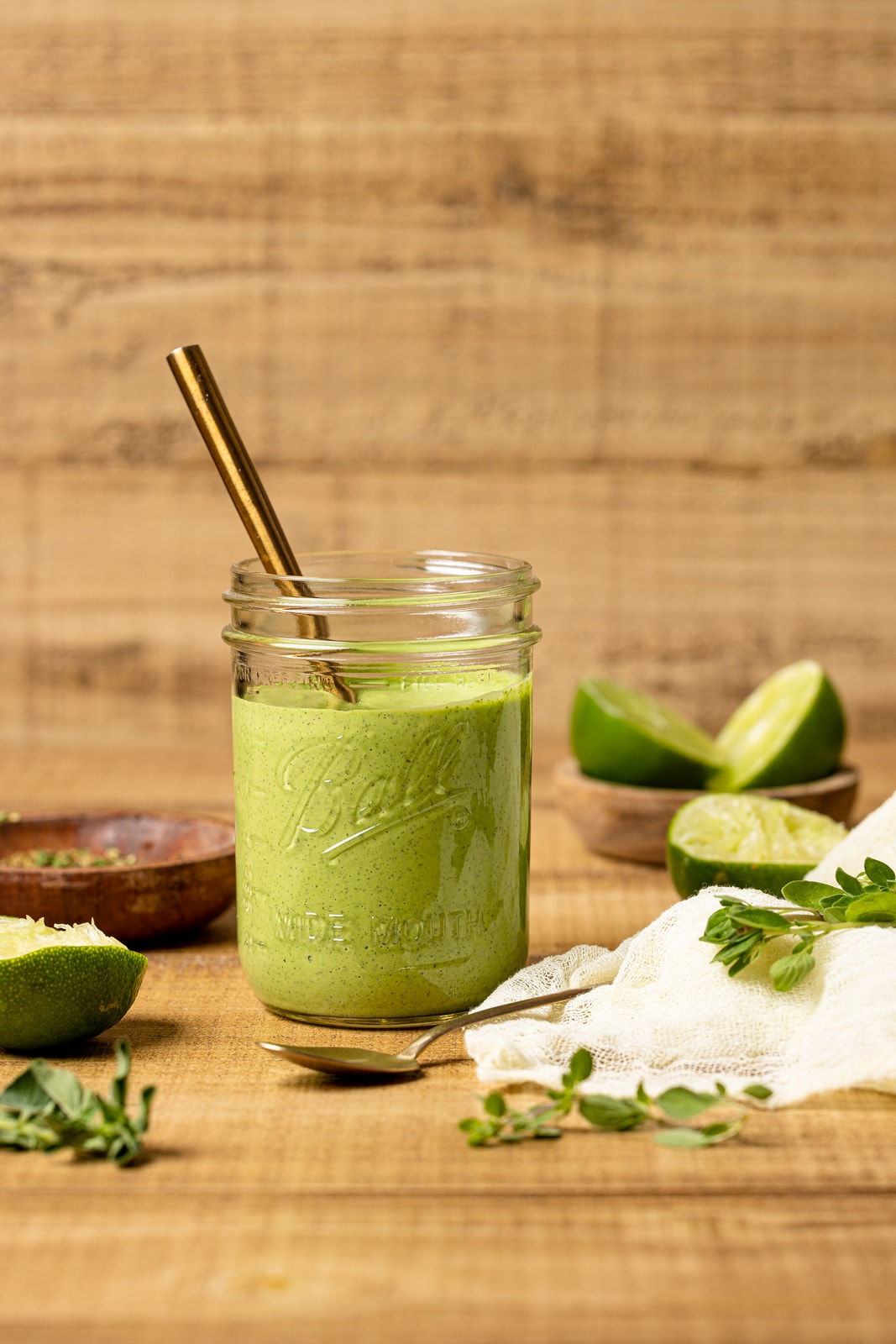 Options to Pair This Green Goddess Dressing With?
Salads: Of course, the most obvious pairing for Green Goddess Dressing is with salads!

Roasted Vegetables: Green Goddess Dressing is also a great sauce to drizzle over roasted vegetables, making them even more delicious.

Grain/Buddha Bowls: If you're a fan of Buddha bowls, then this dressing is a must-try! It pairs well with grains like quinoa, rice, farro, or bulgur.

Sandwiches and Wraps: Green Goddess Dressing is a great alternative to mayonnaise or other spreads on sandwiches and wraps.

Veggie Burgers: A dollop of Green Goddess Dressing on top of a veggie burger takes it to the next level! It adds a creamy and tangy flavor that complements the veggie patty well.

Veggie Dipping Sauce: This dressing can also be used as a dipping sauce for veggies. It makes for a tasty and healthy snack or appetizer.

Pizzas: Use Green Goddess Dressing as a pizza sauce instead of traditional tomato sauce. Trust me, its delicious.
Tacos: It can also be used as a sauce for tacos. It pairs well with vegetarian options like grilled veggies, black beans, or tofu and meat-based options like chicken or shrimp.

Y'all, I wasn't playing when I told you I put this on EVERYTHING. The possibilities are endless!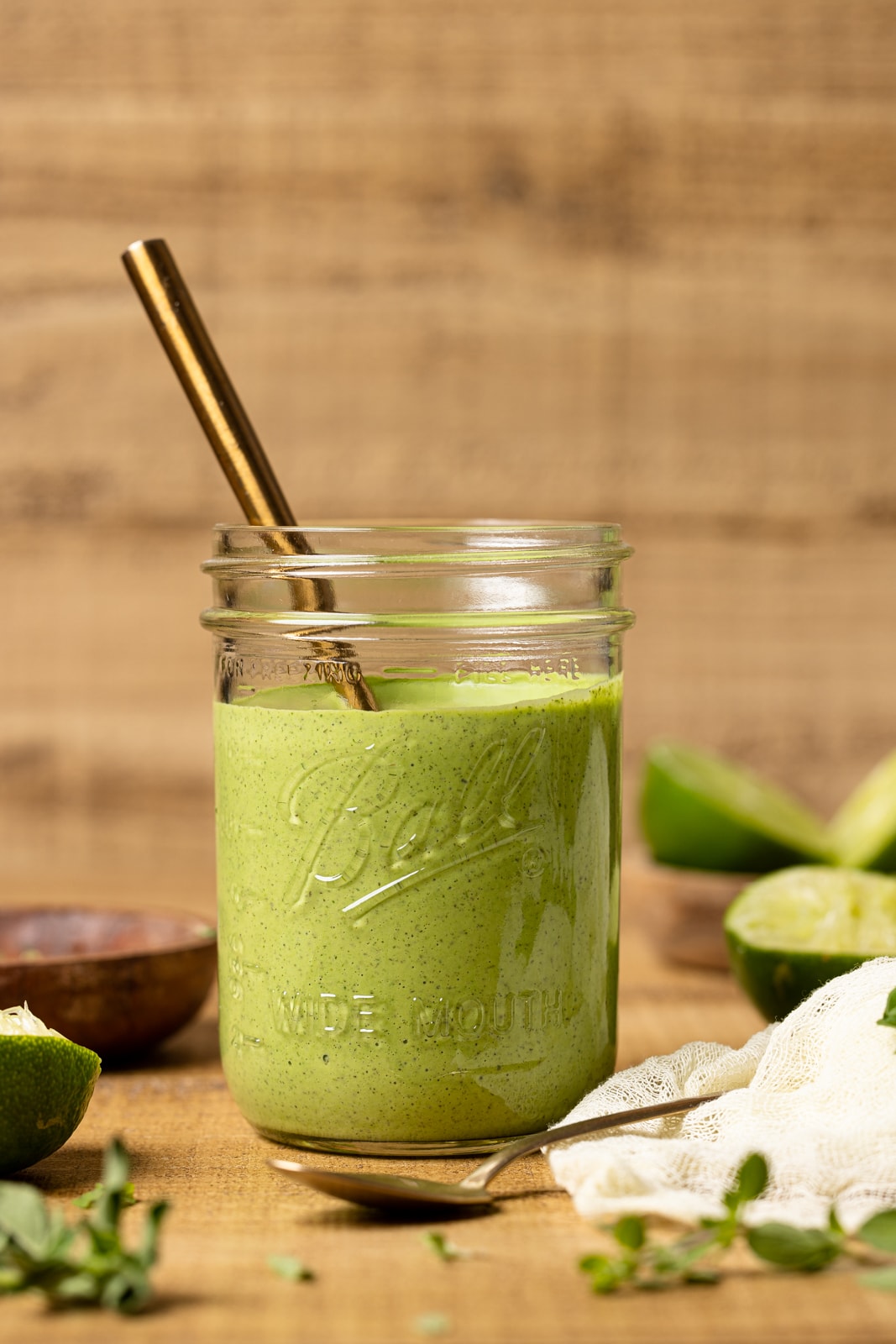 Other Recipes You'll Love
If you love my Homemade Green Goddess Dressing, try these recipes too!
Made Our Recipe?
If you tried this Homemade Green Goddess Dressing or any other recipe on my website, please please leave a 🌟 star rating and let me know how you go in the 📝 comments below. I love hearing from you.
1

cup

vegan mayonnaise

½

jalapeño, chopped

(You can remove seeds for less spiciness)

3

garlic cloves

1

cup

organic kale, stems removed + chopped

¼

cup

chopped basil

½

cup

Almond milk, unsweetened

1

tablespoon

freshly-squeezed lemon juice

½

teaspoon

sea salt

½

teaspoon

black pepper

½

teaspoon

dill weed

½

teaspoon

dried parsley

½

teaspoon

garlic powder
To Make the Dressing:
Add the vegan mayo, kale, chopped jalapeño, basil, milk, lemon juice, salt, black pepper, dill, parsley, garlic powder, and garlic cloves into a high-powdered blender and blend until sauce becomes creamy.

Add dressing to your favorite mason jar or tightly sealed container and refrigerate for 3-4 days for optimal freshness. 

Bon Appetit!
Calories:
371
kcal
|
Carbohydrates:
6
g
|
Protein:
0.4
g
|
Fat:
36
g
|
Saturated Fat:
4
g
|
Polyunsaturated Fat:
0.2
g
|
Monounsaturated Fat:
0.2
g
|
Sodium:
652
mg
|
Potassium:
26
mg
|
Fiber:
0.3
g
|
Sugar:
0.2
g
|
Vitamin A:
22
IU
|
Vitamin C:
4
mg
|
Calcium:
44
mg
|
Iron:
0.1
mg