This Easy Vegan Black Bean Tacos recipe is packed with major Mexican-inspired flavors and spices! They say you should eat the rainbow, which is definitely the case with these plant-based protein-packed tacos! Think beans, red cabbage, tomatoes, spinach, mango, jalapeños, and creamy avocado (the star of the show). A healthy vegan lunch or dinner with a gluten-free option that is ready within minutes!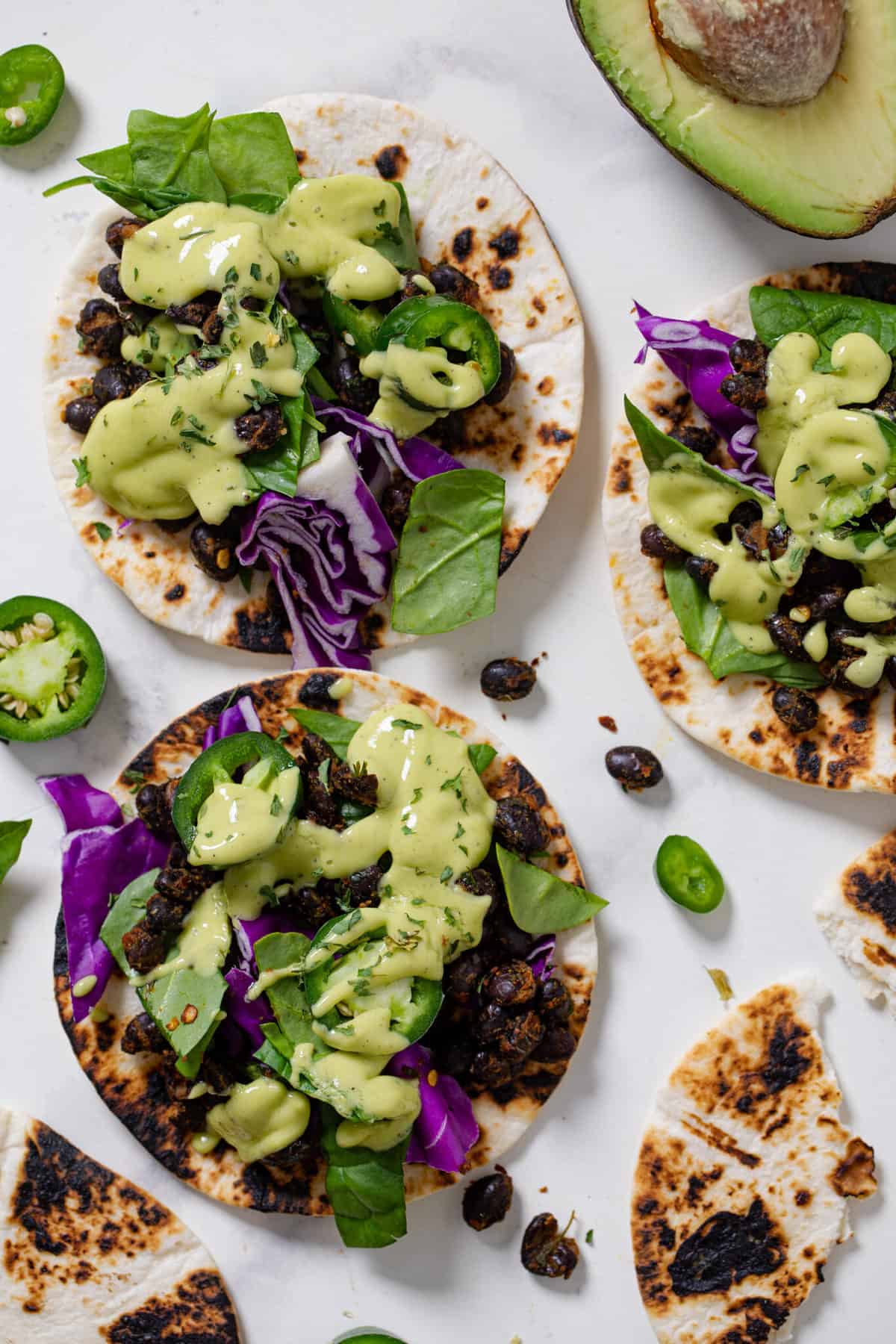 You can't go wrong with these simple Easy Vegan Black Bean Tacos topped with a fresh, zesty avocado dressing, which is perfect for Meatless Monday, Taco Tuesday, or, let's be honest --any other day of the week.
These tacos are packed with flavor and protein; you won't even miss the meat (I promise). You can make a delicious and filling dinner for a group in no time with this simple, slightly spicy bean filling and your favorite crunchy taco toppings.
These vegan tacos have a sunny island vibe thanks to the mango and avocado dressing that brightens up even the darkest winter nights. This is a great recipe because you can use frozen mango, which is available year-round (Yay!).
It's always a good time for some vegan, heart-healthy, and delicious black bean tacos topped with a creamy mango avocado dressing.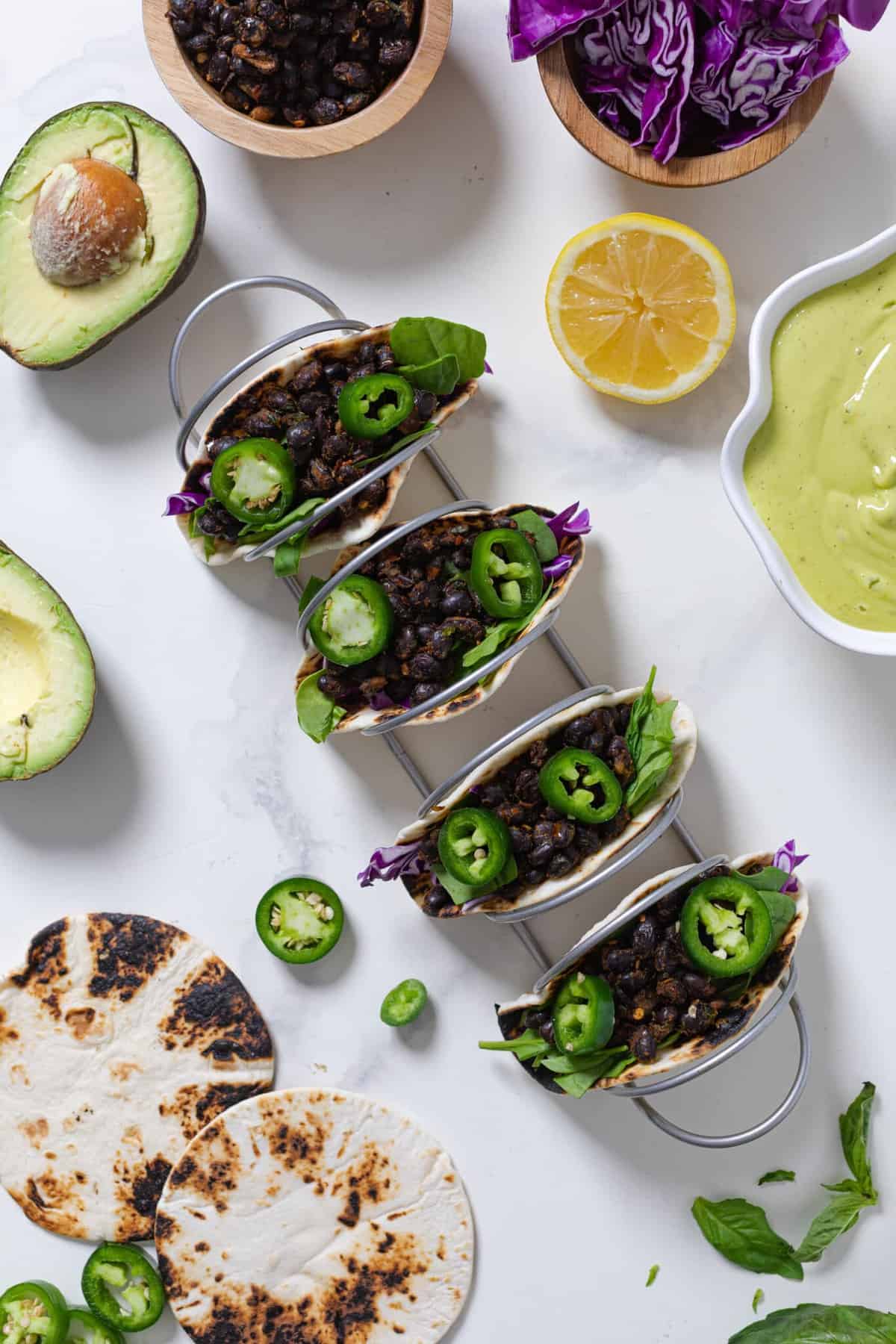 How to Make Easy Vegan Black Bean Taco Filling
While the zesty mango and avocado dressing might steal the show, this easy bean taco filling is packed with flavor. Not to mention it's incredibly easy to make, and whether you are cooking for one or ten, you will be happy to get your cook on with these bad boys! There are a few steps involved in making this recipe, but once everything is ready, putting them together is a blast.
You'll need a few pantry-staple ingredients:
Black beans. Use canned, drained, and rinsed beans for convenience. In a pinch, you can also use another canned bean, such as pinto or garbanzo, if that's what you have on hand because this recipe is all about ease, remember?
This homemade plant-based easy taco seasoning is best made with chili powder, cumin, smoked paprika, garlic powder, onion powder, black pepper, and cayenne pepper. This is my go-to finger-licking taco flavor enhancer. However, if you have a favorite pre-mixed taco seasoning, feel free to use it to make a fast two-ingredient vegan black bean taco filling.
If you prefer a less spicy taco (because not all of us love that burn..Haha), you can omit or reduce the amount of cayenne pepper and/or chili powder in the black beans...Easy peasy!
Or, if you're all about spice, amp up that flavor with extra cayenne and/or chili powder; feel the burn! And don't forget to pile your tacos sky high with jalapeños (leave the seeds in for extra spicey goodness).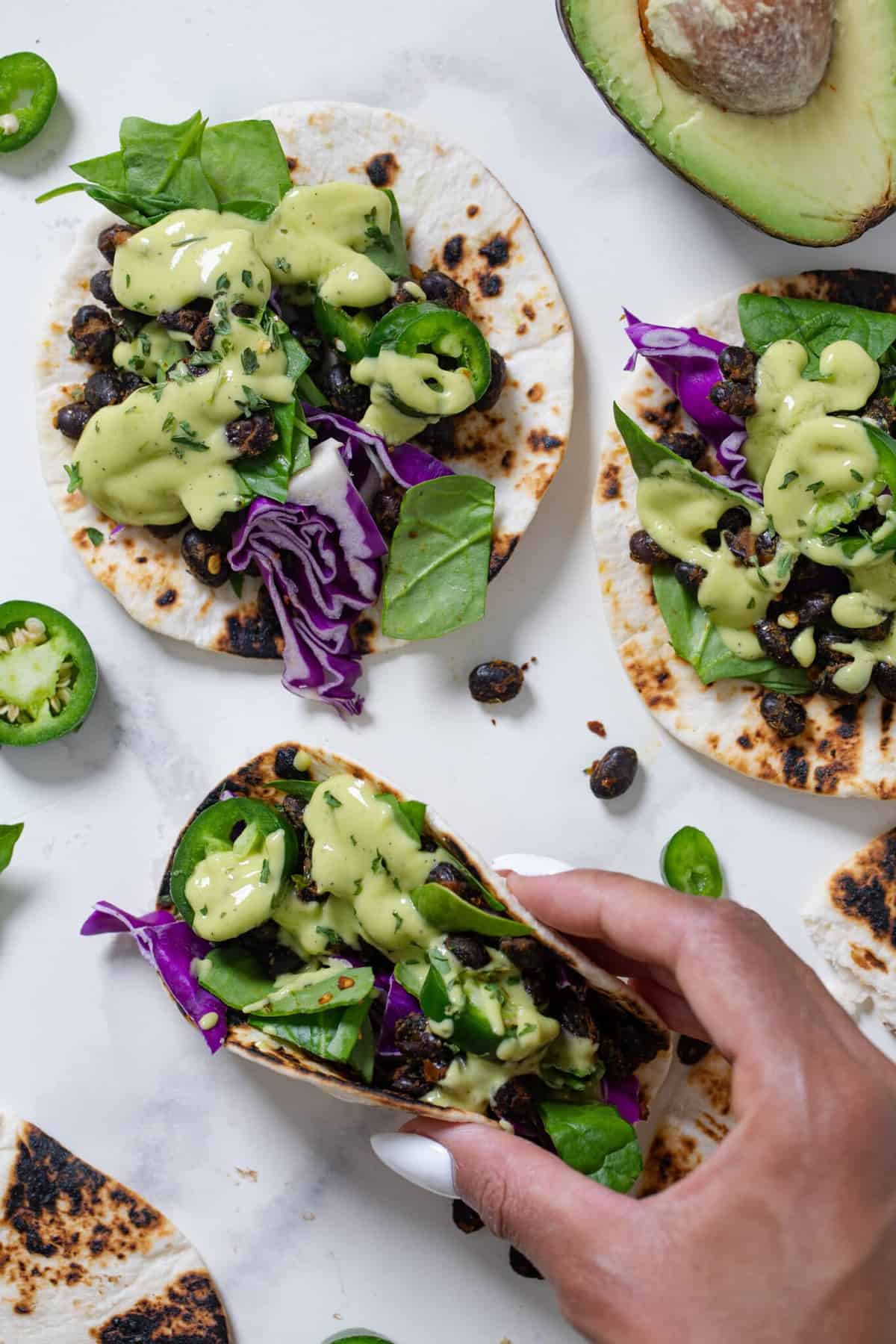 To make the plant-based black bean tacos, simply heat the black beans in a large skillet. Season with the spices, and you're done...Yup, it's that simple! Remove the bean filling from the skillet and cover it to stay warm. You can use this same skillet to heat your taco shells (Yay!! Less cleaning is always a win if you ask me).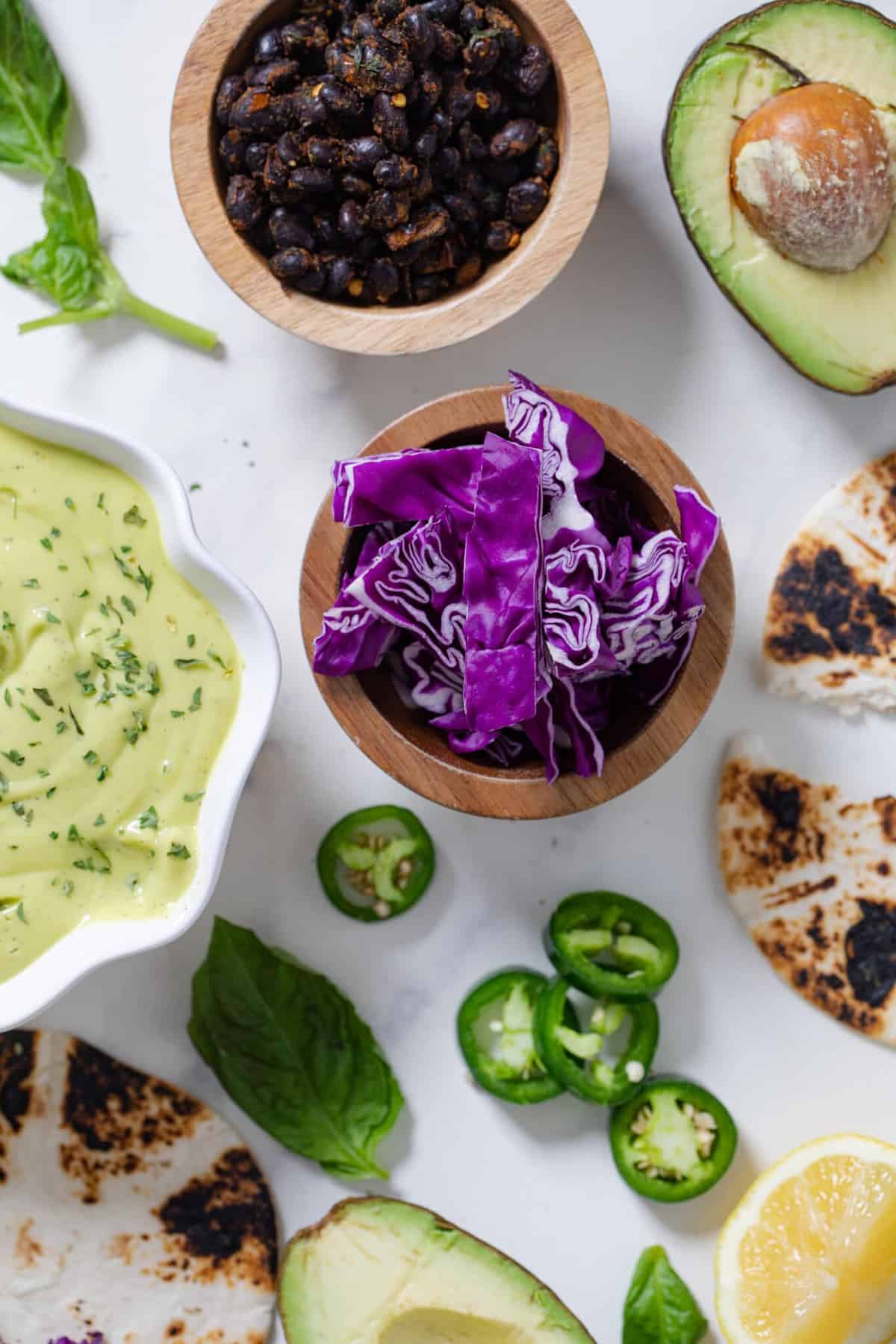 How to Make Avocado Dressing for Vegan Tacos
To really bring your vegan black bean tacos to life, DO NOT skip this creamy avocado dressing with mango and basil. It's slightly sweet, herbal, and oh so satisfying and tasty that you are going to be licking it from the bowl, I swear.
All it takes to make this silky-smooth dressing is to add avocado, mango, basil, a bit of olive oil, and lemon juice to a blender and purée until fluffy. Season the sauce to taste with salt, garlic powder, oregano, and parsley for an extra herby finish.
If you don't have a high-speed blender, you can also make this creamy dressing in a food processor or with an immersion blender. If you're having trouble blending a smooth sauce, add water, 1 tablespoon at a time, until the ingredients blend smoothly.
Vegan Black Bean Taco Ingredient Substitutions and Swaps
This recipe is fairly easy to customize. If you don't have every item on the ingredient list, here are some simple swaps and substitutions that won't sacrifice flavor:
Substitute the lemon juice in the avocado dressing with lime juice.

Swap fresh basil for another fresh herb, such as cilantro, parsley, or dill.

Try another fruit instead of mango. Pineapple will add a nice tropical spin and sweetness.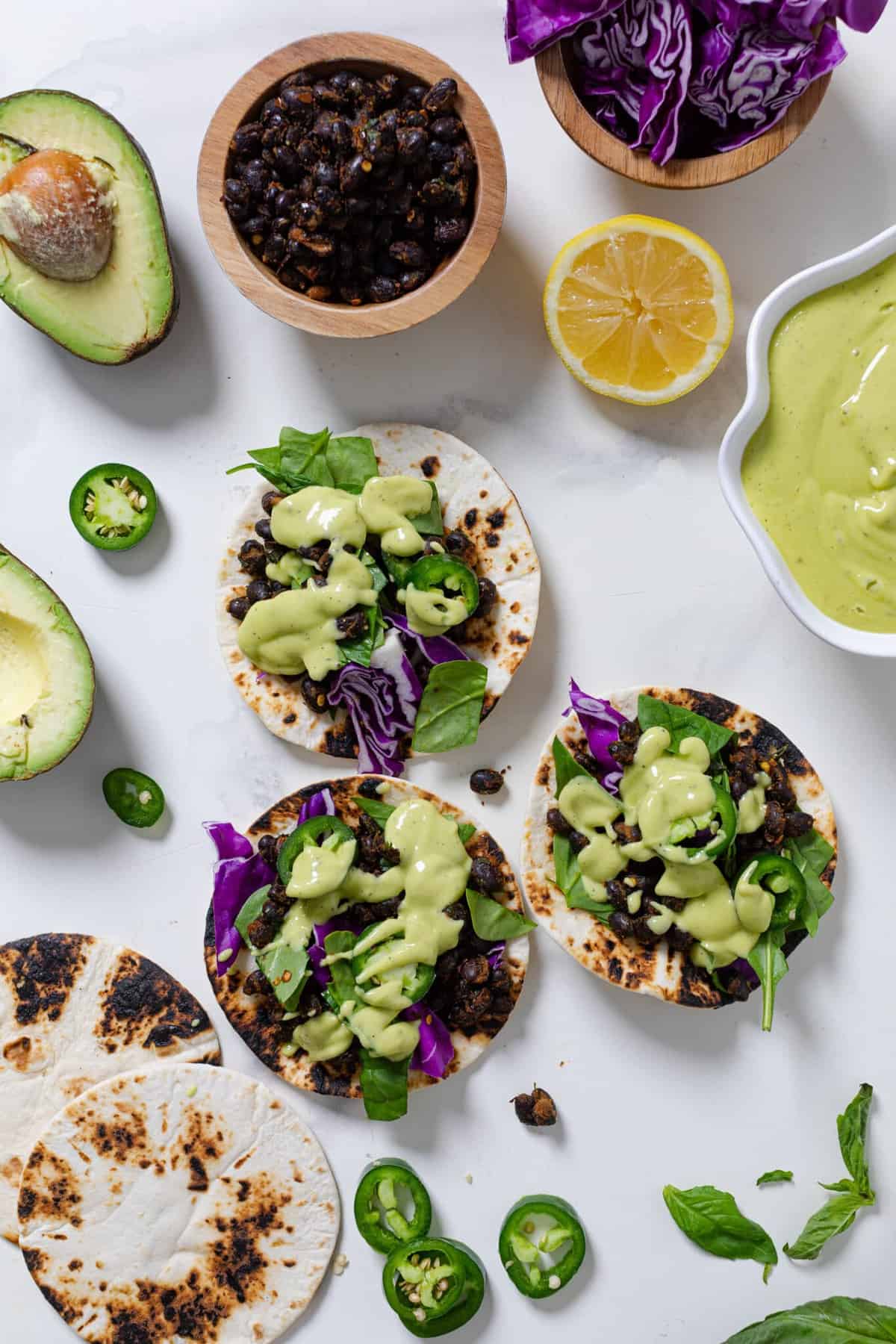 You can make this quick taco sauce with frozen or fresh mangoes. Frozen mangos will need a bit more blending and added water to loosen up a bit. Avocado adds a delicious creaminess and thick texture to the sauce for perfect drizzling over your tacos.
Assembling & Topping Plant-Based Black Bean Tacos
Now that you have your spicy bean filling and zesty avocado dressing ready, it's time to build your vegan tacos. When it comes to toppings, I love a mixture of brightly colored, fresh crunchy ingredients.
My favorite vegan plant-based taco topping ideas include:
Shredded red cabbage

Spinach

Grape tomatoes

Avocado

Jalapeños (pickled or fresh)

Dairy-free yogurt or sour cream

Shredded vegan cheese
To soften the cabbage so it's easier to eat and digest, I like to sauté it briefly, so it's still crunchy but not too chewy. However, it works just as well in its raw state. Just be sure to slice or shred your cabbage nice and thin. You can do this in a food processor if you like for mess-free shredding.
Before you fill your taco shells, warm small flour or corn tortillas in a skillet until they're lightly charred and pliable. I like to get a nice dark char in spots for extra crunch and a smokey flavor.
Finally, fill them up with black beans and all the toppings and dig in! I'm totally obsessed with these easy vegan tacos, and I know you will be too!
What Kind of Tortilla is Best for Vegan Tacos?
You can choose either corn or flour tortillas for this recipe. If you're looking for a gluten-free option, corn is your best bet. Whichever option you choose, I recommend the small street taco size. They're easy to fill, hold and eat by the dozen!
Of course, in a pinch, larger tortillas will work too. You can also use hard taco shells if you prefer a crunchier taco. If that's the case, skip heating the tortillas and simply fill your taco shells with black beans and toppings.
Or, if you want the best of both worlds, fill a crunchy taco and wrap a soft one around it... A sneaky little taco hack that will catch all the crispy taco shells!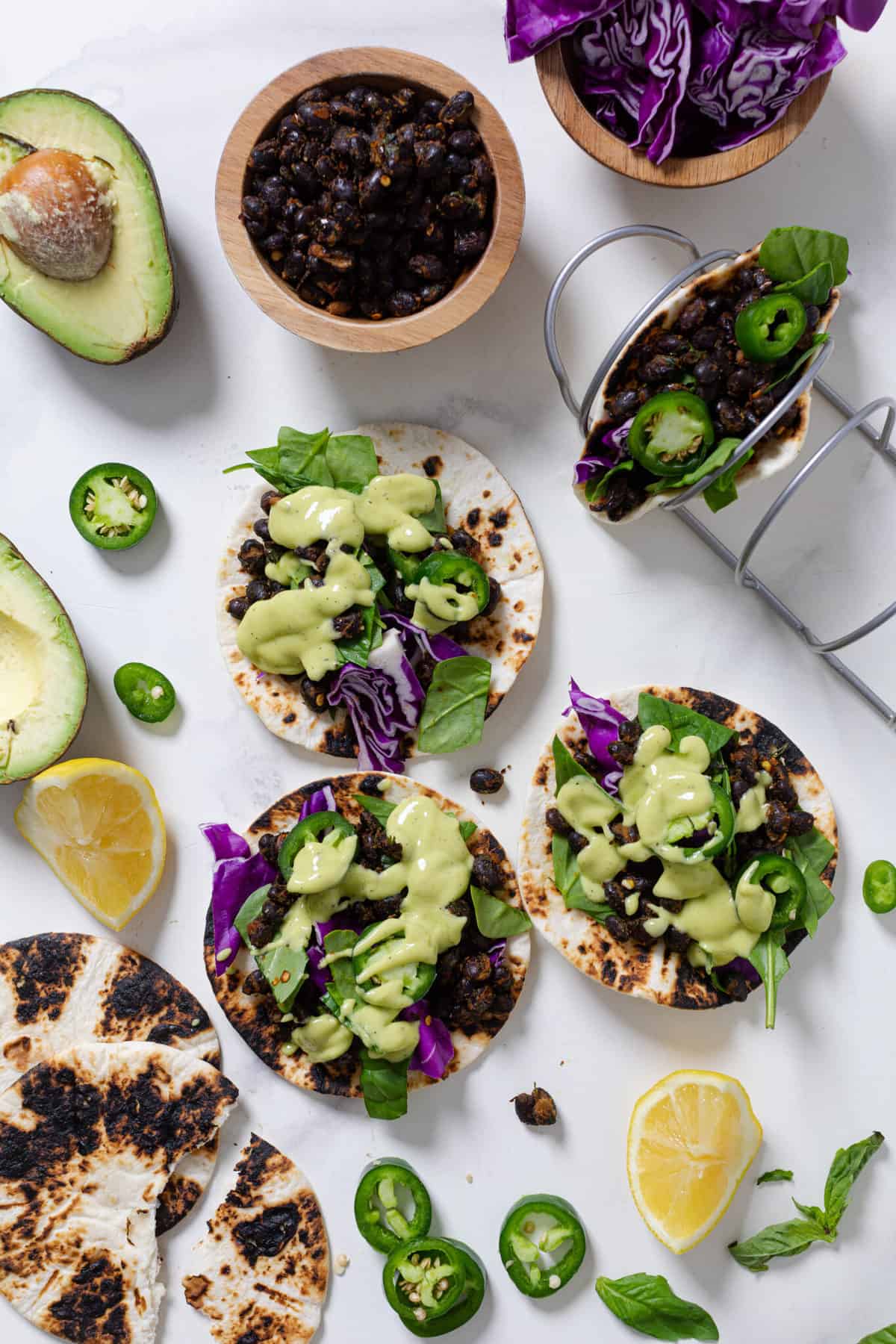 How to Store Leftover Plant-Based Tacos
You can store the black bean taco filling in an airtight container for up to three days. Reheat it on the stove or in the microwave to make more tacos because why not have tacos two days in a row?
Store the avocado-mango dressing in an airtight container in the fridge for up to two days. If you see any separation, simply give the dressing a good shake before serving.
I don't recommend freezing the beans or sauce, as they won't have the same texture when they defrost. However, you can easily freeze leftover tortillas and pop them out to defrost when you're ready for another round of Easy Vegan Black Bean Tacos!
Are Black Beans Healthy?
In short, YES!
A serving of ½ cup of black beans contains 7.3 grams of plant-based protein, making them protein powerhouses. Black beans can be used in a variety of recipes (like our yummy plant-based tacos) to help you get the daily plant-based protein you need.
Other benefits include-
Helps to Regulate Blood Sugar


Supports healthy bones! Black beans contain a variety of nutrients that support the development and upkeep of bone strength and structure, including iron, phosphorus, calcium, magnesium, manganese, copper, and zinc.

Improves Digestive Health (Yay to healthy gut flora)

Full of Helpful Antioxidants

Supports heart health! Black beans' high fiber, potassium, folate, vitamin B6, and phytonutrient content, along with their low cholesterol content, all support heart health.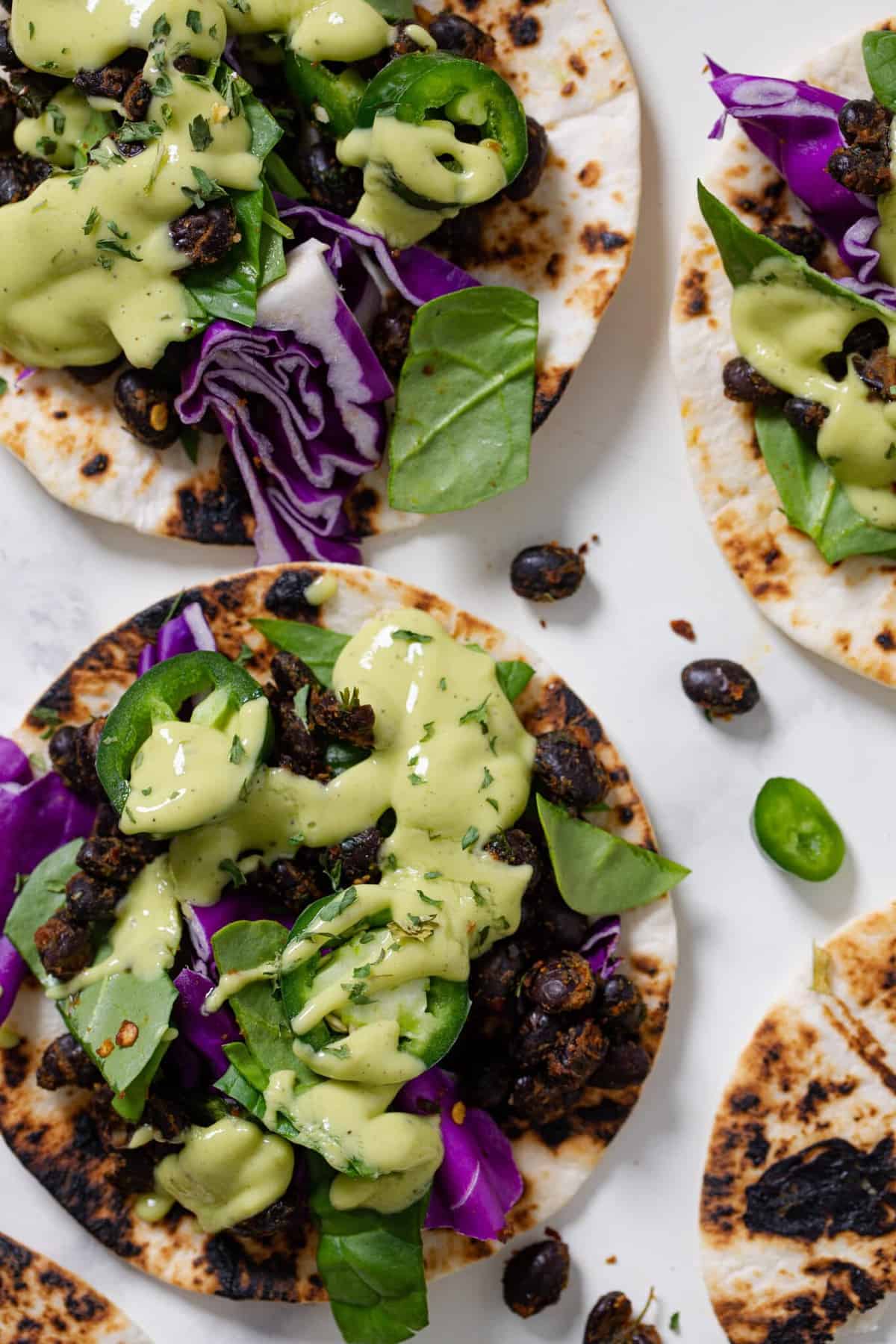 More Healthy Vegan Dinner Recipes
On a vegan plant-based protein kick? You'll love these other healthy plant-powered dinner recipes to try next:
And if you're more interested in the taco part of this recipe than the vegan part, be sure to give these meaty Sweet Heat BBQ Braised Rib Tacos a try next. It's all about balance, right?
These Easy Vegan Black Bean Tacos would go well with any of the following recipes if you're looking for a side to complete your taco night:
MADE OUR RECIPE(S)?
If you make this Easy Vegan Black Bean Tacos recipe or any other recipe from us, be sure to tag us on Instagram at #Orchidsandsweettea so that we can share the love!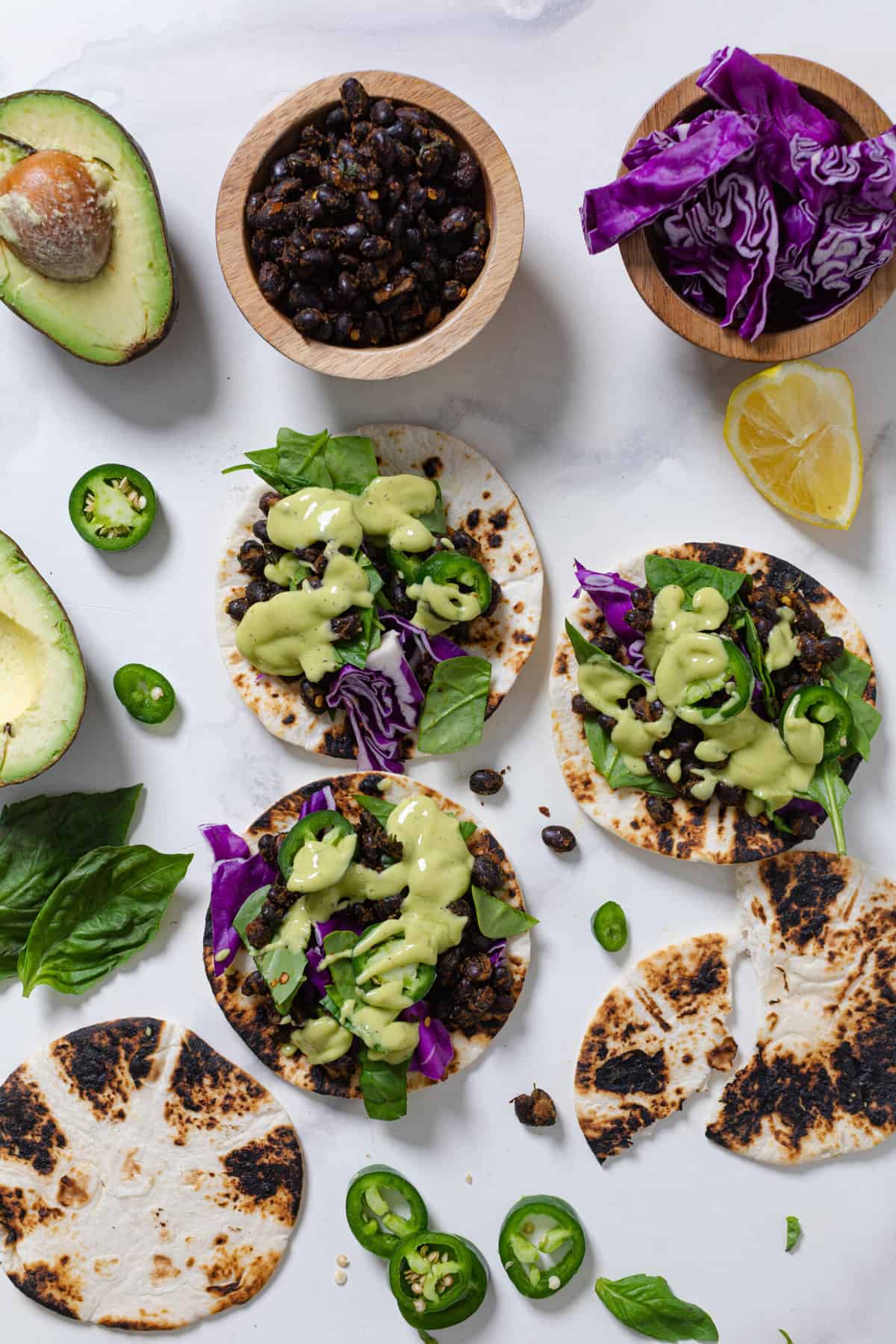 Avocado Basil Mango Dressing:
Black Beans + Taco Seasoning:
1

(15 oz.) can

black beans, cooked

(See Notes!)

2

Tbsps

chili powder

1

teaspoon

cumin

1

teaspoon

smoked paprika

1

teaspoon

garlic powder

1

teaspoon

onion powder

½

teaspoon

black pepper

⅛

teaspoon

cayenne pepper
Tacos:
soft flour or corn tortillas, any size

(See Notes!)

½

medium

red cabbage, finely chopped

1

cup

organic spinach, finely chopped

(See Notes!)

grape tomatoes, halved

(optional)

1

hass avocado, peeled, cored + diced

1

jalapeño, diced
To Make the Avocado Basil Mango Dressing:
Add together the mango, avocado, olive oil, basil leaves, and juice of a lemon to a blender and blend on high speed until smooth. **NOTE: If using frozen mangoes, the sauce might be extremely thick, therefore, I'd suggest adding ½ cup of water + more as needed.**

Then add sea salt, garlic, pinch of oregano, and dried parsley to sauce and blend for another minute or two, until completely smooth. **NOTE: Add additional seasoning to taste.**

Add sauce to a small bowl or container and keep in the refrigerator until ready to use.
To Make the Black Bean Tacos:
In a medium skillet, add 1 tablespoon olive oil over medium-high heat. Once heated, add black beans and taco seasoning, mixing together and cooking beans on medium-low until cooked. through, about 8-10 minutes. Remove from heat and let cool slightly.

To assemble tacos, add 2 Tbsps of black beans atop a charred tortilla (See Notes!), red cabbage, spinach, diced tomatoes, sliced avocados, and top with jalapeños. Repeat until desired amount of tacos are made. Drizzle a generous amount of Avocado Basil Mango sauce over tacos and enjoy!

Bon Appetit!
STORAGE: Place any leftover ingredients in a tightly sealed container in the refrigerator for up to 3-4 days.
MAKE AHEAD: All ingredients can be made and individually stored as meal prep (excluding tortillas) and assembled when ready to serve.
BLACK BEANS: When using dried beans, be sure to soak about 5-6 cups of black beans in a pot or bowl covered with water overnight. To begin cooking, rinse the soaked beans and add fresh water to a pot along with beans. Boil for the first 10 minutes and then reduce the heat and let simmer for 30-40 minutes or until black beans are tender.
OIL: Instead of extra virgin olive oil, you can also use grapeseed oil or vegetable oil, if preferred.
MANGOES: If you decide to use frozen mangoes, be sure to add water to sauce when blending so that it becomes "liquid-y".

 

TORTILLAS: To lightly toast taco tortillas, preheat oven on 350 degrees Fahrenheit and place tortillas directly on rack. Turn off oven once heated and let tortillas warm for 2 minutes. Remove from oven. For char on a stovetop, pop one of the tortillas unto a gas burner until you begin to see a little smoke. Remove tortilla to rotate it onto opposite side until it's lightly charred. Repeat until all tortillas are charred.
Calories:
286
kcal
|
Carbohydrates:
23
g
|
Protein:
4
g
|
Fat:
23
g
|
Saturated Fat:
3
g
|
Polyunsaturated Fat:
3
g
|
Monounsaturated Fat:
16
g
|
Sodium:
464
mg
|
Potassium:
719
mg
|
Fiber:
9
g
|
Sugar:
11
g
|
Vitamin A:
2958
IU
|
Vitamin C:
71
mg
|
Calcium:
80
mg
|
Iron:
2
mg
Easy Vegan Black Bean Tacos