These are the best fully loaded Baked Vegan Black Bean Tacos you'll ever have! Made with a delicious homemade dairy-free chipotle sauce, well seasoned sautéed black beans, red onions, and dairy-free mozzarella cheese shreds. Perfect for taco Tuesday or any night rather---for the entire family. All dairy-free + vegan. Gluten-free option.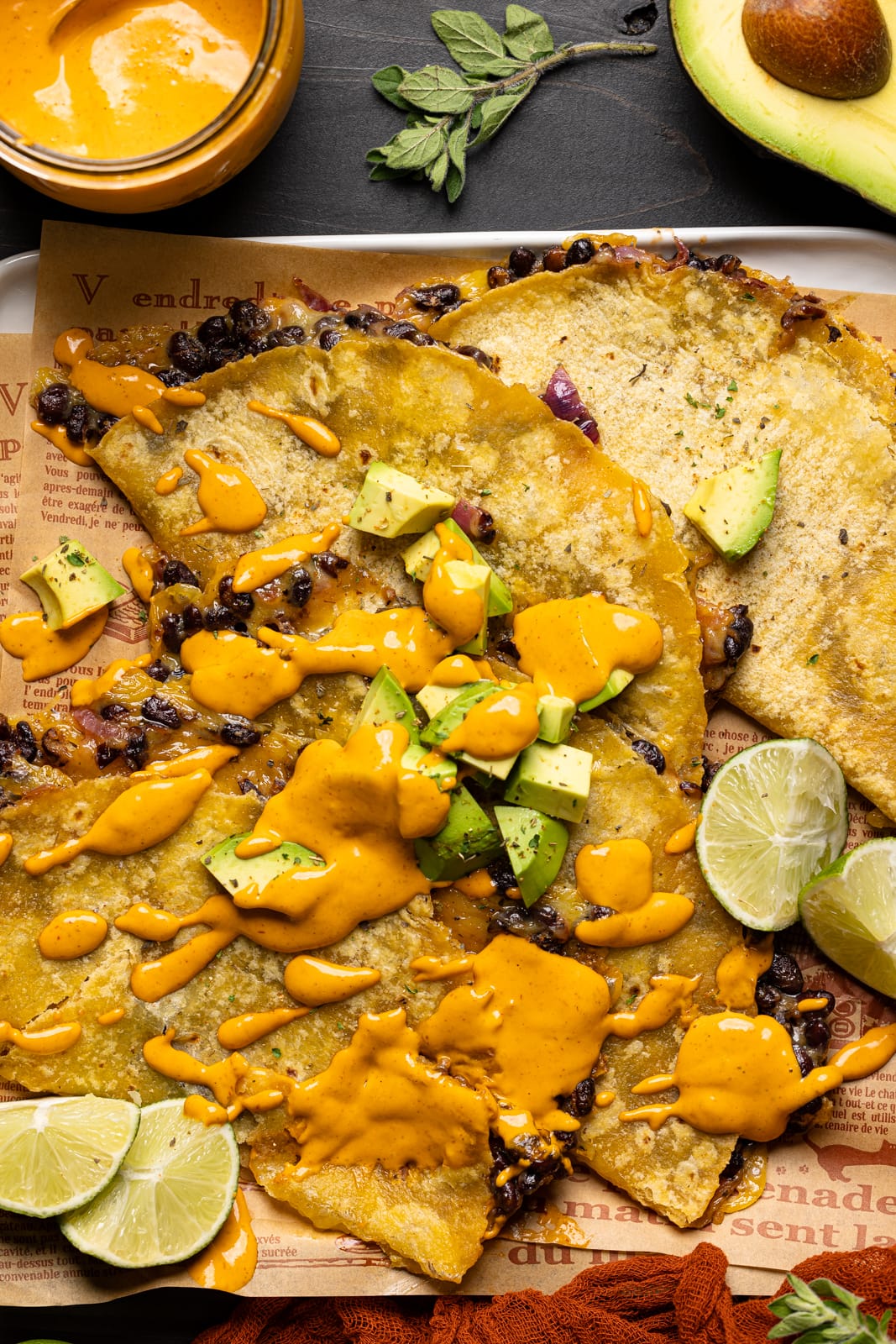 Disclaimer: This post contains affiliate links via Amazon for products that I wholeheartedly love and receive commission from.
You can't go wrong with these simple tacos and these Baked Vegan Black Bean Tacos come topped with a creamy, hint of spice chipotle dressing/sauce, which is perfect for Meatless Monday, Taco Tuesday, or, let's be honest --any other day of the week. Seriously these tacos are packed with flavor and protein and you won't even miss the meat----promise! You can make a delicious and filling dinner for a group in no time with this simple, slightly spicy bean filling and your favorite taco toppings---whether simple or more complex. Oh and this Spicy Restaurant Style Salsa is the perfect side or topping for these tacos!
If we're honest, tacos will always be the best thing to bring everyone together on a fun night and regardless of your favorite ingredients, they'll keep everyone satisfied. The highlight of this recipe is of course the black beans because they are so convenient yet so filling and if you're a fan of beans then this Easy Garlic Herb Three Bean Dip, Loaded Vegan Veggie Soup, Creamy Vegan White Bean Soup, and Vegan Jamaican Stew Peas are the next things that you need to make ASAP!
Overall, these dairy-free + vegan tacos are super easy to make, a great quick weeknight option, includes well seasoned black beans making it entirely meatless, includes bold flavors, balance between savory, spicy, and fresh, and just plain GOOD.
Jump to:
How Do You Eat Canned Black Beans?
If you've ever wondered what was the best way to eat canned black beans or how to best prepare them---no worries! Besides in these vegan tacos, black beans from the can are super convenient and so easy to use in any of the following:
In a rice bowl or food bowl
With a scramble of regular eggs or plant-based eggs
On a salad
Over baked sweet potatoes or potatoes
Burrito filling
As a burger
In soup
and more.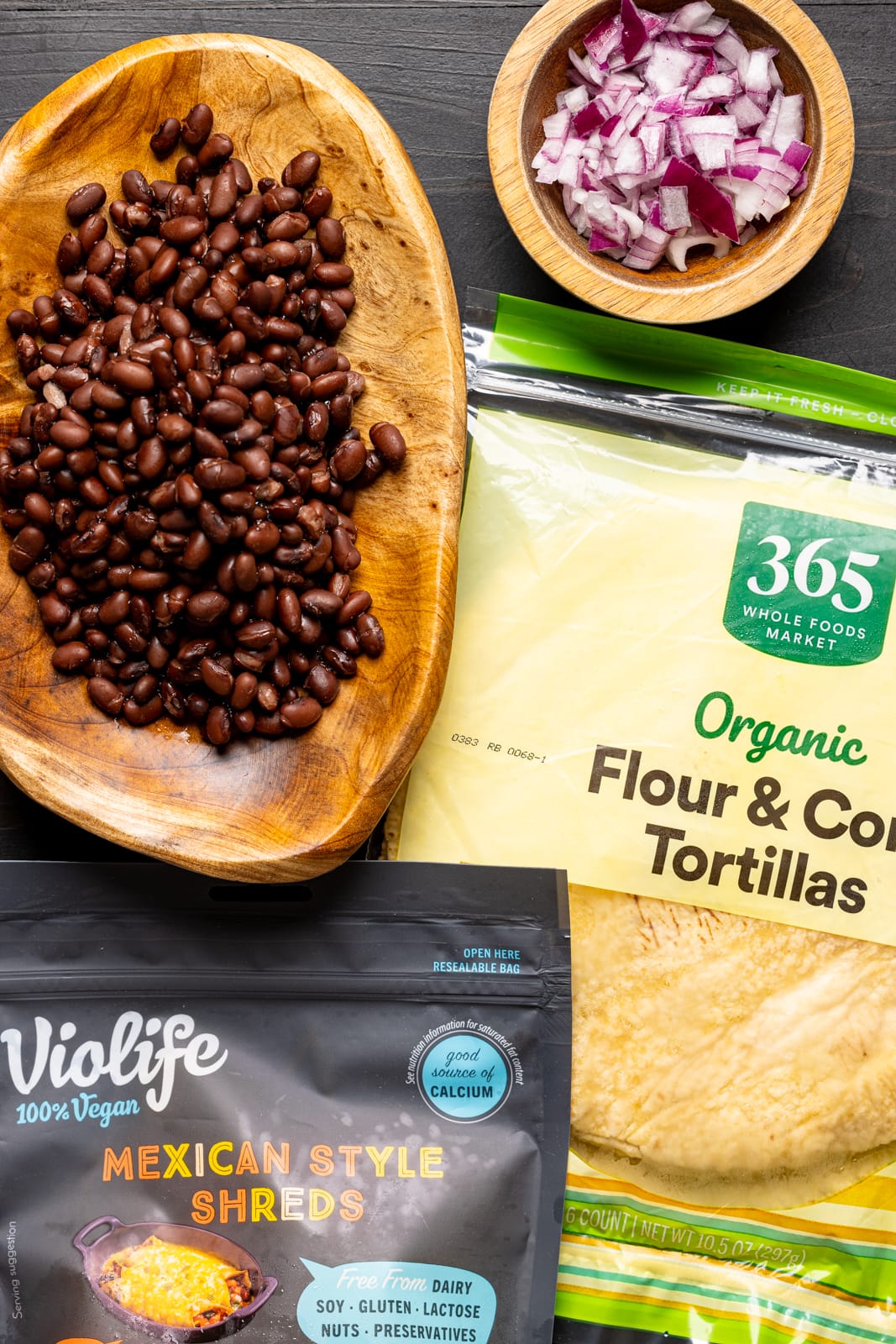 How to Make Baked Vegan Black Bean Taco

s
The five parts of these Baked Black Bean Tacos are the black beans, chopped onions, cheese shreds, the dairy-free chipotle dressing/sauce, and the toppings.
Start by prepping your toppings and storing them in the fridge until ready to use. Warm your tortillas. Meanwhile, you can cook the black beans over the stovetop, season, and set aside. Then make the simple chipotle sauce/dressing. And finally, assemble the tacos, bake until crispy and cheese shreds have melted, add toppings, and enjoy!
Ingredients for these Tacos
Here's what you need for these Baked Vegan Black Bean Tacos:
Black beans. You'll need a single can of black beans that have been drained and rinsed for these tacos. You can also use dried black beans that are soaked overnight and then cooked until tender, if desired.
Olive oil. you can also use avocado oil or Grapeseed oil, if you prefer.
Dairy-Free Cheese Shreds. I love using 'mozzarella shreds', however, you can use whichever you prefer. Be sure use high-quality brands that melt well.
Onion. I love using red onions, but yellow would do. Adds great nutritional value and acidity.
Herbs + spice. I use staple spices like salt, black pepper, garlic powder, onion powder, oregano, basil, parsley, cumin, and smoked paprika.
Tortillas. I like to use organic corn-flour tortillas from Whole Foods, however, you can use corn or flour.
Homemade sauce/dressing. I love using my Dairy-Free Chipotle dressing/sauce, which so easy and adds delicious flavor to these tacos.
Toppings. Depending on your favorite toppings, you can add additional flavor to these tacos by finishing them off with roasted herb tomatoes, corn, jalapeños, Pico de gallo, sliced avocado, guacamole, salsa, you name it!
Are Black Beans Healthy?
In short, YES! A serving of ½ cup of black beans contains 7.3 grams of plant-based protein, making them protein powerhouses. Black beans can be used in a variety of recipes (like our yummy plant-based tacos) to help you get the daily plant-based protein you need. However, other benefits include:
Helps to Regulate Blood Sugar.
Supports healthy bones----Black beans contain a variety of nutrients that support the development and upkeep of bone strength and structure, including iron, phosphorus, calcium, magnesium, manganese, copper, and zinc.
Improves Digestive Health (Yay to healthy gut flora).
Full of Helpful Antioxidants.
Supports heart health----Black beans' high fiber, potassium, folate, vitamin B6, and phytonutrient content, along with their low cholesterol content, all support heart health.
Homemade Taco Seasoning Blend
This homemade plant-based easy taco seasoning is best made with chili powder, cumin, smoked paprika, garlic powder, onion powder, black pepper, and cayenne pepper. This is my go-to finger-licking taco flavor enhancer. However, if you have a favorite pre-mixed taco seasoning, feel free to use it to make a fast two-ingredient vegan black bean taco filling.
If you prefer a less spicy taco (because not all of us love that burn..Haha), you can omit or reduce the amount of cayenne pepper and/or chili powder in the black beans...Easy peasy!
Meatless Options for these Tacos Besides Black Beans
Just in case you make these Baked Black Bean tacos more than once and just need a good switch up or you prefer to not eat black beans, here are great meatless options that can be in substitution:
Chickpeas
Other beans [i.e. Kidney beans, pinto beans, etc.]
Mushrooms
Tofu
Plant-based meat crumbles
Quinoa
Sweet potatoes, roasted
Butternut squash, roasted
Roasted veggies (bell peppers, poblano peppers, broccoli, etc.)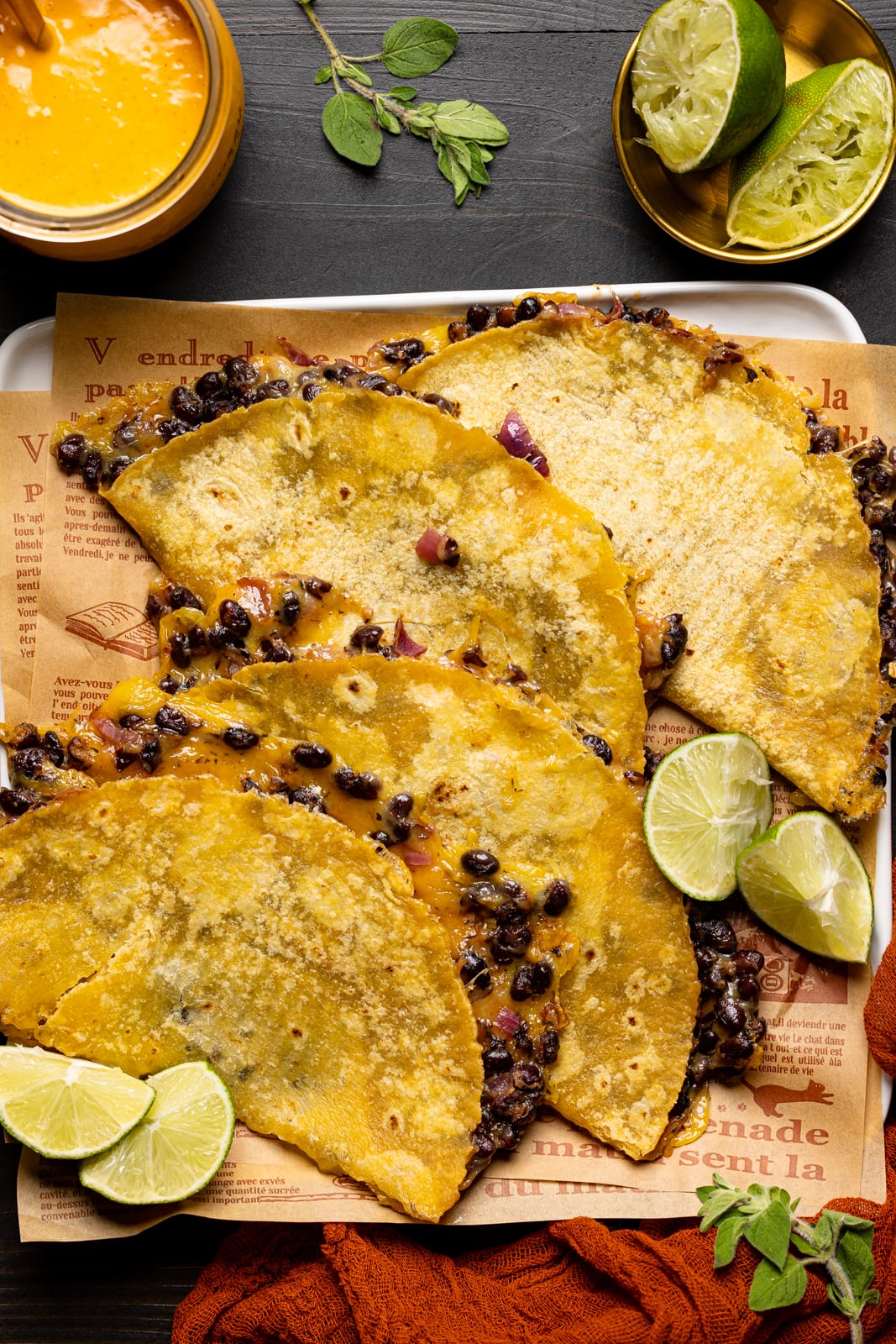 Assembling & Topping Plant-Based Black Bean Tacos
Now that you have your spicy bean filling and zesty avocado dressing ready, it's time to build your vegan tacos. When it comes to toppings, I love a mixture of brightly colored, fresh crunchy ingredients.
My favorite vegan plant-based taco topping ideas include:
Shredded red cabbage

Spinach

or kale, chopped

Grape tomatoes

, fresh or roasted

Avocado

or guac

Jalapeños (pickled or fresh)

Dairy-free yogurt or sour cream

Shredded vegan cheese

Corn
Salsa
Vegan queso
Pineapple chunks
Mango chunks
Hot sauce
Lime or lemon juice
Cilantro or parsley, chopped
Slaw
PRO TIP: To soften the cabbage so it's easier to eat and digest, I like to sauté it briefly, so it's still crunchy but not too chewy. However, it works just as well in its raw state. Just be sure to slice or shred your cabbage nice and thin. You can do this in a food processor if you like for mess-free shredding.
How to Make Herb Roasted Tomatoes
If you'd like to switch things up for the topping or filling of these tacos, then you can totally roast your tomatoes first. The key to this recipe is to start with great-quality tomatoes. Choose a mix of large and cherries, and several different colors if you can find them.
Best Tortilla for Vegan Tacos?
You can choose either corn or flour tortillas for this dairy-free taco recipe. If you're looking for a gluten-free option, corn is your best bet. Whichever option you choose, I recommend the small street taco-size. They're easy to fill, hold and eat by the dozen!
Of course, in a pinch, larger tortillas will work too. You can also use hard taco shells if you prefer a crunchier taco. If that's the case, skip heating the tortillas and simply fill your taco shells with the chopped buffalo chicken, black beans, and cheese shreds and then bake them before adding the toppings.
Common Q + A's for these Tacos
How to best store leftovers?
Place any leftover ingredients (individually stored) in a tightly sealed container in the refrigerator for up to 3-4 days. To reheat, place tacos in the oven at 350 degrees until warmed through. Assemble to serve.
Can I make these tacos ahead of time?
Absolutely! All ingredients can be made and prepped and individually stored as meal prep (excluding tortillas) and assembled when ready to serve.
Do I drain or rinse canned black beans?
Although canned black beans are ready to eat directly from the can, they should be drained and rinsed first — to wash off some of the slippery slime common to all beans and to get rid of excess sodium.
Can you substitute black beans for red beans?
Basically, the answer is yes! Black beans have an earthy flavor and similar texture to kidney beans which will make them work well as a substitute in tacos, bean dips, soups, chilis, and burgers.
Is Taco Seasoning vegan?
If you're thinking of adding taco seasoning to these black bean tacos then you're in luck! Most store-bought or homemade taco seasonings are vegan since their blend of spices do not contain dairy or other animal-based ingredients. I always recommend double checking the label to be sure.
Can I make these tacos gluten-free?
Of course! To ensure that these black bean tacos are gluten-free, simply ensure that the tortillas and any condiments used are gluten-free friendly.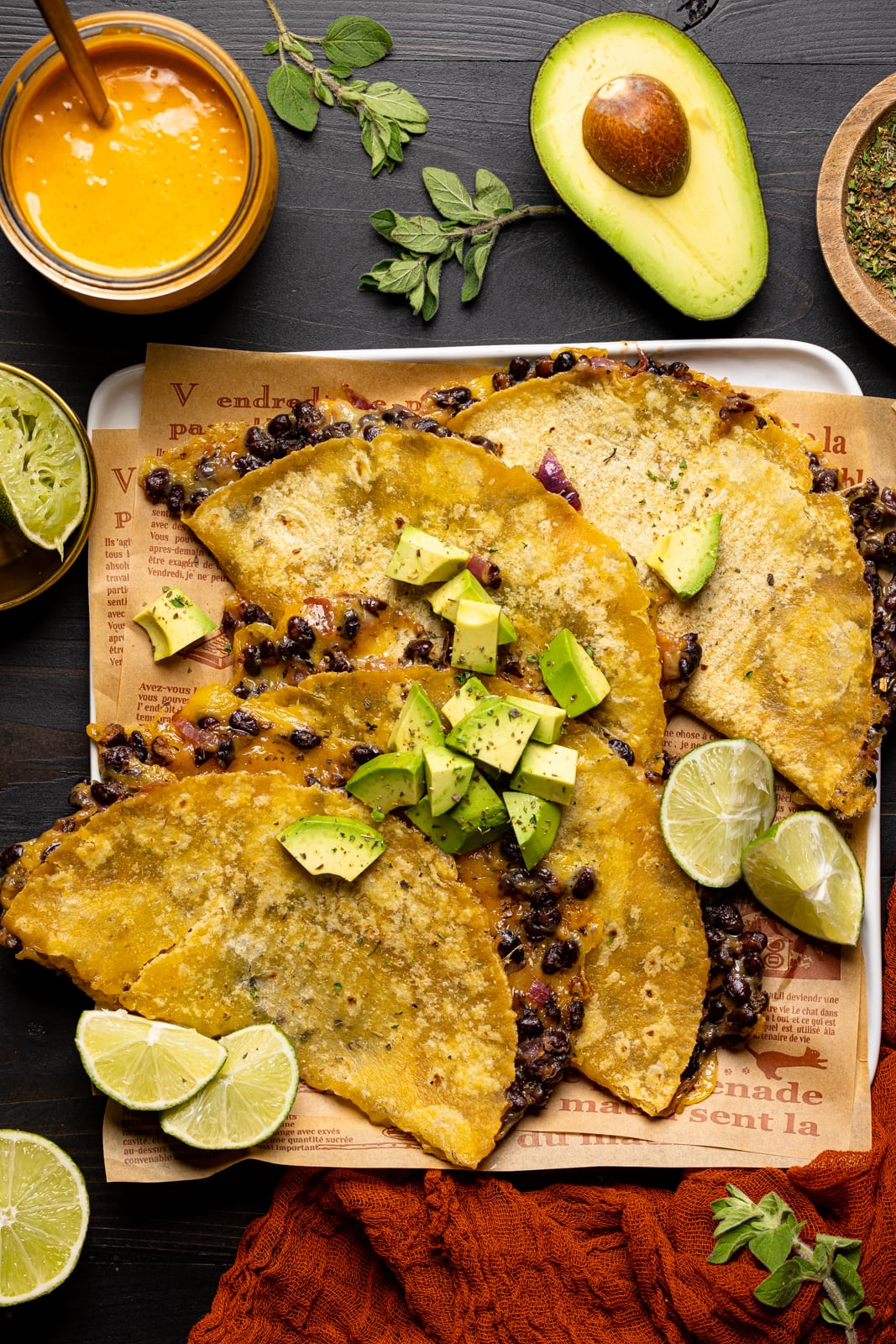 More Delicious Taco Recipes for the Family!
On a taco kick? You'll love these other delicious taco recipes to try next with your family:
MADE OUR RECIPE(S)?
If you tried this Baked Vegan Black Bean Tacos recipe or any other recipe on my website, please please leave a 🌟 star rating and let me know how you go in the 📝 comments below. I love hearing from you.
TACOS:
4

organic corn flour tortillas, warmed

(You can also use either corn or flour, depending on your preference)

2

cups

dairy-free mozzarella cheese shreds

(I love Violife)

½

red onion, chopped

(You can also use white or yellow onions)

1

(15 oz.) can

organic black beans, drained + rinsed

1

tablespoon

Extra virgin olive oil

1

teaspoon

sea salt

1

teaspoon

black pepper

1

teaspoon

ground cumin

1

teaspoon

smoked paprika

1

teaspoon

garlic powder

1

teaspoon

onion powder

1

teaspoon

dried parsley

1

teaspoon

dried oregano

1

teaspoon

dried thyme
DAIRY-FREE CHIPOTLE SAUCE:
OPTIONAL TOPPINGS:
Sliced avocados

Guacamole

Tomato salsa

2

cups

Roasted herb tomatoes
TO MAKE THE SAUTED BLACK BEANS:
In a medium skillet over medium-high heat, add olive oil. Once heated, add the black beans, salt, black pepper, garlic powder, onion powder, oregano, smoked paprika, parsley, and cumin mixing together, stirring occasionally, about 5-6 minutes. Remove from heat and let cool slightly.
TO MAKE THE DAIRY-FREE CHIPOTLE SAUCE:
WARM THE TORTILLAS:
To lightly toast taco tortillas, preheat oven on 400 degrees Fahrenheit and place tortillas directly on rack. Turn off oven once heated and let tortillas warm for 2 minutes. Remove from oven.
ASSEMBLE THE TACOS:
Keep the oven preheated at 400 degrees Fahrenheit and prepare a baking sheet by lining it with parchment paper. Have another baking sheet handy to place on top of your tacos.

To assemble tacos, add 1-2 spoonfuls of cooked black beans atop one side of your warm tortilla followed by: spoonfuls of chopped onions and dairy-free cheese shreds. Then fold one side atop the other (overlapping) so that it looks like a half moon shape. Press down slightly and add to prepared baking sheet with parchment. Repeat until desired amount of tacos are made --- spreading them out a bit, about 1-inches apart.

Once all tacos are made, gently place the other baking sheet atop the tacos to ensure that they remain flat while baking.

Bake for 15-20 minutes or until the tortillas become crispy and the cheese shreds have melted.

To serve, cut each taco in half and placed unto a serving platter or cheese board, lining them up next to each other (slightly overlapping). Spoon on your fave toppings like sliced avocado, guacamole, roasted tomatoes, etc. if desired.

Bon Appetit!
STORAGE: Place any leftover ingredients (individually stored) in a tightly sealed container in the refrigerator for up to 3-4 days. To reheat, place tacos in the oven at 350 degrees until warmed through. Assemble to serve.
MAKE AHEAD: All ingredients can be made and individually stored as meal prep (excluding tortillas) and assembled when ready to serve.
DRY BLACK BEANS: When using dried beans, be sure to soak about 5-6 cups of black beans in a pot or bowl covered with water overnight. To begin cooking, rinse the soaked beans and add fresh water to a pot along with beans. Boil for the first 10 minutes and then reduce the heat and let simmer for 30-40 minutes or until black beans are tender.
OIL: Instead of extra virgin olive oil, you can also use grapeseed oil or vegetable oil, if preferred.
Calories:
86
kcal
|
Carbohydrates:
12
g
|
Protein:
3
g
|
Fat:
4
g
|
Saturated Fat:
1
g
|
Polyunsaturated Fat:
1
g
|
Monounsaturated Fat:
3
g
|
Sodium:
744
mg
|
Potassium:
425
mg
|
Fiber:
3
g
|
Sugar:
6
g
|
Vitamin A:
534
IU
|
Vitamin C:
12
mg
|
Calcium:
68
mg
|
Iron:
3
mg