Learn How To Make BBQ Pinto Beans from scratch! Cooked slowly with a blend of aromatics, rich vegetable stock, spices + BBQ sauce to infuse that smoky tang--- they're the perfect balance of flavorful goodness. Whether folded into tacos, mixed into chili, or stirred into soups, this homemade BBQ Pinto Beans recipe is set to turn every meal into a flavor-packed delight! Completely Vegan + Gluten-free. Slow-cooker + Canned Option.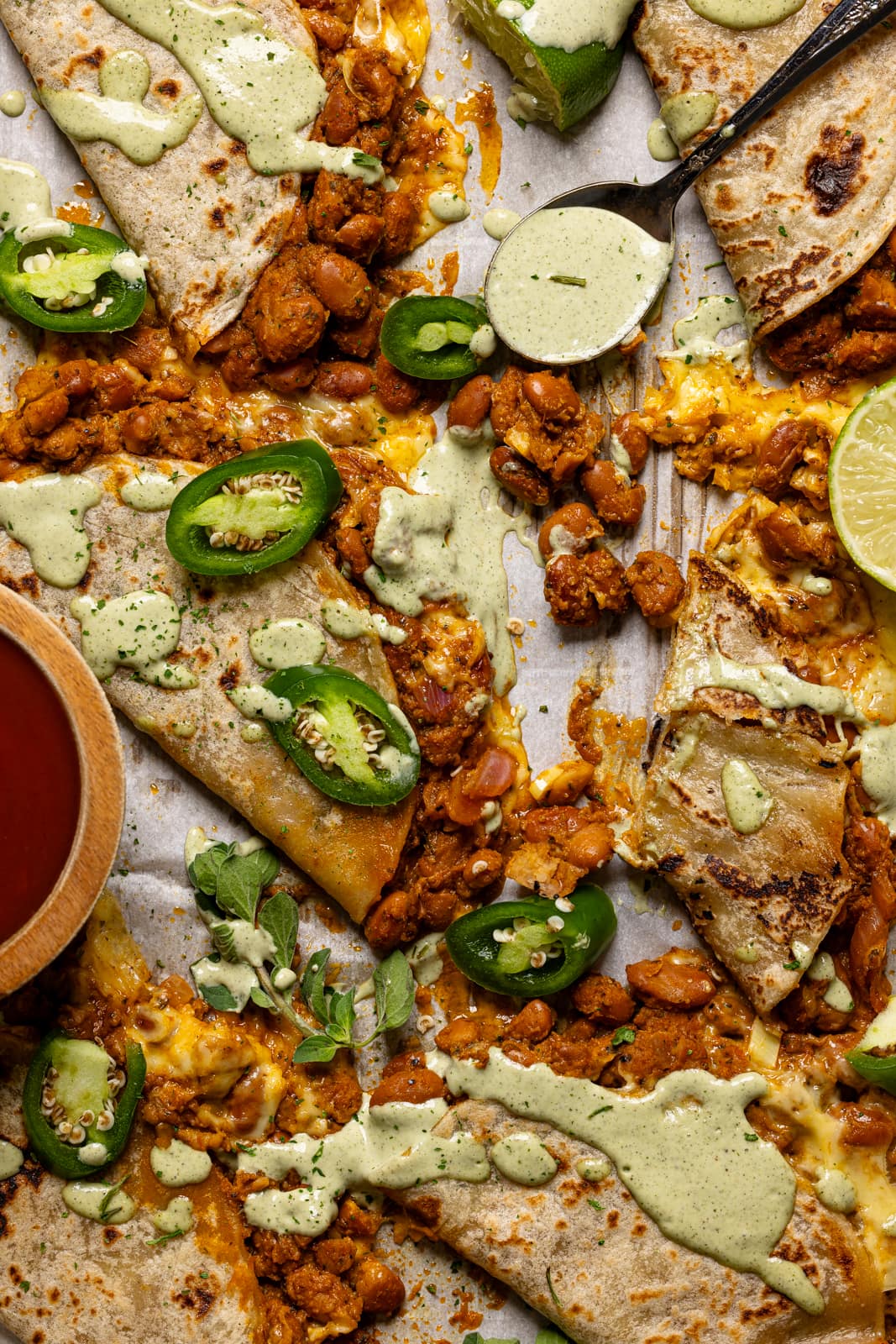 BBQ Pinto Beans—a stroke of genius sparked by my frustration with store-bought versions that never quite hit the mark. These beans have become a go-to favorite, especially when I crave a meatless dish that's a crowd-pleaser. The best part? They're incredibly versatile! I use them for everything—burritos, tacos, soups, stews, you name it. Sometimes, I just use them for meal prepping with some brown rice for a quick + easy grab-and-go meal!
I absolutely LOVE a good bean recipe-- perfect for meatless Mondays or any weeknight, really! Taking cues from favorites like Baked Vegan Black Bean Tacos, cozy Tuscan White Bean Chickpea Soup and my bean-packed Spicy Vegan Chili. I aimed for that perfect mix of smoky and tangy flavors. And let me tell you, I think I absolutely nailed it!
These homemade BBQ pinto beans are hearty, smoky + irresistibly creamy. Crafting them from scratch? Surprisingly easy! Perfect for weeknight dinners, meal prepping--- plus they are family-friendly + bursting with flavor. Trust me, they're worth the wait!
Jump to: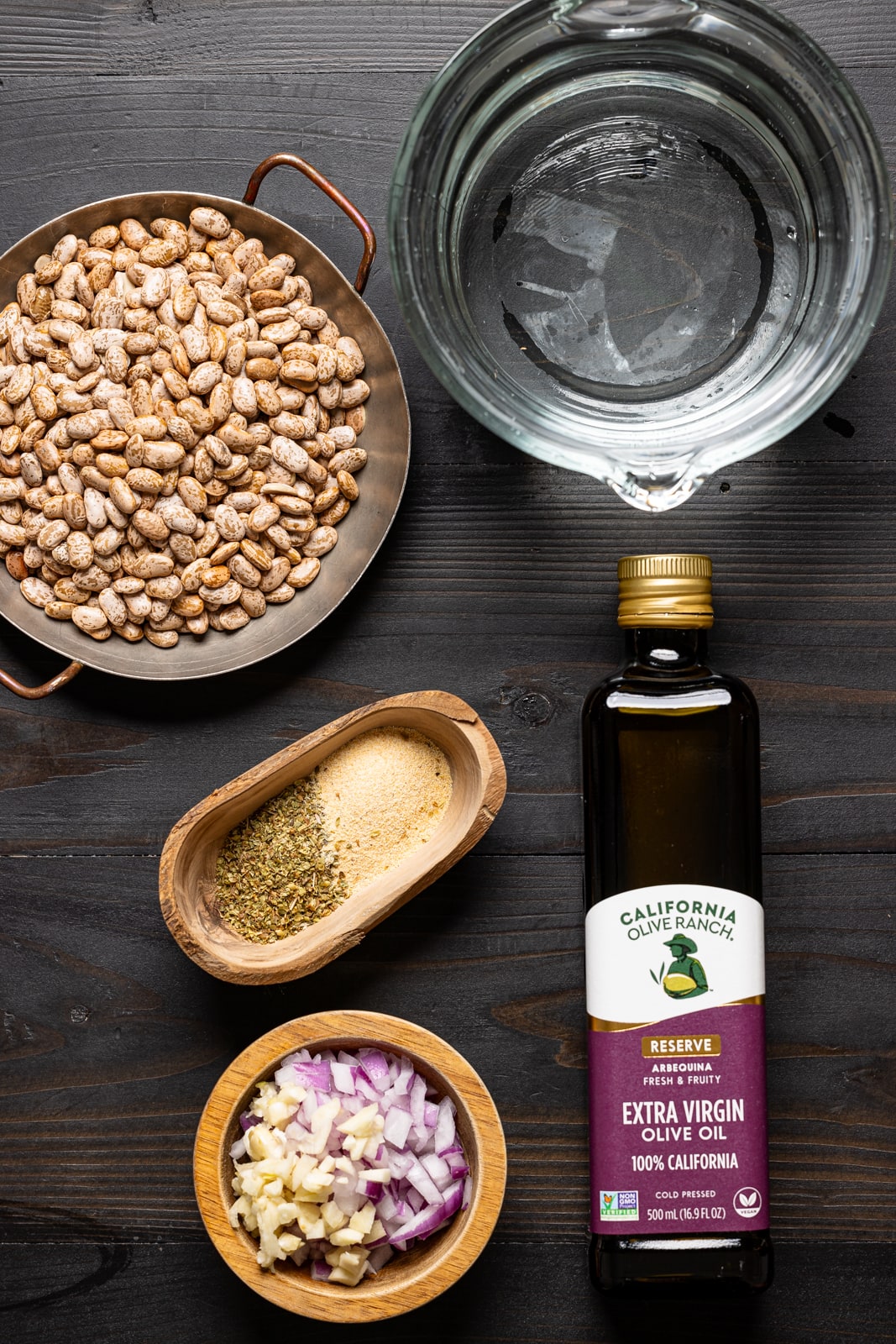 How to Make BBQ Pinto Beans
To whip up this homemade BBQ Pinto Beans recipe, a bit of prep is in order. Soak the beans overnight or for a few hours before diving in. Then, it's all about sautéing aromatics, seasoning with herbs, and simmering in veggie stock and water until they reach creamy perfection—takes about an hour. More on slow cookers and pressure cookers below!
Ingredients
BBQ BEANS:
Dry pinto beans: Provides the hearty base for the dish. (See FAQ for info on using canned beans instead)
Extra virgin olive oil: Adds richness and aids in sautéing I love using the brand California Olive Ranch.
Red onion, chopped: Offers a sweet and savory flavor base.
Garlic cloves, minced: Infuses bold garlic taste into the dish.
Ground cumin: Provides a warm, earthy flavor.
Garlic powder: Boosts the garlic flavor.
Dried oregano: Imparts herbal notes.
Smoked paprika: Introduces a smoky element to the dish.
Red pepper flakes: Provides a hint of heat.
Dried parsley: Adds a touch of freshness.
BBQ sauce: (I love to use regular BBQ sauce or Mustard BBQ sauce)
Vegetable stock: Adds depth of flavor and richness.
Water: Essential for cooking the beans to perfection.
Sea salt + pepper: Enhances overall seasoning.
SHOP MY FAVORITE TOOLS FOR BAKING, ESPECIALLY FOR THESE BEANS!
Here, I've curated a list of baking essentials that I use to achieve my favorite baked goods, especially with BBQ Pinto Beans. Everything from my fave pots, wooden spoons, parchment paper, and more. SEE THEM HERE!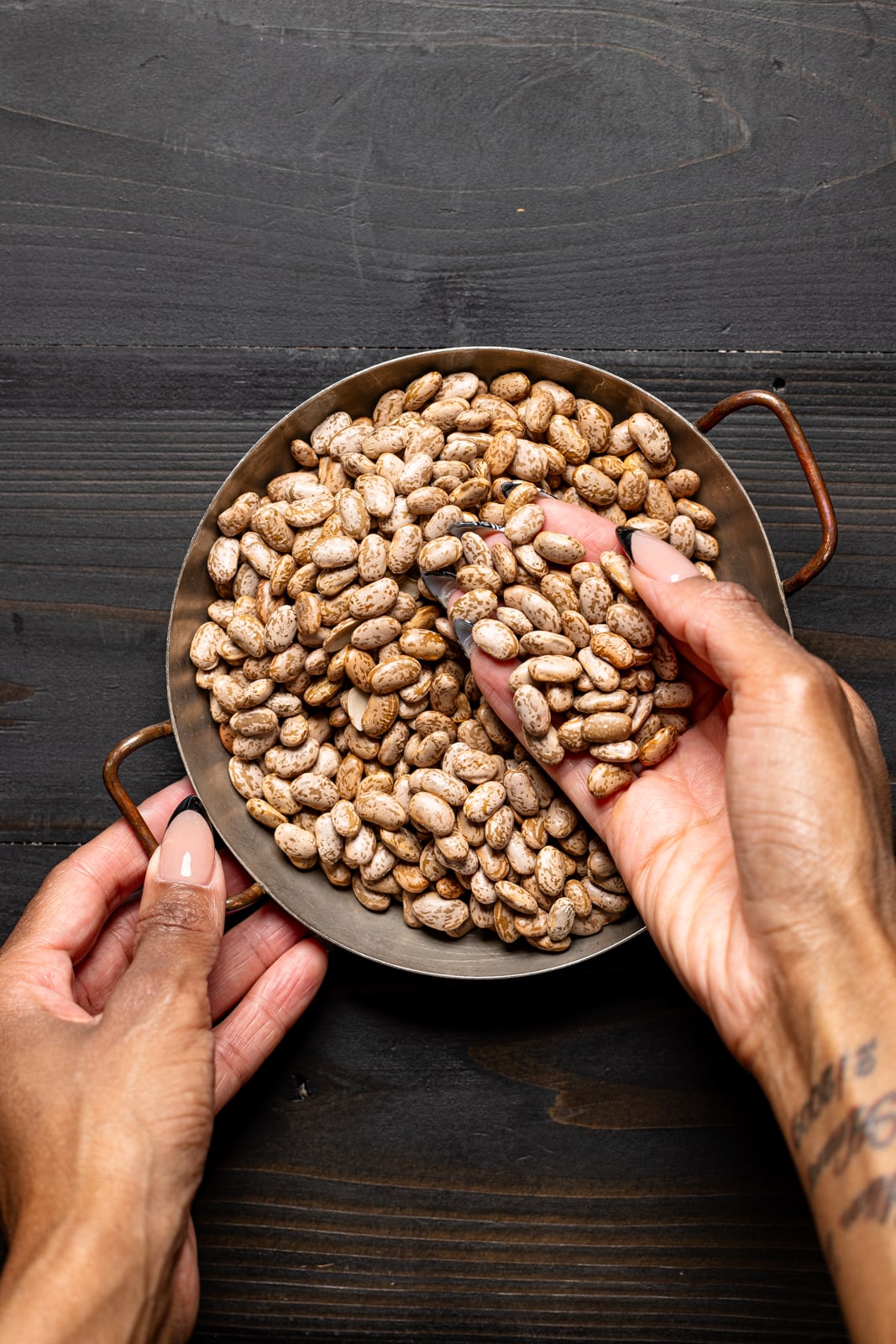 What You'll Love Most About This BBQ Pinto Beans Recipe
It's super easy to make.
Completely versatile--Use for tacos, Buddha bowls, and more!
Hearty & filling--Perfect for family meals or gatherings.
Simple set + forget it—-Simmer, Simmer, Simmer over the stovetop! There's even a slow-cooker option!
Perfect for all eaters + loaded with protein!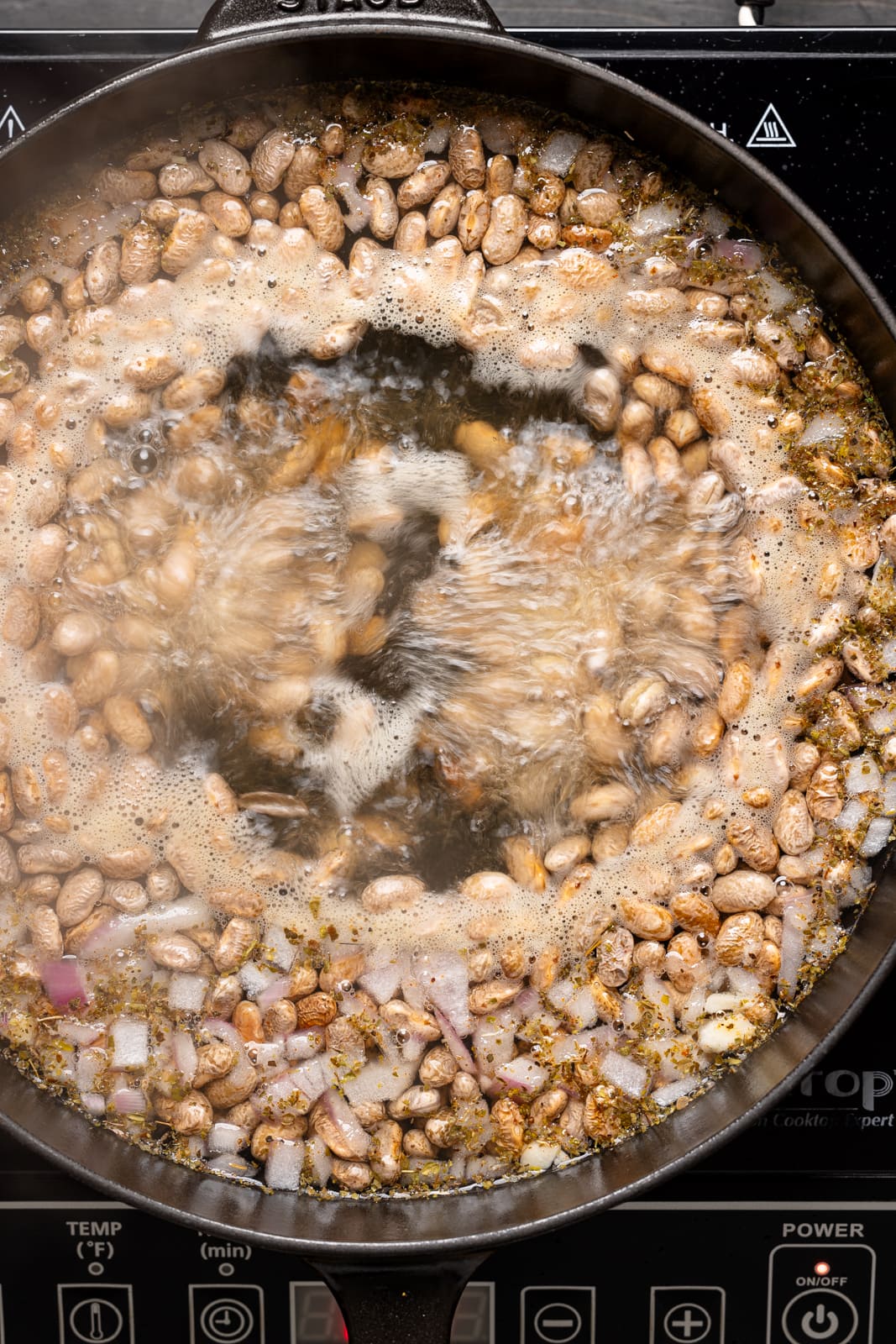 Soaking Dried Pinto Beans
I've found that soaking dried pinto beans overnight not only rehydrates them but also reduces the uncomfortable bloating or gas that can come with enjoying legumes. It's a quick and easy process! Just give the dried beans a once-over, removing any odd beans or old beans-- Tip: Bad beans normally float in water!
Place the beans in a large stockpot and cover them with cool water, ensuring the water settles about 2 inches above the beans. Then, simply let them sit.
If you're short on time, there's the quick-soak method—a few hours before making your BBQ pinto beans, give the legumes a soak in boling water. They'll need that time to rehydrate before starting this pinto bean recipe.
Best Ways To Cook Dried Pinto Beans
Dutch Oven + Pot or Deep Skillet
Start by rinsing the soaked pinto beans thoroughly. Then, in a Dutch oven, pot, or deep skillet, add your rinsed beans along with spices, onions, herbs, water, and vegetable stock. Let this flavorful mix simmer uncovered for about an hour or so until the beans turn creamy and soft.
Instant Pot or Pressure Cooker
To cook dried pinto beans in an Instant Pot or pressure cooker, begin by rinsing them well. Then, place the beans into the Instant Pot or pressure cooker along with spices, onions, herbs, water, and vegetable stock. Seal the lid, set it to high pressure, and cook for around 25-30 minutes. Allow natural pressure release for the best results. The beans should turn creamy and soft in no time!
Slow Cooker
For a slow cooker method with dried pinto beans, start by rinsing them--Then, place the rinsed beans into the slow cooker along with your preferred spices, onions, herbs, water, and vegetable stock. Cover and cook on low for about 6-8 hours or on high for 3-4 hours until the beans become tender.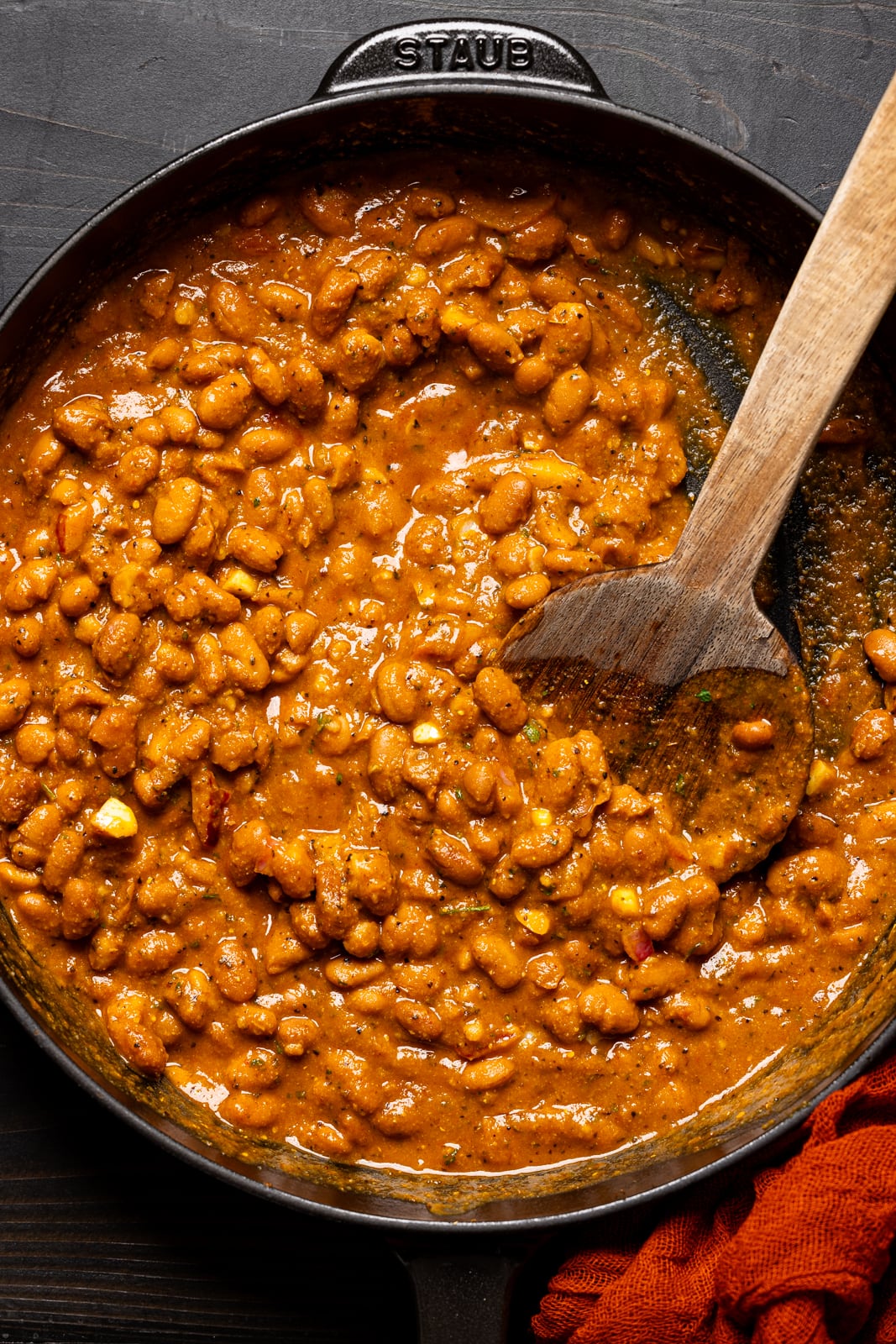 How Do BBQ Pinto Beans Taste?
Creamy + tender
Smoky + tangy delivering delicious depth.
Utterly delicious
Perfectly balanced and spiced
Oh-so-satisfying, these beans elevate every dish they touch!
How To Use BBQ Pinto Beans
These beans are so good, you could devour them as is! But here are some fun ways I've discovered to use these delicious BBQ Pinto Beans.
Tacos--- Fill soft or hard taco shells with BBQ Pinto Beans, veggies, salsa, and your favorite toppings for a flavorful taco night!
Bowl toppings--- Spoon them over rice or quinoa buddah bowls for a hearty meal.
Nachos---Top tortilla chips with these BBQ pinto beans use my Loaded Vegan Queso Skillet Nachos as inspiration!
Enchilada filling--- Roll them into tortillas, add sauce and cheese, then bake for delicious enchiladas.
Soup addition--- Stir them into soups for added depth and protein!
Salads: Mix them into salads for an added protein punch and a burst of flavor. They would go perfectly with my Spicy Chipotle Sweet Potato Chopped Salad
Baked potatoes: Stuff baked potatoes with BBQ Pinto Beans, cheese, and your favorite toppings for a loaded potato treat.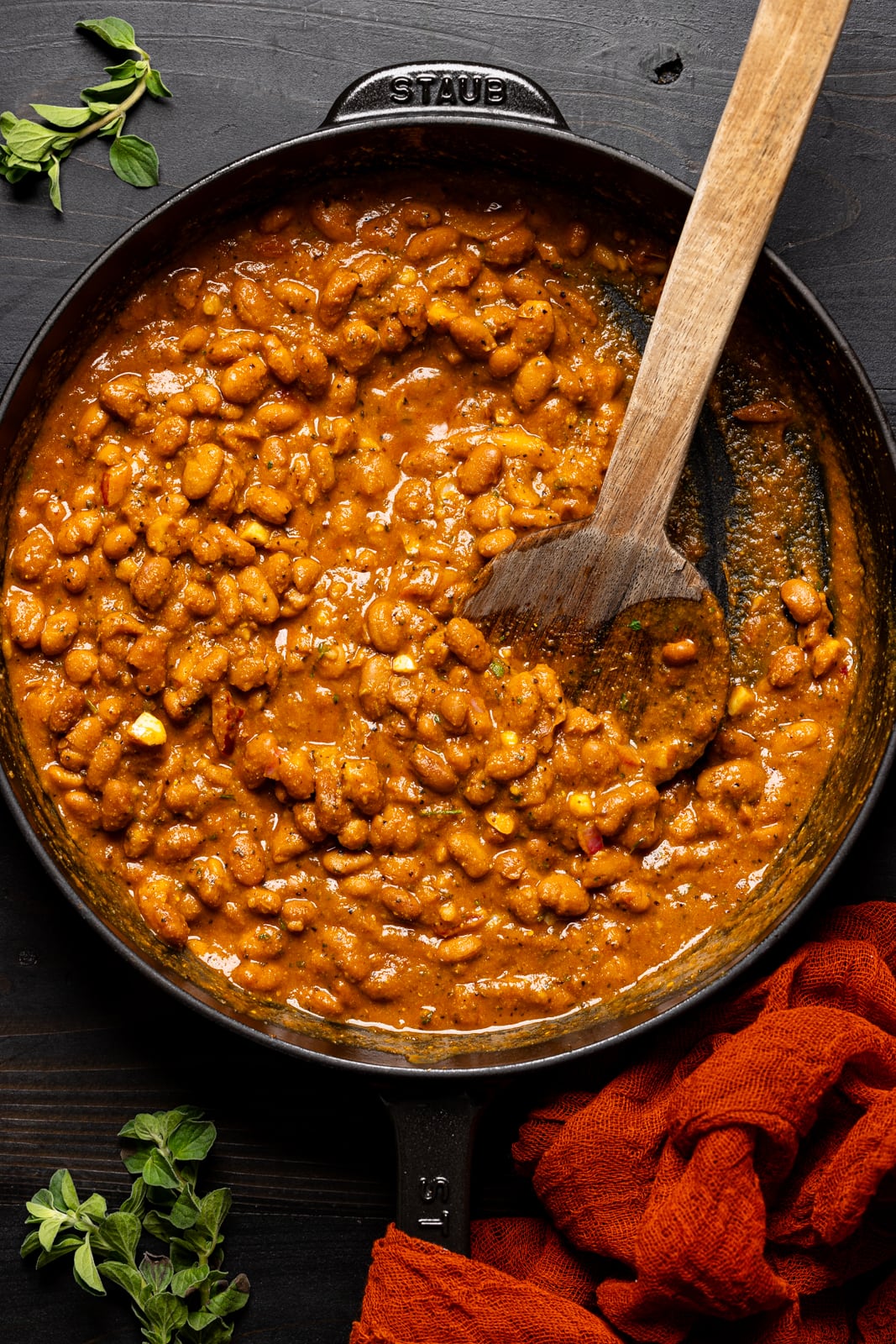 Common Q + A's For BBQ Pinto Beans
How to store homemade BBQ Pinto Beans
Leftover beans can be stored in an airtight container and refrigerated for up to 5 days. You can also freeze them in a freezer-safe container or ziplock bag for up to 3 months. To reheat, warm over the stovetop or microwave to serve.
Can I use canned beans for BBQ Pinto Beans?
Yes, you can! If you're using canned beans, reduce the cooking time significantly, as they're already cooked. Simmer them with the BBQ sauce and spices for about 20-30 minutes to infuse the flavors.
Can I use a slow cooker for making BBQ Pinto Beans?
Absolutely! Using a slow cooker is a fantastic option. Simply combine all the ingredients in the slow cooker and cook on low for 6-8 hours or on high for 3-4 hours until the beans reach your desired tenderness. Adjust seasoning as needed.
Can I make BBQ Pinto Beans ahead of time?
Absolutely! These beans actually taste even better the next day as the flavors have more time to meld. They're perfect for meal prepping!
Are BBQ Pinto Beans spicy?
The spiciness can be adjusted based on personal preference by regulating the amount of spicy elements like the chili fakes in the recipe.
More Smoky BBQ Dishes You Will LOVE
Once you've mastered these Homemade BBQ Pinto Beans add these other delicious BBQ recipes to your list next:
MADE OUR RECIPE(S)?
If you tried this How to Make BBQ Pinto Beans recipe or any other recipe on my website, please please leave a 🌟 star rating and let me know how you go in the 📝 comments below. And don't forget to tag @orchidsnsweettea_ on Instagram and hashtag it #orchidsandsweettea! I love hearing from you!
Cook Time:
1

hour
30

minutes
Total Time:
1

hour
45

minutes
SORT + RINSE THE BEANS:
In a large bowl, add the pinto beans and sort the beans and discard any stones, debris, or "bad" looking beans. Cover the beans with water and then discard in beans that float to the top.
SOAK BEANS:
Then soak the beans for at least 8 hours or overnight before rinsing and drain them.
COOK THE BEANS:
In a pot or deep skillet over medium-high heat, add the oil. Once heated, add the chopped onions and garlic, sautéing until fragrant, about 1-2 minutes. Then add the water, beans, and seasonings: salt, black pepper, cumin, garlic powder, oregano, smoked paprika, parsley, and red pepper flakes, stirring to combine.

Reduce the heat and let everything simmer (uncovered) until the pinto beans become tender, about 1 hour or so. After the 1 hour mark, you can begin to check the beans every 10-15 minutes to ensure that they're the right amount of tender.

Once cooked and tender, remove the beans from heat and drain any remaining water left. In the same skillet or pot with the drained cooked beans, turn the heat to medium-high and add the BBQ sauce and veggie stock, stirring to combine. Reduce the heat to simmer and let everything infused and begin to thicken, about 10-15 minutes.

Serve with your favorite side or as a taco, etc.

Bon Appetit!
STORAGE: Leftover beans can be stored in an airtight container and refrigerated for up to 5 days. You can also freeze them in a freezer-safe container or ziplock bag for up to 3 months. To reheat, warm over the stovetop or microwave to serve.
Calories:
232
kcal
|
Carbohydrates:
47
g
|
Protein:
2
g
|
Fat:
4
g
|
Saturated Fat:
1
g
|
Polyunsaturated Fat:
1
g
|
Monounsaturated Fat:
3
g
|
Sodium:
1759
mg
|
Potassium:
317
mg
|
Fiber:
2
g
|
Sugar:
36
g
|
Vitamin A:
536
IU
|
Vitamin C:
2
mg
|
Calcium:
65
mg
|
Iron:
1
mg