These Loaded Vegan Queso Skillet Nachos are the best you'll ever taste! Never spend another occasion or weeknight contemplating the best vegan dish that works for the entire family----this is it! Easy to make and only one pan required!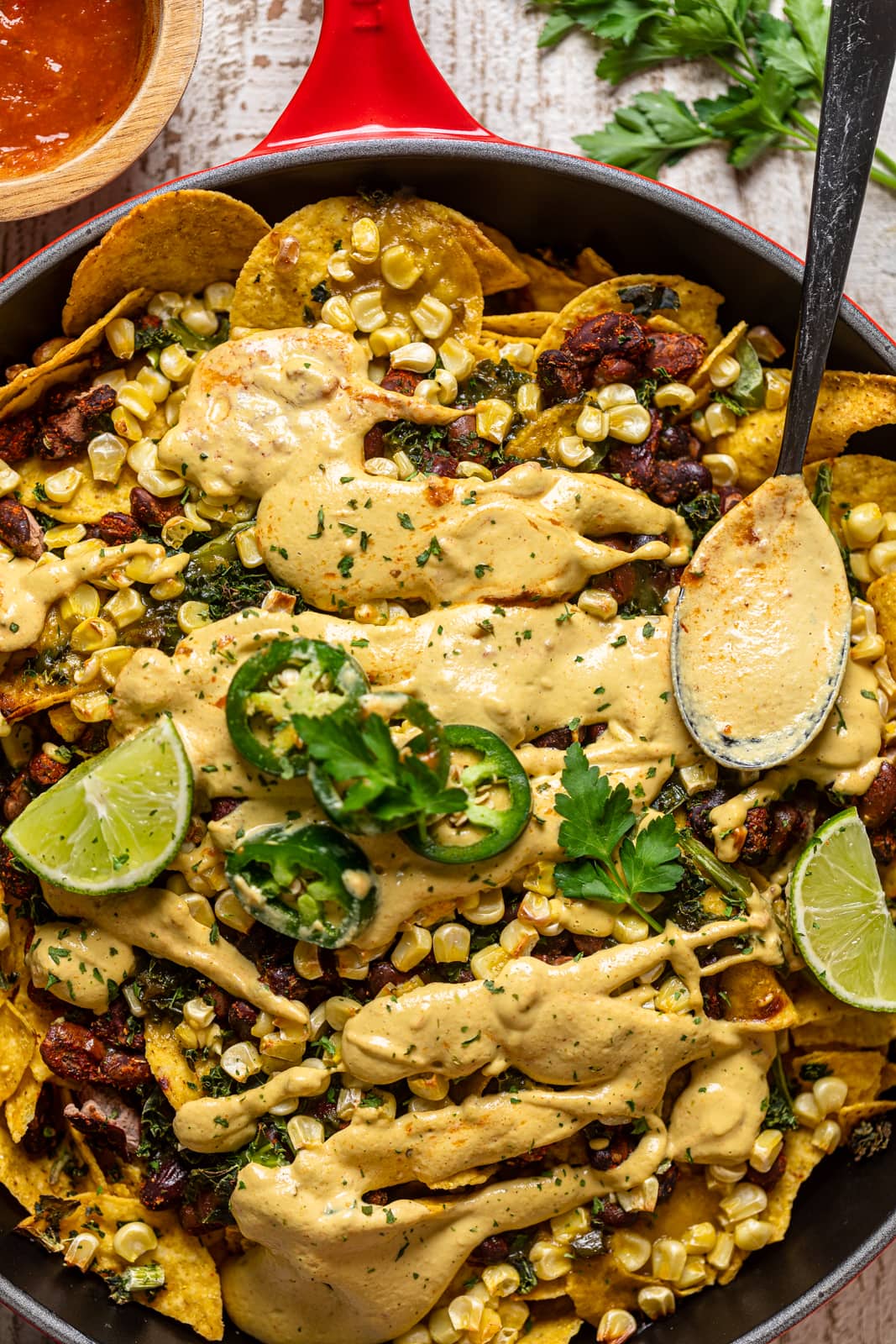 Nachos ARE LIFE. These Loaded Vegan Queso Skillet Nachos are a MUST! Yes, you've read that right. I'm a lover of nachos and I've been so excited to share this recipe with you all.
I've made a few vegan nachos, but this one takes the cake----much like these Black Bean + Quinoa Skillet Nachos. But don't worry, I didn't compromise flavor in this dish at all although it's entirely dairy-free. There's just something magical about enjoying nachos drenched in a delicious queso sauce, therefore, I had to experiment with different ingredients to create this delicious vegan queso.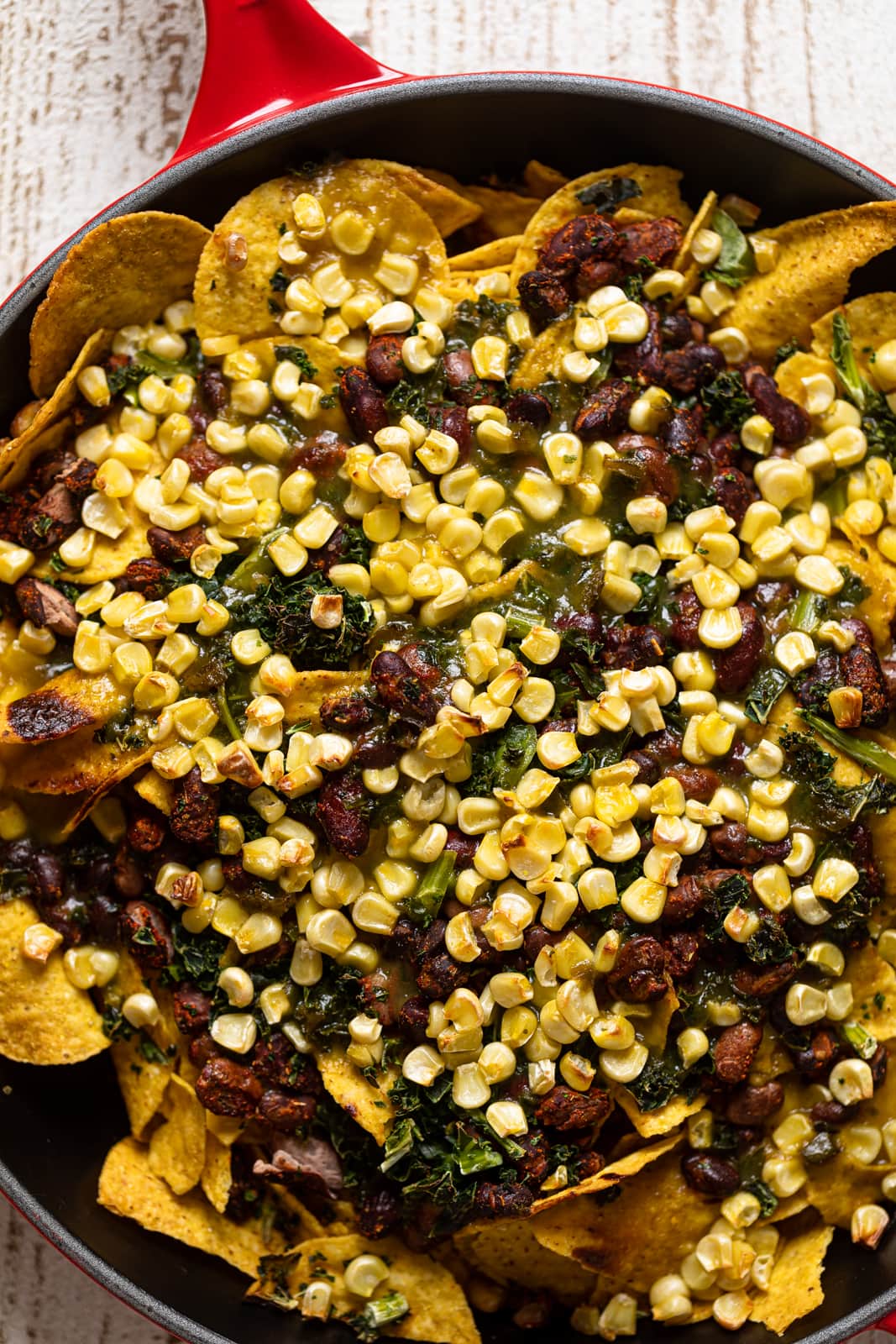 Why Meatless or Vegan Nachos?
Perhaps my favorite part of homemade nachos is using an oven-safe cast iron skillet to make these Loaded Vegan Queso Skillet Nachos. All ingredients are easily layered on a cast iron skillet before baking to warm the ingredients together (minus the queso).
It is the most simple recipe ever, and the flavors are explosive and complex. Skillet nachos are great for any home cook – beginner or advanced and if you want to switch things up, feel free to add this recipe to a baking sheet. Trust me!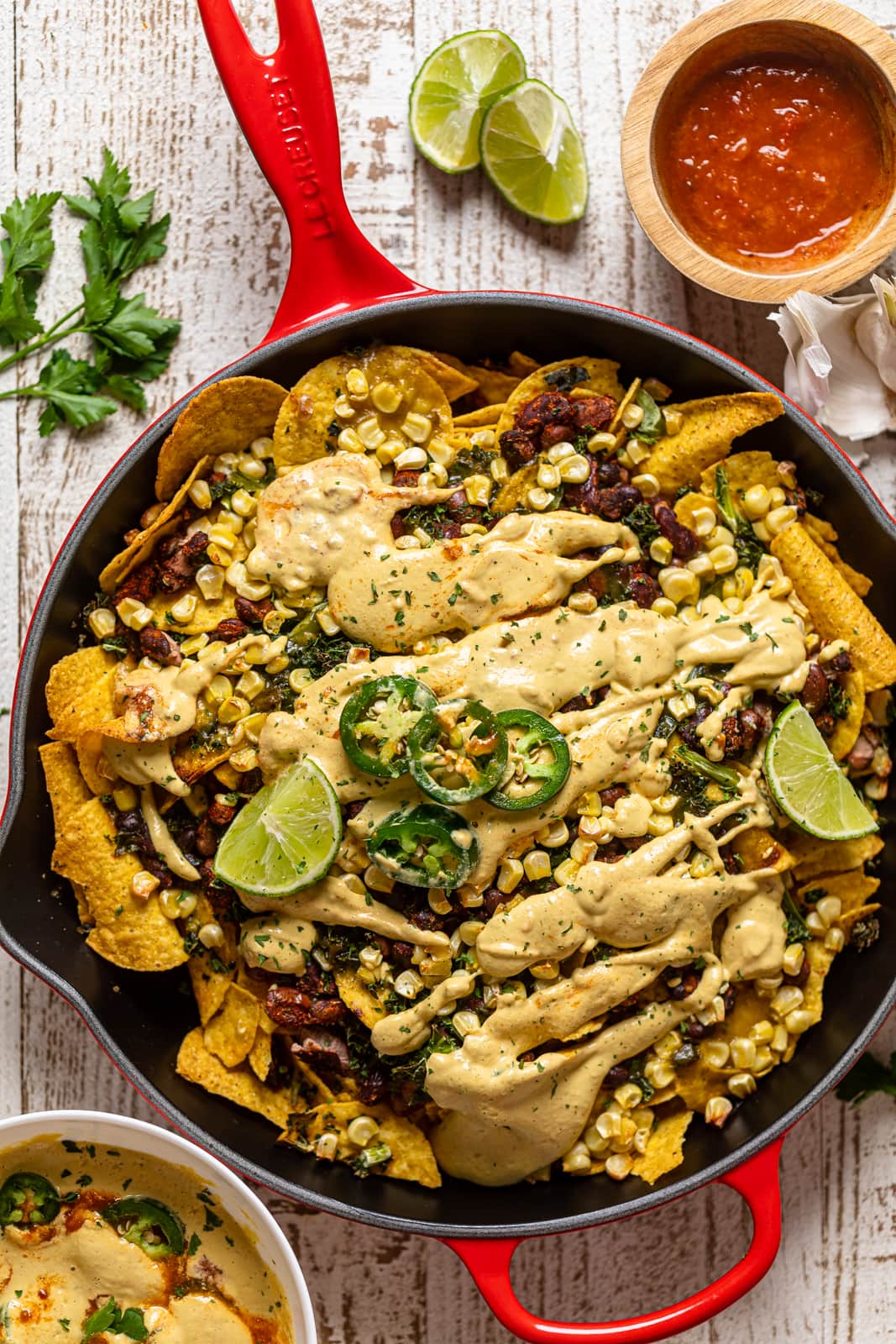 The Importance of Toppings on Skillet Nachos
While the protein, chips, and queso are the bulk of what makes nachos so spectacular, the toppings are often overlooked. Toppings on nachos are essential for freshness and additional crunch.
To me, the crunch of the chips is not enough. I also want a nice balance between crispy and soft—-which is where the roasted veggies come in handy!
As you may be able to tell, I love a wide variety of toppings on my nachos. Usually toppings for many of my skillet nachos are kale, enchilada sauce, onions, corn, beans, jalapeños, and of course, queso. You can add additional toppings such as plain dairy-free yogurt, vegan sour cream, avocado, hot sauce, or anything else you like on nachos—-or perhaps my easy homemade vegan salsa.
What You'll Need for this Vegan Queso
When it comes to making the vegan queso, you'll just need a handful of ingredients and your favorite high-powered blender:
Cashews – Creates a beautiful creaminess to the sauce. Such rich, nutty flavor. Soaked overnight or quickly in boiling water.
Garlic – Adds nice flavor.
Almond milk – You'll need this for it's liquid component. You can also use water.
Jalapeños – Adds a nice subtle spiciness and great flavor. Can be subbed with diced green chiles.
Nutritional Yeast – A nice addition of "cheesy" flavor to marry everything together. What's Queso with cheesiness, right?
Apple Cider Vinegar – Creates the acidity needed.
Seasonings – Generally, added sea salt, black pepper, chili powder, ground yellow mustard, smoked paprika, + turmeric.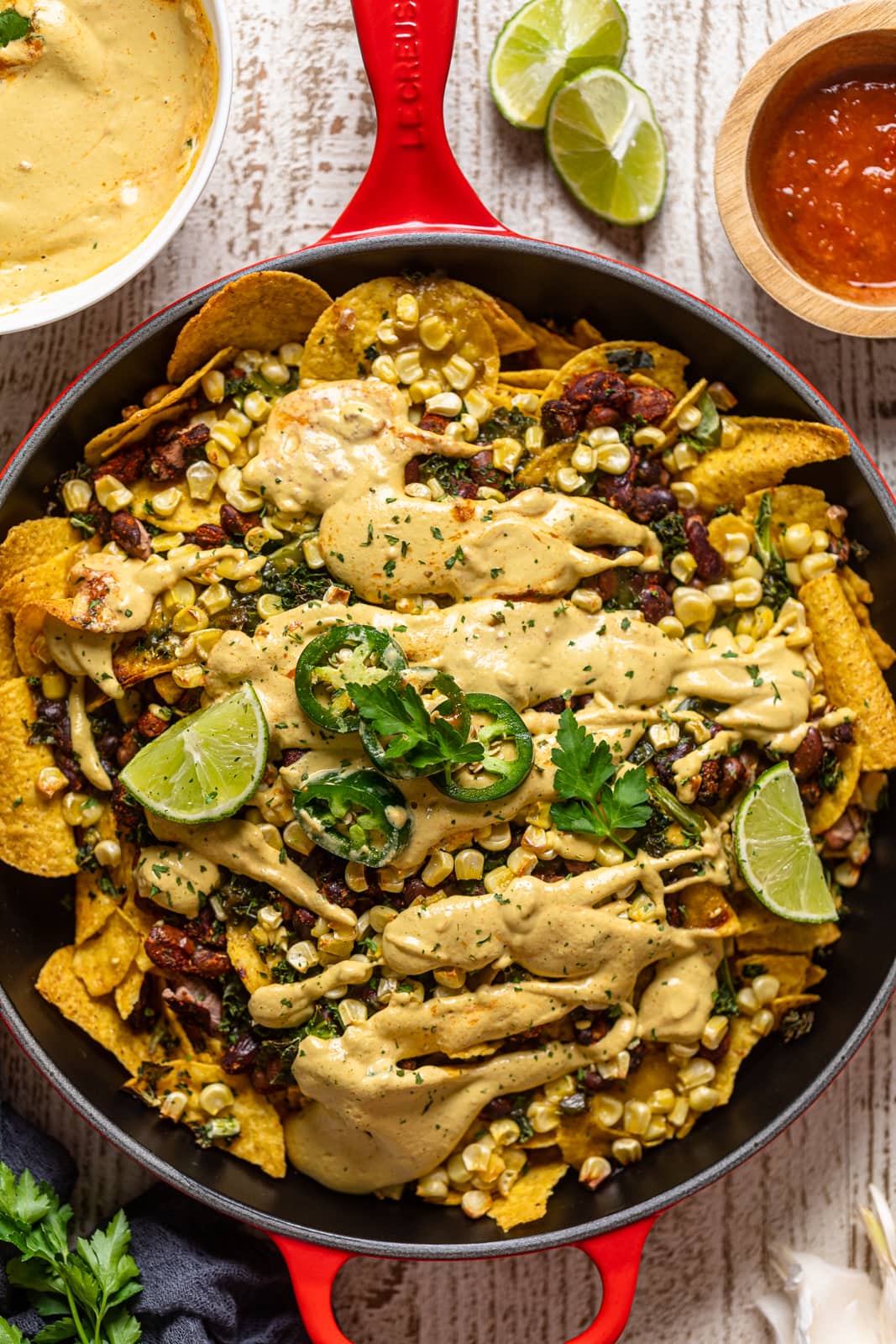 What You'll Love Most About These Nachos?
They come loaded with veggies and topped with a creamy vegan queso.
'Cheesy' and Hearty.
Fresh and Savory.
Mega flavorful!
Super easy to make and only requires one-pot!
Extremely satisfying for your tastebuds.
PERFECTION in EVERY. SINGLE. BITE.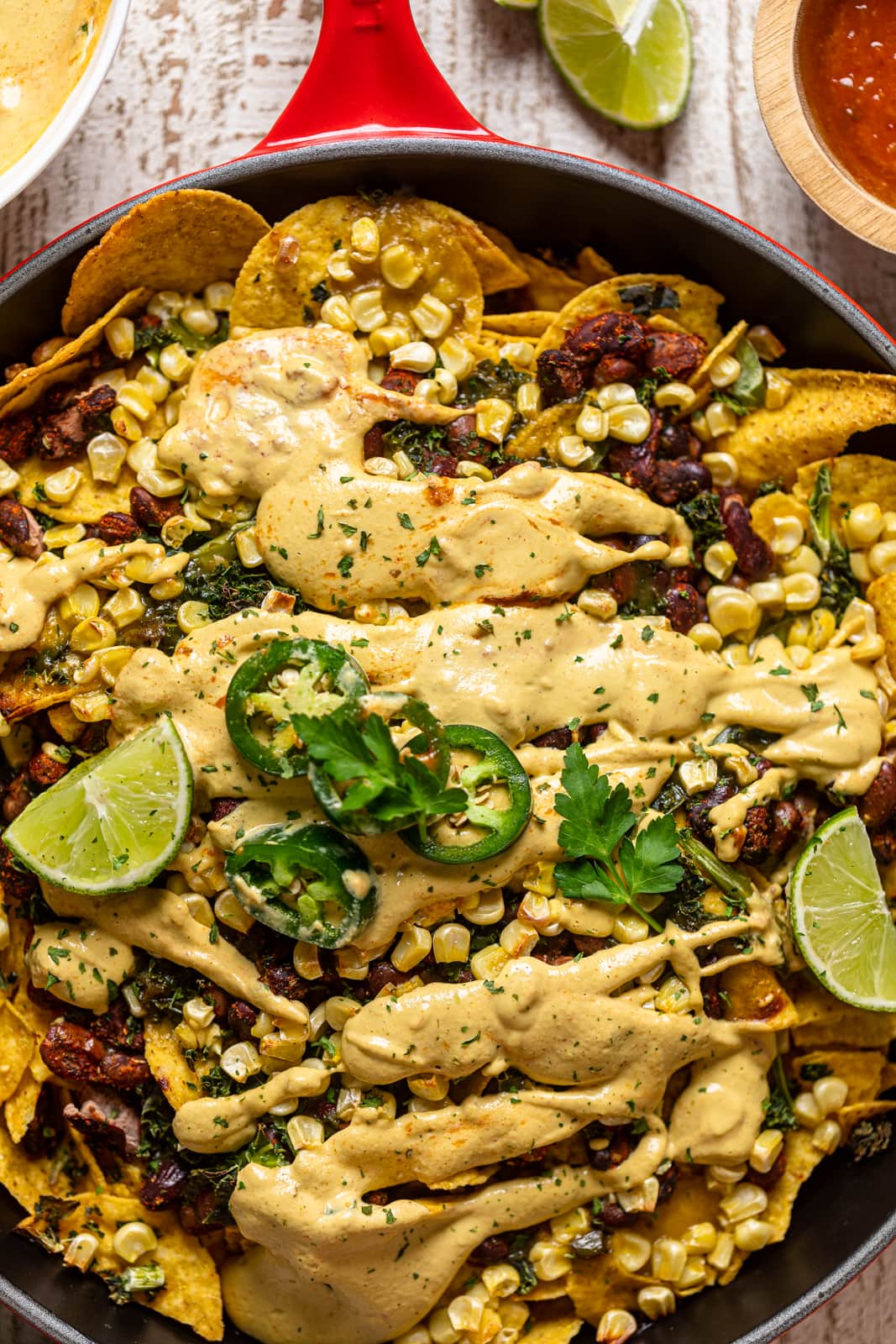 More Fan-Favorite Meatless Nachos:
If you're a true lover of nachos like I am (and my readers), then these other nachos will surely be a new staple in your house:
How to Store Leftover Nachos
Like other dishes, any leftover nachos can be stored in an air-tight container in the refrigerator for up to 3 days. Simply warm in the oven at 400 degrees Fahrenheit until fully heated through for the best results.
MADE OUR RECIPE(S)?
If you choose to make these Loaded Vegan Queso Skillet Nachos or any other recipe from us, be sure to tag us on Instagram at #Orchidsandsweettea so that we can share the love!
NACHOS:
1

(12 oz.) bag

organic tortilla chips

(I use Xochitl; Ensure that it's GF-friendly for option!)

1

(15 oz.) can

organic trio beans, drained + rinsed

(You can use your favorite canned beans!)

1

(10 oz.) can

green enchilada sauce

½

red onion, diced

1

jalapeño, chopped

2

cups

kale, de-stemmed + chopped

1

cup

frozen corn kernels

1

teaspoon

sea salt + black pepper, each

1

teaspoon

cumin

1

teaspoon

smoked paprika

1

teaspoon

dried parsley

1

teaspoon

dried oregano

1

teaspoon

garlic powder

½

teaspoon

chili powder
EASY VEGAN QUESO:
1

cup

raw cashews, soaked

(See Notes!)

1

jalapeño, chopped

2

garlic cloves, minced

⅓

cup

nutritional yeast + 2 Tbsps!

1

cup

Almond milk

(You can use your favorite plant-based milk!)

1

tablespoon

apple cider vinegar

(You can also use lemon or lime juice!)

1

teaspoon

smoked paprika

½

teaspoon

turmeric powder

½

teaspoon

chili powder

½

teaspoon

ground yellow mustard

¼

teaspoon

sea salt
OPTIONAL TOPPINGS/GARNISH:
Salsa, medium or hot

Fresh cilantro

Sliced jalapeños

Guacamole
TO MAKE THE NACHOS:
Preheat your oven to 400 degrees Fahrenheit and prepare a 12-inch oven-safe cast iron skillet by greasing it lightly with oil or lining it with parchment paper (for the bottom).

In a bowl, add the drained beans along with the salt, black pepper, cumin, smoked paprika, parsley, garlic powder, oregano, and chili powder, mixing everything together until beans are coated.

Add the tortilla chips to the prepared skillet, spreading them out evenly, followed by the: seasoned beans, onions, kale, corn, jalapeños, and the enchilada sauce.

Bake for 15-20 minutes, until veggies are even more tender and the edges of the tortillas are golden. Remove from oven once done.
TO MAKE THE EASY VEGAN QUESO:
Add all ingredients into a high-powdered blender (cashews first) and blend until queso becomes creamy. NOTE: If needed, add a bit more milk (1 tablespoon at a time), until desired consistency is met. Set aside.

Top the nachos with generous spoons of vegan queso and your favorite toppings/garnish, if desired.

Bon Appetit!
STORAGE: Leftovers can be stored in an air-tight container for up to 3 days. Reheat in the oven when ready serve.
DRY BEANS: When using dried beans, be sure to soak about 2-3 cups of beans in a pot or bowl covered with water overnight. To begin cooking, rinse the soaked beans and add fresh water to a pot along with beans. Boil for the first 10 minutes and then reduce the heat and let simmer for 30-40 minutes or until beans are tender.
SOAKED CASHEWS: Add cashews to a bowl or measuring cup, cover with fresh cold water and cover with plastic wrap and let sit at room temp overnight. If soaking for 3-4 hours, add cashews to measuring cup and cover with boiling water instead.
WHAT PLANT-BASED MILKS ARE GOOD FOR THIS RECIPE?  My go-to plant-based brand for Almond milk when using store-bought is Califia Farms. However, you can always use your fave or one of the following: Almond, coconut milk, homemade oat milk (froths/foams VERY WELL), homemade cashew milk, flax milk, etc.
Calories:
803
kcal
|
Carbohydrates:
91
g
|
Protein:
21
g
|
Fat:
38
g
|
Saturated Fat:
7
g
|
Polyunsaturated Fat:
11
g
|
Monounsaturated Fat:
16
g
|
Sodium:
2190
mg
|
Potassium:
863
mg
|
Fiber:
16
g
|
Sugar:
12
g
|
Vitamin A:
5169
IU
|
Vitamin C:
52
mg
|
Calcium:
232
mg
|
Iron:
8
mg
Loaded Vegan Queso Skillet Nachos.