Make a simple and comforting one-pot Creamy Jamaican Rasta Pasta for a weeknight dinner that comes enriched with spicy jerk flavors, bell peppers, and a thick, cheesy sauce----much like the traditional version. Dairy-free, Vegan, and Gluten-free options.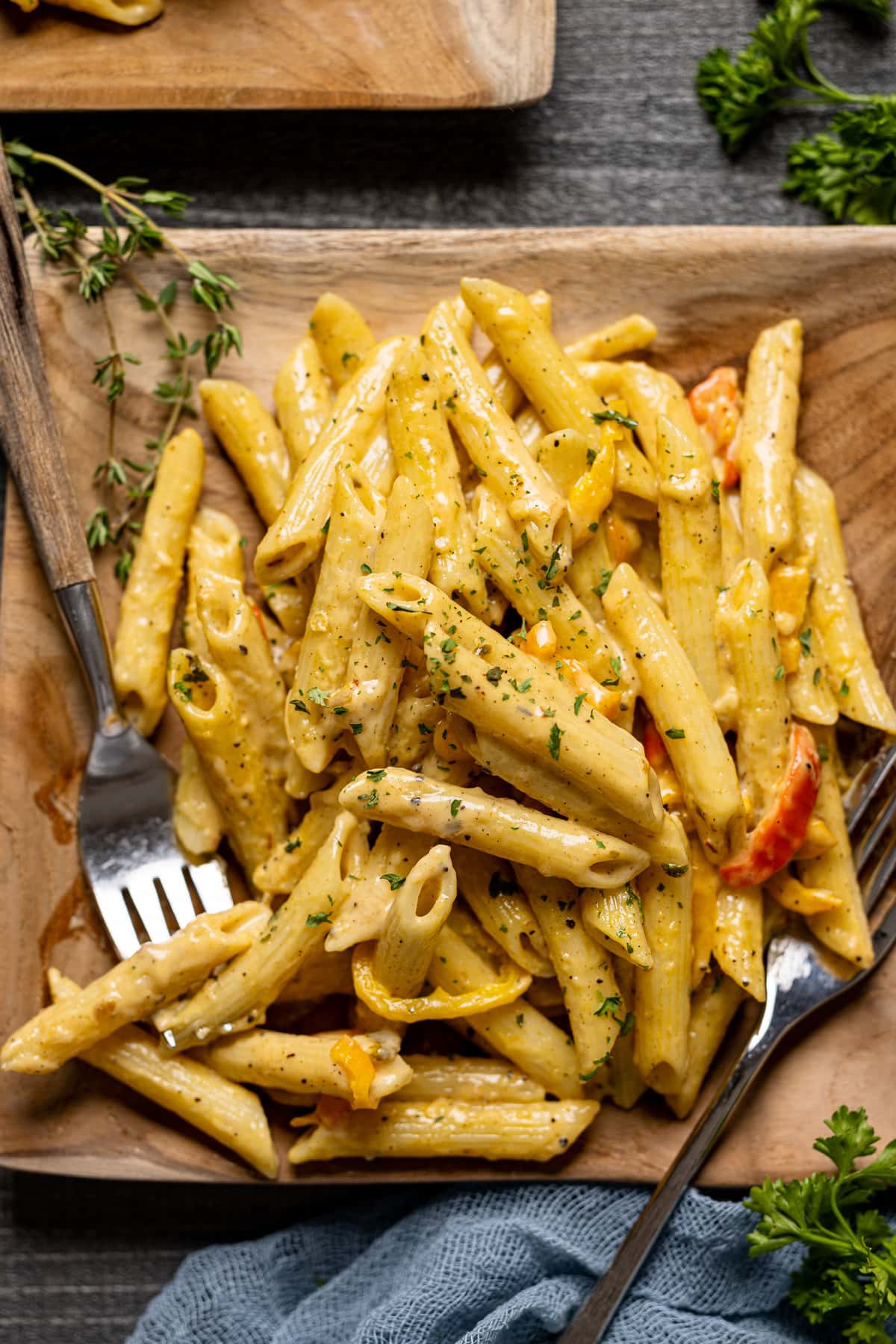 Disclaimer: This post contains affiliate links via Amazon for products that I wholeheartedly love.
I'm seriously excited about sharing this Creamy Jamaican Rasta Pasta because I'm always thrilled to share a bit of my roots and the comfort foods that I love most! And of course, pasta is definitely a yes---always, so this recipe in particular is a double win to me. Haha.
But more importantly, I'm always into creamy pasta and this rasta pasta is truly living up to that! It's super easy to make, only requires a handful of ingredients, comes with the right amount of spicy and cheesy flavors, and works for the entire family. Plus, you can add your favorite eat or seafood (if you're a meat eater)---like this Creamy Jamaican Shrimp Pasta Skillet and it's just as delicious warmed up as leftovers.
So, these quick, easy meals come in real handy, especially on those days!
Of course, you can always search 'weeknight meals' on our site for more deliciousness.
What is Rasta Pasta?
Basically, rasta pasta in the Jamaican culture is made from jerk seasoning, bell peppers, cream, and pasta. The colors from the dish originally reflected the colors of the Rastafarian culture: red, green, and yellow, which prompted someone to call it "rasta pasta".
However, today, most rasta pasta dishes now reflect the Jamaican flag colors: yellow pasta, blackened jerk chicken, green bell peppers, and fresh herbs (cilantro or parsley).
How to Make Creamy Jamaican Rasta Pasta
Start making this recipe by boiling your pasta. In the meantime, you make your creamy sauce by sautéing a few garlic cloves, and then adding in the seasoning, heavy cream, veggie stock, and white cooking wine.
Next, toss in your chopped peppers, finish things off with freshly-grated parmesan cheese, stir in the pasta, and wallah.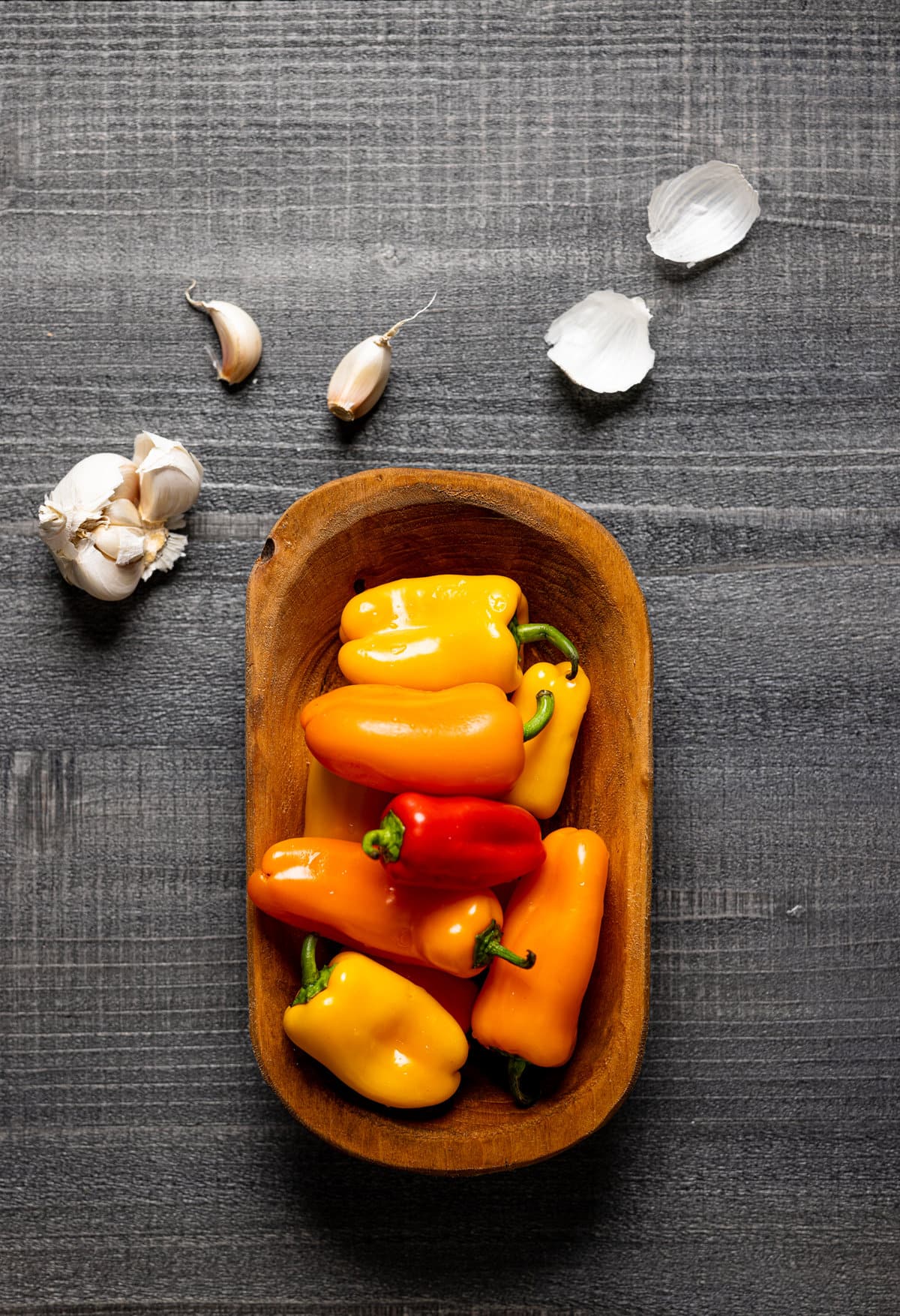 Ingredients For Creamy Jamaican Rasta Pasta
This is a very simple rasta pasta recipe, but it does have TWO components: the creamy sauce and the pasta itself.
CREAMY SAUCE INGREDIENTS
Here's what you need to make this fast creamy rasta pasta dinner recipe:
Olive oil. You can also use Grapeseed oil or coconut oil as well.
Pasta. I like to keep things traditional with this rasta pasta by using penne. However, you can use your fave pasta, including rigatoni, pappardelle, linguine, etc.
Jerk seasoning. You can purchase a store-bought version or create a homemade blend using: onion powder, garlic powder, cayenne pepper, black pepper, dried thyme, brown sugar, ground allspice, dried parsley, smoked paprika, red pepper flakes, cinnamon, nutmeg, cloves, and cumin.
Scallions. This is an optional garnish.
Garlic. I recommend fresh, but you could use ½ teaspoon granulated garlic.
Heavy cream. I recommend organic–always! For a dairy-free option, be sure to sub with full-fat coconut milk or cream.
White wine. Choose a dry wine that you like the taste of. You can also omit this and just use additional veggie stock.
Bell peppers. I like to use mini sweet peppers when convenient, however, you can use traditional bell peppers (all colors) and chop them medium-thin.
Parmesan cheese. You could also use pecorino romano or Mild Cheddar. This adds a bit of sharpness to the cheese sauce. If you like a stronger cheddar flavor, you can use sharp cheddar. For an even more mild flavor, use shredded Swiss cheese.
Veggie Stock– Helps to add extra flavor and creaminess. Use low-sodium store-bought or make your own.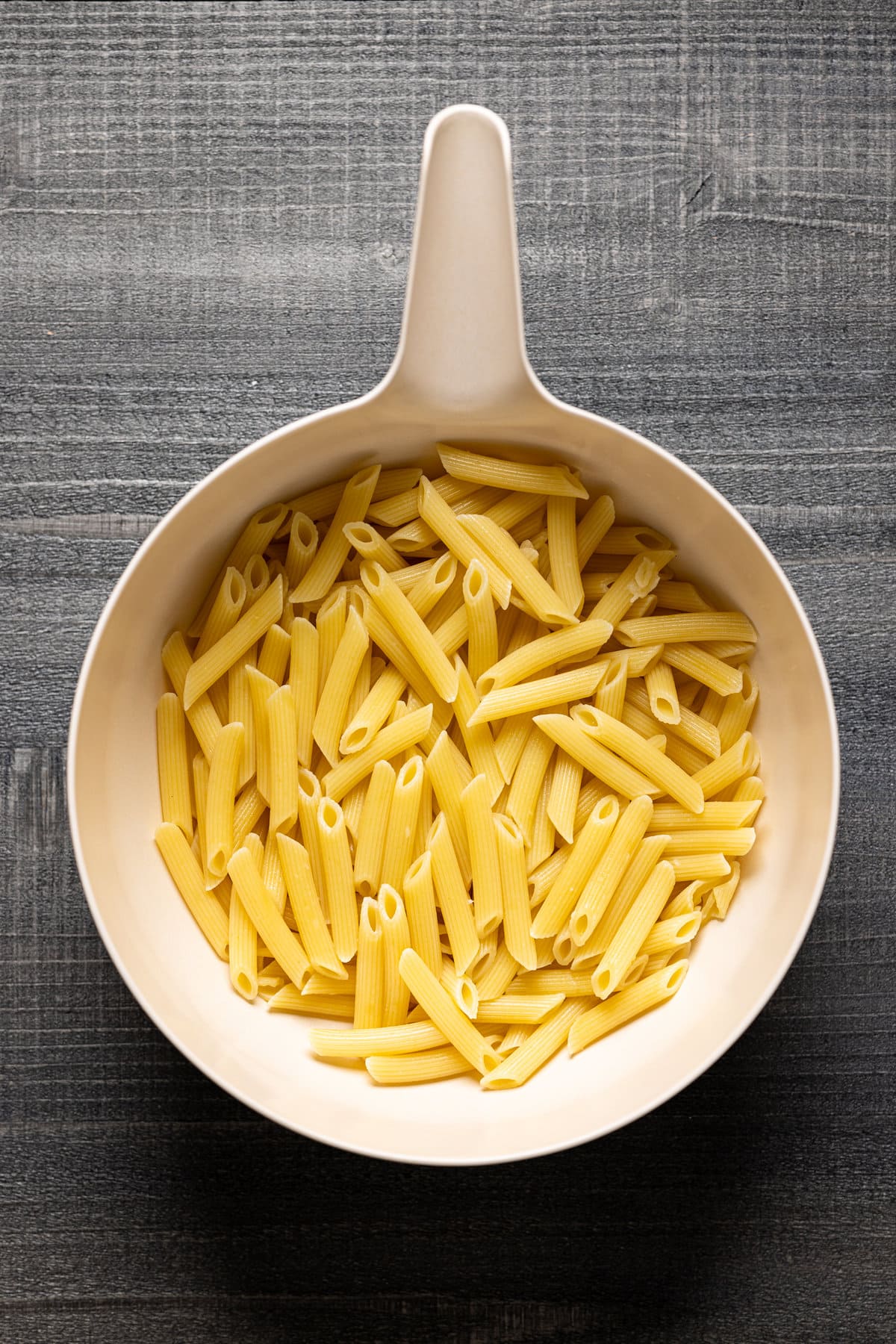 Can I Use a Jerk Marinade Instead?
Absolutely! In jerk sauce or marinade, the 3 main ingredients that MUST be present are: scotch bonnet, thyme, and allspice (aka pimento seeds). You can't remove any of these ingredients or else it wouldn't be considered "jerk". To see the recipe for a jerk marinade, see my Baked Jamaican Pineapple Jerk Chicken.
Homemade Jerk Seasoning
To make your own jerk seasoning dry rub, you'll need the following:
1 tablespoon onion powder
1 tablespoon garlic powder
2 teaspoons cayenne pepper
2 teaspoons sea salt
1 teaspoon dried parsley
2 teaspoons black pepper
2 teaspoons dried thyme
1 teaspoon smoked paprika
2 teaspoons brown sugar
1 teaspoon ground allspice
½ teaspoon red pepper flakes
½ teaspoon ground cinnamon
¼ teaspoon ground cumin
½ teaspoon ground nutmeg
½ teaspoon ground cloves
REASONS WHY YOU'LL LOVE THIS JAMAICAN RASTA PASTA!
First and foremost, the flavors in this simple and creamy rasta pasta is enough to convince anyone, however, here are a few more reasons why you'll love this pasta dinner:
It's absolutely delicious—-creamy + velvety. I always try to ensure that my creamy pastas are just that----creamy! So, using cream-based ingredients like a high-quality heavy creamy and freshly-grated parmesan helps to achieve this best!
Super easy to make and quick! I literally love making the most delicious weeknight meals that don't take a ton of time and effort and this recipe is it! Plus, no crazy clean-up! Can we say–Everything in a pot and skillet?
Full of flavor + well seasoned! (The best reason). This by far is one of my biggest reasons for making this pasta. I enjoy adding spices + herbs to create a bold flavor profile that works with penne.
Perfect for any time of day—Dinner, Lunch, Breakfast (if that's your thing), whatever! Most of all, this is my biggest plus! I love pasta during anytime of the day, especially whenever there are leftovers. The good thing is that this pasta reheats nicely once done over the stovetop---slow and warmed through.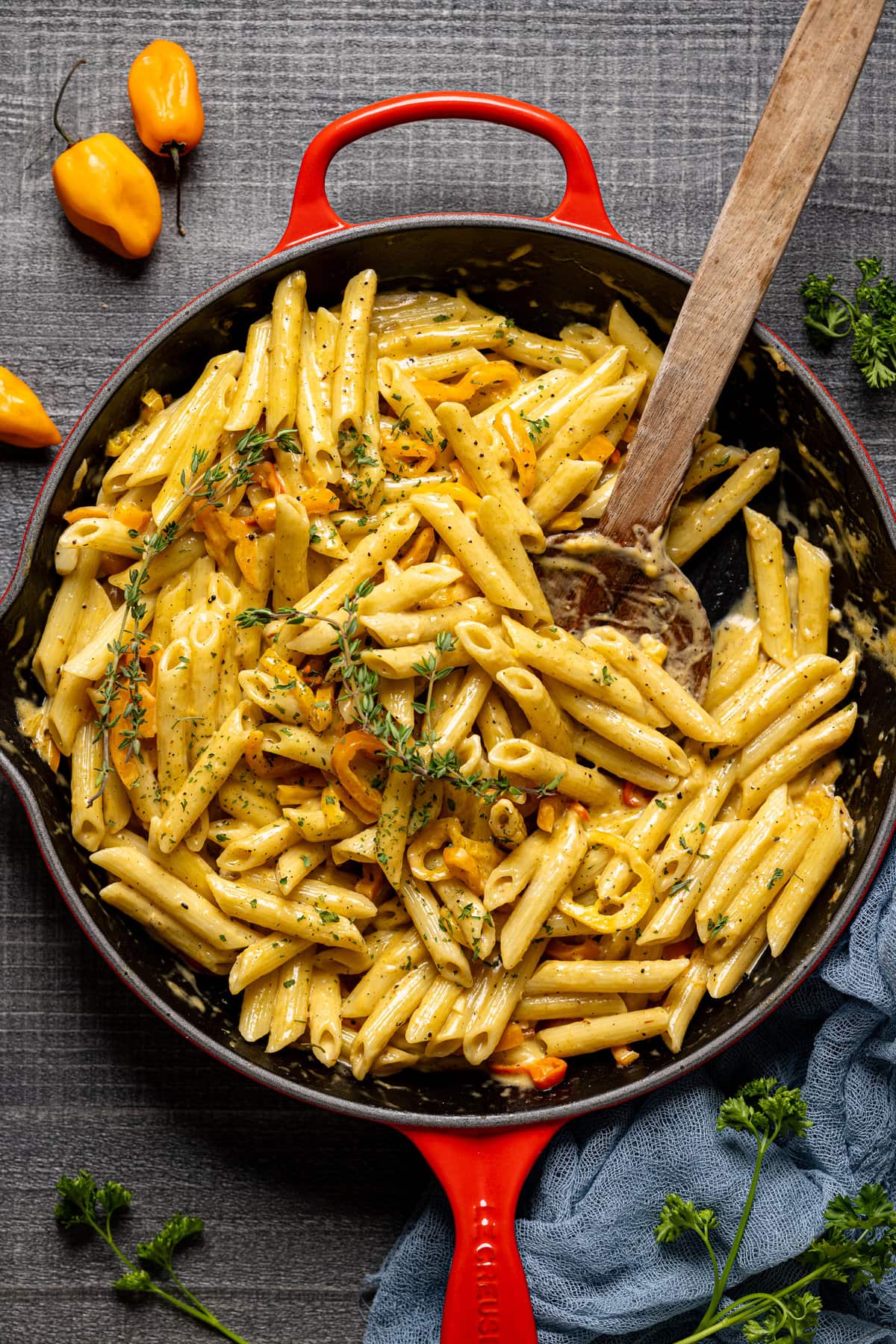 What Are Delicious Foods to Pair This Rasta Pasta With?
With most pasta dishes, I often enjoy them with a side of bread of some sort. Most times, I make my own homemade Garlic Bread, however, you can choose to spruce things up with many other options such as:
A delicious Salad
Sautéed Greens
Grilled Veggies
Toasted Bread
Topping Ideas for Creamy Jamaican Rasta Pasta
While I love this rasta pasta skillet dinner as-is, straight from the pan, you can dress it up with toppings if you like.
I usually keep things traditional with chopped bell peppers, but for extra spice, color and texture, you can try:
Chopped nuts, such as toasted hazelnuts or walnuts
Sun-dried tomatoes
Sliced jalapeños or scotch bonnet for a bit of heat
Shredded vegan cheese
Toasted bread crumbs
If you discover a new favorite topping idea, be sure to let me know in the comments section below!
SHOP MY FAVORITE TOOLS FOR COOKING, ESPECIALLY FOR THIS PASTA!
Here, I've curated a list of cooking + baking essentials that I use to achieve my favorite baked goods or cooked meals, especially with this Creamy Jamaican Rasta Pasta. Everything from my fave baking sheet, parchment paper, food processor, high-powered blender, skillets, and more. SEE THEM HERE!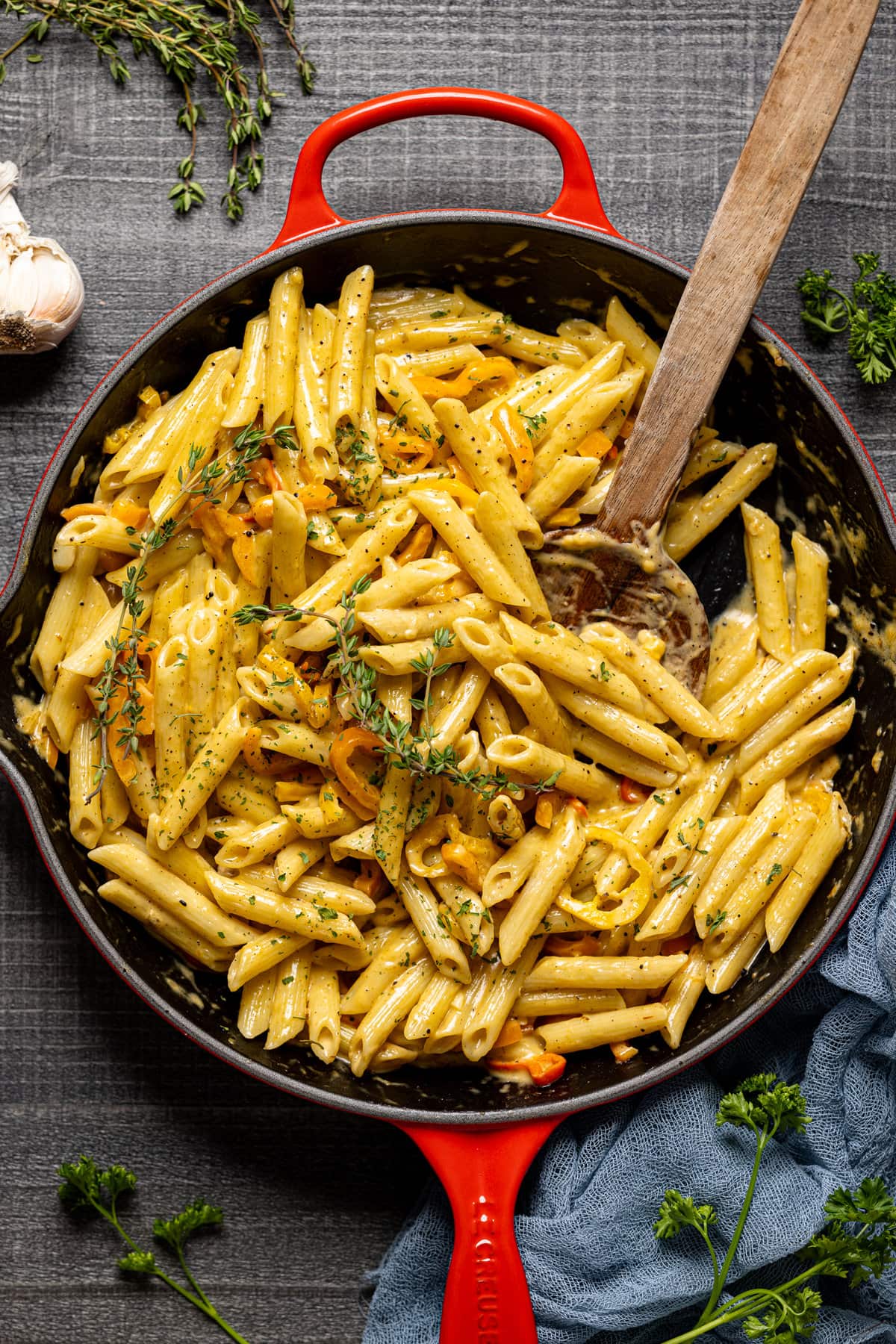 Adding Protein to this Creamy Rasta Pasta
If you'd like to add protein to this pasta dish, it's easy to do, regardless of your diet!
Plant-based protein options:
Crispy or canned chickpeas or beans
Crispy seared or baked tofu cubes
Crumbled stir-fried seitan
Crumble vegan bacon on top
Sautéed cauliflower florets or broccoli
Non-vegan protein options:
Chicken (breast sliced)
Shrimp
Lobster
Beef
Oxtails
Fish (fried, jerked, grilled, etc.)
etc.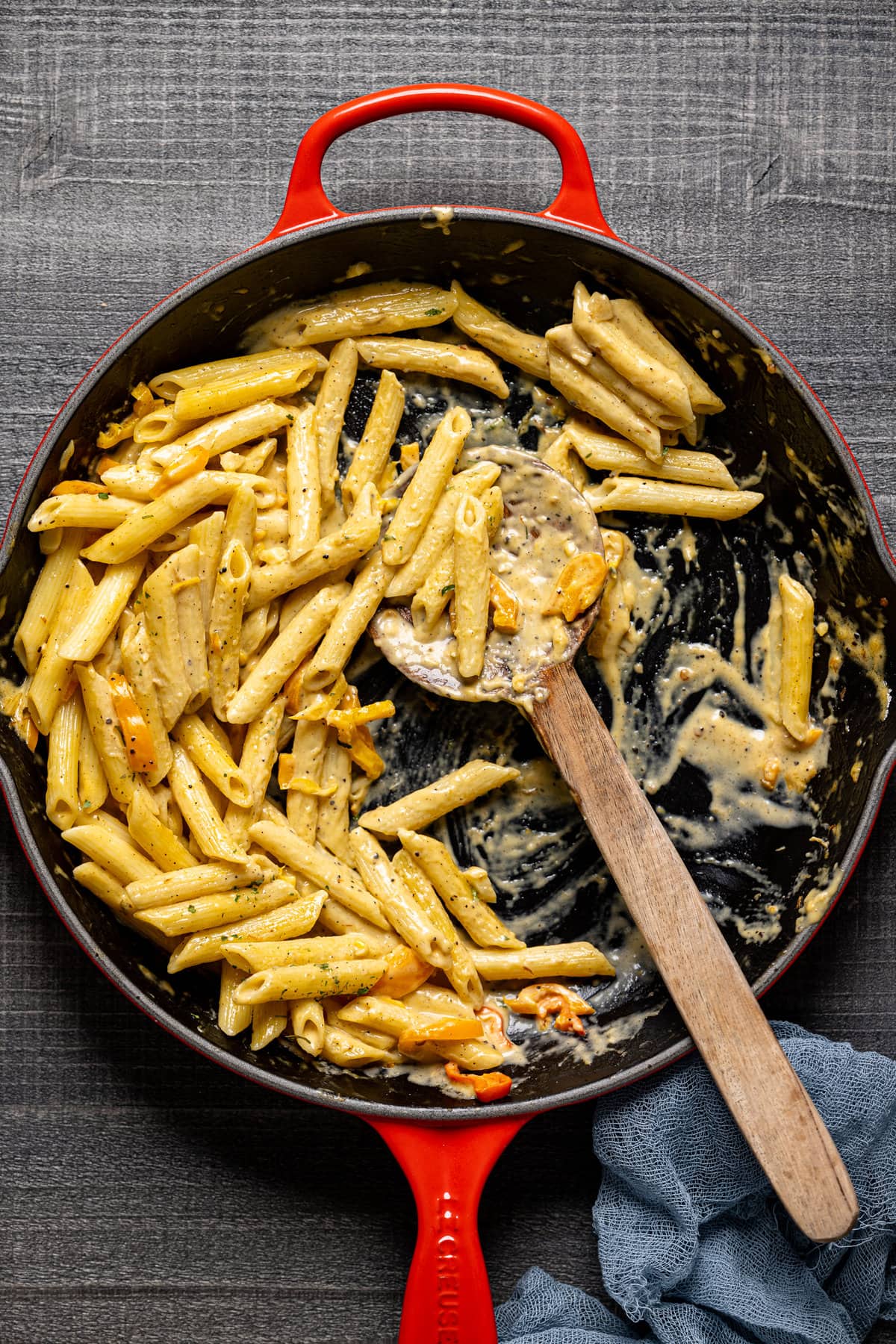 Can I Make this Rasta Pasta Dairy-Free, Vegan + Gluten-Free?
To make this sauce dairy-free and vegan, simply swap the heavy cream with full-fat coconut milk or coconut cream. And use your favorite dairy-free shredded cheese or nutritional yeast instead of parmesan. To make this dish GF, simply use Gluten-Free pasta and ensure that all other ingredients are GF-friendly.
Make-Ahead Creamy Jamaican Rasta Pasta
If you're meal prepping, you can make a big batch of this creamy rasta pasta. Divide it between airtight containers and store in the fridge for up to four days. You can heat it up on the stove or in the microwave for a comforting lunch all week long.
Storage Suggestions
Any leftovers can be kept in a tightly sealed container and refrigerated for up to 3-4 days.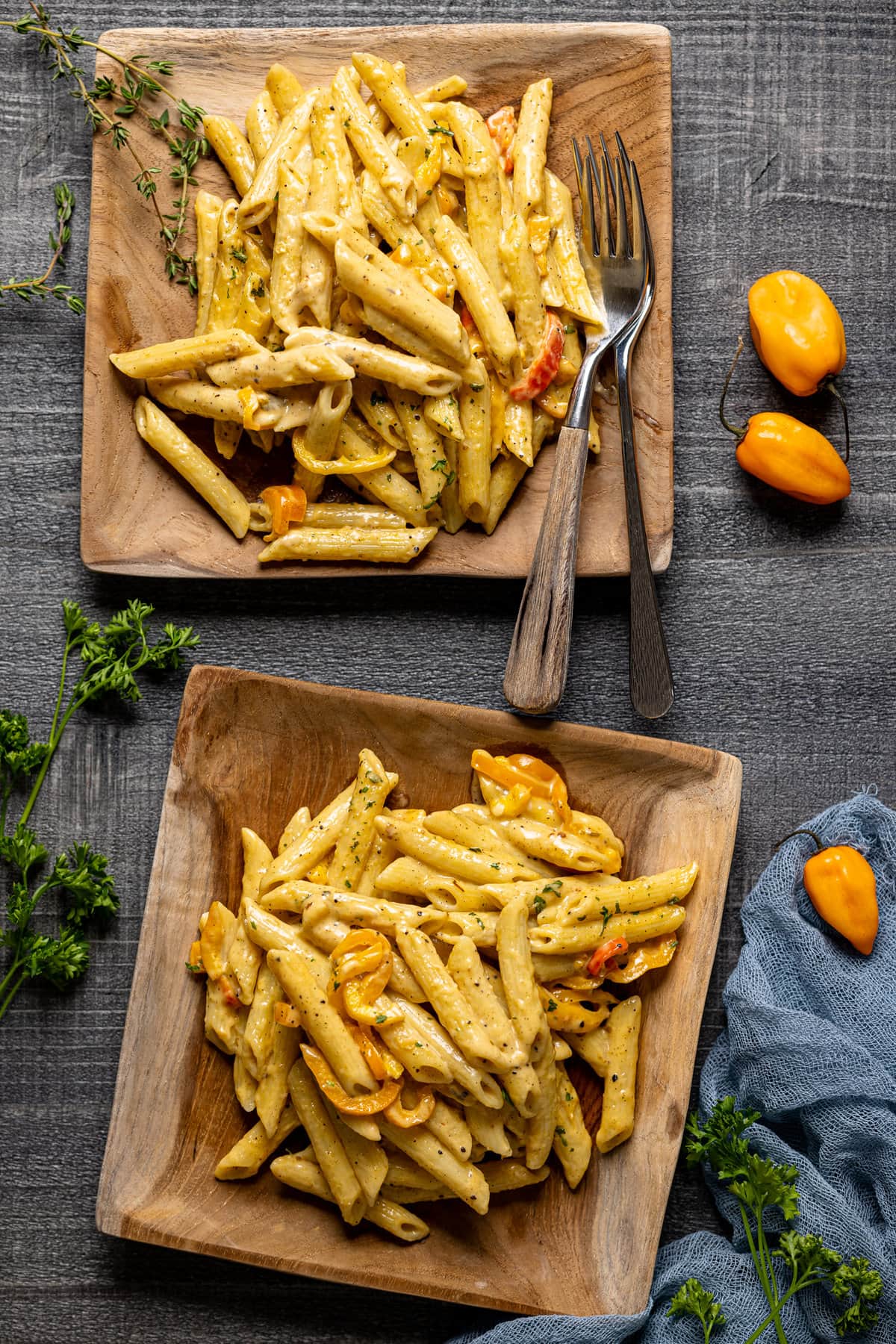 More Jamaican-inspired Dishes To Try!
MADE OUR RECIPE(S)?
If you make this Creamy Jamaican Rasta Pasta or any other recipe from us, be sure to tag us on Instagram at #Orchidsandsweettea so that we can share the love, rate, comment below, + share!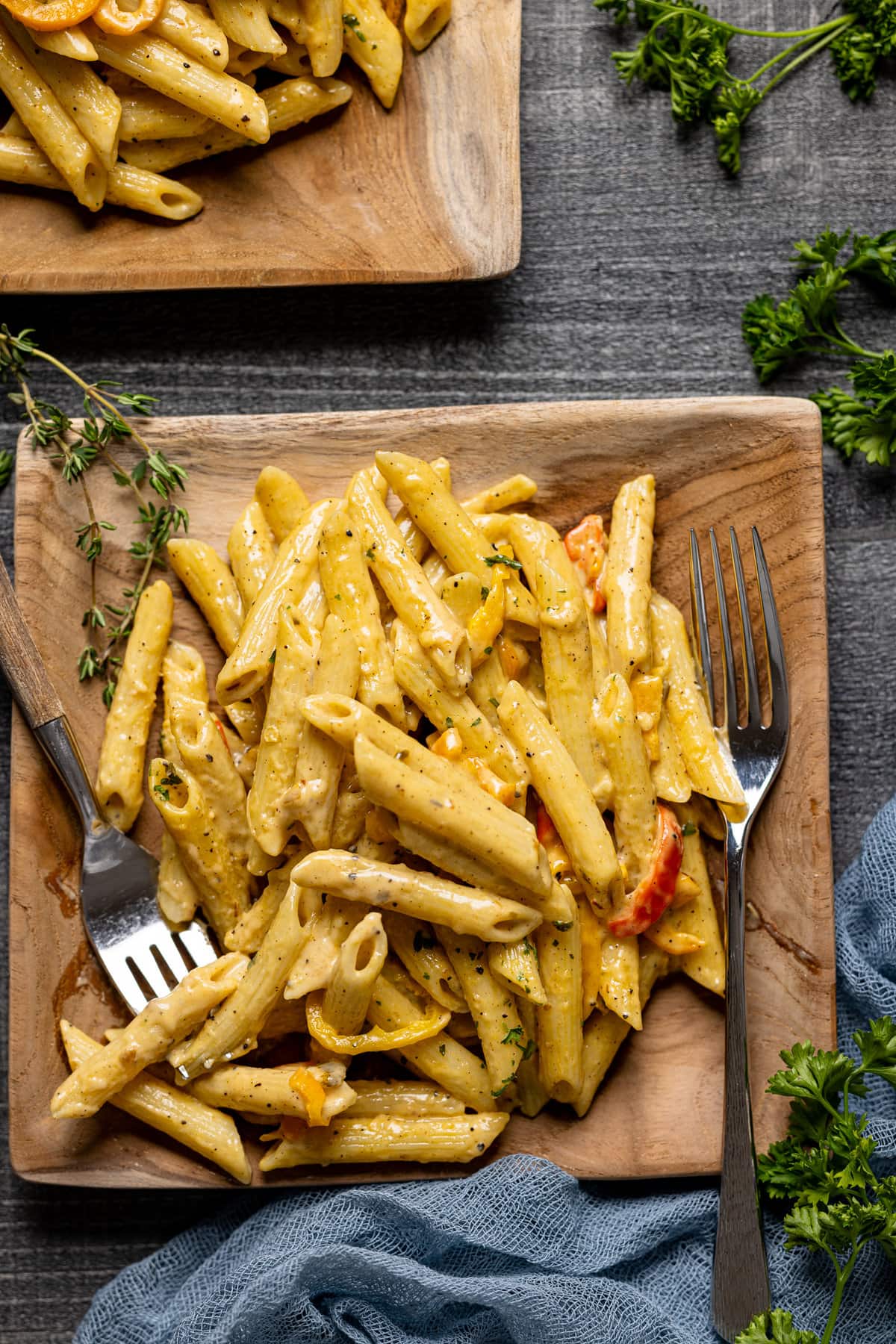 SAUCE:
1

tablespoon

Extra virgin olive oil

3

garlic cloves, minced

3

cups

mini sweet peppers, chopped

(You can also use bell peppers---different colors)

1 ½

Tbsps

organic all-purpose flour

1 ½

cups

organic heavy cream

(See Notes for Vegan option!)

½

cup

organic vegetable stock/broth

2

Tbsps

white cooking wine, optional

1-2

cups

freshly-grated parmesan cheese

(You can also use Mild or Sharp Cheddar!)

1-2

Tbsps

jerk seasoning, homemade or store-bought

1

teaspoon

sea salt

handful of

scallions (aka green onions), chopped

(optional)
BOIL THE PASTA:
To begin, cook pasta according to packaging. NOTE: penne pasta doesn't take a long time to cook, usually 8-10 minutes (however, you should cook at 6-8 minutes or so—'al dente').
TO MAKE THE SAUCE:
In a large (12-inch) skillet, add the olive oil and minced garlic, sautéing until fragrant, about 1-2 minutes. Add the salt, jerks seasoning, and flour, stirring everything together. Whisk in the heavy cream, veggie stock, and white cooking wine until everything thickens and becomes smooth with no lumps visible. Add in the chopped peppers and stir to incorporate.

Reduce the heat to low and let the sauce simmer for 3-4 minutes until it thickens more and the peppers become more tender. Stir in the grated parmesan until it has melted and the sauce is even more creamy.

Add in the cooked pasta and stir until everything is well coated.

Remove from heat and serve immediately with your favorite meat (if not eating meatless) or on it's own with a garnish of chopped scallions.

Bon Appetit!
STORAGE: Any leftovers can be kept in a tightly sealed container and refrigerated for up to 3-4 days.
SPICES/HERBS: If desired, you can reduce the amounts slightly. Please know that this recipe is bold in flavor, so feel free to adjust based on your tastebuds.
GLUTEN-FREE OPTION: To make this dish GF, simply use Gluten-Free pasta and ensure that all other ingredients are GF-friendly. 
DAIRY-FREE + VEGAN OPTION: To make this sauce dairy-free + vegan, simply swap the heavy cream with full-fat coconut milk or coconut cream. And use your favorite dairy-free shredded cheese or nutritional yeast instead of parmesan. 
PASTA: You can use any of your favorite pastas! Jumbo shells or long pastas like

Pappardelle, Fettuccine, etc. work fine. However, I would recommend tossing with tongs to ensure that pasta is fully manageable and fully coated. Otherwise, the traditional penne or rigatoni pasta works perfe

ctly too!
Creamy Jamaican Rasta Pasta.