Learning How To Make Candied Bacon is a must! This indulgent treat takes crispy bacon to a whole new level by coating it in a rich, caramelized glaze. This Candied bacon recipe (also known as million-dollar bacon) is a mouthwatering combination of smoky, savory, and sweet flavors that's perfect as a snack, a decadent side dish for breakfast, or even as a delicious topping on salads + desserts and more! The best part? It's incredibly easy to make, requiring just three simple ingredients. Ary-fryer option.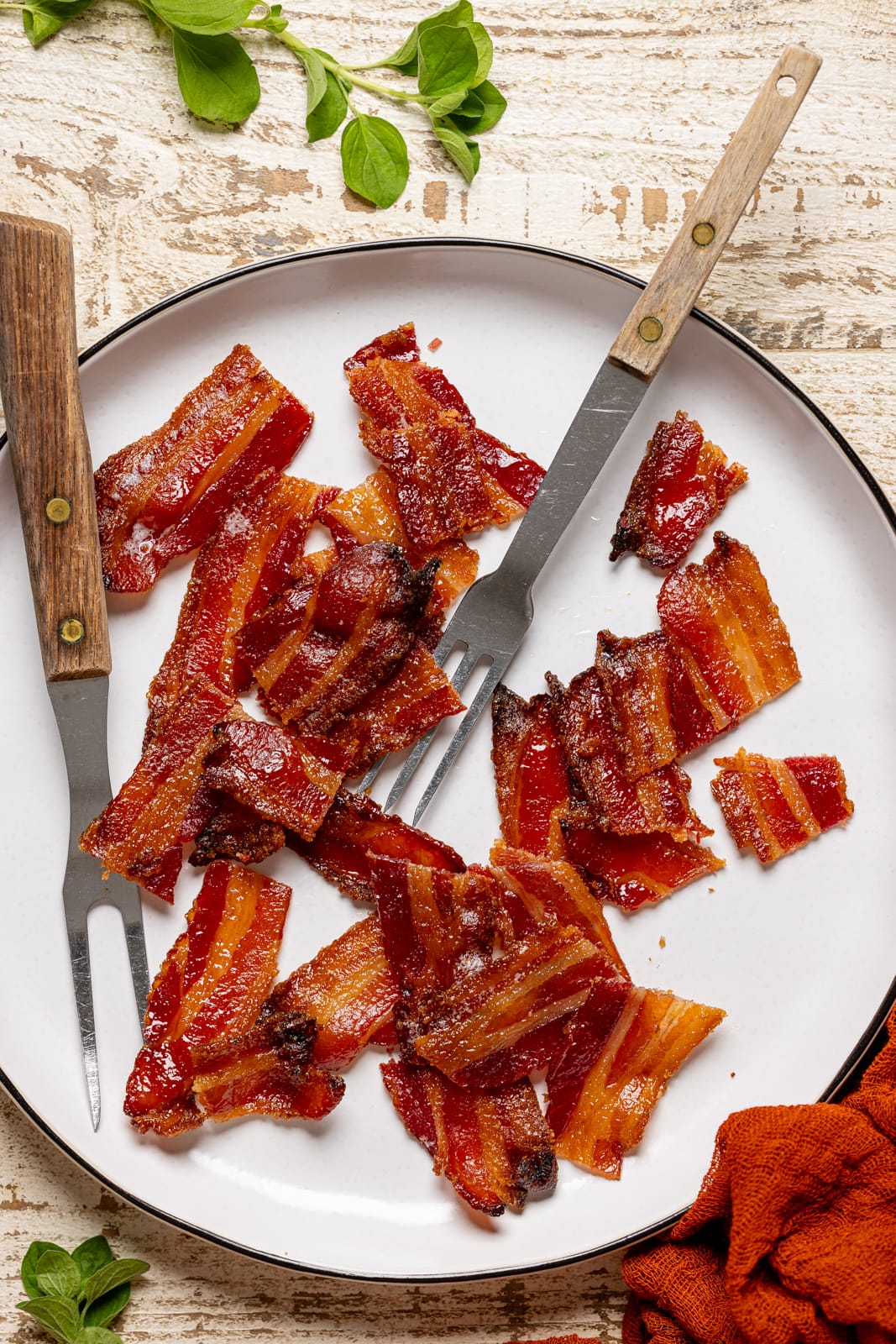 Why Learn How To Make Candied Bacon? (AKA Million-Dollar Bacon)
Bacon holds a special place in many hearts, and I'm no exception. I believe that adding bacon to any dish instantly elevates its flavor – who can resist a bacon-grilled cheese, right? But just when you thought bacon couldn't get any better, enter Candied Bacon, the game-changer you never knew you needed
If you haven't experienced the sheer delight of candied bacon (AKA Million-dollar Bacon), I'm here to tell you, that you're in for a treat that's going to steal your heart. This isn't just food; it's a flavor explosion that'll have you coming back for seconds, thirds, and more. Sprinkle it on salads (like this Fall Harvest BBQ Chickpea Kale Salad), stack it in sandwiches, add it to pizza like this Gluten-Free Hot Honey Bacon Pizza, or get fancy and use it as a delicious sweet + salty dessert topping on ice cream (hello No-Churn Vanilla Ice Cream)

Trust me, this is the kind of food magic that leaves you wondering how you've lived without 'million-dollar bacon'. You can enjoy it for breakfast, brunch, or whenever you want a snack that'll make your taste buds sing. Add a burst of sweet and salty excitement to your meals. The best part? Just 3 ingredients and ready in under an hour!
Jump to: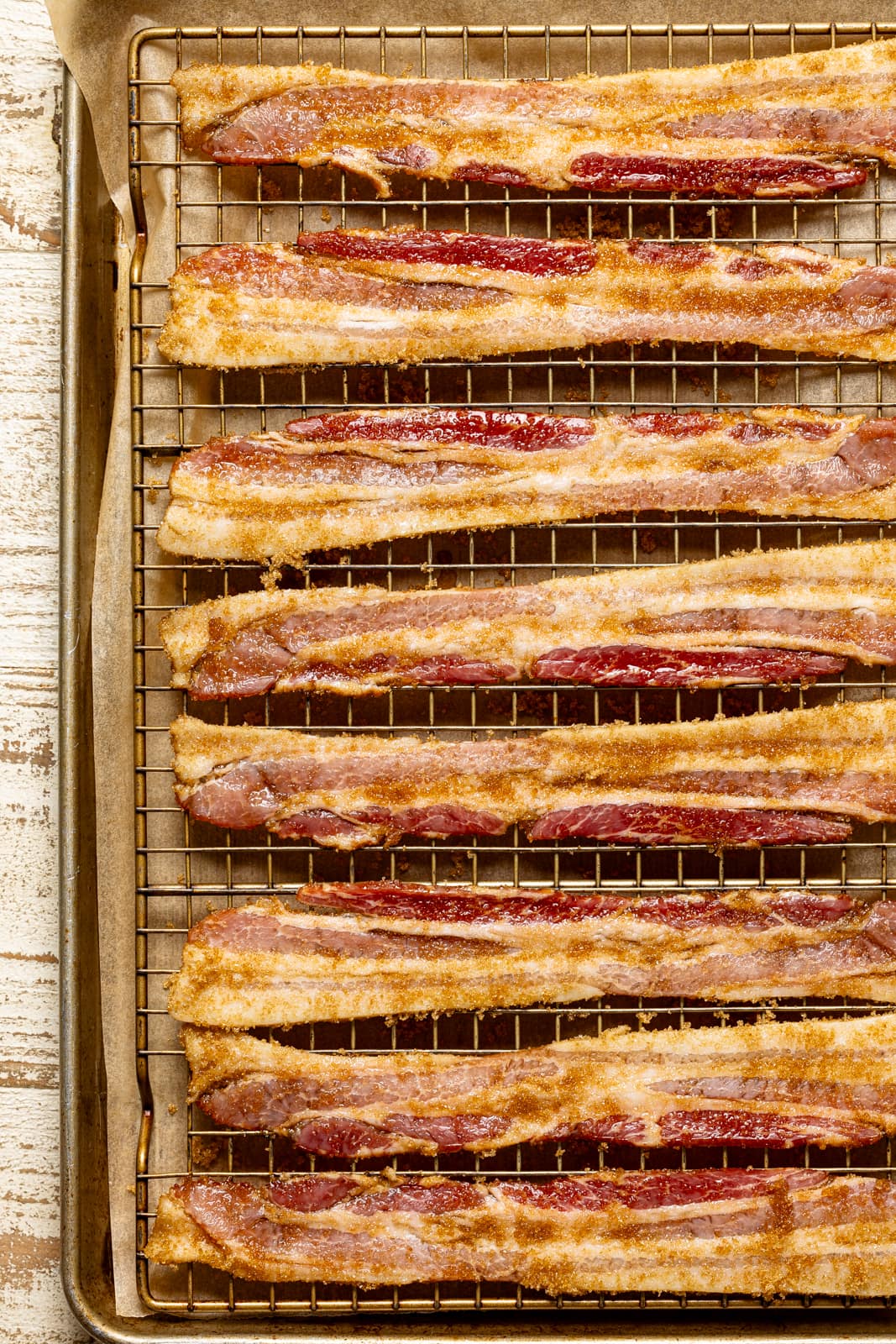 What is Candied Bacon?
Candied bacon is bacon that's been sweetened to perfection. Picture crispy, smoky bacon strips coated in a mouthwatering layer of caramelized brown sugar + maple syrup. It's that perfect blend of sweet and savory, with a delightful crunch. Candied bacon is the ultimate treat for bacon lovers and those looking to add a delicious twist to their meals. Some refer to it as million-dollar bacon---it's playfully named because it's so scrumptious, it's like a flavor sensation that hits the jackpot!
How to Make Candied Bacon
With just three ingredients and your oven (or air-fryer), making this candied bacon recipe is a breeze. In under an hour, you'll have the best bacon you've ever tasted!
Ingredients
Here is what you need to make the best million-dollar bacon -
Organic uncured bacon. The star of the show, opt for thick-cut bacon if possible!
Organic brown sugar. Adds the sweetness and crispiness.
Pure maple syrup. A little more depth and sweetness.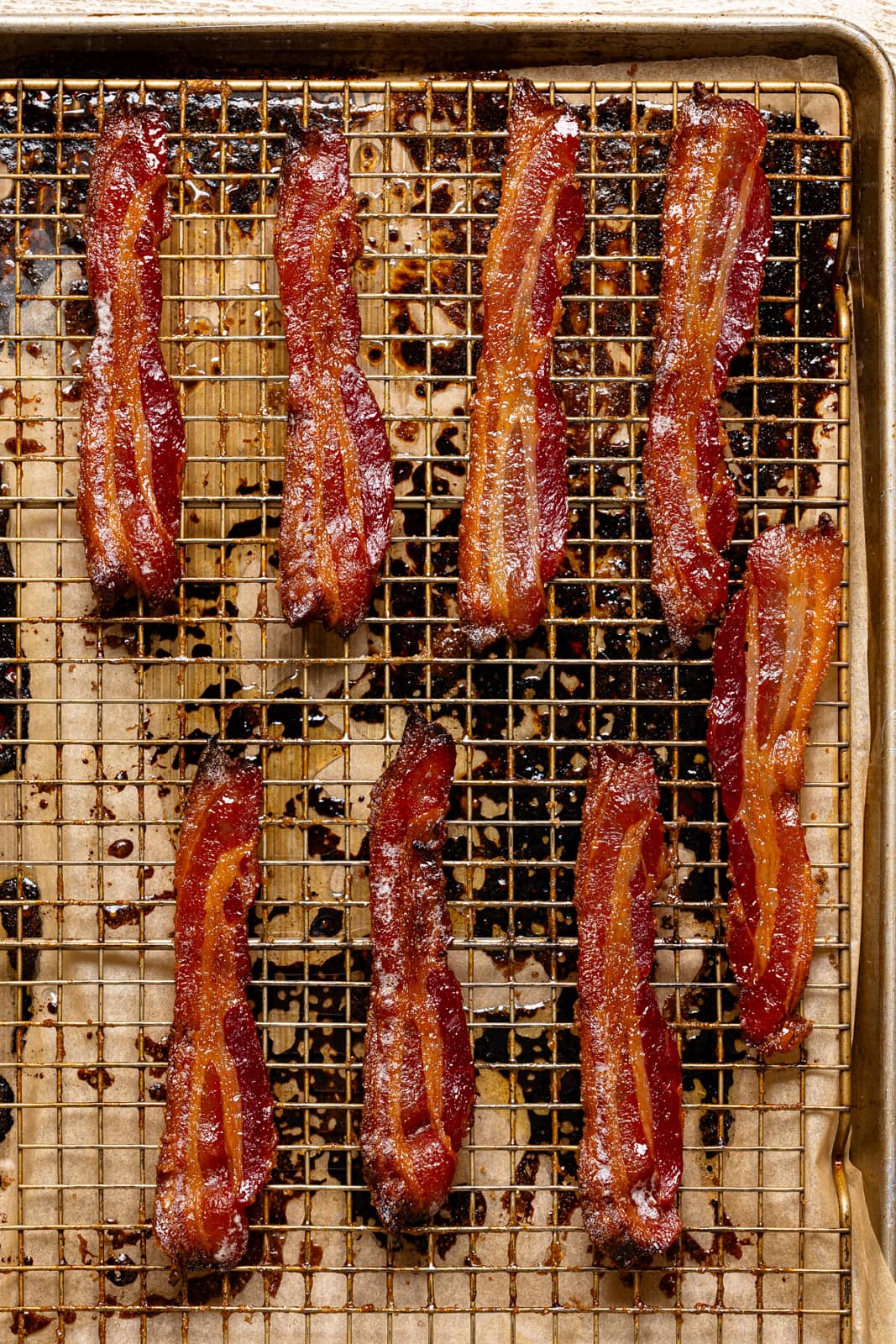 Tips + Tricks For The PERFECT Candied Bacon
Choose the Right Bacon
Use good quality bacon for the best results. You can use regular, thick-cut, or even flavored bacon varieties to add extra dimension to your candied bacon.
Evenly Coat with Sugar + Avoid Overcrowding
Make sure to evenly coat the bacon with sugar on one side. This ensures a balanced sweetness and helps with the caramelization process. Give each bacon strip enough space on the baking sheet to ensure even cooking. Overcrowding can lead to uneven results.
Use Parchment Paper or a Rack
Place the bacon on parchment paper or a wire rack on your baking sheet. This helps prevent sticking and allows the bacon to cook evenly.
Experiment with Seasonings
Don't be afraid to get creative with your candied bacon. Try adding spices like black pepper, cayenne pepper, or smoked paprika to the sugar for extra flavor.
Watch the Sugar Closely!!
Keep an eye on the bacon as it cooks, especially toward the end. The sugar can go from caramelized to burnt relatively quickly, so be vigilant.
Control the Crispiness + Cool on a Rack
Adjust the cooking time to achieve your desired level of crispiness. If you prefer it slightly chewy, reduce the cooking time; if you like it extra crispy, extend it. For the best texture, let the candied bacon cool on a wire rack instead of a flat surface. This allows air circulation and helps maintain crispiness.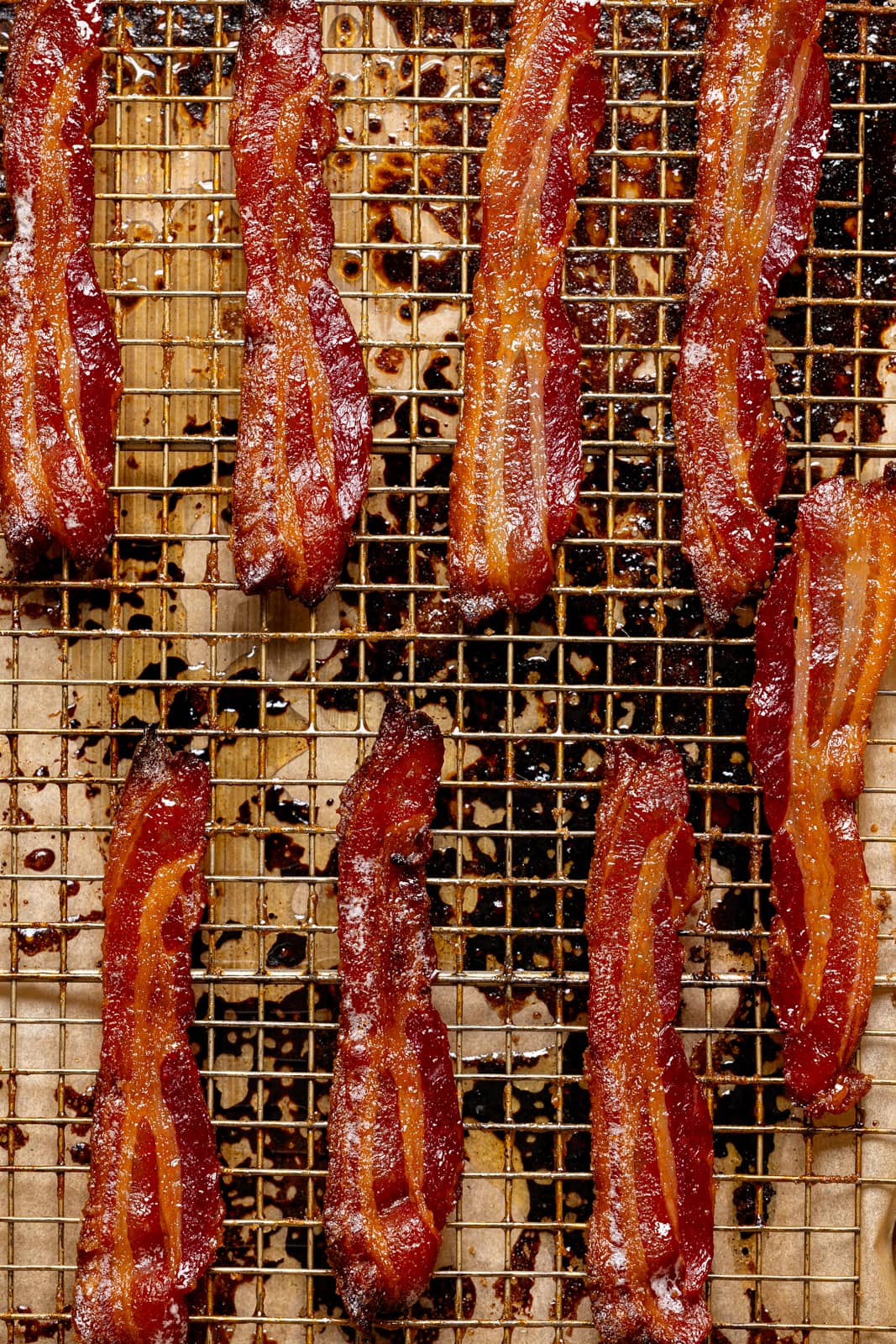 Why You Will LOVE Candied Bacon
Absolute bacon bliss-- sweet, smoky + crunchy.
Perfect for snacking & entertaining.
Simple ingredients + easy to make
Elevates every dish-- no exceptions.
So versatile add it to everything from salads to desserts!
It's just so dang delicious + satisfying. It's every bacon lover's dream come true---Need I say more?
How to Serve Candied Bacon
Here are some ideas on how to serve million dollar bacon:
As a Standalone Snack: Enjoy candied bacon on its own as a delicious and addictive snack.
Breakfast or Brunch: Serve candied bacon alongside your favorite breakfast items like scrambled eggs, pancakes, or waffles.
On a Cheeseboard: Add candied bacon to a charcuterie or cheeseboard for a sweet and savory twist. Learn How To Make the Best Charcuterie Board
Sandwiches + Burgers: Upgrade your sandwiches with a layer of candied bacon for an extra burst of flavor and crunch. Try it with these Jerk Turkey Burgers or my personal favorite this Southern Honey Mustard Chicken Bacon Sandwich
Salads: Crumble candied bacon over salads to elevate the taste and texture. It would be an amazing addition to this Roasted Cauliflower Green Goddess Salad
Dessert: Okay yes it sounds a little strange at first but y'all...Try sprinkling candied bacon bits on ice cream, cupcakes, or brownies for a unique dessert topping. Thank me later.
Pizza: Add candied bacon as a pizza topping to create a sweet and salty masterpiece. Try it with this homemade Loaded Thanksgiving Pizza or this Fall Harvest Pizza
Feel free to get creative and experiment with candied bacon in your favorite dishes – the possibilities are endless!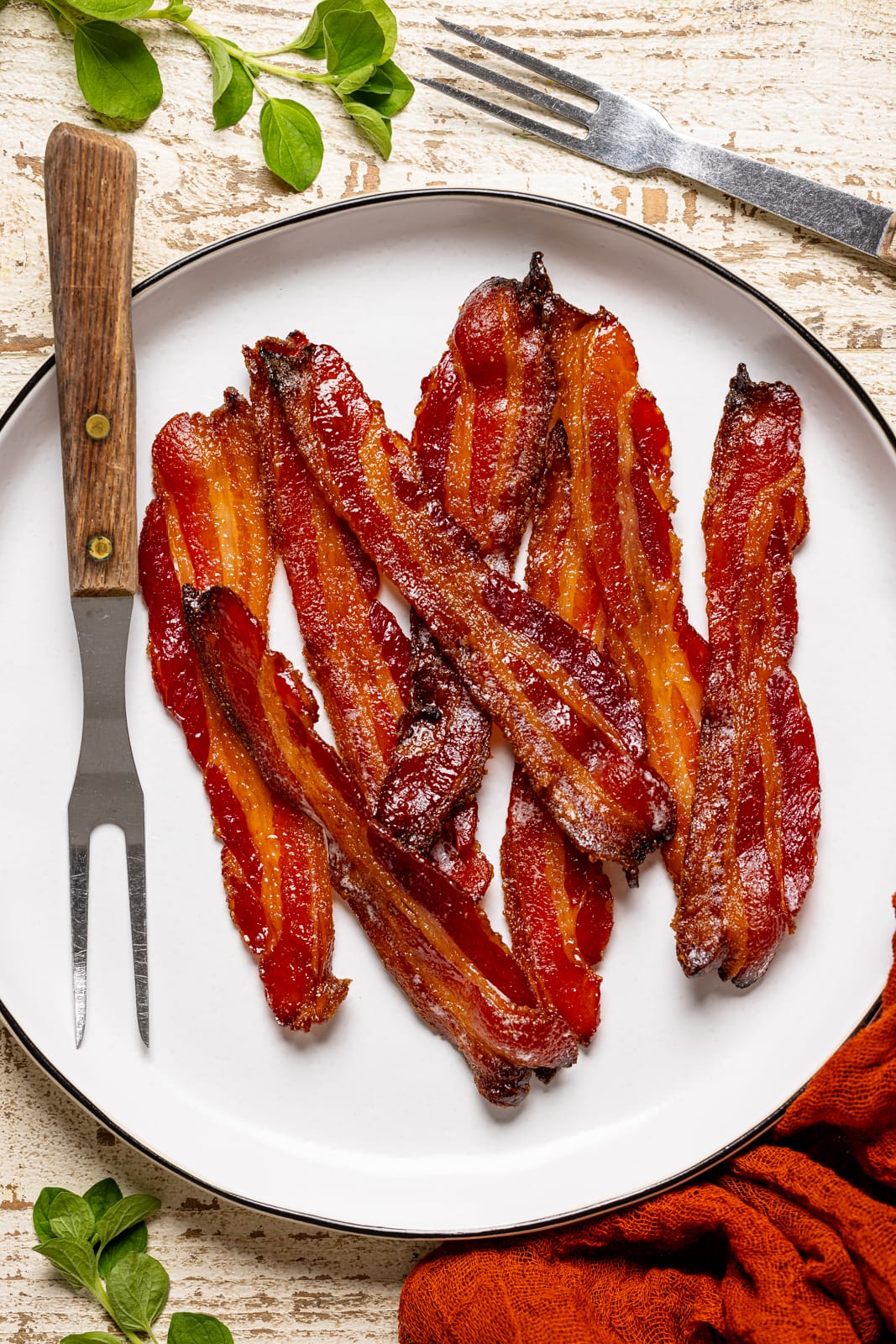 Candied Bacon Recipe Q + A's
What type of bacon is best for this candied bacon recipe?
For this candied bacon recipe, you can totally use pork or turkey bacon. Thick-cut slices are always best
Can I make million dollar bacon in the air fryer?
Yes of course!
- Place the bacon strips in a single layer in the air fryer basket, sugar-side up. Make sure they are not overlapping to ensure even cooking.
- Cook the bacon in the air fryer for about 8-12 minutes, depending on the thickness of your bacon and your desired level of crispiness. Check it after 8 minutes and adjust the cooking time as needed.
- If you want both sides of the bacon to be candied, flip the bacon strips halfway through the cooking time. You can also add more brown sugar on this side.----Keep an eye on the bacon to prevent burning. It should be crispy, and the sugar should be caramelized but not burnt.

How to store?
Leftovers can be stored in an airtight container and refrigerated for up to 4 days.
How to reheat?
To reheat, feel free to line the bacon on a baking sheet with parchment paper and heat in the oven at 350 degrees until warmed through. Also, reheating in the microwave or air fryer is an option. 
More Delicous 'How To' Recipes
MADE OUR RECIPE(S)?
If you tried this Candided Bacon or any other recipe on my website, please please leave a 🌟 star rating and let me know how you go in the 📝 comments below. I love hearing from you.
BACON:
1

(8 oz.) package

organic uncured bacon

1

cup

organic brown sugar

1

tablespoon

pure maple syrup
TO MAKE THE CANDIED BACON:
Preheat the oven to 400 degrees Fahrenheit and line a baking sheet with parchment paper followed by a wire rack on top. NOTE: Ensure that you lightly spray the wire rack with cooking oil to avoid sticking of bacon.

In a bowl, add the brown sugar and maple syrup, mixing everything together. Then take EACH strip of bacon and roll it in the sugar mixture until both sides are coated. Then line each strip unto the prepared baking sheet side by side, with a little room apart. Repeat until all bacon strips are coated and lined.

With the remaining sugar mixture, lightly sprinkle the tops of line bacon for a little more sweetness.

Bake in the oven (on the top rack) for 10-15 minutes before carefully flipping the bacon unto their opposite sides using a fork or tongs. Then bake for the remaining 10-15 minutes or until bacon becomes crispy, caramelized, and fragrant.

Remove from oven and let it cool for 5-10 minutes so that the bacon hardens a bit. Serve with your favorite breakfast or brunch foods or enjoy as a nice snack!
STORAGE: Leftovers can be stored in an airtight container and refrigerated for up to 4 days. To reheat, feel free to line the bacon on a baking sheet with parchment paper and heat in the oven at 350 degrees until warmed through. Also, reheating in the microwave or air fryer is an option. 
AIR FRYER OPTION: See FAQ section.
BACON TYPE: For this recipe, you can totally use pork or turkey bacon. Thick-cut slices are always best!
Calories:
111
kcal
|
Carbohydrates:
29
g
|
Protein:
0.03
g
|
Sodium:
8
mg
|
Potassium:
42
mg
|
Sugar:
28
g
|
Calcium:
26
mg
|
Iron:
0.2
mg