How to Make Quick Pickled Vegetables is the perfect guide to making your own pickled veggies that store very well and taste even better. Plus, you can adjust the amount of batches that you make, personalize the ingredients to your taste buds, and have the option of canning your jars or not.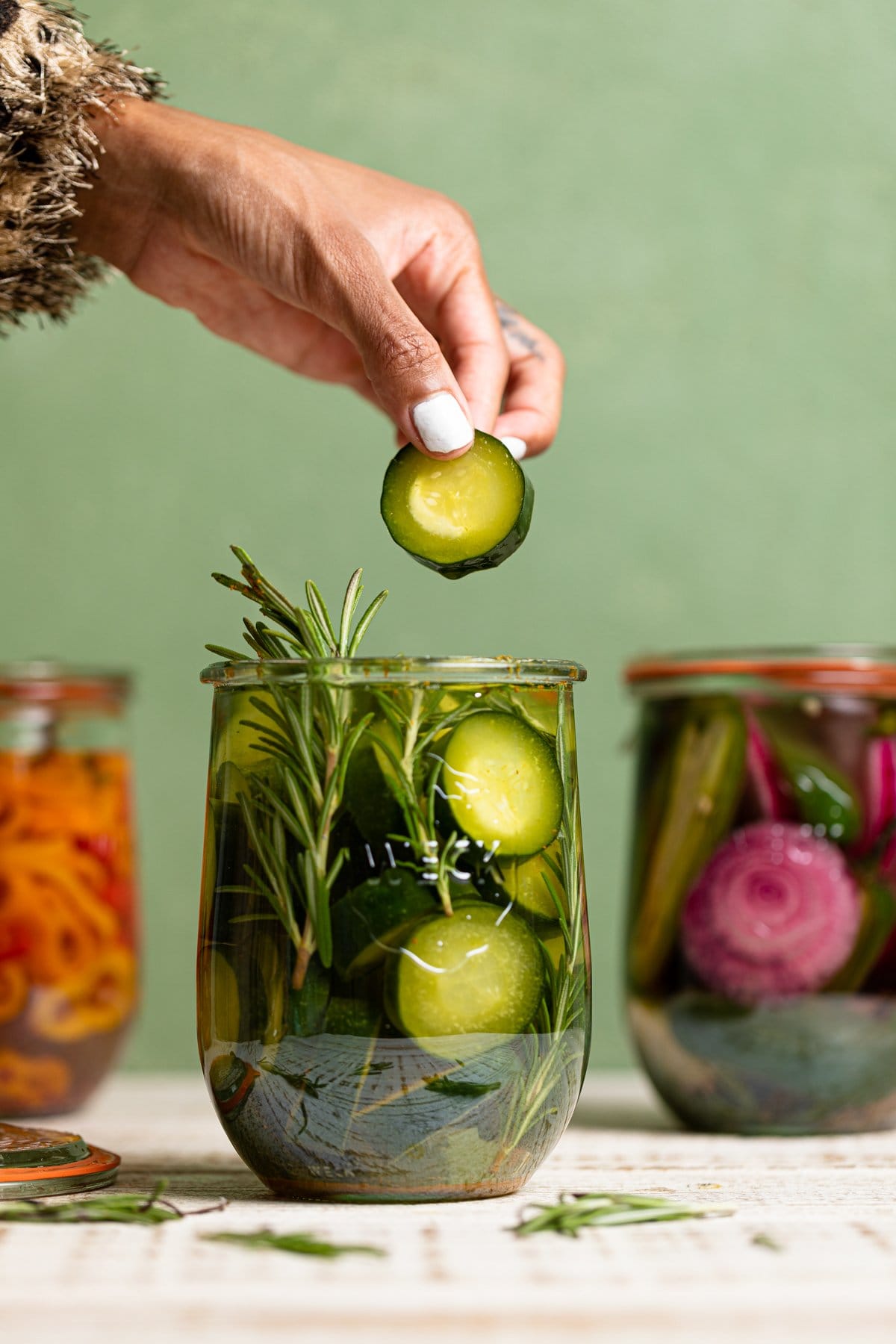 How to Make Quick Pickled Vegetables----I must admit that pickling my own veggies has been such a fun, easy experience for me. If you haven't done it---I definitely recommend trying it at least once. They're not only incredibly easy, but they're such a great meal prep recipe for homemade pickles and other pickled veggies to eat as a snack or add to your favorite dishes. If you love your veggies, then you're sure to enjoy this Chickpea + Veggie Gluten-Free Pesto Pizza, Roasted Cauliflower Green Goddess Salad, Loaded Vegan Veggie Soup, and Spring Vegetable Frittata.
While the main method doesn't require any sort of canning of the jars at all----I will be talking further about how to "can your jars" if you desire to, especially since canning is great for homemade jams and other recipes as well.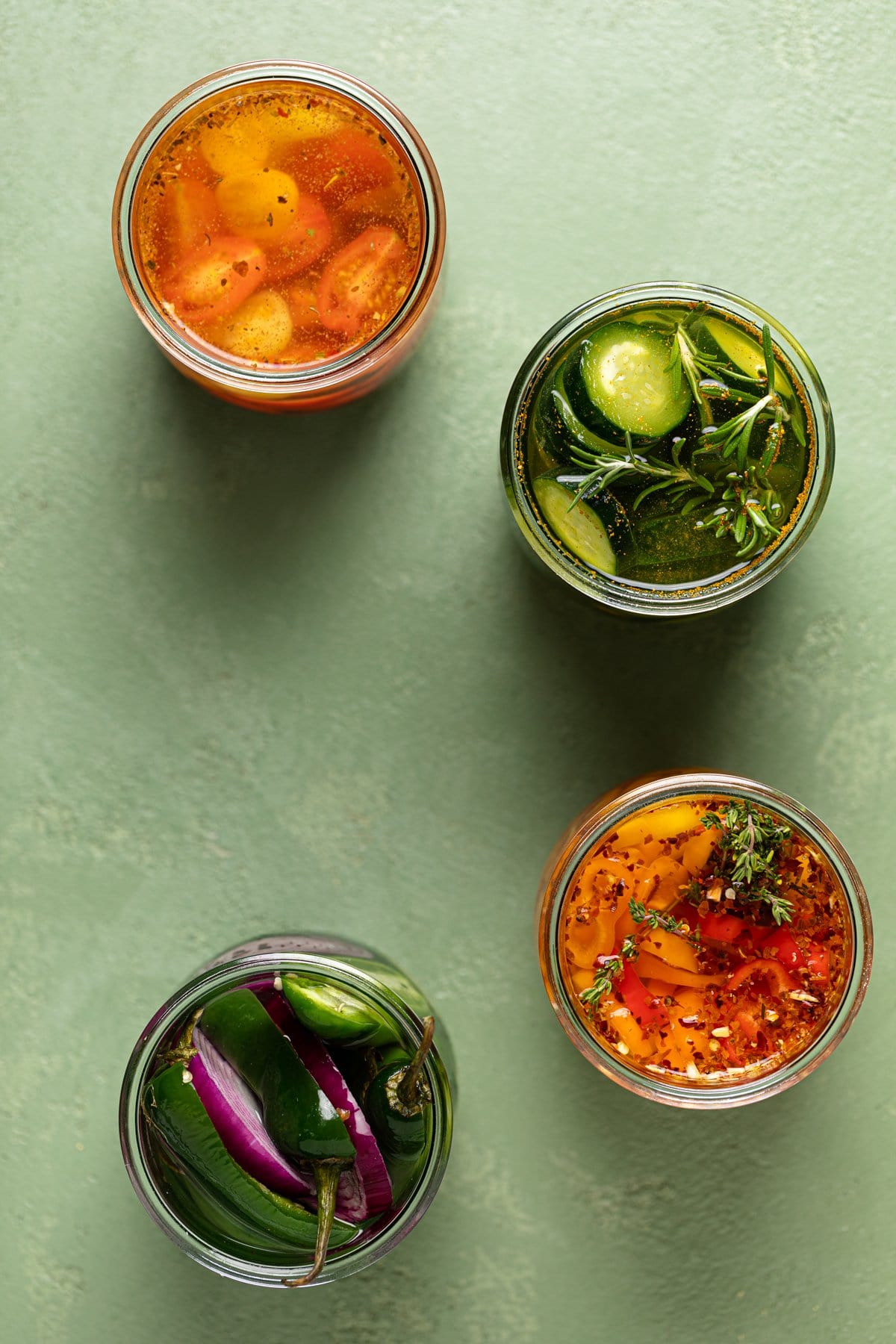 How to Make Quick Pickled Vegetables
When it comes to pickling your veggies, it includes a few simple steps and just a handful of ingredients for the main "pickling brine" that goes atop all of the veggies:
2 cups filtered water
¼ cup white vinegar or apple cider vinegar
1 bay leaf
2 fresh rosemary sprigs
1 ½ Tbsps sea salt
1 tsp turmeric powder
5 garlic cloves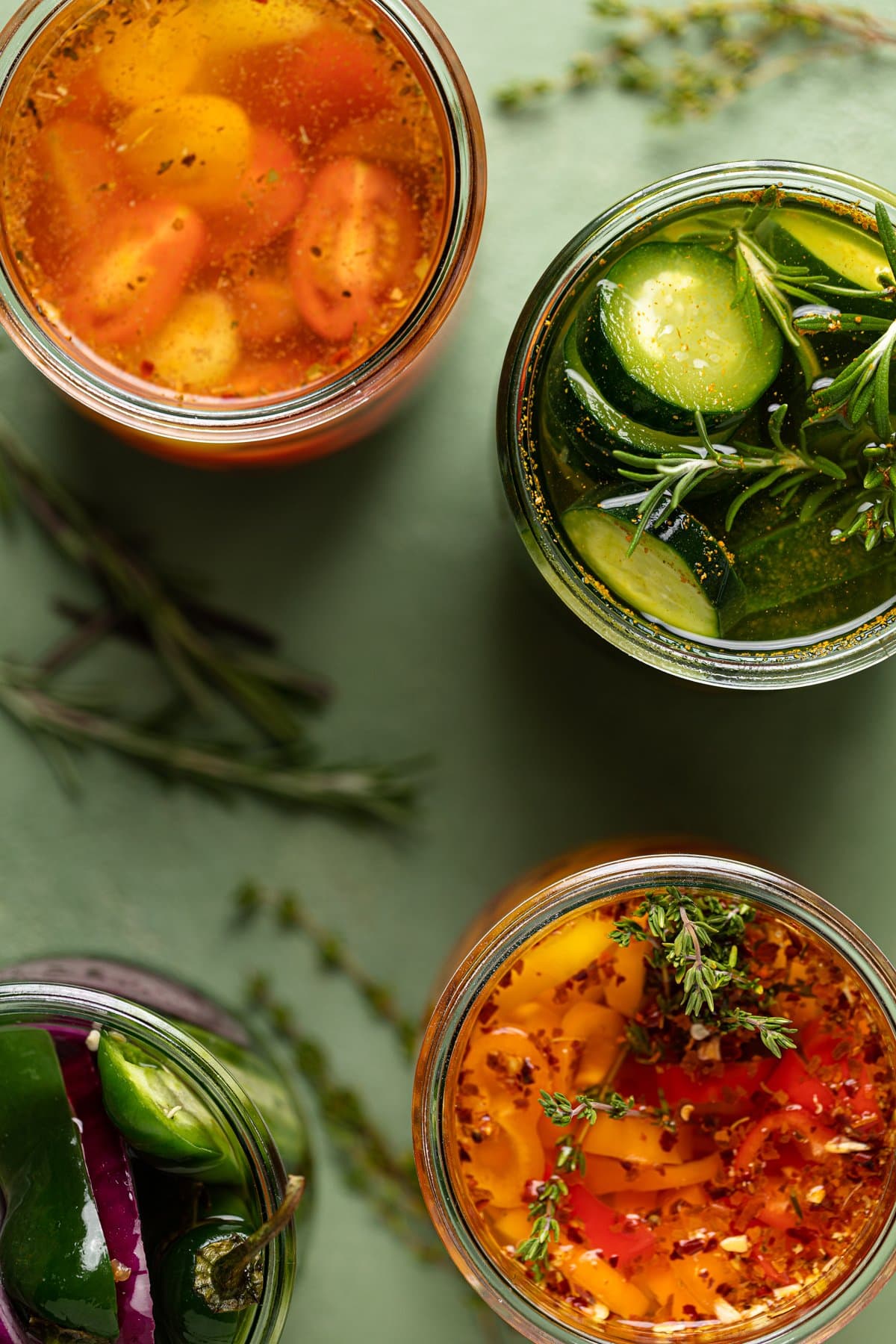 The Best Vegetables to Pickle
The greatest thing about pickling your own veggies is the fact that you can literally pickle any vegetable you chose to. I enjoy making my own 'pickles' by pickling cucumbers and I also love making a spicy mixture for bell peppers, jalapeños, onions, etc. In addition, I've created a short list of fresh veggies that are a great idea:
Carrots, grape tomatoes, okra, green beans, jalapeños, asparagus, red onion, zucchini, cauliflower florets, bell peppers, etc.
Preparing Veggies for Pickling
Depending on the type of vegetable used, there are a few options for the prepping of it. Below are a few options just to give you an idea:
Thinly slice: cucumbers, summer squash, ginger, red onions, tomatoes, zucchini, cauliflower, etc.
Cut into spears: carrots, cucumbers, zucchini, bell peppers, jalapeños, etc.
Peel: carrots, zucchini, etc.
Blanch: green beans, asparagus, etc. (optional, but helps preserve their color)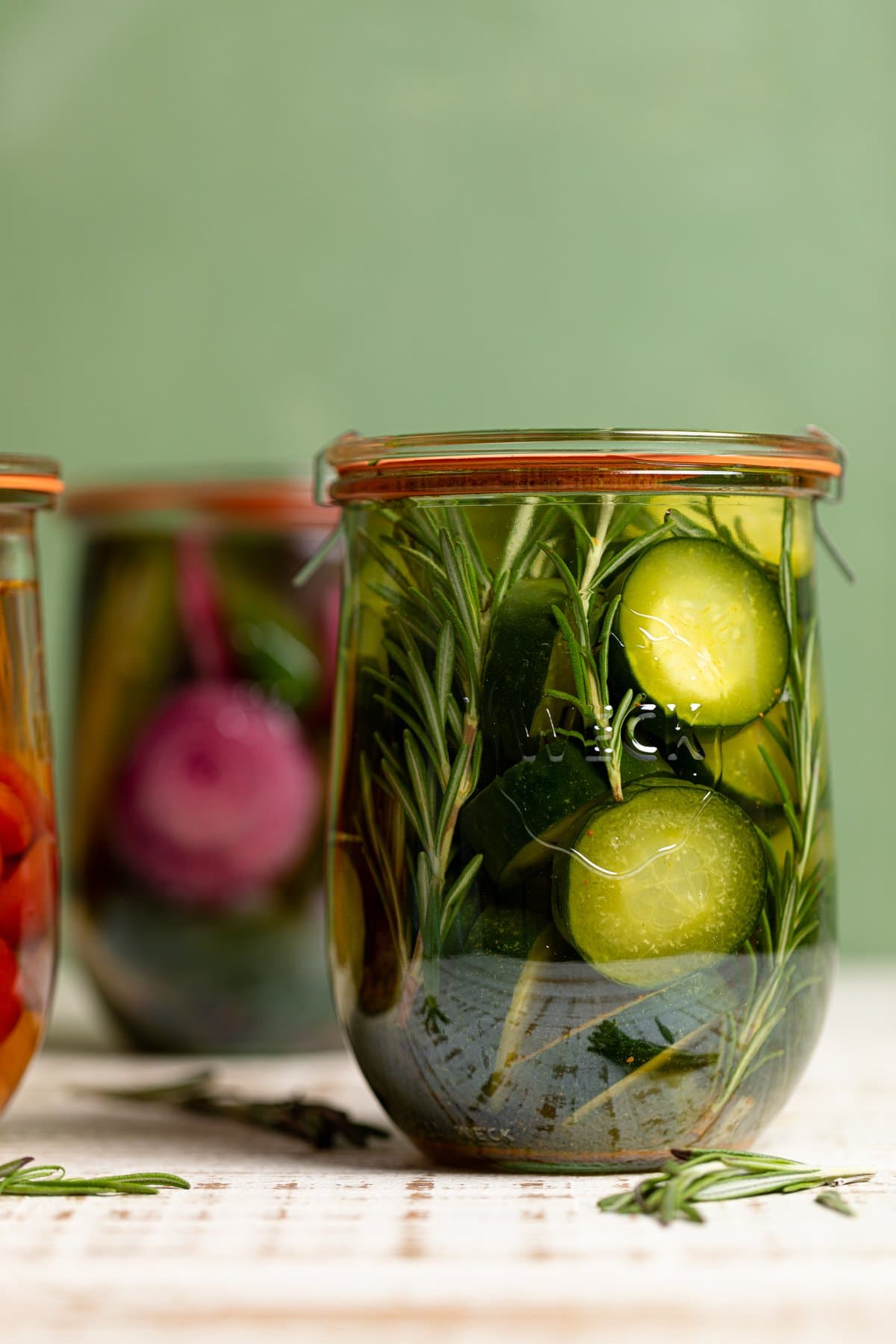 What is Canning?
The method of canning is to simply preserve food from spoilage by storing it in containers or jars that are fully sealed and then sterilized by way of heat ---- a heat treatment process.
Tools You'll Need for Canning Jars
To perfectly "can" your jars, you'll need a few simple items for an easier process:
Tongs
Pot Lifter (helpful in easily lifting hot jars)
A large pot (Dutch oven, etc.)
Measuring cups
Glass jars with a tightly sealable lid
How to Know If Canning Method is Successful
To check whether the jars are perfectly "sealed" after the canning method, press down on the center of the lids. If the center of the lids doesn't pop, then it's perfectly sealed. Secondly, you can double check by gently trying to remove the lid----if you can't remove the lid, then it's perfectly sealed.
On the other hand, if the centers "pop up" after pressing the centers or the lids can be easily removed, then the seal isn't good and you should re-do the process. The Spruce Eats has a great explanation on how this is done in the event that you need to go down this route.
Don't worry---if you don't feel like re-doing the process, you can easily store any jars that didn't seal in the refrigerator for up to 3 weeks or easily freeze them for up to 1 year.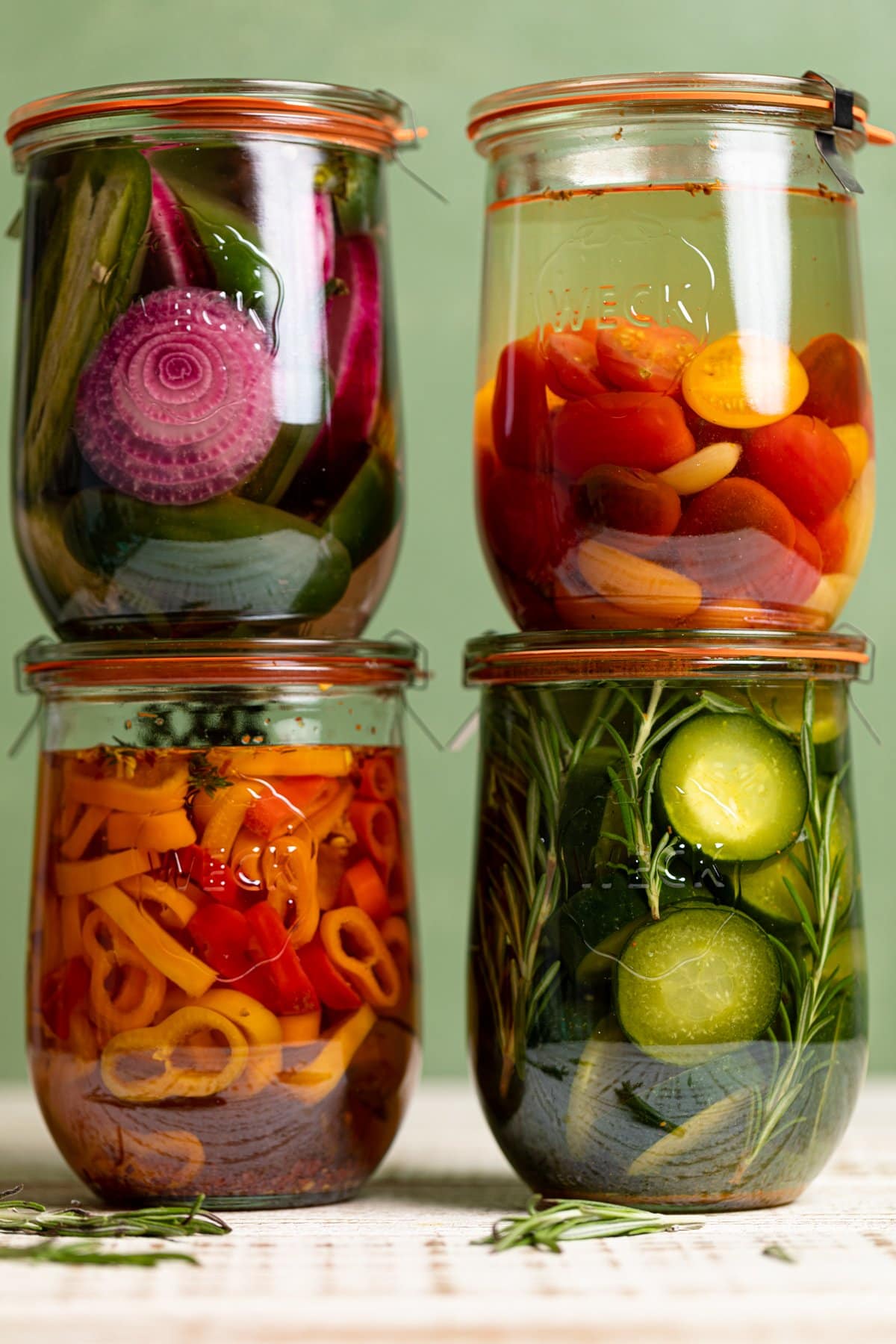 Steps for Canning your Jars Correctly
Prep all of your ingredients needed for the recipe you choose to make.
Separate the jar and lids and add them to a large pot with water (fully covering the jars with water) and bring to a boil for about 10 minutes.
Remove jars (fully empty) from the hot water but carefully place them onto a clean towel individually.
Carefully add the completed recipe (i.e. jam, veggies, etc.) to each jar, leaving about ¼ to ½ inch of space from the top.
Wipe the rims of the jars with a clean damp towel, apply the lids, and the clips needed to keep the lid fully sealed and pressed down.
Turn on the same pot of boiling water and bring to another boil. Carefully place each jar back in the boiling water (ensuring that water covers the jars all the way) and let it all boil for another 10-15 minutes.
Remove from heat and let everything cool for about 10 minutes before removing the jars from the pot.
Place jars unto a towel or cutting board on the counter (with space between them) and let them cool for 12-24 hours.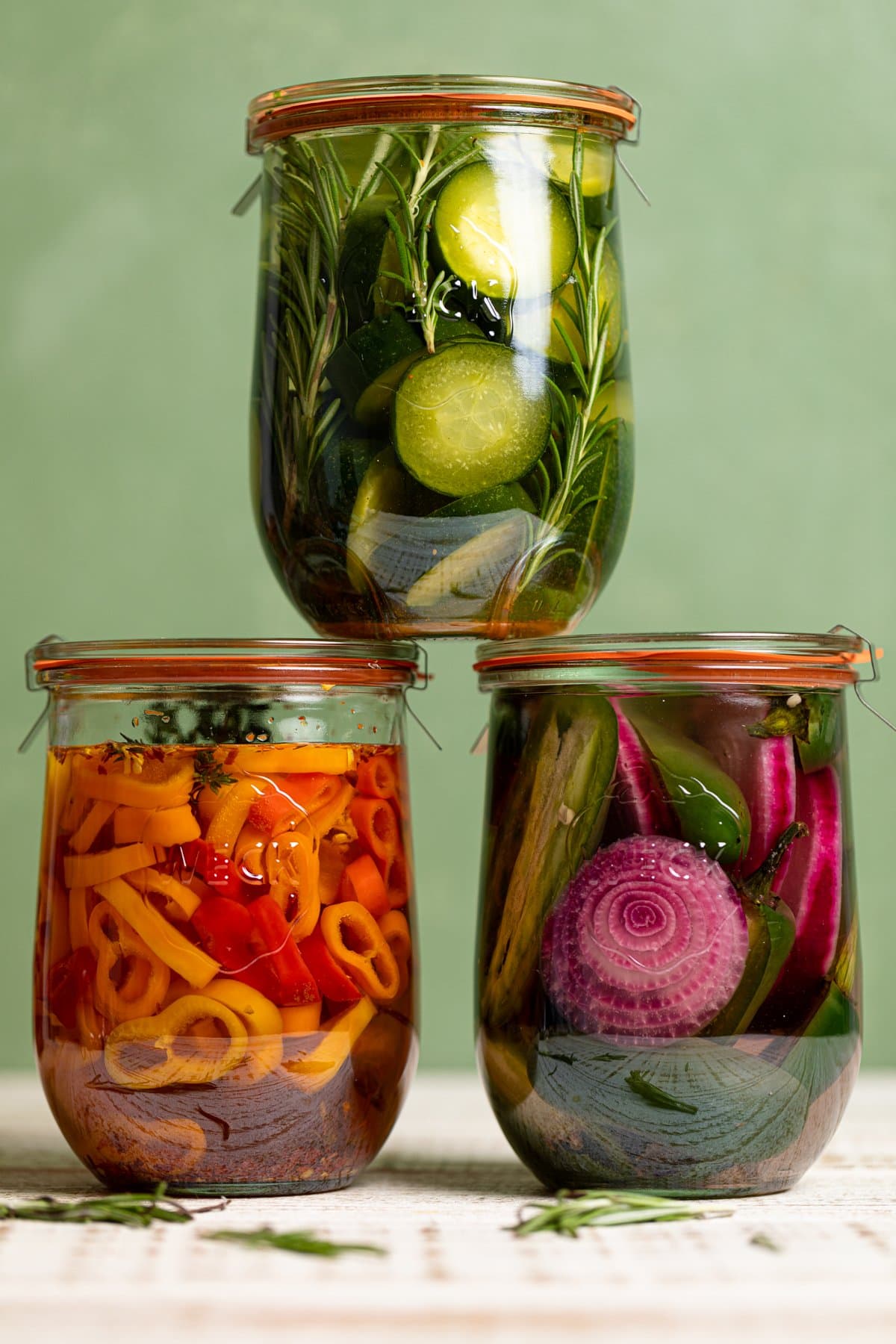 Other Great Recipes in Jars
If you're a fan of eating from jars in general, I've included a few recipes that include some sort of jar (or can be enjoyed in one) and can also be a great thing to make for the perfect meal prep:
MADE OUR RECIPE(S)?
If you make this How to Make Quick Pickled Vegetables, tag @orchidsnsweettea_ on Instagram and hashtag it #orchidsandsweettea!
5-6

cups

your favorite veggies

(i.e. cucumbers, grape tomatoes, okra, green beans, asparagus, red onion, zucchini, cauliflower florets, bell peppers, etc.)
ADDITIONAL INGREDIENTS:
1

tablespoon

cajun seasoning

1

tablespoon

red pepper flakes

2

Tbsps

organic cane sugar

whole cloves, dill seeds, whole allspice, celery seeds, star anise, cumin seeds, fresh ginger slices, or other fresh herbs
PREP THE JARS:
Ensure that you begin by washing the jars with soapy warm water and rinse well. Either let the jars air dry completely or dry by hand.
PREP THE VEGGIES:
Be sure to wash the veggies and peel or trim the ends off the veggies that require it: slice, quarter, cut into spears or leave them whole, if desired.
MAKE THE PICKLING BRINE:
In a small pot over high-heat, add the pickling liquid brine and bring to a boil, stirring everything together until the salt and turmeric dissolves.
ASSEMBLE THE JARS:
Divide the herbs, spices, or garlic along with the veggies into prepared jars---leaving about ½ inch of space at the top for the liquid.

Carefully, pour the brine atop the veggies in each jar (not filling it to the very top), slightly shake jar to remove air bubbles and place the lids on the jars and screw on the rings tight.
LET EVERYTHING COOL + STORE:
Let the jars sit and cool at room temperature completely before storing in the refrigerator. It's always best to store in the refrigerator for at least 48 hours for best flavor.
STORAGE: These pickled veggies can be stored in the refrigerator for up to 2 months for optimal freshness. CANNING METHOD: See the post for canning method to-do's, tips, storage, etc.
Calories:
123
kcal
|
Carbohydrates:
27
g
|
Protein:
4
g
|
Fat:
2
g
|
Saturated Fat:
0.3
g
|
Polyunsaturated Fat:
1
g
|
Monounsaturated Fat:
0.2
g
|
Sodium:
5321
mg
|
Potassium:
672
mg
|
Fiber:
5
g
|
Sugar:
18
g
|
Vitamin A:
3156
IU
|
Vitamin C:
13
mg
|
Calcium:
96
mg
|
Iron:
3
mg
How to Make Quick Pickled Vegetables