Serve this Caramel Apple French Toast Trifle for a twist on classic french toast with a homemade caramel drizzle and tender, spiced apples in every layer.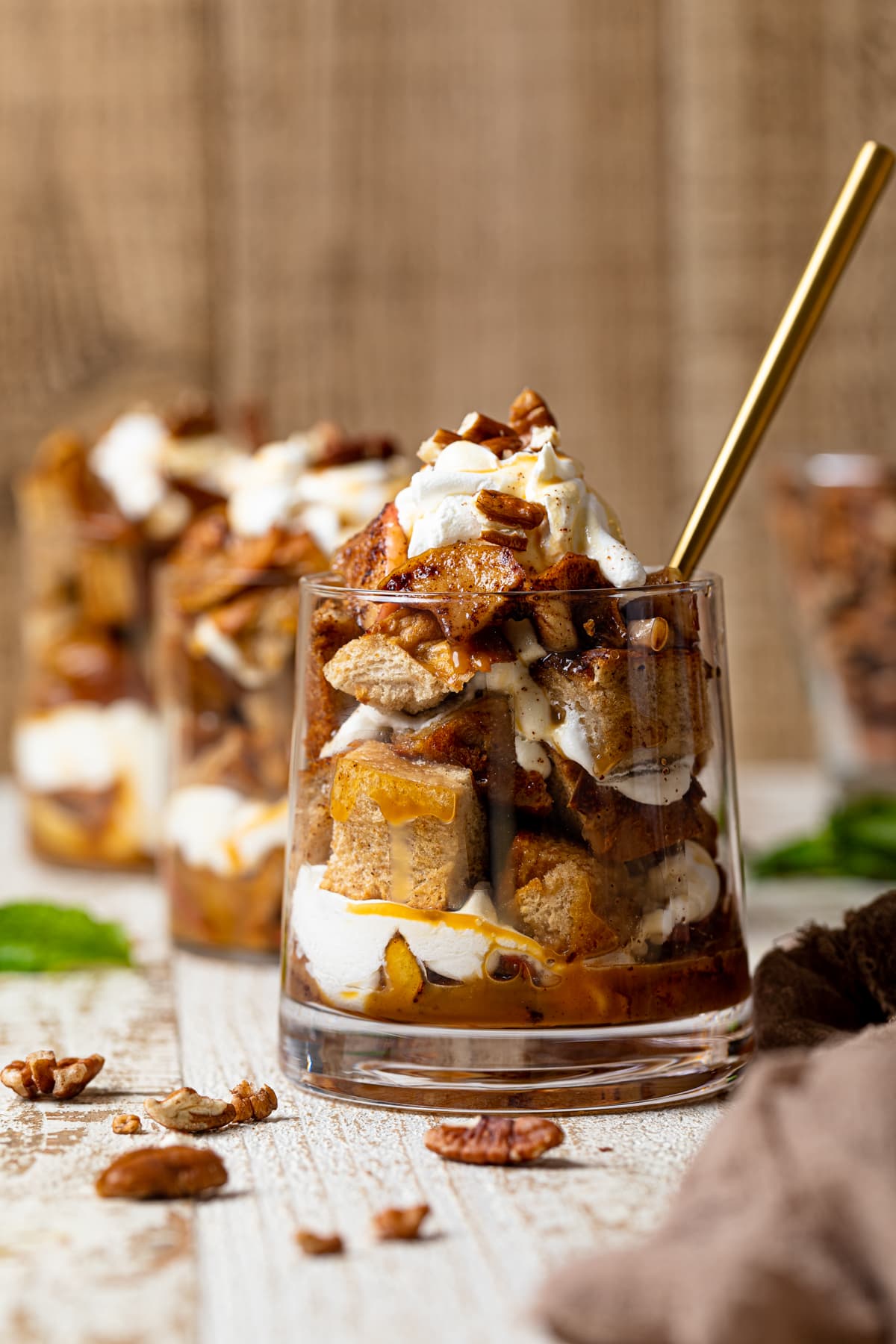 If you're as big of a fan of french toast as I am (and my family), you're going to love this new way to serve your favorite breakfast---Caramel Apple French Toast Trifle. When you layer french toast like a trifle, it's as welcome for dessert as it is in the morning! And this version is fully loaded with sweet, juicy apples and homemade sticky caramel sauce. With nuts for crunch, you have a decadent treat for any time of day.
Of course, if you're more into traditional french toast then this family-friendly Caramelized Apple French Toast is right up your alley! In addition, you're sure to love this Pumpkin French Toast, Baked Crunch Cinnamon French Toast, Blueberry French Toast Casserole, and these Baked Vegan Apple Cider Donuts!
What to Expect with this French Toast Trifle?
A nice thickness in each bite.
Velvety texture. Soft. Tender.
The perfect amount of sweetness----between the apples + caramel.
A nice crunch from the pecans.
Amazing nutty flavor from the toasted pecans.
Warm.
Filling.
And just absolutely wholesome and perfect for the Fall weather.
Baked vs. Pan-Fried French Toast
Both baked and pan-fried French toast recipes are delicious, however, I prefer the one that takes less active cooking time, especially on the weekends where I'm extremely laid back.
Instead of frying your French toast in butter over the stove, try a baked version. It's easier to whip together, makes less mess (yes, to tossing everything together in one dish), makes a pretty decent batch for the entire family, and is basically "set it + forget it" vibes (hello, oven).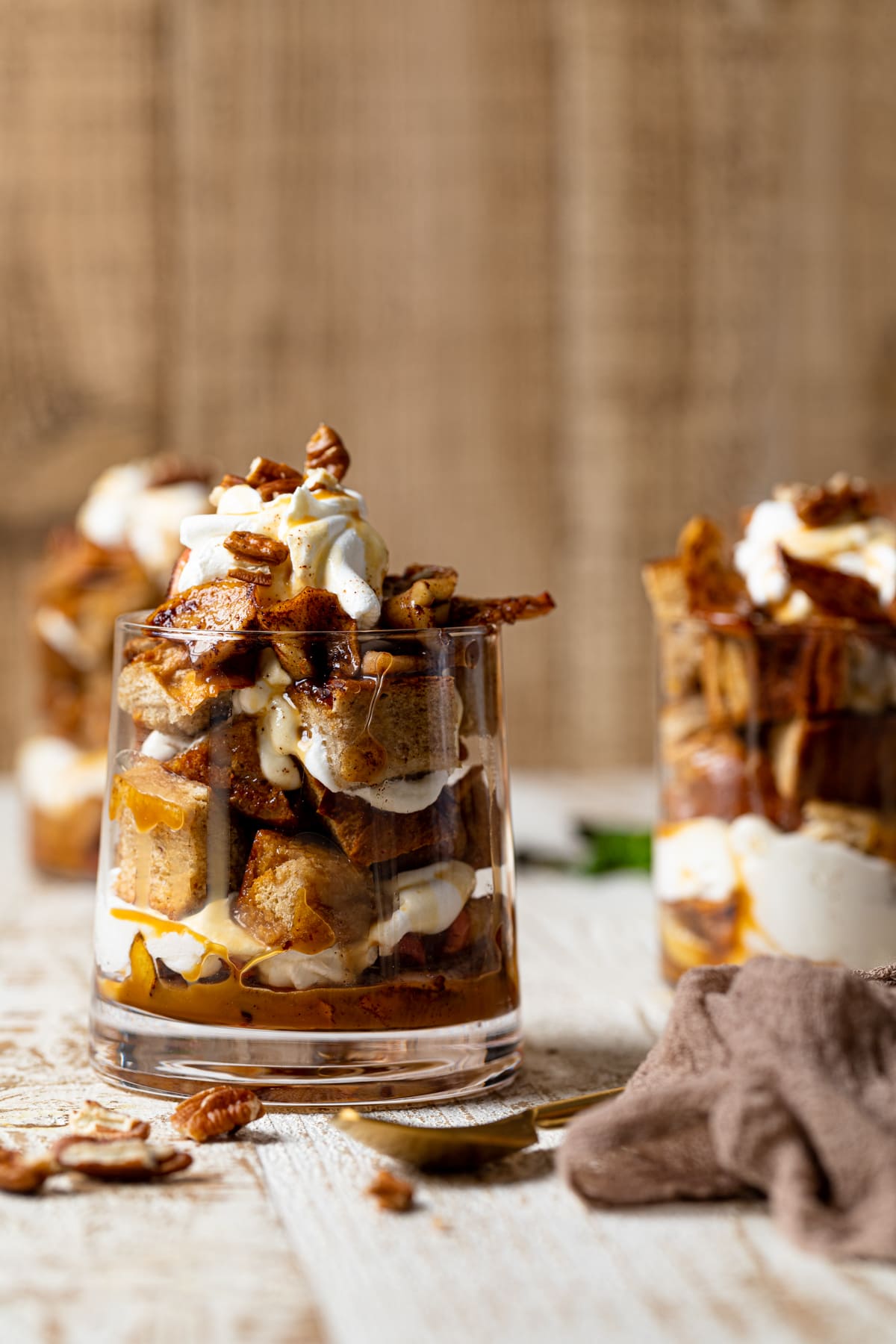 Ingredients for French Toast Parfaits
Here's what you need to make this simple, but extravagant breakfast:
Brioche bread. You can find this at the store or make your own Easy Fluffy Vegan Brioche Bread!
Almond milk. Any other kind of plant-based (or regular dairy) milk will work.
Eggs. These should be at room temperature to make them easy to blend.
Spices. Use cinnamon, nutmeg, and allspice for a classic trio of flavors.
Maple syrup. Use pure syrup, not imitation!
Fluffy French Toast Trifle
You can easily make this Caramel Apple French Toast Trifle recipe vegan and/or gluten-free. To make gluten-free french toast, simply use your favorite gluten-free bread (remember, the fluffier, the better).
For a vegan version, follow these swaps:
Use vegan challah or ciabatta bread (regular brioche and challah loaves have eggs, butter and milk in them)
Use a vegan egg substitute, like Just Eggs or chia eggs
Cook the French toast in vegan butter
Top with coconut whipped cream instead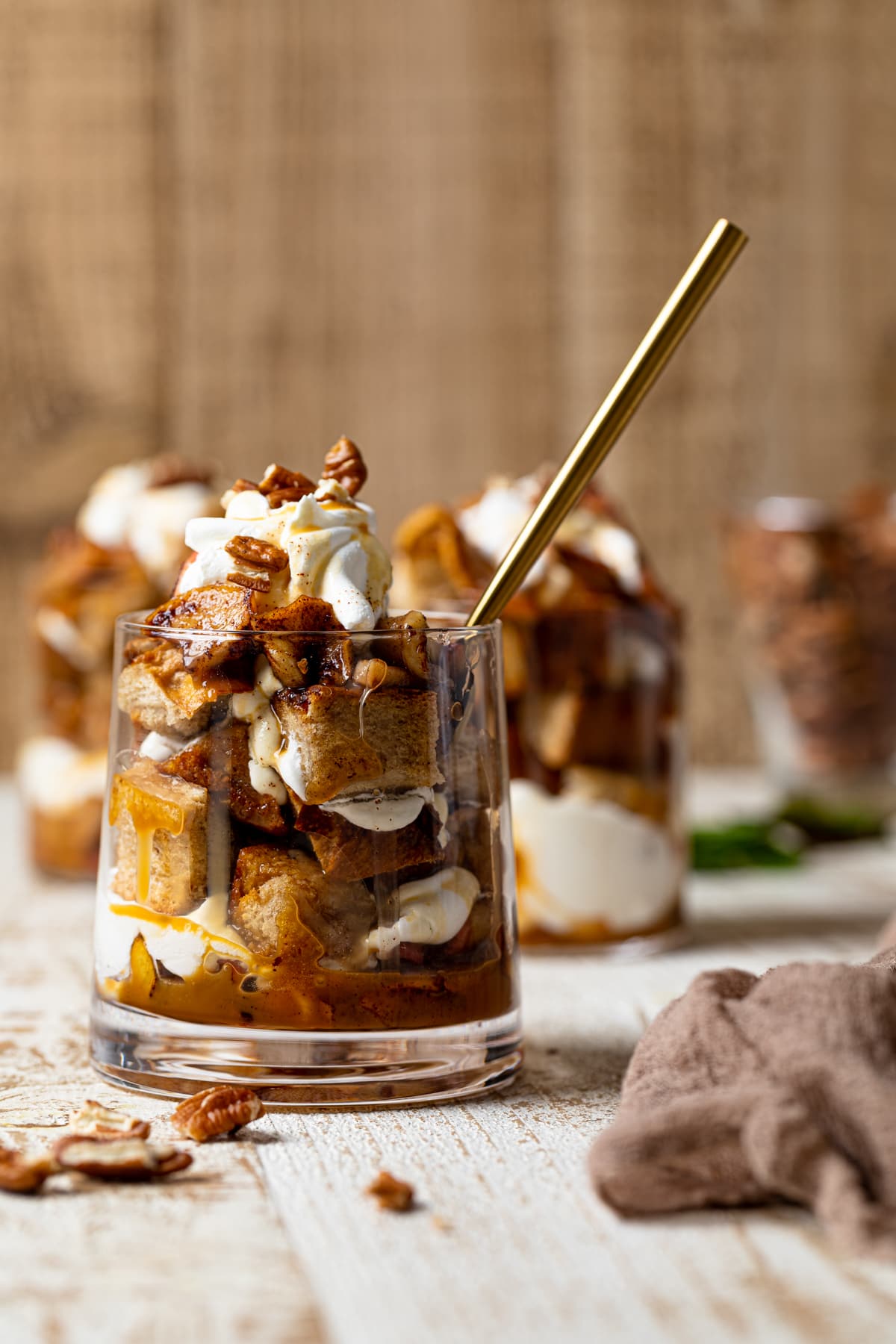 Maple Roasted Apples
Each layer of the French toast trifle is layered with sweet and spiced maple roasted apples. HEre's what you need to make them:
Apples. I love Honeycrisps for this recipe. You can use your favorite red apple if you like.
Maple syrup
Olive oil. This enhances the caramelized flavor of the roasted apples.
Spices. Again, reach for cinnamon, nutmeg, and allspice.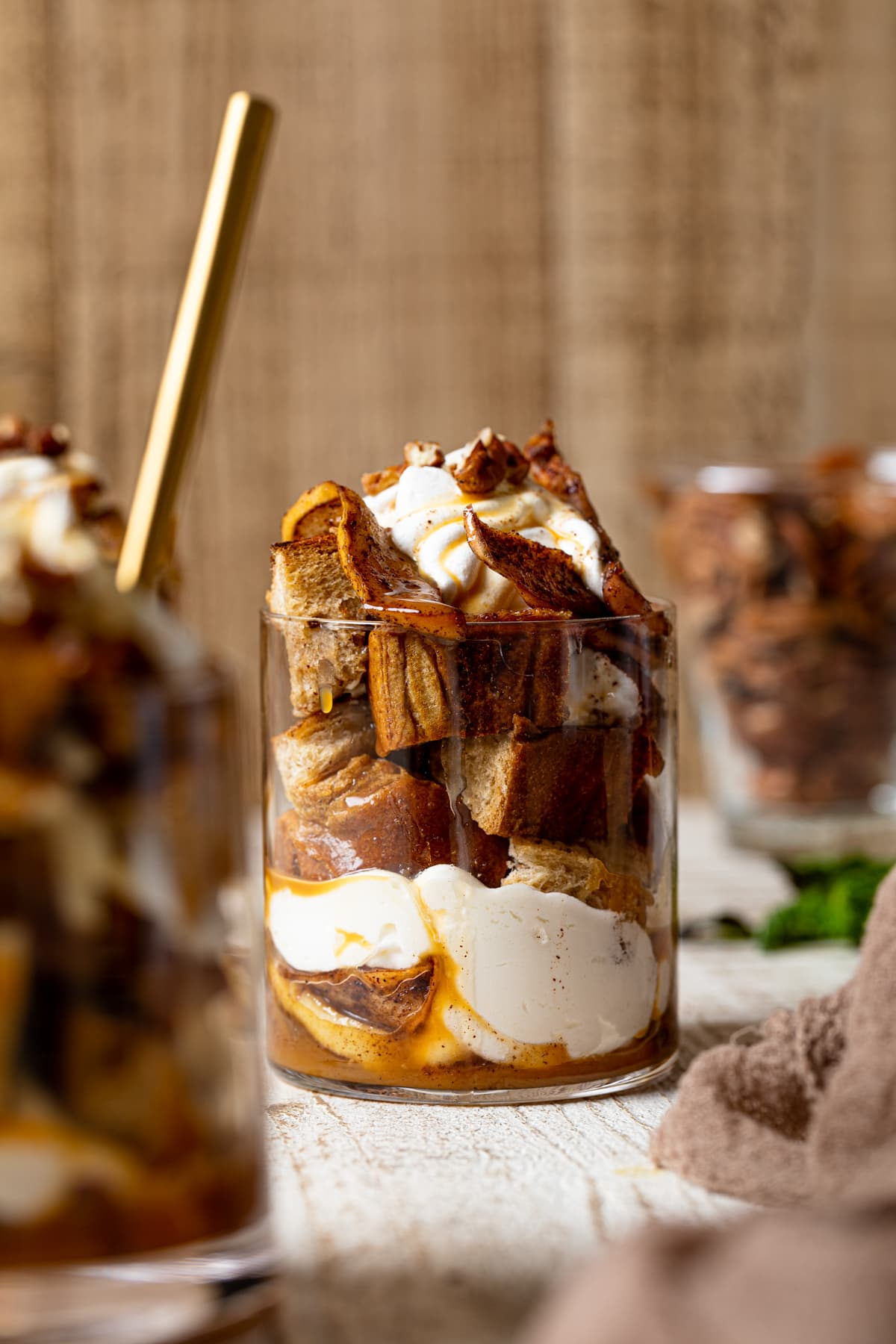 Vegan Caramel Sauce
The creamy, gooey caramel sauce brings this breakfast to totally new heights. Here are the ingredients:
Brown sugar. I recommend organic.
Vegan butter. You can also use regular butter if you're not plant-based or dairy-free.
Coconut milk. Coconut cream also works great for a richer caramel sauce!
Sea salt. To enhance the sweet flavor of your caramel.
How to Prepare Caramel Sauce for this French Toast?
Here's a step-by-step guide to preparing your vegan caramel sauce:
Get a medium-sized skillet and toss in some brown sugar.
Keep the heat about medium-high and stir the sugar constantly using a rubber spatula or a basting brush.
Add vegan butter slice and continue to stir until the mixture has melted.
Once the mixture is bubbly, add coconut milk to the skillet.
Keep stirring until the sauce thickens.
Remove the pan from heat and allow it to cool.
You've now got your dairy-free, healthier, and delectable caramel sauce ready.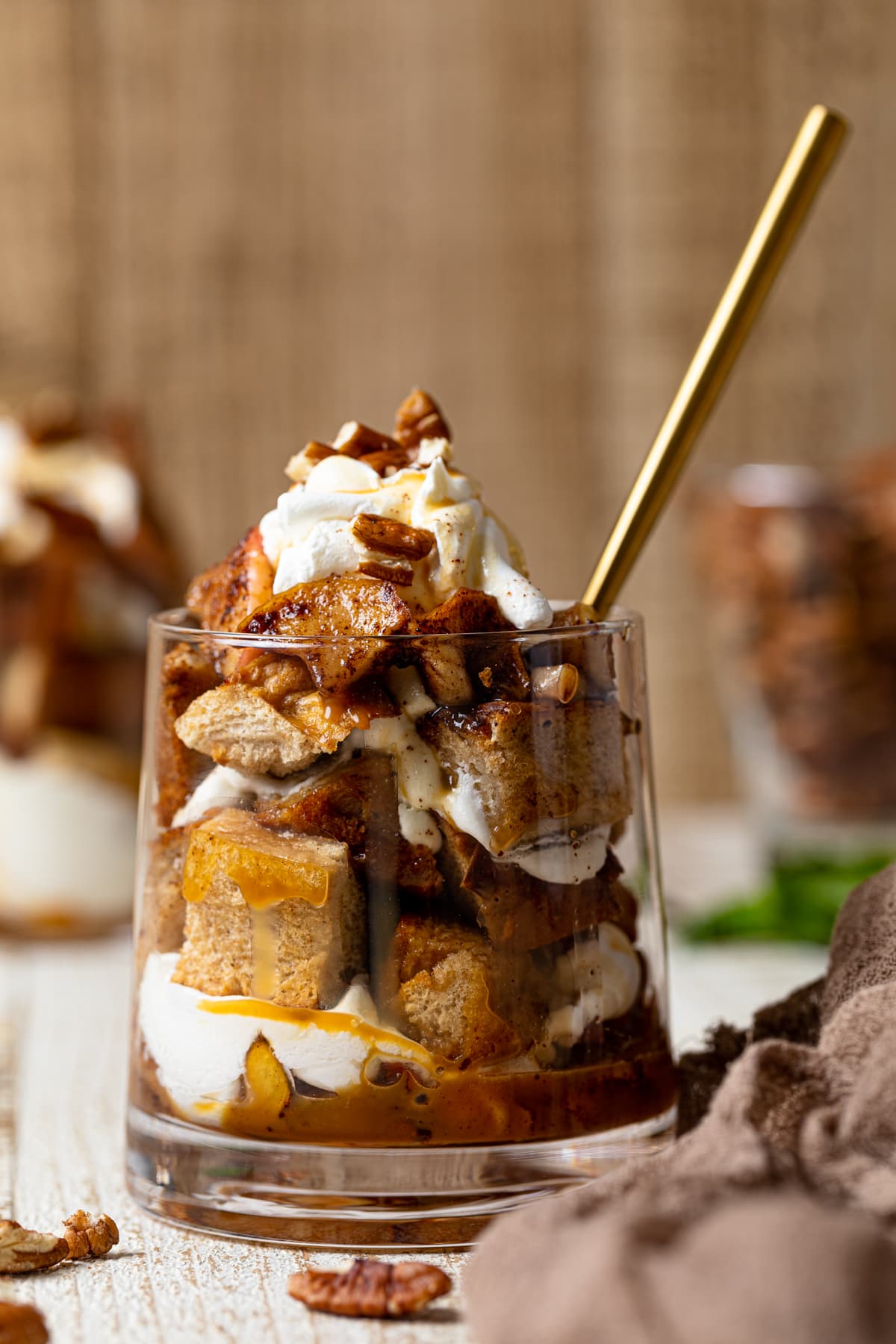 Assembling French Toast Trifles
When you're ready to serve your impressive French toast trifles, have your baked french toast, roasted apples, caramel sauce, and toppings ready.
Start by slicing each piece of toast into cubes. Place a layer of French toast cubes in the bottom off each parfait glass or jar. Next, add a layer of coconut whipped cream, followed by a scoop of maple roasted apples. Repeat all three layers again. Finally, top each parfait with whipped cream and a drizzle of caramel sauce.
Dig in!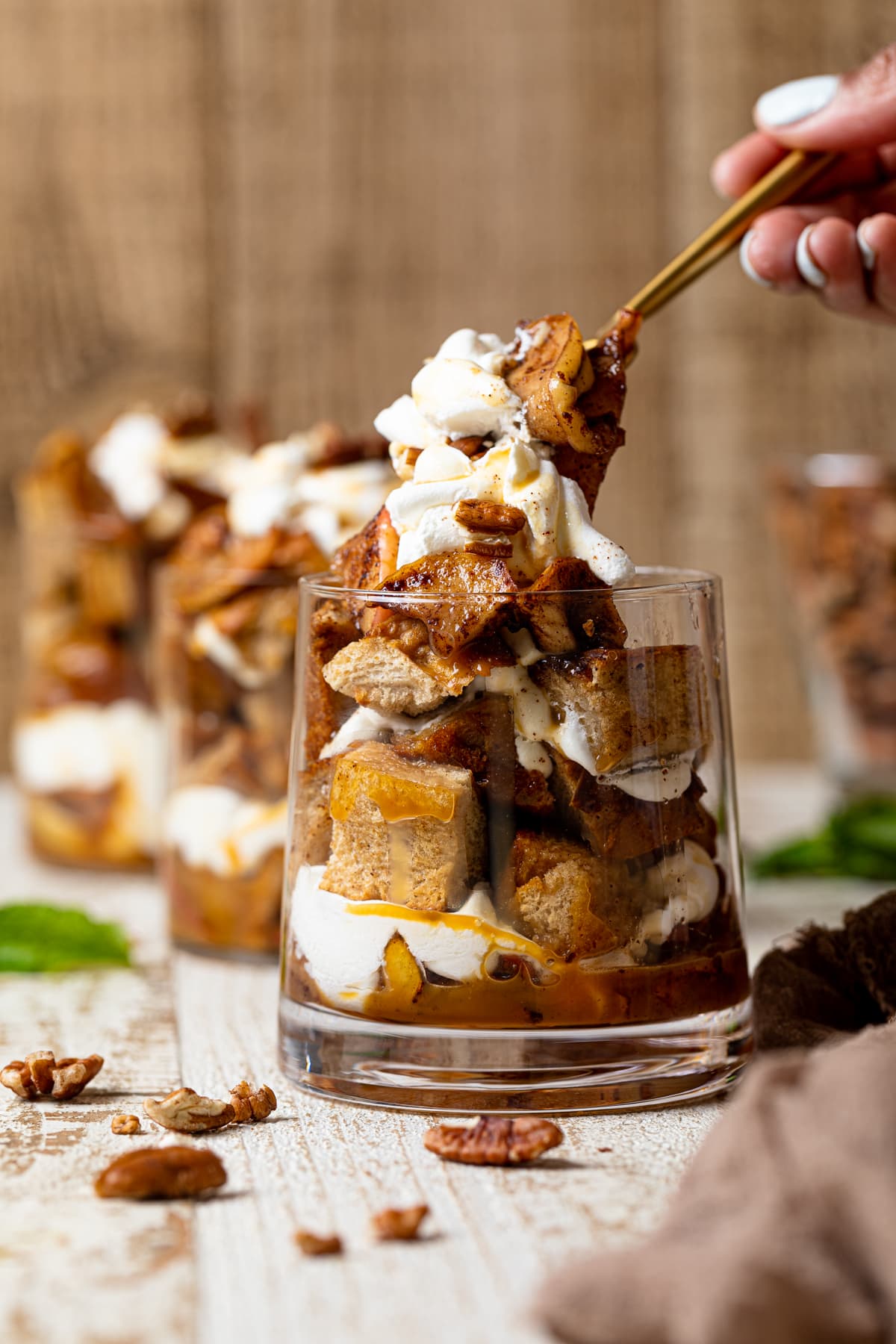 More French Toast Recipes
MADE OUR RECIPE?
If you make this Caramel Apple French Toast Trifle, tag @orchidsnsweettea_ on Instagram and hashtag it #orchidsandsweettea
MAPLE ROASTED APPLES:
2

medium

Honeycrisp apples, diced into medium chunks (skin on)

¼

cup

maple syrup + 2 Tbsps, divided

1

tablespoon

Extra virgin olive oil

1

teaspoon

ground cinnamon

½

teaspoon

ground nutmeg

¼

teaspoon

ground allspice
HOMEMADE VEGAN CARAMEL SAUCE:
TO MAKE FRENCH TOAST:
Pre-heat the oven to 375 degrees Fahrenheit and line a baking sheet with parchment paper.

Whisk together all the ingredients (except for the bread) into a large bowl and set aside so that everything marries together and activates, about 5 minutes.

Next, dip 1 slice of bread into the mixture, shaking off any excess liquid and place it onto prepared baking sheet. Repeat until all breads are dipped.

Bake in the oven for 15-20 minutes or until golden brown and crisp.
ROASTED MAPLE APPLES:
In a bowl, add the apple chunks, maple syrup, olive oil, ground cinnamon, nutmeg, and allspice, and toss until the apples are fully coated. Transfer to a baking sheet (lined with parchment paper) and arrange in the single layer. Bake until the apples are golden and knife tender, 10 to 15 minutes.
HOMEMADE VEGAN CARAMEL SAUCE:
Heat the brown sugar in a medium skillet over medium-high heat and stir constantly using a rubber spatula until clumps are formed. Add vegan butter and continue to stir until everything has melted and become a dark 'amber-like' color. Continue to stir consistently until fully melted and bubbly, about 2-3 minutes.

Now, slowly whisk in the coconut milk and continue stirring until well incorporated and sauce has fully thickened. Remove from heat and allow to cool slightly before using. Set aside.
ASSEMBLY:
Once done----remove the bread from the oven and cut each bread into medium-sized cubes.

Create trifle by adding a few cubes of bread to the bottom of jar or glass, followed by coconut whipped cream, and roasted apples. Repeat layer once more.

Make sure that coconut whipped cream is at the very top of trifle and drizzle with caramel sauce and maple syrup, if desired and enjoy!

Bon Appetit!
BREAD: Instead of brioche bread, you can also use vegan challah or ciabatta bread or any other rustic bread. In most cases, day old bread works best!
HOMEMADE VEGAN BRIOCHE: To make your own vegan brioche bread, see my latest recipe.
STORAGE (CARAMEL SAUCE): Leftover caramel sauce can be stored in a tightly sealed mason jar for up to two weeks. When ready to use, simply reheat sauce in the microwave at 15 second intervals until softened and at room temp.
Calories:
1008
kcal
|
Carbohydrates:
128
g
|
Protein:
16
g
|
Fat:
51
g
|
Saturated Fat:
21
g
|
Polyunsaturated Fat:
7
g
|
Monounsaturated Fat:
13
g
|
Trans Fat:
3
g
|
Cholesterol:
285
mg
|
Sodium:
683
mg
|
Potassium:
365
mg
|
Fiber:
3
g
|
Sugar:
81
g
|
Vitamin A:
985
IU
|
Vitamin C:
5
mg
|
Calcium:
247
mg
|
Iron:
3
mg