This Easy Dairy-Free Blueberry French Toast is perfect for breakfast or a nice brunch. The slices are thick, with a custardy center and crispy edges. Made without dairy and topped with a  sweet blueberry compote.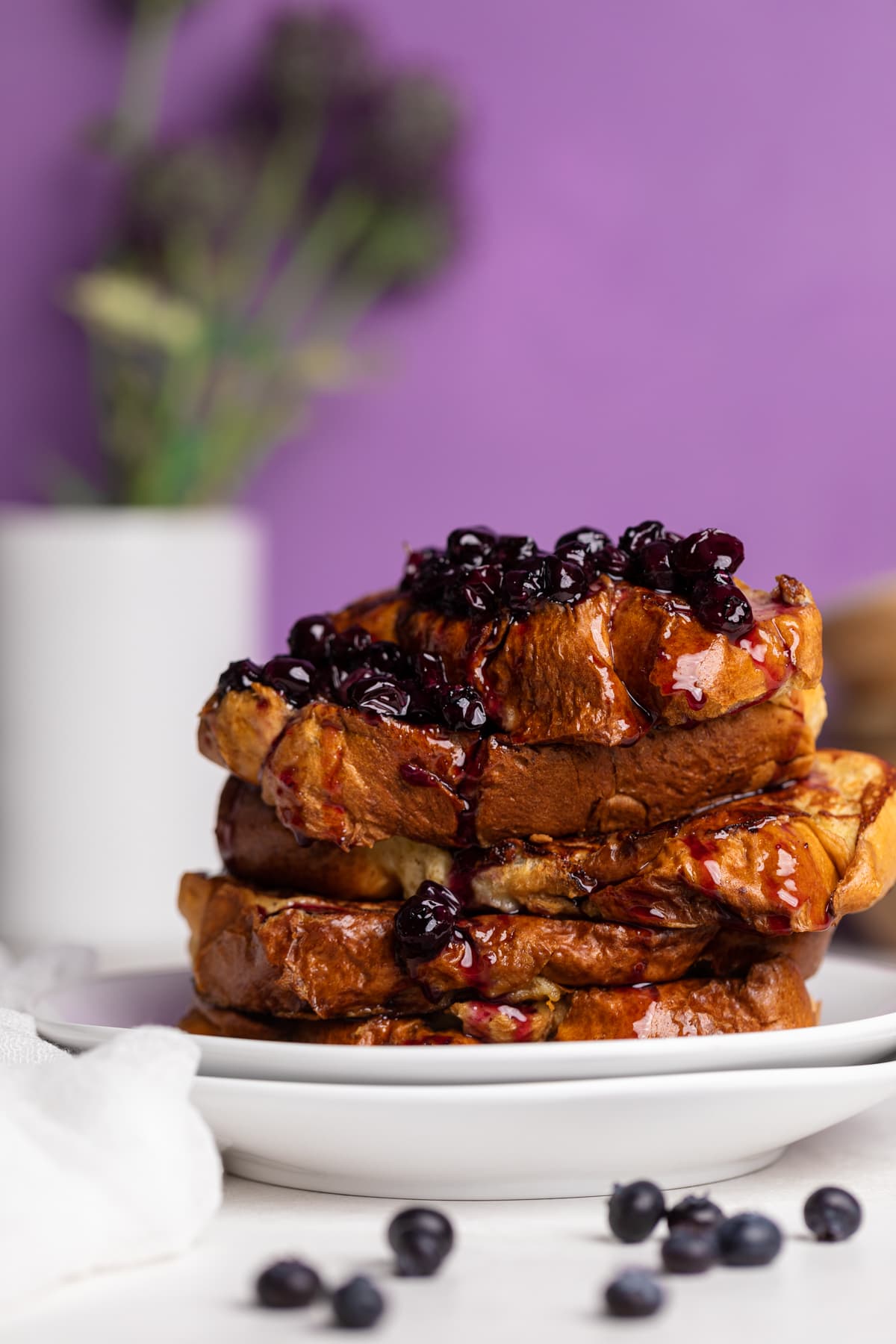 If you know me, you know that I love a tasty breakfast. During the week on most days, I tend to grab something quick like a Vegan Breakfast Parfait with Blueberries & Granola, since I often have to get to work. However, the weekends are my favorite because I get a chance to make something more intricate! 
This french toast is one of my go-to weekend breakfast recipes lately, and the whole family loves it. I think yours will too!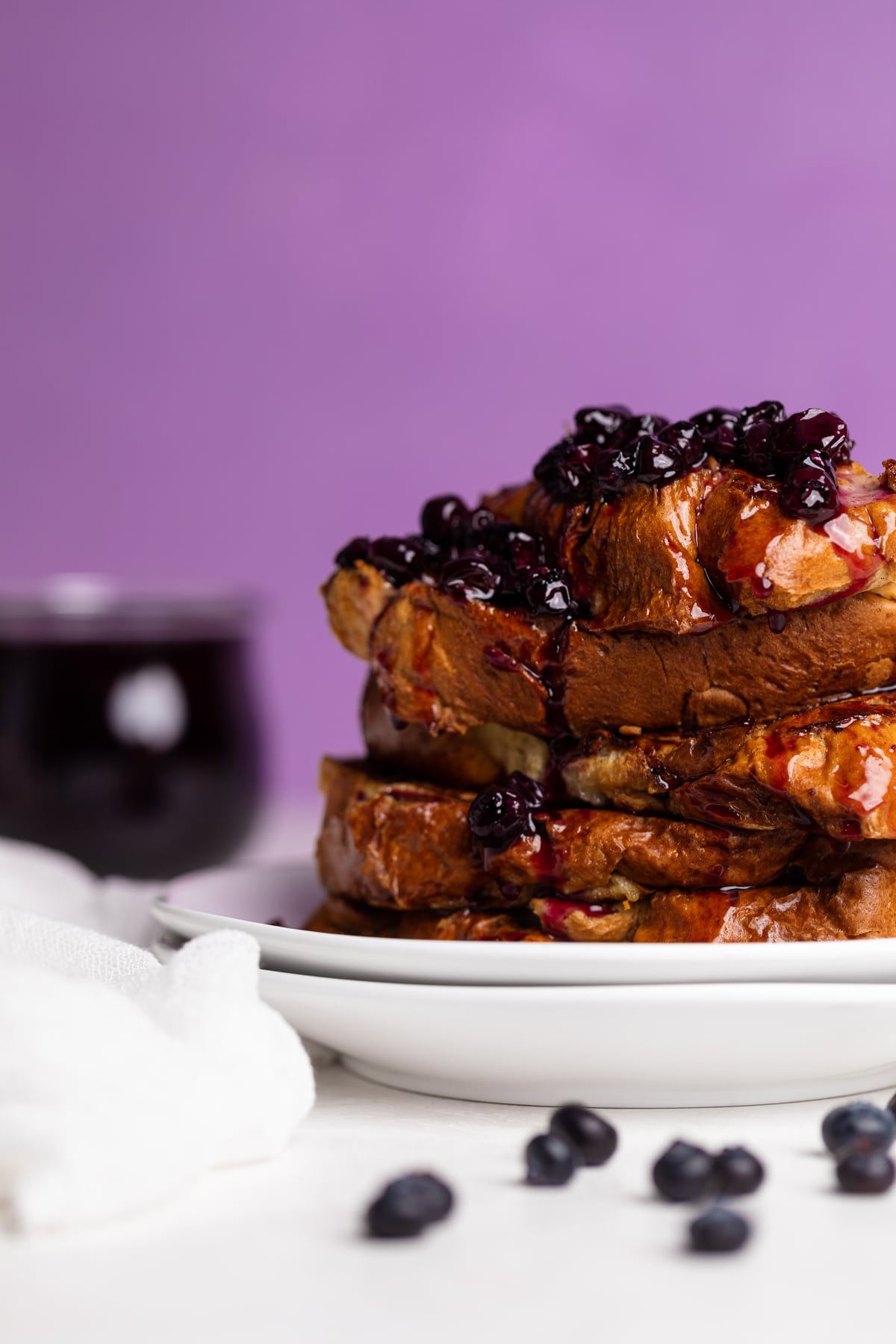 Why You'll Love This French Toast Recipe
There's a lot to love about this dairy-free blueberry french toast, including:-
The bread is thick and fluffy
It has a velvety, soft and tender texture in the center.
Not too sweet.
It has a light crunch from the Almond slices on top.
It's warm and comforting.
A healthy filling breakfast without any dairy.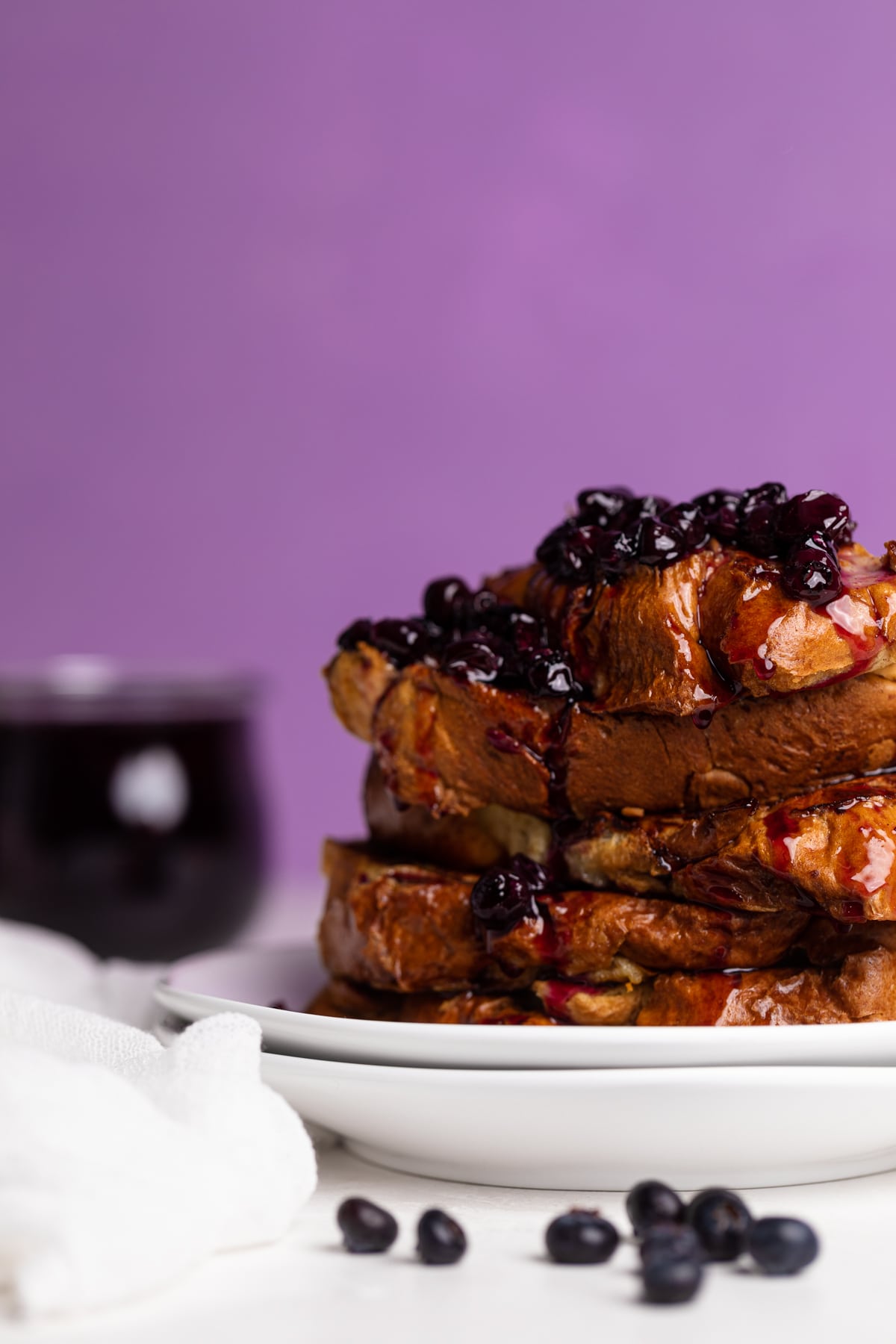 How to Make Dairy-Free French Toast
Here's what you need to make this healthy french toast:
Almond milk. You can use any plant-based milk you like. Make sure its room temperature for easy mixing. 
Eggs. For a vegan french toast recipe, replace the eggs with a mixture of chia seeds and water. See the notes below the recipe for how to. 
Cinnamon. For a touch of warming spice. 
Vanilla. To highlight the creamy texture and warming flavor. 
Agave. You can swap this vegan sweetener for honey or maple syrup if you like. 
Vegan brioche. My Easy Fluffy Vegan Brioche Bread is my favorite for this recipe.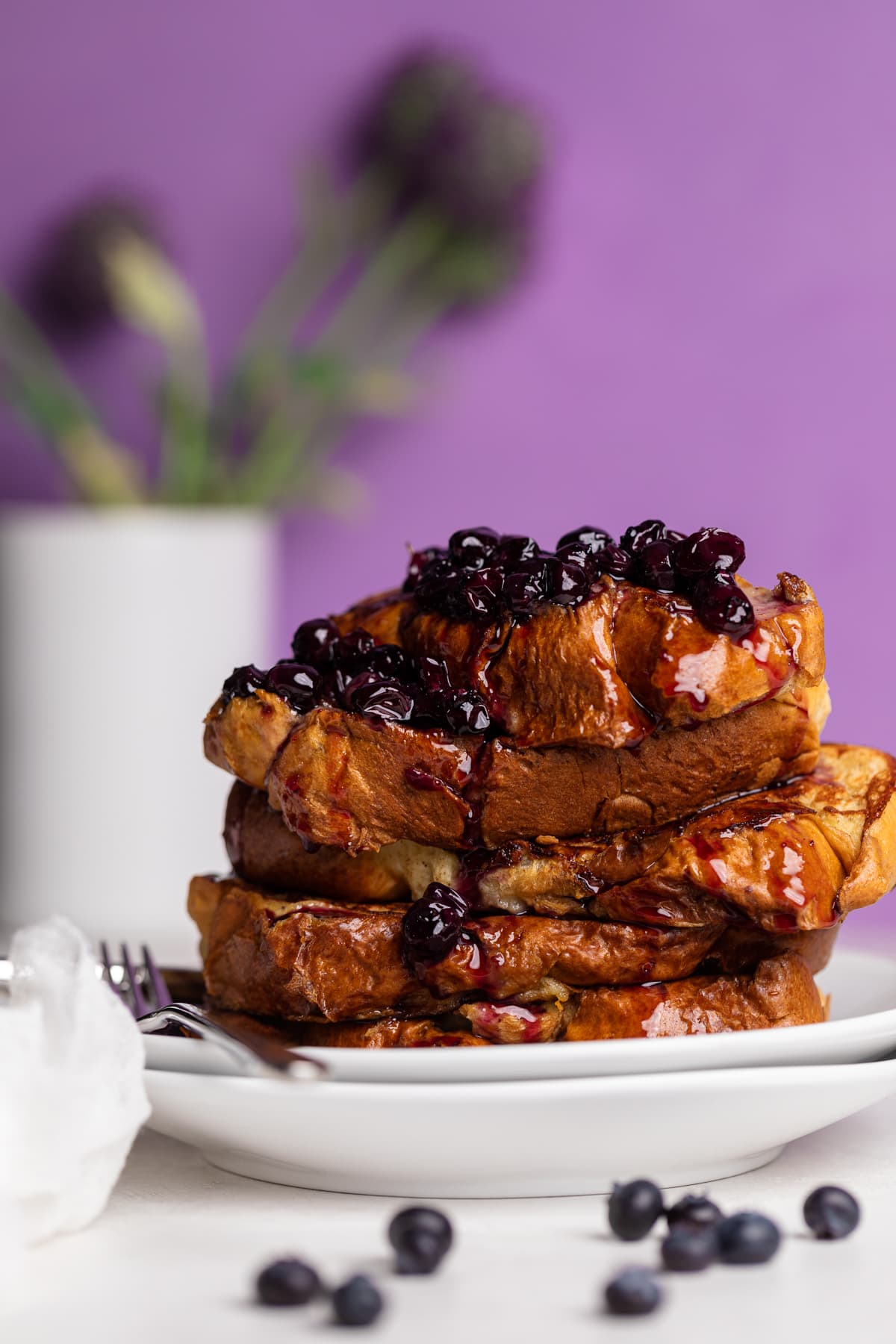 Blueberry Compote
The best part about this stack of dairy-free french toast is the gooey and sweet blueberry compote. 
All you need to make it is:
Blueberries. Opt for organic berries for the best flavor and nutrition.
Organic pure cane sugar. You can also use honey, maple syrup or coconut sugar if you prefer. 
Lemon juice. To balance the sweetness.
Vanilla extract for a bit of warming flavor.
Arrowroot starch. This is a great thickener for the compote to make it portable and smooth. 
The most important thing is to make sure the compote comes to a simmer after you add the starch. It needs to reach a boil to fully expand and cook.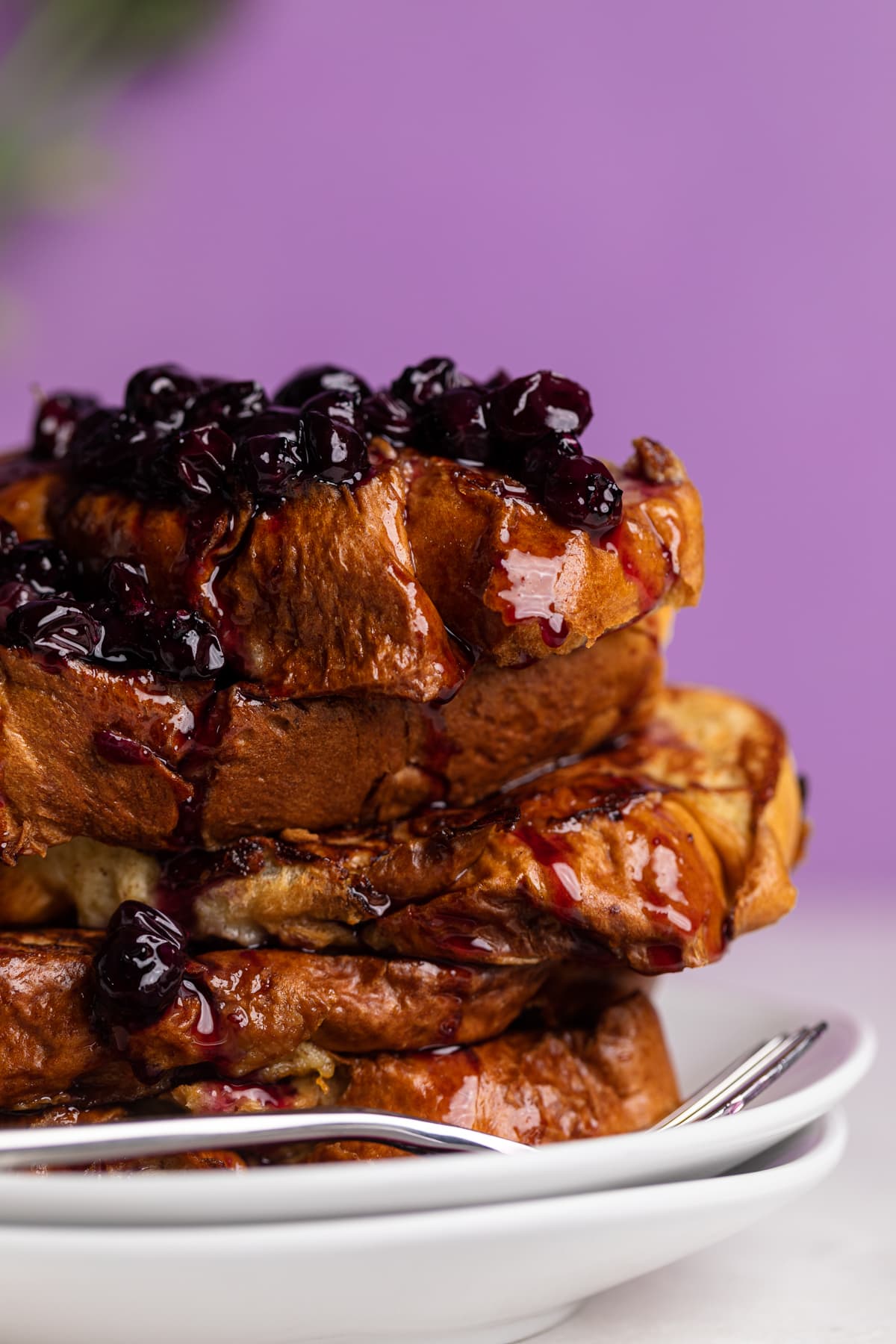 Topping French Toast
French toast is best served fresh off the griddle. To serve up your dairy-free breakfast, stack french toast and spoon blueberry compote on top. For crunch, add sliced almonds on top. 
And if you like extra sweetness or a bit more protein, you can add a drizzle of maple syrup and a dollop of vegan yogurt. Delicious!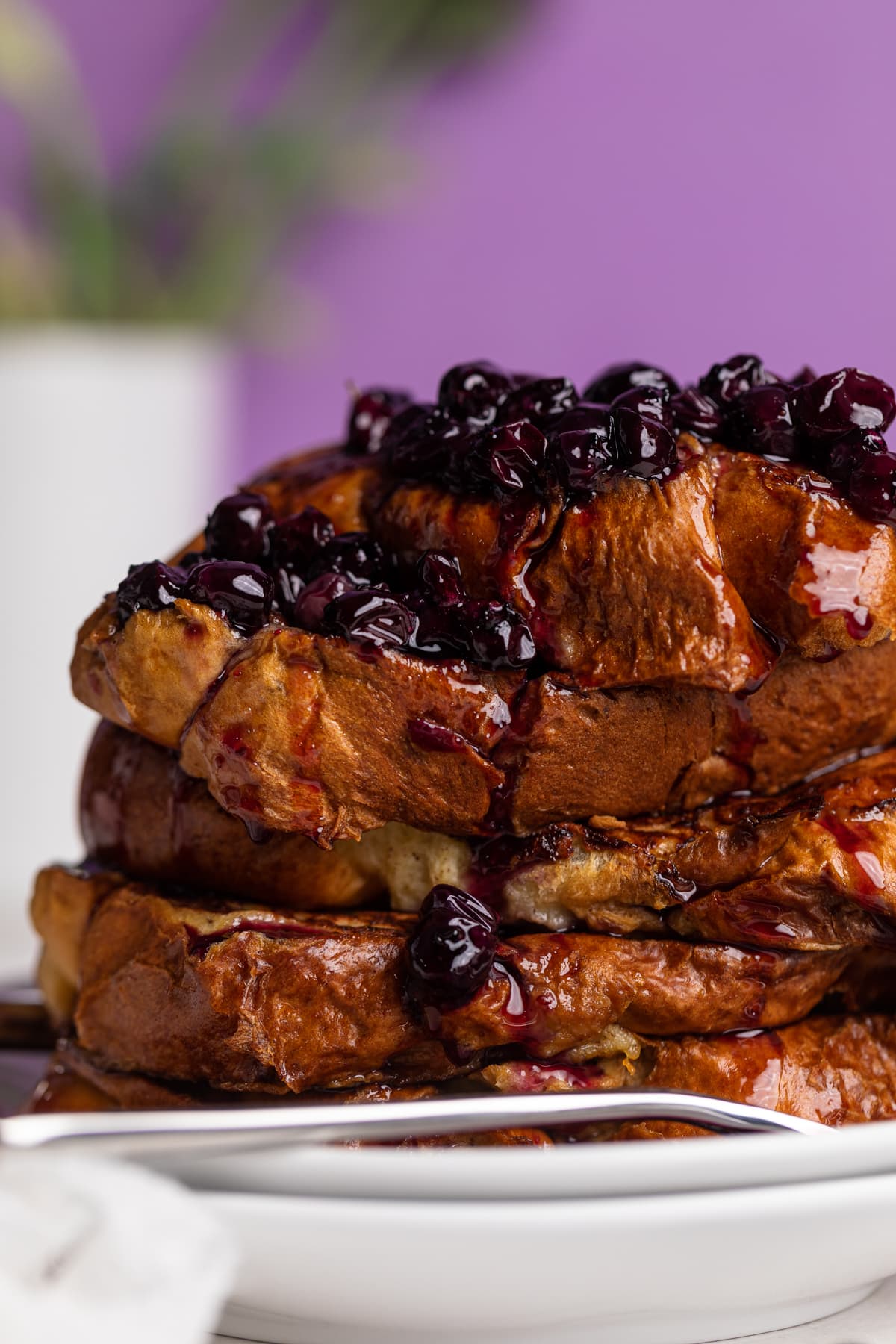 More Breakfast Recipes to Try
This Delicious French Toast with Caramelized Apples recipe is irresistibly good and is not only perfect for the fall season, but is a real treat for those early mornings or family gatherings.
These Pumpkin French Toasts + Praline Sauce have a delicious vegan option and rich, pumpkin-spiced flavor. 
Balsamic Strawberry Brioche French Toast is sweet, savory and wonderfully fluffy. 
MADE OUR #RECIPE(S)?
If you make these delicious Dairy-Free Blueberry French Toast or any other recipe from us, be sure to tag us on Instagram at #Orchidsandsweettea so that we can share the love!
FRENCH TOAST:
1

loaf

vegan brioche bread 

(Preferably a day old; See Notes for Vegan version)

1

cup

Almond milk, Unsweetened (Room Temp.)

(You can use your fave plant-based milk)

3

large

organic eggs, room temperature

(For Vegan option, see Notes!)

1

teaspoon

ground cinnamon

1

tablespoon

vanilla extract

1-2

Tbsps

Agave syrup or pure maple syrup

vegan butter, for cooking
BLUEBERRY COMPOTE/TOPPING:
2

cups

Blueberries, fresh or frozen

½

cup

organic cane sugar

1

tablespoon

freshly-squeezed lemon juice

¼

cup

fresh water

1

teaspoon

vanilla extract

1

teaspoon

Arrowroot starch + 1 tablespoon fresh WARM water
FRENCH TOAST:
Whisk together all the ingredients (except for the bread) into a large bowl and set aside so that everything marries together and activates, about 5 minutes.

Preheat griddle or large skillet over medium-high heat and add 1 tablespoon of vegan butter, melting it.

Dip 1 slice of bread into the batter, soaking it in for a few seconds on each side. Place slice unto the heated griddle, cooking on each side for about 3-4 minutes until golden brown. Repeat until all french toast have been made.
BLUEBERRY COMPOTE/TOPPING:
In a medium saucepan over medium-high heat, add the blueberries, lemon juice, cane sugar, vanilla, and water together, stirring until everything comes to a boil and the blueberry juices are released. Reduce heat to medium-low and continue cooking until the liquid is reduced considerably, stirring occasionally about 10 minutes. To thicken, mix together the arrowroot and WARM WATER until combined and "milky" in consistency. Add to the blueberry mixture and stir until it begins to thicken.

Once done, remove from heat.

To serve—stack french toast atop each other, spoon a generous amount of blueberry compote/topping and drizzle with maple syrup, if desired.

Bon Appetit!
BREAD: Instead of brioche bread, you can also use vegan challah or ciabatta bread or any other rustic bread. In most cases, day old bread works best!
VEGAN BRIOCHE: To make your own vegan brioche bread, see my latest recipe.
VEGAN OPTION: To make these French toasts vegan, whisk together 1 tablespoon chia seeds and 3 Tbsps WARM water in a small bowl until combined and let it sit for 10 minutes until thickened completely. This makes 1 "Chia Egg". ** NOTE: For this recipe just use 2 "chia eggs" (that means 2 Tbsps chia seeds + 6 Tbsps WARM water).**
Calories:
587
kcal
|
Carbohydrates:
81
g
|
Protein:
15
g
|
Fat:
24
g
|
Saturated Fat:
12
g
|
Polyunsaturated Fat:
1
g
|
Monounsaturated Fat:
2
g
|
Trans Fat:
0.01
g
|
Cholesterol:
285
mg
|
Sodium:
525
mg
|
Potassium:
130
mg
|
Fiber:
2
g
|
Sugar:
37
g
|
Vitamin A:
973
IU
|
Vitamin C:
10
mg
|
Calcium:
156
mg
|
Iron:
2
mg
Easy Dairy-Free Blueberry French Toast.