These Blueberry Whole Wheat Pancakes are absolute comfort and fluffiness on a plate to kick start your morning! Completely fluffy, soft, and naturally sweetened, these pancakes are truly irresistible—especially with the burst of blueberries and warm spices of cinnamon + nutmeg along with the tastiness of whole-grains. Made in just a few short steps and under 40 minutes TOTAL. Vegan and Oil-free options available.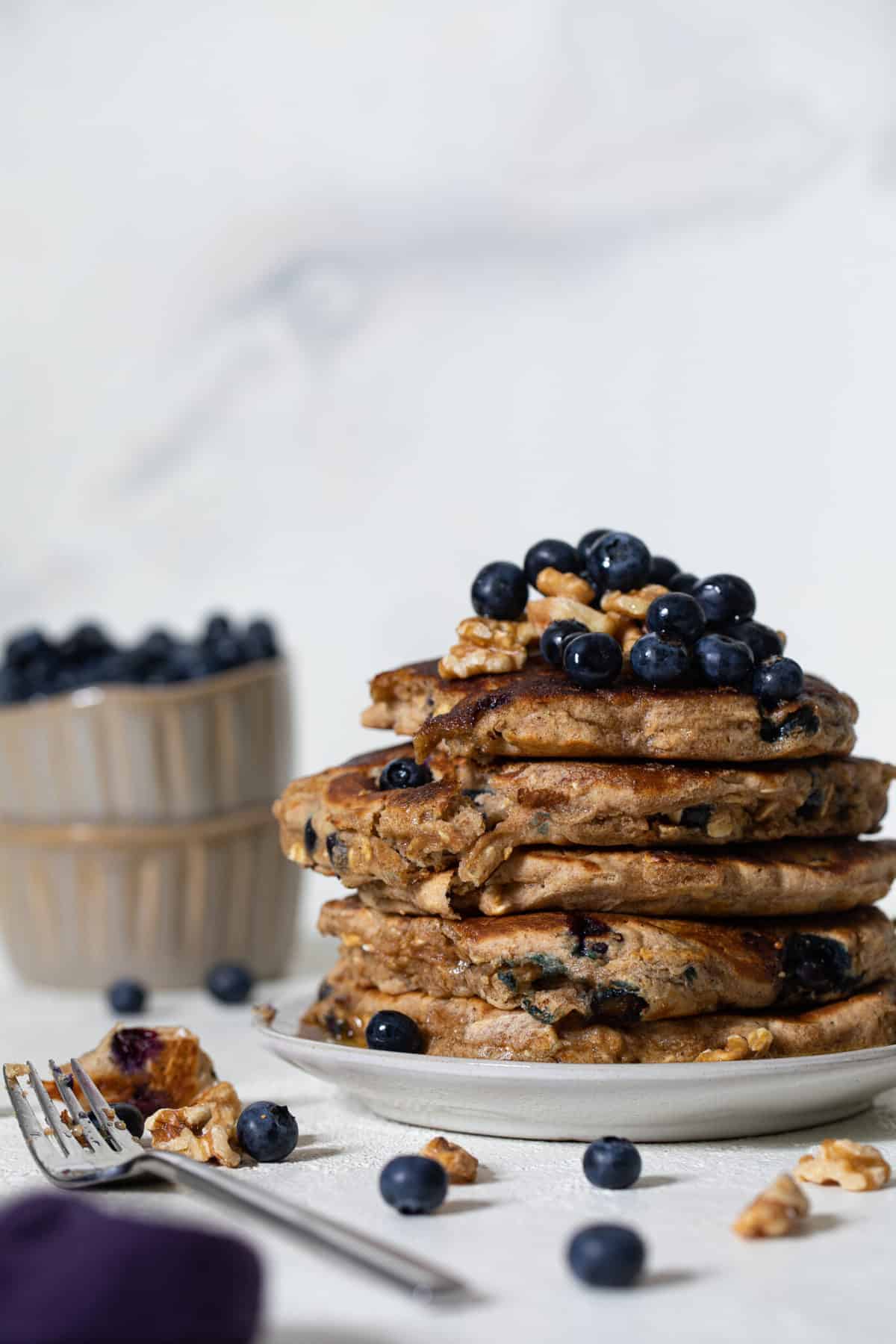 Blueberry Whole Wheat Pancakes. Blueberry Whole Wheat Pancakes. I literally had to say these words twice! Haha.
These pancakes are the real deal, ya'll. If you're a lover of blueberries then these are PERFECTION! If I'm honest, pancakes are one of the few comfort dishes that I truly enjoy for breakfast and the best part about pancakes is that they are totally customizable to your taste buds needs.
Usually, I am a waffle lover! I'm not sure if it's because of the waffle's ridges or the fact that the syrup gets easily trapped in between each waffle square (which means more syrup to enjoy!), however, pancakes have been my second love. Whenever I do make pancakes, I definitely enjoy them, especially these pancakes. I love blueberry, so this was a very enjoyable recipe for me. Previously, I made these Vegan Banana Pancakes, which were really good also. But I must admit, my favorite pancakes were these Vegan Apple Cinnamon Pancakes, which were so amazing! It felt like you were eating a healthier version of a nice warm apple pie. Yum!
The even better thing is that my little guy LOVED these pancakes too and I was ecstatic. He usually eats his frozen waffles (or french toast), which are organic and from Earth's Best, however, when I make homemade breakfast, I always love that he loves it. Haha. Plus, these pancakes are packed with whole-grains and nutrients so that's obviously a Yippee!
5 HACKS TO MAKING THE PERFECT VEGAN PANCAKES.
#1: Low + Slow is BEST.
When it comes to cooking your pancakes, keeping the heat on low is the key. This ensures that your pancakes are fully cooked through without making the outsides dark before their time.
#2: Double Check that Your Leaveners Aren't Expired.
Ensuring that the leaveners that are used (baking powder, baking soda, etc) aren't expired and are completely fresh. This ensures that your pancakes rise at their best and are super fluffy as intended.
#3: No Over-mixing, Please!
Once all ingredients are well combined after stirring with a spatula, no need to keep mixing. Remember, you want airy, fluffy pancakes—not chewy pancakes due to the gluten formulating from over-mixing.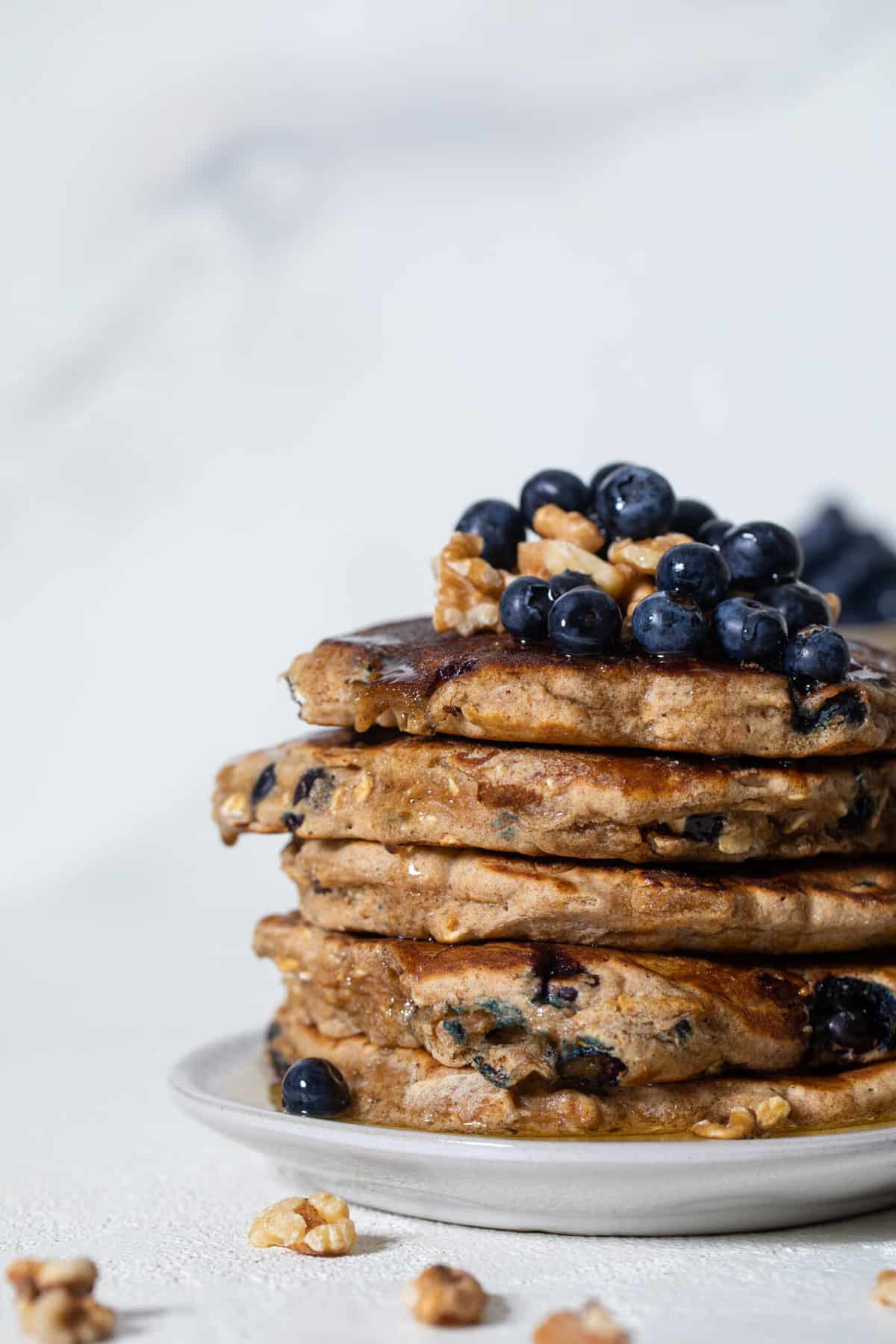 #4: Use the Correct Pan!
I find that using a flat cast-iron griddle works the best when making pancakes. Unfortunately, a regular sauté pan isn't flat enough (slopped sides?) aren't friendly in making the perfect stack.
#5: Don't Flip Those Pancakes Just Yet!
I've been guilty of this in the past. No flipping those pancakes the moment a little crust forms on the bottom. Nope. Only flip to the opposite side once the bubbles have 'popped' and opened into holes, which means that all of the bottom is formed and OK to flip. Got it?
Oh and I've recently purchased these granolas by Purely Elizabeth and they are so great and full of flavor! The one shown in this photo includes blueberries, quinoa, millet, and chia seeds.
And I also have a few of the other flavors such as the Pumpkin seeds version and the original. They are all packed with such great nutrients and are definitely a great source of fiber as well.
Why These Blueberry Whole Wheat Pancakes?
Well, I know that you guys are probably wondering, why these pancakes anyway? Well, for starters, they are absolutely fluffy, airy, soft, jam-packed with warm spices, easy to make, and bursting with blueberries in EVERY. SINGLE. BITE.
In addition, I added oatmeal which has great fiber and makes as a great "filler" in your meals. Hand in hand, each ingredient added a nice touch to this recipe. Let's not forget about the fact that these pancakes are completely oil-free (Thanks to melted vegan butter) and using all vegan ingredients. Ummm......Goodness!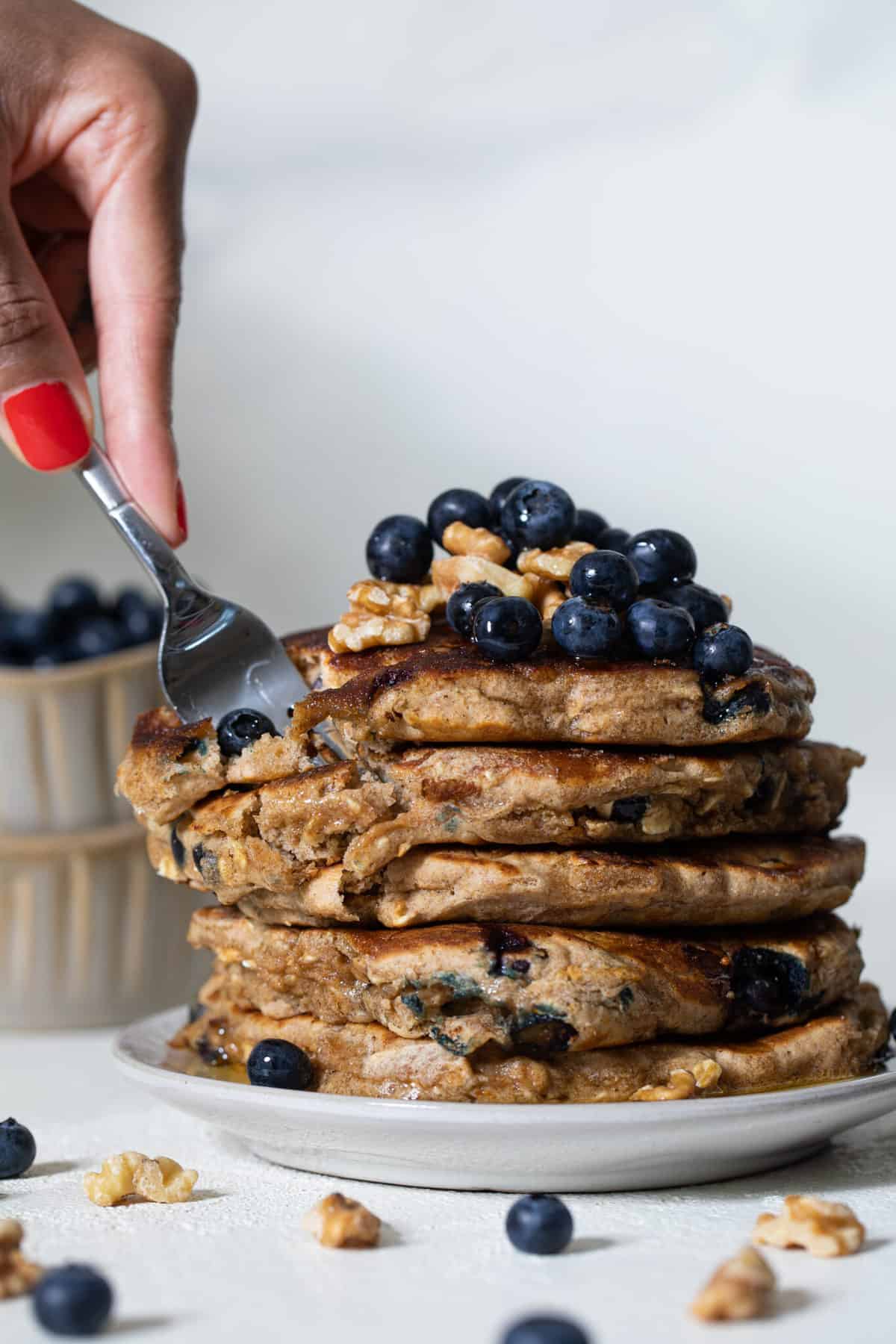 What Toppings Can I Add To These Pancakes?
Nuts
Dairy-Free Yogurt
CocoWhip!
Peanut Butter
Almond Butter
Sliced Bananas
Other Nut Butter
Sprinkle of Cinnamon
Vegan Butter (not melted)
Vegan Chocolate Chips
Vegan Caramel Sauce
or Nothing at all!
Need Vegan Pancake Ideas? These Are PERFECT!
MADE OUR RECIPE(S)?
If you tried this Blueberry Whole Wheat Pancakes recipe or any other recipe on my website, please please leave a 🌟 star rating and let me know how you go in the 📝 comments below. I love hearing from you.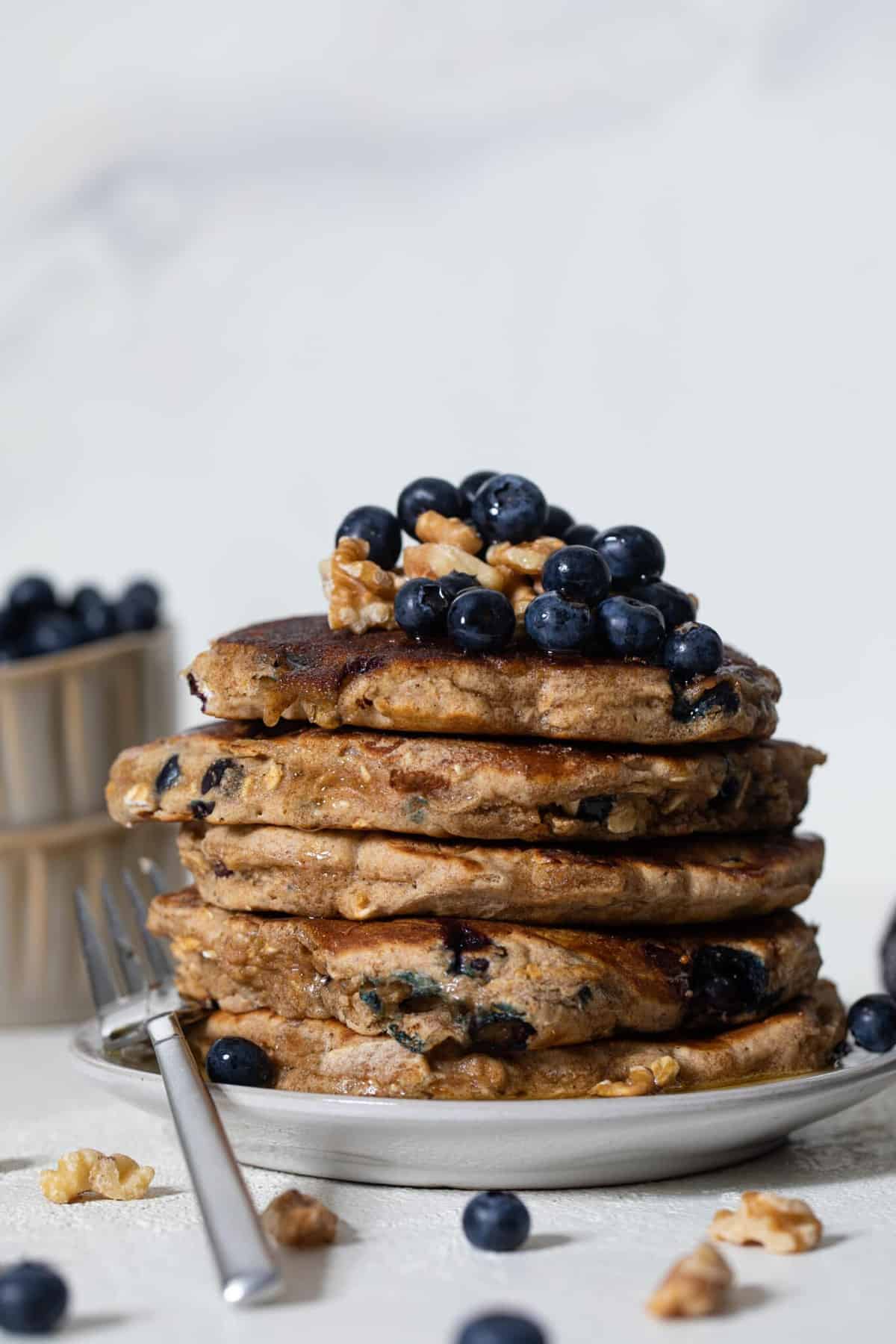 PANCAKES:
1

cup

organic whole wheat pastry flour

(I use Bob's Red Mill; See Notes!)

½

cup

organic rolled oats

1

cup

blueberries, fresh or frozen

(See notes!)

2

tsps

baking powder

1

teaspoon

ground cinnamon

½

teaspoon

ground nutmeg

¼

teaspoon

sea salt

2

Tbsps

vegan butter, melted

1

cup

Almond milk + 1 tablespoon ACV (Apple Cider Vinegar)

(You can use your fave plant-based milk!)

2-3

Tbsps

pure maple syrup

(Add less for less sweetness; See Notes!)

1

teaspoon

vanilla extract
TO MAKE THE PANCAKES:
Begin by adding the flour, oats, baking powder, cinnamon, nutmeg, and salt together in a large bowl and whisk until well combined. Set aside.

In a separate bowl, whisk together the milk, maple syrup, melted butter, and vanilla, until combined.

Make a small well in the middle of the dry ingredients and pour in the wet ingredients, stirring gently (using a spatula) until just combined. NOTE: **DO NOT OVERMIX**

Add blueberries and fold them into batter until well incorporated.

Add 1 tablespoon vegan butter to a heated skillet over medium-high heat and wait until fully melted. Pour ⅓ cup of pancake batter unto the surface of the skillet and cook for about 1-2 minutes (until batter begins to bubble) and gently flip pancake to it's opposite side, cooking another 1-2 minutes. NOTE: Be sure to gently press down on pancake to ensure that center cooks through.

Once cooked and lightly brown on both sides, remove pancake from heat and repeat steps until all batter is used.

To serve, stack pancakes onto one another and top with fresh blueberries, your favorite nuts (I used walnuts), and lightly drizzle with maple syrup, if desired.

Bon Appetit!
BLUEBERRIES: If using frozen blueberries, be sure to lightly toss them in 1Tbsp of flour or arrowroot starch before adding them to batter. This reduces any excess water from the blueberries and allows bread to cook thoroughly.
SWEETENER: If you choose to opt out of Agave, you can always substitute with pure maple syrup, date syrup, coconut sugar, brown sugar, or pure cane sugar.
TOPPINGS: Instead of using nuts, you can always top pancakes with CocoWhip, Dairy-Free Yogurt, Nut Butter, Vegan Caramel Sauce, etc.
FLOUR: If you don't have Whole Wheat or Whole Wheat Pastry Flour, then you can substitute with All-Purpose flour. 
Calories:
519
kcal
|
Carbohydrates:
87
g
|
Protein:
12
g
|
Fat:
16
g
|
Saturated Fat:
3
g
|
Polyunsaturated Fat:
5
g
|
Monounsaturated Fat:
7
g
|
Trans Fat:
2
g
|
Sodium:
973
mg
|
Potassium:
361
mg
|
Fiber:
11
g
|
Sugar:
23
g
|
Vitamin A:
49
IU
|
Vitamin C:
11
mg
|
Calcium:
432
mg
|
Iron:
4
mg