These One-Bowl Fluffy Vegan Oreo Pancakes are the perfect childhood inspired breakfast indulge for the entire family. Completely fluffy, soft, and loaded with oreo chunks, these pancakes are truly irresistible. Made in just a few short steps and under 40 minutes TOTAL. Vegan and Oil-free. Toddler-approved!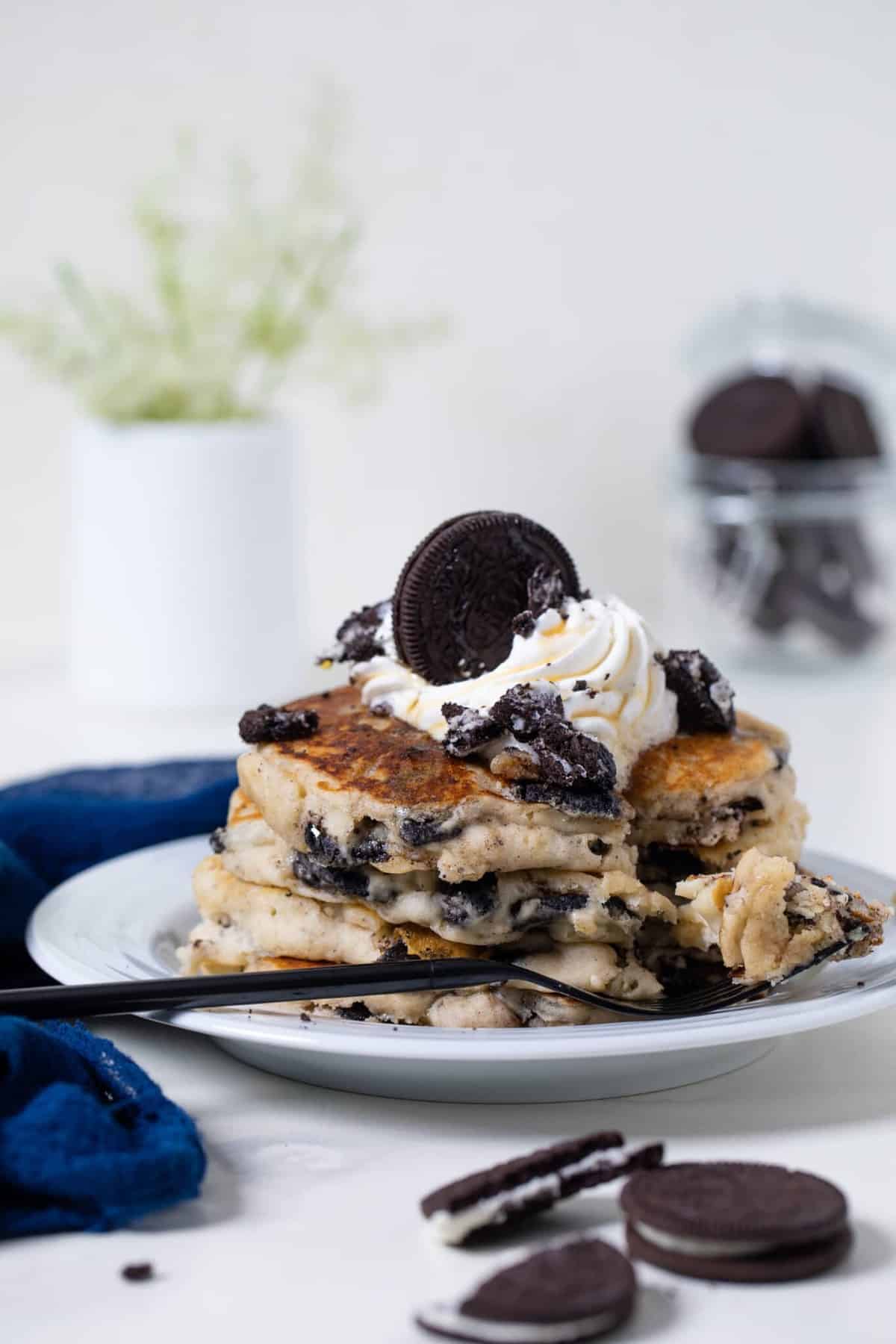 When it comes to pancakes, I'm such a fan! However, when it comes to these homemade One-Bowl Fluffy Vegan Oreo Pancakes, I'm an even bigger fan. They're just so easy and delicious, how can one not be, right? Haha.
If you've been an avid reader of Orchids + Sweet Tea, then you've probably already indulged in a few of our delicious pancake options.
But I can admit that this oreo pancake recipe is by far one of my the most heart-felt and indulgent pancakes that my childhood self thanks me for and is super elated to share with you guys.
How to Make These Vegan Oreo Pancakes from Scratch.
Honestly, when it comes to this pancake recipe, it only requires one bowl and a few short steps. Simply gather all of your dry ingredients, whisk them together.
Then add in your almond milk-ACV mixture along with you remaining wet ingredients and stir, stir, stir, until completely incorporated and smooth. Crush an entire row of Oreo cookies (you can easily use your fingers) and throw them into your batter. Fold in and wallah!
Pancake Fun Facts +When is National Pancake Day?
Believe it or not, pancakes aren't new at all. In fact, they were invented in as long as 1 Century AD. I know---insane! Apparently, it's National Oreo Day on March 6th.
As for National Pancake Day, also known as Shrove Tuesday usually falls on the day preceding Ash Wednesday (The first day of Lent), sometime in February or March.
In case you didn't know, here are some super fun facts about pancakes:
The world's biggest pancake measured 49+ feet and weighed 6.614 pounds. WOAH!!!
The Souther U.S. states actually account for the most pancakes eaten in the U.S.---about 32+% of consumption.
National Pancake Day is how countries like England and Ireland observe the day before lent.
National Pancake Day at IHOP is on March 4th!
Having two pancakes with butter + syrup will set you back 520 calories.
The highest pancake toss was recorded in 2010 by Dominic Cuzzacrea who flipped his pancake 31 feet into the air.
In the Months after McDonald's launched the McGriddle (a sandwich that uses two pancakes as the bun), the company's profits increased by 11%.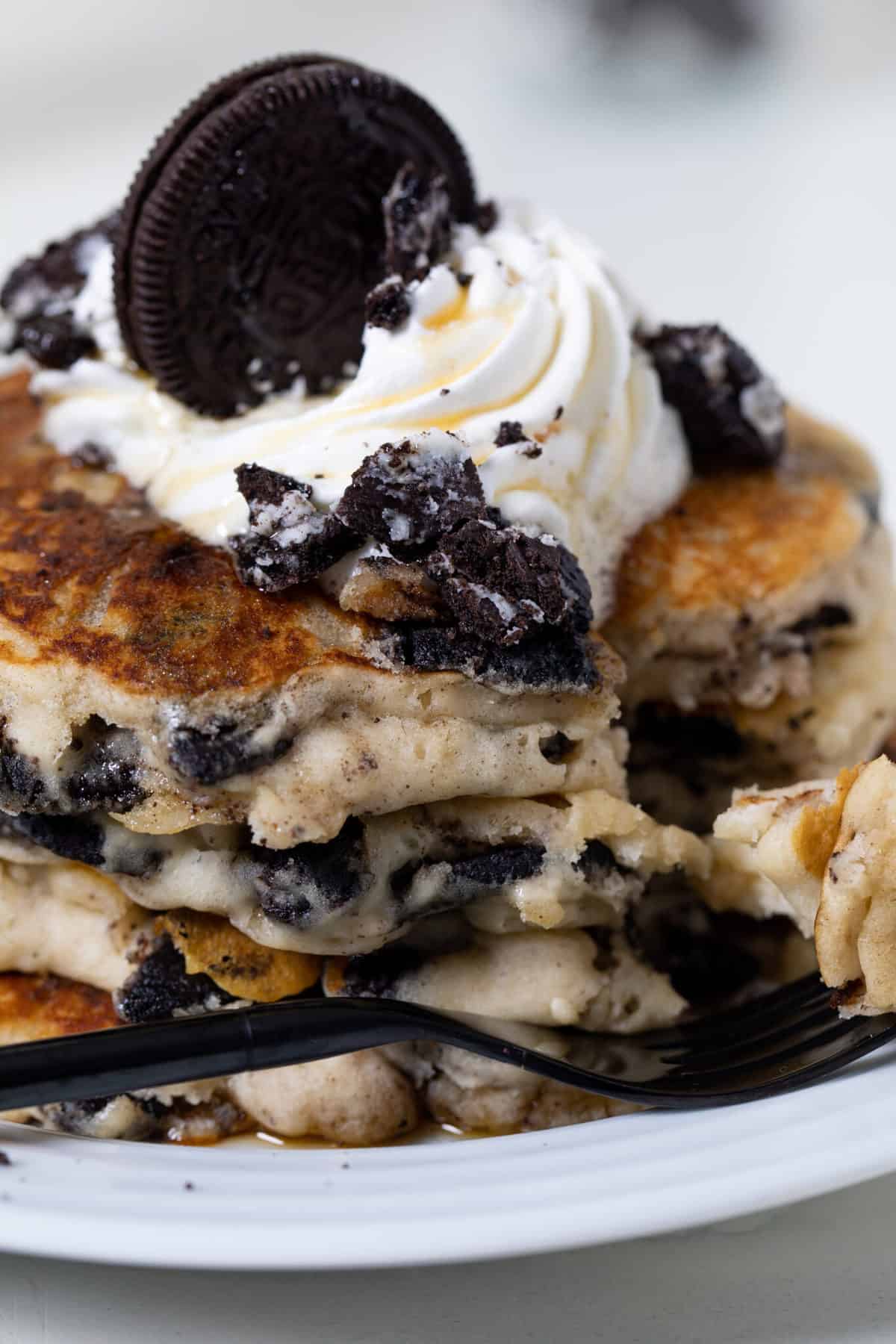 How to Make Pancakes Fluffy?
Making pancakes perfect is one thing, however, ensuring that they are fluffy is a completely other layer of perfection. When it comes to vegan pancakes, I usually make a few tweaks to ensure that my pancakes are fluffy every single time.
For one, I mix together my plant-based milk and apple cider vinegar (ACV) to ensure that the acid activates fully into the batter. You might see your batter become a bit 'bubbly' or 'foamy' but that's good!
Secondly, when making a pancake recipe, I love to use melted vegan butter instead of oil. Granted, there's nothing wrong with using oil, however, I find that the melted butter helps to create a nice fluffy pancake.
Of course, there are a few tips + hacks that correlate with a nice fluffy pancake and a perfect pancake, which I'll share below for you.
5 HACKS TO MAKING THE PERFECT VEGAN PANCAKES.
#1: LOW + SLOW IS BEST.
When it comes to cooking your pancakes, keeping the heat on low is the key. This ensures that your pancakes are fully cooked through without making the outsides dark before their time.
#2: DOUBLE CHECK THAT YOUR LEAVENERS AREN'T EXPIRED.
Ensuring that the leaveners that are used (baking powder, baking soda, etc) aren't expired and are completely fresh. This ensures that your pancakes rise at their best and are super fluffy as intended.
#3: NO OVER-MIXING, PLEASE!
Once all ingredients are well combined after stirring with a spatula, no need to keep mixing. Remember, you want airy, fluffy pancakes—not chewy pancakes due to the gluten formulating from over-mixing.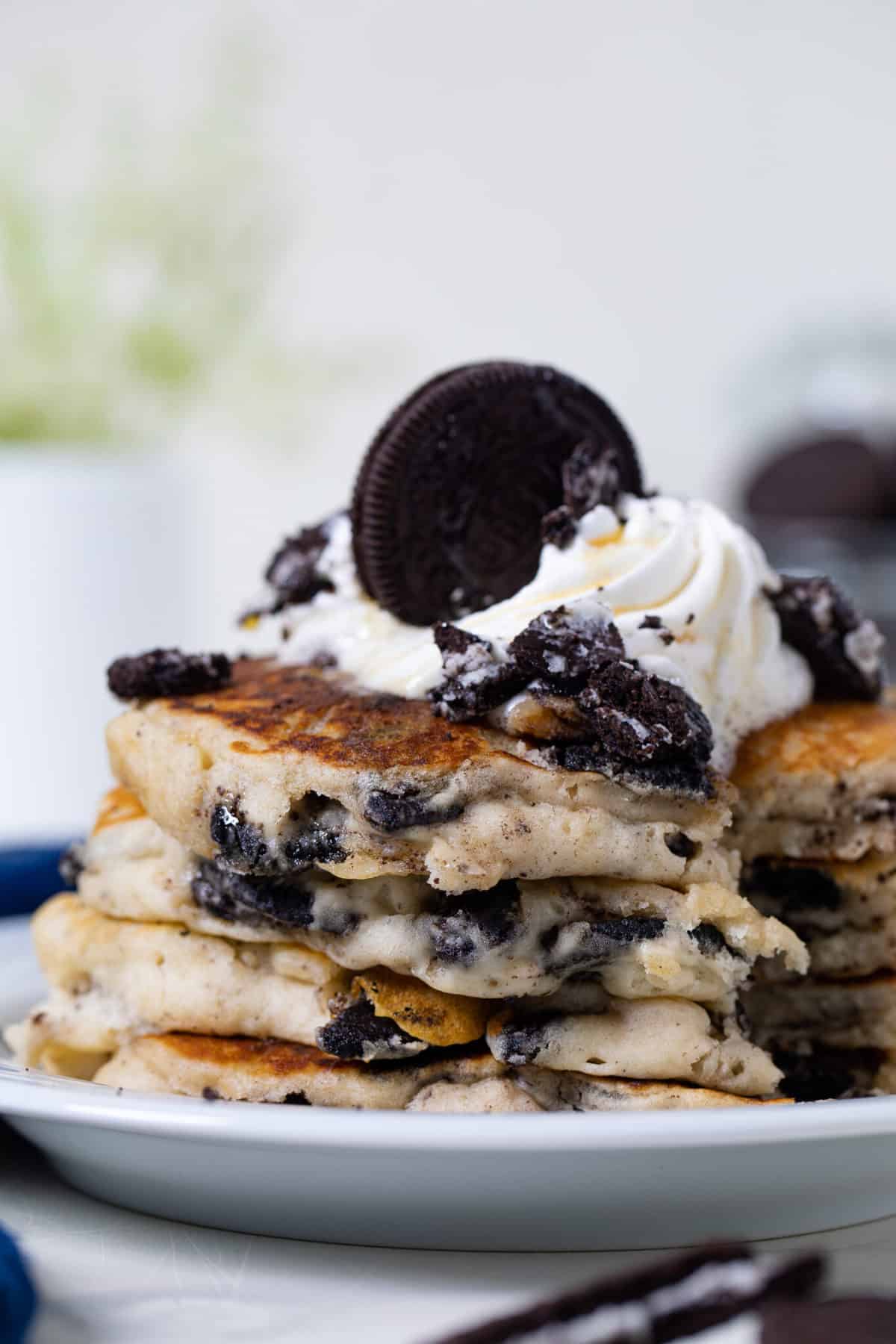 #4: USE THE CORRECT PAN!
I find that using a flat cast-iron griddle works the best when making pancakes. Unfortunately, a regular sauté pan isn't flat enough (slopped sides?) aren't friendly in making the perfect stack.
#5: LET THE BATTER REST A BIT!
Yes, I know. We often throw together the ingredients and immediately head over to the skillet to make them, BUT NO! To create a nice fluffy pancake, it's important that you let your batter sit and rest for 10 minutes or so. Why? Well, this not only allows the acid and leaveners to fully react, but it also allows for the wet and dry ingredients to fully combine and soak in to one another, creating the best texture.
How Long Does Pancake Batter Last? Storage?
When it comes to pancake batter, you can always store it in the refrigerator for 2-4 days as long as your ingredients (i.e. milk) isn't expired within that time frame.
In addition, you can freeze your pancake batter by placing it into a zip loc bag (freezer-safe version), carefully flattening and removing all air out of the bag, and placing it in the freezer for up to 1 month.
To defrost, simply remove the bag from the freezer and let it thaw out in the refrigerator overnight. For a quicker thaw, place the zip loc bag into a bowl of warm water and let it sit until fully ready.
Lover of Oreos? Try These Recipes! Our Obsession!
The Best Oreo Cheesecake Bites are what we call these little bites and it's no understatement. Not only are these little bites the perfect size, but they come fully packed with a beautifully tasty oreo cookie crust and a decadent oreo filling, topped with whipped cream and a full oreo cookie for extra goodness. Can we just say that it's an oreo overload?
This No-Churn Cookies + Cream Ice Cream recipe is fully homemade, requires no ice cream making machine, and comes with a creamy vanilla base loaded with Oreo cookies. Made with just FIVE ingredients and takes less than 10 minutes to whip together, before letting the freezer do the rest. The perfect sweet treat for the entire family on any given day.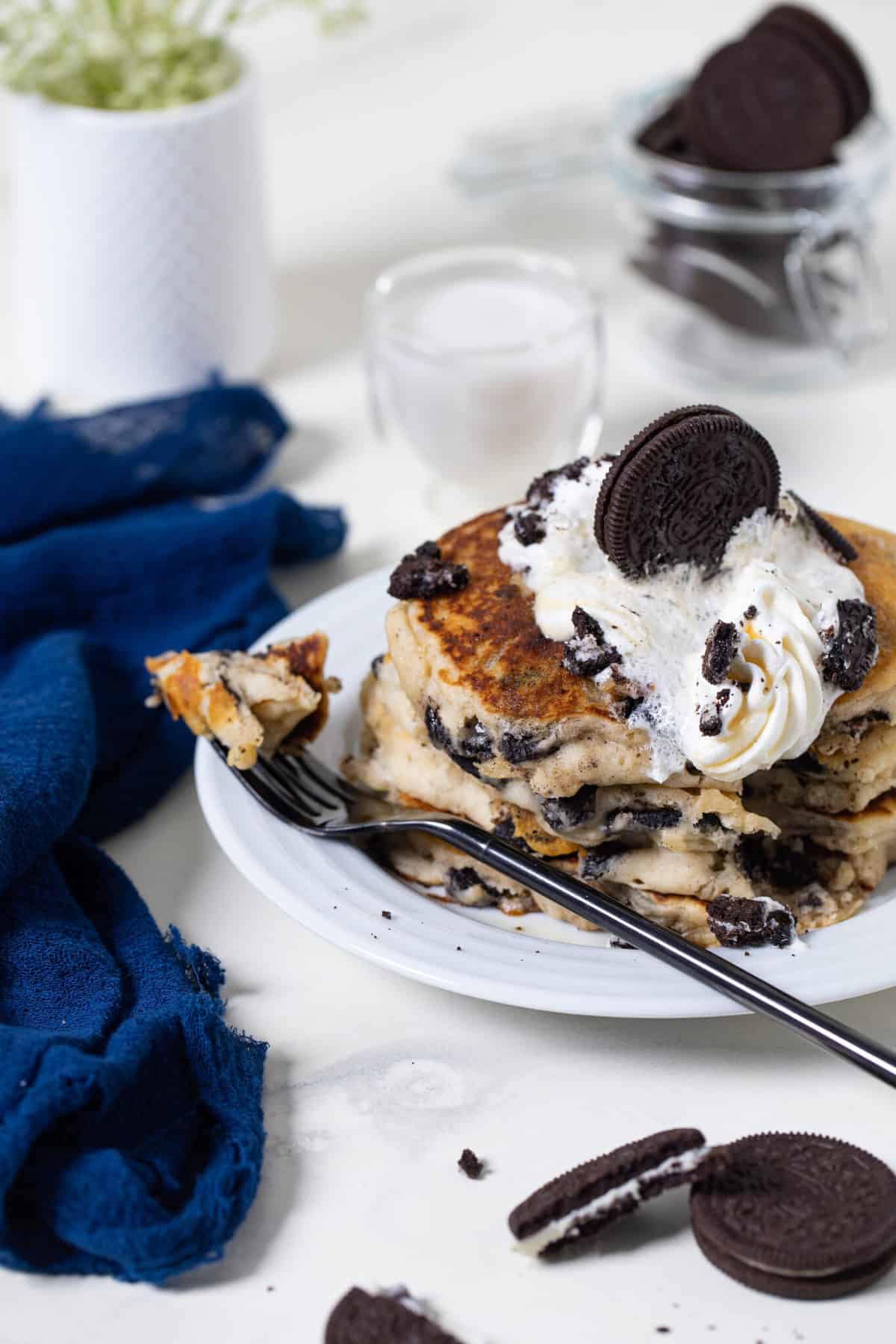 MADE OUR RECIPE(S)?
If you make this One-Bowl Fluffy Vegan Oreo Pancakes, be sure to tag me on Instagram @orchidsandsweettea!
1

cup

organic All-purpose flour

(I use Bob's Red Mill)

1

tablespoon

baking powder

¼

teaspoon

sea salt

1

cup

Almond milk + 1 tablespoon ACV

(You can use your fave plant-based milk!)

2

Tbsps

Agave

2

Tbsps

vegan butter, melted

1

teaspoon

vanilla extract

1

package

Oreo cookies, crushed

(See Notes!)
Start by whisking together the organic all-purpose flour, baking powder, and sea salt in a large bowl and set aside.

In a separate bowl, add the Almond milk and apple cider vinegar and whisk together until well combined. Set aside for 5-10 minutes.

Make a small well in the middle of the dry ingredients and pour in the wet ingredients---one by one (milk-ACV, melted butter, vanilla, and Agave, stirring gently (using a spatula) until just combined. NOTE: **DO NOT OVERMIX**

Add the crushed oreos and fold them into batter until well incorporated.

Add 1 tablespoon vegan butter to a heated skillet over medium-high heat and wait until fully melted. Pour ⅓ cup of pancake batter unto the surface of the skillet and cook for about 1-2 minutes (until batter begins to bubble) and gently flip pancake to it's opposite side, cooking another 1-2 minutes. NOTE: Be sure to gently press down on pancake to ensure that center cooks through.

Once cooked and lightly brown on both sides, remove pancake from heat and repeat steps until all batter is used.

To serve, stack pancakes onto one another and top with Cocowhip, additional crushed oreos and lightly drizzle with maple syrup, if desired.

Bon Appetit!
SWEETENER: If you choose to opt out of Agave, you can always substitute with pure maple syrup, date syrup, coconut sugar, brown sugar, or pure cane sugar.
GLUTEN-FREE VERSION: To make these pancakes GF, I recommend using a GF Flour Blend (Bob's Red Mills has a great version!). **NOTE: If the batter is too 'thin + runny', simply add additional GF flour, ¼ cup at a time.**
OREO COOKIE: To incorporate cookies, simply crush an entire row and half of Oreos in a medium bowl. You'll need approximately 1 ½ rows of Oreo cookies or so to achieve the entire recipe, about 18-20 cookies.
Calories:
1470
kcal
|
Carbohydrates:
227
g
|
Protein:
19
g
|
Fat:
57
g
|
Saturated Fat:
15
g
|
Polyunsaturated Fat:
12
g
|
Monounsaturated Fat:
27
g
|
Trans Fat:
2
g
|
Sodium:
2062
mg
|
Potassium:
604
mg
|
Fiber:
9
g
|
Sugar:
107
g
|
Vitamin A:
6
IU
|
Vitamin C:
4
mg
|
Calcium:
561
mg
|
Iron:
31
mg
One-Bowl Fluffy Vegan Oreo Pancakes.